Best Online Course Platforms: The Definitive Guide
Updated: August 2nd, 2020
Author: Lisa Parmley
Our content is reader supported, which means when you buy from links you click on, we may earn a commission.
---
Why an Online Course Platform
Are you a course creator interested in developing your own online training to help others advance their knowledge? Did you know the worldwide eLearning market is projected to be worth $325 Billion in 2025?
eLearning is an industry that's trending upwards and doesn't seem to be stopping anytime soon. In fact, online learning has prompted an increase in income for 42% of US organizations.
An important component you need to start offering your own online training is an online course platform. These are also often known as a learning management system or an LMS.
Digital platforms like these allow you to publish your training content online. They give you the ability to display videos, PDF's text, and audio content. You can also offer quizzes, assessments, and exams. In addition, built-in features allow learners to track their progress.
As you can see, the best online course platforms do a lot more than just publish pages online, they provide for an organized learning experience. This is vitally important to any business involved with online courses.
This guide will help you cut through the clutter when it comes to finding the best online course platform or LMS (learning management system) for you.
If you're thinking about creating an online course or need to switch to a different e-learning platform, then this guide is for you. There are two types of groups this guide will help; entrepreneurs and corporations. Let's break them down:
Entrepreneurs
Even if you're only planning to create a side income sharing your knowledge with others; you've now stepped over into entrepreneurship.
Some entrepreneurs (whether on their own or with partners) start up training companies offering several online courses. Others offer a single online course.
Still, other entrepreneurs or small businesses already have a company offering a service or coaching. Adding an online course to their catalog is a proven way to increase revenue.
Corporations
Instead of spending hours upon hours in live training sessions, many corporations train their employees through an online course platform.
In 2017, approximately 77% of US corporations used online learning to help train employees, and 98% planned to incorporate online learning by 2020.
With online learning, there's no delay in getting a new employee trained. There's no reason to wait for weeks for more new hires so they can all start together. A single new employee can begin their online training at any time.
Online learning allows employees to gain the skills they need when they need them. This type of automated learning is so popular that the use of eLearning increased by a stunning 900% between 2001 and 2017 within corporations.
Also, many entrepreneurs create corporate training. So there's definitely some cross over between the two groups.
About the Author
This list of the best online course platforms has been pulled out of the hundreds (or possibly thousands) of online learning platforms available. You'll gain intensive research along with my insights within this guide.
I started an educational company in 2001 and offered my training in an online format around 2004. So I've been a part of the online course industry since 2004 all the way through today.
I've sold well into the 7-figure range from just one of my online courses and helped thousands of professionals in my industry. I've seen all the popular course platforms come into the marketplace and tried most of them out along the way.
And, I also do extensive interviews with course creators. I learn a ton from each interview so I get a lot of feedback on all the different platforms available.
If you're here, you might be wondering why you couldn't just use WordPress or some other site builder instead of an actual online course platform?
It's definitely possible to build your own online learning platform, but you'll spend a lot of your time and money reinventing what's already out there. Using one of the best online course platforms will save time, money, and help provide a better user experience for your learners. 
Although there are hundreds of online course platforms to choose from, they all generally fit into a few categories (I've sorted them out into 5 categories). Before you start selecting from specific solutions, narrow down the overall category that makes the most sense for you.
The way I've broken them down you can choose from; cloud LMS, WordPress LMS plugins, membership site software, corporate LMS, or marketplace solutions. I'll review the pros and cons of each and then you can decide which one works best for your needs.
Brief Summary of the 5 Categories of Online Course Platforms:
Both entrepreneurs and corporations can choose from any of the different categories. Each category offers different strengths and weaknesses and you can find corporate trainers using each solution just like entrepreneurs may choose a corporate LMS.
Cloud LMS: These are essentially hosted online course platforms. They often have a big set of features in addition to the ability to organize your content into modules, lessons, and even offer quizzes. You typically choose the features you need and pay a set monthly price to access them.
I'm partial to the cloud LMS category. I like the idea of having someone else manage my online course platform since as a business owner there's already so much to manage. In most cases, I'm OK giving up some features just so I don't have to manage my online learning platform.
WordPress LMS Plugin: If you're more technical and feel comfortable managing your own platform then a WordPress LMS plugin may be a good fit for you. You'll still get the ability to organize your content within modules, lessons, and offer quizzes, but with a plugin, you can customize it to a much greater extent. You're in control.
Membership Site Solution: If you decide you don't really need a structured course with modules, lessons, and quizzes (or you need to customize your own), then a membership site solution may be the best choice for you. A membership site solution will password protect your pages and provide management for your learners.
Corporate LMS: Another option is a corporate LMS. These are essentially within the same vein as a cloud LMS, however, these cater to large corporations training employees.
Marketplace Solutions: Marketplace solutions are the final choice. Although these don't have an upfront cost, the revenue sharing (typically around 50%) will definitely put a drain on your profits. You also have little to no control over a marketplace solution.
Make sure to pick the category that makes the most sense for you out of these five options. I have a lot more detail for you below to help you choose. Only after you've settled on a category will you narrow down the specific solution you'll use.
You can click on the links below to learn more about each category or read through them all:
---
Cloud LMS platforms are also called LMS as a service (SaaS) or hosted solutions.
A cloud LMS is a learning management system that's hosted for you. That means it's 100% online. There will be nothing running on your computer. There is also nothing on a server you may have access to, like a hosting account.
Your online courses will be hosted in a secure environment, typically across multiple servers. You'll log in to the cloud LMS with your username and password and use the cloud admin area to create your course.
A cloud LMS might be the perfect solution for you if you are OK giving up some control for ease of use. The upfront costs for most cloud options are about average for an online course platform.
A cloud LMS is specifically set up for you to upload your course materials quickly and easily. Most cloud platforms create structured web pages revolving around modules with a number of lessons. They may even offer quizzes your learners can take online as well as certificates. 
It's all set up in a course format ready for you to go. You just plug in your content. 
Technical skills are not needed and you don't need to worry about installing any apps or getting backups. The cloud LMS solution takes care of all that for you.
If you're creating video or multimedia content, then you won't need to pay for video or audio hosting with a cloud LMS. Hosting for videos and audio files will be provided for you.
Pros
A Cloud LMS is an easier online learning platform. There's no need for you to hire a designer or a developer. You also won't need to learn programming or HTML. The top cloud LMS platforms are intuitive and designed to be easy to use so you can set up your online course quickly and without headaches.
You'll need fewer additional tools. Additional hosting is not a must. You don't need video or audio hosting. You also likely won't need a separate eCommerce platform, affiliate program, or sales page builder as these are all typically included.
You won't be able to break your platform. This may sound silly, but if you're self-hosting your platform, then you can break it. Hopefully you'll have back-ups, but your learners cannot access the course they paid for while it's down. This can put a lot of pressure on you. Aside from someone hacking into the hosted platform's servers, you cannot cause a cloud LMS to go down.
Cons
Often cannot add in any features. With a cloud LMS it's challenging if not impossible to add in any additional features. If you know exactly what you need and it's not a feature of the platform, then you're out of luck. You can try to submit it as a feature request, but that feature may never be available to you. Make sure the platform has all the features you need or that you're willing to conform to the features it offers.
You may not be able to customize your course. You can typically add in your logo and customize the colors of the course area, but that's usually all you can customize.
Additional Tools You'll Need Along with a Cloud LMS:
Most cloud LMS providers pack on the features. So there isn't much else you'll need. Ideally, you will need the following:
Domain Name. You'll need a domain name so you can start branding your online course.
Web pages. You may want front-end web pages hosted on your own platform instead of or in addition to the cloud LMS. In this case, you'll need your own hosting and a way to build web pages (like WordPress or another content management system).
Email Marketing Solution. You'll often need an email marketing automation solution to follow-up with prospects and your learners. Please note that some cloud online course platforms offer an email solution built within the app.
Approximate Cost of a Cloud LMS:
Some cloud LMS providers offer a free plan which is great for trying out the platform or if you're offering a free course. However, you'll typically pay high transaction fees for each course sale on any free plan.
Most cloud LMS platforms start at around $30/month and go up to $500/month depending on the features you need. The average price is $99/month for a plan with the features most online course businesses or corporations will need.
---
A WordPress LMS plugin is a robust premium plugin that runs on WordPress. If you're using a content management solution (also called a CMS for short) or are planning to use one, then WordPress is the one to use.
I've tried Joomla and Drupal back when these tools were just getting started. Joomla was much easier to use than Drupal, but I recommend WordPress over both.
WordPress is highly supported so you can easily get help if you have a problem. If you need a custom feature, there's often already a plugin built for that feature. WordPress is a professional platform and is currently the most popular CMS for building sites.
With a WordPress LMS plugin, you'll get all the control you can possibly get, but will sacrifice ease of use. Your upfront costs will be about average.
If you decide to go with a WordPress LMS plugin, you'll install the plugin onto a new or existing WordPress admin. Once installed, many new features will be added to your WordPress admin. This empty shell of a course will often include the ability to add in quizzes, progress tracking, allow for automatic registrations and enrollment, and more.
Pros
You have no limits when it comes to the features your course area offers. There are WordPress plugins for just about everything. This means you should be able to add nearly any feature to your course.
You have no rules and there's no confinement. With a cloud LMS you may not be allowed to upload a widget into the protected area. When you're hosting your own course you can do whatever you want.
You can customize the look and feel of your course. Colors, menus, navigation, and more can be changed.
Cons
You will need to set-up and maintain your WordPress LMS. This can take much longer than with a cloud LMS. You will also need to update plugins as they become outdated.
You're responsible if your self-hosted WordPress LMS breaks. If a cloud solution breaks, you're still responsible for getting your students their content, but the cloud solution will likely fix it within a timely manner (at least if you pick a reputable provider).
You will need video and/or audio hosting. These are typically an additional monthly fee based on the bandwidth you use.
Security can be an issue that you will have to solve. Make sure to install a good security plugin that will help keep break-ins to a minimum.
Additional Tools You'll Need Along with a WordPress LMS Plugin:
There are several additional tools you'll need to make a complete course out of a WordPress LMS plugin. These include a domain name, hosting, and video hosting (if you offer video training in your course).
You'll need an email marketing automation solution to follow up with prospects and your learners. You may also need additional plugins to get the feature set you're looking for.
Approximate Costs of Using a WordPress LMS Plugin:
You'll typically pay an annual recurring fee to use a WordPress LMS plugin. Fees start at about $99 a year and can go up to over $1000 a year depending on the integrations and feature set you choose.
You'll also need hosting (keep in mind that cheap hosting plans will not typically work for running your own LMS). You'll also need to pay for video hosting. Additional plugins may be needed for you to create the course with all the features you need.
Overall, costs for running your own LMS with a WordPress plugin are typically comparable to or exceed those of a cloud LMS once you add everything up.
---
A corporate LMS typically delivers online training to employees. The training can be used to onboard new employees or to help them learn new skills.
With a corporate LMS, you're not typically collecting money. You're just using it strictly to train in-house employees. That means you don't need a means for managing payments, affiliate software, or even the ability to create sales pages.
Corporate online course platforms offer a mid-range level of control. Their ease of use is high. However, so are upfront costs.
Most corporate trainers are focused on the online course delivery system and a simple way to add new employees to the training. Therefore, a corporate LMS may include more robust course development, but little to no support for eCommerce or taking payments.
Courses may need to be SCORM or Tin Can compliant. Here's just a little detail on what that means:
These options enable a corporation to move their training quickly to another solution if they decide they need to switch.
SCORM compliance also prevents employees from clicking on 'finished' as they move through the course. Instead learners must spend a specified amount of time on the page.
Also, any quizzes or assessments may have better scoring and tracking capabilities. For instance, a trainer may be able to see exactly how well employees are doing.
Essentially, a corporate LMS helps corporations get their employees up to speed without having to spend days in a classroom learning from a live instructor. All the training is delivered online and can be completed by employees on their own and in between other work duties.
I do want to point out that not all corporations use what's termed a corporate LMS. Many corporations opt to use another solution like a WordPress LMS plugin hosted on their servers or a cloud LMS platform.
Pros
SCORM compliant. That makes it easy to switch providers if one isn't working out plus you'll get SCORM testing benefits.
Corporate solutions cater to the employee training needs of big businesses. That means corporations will likely have everything you need within the solution.
You can often white or gray label. This means you can usually add in a company logo and branding, so it looks like the LMS is a part of the company instead of the provider.
Corporate solutions are fully serviced. When there's a problem, you can contact the LMS support and get help. These are typically cloud solutions but tailored for corporations.
Cons
The costs can be high and are often pay per user. Some companies substitute out a cloud LMS because fees are lower.
High learning curve for some of the SCORM compliant authoring tools. This includes tools like Captivate. You will likely need a team member experienced in using these tools to create your training.
Single sign-on (SSO) can be costly to integrate. Ideally, you want your learners to use the same login as the rest of the company infrastructure.
Additional Tools You'll Need Along with a Corporate LMS:
Corporate LMS providers typically include everything a company needs to get their training set-up. It's possible you may need a developer to help you integrate the learning management solution with your existing infrastructure.
Approximate Costs of a Corporate LMS:
Pricing can be challenging to navigate and grow to costly amounts. There can be set up and licensing fees.
You also need to pay attention to how the company bills. There are many different options including; pay-per-use, pay-per-course, and pay-per-user/learner.
Pay-per-use pricing is where you pay by the learner per course.
Pay-per-course is where there's a fee for each course the learner takes. That means if the learner completes 20 courses a year, then there's a fee for each one.
Pay-per-user/learners are where there's a flat fee per learner.
Make sure you understand the total for a company of your size. Be sure you know what the price will increase to if your company or training needs grow.
---
Online course marketplaces are perfect for entrepreneurs and companies who don't want to mess with any hassle. The course marketplace will host your course, take the payments, market your course for you, and in exchange, you share a portion of the profits. Depending on the marketplace, your share may be 50% or much less. 
If you don't want to pay any upfront costs and are willing to give up control over your course then you might consider using an online course marketplace. Ease of use is the highest with a course marketplace.
The most well-known course marketplace is currently Udemy. If creating an online course is only a small portion of your earning strategy, then going with an online course marketplace may be the best fit for you.
Pros
All the tools you need are included. You will not need anything extra. User friendly interface that makes uploading training a snap. Plus, the course will be easy for your learners to navigate.
Marketplace solutions market your course for you. However, they do cater to marketing the most popular courses, so you may have to help out initially.
You can gain an authority boost. If your course becomes popular on a marketplace, then you can tell others how you offer a bestselling course that's helped thousands on Udemy, etc …
Cons
You will not keep all the profits. Instead, you are only going to get a share of the profits (like 50% or less).
Many marketplace solutions control the price of your course. Many of these solutions will lower your price, thus lowing your profits.
You do not gain access to any of your customer information. That means you cannot market to your customers.
Many marketplace solutions have strict rules about linking to your company site. That means you will not be able to siphon off learners on the platform to your site. In addition, they often have rules about mentioning your site, products, or services within your course.
Additional Tools You'll Need Along with a Marketplace Solution:
You don't need anything else to use a marketplace solution. Many course creators have their own websites, but others do not. You can upload your course and try to earn money through the marketplace.
Approximate Costs of a Marketplace Solution:
There are no upfront costs other than the costs to develop your course materials. You will, however, pay high fees (typically 50%) on each course sale.
Hopefully, you've figured out the category you'll use. Once you've figured that out, you'll review the best online course platforms in that category. and select the one that makes the most sense for you. 
Many of the best online learning platforms offer trials and demos. I suggest you review what I've got for you here and then take advantage of the trial offer on a couple of platforms to find the best fit for you. It's a major hassle to switch platforms later on so spending the time now to make a well-informed decision is a smart move.
These are the best online learning platforms based on my intensive research, actual use, and testing. Plus, you're not only getting my opinion. Since I spend a lot of time gathering and publishing online course creator interviews, I've factored in what successful course creators use for their online courses.
You can click on the links below to jump directly to the category of your choice:
Cloud LMS platforms are often set up to be all-in-one solutions where you get more than just access to an online course area. For instance, you might gain access to eCommerce, email marketing, and affiliate management.
This is great, except that often a dedicated eCommerce application or a dedicated email marketing tool will offer more robust features. You can always choose not to use these features in the online course platform as long as they offer integrations with the tools you prefer to use.
Therefore, it's best to select based on the features within the online course portal and integrations to other tools. You can always start out using all the features of the platform, but as you grow, you may want to switch them out for more robust tools.
Teachable
Teachable is one of the best online course platforms in the LMS category. They offer an in-house payment processor and a variety of features at different prices.
Who Teachable is For:
The ideal Teachable user is an online course creator looking for a nearly all-in-one solution. If you're OK sacrificing customizations for ease of use and set-up speed, then Teachable is a great option. With Teachable all you need is a domain name and an email marketing tool to follow-up with your prospective students and clients.
Skill Level:
Teachable is actually pretty easy to use, however, there are so many features it will take time to get everything set up. In addition, some integrations require Zapier which means additional time to sort out.
Usability:
You'll access your dashboard from an online account. You can set everything up from within this account including your payment system, all the content within your course, your course sales page, affiliate center, and everything else.
Special Features:
As shown below, the Teachable course area looks very sleek and professional: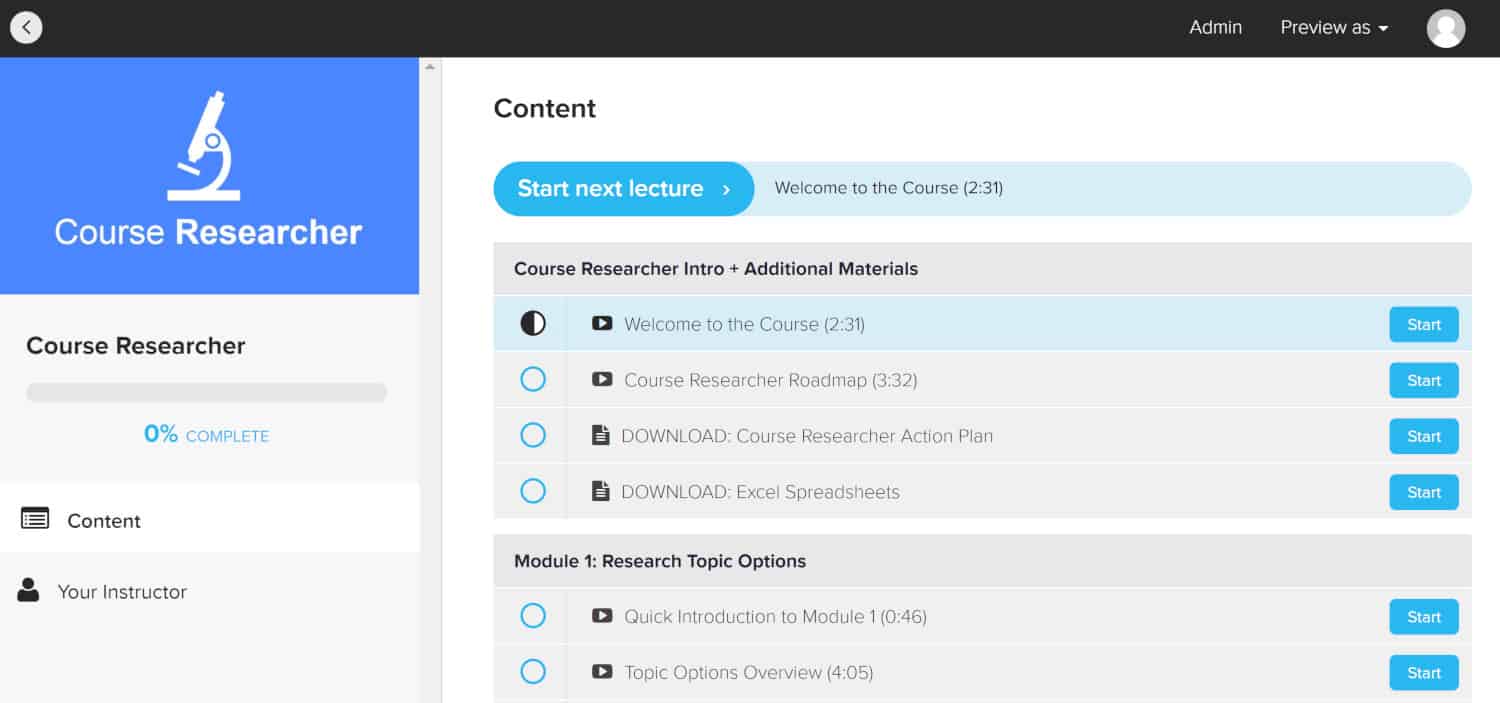 You can upload your course content including videos without the need for video hosting with Teachable. In addition, Teachable offers you the ability to run an affiliate program all right from within your dashboard.
If you choose to use the Teachable payment processor they will accept payments for you and handle your affiliate payouts (however, transaction fees apply). There really isn't any other platform that will do all this for you at any price.
Disadvantages:
Teachable has high transaction fees. You won't take home as much of your money when you use this platform. However, it's easier to get your course business up and running with it. Lastly, you cannot completely white label the platform.
Teachable Pricing Model:
Starting Price: $39/month for the Basic plan which includes all the base features. You will incur 5% transaction fees on the Basic plan. The Basic plan includes instant payouts, 2 admin-level users, custom domain support, coupon codes, drip course content, affiliate marketing, and integrations.
Advanced Plans: $499/month for the Business plan. This plan includes more features like graded quizzes, theme customizations, 100 admin-level users, and more. With this plan, you'll incur 0% transaction fees.
Annual Savings: Annual savings plans are offered. The Basic plan billed annually is only $29/month while the Business plan billed annually is only $399/month.
Trial Option: There is no trial option, however, there is a free version.
Free Version: There is a free version that includes unlimited courses, up to 10 students, unlimited video, and unlimited hosting. In addition, you'll get integrated payment processing, student management, basic quizzes, commenting, and no fees on free courses.
Guarantee: There is a 30-day money-back guarantee on paid plans.
Thinkific
Thinkific is one of the best platforms for selling online courses. You can choose from a variety of different plans. You can run your entire online course business from Thinkific.
Who Thinkific is For:
Thinkific is one of the best online platforms. It is especially suited for the online course creator who wants to keep things simple.
Thinkific is very similar to Teachable, except that there are no transaction fees. Thinkific connects with PayPal and Stripe on every plan. In addition, Thinkific does not offer an optional payment processor.
Skill Level:
Thinkific is easy to use, but like other learning management systems in its class, there are so many features that it will take you a fair amount of time to set everything up.
Usability:
You'll log in to your account online and can manage everything available to you from your Thinkific dashboard (shown below):
This includes managing your clients, payments, course materials, all your integrations, and everything else. Your Thinkific account will become your central hub for selling online courses. Their course builder is very easy to navigate so you can set-up your online course fairly quickly.
Special Features:
Thinkific is pretty close to an all-in-one solution for starting and running your online course business. Both their course builder and sales page builder are very easy to use. The sales page builder creates beautiful pages for you to market your course.
They also offer the ability to completely white-label your course platform. That means there will not be any pages hosted on a Thinkfic subdomain as long as you point it to your own domain name. This can be nice because it adds to the professionalism of your course business.
Disadvantages:
I do wish the Thinkific course area looked sleeker. It's simple, which I like, but it could look more professional:
The checkout pages could also use an upgrade. It would be nice to have the ability to split them into 2-columns and have an option for a single checkout page.
Thinkific Pricing:
Starting Price: $49/month for the Basic plan. With this plan, you will receive all the core and free key features plus unlimited courses, coupons, email capabilities, drip content, affiliate reporting, custom domain, email integrations, Zapier triggers, and manual student enrollment and exports.
Advanced Plans: $499/month for the Premier plan. This includes all previous features plus 5 site admin accounts, 50-course admins and authors, single sign-on, and onboarding package, and the unlimited growth package.
Annual Savings: If you purchase annually you'll save 20% off the monthly billing. That brings the cost of the Basic plan down to $39/month and the cost of the Premier plan to $399/month.
Trial Option: There is no trial option. However, there is a free version so you can see exactly how everything works before you commit.
Free Version: There is a free version. The free plan includes core features, 3 courses, unlimited students, quizzes/surveys, content hosting, and instant access to your funds.
Guarantee: There is no money-back guarantee.
Kajabi
Kajabi is one of the top online platforms to sell online courses with. This LMS allows users the advantage of tons of tools to make it one of the most complete cloud online course platforms.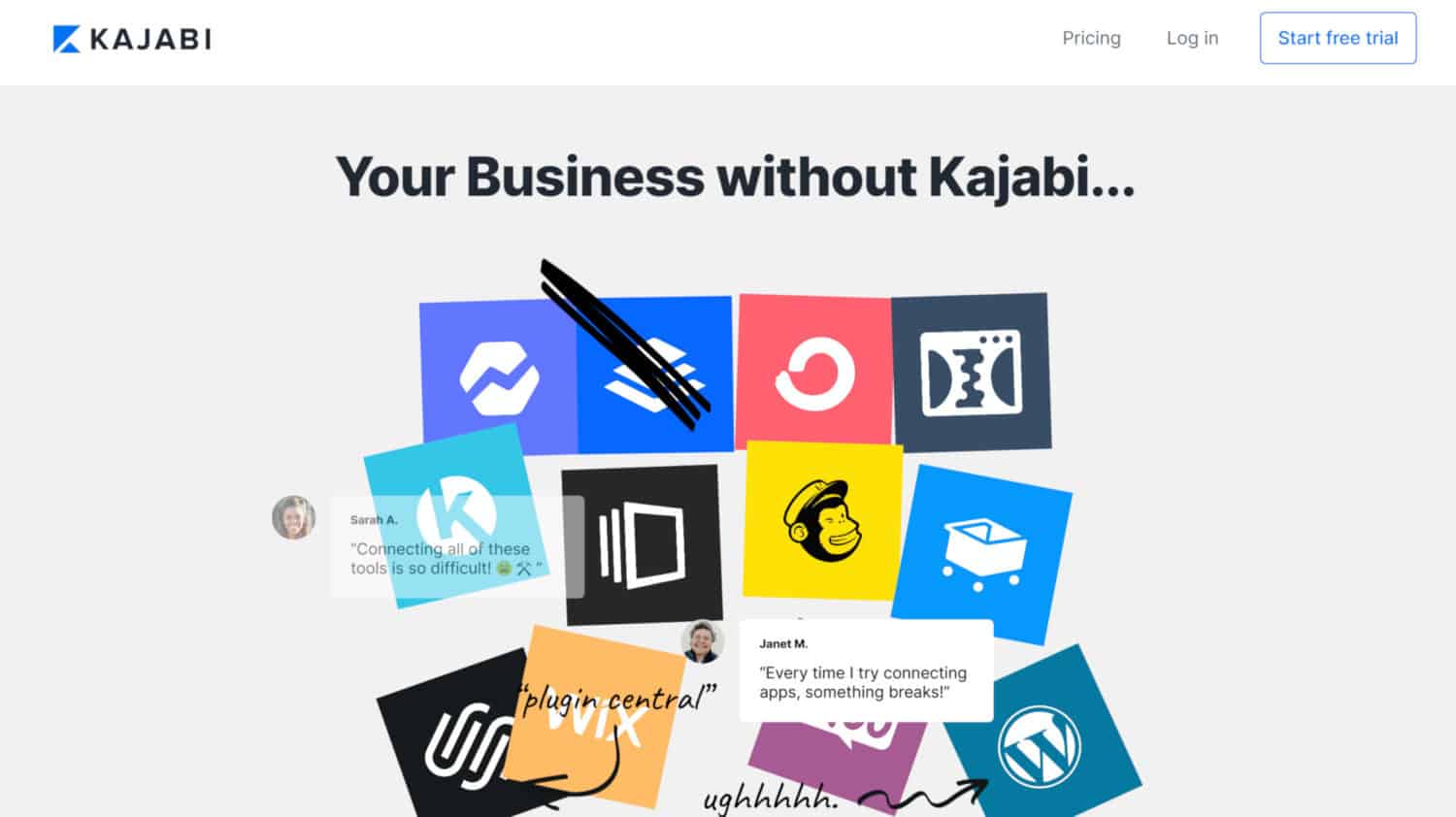 Who Kajabi is For:
Kajabi is for the beginner to the advanced marketer offering online courses. Unlike other solutions, Kajabi offers an email marketing platform along with advanced automation directly in their LMS. That means you don't need to integrate tools together. In addition, they offer exceptional landing page templates and near-limitless design options.
Skill Level:
Kajabi was built with non-techies in mind so you don't need any existing skills.
Usability:
Like all cloud solutions, you'll gain access to an admin area. The dashboard is pretty easy to use, but there are a lot of options so it will take you time to get everything set-up.
Special Features:
Kajabi is very similar to both Thinkific and Teachable except that Kajabi offers more features. With Kajabi you don't need a separate email marketing solution. Instead, they offer one built right in including all the automation you need to give your learners a personalized experience.
In addition, you'll get a much more sophisticated landing page builder with Kajabi. Kajabi also offers mobile apps for both iPhone and Android devices.
Disadvantages:
While Kajabi is robust, it does not include completion certificates for your learners, however, you can integrate it with outside tools to get this effect.
Probably the biggest disadvantage with Kajabi is that their plans utilize a pay-per-user type of plan, like most corporate LMS solutions. This can make costs fairly expensive for you. If you're offering a popular free course, you may find you're reaching the plan limits.
Kajabi Pricing:
Starting Price: $149/month Basic plan gives you the ability to offer 3 products with 3 pipelines. You can send unlimited marketing emails and build unlimited landing pages. The number of contacts you may have with this plan is capped at 10,000 contacts. You may have 1,000 active members (an active member is one who has logged in during the month). The Basic plan allows you to run Kajabi on 1 website with 1 admin user.
Advanced Plans: $399/month Pro plan increases your limits to 100 products with 100 pipelines. You may send up to 2 million marketing emails a month and have 100,000 contacts with 20,000 active members. You can use Kajabi on up to 3 websites and have 25 admin users. There is a mid-tier plan called the Growth plan for $199/month with lower limits.
Annual Savings: You'll save 20% with annual billing.
Trial Option: Kajabi offers a 14-day free trial with no risk. You can cancel anytime.
Free Version: There's no free version of Kajabi.
Guarantee: Kajabi offers a 30-day money-back guarantee.
Podia
For creators who want to create beautiful course programs and sell online courses, this platform is one of the easiest to use.
Who Podia is For:
Podia is for online course creators who want to keep things simple. They offer an all-in-one package including an email platform, the ability to connect with Stripe and PayPal with no additional transaction fees, and of course a modern, beautiful online course area. Everything is unlimited (students, courses, and videos). It's perfect for the beginner who wants to get started immediately.
Skill Level:
Podia is the simplest online course platform. The user interface is streamlined and easy to use. They also offer very responsive customer service through email and live chat so if you have any problems, they'll be there to help you sort it out.
Usability:
Podia is known for its ease of use so it's a very intuitive platform. Every tool has a specific and easy to understand use.
Special Features:
Not only can you create beautiful online courses with Podia, but it will also handle your digital downloads (like eBooks, checklists, PDFs, and more). You can offer them for free as a lead magnet or upload and sell them just like any other product.
Podia also offers built-in email marketing, the ability to add in memberships, and real-time chat for your customers. They will help you migrate everything over if you sign up for an annual plan or the monthly Shaker plan. The built-in designs for sales pages and your user login area are modern and sleek.
Disadvantages:
You are very limited when it comes to design changes. While their sales and course area are modern and nice, you can't change much. The email marketing feature is not very robust. You might be better off not using it and instead using your own email marketing solution.
Podia focuses on keeping things simple which means advanced users who want advanced features and the ability to customize may not find Podia the right online course platform for them.
Podia Pricing:
Starting Price: $39/month for the Mover plan which includes your own storefront, unlimited online courses (students and video uploads), digital downloads, email marketing, chat messaging for your site, no transaction fees, and live chat and email support.
Advanced Plans: $79/month for the Shaker plan which includes everything in the Mover plan plus hassle-free migrations where they move everything over for you, memberships, your own blog, embedded checkout, affiliate marketing, and the ability to add in third-party code like the Facebook Pixel.
Annual Savings: Annual savings are offered with Podia. You'll save $78 over the year with the Mover plan when you pay annually. You'll save $158 over the year with the Shaker plan when paid annually. You can get the free migration with the Mover plan if you pay annually.
Trial Option: Podia offers a free 14-day trial (no credit card is needed). There is also a weekly free demo webinar you can sign up for if you would prefer to have the Podia CEO show you around the platform.
Free Version: There's no free version of Podia, but with the 14-day trial you can at least start playing around with it.
Guarantee: They offer a 14-day trial and then after that, you can cancel at any time. They do not offer any money back but will stop charging your card.
Ruzuku
Packed with features and offering webinars through their teleconferencing system, Ruzuku can handle any media format, including video, audio, and PDF.
Who Ruzuku is For:
Ruzuku is for the beginner or advanced course creator who wants a no-fuss online course platform that creates beautiful courses with video, text, and PDFs. If you need to run webinars, then you'll love that this feature is built into Ruzuku. Plus there are no transaction fees beyond what PayPal and Stripe take.
Skill Level:
Even beginners can use Ruzuku to create their courses and get their online course business running quickly and easily. They claim they "make it ridiculously easy to teach online". And it really is pretty easy to get a course business up and running with this tool.
Deployment:
The Ruzuku interface is very easy to navigate. A complete beginner can definitely use this to get their online course business up and running.
Special Features:
In addition to offering support to you, they will help your students with questions like 'how can I log in to my course?'. I don't believe any other platform offers this level of support.
Ruzuku offers the ability to run webinars through their teleconference interface. You'll need the mid-level Up-and-Coming plan to get this feature, but the best part is the webinars are unlimited.
Subscription or single payments are available on higher-level plans and you can use their checkout cart or your own as well as their landing pages or your own.
Disadvantages:
Only basic customizations of your course area are possible. You cannot set up a custom domain unless you're using the most expensive University plan. There is no affiliate program option with Ruzuku which means you would need to integrate it with an eCommerce solution that offers an affiliate program.
Ruzuku Pricing:
Starting Price: $99/month for the Bootstrapper plan where you have 0% transaction fees and payments are taken through PayPal and Stripe. It's perfect for a single instructor where you want unlimited courses, unlimited students, and unlimited video. You'll also get the ability to use coupons.
Advanced Plans: $199/month for the University plan where you may use your own domain with multiple instructors and multiple site managers. This plan comes with everything the Bootstrapper has to offer and subscriptions and payment plans, unlimited webinars, polls and quizzes, and a dedicated account manager.
Annual Savings: Ruzuku offers a significant discount if you pay annually. The University plan is $125/month with an annual payment and the Bootstrapper plan is $74.75/month paid annually.
Trial Option: Ruzuku has a 14-day trial option where no credit card is required.
Free Version: There is no free version of Ruzuku, but you can try it out with the 14-day trial offer.
Guarantee: If you cancel within your first 30 days, you can get a full refund. Otherwise, you can cancel your account at any time and they will stop taking payments.
LearnWorlds
Geared toward creating, selling and marketing online courses, this platform is making waves for its ability to create fantastic online courses and training programs.
Who LearnWorlds is For:
LearnWorlds is for the beginner or advanced trainer who needs more robust features than what most other online course platforms offer. Through LearnWorlds you can offer SCORM complaint training as well as social learning tools, interactive videos with pop up text and questionnaires, and even interactive eBooks. If you're looking for something with 'bigger and better' features then LearnWorlds is worth a look.
Skill Level:
LearnWorlds is an all-in-one platform, but there are so many options that it will take some time to get your online training business set-up properly.
Usability:
You'll gain access to an admin area once you sign-up. While LearnWorlds offers a lot of features, the dashboard is easy to navigate after you spend time reviewing all the options in your account.
Special Features:
LearnWorlds offers a built-in social network so your students can connect with each other. They also have a nice sales page builder with hundreds of quick-start templates.
LearnWorlds offers a powerful assessment engine including quizzes, assignments, and exams available on every plan. An automated newspaper feature with article headlines and tweets is unique.
LearnWorlds offers a lot of unique features not found in any other platform. For example, you can have interactive eBooks where learners can make annotations as they're reading.
Then there's an interactive video player that allows you to generate pop up text, links to other resources, navigation buttons, and questionnaires.
They also offer custom services for a fee like the ability to build a branded mobile app, customize your LearnWorlds school, help you with content development, and even assist you with uploading your content.
Disadvantages:
While LearnWorlds offers a nice spread in pricing options (ranging from $29/month up to $299/month), there are only 3 options. It's a big jump to go from the mid-range option at $99/month up to triple that amount ($299/month). The highest-priced offer is the one where you'll get advanced affiliate features and interactive videos. Also, since there is so much offered with any plan, it'll take you a while to get set-up.
LearnWorlds Pricing:
Starting Price: $29/month Starter plan includes 1 admin where you can use your own custom domain and offer unlimited paid courses. LearnWorlds takes a $5 fee per course sale on this Starter plan. You can build up to 3 pages with the page builder, will gain access to a built-in community, basic integrations, and can drip feed your courses. On the eCommerce side, you can use coupons, connect with 4 payment gateways, and get a free SSL certificate
Advanced Plans: $299/month Learning Center includes all Starter options + the Pro Trainer options ($99/month mid-level option) and no transaction fees, 20 admins/instructors, bulk student upload, full white-label options, API integrations, interactive video, advanced affiliate management, webhooks, single sign-on, and more.
Annual Savings: LearnWorlds offers annual savings. You can save up to 20% on your plans if you pay yearly. The Starter plan goes down from $29/month to $24/month if you pay yearly. The Learning Center plan goes down from $299/month to $249/month with an annual payment.
Trial Option: 30-day free trial option.
Free Version: There's no free version of LearnWorlds, but you can try it out for 30-days with the free trial.
Guarantee: While you can cancel at any time and stop the billing, LearnWorlds does not offer a money-back guarantee.
---
LearnDash
LearnDash is a very popular self-hosted WordPress LMS plugin. It offers reasonable pricing structures and allows you to essentially own your online course platform.
I was literally blown away by what LearnDash can do. You really have no limits with this platform.
Who LearnDash is For:
The ideal LearnDash user is an online course creator who wants complete ownership of their course. In addition, they want the ability to customize their course and don't mind the maintenance that comes with a WordPress LMS plugin.
LearnDash comes with an impressive set of features including an intelligent course builder, engagement triggers, certificates/badges, highly advanced quizzing, detailed progress tracking, and much more.
Skill Level:
LearnDash can be difficult to get up and running since integrations and working with plugins can be challenging. You'll also have to update plugins frequently and make sure everything is still working correctly after each update.
Other than that, LearnDash is fairly easy to use. Building your course will be just as easy as it is with any other tool. It's easy to organize your lessons as well as enter in quizzes or assessments. If you're already familiar with WordPress then you won't struggle with that part of the process.
Deployment:
Once you purchase a LearnDash license you'll gain access to an online account area. This area allows you to download the plugin and manage a few account details.
From there, you'll need to install the plugin on your WordPress site. As a tip, I highly recommend installing LearnDash on a subdomain. Ultimately, you'll have two different WordPress installs; one for managing your site/blog and one for managing your course area.
Here's what your LearnDash WordPress admin will look like:
Special Features:
LearnDash is a superior LMS compared to anything else I've tried and the price should be much higher. The advanced quiz features allow you to create very complex quizzes and assessments as part of your course curriculum. There really isn't a quiz format or feature that isn't found in LearnDash which will save you from having to purchase another tool if your course requires advanced quizzes.
LearnDash has a nice profile area where learners can see their progress. It also has an advanced course progression features that prevent your learners from advancing through the course until they complete the previous lessons and quizzes. I've taken some courses like this and found it helpful from a learner's perspective because it kept me from skipping ahead.
With LearnDash you can customize virtually any and every aspect of your course. Everything can be white-labeled to your business and will be under your complete control.
Disadvantages:
While LearnDash is a fantastic LMS, it's not ready to go out-of-the-box. You'll also need a WordPress theme to make anything resembling a professional course.
LearnDash Pricing:
Starting Price: $159 for 1 license with 1-year of support and updates. You will receive all features with this license.
Advanced Plans: $329 for 25 licenses with 1-year of support and updates. This also includes ProPanel which is an additional plugin offering reporting and statistics.
Annual Savings: There are no additional annual savings plans since the plugin is only available on an annual purchase plan.
Trial Option: There is no free trial option, but LearnDash offers a free demo on the site.
Free Version: There is no free version; all versions are paid plans.
Guarantee: There is a 30-day money-back guarantee.
LifterLMS
LifterLMS is a popular WordPress LMS plugin that serves as a nearly all-in-one platform for your online course business. You can choose from a free plan up to a $999/year plan with features not offered by any other LMS (whether cloud or WordPress plugin).
Who LifterLMS is For:
LifterLMS is for online course creators who prefer having complete control over their online courses. LifterLMS is an LMS plugin that runs on WordPress so you'll need to host your own WordPress install and manage the plugin updates as well as maintain integrations with other tools.
Skill Level:
LifterLMS is very close to an all-in-one solution which means you'll have fewer integrations and piecing together of solutions. If you're already familiar with WordPress then getting your course set-up with LifterLMS will be a snap. Just integrate the plugin with your payment processor, your email marketing solution, and upload your course content.
Deployment:
Once you purchase a license you'll log in to an account area on the LifterLMS site. You can log in and download the plugin as well as retrieve your license key. From there, you'll need to install the LifterLMS plugin on your own hosting account.
Once that's done, you'll configure your course and the integrations from within your WordPress installation. The admin Dashboard looks like this:
Special Features:
With LifterLMS, just about everything is ready to go right out of the box. It's nearly a complete solution for your online training. In fact, you'll really just need an email marketing solution to complete your tool-set. You can use the default theme and LifterLMS will create login and registration pages for you as well as provide the order forms.
The notifications feature within LifterLMS is also very impressive. You can show notifications to learners after they watch a video, take a quiz, complete a lesson or module, or really, just about anything. This adds to the feeling that a learner is not alone. It's a great built-in feature of the tool.
Disadvantages:
LifterLMS does not offer many different integrations, especially when it comes to email marketing tools. If you choose to use it, you'll be limited to only a couple of email marketing solutions which is OK as long as you're willing to use one of those supported tools.
The LifterLMS default registration and payment forms look outdated so while the plugin offers support for them, you may decide to swap them out for something else.
LifterLMS Pricing:
Starting Price: While the core plugin is free, you'll need to pay $99/year for each add-on. Add-ons allow you to integrate the plugin with other useful tools like an email marketing solution and a payment processor. You'll likely need to integrate LifterLMS with one of each so your total would be $99 x 2 per year.
Advanced Plans: $999/year for the Infinity Bundle which includes all the available add-ons. This includes unlimited active sites, design add-ons, eCommerce add-ons, marketing, and CRM add-ons. In addition, you'll get form add-ons, advanced quizzes and assignments, private coaching features, and social learning features.
Annual Savings: You can pay $99/month for the Infinity Bundle or save money and $999 for a yearly plan.
Trial Option: There is a 30-day demo where you pay $1 and you can try out the Infinity Bundle option for 30 days.
Free Version: The core WordPress plugin is completely free.
Guarantee: There is a 30-day money-back guarantee.
---
TalentLMS
One of the easiest SCORM and TinCan compliant LMS out there, TalentLMS a great system for training and educating employees, customers, and partners. 70,000+ organizations use TalentLMS, including some of the world's top companies.
Who TalentLMS is For:
TalentLMS is ideal for corporations that need to get their employees and new hires up to speed. It's simple to use and organized well but has a lot of features.
Skill Level:
With TalentLMS anyone can make eLearning portals within minutes. Even novice users will be able to get up and running quickly.
Deployment:
Once you sign up for a TalentLMS account, you'll gain access to an admin area with an easy to use dashboard.
Special Features:
TalentLMS gives learners the opportunity to continuously stay up to date with new training, especially since this LMS is available over Android, iOS, and can be used offline. It also supports video conferencing and provides advanced gamification functionality to keep learners attentive and motivated.
The assessment engine supports a variety of test types and extensive reporting and surveys. And custom learning paths allow you to restrict the way the courses are consumed.
Corporations can choose from 400+ courses in the library. These courses include Work Safety, Sales Training, and IT Skills.
While TalentLMS is geared for corporations signing up new hires, it's possible to sell courses through Paypal or Stripe.
Disadvantages:
The price increases with your learners (which is very common with corporate eLearning platforms). This may be fine for bigger corporations who can substitute out expensive live presentations for an eLearning portal, but the math won't always work out too well for some small businesses.
TalentLMS Pricing:
The one tricky thing with pricing is that Talent LMS offers standard and active plans. With the standard plans, users are anyone who is registered.
Active plans allow you to register as many users as you want. You only pay for those actively using your course(s) which is measured as those who log in to your portal.
All paid plans offer unlimited courses.
Starting Price: $79/month Starter plan for up to 40 users. The Starter Active plan is $159/month and allows for 40 active users/month.
Advanced Plans: $529/month for the Premium plan which allows for 1000 users including single sign-on and more. The Premium Active plan is $599/month and allows for 500 active users/month.
Annual Savings: Yearly billing saves you money. The Starter plan becomes $59/month if billed annually. The Premium Active plan becomes $479/month with annual billing.
Trial Option: TalentLMS doesn't offer a free trial, but there is a free version you can give a try to see if it works for your needs.
Free Version: TalentLMS offers a free plan for up to 5 users and 10 courses.
Guarantee: You can cancel at any time and they will stop charging your credit card.
---
Skillshare
An online learning community to support learners and creators, Skillshare is a great way for instructors and students to access a large variety of content ranging from cooking to marketing.
Who Skillshare is For:
You can teach on Skillshare and make some money. If you just want to create courses and upload them to a member's area then Skillshare might be for you. They have a built-in audience your courses will be marketed to and they offer tips to help you promote your courses to your own community.
Skill Level:
Skillshare is very easy to use. Essentially, you will need to follow the Skillshare course guidelines and then upload your course along with the descriptions. There isn't anything you can change or customize so it's very simple to use.
Deployment:
Simply sign up for a Skillshare account online and gain access to your admin area. Then upload your course videos and titles. As you can see in the screenshot below, it's very easy to navigate the admin:
Special Features:
You can use Skillshare's built-in audience to help generate viewers to your courses. You can use your name as the instructor which will build up your reputation. You can also include links to your social media accounts in your bio.
A class or course only needs to be 10 minutes in length so you can create a lot of different, short classes that help solve specific problems. Skillshare customers pay for a monthly membership so your course is essentially free to them once they're a member.
With Skillshare you'll earn monthly royalties based on how many minutes of your course(s) your students watch. You can also earn a referral commission each time you refer a student to a Skillshare Premium Membership.
Disadvantages:
You have to follow the Skillshare guidelines explicitly. Their guidelines include a project component for your course. They have fairly strict standards for the courses they allow on their site.
If you create your own course and upload it to your own platform you really don't have to follow anyone's guidelines or standards. You cannot publish your course in the Skillshare Premium catalog and then also publish it for free elsewhere.
Another downside is that the payouts are low. You can't assign a price for your course, you're paid for the minutes viewed. They state that the average teacher earns $200 in their first month on Skillshare with top teachers earning $3,000.
Skillshare Pricing:
It costs nothing to put your course on Skillshare. You just need to make sure your course meets their guidelines. You'll earn monthly royalties from your courses and you'll earn commissions by referring students to their Premium Membership.
Udemy
Udemy is one of the largest online course platform options out there. You can create and sell online courses from Udemy. The best part is you can use their built-in audience to sell online courses from.
Who Udemy is For:
Udemy is a marketplace solution where you upload your paid courses on their platform and they will market it to their 30 million students for you. You'll get a share of the revenue each time you make a sale.
Skill Level:
It's easy to upload your courses to Udemy. In addition to your video upload, you'll also need to enter your course description and a few other components.
Usability:
You'll sign up for a Udemy instructor account and can log in to your dashboard at any time. It's very easy to navigate and practically walks you step-by-step through the creation of your course.
Special Features:
With Udemy you can build your personal brand and market yourself to their large audience. The more popular your course is, the more Udemy markets it on their platform.
Udemy takes care of everything for you. You don't need any technical skills or a website. You just need to create and upload your course videos. Udemy makes it simple for you to get started.
Disadvantages:
You won't have any control over your course if you upload it on Udemy. They can even change the price. Udemy decides how much marketing they will do for your course (typically, the more popular courses will be more heavily marketed which makes it difficult when you're starting out).
You will have to share your revenue with Udemy and settle for your monthly payouts. You will not be able to contact your subscribers and market to them again. It's also difficult to utilize Udemy to build a business brand off Udemy.
Udemy Pricing:
There's no cost to sign up as an instructor or even to upload your courses on Udemy. As mentioned, it's a profit-sharing marketplace which means when you have students sign up for your course, you'll share some of the profit with Udemy. They will pay you monthly for what you've earned on their platform.
Whether you're a newbie or a professional user, with five powerful categories of Learning Management Systems (LMS) to choose from, you're on your way to join the world of eLearning with the best tools and resources.
Hopefully you've been able to choose your category and at least get a few trials going with specific online course platforms. From there, just narrow down your final choice, and get started. I know there's a lot of great choices out there, but you don't need to second-guess yourself as long as you put in a little bit of effort up front. Any online course platform you find on this page will serve you well!