How Jon Dykstra of FatStacksBlog.com Added Multiple 6-Figures to His Income by Offering Online Training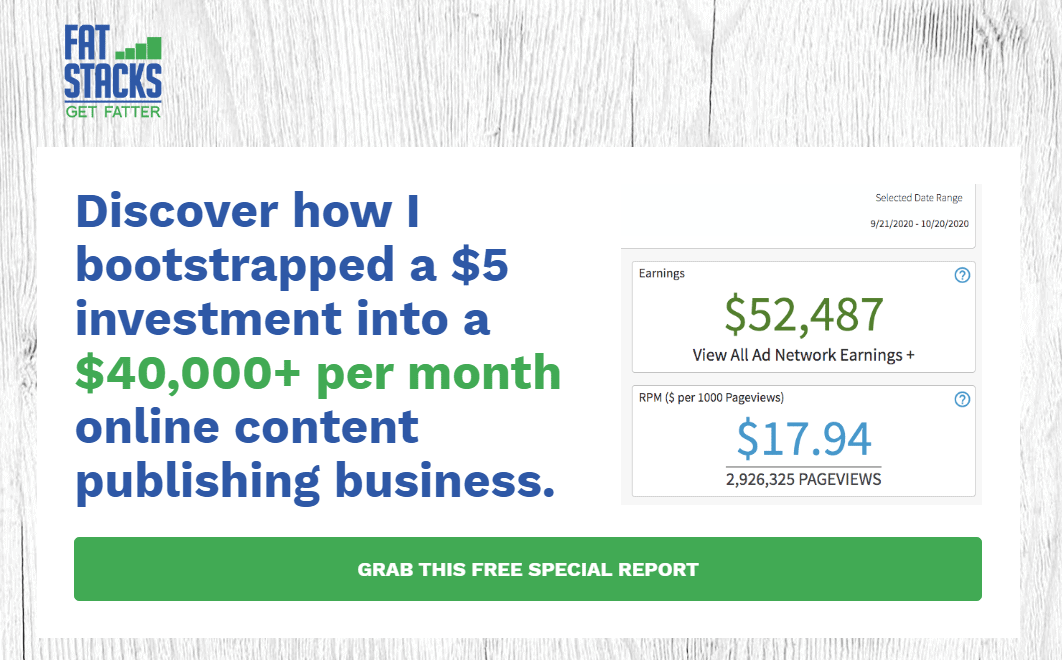 Our content is reader supported, which means when you buy from links you click on, we may earn a commission.
---
Note: This interview came from an audio transcript.
Who are you and what course have you created?
I'm Jon Dykstra from Fatstacksblog.com. I offer several courses to help people start niche sites.
What market does your online course serve?
My audience is primarily interested in building up new sites and blogs. I basically run a content publishing business. And that's in all types of niches. It's pretty basic stuff, I tend to monetize mostly with display ads.
And that's what I teach. In terms of courses, I combine them all. That way if you'd want to learn just the keyword research the way I do it, you can get the keyword research. If you want the on-site setup, you can get that too. You can get a specific course, or buy the bundle, which gives you everything except the freelance writing course.
That's sort of how it's developed over time, and it seems to resonate well with the audience. And my audience is interesting. More and more women are jumping on board, which is really cool. And I have all ages across the board, from 25 to 60. Plus, most are from Canada, the US, Australia, but some in the UK, in terms of experience all over the board there too.
I run a forum as well. It's a paid forum that comes with courses. There are people in there that have sites way bigger than anything I have. And then there are people just starting out. So everybody is all over the place, all with different experience levels. It's quite a broad, broad audience.
But at the end of the day, we all have the same aspiration, which is to build an online content publishing business, in some form. So that's pretty much the market.
What's the biggest benefit of taking your courses?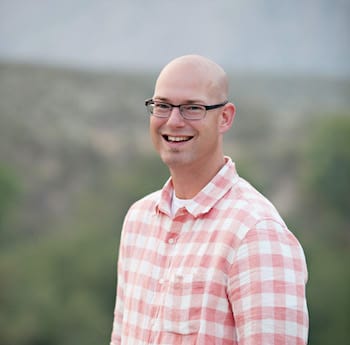 Fat Stacks is just one of my sites. My main business is content publishing in a whole bunch of different niches. I'm actually in the trenches. Last month I generated something north of $80,000 a month, just from sites alone. So I kind of know what I'm doing.
Do I have the biggest and best sites in the world? No, absolutely not. But I do know what I'm doing. I share my unique angles in the courses. It's my approach that I've evolved over the years. So you're going to learn stuff that you're not going to read about anywhere else. You're going to learn from somebody who's actually doing it.
The courses get updated based on what I'm actually doing and changing along the way. And you're going to get a perspective.
So it's from somebody who is actually building a real content publishing business and has, and is able to do it full time, which I'm grateful for every day. There's a free course that includes basic video tutorials for actually the technical aspect of setting up the sites, you know, with WordPress hosting, themes, plugins, etc.
And then from there, the paid courses roll into keyword research, getting content, automating content on-site SEO. Something unique that not a lot of people talk about is how to publish content that attracts links naturally. I don't build links, that's also a very distinguishing aspect of what I do. I don't hire outreach outfits or pay SEO companies to build links to my new sites or to any site, I strive to publish content that attracts links naturally, which is the kind of links that Google wants. I'm not building anything, I'm just putting content out there that other sites like to link to, and I have a whole course dedicated to that called Natural Link Building.
It's probably one of my favorite courses because it's pretty clever. The training is very, very simple to execute and it doesn't cost any money. So it's an eye-opener. One of my most popular courses is the one on keyword research because it really all starts with keyword research.
That's another sort of approach I have that's novel, I target low competition keywords, publish tons and tons of content that rank without having to build all the links. But even that said, I still do attract quite a bit of links. I'm approaching over 10,000 referring domains across my niche site. So it does work and I get a lot of links to my sites.
How did you get into the market?
I'd been reading blogs and just trying to break into the business myself. Early sites I read include Zach Johnson and thelazymarketer.com.
A lot of what I learned came from Chris Rempel, who is a great guy, and a handful of others like on the Warrior Forum, etc.
Once you're plugged into the community you see all the courses that are for sale and I bought my fair share over the years. So it was a natural extension of having success in a bunch of niches to then launch a site like Fat Stacks blog where I talk about what I'm doing. And the best way to monetize such a site is really selling courses. So that's what I've done. And it's worked out quite nicely. Most importantly I enjoy it.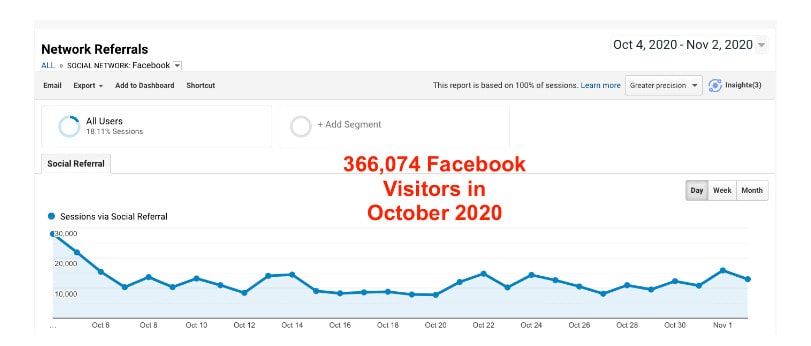 Why did you decide to create an online course in the first place?
It's by far the best way to monetize a site that serves a business audience. Really, I think, in any business niche for the most part, unless it's news.
Courses and digital products can be amazing ways to monetize a site, but it really does have to be the right type of site, with the right type of audience. -Jon Dykstra
Click To Tweet
And Fat Stacks is definitely one where it works quite well. People want to learn and they're willing to pay to learn.
Did you have any moments of doubt before you created/launched it?
No, not really. This is a side thing for me at the end of the day. The first thing I work on in a day is to make sure my sites, which are my primary business, are working well.
If I end up making nothing with that Fat Stacks, it's okay, I've got a very good business with my content sites. So this acts as a side thing, it's a side hustle, I guess you can ironically call it.
I didn't have any doubts about launching it. I slowly built up an email list of readers and my message is very simple; low competition keywords, lots of content, don't build links, and put display ads on your site to make money. And that's it. It's a very, very, very simple online business.
And there's a lot of people that are interested in the model. But I wasn't really worried whether I made it or not since this is not my only business. I'm fortunate that I'm not dependent on really how the courses do so I'd never doubted anything really.
What are your online courses like?
It has some video but is mostly text. The keyword research course is mostly video just because that's the easiest format to teach it in. I really just picked a medium that works best for explaining the material. I'm not a big video guy. I don't like video courses at all, I'd much rather just read. So most of it is text or it can be video when the video is actually the better format. So that's how I go about it.
How long did it take you to create your courses?
I have a handful of courses, it took probably over a year to put them all together. And because they're very, very specific courses each one didn't take a whole long time to put together. But when you add them all up, yeah, it took quite a while. I'd say some of my smaller courses only took a few days. But you have to remember, I know this material well because I'm actually doing it as my real business.
Actually creating and coming up with what's necessary for the course was very simple for me. It's like second nature. So it didn't really take long to create individual courses. But when you add them all together, if you get the bundle into something like seven courses in there that I mean, you add that all that time up, it took me several weeks for sure.
Tell us a little about the process of launching your course and getting your first sale(s).
I had already been building an email list with Fat Stacks. It's actually not a huge newsletter, maybe 11,400 readers at this point, which is quite small in this industry. But, I do scrub the list regularly because there's just no need to have a bunch of people on there who aren't interested. So basically, I just launch one course after another and the sales are great. They're not like record breakers or anything. But that's all I do.
I just launched it and never really did a whole lot of additional promotion. Fortunately, I have a few affiliates who promote here and there. For the most part, I focus on my email readership and once in a while do a promotion. My focus is on my own readers for generating sales.
I don't do a big fancy launch where I spend months gearing up and lining up affiliates and advertising and all that.
My process is easy, I just create the course, put up a sales page, send my email readers to it, and leave it at that. - Jon Dykstra
Click To Tweet
Do you have a lead magnet?
Yes, I do have a free 12 page PDF report. It gives a bird's eye view of what the publishing model is that I do. It's quite detailed. I mean, it's not going to reveal everything because that's what the courses are there for.
But yes, I do use a lead magnet, it works out quite well, based on the traffic the site gets, which isn't a whole lot. It definitely attracts subscribers every day, let's say in the neighborhood of 15 to 25 on its own one. And then there are other sources I use to get additional subscribers. But that's not a whole lot. But they sign up for the free report and stay on the email newsletter.
What's the traffic strategy that works best for you?
Recently, I started to do some paid advertising for the whole process. I've sort of been working on making the funnel a little bit better. I'm putting together an automated email sequence and improving landing pages and all that so I am working to actually improve the whole marketing process.
But that's come after having these courses around for some time. Most people will perfect the whole marketing process right up front and then launch. I've sort of launched, stumbled along slowly and you know, built up a readership. And now I'm at the point where I'm going to really hopefully tighten up and improve the whole marketing funnel process.
The traffic strategy generally, for the most part, has been organic search traffic to the blog. That's the main source of leads.
I do run a podcast. I'm sort of hot and cold on that where some weeks I put something out and others I don't. I should really be more consistent with podcasting and the same with YouTube videos. But I don't get a whole lot of listeners and viewers for that. So it's not really a big lead source. I get a lot of word of mouth. I might get mentioned or interviewed on other sites. That usually generates a good number of referrals so that's helpful.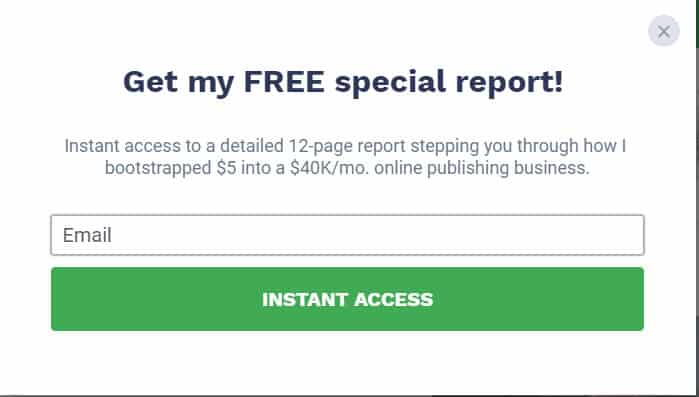 What online course platform are you using?
I use Teachable right now for the entire course and I like it a lot. It definitely has some limitations. But it's got a built-in affiliate program which is nice. And the ability to create sales pages which I find a little bit wonky, but they're quite good.
Aside from that, in terms of users actually going through the courses, it provides a really nice smooth user interface. So it's not perfect, but it's 100 bucks a month and it works. It's easy to create the courses and it's got basically everything you need to actually really get going.
I use ConvertKit for email and I also use Convert box to display signup forms on my site. I use Leadpages for landing pages. So I have some complimentary tools that I'm using to help the whole marketing aspect but for the courses, it's all Teachable.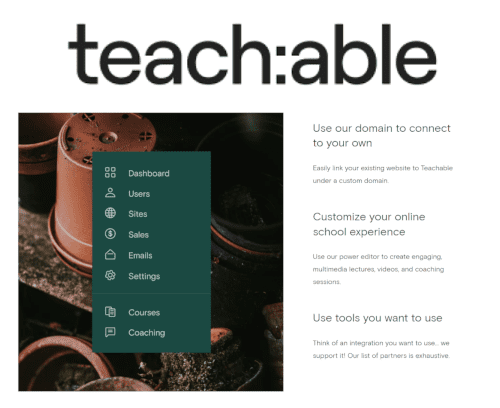 Check Out Teachable
Teachable is one of the top online course platforms used by successful course creators interviewed on coursemethod.com. It is easy to set up and build your site pages, and the course area looks great. 
Price Range: $0 (+ transaction fees) to $299/month
Most Popular Plan: Pro Plan at $119/month
Annual Discount: Yes, take 17% off!
Free Trial: Try out Teachable's core features for free
*Our content is reader supported, which means when you buy from links you click on, we may earn a commission.
Are there any features you wish it had?
I wish it had a much better sales and landing page creator. The one they have now is a new version, but it's a little bit wonky. For one, the text isn't doesn't always format the way I want it.
It's not a smooth drag and drop process. I don't even know if there are templates or not that you could use, but that would be nice. I use lead pages as well and it creates lovely pages. It's just a much more solid landing page creator so yeah something like that.
A more robust affiliate platform would be much better for Teachable as well. Theirs works but there are a lot of things that are missing. The built-in email marketing tool is also lacking. So Teachable has a lot of these components that are kind of necessary for one-stop-shop course platforms, but a lot of the additional features are lacking. They're just not they're not as good as what a third party would be.
Where Teachable shines most is the actual course itself. The courses are easy to create and it's nice for the users too. You can rip through a course very nicely. It's quite good.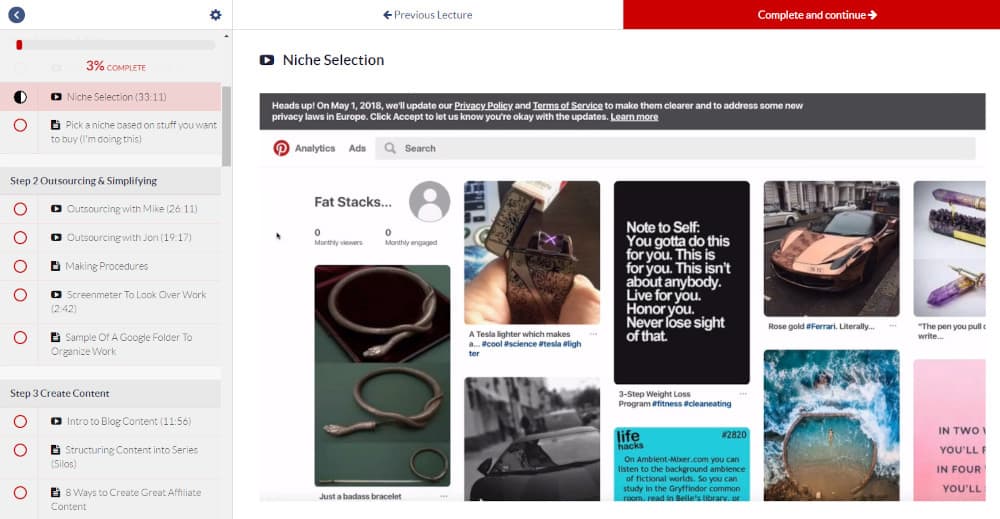 What books or training programs have you found useful on your journey to a successful business owner that others might find valuable too?
I would say early in the day the most instrumental blog I ever read, was thelazymarketer.com by Chris Rempel. The guy is brilliant, he's funny. He's a great writer and a super nice guy.
I'd say, after that, I don't really follow anybody these days. I sort of pay attention to what people are doing just for the sake of what they're doing. But I've pretty much pinned down what works for me.
I'll tell you, in terms of my niche business, I carve my own path. And that's what I teach in terms of how people are doing marketing with their blogs, and so forth.
Do you have any big mistakes you've made along the way that you'd be willing to share?
I probably could have done a lot better had I brought on more affiliates to help promote my courses. That would have helped a lot.
I guess a lot of the things I'm doing right now, like doing the ads working on a sales page, I could have done sooner.
I've hired a designer to help improve my Teachable sales pages, all of these little things probably would have been a lot better to have done a long time ago, because I suspect that they're going to help sales considerably.
But at the same time, doing the sort of the real slow rollout as I've done and just growing organically has taught me a lot. And it's been a good process.
It's generated very good revenue for the effort I've put into it. I guess I can't really say it's a regret.
I do have a forum. The forum was a very good idea and I could have gone with a Facebook group, but I opted for forum software because I'm already a big fan of Facebook groups. And I like the forum software where you can find the content easier. So it becomes this huge database of tips and information and resources for this type of information or niche, how to start a blog and grow a blog, etc.
So I wish I had started that earlier because that's proven to be very, very successful.
It's not really a big moneymaker, but it serves as an excellent outlet for support for people who buy the courses and have questions, and it also serves as a great way to just sort of unwind and chat. I love jumping on there. I'm on there daily.
Because it is paid though, the quality is excellent. I'm not dealing with trolls or people who are spamming or anything like that. It's the people who want to be there and contribute. It's very good.
Please share some idea of revenue.
I don't talk about Fat Stacks revenue on the blog, I don't think that's important. I share a lot of revenue that I earned from my niche sites, which is the business that I teach. In terms of course sales for the last couple of years, since 2018, it has been around $320,000 now.
That's pretty good. I'm pretty happy with that considering the amount of time and effort I put into it. I certainly don't have a slick marketing system in place.
On the flip side, it's still fairly low relative to a lot of other people in the same industry. Some people who are very good at this and have excellent marketing in place are doing millions. So can I get there too. Fat Stacks has other revenue sources that I don't want to get into.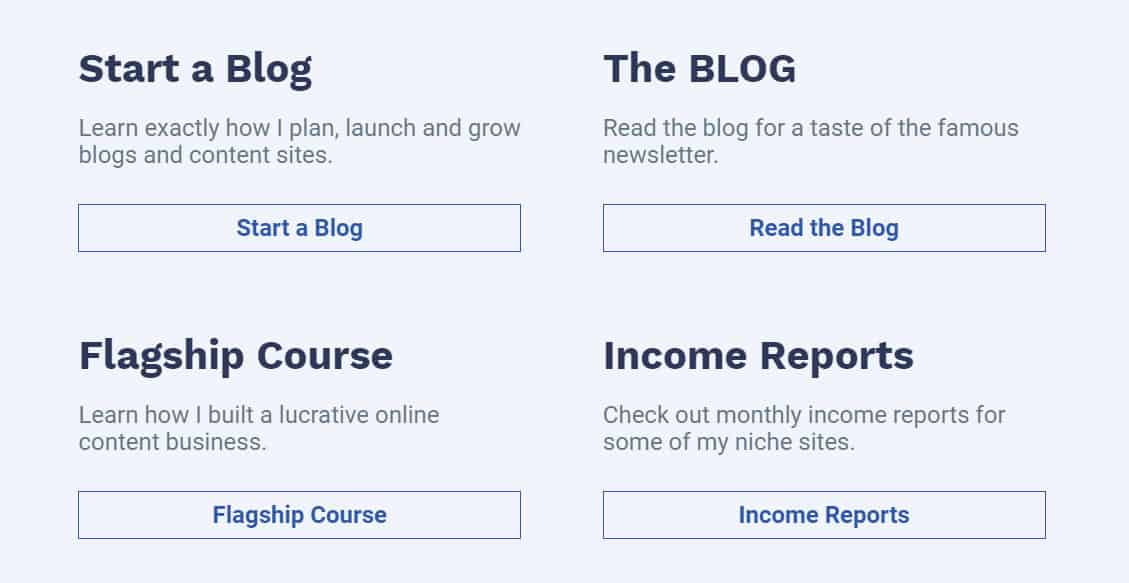 Please tell us a little about what the money you've earned from your course has done for you.
Fat Stacks really is a side project for me. I don't do it to make money to live off of.
It's kind of like a bonus. I'm earning money from it just because I like talking and writing about this whole building niche sites. My salary and my main revenue source is from the niche sites that I publish that have nothing to do with Fat Stacks. Those niche sites are my main business. I guess Fat Stacks is just kind of like a bonus for writing and yammering on about stuff that I enjoy doing and how I built my main business.
In addition to revenue are there any numbers you would like to share?
The site has grown very, very slowly. I can't say, I've got 100,000 YouTube visitor subscribers or a massive amount like that. Nothing's massive. The podcast is small, but there are regular listeners. The YouTube viewers are still small in numbers, but there are people who go on there regularly. Same with email. My list is small, but it's very responsive relative to a lot of others.
I have targeted traffic, but it's all still small. I hope to grow it. So I've been at it for a few years, but it's just been a part-time sort of thing for me that I do almost like a hobby except that it actually pays quite well.
What has creating your course done for you personally?
It's essentially been a nice little revenue stream for me, and it's something that I enjoy doing. Fat Stacks wouldn't be nearly as lucrative if I didn't have the courses. I earn quite a bit of affiliate revenue from Fat Stacks. But the courses definitely make it that much more lucrative. And, you know, it's been fun learning this type of business, because it's very different than my niche sites. With them, I just focus on traffic and monetizing with display ads. I don't do any email marketing with my niche sites. And I don't sell anything directly.
The niche sites are a pure content business that I love. Fat Stacks is different because it's got email newsletters, I sell my courses, and all of the stuff that I don't do with my niche sites. So it's a completely different business model, which has been fun to learn.
I've learned a lot from it and I still have a ton to learn because I really don't know what I'm doing. In the last year, I've put in a push with podcasts and videos. And that's a whole other can of worms in terms of stuff to learn and technology to learn and all that. But it's just a very different business. It's been fun. I feel like I've accomplished something. With Fat Stacks I'd say the loyal readership is excellent. I always get a thrill from people who reply to my emails, which I send out daily.
People like the information I give, and I spend quite a bit of free stuff out there. Because I like doing it. And to me, that's an accomplishment to have readers who actually really like to open up an email once a day.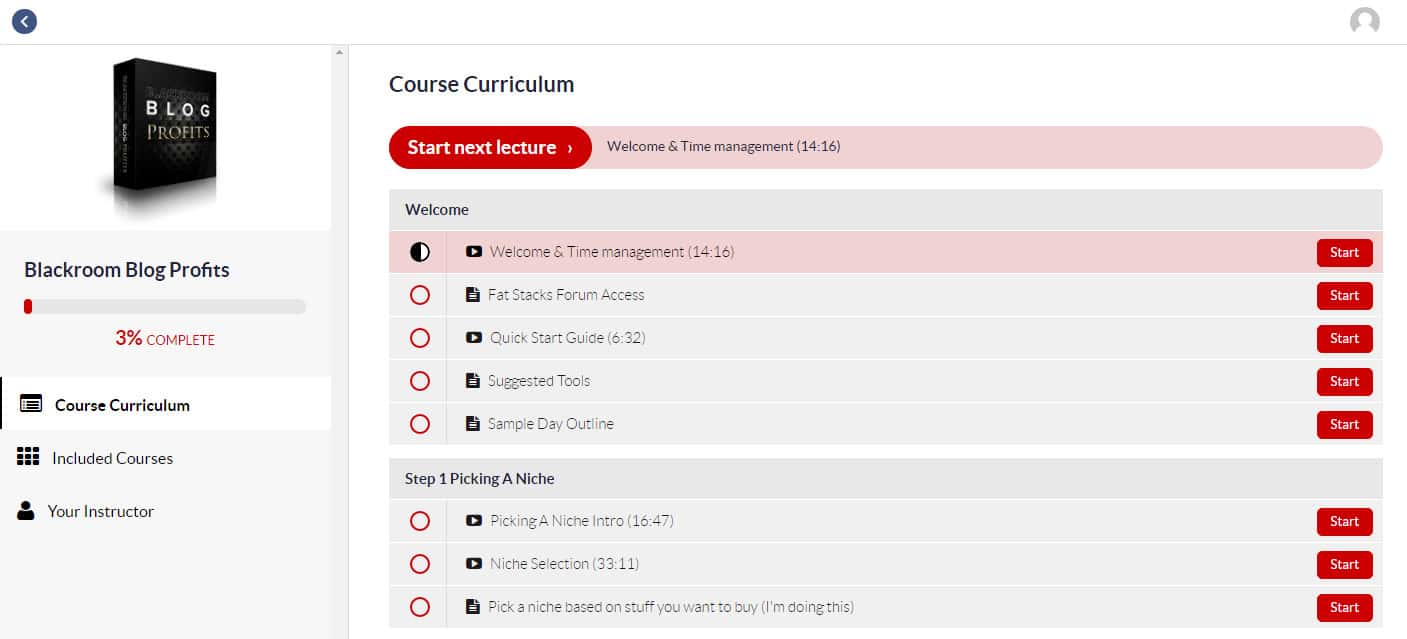 Do you have a story of a transformation from any of your clients?
Yeah, we have a good number of people in the forum. There's a category of case studies slash results, where people talk about some pretty good traffic growth to their new site. So that's exciting. I have a lot of people email me and say, you know, I was able to grow my traffic by such and such or increase my revenue over the last two years.
So does everybody who buys a course or reads my email enjoy a huge success? No, but quite a few do, and that that's nice to hear. Because at least I'm helping some people rather than just merely entertaining them.
What advice do you have for people just starting out?
I took the slow approach because this is just a side thing for me. And I think that's okay, I like to encourage a lot of people who build up successful new sites in other niches to leverage their knowledge and to start a site like Fat Stacks but it's going to be slow growth because you want to protect your niche site so it's not like this is all I have to do. If all I could focus on was Fat Stacks that it probably is quite a bit further along than it is now. So I'd say just get started.
I guess the most important thing that I do is the great amount of care and effort I put into each email newsletter.
I put a lot of time into that and I think it's paid off really well. But most importantly I have a lot of fun writing them.
Learn more about Jon Dykstra of fatstacksblog.com: