How Kat Norton Got Out of Her Own Way and Grew a 7-Figure Excel Training Company

Our content is reader supported, which means when you buy from links you click on, we may earn a commission.
---
Who: Kat Norton
Website: miss-excel.com
Course Topic: Microsoft Courses
Interesting Stats: Instagram grew 200k in 10 days
Who are you and what course have you created?
Course Details: I have built out courses in the Microsoft Suite (Excel, Word, PowerPoint, OneNote, Teams, Outlook) and Google Sheets. I also have a kids' course in progress. You can find them all here.
What market does your online course serve?
My market serves working professionals who are looking to become more efficient at work by leveraging the Microsoft / Google products to their full potential.
What's the biggest benefit of taking your course?
When people take my Thinkific courses, they learn the tools to allow them to save hours in their week and spend more time in life doing what they love!

How did you get into the market?
In June of 2020, I was tossing around business ideas on the phone with my friend. I had taught Excel for 4 years internally at my day job and was thinking of side hustle ideas to leverage that skill set and help more people outside of the company. Then the idea of putting Excel on TikTok came up and it was like a lightning bolt hit. I got the vision: an Excel screen over my head. My videos quickly went viral and a few months later I started selling courses.
Why did you decide to create an online course in the first place?
I wanted to be able to help as many people as I can learn these important tools and realized there is only so much they can learn from a 15-second TikTok video!  Courses seemed like the next logical step!
Did you have any moments of doubt before you created/launched it?
I spent a lot of time doing inner work (meditation, clearing limiting beliefs, etc.) before launching the business to get myself to a place where I knew I was limitless. - Kat Norton
Click To Tweet
Shockingly enough most people don't wake up ready to dance on the internet to left functions LOL. By the time I started creating my courses, everything just flowed and felt aligned.
What's your online course like?
My online course is mainly videos – I use live-action and screencap to make Excel come to life. I video edit each video (it's a big part of my teaching process to have the videos be fun and creative from a video editing perspective as well)
How long did it take you to create your course?
My first course took about 3 weeks, but now I have the process down to 7-10 days per course. I first outline about 100 training videos and then I take a day to infuse the outline with as much creativity as possible. I then take a day to build out the training materials and 1-2 days to film all the content. Then it takes me about 2-3 days to video edit everything and get them uploaded. Once I get into a flow state everything just moves quickly.

Tell us a little about the process of launching your course and getting your first sale(s).
I already had about 300k followers by the time I launched my course, so sales just flowed in. I'd really started scaling with webinars. I host 60 minute power-packed Excel trainings on WebinarJam (for free) and provide a great offer at the end if people would like to continue learning with me.
Do you have a lead magnet?
I have a couple of lead magnet flows. I have my Top 31 Functions Guide and a free mini-course. These flow into a 5 email series that converts to sales by the end.
What's the traffic strategy that works best for you?
The majority of my business growth has been through viral content on social media. I get into a flow state to come up with viral content and each time I go viral my following grows 50k-100k. Most recently my Instagram grew 200k in 10 days. Each time that happens it is a whole new customer base. I usually go viral every month or so between TikTok and Instagram.
What online course platform are you using?
I use Thinkific for my course platform.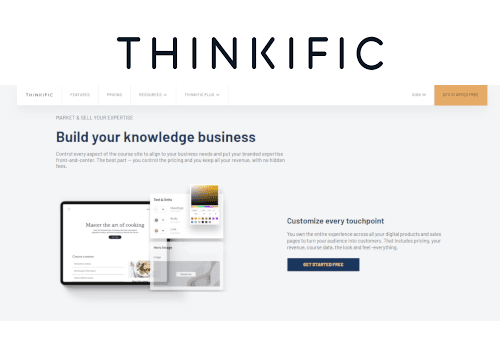 Take a Look at Thinkific!
Thinkific is the most popular online course platform used by successful course creators interviewed on coursemethod.com. It's a complete solution for creating sales pages, uploading all course content, taking payments, and more.
Price Range: Free to $499/month 
Most Popular Plan: Pro Plan at $99/month
Annual Discount: Yes, take 20% off!
Free Trial: Try out Thinkific's core features for free.
*Our content is reader supported, which means when you buy from links you click on, we may earn a commission.
Do you like it?
I absolutely love using Thinkific! It is so easy to use and has everything I need. The customer service is AMAZING and everyone I have met with there has been incredibly kind and supportive.
What made you decide to use your chosen platform over others?
I heard Thinkific had the best customer service and was the most user-friendly!
What other tools do you use to run your online course business?
I use WebinarJam, social media, Stripe, Linktree, and Wevideo.
What books or training programs have you found useful on your journey to a successful business owner that others might find valuable too?
DotCom Secrets by Russell Brunson from a strategy perspective and Breaking the Habit of Being Yourself by Joe Dispenza from a mindset perspective.

Do you have any big mistakes you've made along the way that you'd be willing to share?
Honestly, the whole business has been just flowing with grace. I have been having the time of my life with it all! I learned how to tap into my intuition and business decisions come naturally.
Please share some idea of revenue.
I have a 7-figure course sales business.
Please tell us a little about what the money you've earned from your course has done for you.
The course revenue has provided financial and geographic freedom. My boyfriend and I have spent the last year as digital nomads and living in different cities each month.
In addition to revenue are there any numbers you would like to share?
I grew 200k followers in 10 days on Instagram through creating viral content.
Viral content for me has always had an element of utility, creativity, and polarity to create conversation. - Kat Norton
Click To Tweet
Before creating each piece of content, I get myself into energetic alignment through meditation so my energy is coming across in a high vibrational way.
What has creating your course done for you personally?
Before creating the courses, I got myself to a place where I knew I was limitless and that I could accomplish anything I put my mind to. I firmly believe that the mindset I had prior to entering the course would be what allowed everything to take off so quickly and seamlessly.
Do you have a story of a transformation from any of your clients?
One of my favorites is someone reached out a few weeks ago noting that their boss was so impressed with the new skills that they learned in my courses that they not only paid for the course but also gave them a raise on the spot! It made me feel so happy that my customers now felt empowered at work.
What advice do you have for people just starting out?
MESSY ACTION!
The biggest blocks we have in life are ourselves. It is so important to get out of our own way and actively shift our mindset to embody the highest version of ourselves. - Kat Norton
Click To Tweet
Many people wait for the "right time" to do something, I argue there is never a perfect time. I am always building, creating, and launching.
Learn more about Kat Norton of miss-excel.com: