Teachable Pricing: Compare Paid Plans or Start With the Free Plan

Our content is reader supported, which means when you buy from links you click on, we may earn a commission.
---
Teachable is a cloud-based LMS platform that allows you to create, share, and sell online courses. You can accept payments, start an affiliate program, and create sales pages to help sell your online courses all from the Teachable dashboard.
Teachable truly is one of the best online course platforms out there. According to Teachable, over 100,000 online course creators use their platform.
This platform is used by a number of well-known course creators and digital training companies from Angela Fehr of Angela Fehr Watercolour to StackSkills, offering professional career courses in tech, business, and more. I've interviewed a number of successful course creators using the Teachable platform as well and also offer a full Teachable review if you need more information.
Teachable is a great platform to look into if you're interested in getting into the online course business. New course creators will get everything they need to succeed including accessible customer support.  All the features you need to put together online courses and start making course sales are included in the plans, even at the free level. You can create your course sales page, upload your course material, and connect to a PayPal account or other payment gateway.
One of the stand-out features of Teachable is its optional Teachable Payments (also called) BackOffice service. The best part of BackOffice is that it pays your authors and affiliates automatically, each and every month. You get instant payouts that will make it to your bank account within a couple of days. Having authors and affiliates paid out automatically brings you time savings as less frustration. You will, however, incur an additional 2% charge for using it.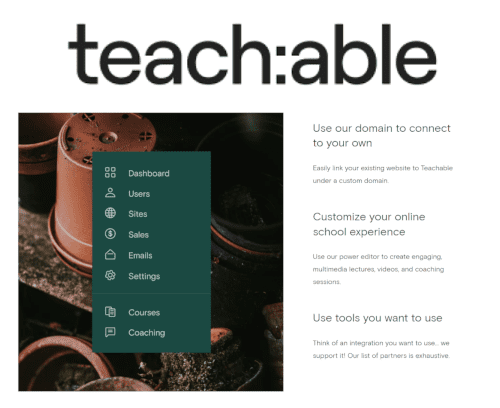 Check Out Teachable
Teachable is one of the top online course platforms used by successful course creators interviewed on coursemethod.com. It is easy to set up and build your site pages, and the course area looks great. 
Price Range: $0 (+ transaction fees) to $299/month
Most Popular Plan: Pro Plan at $119/month
Annual Discount: Yes, take 17% off!
Free Trial: Try out Teachable's core features for free
*Our content is reader supported, which means when you buy from links you click on, we may earn a commission.
Teachable Pricing Overview
Teachable pricing plans include a free plan and 3 paid plans. There's the Free Plan, the Basic Plan, Pro Plan, and Business Plan.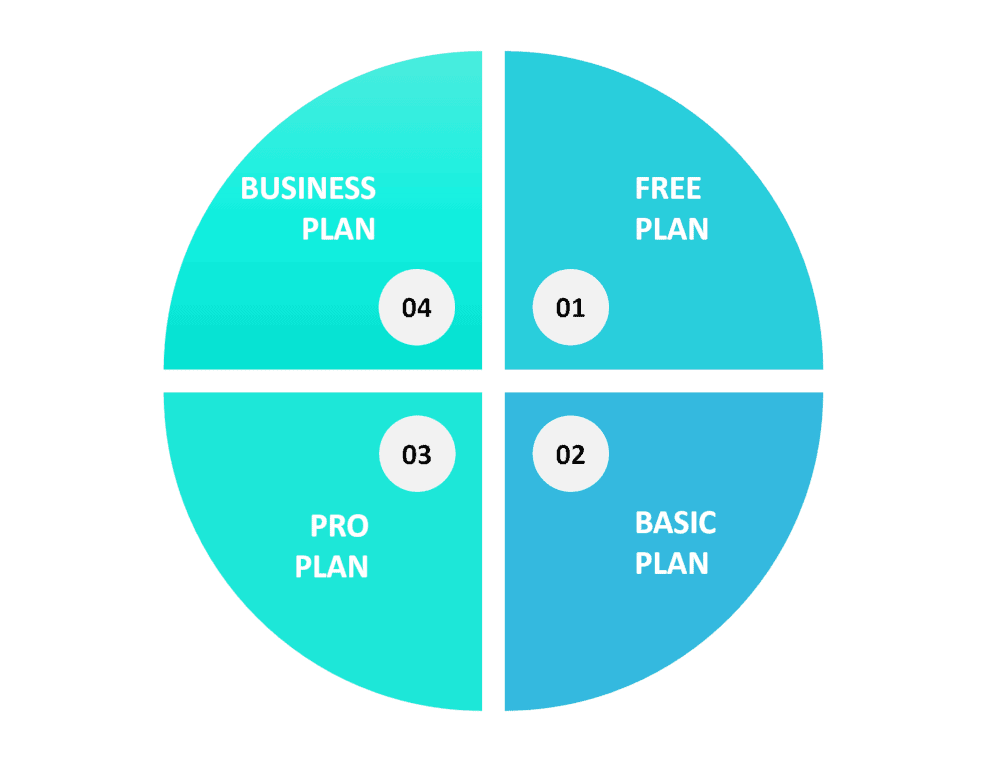 Each plan can be paid monthly as well as billed annually. All Teachable pricing plans offer good value for your money; however, you can save money if you opt for their yearly plan as you'll get a 20% discount.
It gets complicated when you need to choose your plan. It's confusing since there are so many features and many are only available on upgraded plans. Teachable charges transaction fees too. These transaction fees are different amounts depending on the plan you choose. So it's complex, which is why I put this article together for you.
Teachable pricing plans are shown here:

Here are the pricing plans in table format:
| | | |
| --- | --- | --- |
| Plans | Monthly Pricing | Yearly Pricing |
| Free Plan | $0 | $0 |
| Basic | $39 per month | $29 per month |
| Professional | $119 per month | $99 per month |
| Business | $299 per month | $249 per month |
As you can see, you'll save quite a bit if you are billed annually. It might be wise to try Teachable out for a month first and make sure it's the best platform for your online courses. Then once you're absolutely confident, upgrade to an annual plan and save some money.
I've also included the transaction fees since this can often make the difference between which plan you choose.

Basically, you'll pay $1 + 10% when you're on the Free Plan, 5% on the Basic Plan, and 0% on the Professional and Business Plans. Here is a further breakdown of any additional fees including payment processing fees: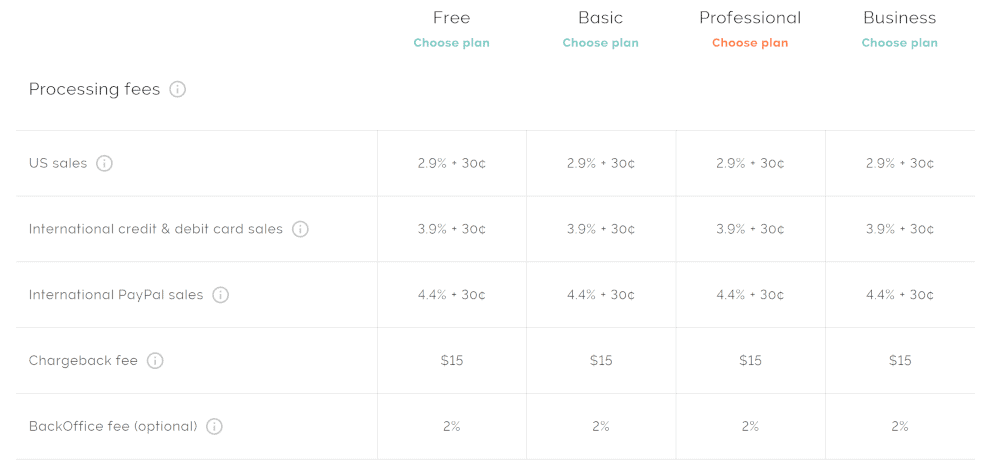 Processing fees apply to every plan. These are 2.9% + 30 cents for U.S. transactions on all the plans. These are standard fees charged by Stripe and PayPal which are two of the payment processors Teachable connects with. So you'll expect to pay these rates for any platform you're using. International credit and debit card transaction fees are 3.9% + 30 cents. If you are using the Teachable payment processor then add another 1%.
Finally, you can expect chargeback fees with any processor and the $15 per chargeback fee as shown in the screenshot above is reasonable.
The BackOffice service is optional. If you sign up for it then you will have to pay an extra 2% fee on all transactions, but they will payout your authors and affiliates. That means you can have a hands-free digital training company powered by multiple course creators and affiliates who drive traffic back to your course.
This is one feature only offered by Teachable. BackOffice will also do your tax filing and remitting as well as allow you to add PayPal as a payment method.
As you can see, Teachable transaction fees can be high on a couple of the low-end plans. If you choose the Professional plan and don't use the Teachable payment processor or the BackOffice service then the fees will be pretty comparable with any other popular course platform. And if you determine that BackOffice is worth it, it's only an extra 2%. Not having to pay authors and affiliates when you have a lot to manage is a nice feature.
Now that you've seen the prices, let's go through each plan's features. I recommend starting with the lowest-priced option that meets your current needs. Current needs can include what you need right now plus what you anticipate needing in the next 30-days. It's very easy to upgrade or even downgrade your Teachable plan later on, but there's no reason to spend the extra money unless you really need to.
What Can You Do with Teachable's Free Plan?
Teachable's free plan allows you to take this course platform out for a test drive. You can create unlimited courses with unlimited videos and take advantage of unlimited hosting too.
The biggest limitation is that you can only have 10 students. But that's enough to get a feel for whether or not Teachable is a good fit for you (and your learners).
There are no transaction fees on free online courses you create in this plan. However, with your paid courses, you'll incur a $1 fee + 10% of the course price.
You can also use the Teachable BackOffice program, even on the free trial. This is where Teachable pays out authors and affiliates.
The free plan also offers integrated payment processing, student management, the ability to offer students to leave comments on your lessons and videos, and basic quizzes.
And if you have any questions, you can access their customer support through email. In most cases, you will get a reply back within 24 hours.
Who Should Use Teachable's Free Plan?
This plan is free so there's not much to complain about here and it's a great place for anyone to start!
It will enable you to set up your first online course within the Teachable platform and even get a few students. They might be paying customers or those who are beta testing your training.
Although free is great, once you meet the maximum of 10 students, you will have to upgrade to the next plan, which is the Basic pricing plan.
The Teachable Basic Plan Offers Unlimited Students
Teachable's Basic Plan offers everything in the Free Plan plus you can have an unlimited number of students.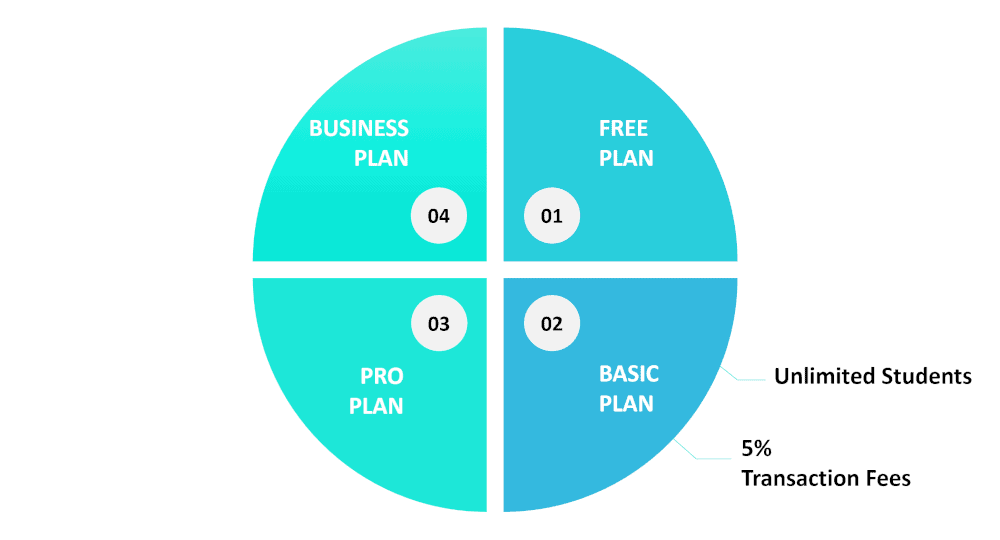 This pricing plan really offers unlimited everything (students, courses, videos, and hosting). This is one of the features that make Teachable very attractive.
You'll see a 5% transaction fee on purchases of your courses with this plan. This is still pretty high because you're also going to pay the standard processing fees (2.9% + 30 cents on U.S. transactions and more for international transactions). So that all adds up.
You can also choose the BackOffice service which pays out authors and affiliates for you. The fee for this is still 2% which is the price on each plan (even on the most expensive plan you're paying 2% for this service). So that adds up to even more in fees which is the downside to this pricing plan.
Again, you will have access to all the features in the Free Plan the use of a custom domain. This means you can host your sales pages and courses on your own custom domain name instead of using a .teachable domain. You also have access to coupon codes to offer to your prospective customers. In addition, you may drip course content out over time.
The Basic Plan also includes third-party integrations which include the ability to integrate your email marketing solution. You will want to take advantage of this so you can email people who enroll in your courses.
With this plan, you can have up to two admin-level users. So if you have an assistant or partner, they can log in to the Teachable dashboard and help manage the platform.
Who Should Use The Basic Teachable Plan?
I suggest starting with the Basic Plan if these features sound like enough to you. You can always try Teachable out with the Free Plan, but since you can't integrate it with an email marketing solution or use your own custom domain name (which I highly recommend) you can possibly outgrow the Free plan before you even get to 10 students. The Basic Plan is great to really get started on, but do keep in mind you have that 5% transaction fee.
Get Zero Transaction Fees on the Teachable Pro Plan
The Professional plan is definitely a good option once you're earning a certain amount of money per month or you need the additional features. That's because the additional 5% transaction fee from the Basic Plan goes down to zero.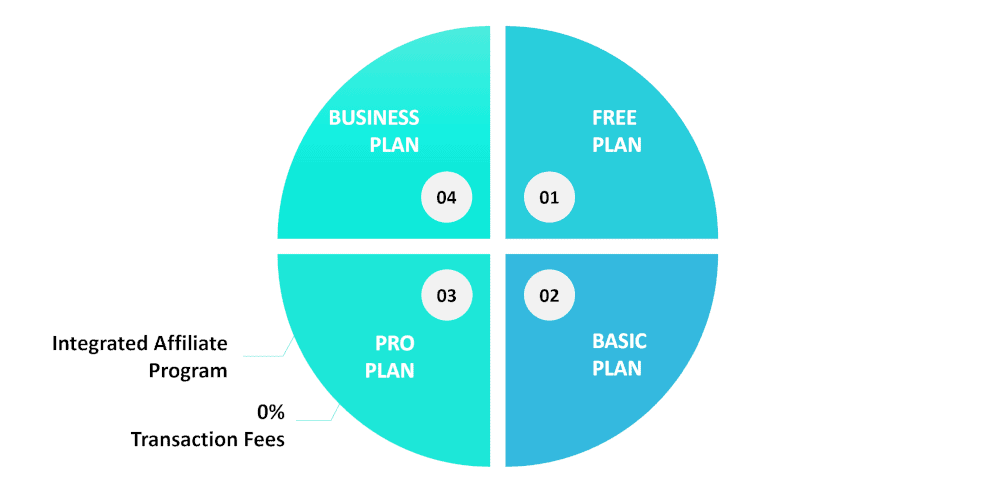 While you'll have no transaction fees, you still have the payment processing fees and the option to add on the BackOffice service. You get all the features in the Basic Plan and then Pro also comes with a few more. Let's get into those features.
Of course, you get unlimited students, unlimited courses, and unlimited hosting and video bandwidth. In addition to email support, at this tier, you'll gain access to live chat support too.
Then this is the plan where you get an integrated affiliate marketing program built into the Teachable dashboard. Once you get to this tier, it's smart to look into the BackOffice service as they'll pay your affiliate automatically (for the extra 2% fee). No other platform offers anything like this. It's a unique feature only available through Teachable.
The Pro Plan also offers course completion certificates for your learners as well as course compliance. You can also offer graded quizzes for your courses. The ability to offer graded quizzes and course completion certificates can be a big deal for you depending on the market you're selling online courses in. You can also see advanced reporting on your students, your courses, and your videos.
In addition, with this plan, you'll have the opportunity to run an unbranded website. That means it won't have the Teachable text or logo on it (other than some in the URL on login and checkout pages). Finally, you'll be able to assign up to 5 admin-level users.
Who Should Use Teachable's Professional Plan?
You should consider signing up for the Professional Plan if you need the affiliate marketing program. In order to use this, you should have your course completed and already have a means of getting traffic which will equal sales. If you've got all this in place, then going with the Professional Plan is the better option.
It'll reduce your transaction fees by 5% and you'll get a few extra features that your learners will appreciate.
What is Included in the Teachable Business Plan?
The Business Plan is Teachable's to- of-the-line tier. You get everything in all the lower-priced plans plus a few additional features.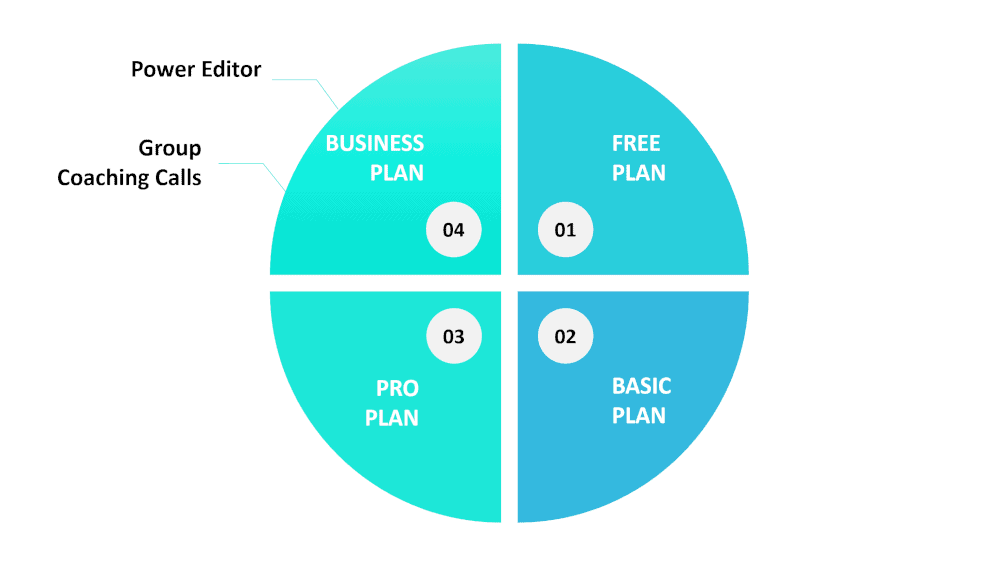 These features include access to the Teachable Power Editor to create advanced custom designs. You'll also get the ability to assign custom user roles for up to 20 admin-level users. With the Business Plan, you can also bulk import students and provide group coaching calls.
Who Should Use Teachable's Business Plan?
You really only need this if you will use the 20 admin-level users and the Power Editor and/or the group coaching calls features.
Pricing Compared to Competitors
Teachable is actually at the same price-point as many of the other cloud learning management systems. The Basic and Pro Plan will be enough for most course creators and these fit within the $39 and $119 monthly fees. These are really reasonable prices for what you will get. For this comparison, let's look at the Pro Plan against a few other top online course platforms.
Thinkific vs Teachable Pricing
Thinkific pricing is similar to Teachable, however, Thinkific's Growth package introduces complexities. This platform offers a Basic plan for $49/month and then a Pro Plan $99. If you want to add-on the Growth package then you need to be on the Pro Plan + pay $50/month.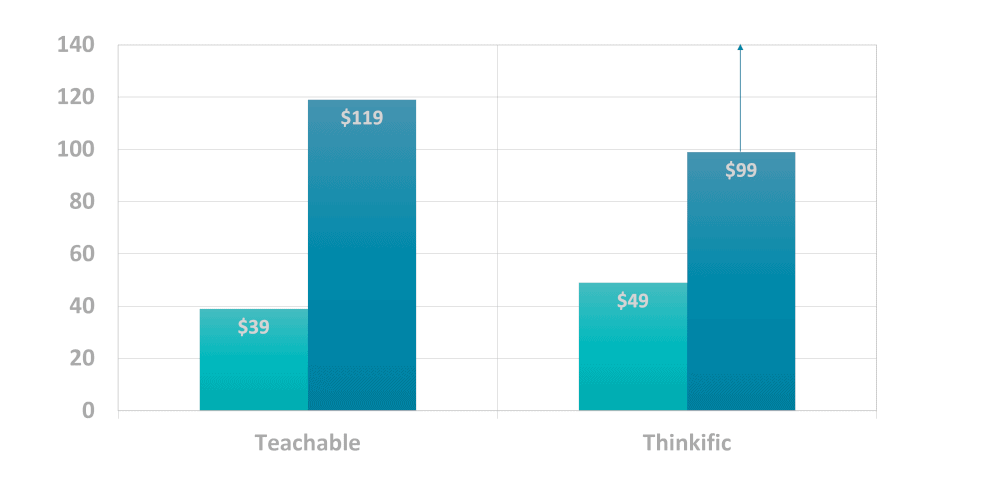 The Growth package adds in groups, advanced segmentation and integrations, the ability to remove Thinkific branding, and more. Thinkific's Pro Plan + the Growth package is more advanced than the Teachable Pro Plan but at a total of $149/month is more expensive.
LearnWorlds vs Teachable Pricing
Learnworlds offer plans in the same range as Teachable. Their low-end plan is $29 a month and their mid-tier plan if $99 a month.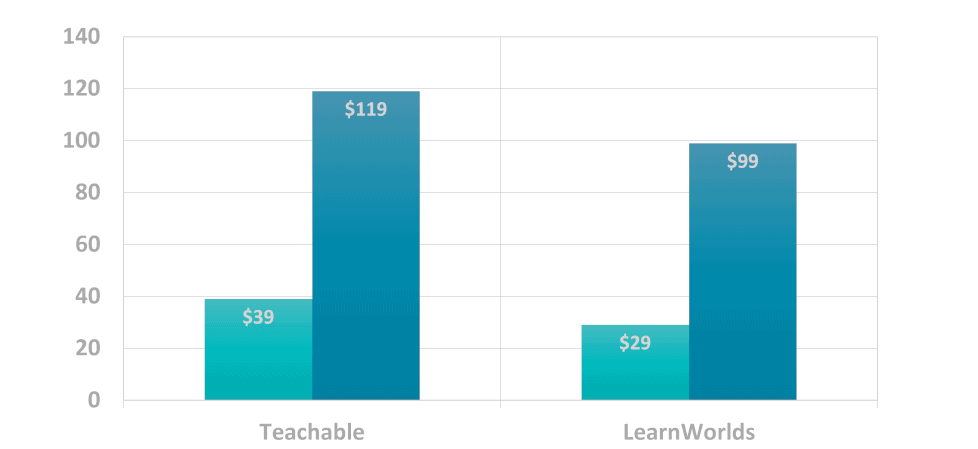 With LearnWorlds Pro plan you'll get 5 admins and SCORM compliance, but other than that it's really comparable to Teachable's Pro Plan.
LearnWorlds also has some unique features that make it worth considering. Their online course layout is more customizable (you can even customize the video player). With LearnWorlds you also have the ability to include text in the lessons and to completely customize the look and feel of the text. Learners can also take notes within the course.
LearnWorlds also allows you to build a real social community and gamify your course. All these features come with their Pro plan.
Kajabi vs Teachable Pricing
Kajabi's least expensive plan is $149 a month. The plan that's more comparable to the Teachable Pro Plan is its Growth plan at $199/month.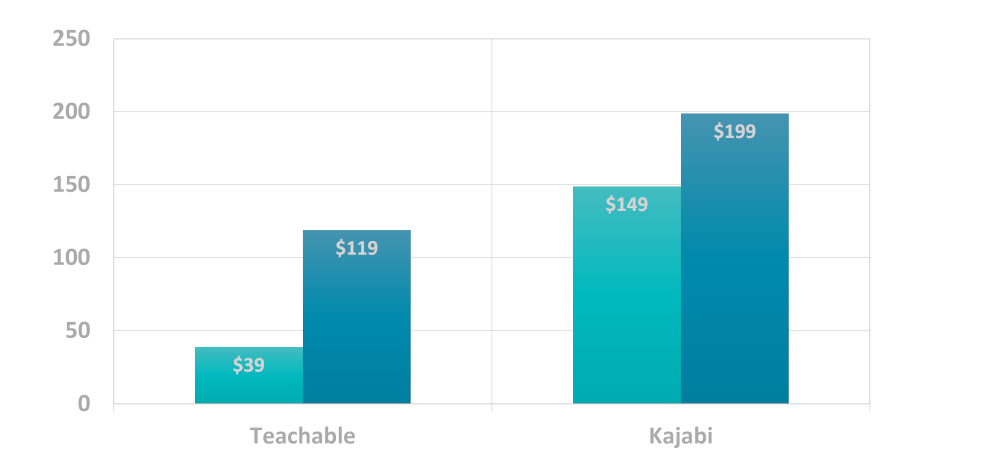 Kajabi sets limits on the number of courses and the number of students you can have in your courses. With the Growth plan, you can have 15 courses and 10,000 active members. Someone is considered an active member when they have logged into a course in the last month.
Kajabi pricing is higher than Teachable but offers an additional email marketing solution integrated within the platform.  This will save you money but varies depending on how many contacts you have in your email marketing solution. Even if you opt not to use it, they have better, easier integrations with most tools than many of the other course platforms since making it easy for you is their distinguishing feature.
You can also change the theme of your course area with a click of your button. That way you don't have a learning platform that looks exactly the same as everyone else's. Also, of all the course platforms listed here, Kajabi has the best support. You can get live chat on all the plans and the people answering the support tickets are always very knowledgeable.
I've had to go back and forth with the emails on all the other plans and if the support person doesn't understand, you could have 24 hours between each reply which really slows things down.
Pricing Compared to Other Types of LMS Options
WordPress LMS plugins vs Teachable Pricing
One of the top LMS plugins available is LearnDash. LearnDash is quite reasonably priced at $189/year if you opt for their Plus package (this package comes with everything they offer). Often LMS plugins also charge additional fees for integration plugins to accept payments and to integrate your email marketing solution. So you might spend another $150 a year on integration plugins and various other plugins which brings your total to about $339/year or close to $30/month.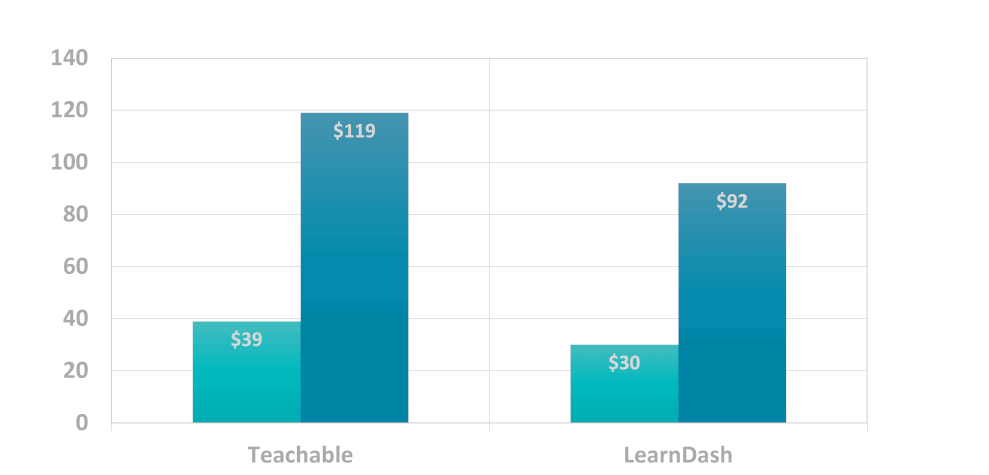 Now that sounds great and far less than Teachable's pricing, but with an LMS plugin, you'll need your own hosting and the hosting will need to be from a mid-range to top hosting provider. Cheap plans just won't cut it with these powerful plugins. Realistically, you're likely looking at $50/month and up. Then you need video hosting like Vimeo which adds $12/month if you're on Vimeo's lowest-priced plan.
You're at just under $100/month which is a comparable amount to the Teachable Pro Plan which is $119/month.
One issue with WordPress LMS plugins is that you will have a lot more technical headaches. The trade-off for going with a plugin is that you can essentially build yourself a custom eLearning solution.
In the end, the pricing is really close to the same. It's best to choose between Teachable and an LMS plugin based on what is more important to you; less tech or more custom options.
Corporate LMS vs Teachable Pricing
Corporate solutions like iSpring Learn LMS typically charge by the user. At the time of this writing, iSpring is $3.66 per user/month for up to 100 users. So if you had 100 learners between all your courses, you would be paying $366/month. That's a lot more than Teachable's Pro Plan which is $119/month so as you can there's money to be saved going with Teachable.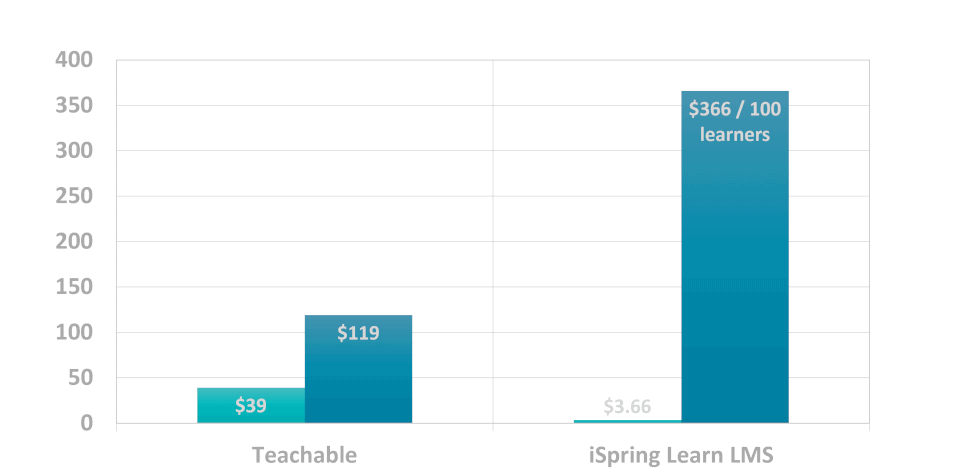 If Teachable will work for your needs, you will save money over just about any corporate solution. Often assigning people into the course is the trick because Teachable is set-up to work with a payment processor. However, you can use Zapier to help with this and get new hires into the right courses in a more automated way.
Teachable Pricing FAQs
Does Teachable have any transaction fees?
If you're on the Pro plan or above you will have zero Teachable fees. You will have payment processing fees and can choose to have BackOffice service which is 2% fees. If you're on the Basic plan Teachable will add on 5% in transaction fees. If you're using the Free plan, your transaction fees will be 10% + $1.
What can I do with Teachable's free plan?
The Free plan is a great way to start since it will allow you to set up your online course and sell it to up to 10 learners. However, you will have high transaction fees on this plan (10% + $1). This plan is available to give you a feel for whether or not Teachable is right for you which makes it a lot like a free trial. It will not make sense to stay on this plan for the long term. However, if you're offering free courses then it may be worth it to you for longer.
Does Teachable offer a money-back guarantee?
Teachable's refund policy allows you to get a refund on any of their monthly plans within the first month of your subscription. In case you've signed up for their annual plan, you can get a refund within the first month of your upgrade or within the first month of renewing your annual plan.
Does Teachable offer a free trial?
While you can't get a free trial of any of the paid plans, Teachable offers their Free Plan which is enough for you to experience what this online course platform is like. There's no credit card required on their Free Plan so it's similar to a free trial.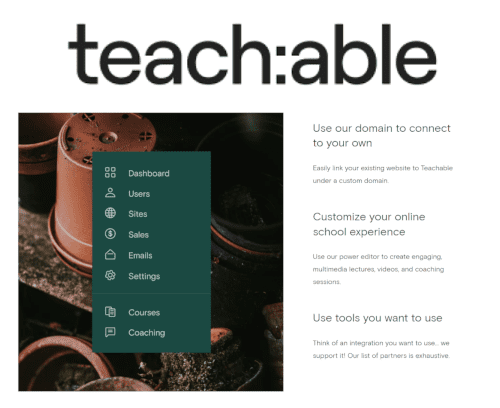 Check Out Teachable
Teachable is one of the top online course platforms used by successful course creators interviewed on coursemethod.com. It is easy to set up and build your site pages, and the course area looks great. 
Price Range: $0 (+ transaction fees) to $299/month
Most Popular Plan: Pro Plan at $119/month
Annual Discount: Yes, take 17% off!
Free Trial: Try out Teachable's core features for free
*Our content is reader supported, which means when you buy from links you click on, we may earn a commission.