Teachable Review: Is it the Best Online Course Software for 2022?
Our content is reader supported, which means when you buy from links you click on, we may earn a commission.
---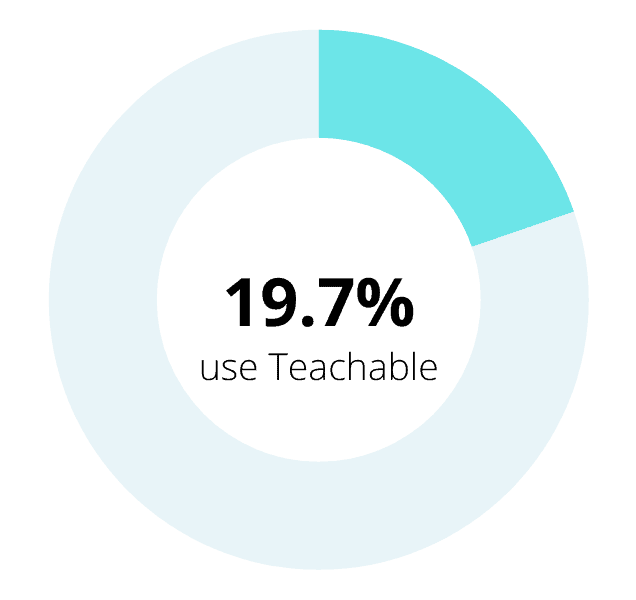 Teachable Review Snapshot
Teachable is the #3 online course platform used by the successful course creators interviewed on coursemethod.com. 19.7% of our dataset uses Teachable.
Teachable Likes & Dislikes:
Here's a list of what the Teachable users in our dataset 'like' and 'dislike' most about this platform:
| Teachable 'Likes' | Teachable 'Dislikes' |
| --- | --- |
| 30.2% like how easy it is to use | 14% think the fees are too high |
| 9.3% love the user interface | 11.6% wish for better sales pages |
| 9.3% appreciate the new features | 9.3% wish for a community feature |
| 7.0% like the customer support | 7% would like better quiz abilities |
| 7.0% appreciate the affordability | 4.7% wish for flexible checkout pages |
| 4.7% like the reliability | |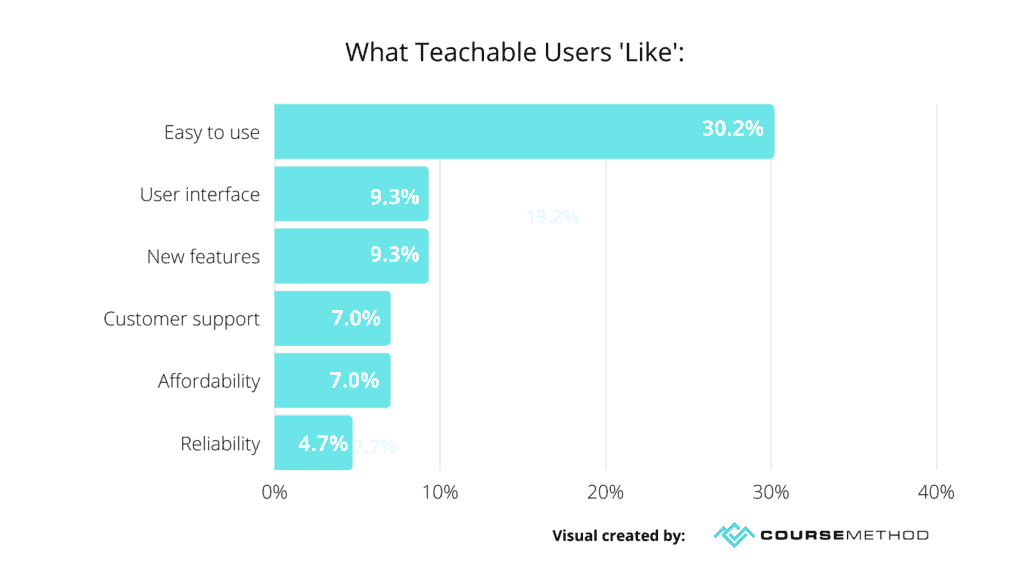 Teachable Quick Stats:
Price Range: $0 (+ transaction fees) to $299/month
Most Popular Plan: Pro Plan at $119/month
Free Trial: Try out Teachable's core features for free
What is Teachable?
Teachable is a top online course platform allowing you to create, manage, and sell your own online courses. This platform is pretty close to an all-in-one solution for course creators. You can set up and sell your course all right from Teachable.
You can create web pages, host your content (including videos), allow students to register automatically for your course, and take payments all through the Teachable platform.

Teachable is a cloud LMS (learning management system) platform. Basically, that means it's a reliable, hosted solution. With Teachable, you will not need to host your course, your course sales pages, or the course content. Teachable will host it all for you.
You also don't need to install software on your computer to get it up and running. Everything is accessible online for you. You simply sign up for a plan and log in anytime you want to work on your course or manage your learners. It's an LMS offered as a service.
Who is Teachable best for?
Teachable is best for those with little to no experience setting up hosting, creating web pages, using a content management system, or plugging in eCommerce capabilities with another system. Even if you do have experience with all this, you may not want the extra tech headaches when it comes to managing all of this for your online course.
This platform is best for those who want the benefits of an affiliate program, but don't want to manage it. Teachable offers a payment solution within their course platform and can even pay your affiliates for you.
You can accept payments from students all within a Teachable account with their Back Office payment plan. Or you can integrate your Teachable account with PayPal or Stripe (on upgraded plans) and get paid with fewer fees.
How Much Tech Knowledge is Required?
If you don't want to piece together a variety of systems or configure a WordPress LMS plugin, then an online course platform like Teachable is well worth the money. Teachable will host your course and all your course content (video hosting is included). This tool makes it easy for you to get started.
If you want to run a business offering online courses with an easy to use software then Teachable is a great choice.
Who's Using Teachable?
Resit Gulec, started a project management training empire back in 2012. He uses Teachable to run his training programs which has helped over 100,000 professionals get ready for their certification exams.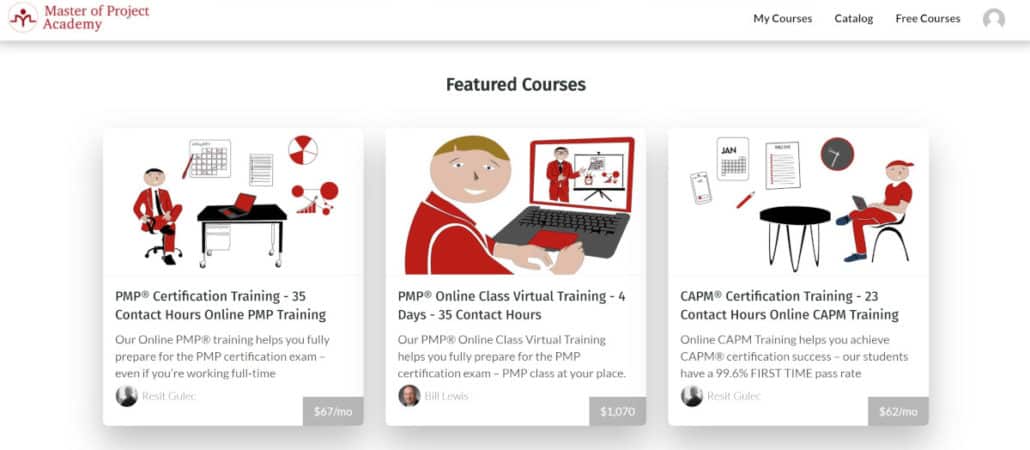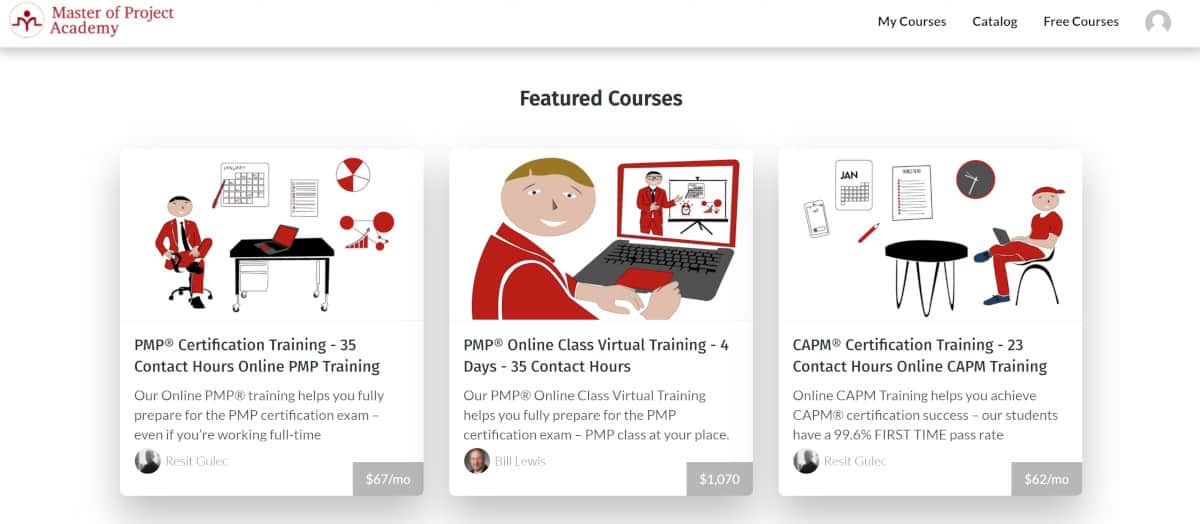 Another successful course creator, Matt Ting earns between $30K – $40K per month offering courses in the corporate finance professional services market. He uses Teachable to run his growing business.
How We Compiled the Ratings for this Teachable Review
All the course platform ratings on coursemethod.com come from real statistics. We've interviewed several hundred successful course creators over the last few years asking them several questions about the tools they use. Questions include which online platform they use, if they're happy with it, and what they like/dislike about it. All this data is compiled into the best online course platform rankings.
By reviewing this research, you can see what platforms real users choose along with their likes and dislikes.
In addition, I've been involved in the eLearning industry offering one of my courses since 2001, so I have a lot of experience in this industry. I also use Teachable to run my coursemethod.com training so I have first-hand experience with this platform.
9-Point Teachable Review Breakdown
We rate Teachable in each of the 9 areas:
1. Teachable User Experience
Teachable provides a fantastic user experience compared to other course platforms. Your learners will love the intuitive design of the courses and their navigation. Administrators uploading course materials and setting up the platform will also love the intuitive experience Teachable provides them.
The navigation is on the left and you can start at the top and work your way down the list. By the time you're finished, you'll have your course uploaded and ready to sell.

The user interface is very intuitive for both you and your learners. As you can see in the image below, the learners start in the content area and work their way from top to bottom. The progress bar will keep track of the lessons or activities they have completed.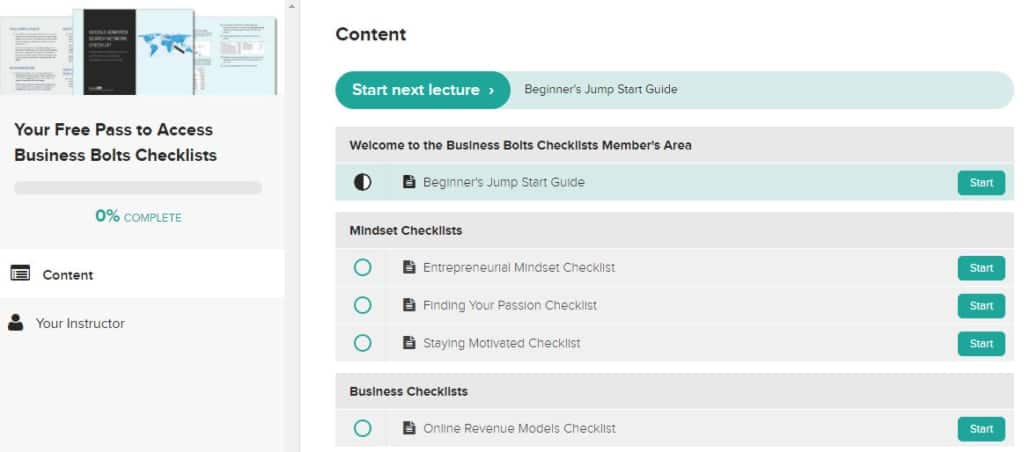 User Experience Feedback Based on Real User Reviews of Teachable
Like the User Interface
9.3% of Teachable users in our dataset mentioned liking the user interface. Here's what a few of the Teachable users said about the user interface:
"I love the user interface."
"really nice smooth user interface."
"user-friendly platform."
"well thought out and very well designed."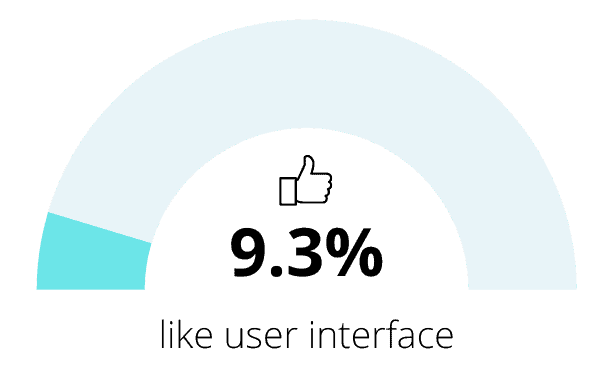 2. Teachable Course Builder
Easy to Use Course Builder
I really loved how easy it was to put my first course together with Teachable. I had all the content ready to go so it was very simple to upload and organize it just the way I wanted. The end result looked great too. Here's how it looked: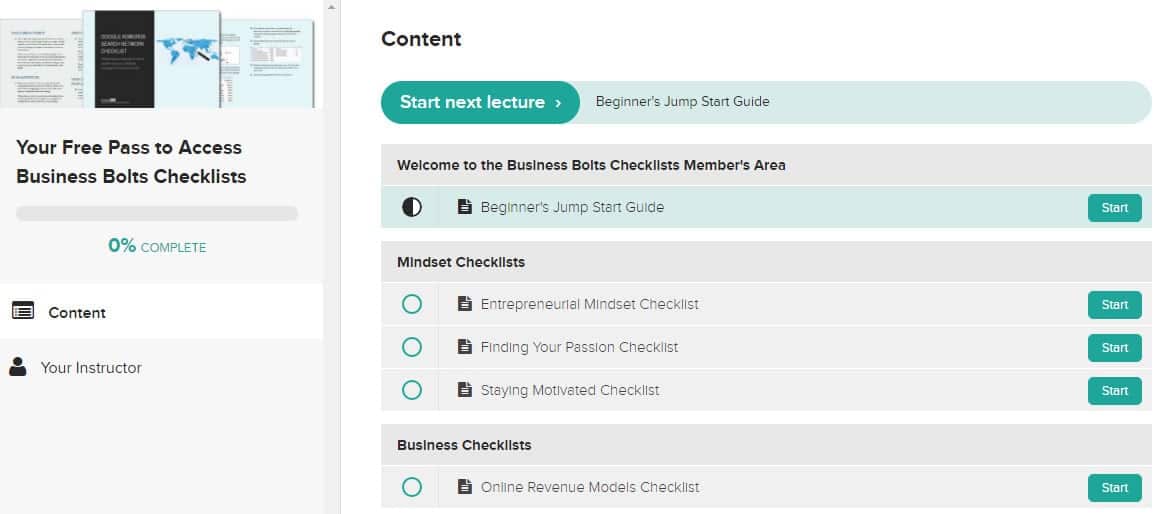 The course builder and site builder work on a drag and drop process which is very intuitive. There's no coding experience required.
Native Commenting System
The Teachable comments feature also makes adding discussions to your course a breeze. It's all kept within their system so it looks professional. You can even add comments to each lesson to take full advantage of discussions on each component of your course.

Mixed Media on a Single Lesson
In addition, with Teachable you have the ability to add a video as well as text and comments all on one page within your course. This is a very nice feature because your learners won't be immediately hit with a video or a PDF file. Instead, you can introduce them to it with some text before they see it. Even just a couple of sentences can help give them perspective on the main content as shown below: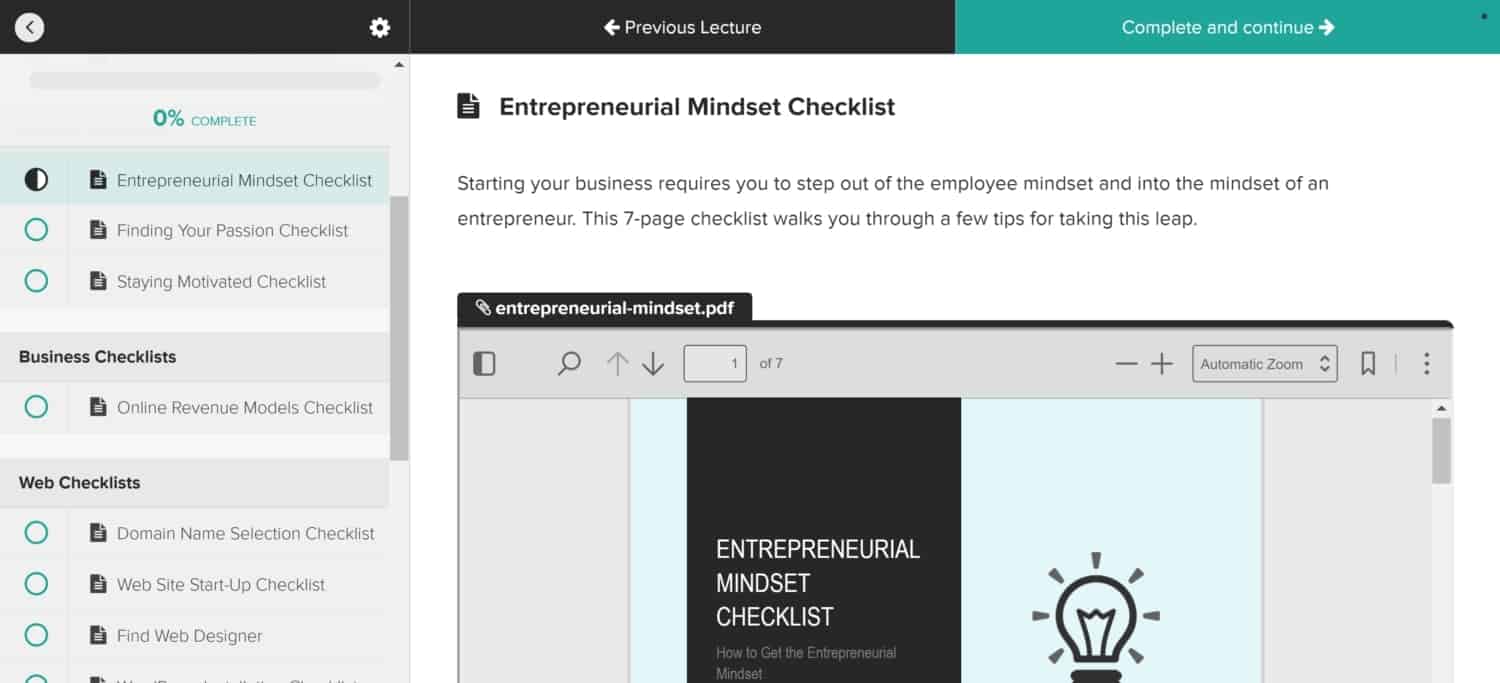 I really like the look of Teachable courses. It's obvious they put a lot of time into developing a sleek and professional look.
No Advanced Quiz Features
The quizzes offered by Teachable are very simple. But if you're offering modules and want your students to take simple quizzes that cover the information in the modules, they'll work well enough. Here's a screenshot of a sample quiz question: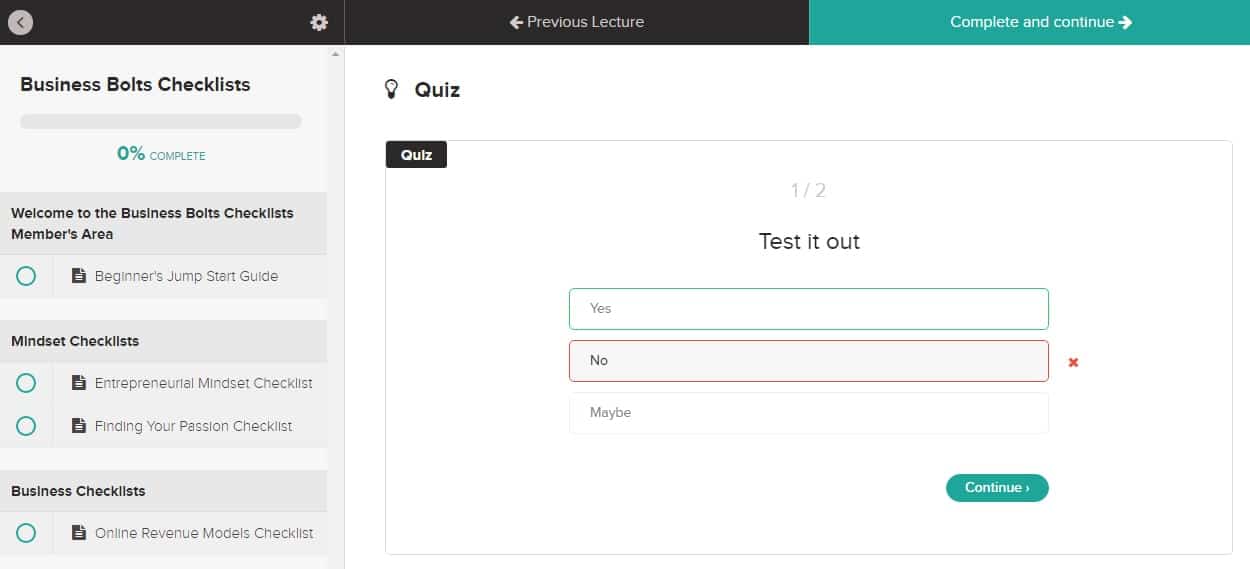 The score display looks like this: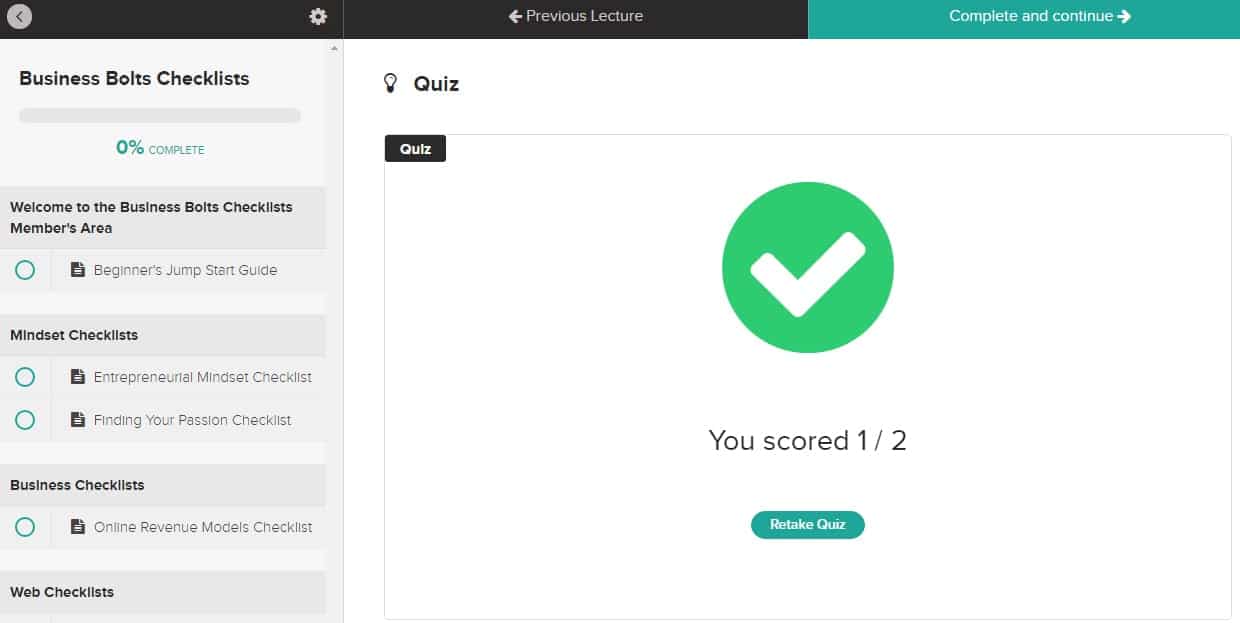 It's simple.  If you need to offer more extensive quizzes, assessments, or tests you may be able to embed code from a quiz created with other software into your Teachable page. You'll need to test that out and see if your embed code works depending on the app you're using.
Course Builder Feedback Based on User Reviews of Teachable
Better Community Feature
9.3% of Teachable users in our data set want a better community feature. Here are a few quotes from them:
"wish it had better student community functionality."
"I would love to have a better way to build a community inside the platform."
"I wish they had a better membership community platform."
"private area for each student where we can pass them their feedback documents and interact with them."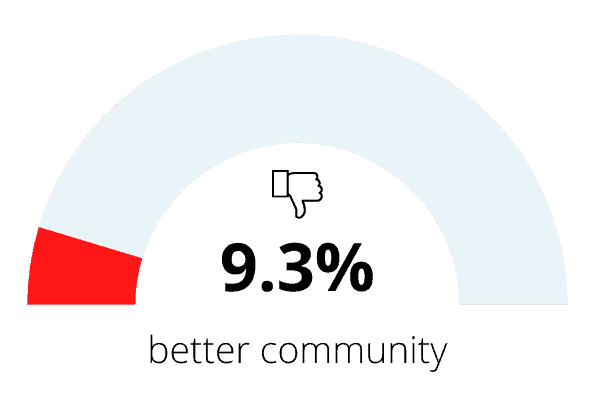 Better Quiz Functionality
7.0% of Teachable users in our study wish the platform had better quiz functionality. Here are a few comments:
"a better quizzing function (something like flashcards or randomized questions)."
"quizzes had more abilities, more types of questions, and more customization."
"it doesn't let students see their quiz answers after they have completed them."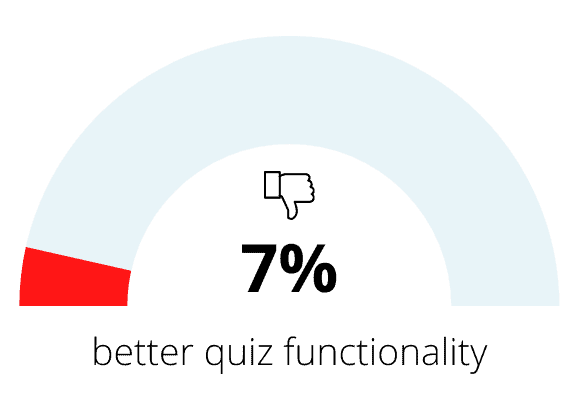 3. Teachable Site Builder
The site builder Teachable offers to build out your sales page and course pages are OK. It's definitely easy to use which is great. However, your pages will look fairly generic.
If you want something that will stand out, you'll need to upgrade your plan (they offer a Power Editor in the most expensive plan). You'll also need to be willing to spend some time and/or possibly hire a web designer skilled with HTML/CSS.
Create Your Own Blog
Another feature I like is the ability to set up a blog right within your Teachable admin. I didn't use this feature for my site (since I already run WordPress on it), but if you're brand new to online business I can see how this would be very helpful.
Basically, you can build out your entire site with Teachable and never touch any other site-building tool. I do suggest registering a domain name instead of using the Teachable subdomain. That is easy enough to do and comes at a very minimal cost unless, of course, you end up with a premium domain name (those can be in the thousands of dollars).
100% White Labeling is Not Possible
White labeling means can you make the course look like it's running on your own platform. The alternative to white labeling is that it looks like your course is hosted on Teachable or some other platform.
Unfortunately, you cannot entirely white label Teachable. There will be pages that have a Teachable.com URL in them even if you use your own domain name.

As shown above, the sign-up and sign-in pages will always display a sso.teachable.com URL and it cannot be changed.
The logo cannot be configured to go to your home page. So when a user clicks on my BusinessBolts logo, as shown above, they'll go to my Teachable school page and not my homepage. That page displays all my Teachable courses.
Site Builder Feedback Based on Teachable User Reviews
Better Landing Pages
11.6% of Teachable users from our interviews said the landing pages could be better. Here are a few quotes:
"all the course providers have really bad website designs."
"ability to customize more parts of the site (e.g. you can only pick one color font for links on the entire Teachable site)."
"lack of customization in building the landing pages."
"to create better sales pages."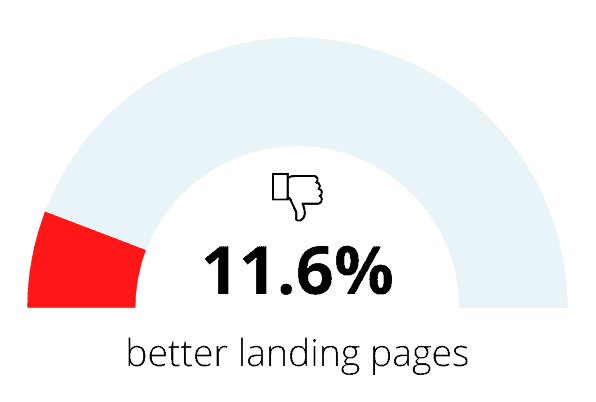 4. Teachable Ease of Use
Teachable is easy to use all around. You may need to refer to the tutorials Teachable has put together for you, but once you get started, you'll be able to get your course set up in no time.
Ease of Use Feedback Based on Teachable User Reviews
Like Ease of Use
30.2% of the Teachable users from our interviews like how easy it is to use. Our Teachable users had this to say:
"really intuitive and easy to set up."
"the courses are easy to create and it's nice for the users too."
"easiest of the platforms, user friendly, clean and easy, easiest for me to navigate, easy to use, straightforward, easiest one, super simple to use."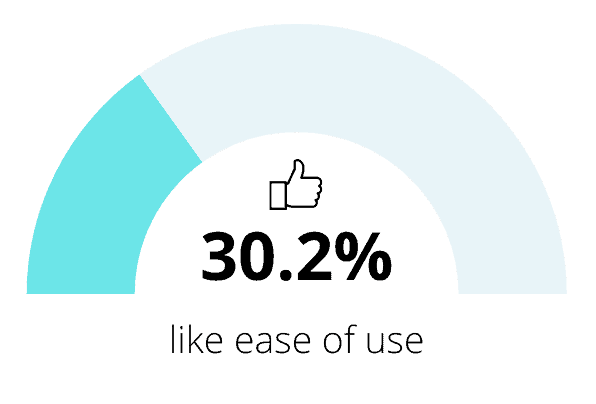 5. Teachable Marketing & Sales
Teachable has its own in-platform payment option so you don't have to pay affiliates or even sign-up for a payment processor. One thing to point out is that Teachable will take a percentage of your earnings for doing this. However, this feature helps Teachable stand apart from other online course platforms and makes it a nearly all-in-one solution.
Teachable offers special tax settings. For instance, if you live in the EU, you can turn on tax compliance (VAT) which is also a helpful feature.
High Converting Single Check Out Page
Teachable's checkout page looks awesome compared to most checkout pages provided by other online course platforms. It's a bit long, so I've had to break it up into a couple of screenshots. Here is the top of the checkout page: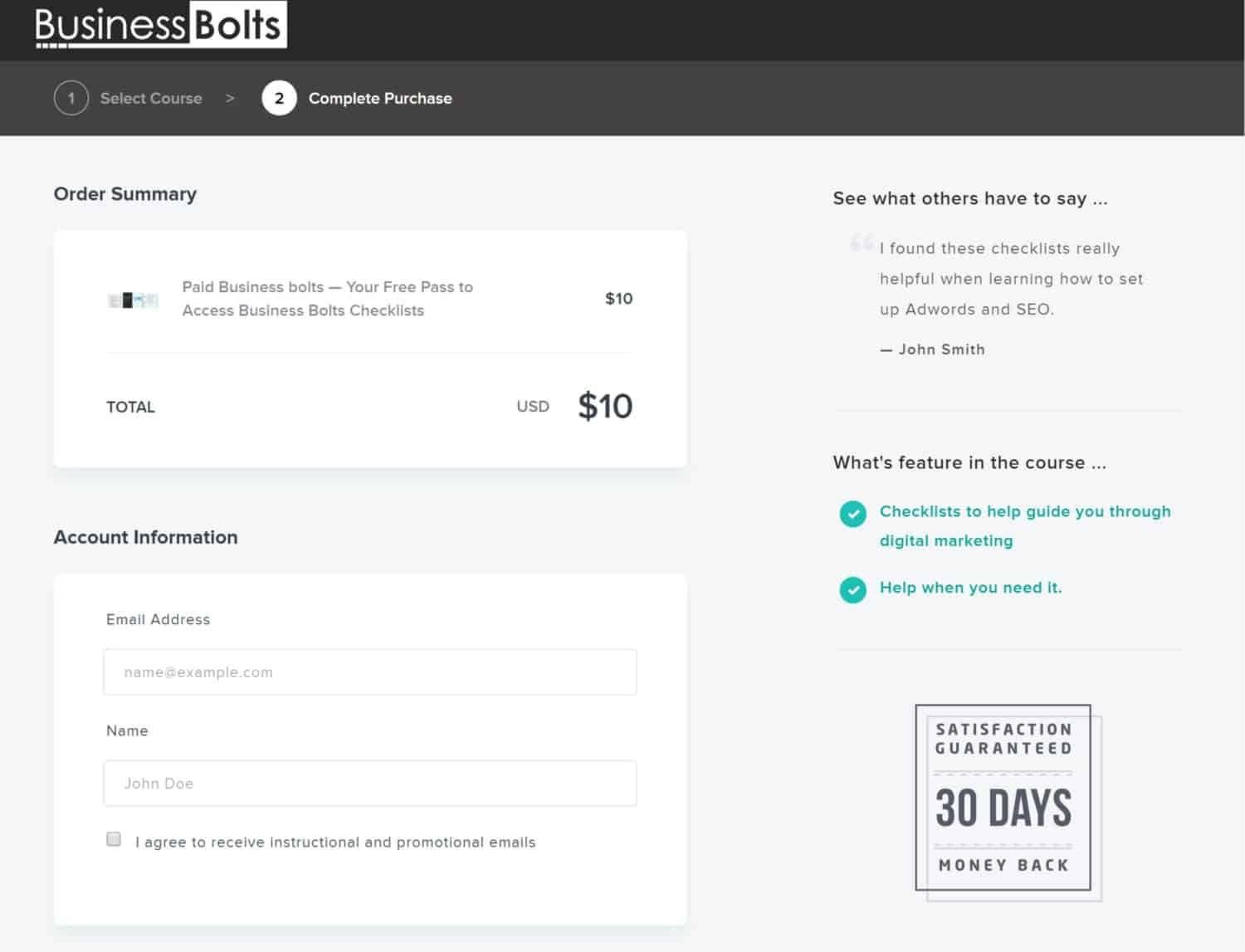 As you can see, it's got a summary of the order at the top so students know exactly what they're buying and the cost. Then it asks them to enter their account information. This includes an email address and name. Then they have the option of clicking off the checkbox for instructional and promotional emails.
The order will go through whether that box is marked off or not.
The sales page is very professionally designed. It's all in one column so you can also add custom information on the right. I added in testimonials, bullet points on what's featured in the course, and a money-back guarantee. All this was very easy to do and will greatly help with your sales conversions.
If you don't include any marketing information on your checkout page, you'll have a lot of blank space on the right. Be sure to put something in there. Although you can add content to the checkout page, the testimonials, bullet points, and money-back guarantee cannot be moved around.
The next part of the checkout page looks like this: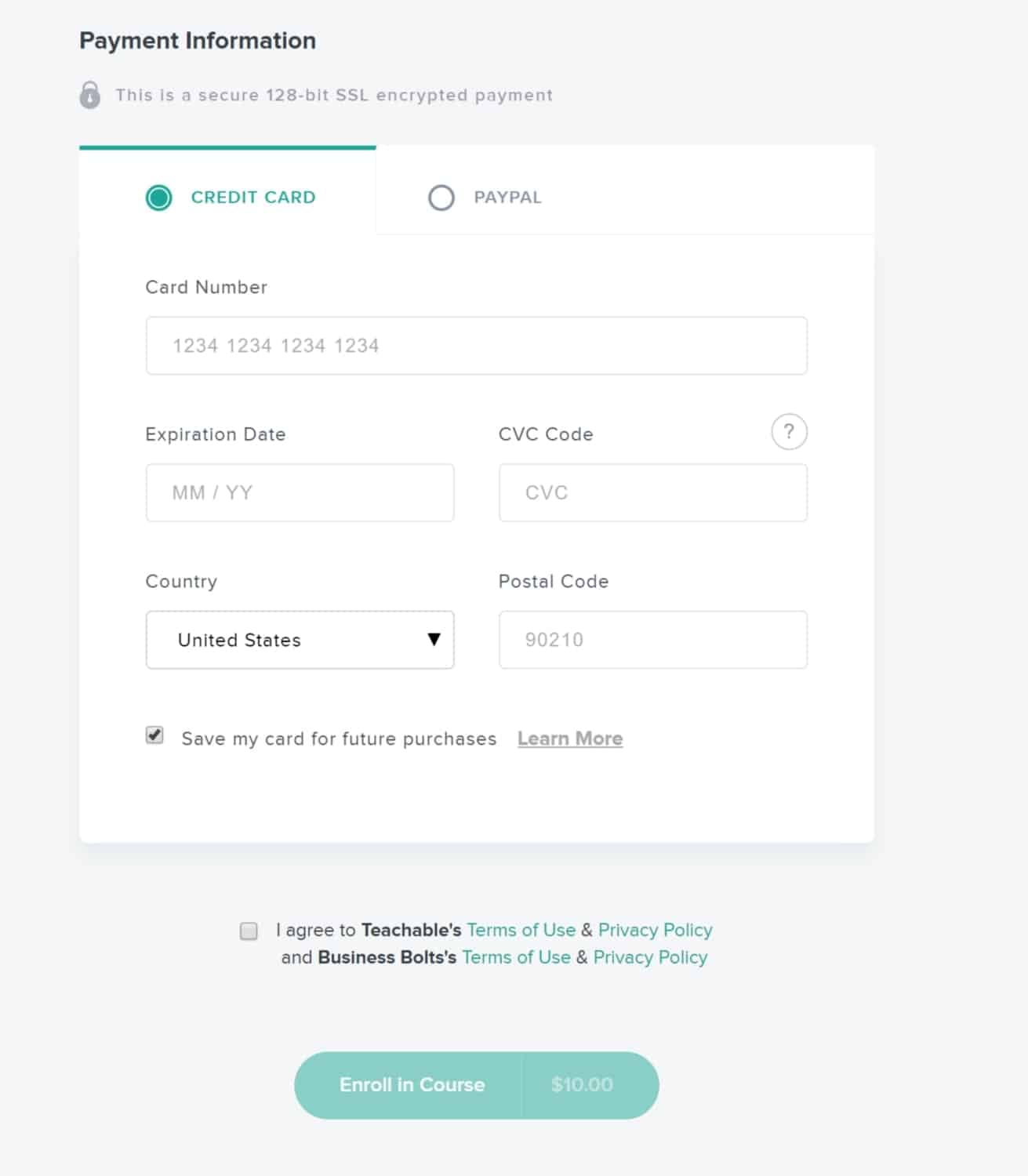 It also looks awesome. It will display in the same 2 column format, but my second column didn't reach far enough down. The student can choose their payment option and enter their details. Then they also have to agree to all the Terms of Use and Privacy Policies for both Teachable and your company. Then they click 'Enroll in Course' to finish placing the order.
It's simple, streamlined, and looks great.
Thank You Pages Can Easily Include Upsells
You can customize Teachable thank-you pages. By default, they will include a thank-you note as well as a link for students to access their course.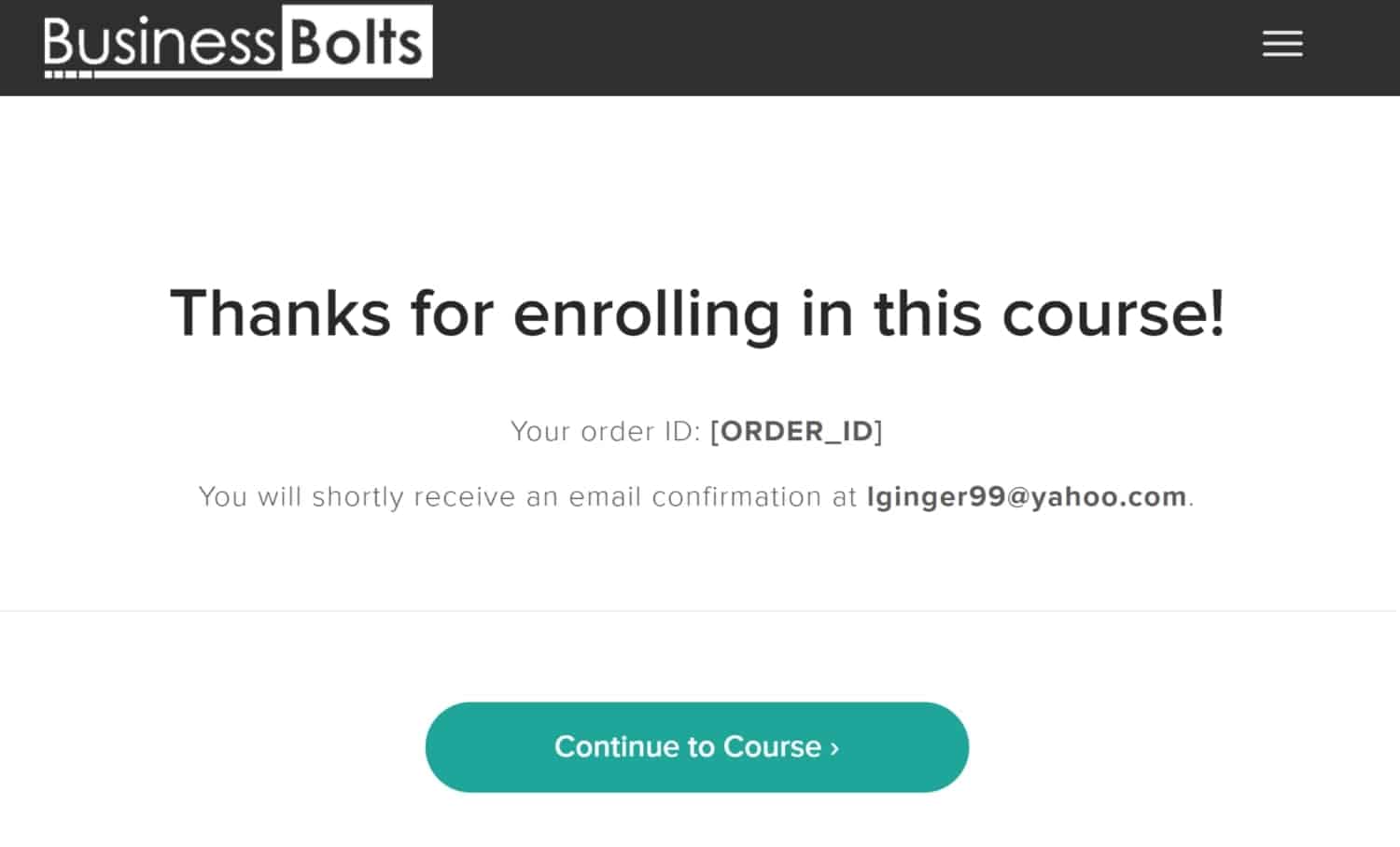 In addition, you can also include your upsells here on this page which is the perfect place for an upsell. You can customize your thank-you page from within the Teachable admin area to include upsells like shown here: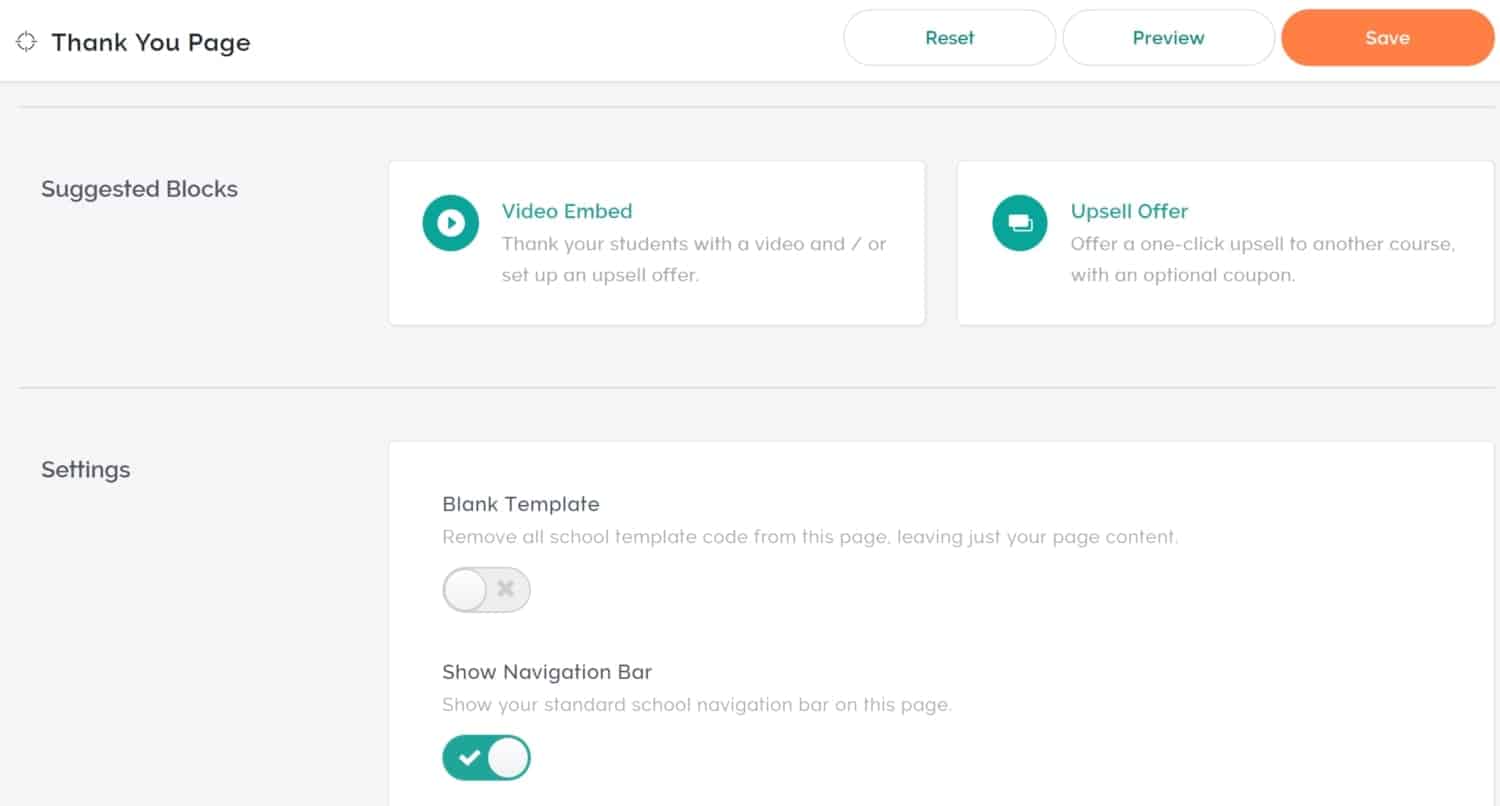 You can also add in a video embed that thanks your students, helps them get started, or includes more information on your upsell offer.
There are also settings to include your navigation bar on your thank-you page or take it off along with a few other customizations you can make.
Teachable offers a very streamlined sales flow. It's very professional looking and will help your conversions. When you're selling anything, you definitely want to increase conversions!
Marketing Feedback Based on Teachable User Reviews
Better Shopping Cart
With Teachable, 4.7% of users in our research wished for a better shopping cart. They mentioned the following …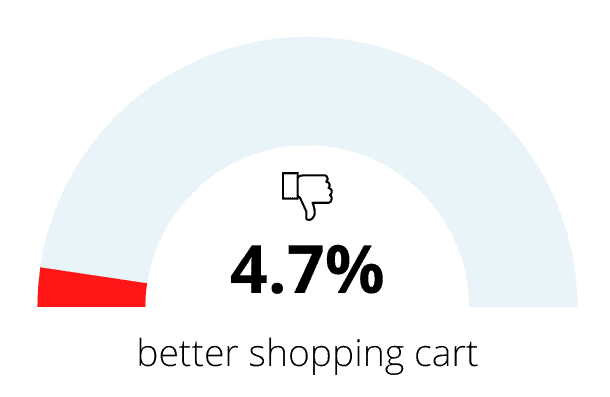 6. Teachable Integrations
Teachable offers integrations with everything you might need. It is simple to integrate with Stripe and PayPal or you can choose to use the Teachable payment system instead.
They have a community integration with circle.so as well as with many email marketing tools including ConvertKit and Mailchimp. They also integrate well with Zapier which means you can integrate just about anything to Teachable.
Integrations Feedback Based on Teachable User Reviews
None of the Teachable users in our data set mentioned their integrations either way (whether they liked or disliked them). They could offer more native integrations, but with Zapier, you can integrate just about anything.
7. Teachable Customer Support
Teachable offers in-depth tutorials that will work well for most of the support questions you may have.
Their primary mode of support is through email. If the customer support staff can answer your question by sending you a link to one of their tutorials, then that's what they'll do.
You can email them and they typically email back within a day. The people replying are professional and seemed knowledgeable with most of the support questions.
If you're on a higher plan, then you can use chat and get an answer within minutes.
Customer Support Feedback Based on Teachable User Reviews
Like Customer Support
7% like the support offered by Teachable. Here's what they had to say:
"offered great support."
"good customer support."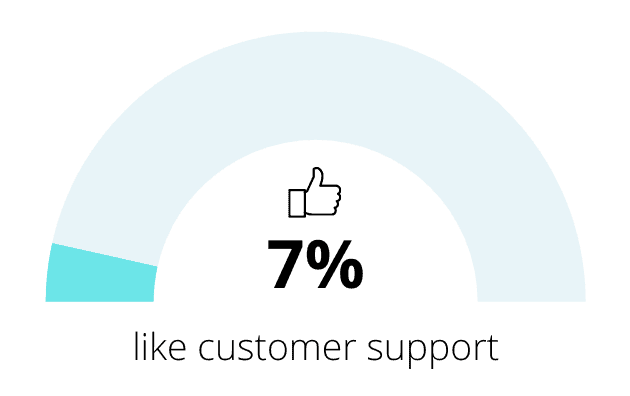 8. Teachable Security & Updates
Teachable provides SSL (Secure Sockets Layer) certificates for all accounts. This keeps your client's information and online transactions secure and private.
They use Amazon Web Services for data storage and maintain an average of 99.99% uptime for both you and your learners.
Any new features or security updates happen behind the scenes so theres' no impact on you or your learners. You won't have to update or install anything to run Teachable. The platform allows you to focus on running your business and not on maintaining technology.
Feedback on Updates Based on Teachable User Reviews
Like Reliability
When it comes to Teachable, 4.7% of our users find it reliable and dependable.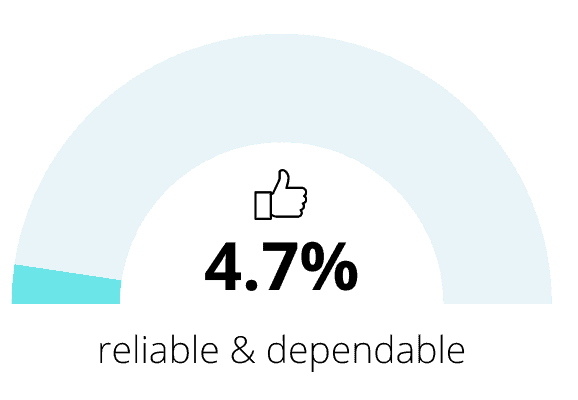 Like New Features
9.3% of Teachable users love the new features that are often rolled out. Here's what a few users said about Teachable's rollout of new features:
"the editor is getting more powerful over time."
"always updated with the most recent updates."
"always adding new features."
"they really listen to their course creators and what they would like to see added."
9. Teachable Price
There is a big range of prices in the Teachable pricing plans which makes it a good option for both beginners and advanced users alike. Let's go through each plan briefly in this Teachable review.
Free Plan
The free plan is great for trying Teachable out before you buy it.
You can try out virtually everything you need to offer a free or paid course and can always upgrade to one of the paid plans later. With the Free plan, you'll have a 10% Teachable fee on any course sales you make plus a credit card fee (which is typically 2.9% of the course price + 30 cents).
Basic Plan
The Basic plan is currently $39 a month which is very reasonable. You get everything offered through the Teachable online course platform (unlimited students, unlimited videos, automated sign-ups, etc …).
The Teachable transaction fees on that plan are 5% plus you have a credit card processing fee (typically 2.9% of the course price + 30 cents). Your total fees will be 7.9% + 30 cents on the Basic plan. Once you hit a certain income amount (you'll have to do the math), you might be better off signing up for the Professional plan at $99 a month.
Professional Plan
The Professional plan includes everything in Basic plus you can integrate with Stripe or PayPal and get instant payouts. On this plan, if you're using the Stripe or PayPal integrations then you won't incur any Teachable fees (however, you will have to pay Stripe and PayPal transaction fees).
Alternately, you can use the Teachable payment processor and they'll charge you a 2% Teachable fee plus you will have a credit card processing fee of 2.9% of the course price + 30 cents. So on the professional plan, you will have a 4.9% + 30-cent fee if you're using the Teachable payment processor. The Teachable payment processor will pay your affiliates for you which is a big-time saver if you have a popular affiliate program.
Briefly, the Professional plan also allows you to have more owners/authors, graded quizzes, advanced theme customizations, advanced reports, an unbranded website, and course completion certificates.
Business Plan
The Business plan jumps up to $299 a month. You likely don't need this plan unless you're building a course platform with several different course authors or you're making a lot of sales and want to use the Teachable payment processor. With the Business plan, you can also make advanced HTML customizations to your themes.
Pricing Feedback Based on Teachable User Reviews
Like the Price
7% of the users in our data set say Teachable is inexpensive. Here are some quotes taken from the interviews:
"cheapest option."
"pricing is also reasonable."
"not too costly."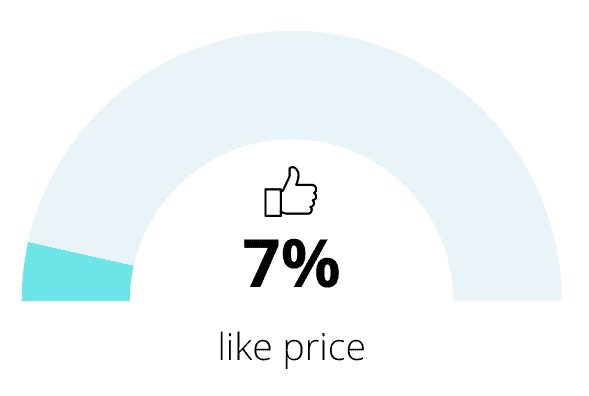 Better Pricing
14% of the Teachable dataset said Teachable was too expensive. Here are a few quotes:
"the fees are higher than I would like."
"the only downsides are the payment fees."
"I wish Teachable allowed third-party checkout services so the fees could go down."
"quite expensive, a little expensive, high costs."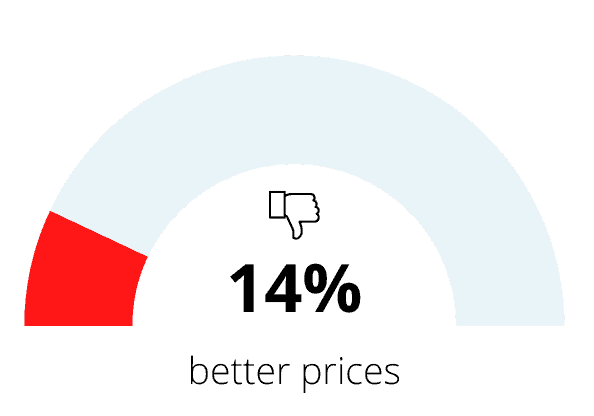 Recommendations with Teachable
I recommend a few other components in addition to your Teachable account. You should plan on getting the following tools to fully run your online course business:
Teachable Review: Pros and Cons
Based on my own experience and the user data we have, Teachable gets a great rating and is a strong product. Here are the main negatives and positives, but overall, it's a great option for hosting your online course. It's the #3 best online course platform according to the successful course creators we interview.
Teachable Cons:
14% think the fees are too high
11.6% wish for better sales pages
9.3% wish for a community feature
7% would like better quiz abilities
Teachable Pros:
30.2% like how easy it is to use
9.3% love the user interface
9.3% appreciate the new features
7.0% like the customer support
7.0% appreciate the affordability
4.7% like the reliability
How to Get Started with Teachable?
Teachable does better than just offer you a demo, there's a Free plan. You can build a fully functional course and even offer it for sale (if you're willing to pay the fees) with their Free plan.
If you're not sure your course will sell, you can put your course together with the Free plan and wait to see if you make sales. When you start making sales, upgrade so your fees are lower. Give Teachable a try by clicking on the button below.