What is a Premium Domain Name?

Our content is reader supported, which means when you buy from links you click on, we may earn a commission.
---
You've got a great idea for a business and have come up with the perfect domain name. Now is the time of reckoning. You go to a domain search tool and type it in and …
… It's $1000!
Whaaaaatttt?
Never mind the fact domain names are only supposed to cost like $20 a year. What's going on here?
You've hit on a premium domain.
A premium domain name is a name that someone already snatched up, not because they wanted to build a site around it, but because they knew someone like you would come along.
Someone who thinks it's a great domain name and they need it.
So they snatched it up and attached a high price tag on it for the unsuspecting buyer (you). Now the only choice you really have is to pay the premium price or move along.
Who Decides What's Premium and What's Not?
Buyers.
It's not the domain registrar that decided to make yeahgolf.com cost big money …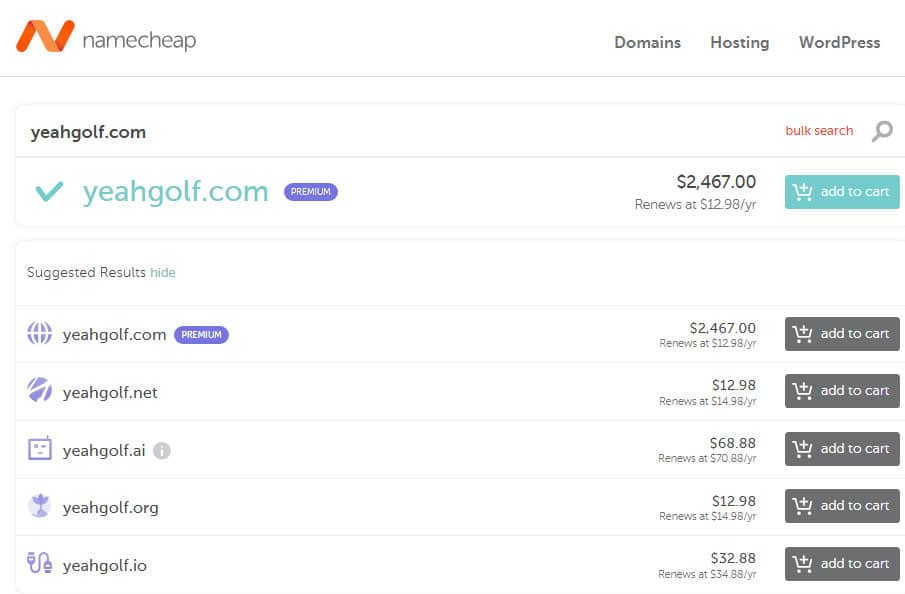 Someone realized it could be valuable, so they set a nice, high price for you to buy it. It's jacked way up from what a regular domain name costs (again, usually only $20 for a year and not $2,467!).
There's a whole business model where people go around buying good domain names, just holding onto them, waiting for a buyer.
They Don't Ever Plan to Use the Domain Name …
Instead, they just keep it with a placeholder page that's usually got the price on it. Then they can market it on marketplaces for domains.
Buyers can go to the marketplace and search around. In addition, the domain will oftentimes show up at a domain name registrar's search along with the massive price. You can often buy these straight from a regular registrar.
Keep in mind, you're just buying the domain name. There's no other business to it. Since they're just squatting with that domain name, people call them squatters.
The person who snatched up yeahgolf.com has no plans to build a site around golf, they just thought the domain name sounded cool so they grabbed it and threw a big price tag on it.
And hey, look here, if you pay over $2,400 for it, it renews at only $15! What a deal. Again, that's because some squatter bought it, went through the sales channels to mark it up, and now it's displayed on every domain registrar for around that same price.
You can register the domain name right from namecheap.com or anywhere else.
The person who owns it will get most of this money (I presume). I was not smart enough to buy up a whole truckload of domain names back when I started in 2001. I can only imagine what I could be worth now if I did. Big oops.
What Qualities do Premium Domains Usually Have?
Again, anyone can decide to sell any domain at a premium price so logic doesn't always dictate here, but here are the typical criteria:
Length – shorter domain names are typically easier to remember and therefore, better. Just about every single-word domain name will be a premium domain at this point.
Keywords – domain names with memorable keywords within them will likely be sold for premium prices especially if they're shorter domains.
Brandability – there are just some domain names that make great brand names and those are often snatched up as premium domain names.
The main idea here is that anything that seems easier to remember may be snatched up by someone as a premium domain.
How to Buy a Premium Domain Name
You buy it the same way as how you register any domain name. Add it to your cart, type in your credit card information, and whoa, you've just spent a lot of money on your premium domain name.
Seriously, it's that easy.
They've got the cheapo domains right next to some as pricey as a car. So do be careful before you click buy on a domain registration site.
Be Careful Where You Buy These From
You have to pay first and then hope the domain name owner transfers your very expensive domain name to you.
It's probably smart to use a domain marketplace since they have procedures in place to help cut down on fraud.
Afternic and domain agents are your best bet if you're spending a lot. I would imagine if you buy from a popular domain dealer like Godaddy or Namecheap that in the event you don't get the domain, your money is refunded back to you (but I don't know this for a fact so check first).
Be wary of the seller when you're buying an expensive domain name. I would not buy one of these from just some dude's site online. You don't know if they'll really transfer it over to you.
You can contact them through their email address and then agree to use a domain agent or escrow.com for the sale and transfer. I've used escrow.com for the sale and purchase of websites many times and it is a good process. A third party escrow account holds the money.
Is a Premium Domain Name a Smart Buy?
Now that you know a little about premium domain names, let's talk about whether or not they're worth it.
It really depends.
There's nothing stopping anyone (even you) from buying a domain name and following the right sales channels to mark it up and get it display on all the domain registrars for a hefty price. So just because it's expensive, doesn't mean it's really worth that money.
I did a little research and Afternic is a marketplace service where you can sign up for a free account. Once you have your account, you can list all the premium domain names you're squatting on.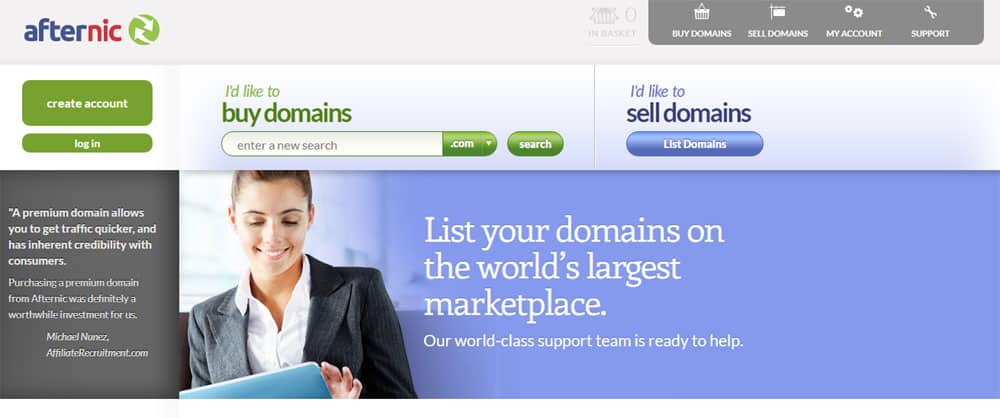 I saw the tagline 'List it once and sell it everywhere' somewhere on that site.
I didn't look to see what the price is to list.
I'd guess there's one-time fee plus a transaction fee where they take a percentage of the domain sale. If you've got some great domain names lying around it might be worth your time.
At any rate, we're the one's on the buying end of this.
Someone else saw the potential in the domain name, they bought it, and now they're trying to capitalize off it. There's nothing you can do about the high price tag. You can choose to buy it or pass (or you can sometimes try to negotiate, but even then, it's not going down to a $12 special price on Namecheap).
The Question Is, Should You Buy It?
The first thing to look at before you ever get to this answer is … does it fit your budget?
Even if you have $30K lying around don't get crazy and spend all that on a domain name. You could use that on something else.
Think about whether or not it's worth the price. The price is whatever someone (could be you) is willing to pay for it.
This page shows some recent premium domain sales: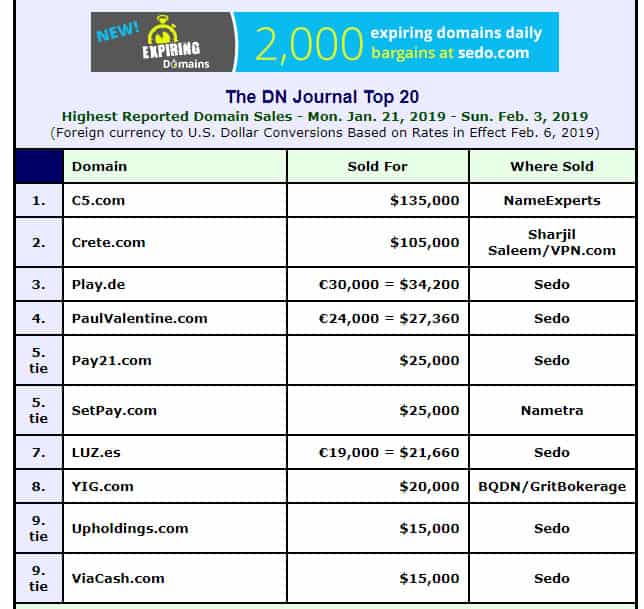 As you can see, people pay big money for these premium domains.
These are just the latest buys. You can check it out if you want and see how it's changed since I took this screenshot. But real people are buying these domain names. A lot of these people are actually using the domain name because they think it's perfect for their business.
So the real question is to ask yourself is whether it's worth it to your business …
Or could you be a little more creative and come up with a domain name that's also just as good, but costs much less?
Or is that domain name you thought was perfect really that great anyway?
I can usually talk myself out of it.
Can You Find Another Name?
A lot of people will tell you to use another extension (like something else other than .com). I don't like that so I try to avoid that whenever possible always.
I've got a ton of tips on how to choose a domain name that you may want to look at before you invest in a premium domain.
A useful tip that often solves a lot of problems is to just add in an extra word to the domain name. Like Sumome.com did (eventually they bought sumo.com and dropped the 'me').
You know, that's OK.
Obviously I couldn't afford business.com so I used thesaurus.com for a good amount of time and came up with the idea of adding bolts to it.
Make Sure the Word is Easy to Spell
Don't get cute with the spelling.
Boltz is exactly what I'm talking about.
No one spells it that way. Plus if I'm lucky enough to have people to share my site I don't want them saying, "hey I got that from businessbolts.com, it's bolts with a 'z'."
You don't want that.
No explanation necessary is best.
Often you can find another domain in the .com version just as good as the premium one you came up with. You only have to be willing to spend the time.
After all, premium domains can be expensive.
Imagine if you found something better AND saved yourself the cost of a premium domain with just a week's work.
If the domain name is expensive enough that it's making you pause, check this list off before you buy:
You've spent time searching for an alternative, but never found anything as good as the premium domain.
You've done the research on your market and know people buy courses on what you're planning to offer.
You're dedicated to earning money from it.
You have the money on hand to buy it.
If you don't meet the criteria above, you may want to keep researching for new domain name alternatives.
My Experience Buying a Premium Domain
I started my first web business in 2001 and have bought a lot of domains since then. Not a crazy amount, but I'm sure it's dozens. Ok maybe I'm trying to keep it lower to make myself look better. I'd say less than 100, but probably pretty close to 100. I used to buy more. Anymore I don't buy them, but it's definitely an addiction.
In all that time and with all those domain names, I've only every bought one premium domain name. I paid $1100 for it.
In this case I actually had the .com version with an 's' in it and I was making around $5,000 a month from that site. I wanted the one without the 's' because it sounded more brandable.
It seemed worth it at the time.
How I Find Alternatives to Premium Domains
I do a lot of research using thesaurus.com to come up with my domain names.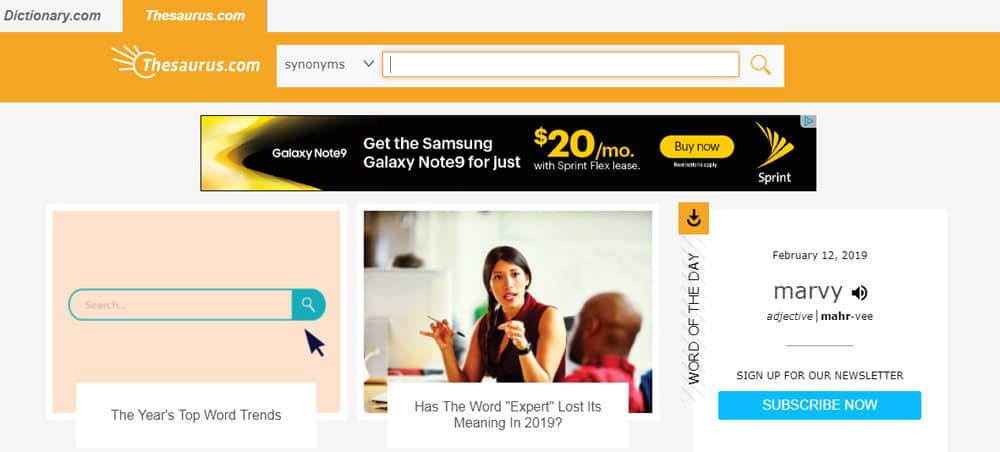 I've never found a tool online that works any better than it for searching domain names.
I just use thesaurus.com and start coming up with ideas.
Businessbolts.com (the site you're currently on) was not a premium domain name.  I might have spent a week or so to find it. It wasn't something I did for 40 hours non-stop, but here and there over a week. I'd come up with an idea and type it into a domain search tool like the one on namecheap.com to see if it was taken. Then I'd review thesaurus.com. Finally I gave myself a day to think about it, then I bought it.
You Can Find Some Good Ones If You're Willing to Put in the Time
Squatters often give up on domain names over time so even good domain names get put back into the pool of non-premium domains.
In addition, people often plan to start a business, but life gets in the way. When those domain names expire, they too get put back into the pool of non-premium domain names.
It's amazing how many domain names are bought, but are not being used. A lot of them are pretty good! You might be able to get the owner to part with one and for a non-premium price tag.
Interesting Considerations
The first consideration involves buying a domain name with an extension other than .com.
I see a lot of .io domain names now. It sounds cool (especially for apps), but it's actually the Internet country code top-level domain assigned to the British Indian Ocean Territory.
I didn't know that.
I bet a lot of people don't know that, but some do.
If you're not located in the British Indian Ocean Territory then you're going to confuse some of your customers who know what it means. Plus when they find out, you're going to feel silly! It's kind of no longer cool.
If you go with an extension other than .com, a lot of your customers might type the .com version of your domain and get confused when your site doesn't show up.
Confusion is the death of sales online. One of your top jobs as an entrepreneur or marketer is to avoid confusion at all costs.
You could always start with a different extension and then upgrade later just like you might start with an additional word in your domain (I'd choose adding a word over a different extension). Here are a few famous examples:
Snappa.io became Snappa.com when the site took off.
Sumome.com became Sumo.com – this was supposedly a 1.5 million dollar upgrade.
Thefacebook.com became Facebook.com
Mymint.com became Mint.com
Seomoz.com became Moz.com
There are tons of other stories like this.
Conclusion
Building your business is like a long-term commitment. Make sure you're OK with your domain name before you register it.
Once you commit, you'll want to start putting your domain name to use.  Learn what to do after buying a domain name and start getting it ready.
As this article covers, buying a premium domain name is always a possibility, but it's not something you should take out a business loan for. There are many domain names available at the regular price while even some premium domain names are available for a reasonable price. Spend the time to look around, then register it, and start building your business!
If you've got any tips or experiences buying a premium domain, let us know in the comments below …