Thinkific Pricing Tiers: Review the Plans (and Discover the Ability to Unlock Even More Features with the Growth Package)

Our content is reader supported, which means when you buy from links you click on, we may earn a commission.
---
Thinkific is a top online course platform with a very reasonable price which is why it is used by many digital training companies and online course creators alike.
Hootsuite uses the Thinkific platform to host its social media online education academy that is used by 45,000 learners. Dana Malstaff of BossMom and Lewis Howes of the School of Greatness also use Thinkific to run their online course businesses.
I've interviewed countless successful online course creators using Thinkific to power their online courses. The list of course creators using Thinkific includes Jess Lenouvel and Jessica Caver Lindholm who are both 7-figure earners. And there are many more using Thinkific to power their digital training companies and online courses. The most popular Thinkific pricing plan is $99 a month (paid monthly) which makes it accessible to just about everyone.
I offer an in-depth Thinkific review if you need more information on this learning management system. The specific guide you're reading now will help you navigate Thinkific's pricing structure.
With Thinkific you can run live online classes, create courses, run an online membership site, and market courses all from one platform. The customer support is excellent so you'll have help every step of the way as you sell online courses. All the sales and marketing tools you need are available through Thinkific to run your online learning empire.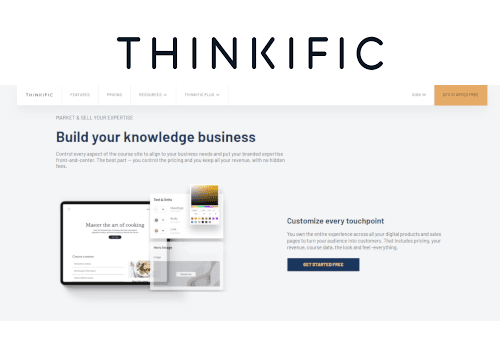 Take a Look at Thinkific!
Thinkific is the most popular online course platform used by successful course creators interviewed on coursemethod.com. It's a complete solution for creating sales pages, uploading all course content, taking payments, and more.
Price Range: Free to $499/month 
Most Popular Plan: Pro Plan at $99/month
Annual Discount: Yes, take 20% off!
Free Trial: Try out Thinkific's core features for free.
*Our content is reader supported, which means when you buy from links you click on, we may earn a commission.
Thinkific Pricing Plan Overview
Thinkific offers multiple pricing options. These include a free trial plan and 3 different paid subscription plans (Free, Basic, Pro, and Premier) all with monthly as well as yearly options. So there are a lot of options for you to start selling online courses or run a membership site with Thinkific. If you choose a yearly plan you'll save 20% off the monthly price with the Thinkific pricing model.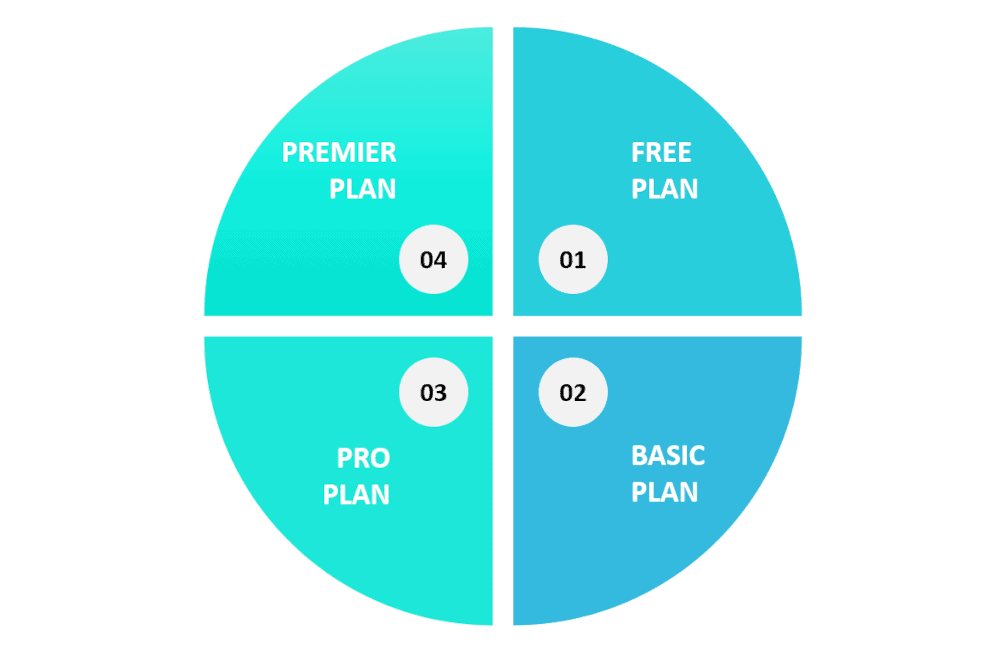 In addition to the 3 paid plans, Thinkific also offers a Growth package that serves as an add-on to its Pro plan. This package unlocks even more features for course creators.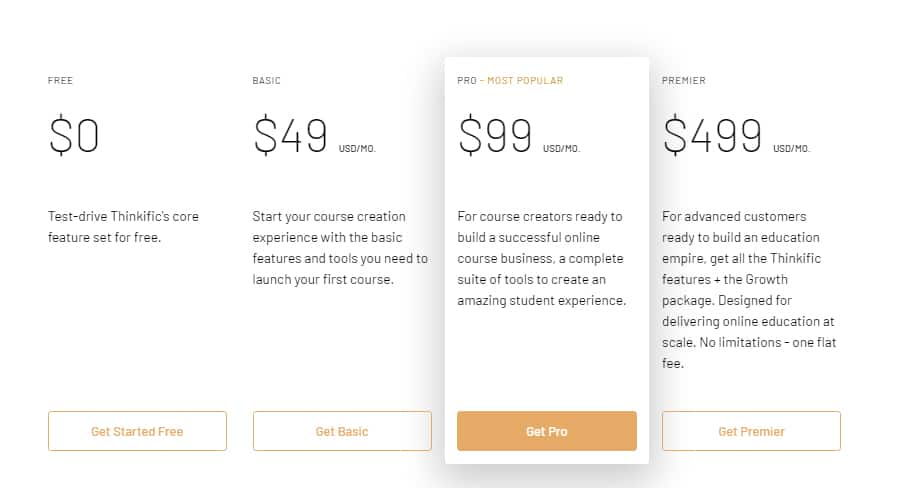 Here are the Thinkific pricing plan options in table format:
| | | |
| --- | --- | --- |
| Plans | Monthly Pricing | Yearly Pricing |
| Free Plan | – | – |
| Basic | $49 per month | $39 per month |
| Pro | $99 per month | $79 per month |
| Premier | $499 per month | $399 per month |
Thinkific plans have no transaction fees involved with any of them (do note you will have payment processor fees which are unavoidable when you're accepting online payments).
Thinkific pricing tiers mainly differ in terms of specific features. Depending on which plan you choose, you have the ability to use a custom domain, offer completion certificates, access priority support, and more.
Thinkific offers a robust collection of core features that are available in every plan, including the free plan. The core features include instant access to your funds and access to the full eCommerce suite of tools.
There is an easy drag-and-drop course builder that will allow you to build out your entire website with Thinkific. In addition, the core features include multiple instructor profiles, student notifications, upsell offers, forums, and email and phone support. Thinkific also boasts secure hosting and easy, built-in SSL certificates. And all that's on every plan!
Thinkific Free Plan: See What You Can Do With It
The Thinkific free plan is very generous. You can have unlimited students on their free plan and can build one full course. This includes all the hosting for content like videos.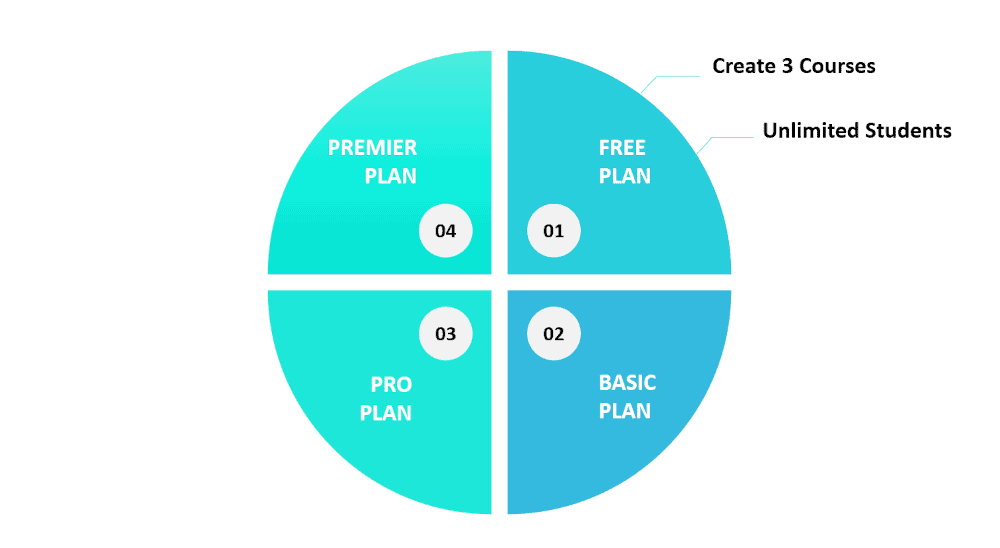 You'll also have access to their quizzes and surveys as well as instant access to any revenues you bring in.
Who Should Use the Thinkific Free Plan?
This free plan is perfect for trying Thinkific out. You won't have access to the upgraded features, but with the free plan, you can easily create a full course and offer it for sale.
Again, you can have unlimited students within the courses hosted on your Free plan. So it's a great way for you to get started with Thinkific as well as to start growing your online course business.
Thinkific's Basic Plan Allows Email Integrations
With the Thinkific Basic plan (which is the first of the paid plans), you'll have access to unlimited courses and students.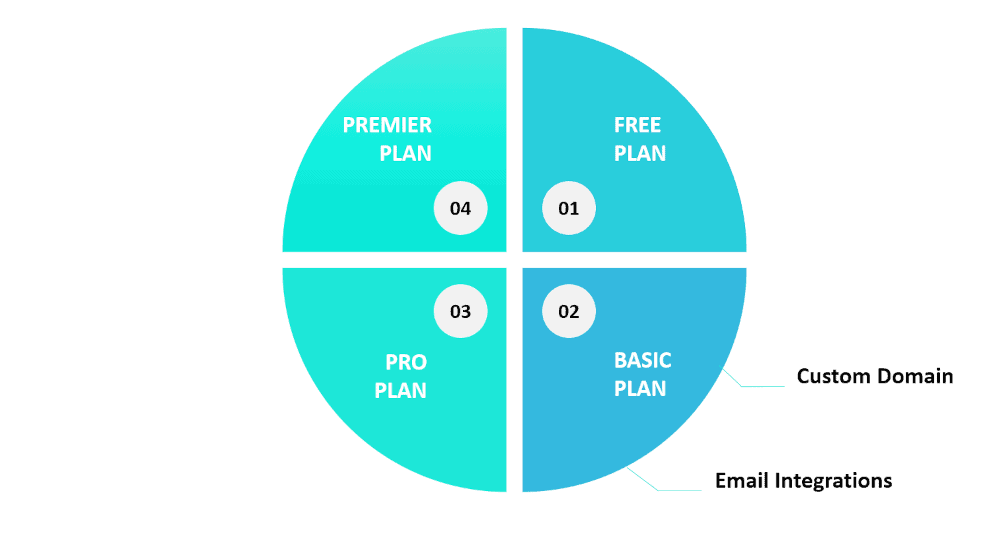 The Basic plan enables you to use a custom domain so you can host your entire eLearning platform on your own branded domain instead of a .thinkific subdomain. You can also access coupons and their affiliate program.
You'll also gain the ability to email students individually (however this does not replace an email marketing solution) as well as drip the course content over time.
The basic plan also includes email integrations with a few popular email marketing tools including ConvertKit, Aweber, Constant Contact, and Mailchimp. You can also integrate with many other tools through Zapier integrations which are also available on this plan.
Who Should Use Thinkific's Basic Plan?
The Basic Plan is perfect for you if you already know you want to use Thinkific as your online course platform and are ready to start building your digital training business.
While you won't have access to all the Thinkific features, there's enough here to get started building your course. You'll be able to offer some cool features like coupons and use a branded domain. You'll also have access to integrations with a few additional tools like an email marketing solution.
Thinkific's Pro Plan is the Most Popular Choice
Without a doubt, Thinkific's Pro Plan is the most popular of the paid plans and includes all the core features plus unlimited courses and students.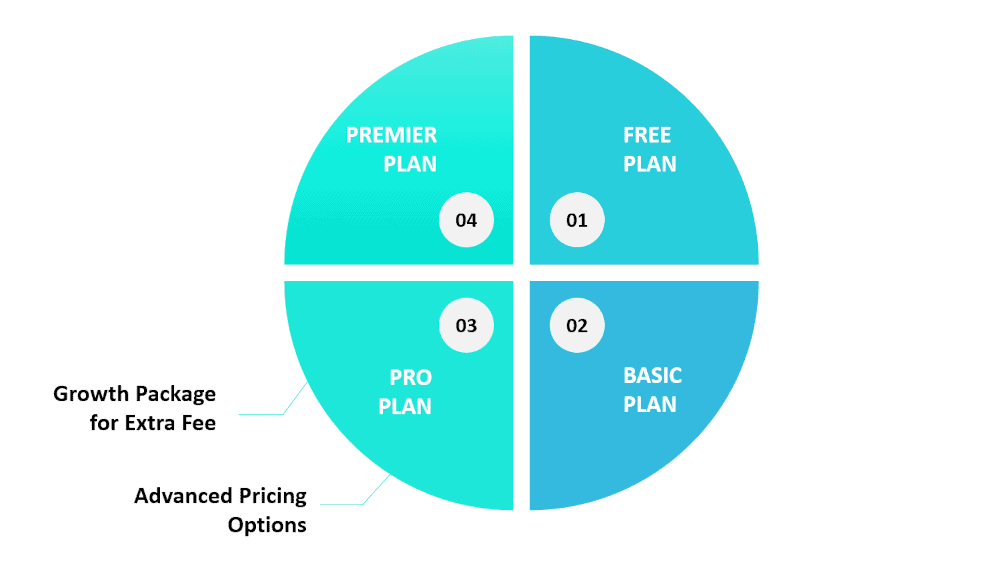 You can also get 2 site admin accounts and 5-course admins/authors. You'll have the ability to set private and hidden courses for select clients along with certificates. The Pro Plan also offers advanced pricing options like subscriptions and payment plans along with memberships and bundle offers.
With the Thinkific Pro Plan, you can customize your site, allowing you the ability to create the best customer experience for your learners. You can also create assignments and communities. Finally, you'll have access to Thinkific's priority support which means you'll get faster help when you need it.
Who Should Use the Thinkific Pro Plan?
You'll want to upgrade to this plan once you start earning enough money with your courses. The ability to offer these important features resulting in a better user experience for your learners is worth the small, additional monthly fee (it's only $50/month more than the Basic Plan). The Pro Plan also opens up the ability to add on the Growth Package which unlocks even more integrations and features.
What is the Thinkific Growth Package?
If you're on the Pro Plan, then you can opt into the Thinkific Growth Package unlocking even more features. If you find that you don't need them then you can just pay the regular Pro Plan fee of $99 a month.
But if you want access to more high-powered features you can opt into the Growth Package without having to step up to the Premier Plan (that plan is $499 a month which is out of reach for many smaller businesses).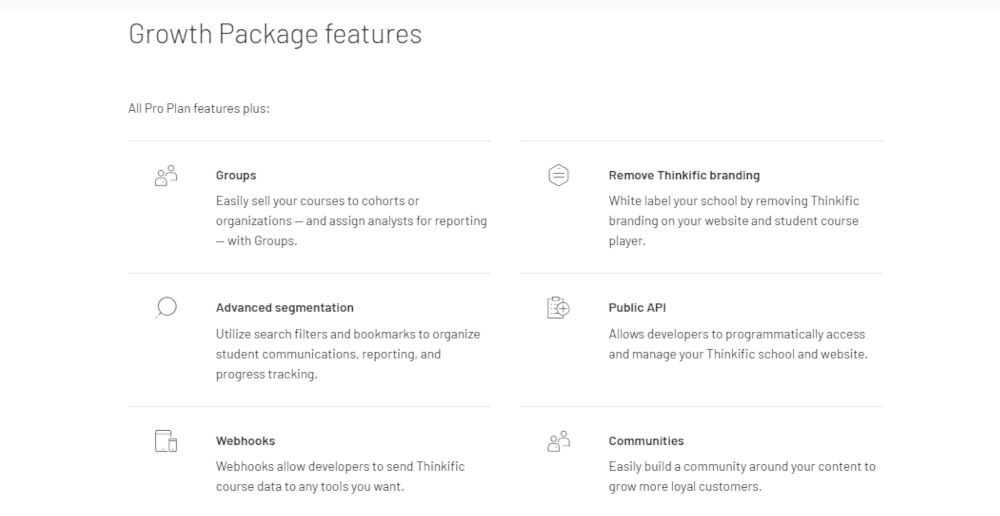 This add-on includes the ability to sell your courses to groups like organizations and assign analysts for reporting. You can also use advanced segmentation features to organize student reporting and progress tracking. Another great feature is the ability to remove all Thinkific branding from your course and your site.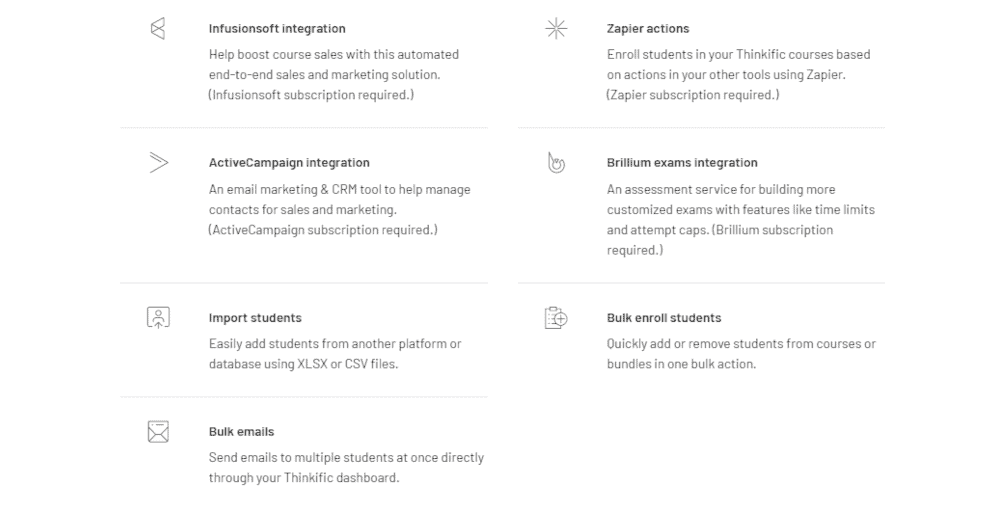 With this package, you'll unlock the ability to import and export students as well as send out bulk emails. You also can offer multiple communities (without this add-on, you are limited to one community on the Pro Plan).
Finally, the Growth Package enables you to integrate seamlessly with a few popular tools. These include a tight integration with Infusionsoft which is an all-in-one marketing tool including advanced email marketing. I can attest to the power of Infusionsoft as I've been using it for at least the last 12 years.
This add-on package also offers a tight integration with ActiveCampaign which is another top email marketing tool. In addition, you can also unlock the full power of Zapier.
Finally, you'll have the ability to integrate with Brillium. While Thinkific does offer graded quizzes and surveys, you might find you need more advanced exam tools like the ability to add timed exams and caps on exam attempts. Brillium offers this and more.
Thinkific is now offering all the features in their Growth Plan for a set $50 a month fee. That is in addition to the Pro Plan costs so the total for the Pro Plan + Growth comes out to $149/month. If your business would benefit from any of these high-powered features then it's well worth the additional fee.
Who Should Use Thinkific's Growth Package?
Since this package is an add-on you should consider whether you need it at all. If you're using at least 2 to 3 of the additional features included in this plan then it's likely going to be worth the extra costs for you.
Removing Thinkific branding may be important to you and if so then that's one feature to consider. Advanced segmentation is another and the ability to enroll students in your courses through Zapier can have a big impact on sign-ups especially when it comes to free courses. These 3 features alone may be worth the extra $50/month to you.
What is Included with Thinkific's Premier Plan?
With the Premier Plan, you'll have unlimited access to the Growth Package which means you are no longer paying on a per active user basis. You can have unlimited learners at the Premier tier and it's still $499/month. This is one of the main differences between the two plans.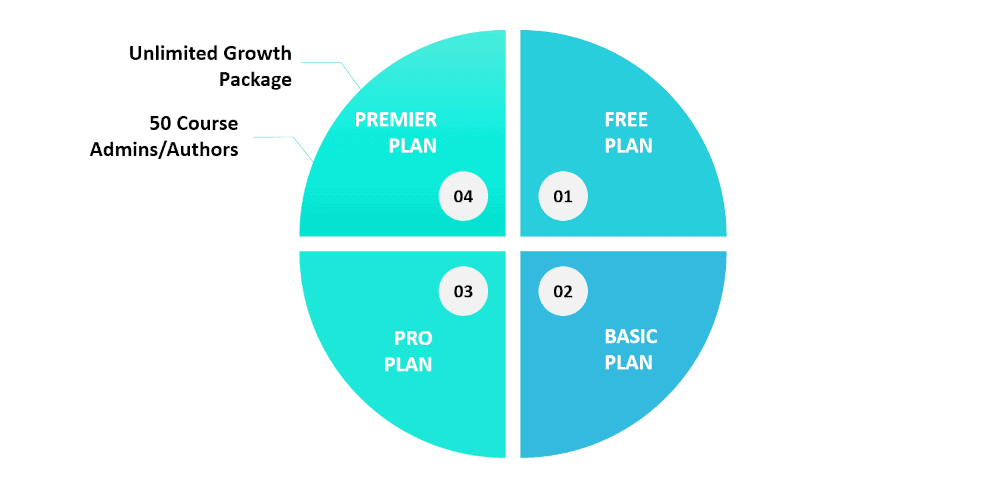 In addition, you will also gain 5 site admin accounts, 15 group analysts, and 50-course admins and authors. That means you can have a team of full or part-time people as well as partners helping you grow your digital training company.
The Premier Plan also gets you single sign-on (SSO) so you can integrate the course platform with other tools you may already use. You'll also receive access to an onboarding call, training, and checklist review to make sure you're ready to launch.
Who Should Use the Thinkific Premier Plan?
Obviously, with the high price, you need to make sure you've got a valid growth strategy in place or are already earning enough to pay for the Premier Plan.
If so, it's still worth it to consider whether or not your business needs require this plan. Based on the Growth add-on calculator, it's worth it to upgrade to Premier once you have 4,000 students. At that point, you'll hit the maximum price. If you upgrade to Premier then you'll gain the additional features. I would wait on the Premier Plan until you reach 4,000 students or you need 50-course admins and authors.
Lastly, There's Another Plan Called Thinkific Plus
Finally, as if those weren't already enough options, you can choose another option called Thinkific Plus. Examples of companies using Thinkific Plus include Hootsuite, Later, and Procurify.
This plan makes the most sense for high-volume businesses and those who would like to rebrand your learning environment for corporate clients.
That means if you have courses on leadership, you can load your training into a separate branded space for a big client to rebrand them with their identity. This way it will look like the corporate client is offering the training instead of plugging in material created by a third-party source.
In addition to this feature, you'll gain access to a dedicated team to support you. You'll also get B2B group management, single sign-on, unlimited administrators, and more.
This plan is typically reserved for corporate training or businesses with high growth. You'll have to enter your contact details to get more Thinkific Plus pricing information.
Thinkific's Pricing Compared to Competitors
Thinkific offers a full suite of tools you would expect with an online course platform at a reasonable cost. Again, there are no additional transaction fees on any plans.
Let's take a look at how Thinkific stacks up to a few other popular cloud learning platforms.
Teachable vs Thinkific Pricing
Teachable is another popular cloud LMS platform with a very similar pricing structure. The Teachable pricing structure includes a Basic plan at $39/month, a Pro plan for $119/month, and their Business plan for $299/month.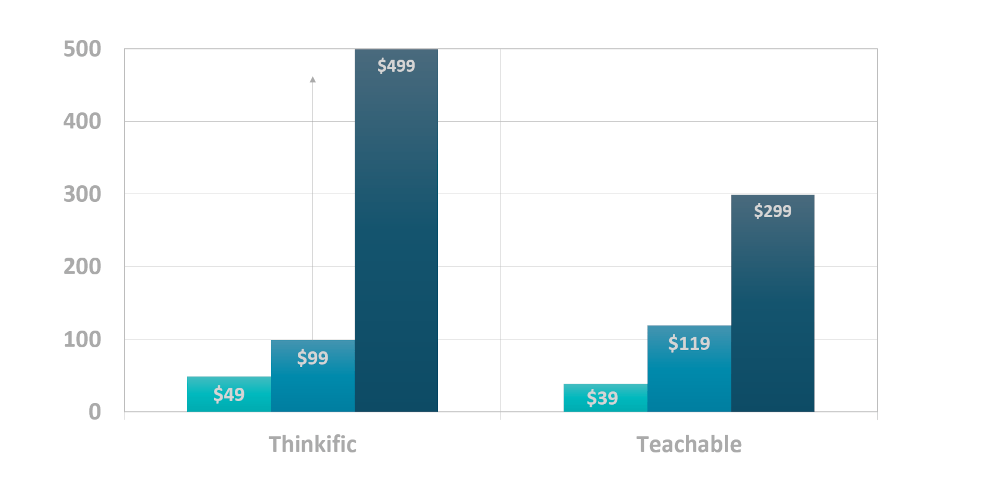 They do not offer anything like the Growth Package where you can add-on features.
Both the Teachable Basic and Pro plan are very comparable to Thinkific Basic and Pro plans. If you find you need the additional features in the Thinkific add-on package then you may want to go with Thinkific as that is the biggest difference.
LearnWorlds vs Thinkific Pricing
LearnWorlds offers similar plans for $29/month, another for $99/month, and one for $299/month.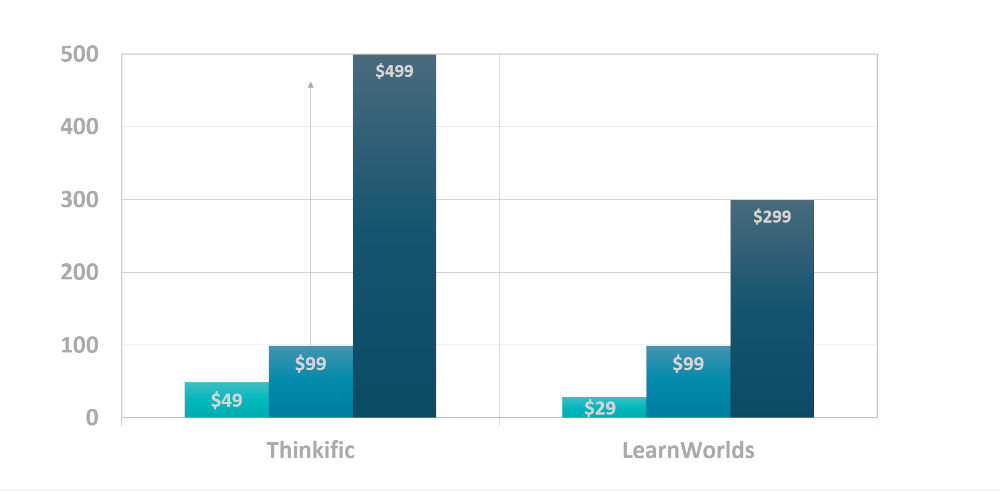 Some of the unique features offered by LearnWorlds are truly valuable. If you have a course rich in text then you'll appreciate their text editor (you can make really user-friendly text lessons with images, headlines, even tooltips, and more).
Plus your users can actually take notes from within the platform.  The notes will be saved on a special page where learners can review them. LearnWorlds also offers the ability to build a community as well as gamification for your courses to help your learners actually complete them.
All this is available on LearnWorlds advanced plans, starting at the $99/month plan. For the $299/month plan you'll gain the ability to create interactive videos and automatically generate video transcriptions. Their most expensive plan is very robust and still reasonably priced in comparison to Thinkific. If you need these extra features, then LearnWorlds might be one to consider.
Kajabi vs Thinkific Pricing
Kajabi is another course platform that makes sense to compare against Thinkific. They have three options; a Basic plan for $149/month, a Growth Plan for $199/month, and a Pro plan for $399/month.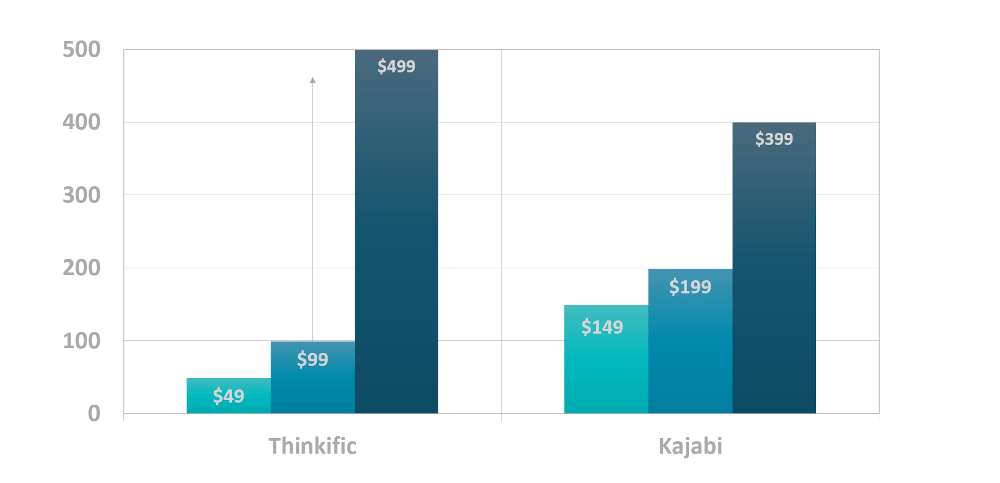 As you can see, Kajabi pricing is higher at each tier. That's because, in addition to offering their online course platform, they offer an email marketing solution integrated within the tool. So you won't need to pay for a separate email solution that can justify the higher price.
Kajabi has limits on the number of courses you can offer as well as the number of active members. They count an active member as someone who has logged into the course in the last month. For example, on the mid-tier Growth plan for $199/month, you can offer up to 15 courses with 10,000 active members.
To compare this with the Thinkific Pro plan plus the Growth add-on, you would pay $149/month for unlimited courses and unlimited members.
Each of these two platforms also has different features. It really pays to look at the features you need or expect to need before you make your decision.
Comparing Thinkific's Prices to Other Types of LMS Options
Overall, Thinkific is well within the range of prices for other cloud online course platforms. Let's take a look at how it stacks up against other options.
WordPress Plugins vs Thinkific Pricing
WordPress LMS plugins may seem less expensive at first glance over a tool like Thinkific. However, you will need to pay for hosting. I recommend using mid-range to premium hosting to run these powerful plugins.
Depending on your configuration and the number of learners you have accessing your course, you will need to pay at least $50 and possibly much more for a hosting solution. If you're offering videos, then you also need video hosting which is an additional fee (it will change dependent on the size and number of videos you have).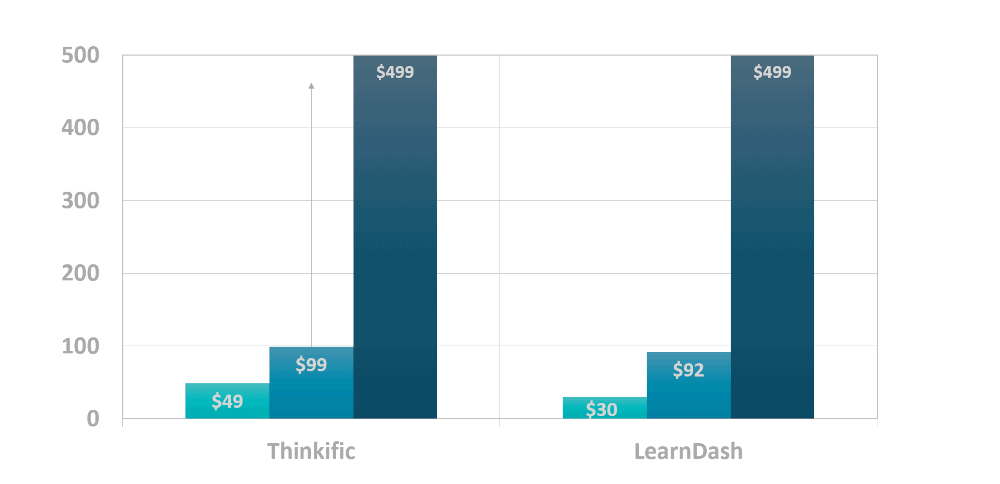 The Basic and Pro Thinkific plans are similar to the prices you can expect with a plugin like LearnDash. You will start saving money when you add in the Thinkific Growth Package with hundreds of users or if you need the Premier plan. LearnDash could easily run about $100 to $200 a month when you factor in the costs of hosting and the plugin as well as integration plugins (typically paid yearly).
Corporate LMS Solutions vs Thinkific Pricing
Thinkific plans are mostly straightforward. As a corporate training user, you may be able to use the Pro Plan without the Growth package. At this level, you will be charged $99/month. Alternately, you can use the Premier plan for $499/month and get the Growth package for an unlimited number of learners.
iSpring Learn LMS charges $3.66 per user/month for up to 100 users. So your total per month for 100 users would be $366 per month. Thinkific wins hands down when comparing by price. You can also include content created with many popular course authoring tools within the Thinkific course player.
Thinkific Pricing FAQs
Does Thinkific have any transaction fees?
You won't pay transaction fees when you use Thinkific. You will, however, have payment processing fees (for instance, with Stripe or PayPal). Payment processing fees cannot be avoided when you're making transactions online. But Thinkific does not take any money on any of the plans they offer.
What can I do with Thinkific's free plan?
You can definitely start creating online courses with Thinkific's free plan! All you need is to enter your email address.
You'll be limited to 3 courses on the free plan, but can have unlimited students. The biggest obstacle with their free plan is the ability to integrate their course platform with an email solution. So you will want to upgrade to at least their Basic paid plan once you gain some momentum.
Does Thinkific offer a money-back guarantee?
Thinkific offers a 30-day money-back guarantee. And you can cancel your Thinkific plan at any time.
Does Thinkific offer a free trial?
Since Thinkific's pricing model includes a free plan already that serves as the free trial. You don't need to enter any credit card details to get started. Simply fill out their trial form and you will gain access to their dashboard where you can start building your course and manage your students. You will have access to a number of features with the free plan and can create a course to offer for sale.
Start building your successful online course business today with Thinkific's suite of sales and marketing tools.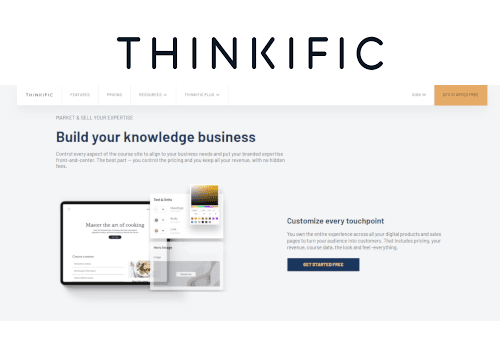 Take a Look at Thinkific!
Thinkific is the most popular online course platform used by successful course creators interviewed on coursemethod.com. It's a complete solution for creating sales pages, uploading all course content, taking payments, and more.
Price Range: Free to $499/month 
Most Popular Plan: Pro Plan at $99/month
Annual Discount: Yes, take 20% off!
Free Trial: Try out Thinkific's core features for free.
*Our content is reader supported, which means when you buy from links you click on, we may earn a commission.