2021 Thinkific Review: Is it the Best Online Course Platform For You?
Our content is reader supported, which means when you buy from links you click on, we may earn a commission.
---
There are a lot of online course platforms out there, but even if you've only looked around a little, I'm sure you've heard of Thinkific. In this Thinkific review, I'll let you know exactly how this platform rates.
If you're looking for a cloud learning management system or LMS (also known as a hosted LMS platform) with minimal technical headaches then Thinkific should be on your radar. It offers hosting for your web pages, your courses (including videos), automatic enrollments for students, a means for taking payments, and many more features.
Table of Contents
Why Trust This Thinkific Review?
To start with, I've been running a successful online course business since 2001. I've most definitely been in your shoes and know what it's like to put all the pieces together to create a highly valuable, successful online course.
In addition, I've spent well over 30 hours testing out and using Thinkific. I created a course and a sales page using their free Starter plan and tried out every feature as a user would. I also added in the email integration to ConvertKit which is a must-have. I contacted the customer support people to make sure they respond well (and to ask a few questions I needed help with).
In addition to this review, I've put together a very in-depth Thinkific tutorial. The tutorial will walk you around how to use Thinkific and may help you decide if it's the course building platform for you.
You can rest assured that this review is not based on looking at the Thinkific website or reviewing other reviews. It is based on the actual use of the product.
What is Thinkific?
Thinkific is a top online course platform that allows you to create, sell, and maintain your courses online. You can create sales pages as well as course pages with Thinkific. This tool also helps you manage your users and sell your course offering coupons and an affiliate program to help you get more sales.
Why Use Thinkific?
Thinkific is a good choice if you want to keep your tech headaches down to a minimum. By decreasing your tech responsibilities, you can free up more of your time to market your course and create more content (or just relax!).
Thinkific is a good option if you don't want to use WordPress LMS plugins which require more tech work up-front during the installation process as well as more ongoing maintenance work.
Who is Thinkific Best For?
Those with little to no experience running an online business should consider Thinkific.
You do not need anything else other than an email marketing automation tool. Registering a domain name is also recommended.
Advanced users will set up their own domain names with hosting and build out most of the pages of their website on their own. Beginner users can build every page on their site with Thinkific.
If you decide to take advantage of this, it's recommended that you direct your Thinkific site to your own domain name. Otherwise, your entire site will be built on a Thinkific subdomain like yoursite.thinkific.com. This will confuse your users, especially when you decide to use your own domain later.
You don't have to use all the Thinkific features, but they have set themselves up to offer everything you need to get your online course up and running quickly and easily.
Type of LMS
Thinkific is a cloud LMS platform. That means Thinkific hosts all your pages and your content for you. If you get your own domain name (or already have one) you can set it up so that the Thinkific pages are forwarded to your domain name. If you're at the beginning stages of running your business and funds are limited, that means you don't even need separate hosting to run the rest of your website.
Thinkific Support
Thinkific offers in-depth tutorials right on the site. They even send you friendly emails to encourage you to get started after you sign up.
Based on my experience, they offer great customer service support. I was getting knowledgeable emails back within 24 hours on business days.
In addition, there's also a very active Facebook group. You'll see posts from other members and can connect and ask questions from within that group.
They don't offer a phone number or chat from what I could see.
Tech Knowledge Required
You don't need any previous tech knowledge to use Thinkific. However, it is a very robust tool so you'll need to be willing to work through it to set it up. I suggest reviewing the Thinkific tutorial and once you set out to build your own course, move from top to bottom on the menu, working your way through it.
The sales pages you can create look great and you can customize them to a large extent to make your site design unique. I was able to match my website look and feel to Thinkific. Again, if you don't already have a website then you can use Thinkific to build out all your pages.
Recommendations With Thinkific
Although you can use a Thinkific subdomain, I recommend getting your own domain name and setting up Thinkific to point to it if you don't already have a web presence. This way you're building up your brand instead of just using a brand.thinkific.com subdomain as your main site. That's only going to confuse your students.
Alternately, if you already have a website you can use their subdomain and match the look and feel with your site. If you're just using their pages for a course sales page along with the course pages themselves, you probably don't need to customize your domain. If you're on one of their upgraded plans, then you might as well customize your domain name. It's nice that you have options for this.
Here's what I recommend using with Thinkific:
Domain name (get tips on how to choose a domain name for your online course business)
Hosting with most of your front-end pages on it (but you don't have to have this)
Email marketing automation tool
[elementor-template id="22359″]
Key Features
Ease of Thinkific Course Builder
It was very easy to upload and organize my learning content from within the Thinkific admin.
If you have a complete course, you'll be able to upload the entire course and organize it just the way you want in a couple of hours (depending on how big it is).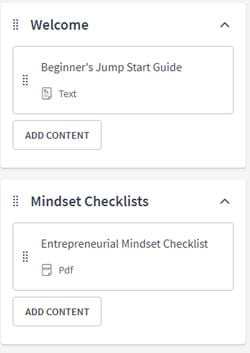 You simply add content from the menu on the course page and then add the content into the form that pops up on the main part of the page. Here's an example of how to add in a PDF: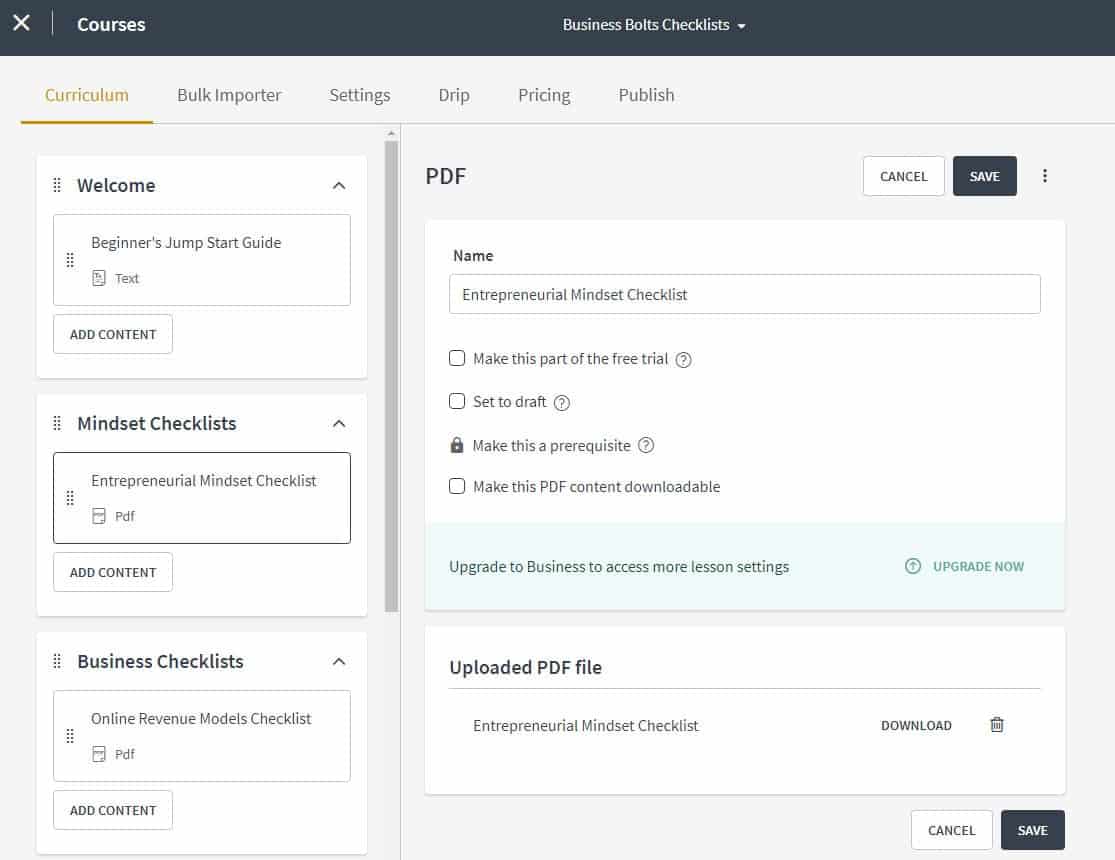 All I did was come up with a 'Name' for this page and then upload the PDF file. Thinkific created the course page for me.
You can also add in videos very easily as well as quizzes, surveys, and nearly any type of content you may have. The course player for video content is very professional. Here are all the choices for content you can add with just a few clicks of your mouse: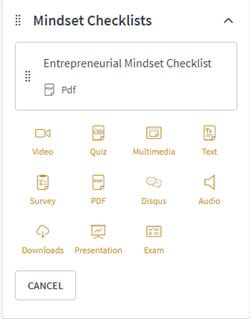 Site Builder Creates Beautiful Pages
The sales page designer to help you create your course site is very nice. I would say it creates the nicest looking sales pages I have seen offered through a cloud LMS. You do not need to know code and it is very user-friendly. Here's what I built in just a few minutes: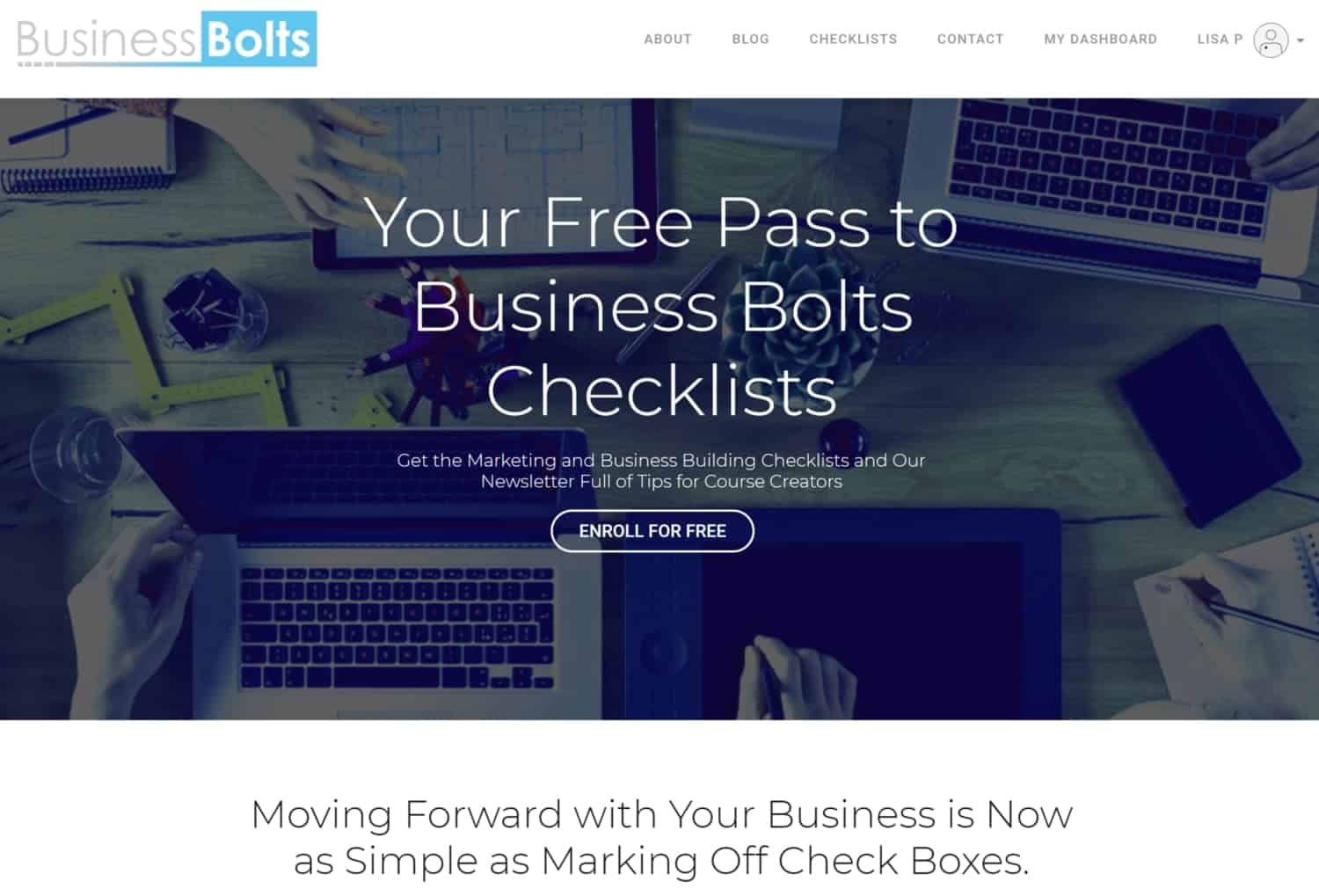 Thinkific also offers the ability to add icons right from the site builder: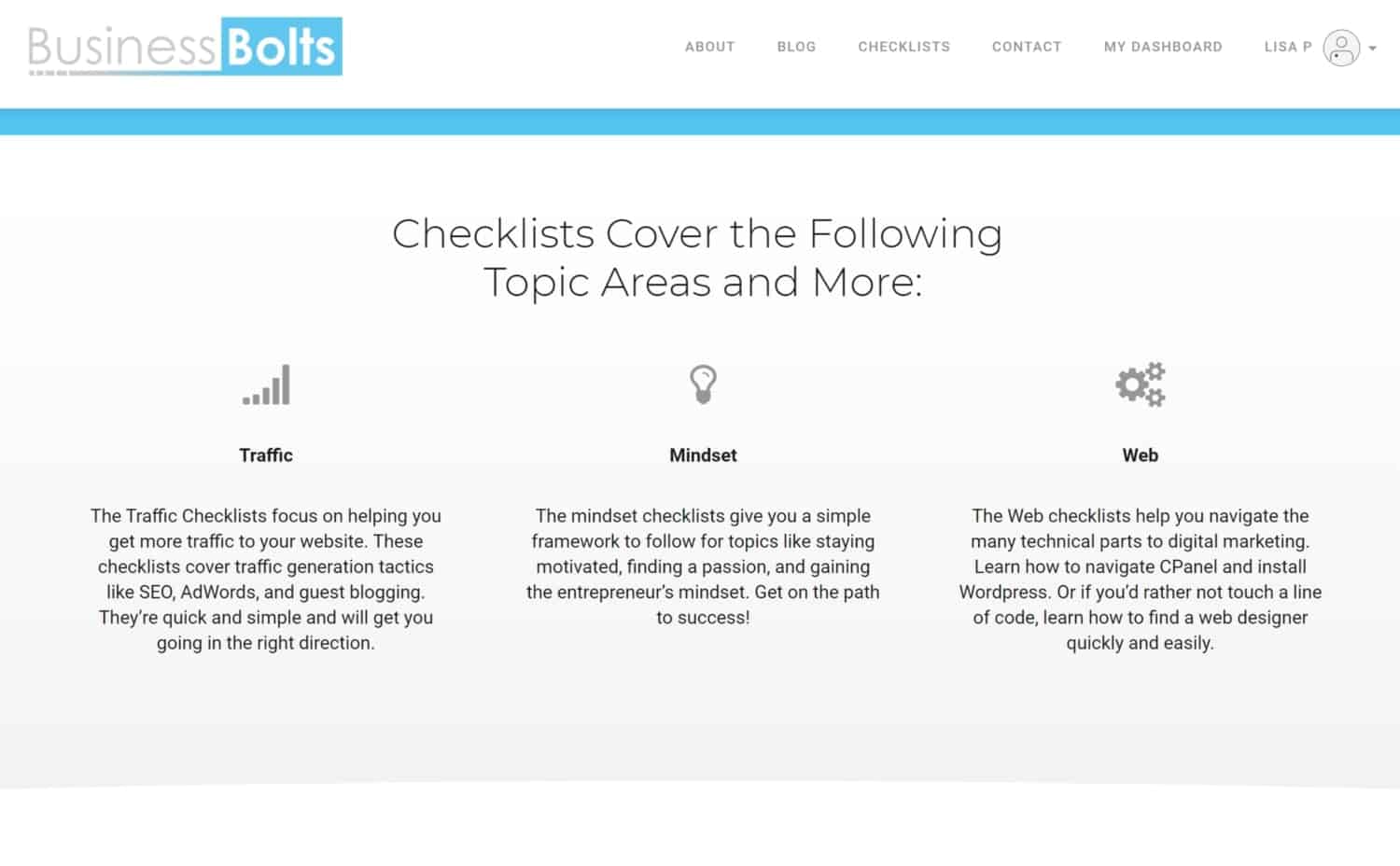 There are a lot of nice and easy to use features in their site builder which will make creating your web pages a fun experience with a minimal learning curve.
White Labeling is Possible
You won't have a special Thinkific URL for your login and sign-up pages. These are on your Thinkific.com subdomain or your domain if you upgrade. That means it looks like you're hosting your own courses. No one will know you're using an LMS company to host them.

Logo Link
Logos on all my pages can go to my homepage.

Since I have a domain name and the main part of my site hosted on my own hosting (which is Kinsta), I really want consistency across my Thinkific pages and my site.
I don't want users to have to go to my businessbolts.thinkific.com subdomain home page. This would confuse some people and I don't think it offers a good user experience.
So I was really happy I could customize the header to get this to work right. In addition, I can customize the logo on the sign-up and login pages which also made me happy.
Everything just works right.
Thinkific offers lots of integrations and the ones I tried work well. I used the ConvertKit integration and was able to get the people who sign up for my Thinkific course into ConvertKit so I can send them follow-up emails.
Course Templates Walk You Through Your New Course
When you start a new course in Thinkific, they'll show you options for templates based on the type of course you want to create. This is a great feature. As shown in the screenshot below, there are several course templates to choose from: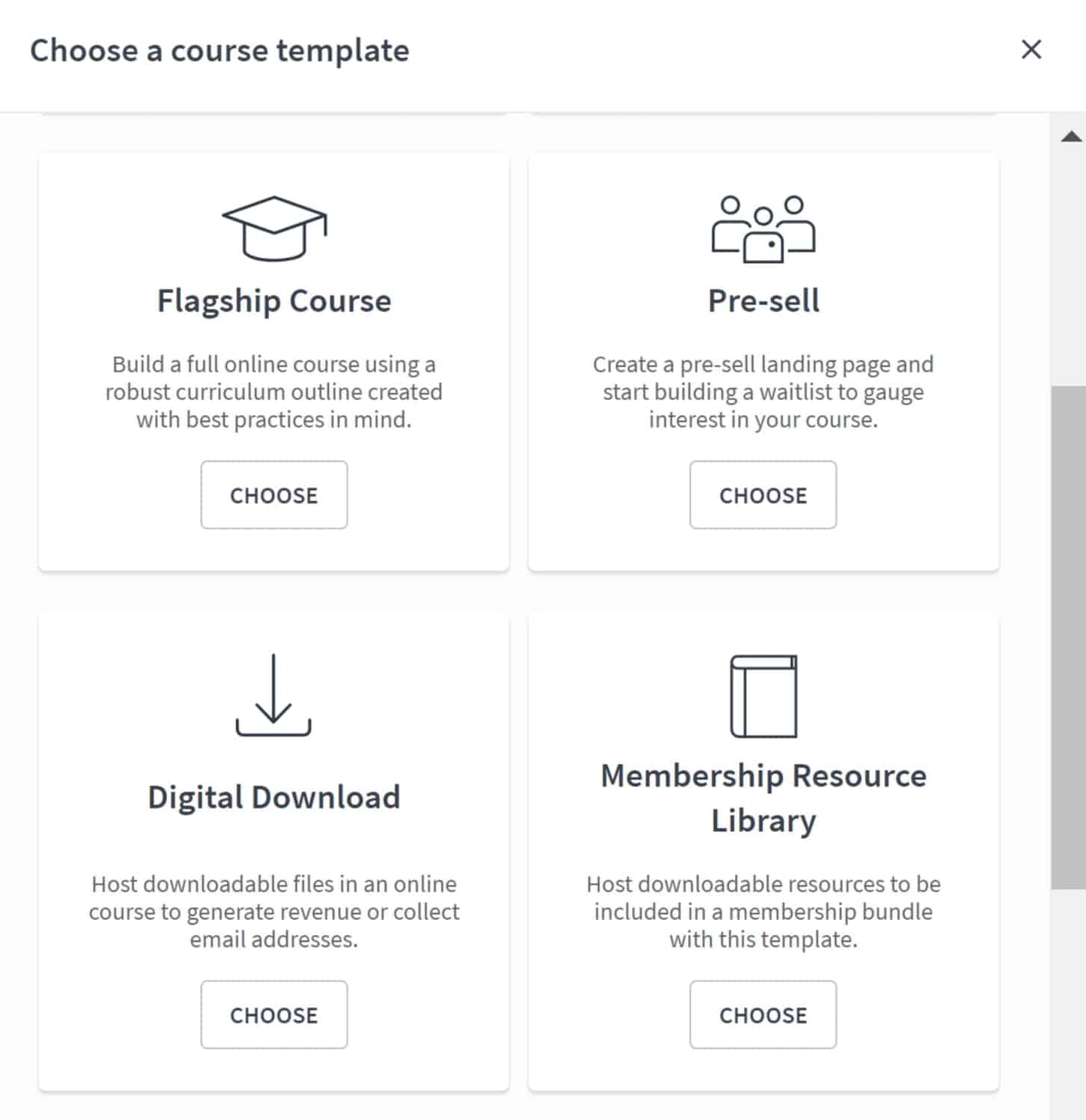 You can start your course with a goal in mind and get some help going forward. At the time I'm writing this Thinkific offers the following course templates; blank, mini-course, flagship course, pre-sell, digital download, membership resource library, and a webinar replay.
I clicked on Flagship course and it gave me helpful tips, walking me through how to structure my course.
Upload Files Created by eLearning Authoring Tools
Thinkific also allows you to upload files created by eLearning authoring tools like iSpring and Captivate (on an upgraded plan). So you may be able to upload files of this type that offer an advanced learning experience.
Payment Capabilities
Thinkific allows you to hook up to Stripe and PayPal in order to accept payments from your students. In addition, there's no holding period with your funds. You'll be paid out via the regular terms for Stripe and PayPal which means it will usually take 1 to 2 days for you to get your money.
Students can sign-up and will automatically gain access to your course so everything is hands-free for you.
You can offer coupons and bundle your courses.
In addition, Thinkific offers an affiliate program for you to gain more customers. You can easily generate affiliate links for people who would like to refer your course to others.
Areas for Improvement & Concerns About Using Thinkific
Course is Not as Sleek as it Could Be
I don't love the way the course looks in the back-end. Some people probably like the look. Everyone is different so I put this as a minor issue. It is easy to navigate and most learners will appreciate the simplicity of it, but I think it could use a little more design input. You can't change most of this other than the colors.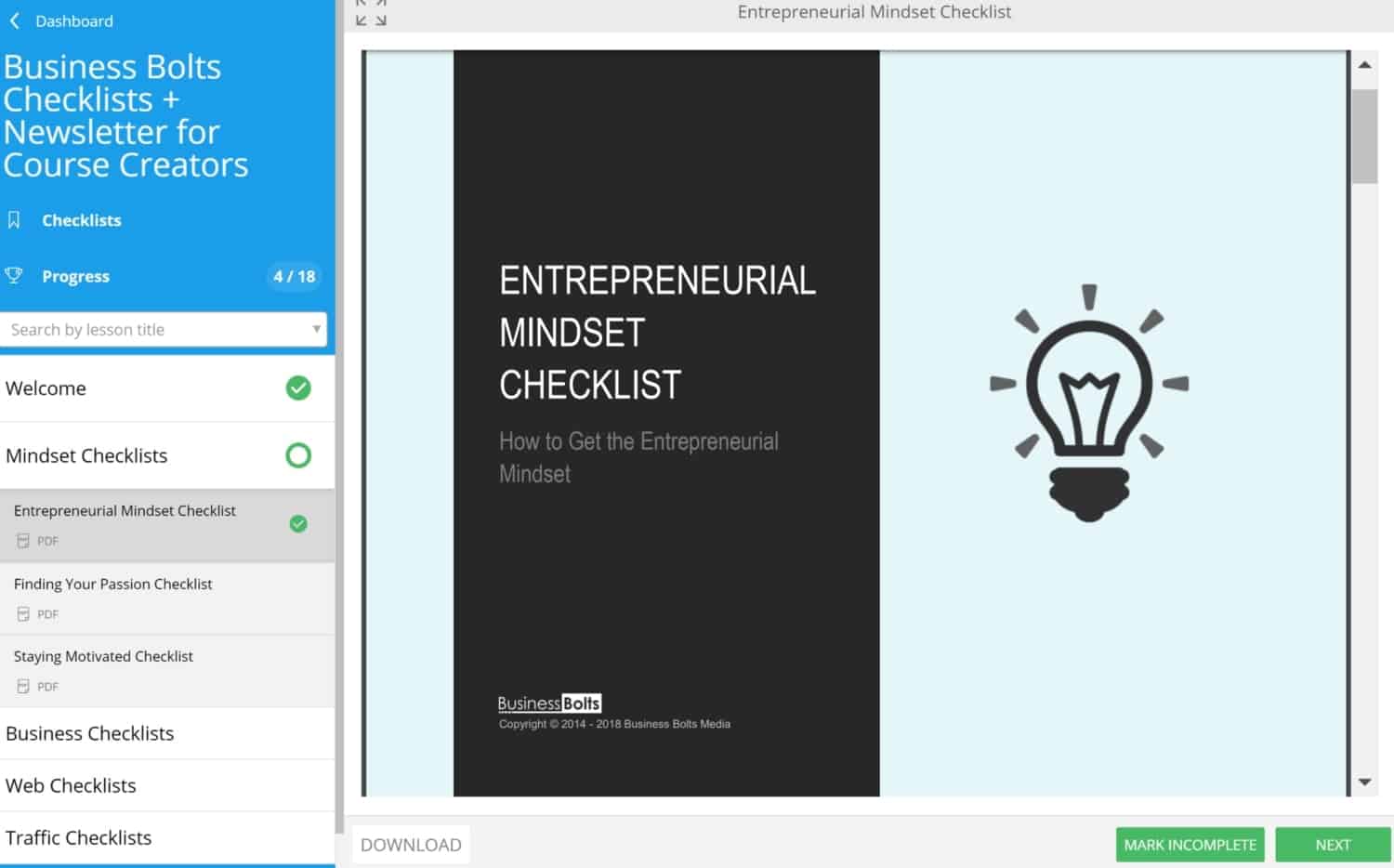 You have to upgrade to add in your logo in the course area. So instead of having a logo on the top-left, I have to have the name of my course. Again, though, you can do that with an upgraded plan.
My course consists of several PDF checklists and I wish I could add in text to my PDF pages, but it just isn't possible with Thinkific (on any plan).
I'd love to be able to add in a little text-based content before the PDF. It looks like you can have a video file with text before it so that's positive. Maybe in the future, they'll offer this as an option.
Sign-Up Pages
I think the sign-up and login pages could use some improvements. They don't look that great and the part that doesn't look that great cannot be changed. I wish I could have customized the heading 'Create a new account'. Other sign-up and sign-in pages also have big text and language that I might want to change. I believe you can adjust this on an upgraded plan.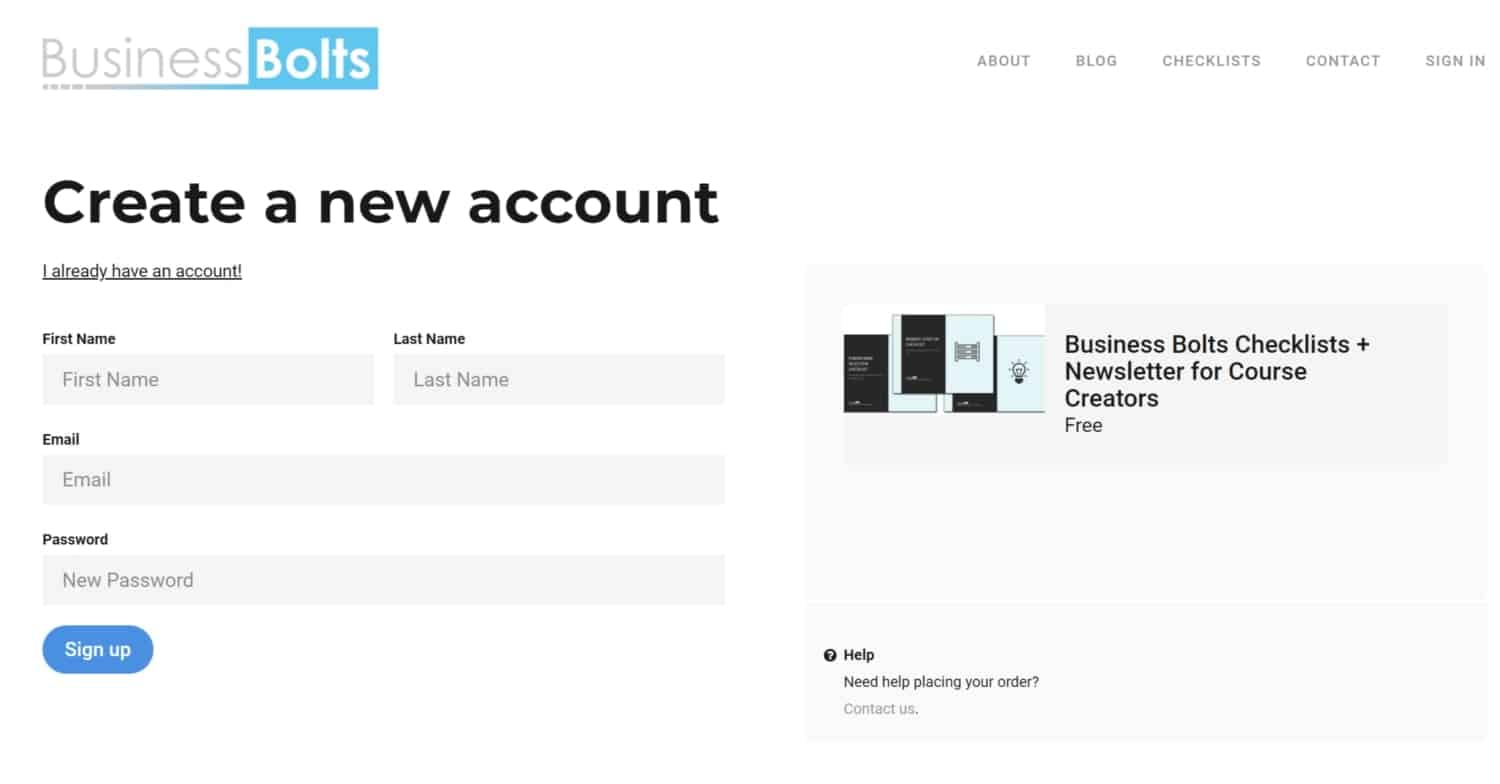 Check Out Pages
The check out pages might cost you a little in conversions which means money (and of course is not a good thing). However, you can integrate Thinkific with an eCommerce solution and not use their pages if you don't want to use them.
They look just like the sign-up page for my free course. Your students will need to first create a new account over on the left. Here's what it looks like: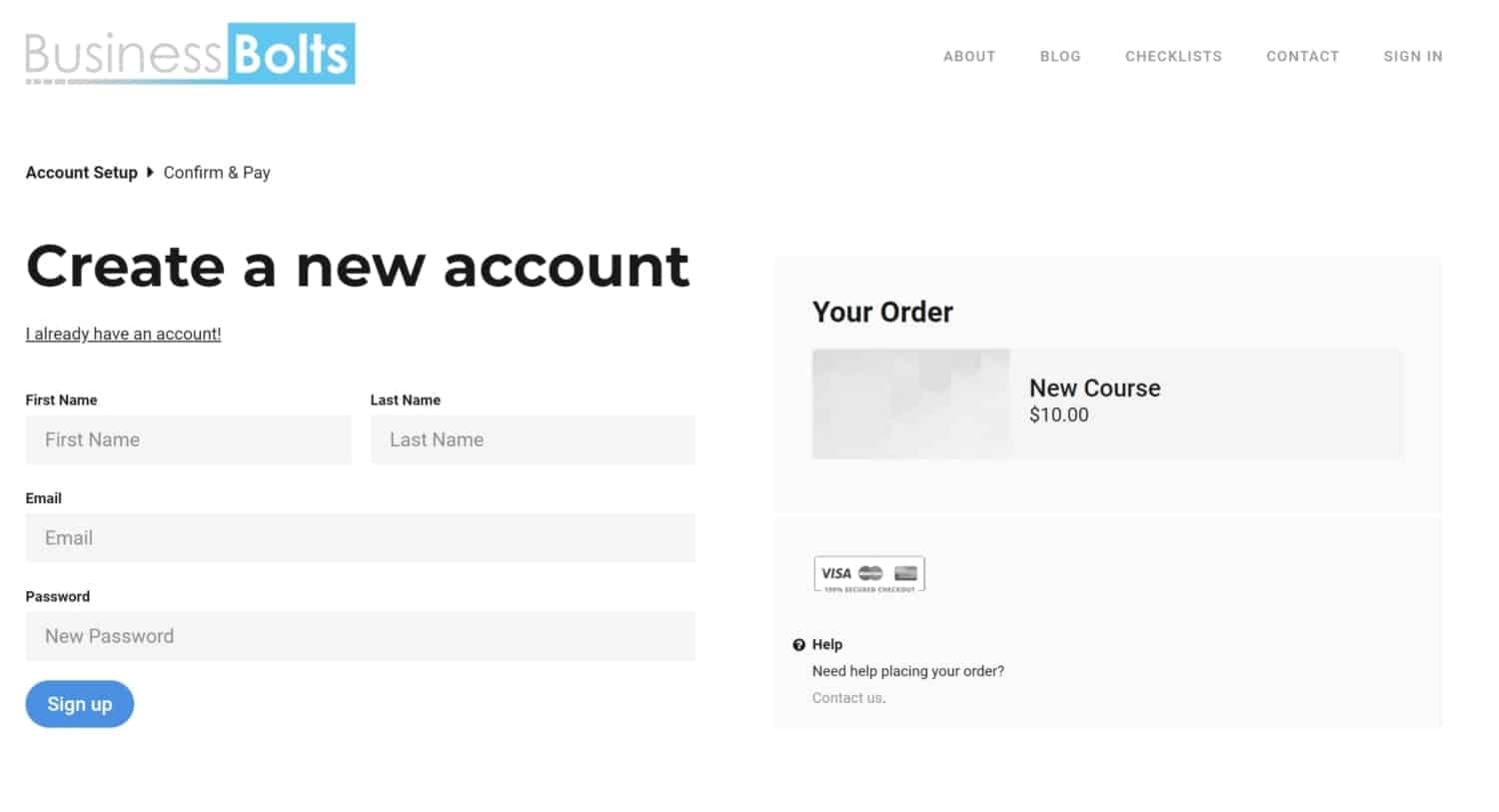 So there's my dummy course called 'New Course' just so we can see what this looks like. Students will enter their information and then click 'sign up'. After doing that, the page changes slightly to this: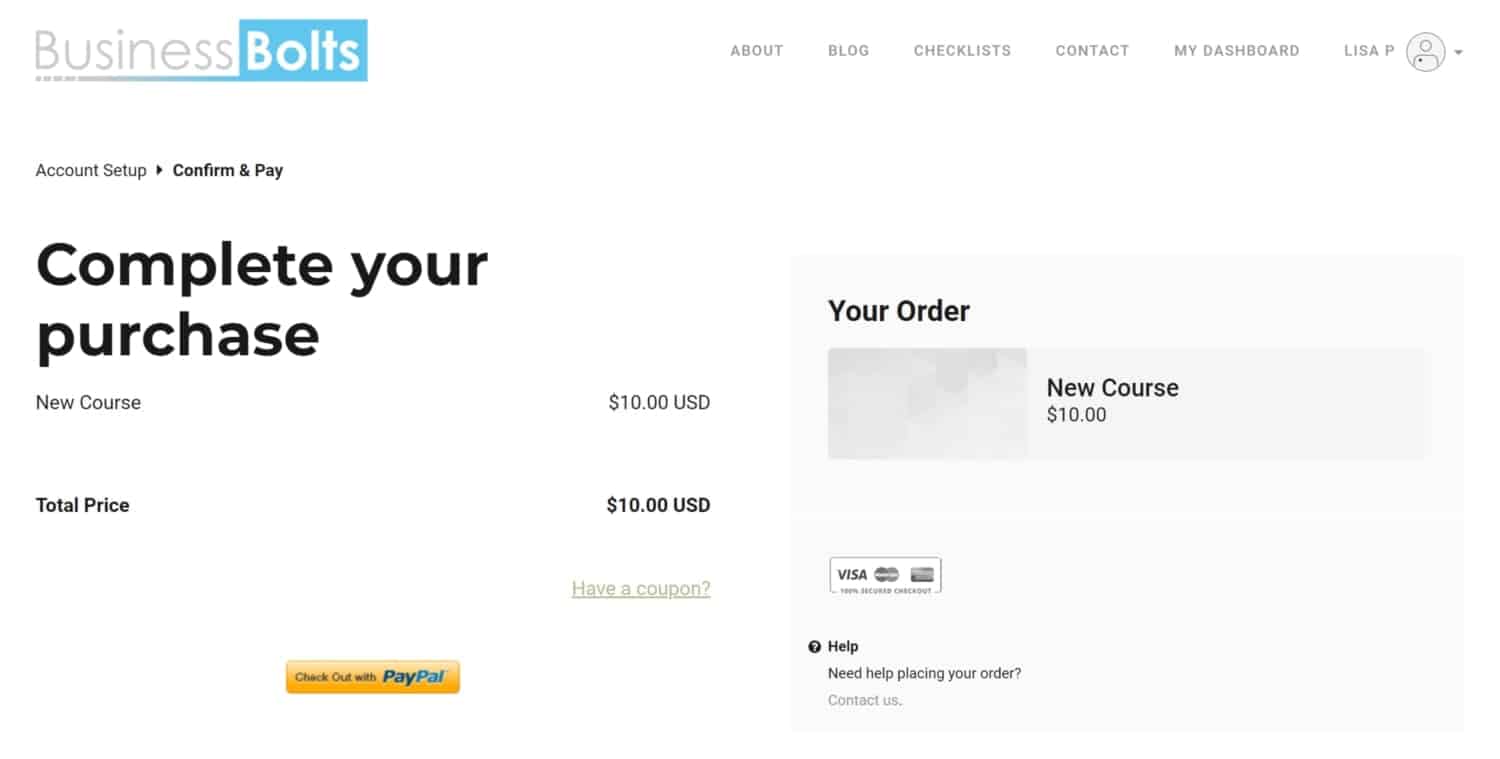 Since my account is hooked up to PayPal, students can review their cart and click on 'check out with PayPal' where they'll be taken to their PayPal login or payment page.
You can obviously come up with a better name for your course as well as include a picture over on the right, but you cannot change much else to this checkout process. You can add more content, but I don't see any way to not have the double column layout.
Another thing you can do is add in some testimonials or benefits to your checkout page, but they will show up below this checkout box. If they have to have two pages, it would be nice if students could pay first and then create their account second. That would likely increase conversions.
Upsells are Possible, But Not Ideal
With Thinkific, the upsells happen on the course sales page which is not at all what I'd consider an upsell. It's not what I was expecting. With Thinkific you can add-in an upsell on the thank-you page, but it will not be a 1-click upsell and you will have to set it all up (they don't offer upsells on the thank you page as a feature).
Quizzes are Simple
The quizzes actually look very nice, but they are simple. If you need something more than a simple quiz to check if your learners are understanding the material covered in each module, or maybe a simple assessment at the end, then Thinkific quizzes may not be enough for you.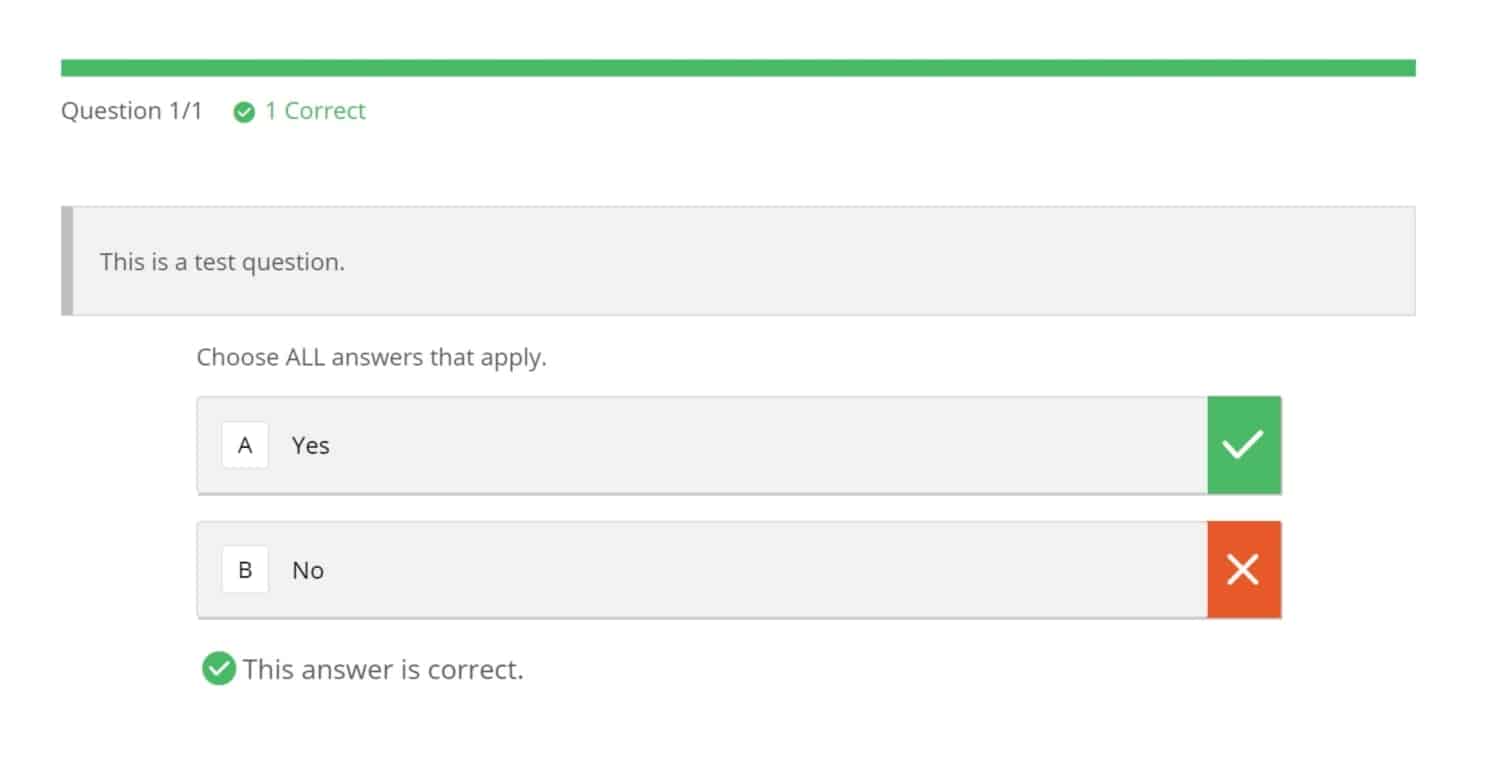 One nice feature with Thinkific is that you can build a large question pool and specify the number of questions that will be used in each quiz attempt. This is an upgraded feature, but one that could be very useful for certain types of courses.
Thinkific Pricing
Here's a screenshot of the current Thinkific prices at the time of this writing.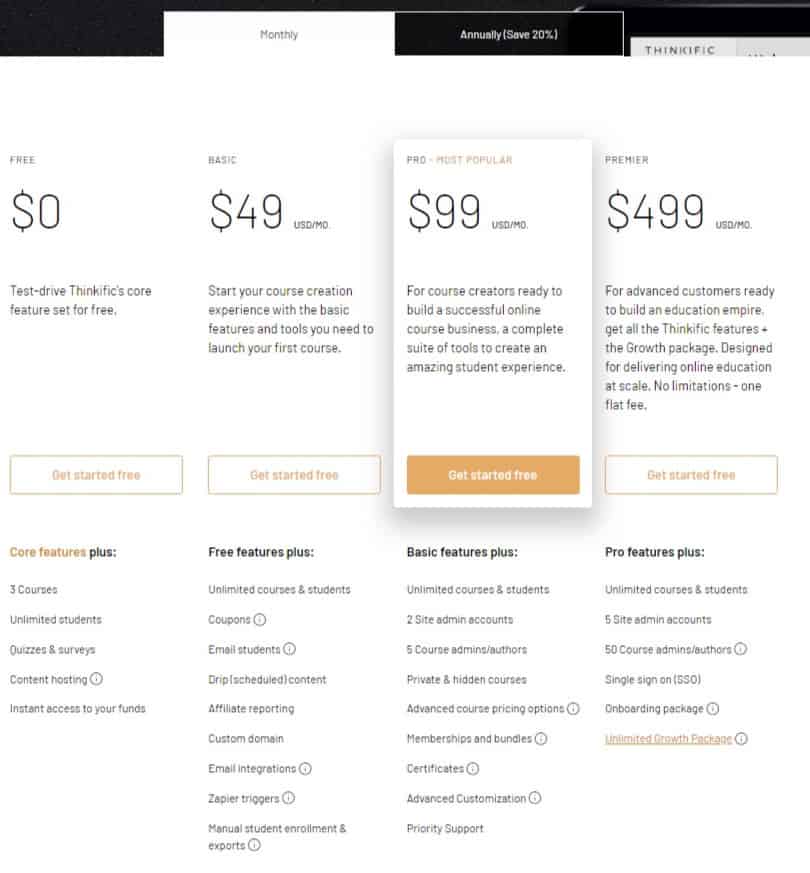 Free Plan
As you can see Thinkific offers a Free plan. That's what I tried out for my free course. You can do a lot of things with that Free plan and there are no transaction fees.
Basic Plan
The next plan up is the Basic plan which is $49 a month.
In addition to all the core features you get with every plan, with the Basic plan you'll have the ability to add in coupons, email students (one at a time), drip/schedule content, have a custom domain, use affiliate reporting, integrate with popular email marketing solutions, integrate with Zapier, and manually enroll students.
Pro Plan
The next plan is the Pro plan. This one is $99 a month. You'll get completion certificates, the ability to add private or hidden courses, prerequisite lessons, 2 course admin accounts, 5 course admin account, advanced HTML/CSS editing, advanced course pricing, and memberships/bundles.
Growth Package
This is an add-on when you're at the Pro plan stage. So you pay the $99/month for the pro plan and then once you go past 100 active users, they start charging you extra for the users. You get the following additional features with the Growth plan; groups, advanced segmentation, webhooks, Zapier actions, Brillium exams integration, bulk emails, public API, Infusionsoft integration, Active Campaign integration, and white labeling.
Premier Plan
Finally, there's the Premier plan which is $499 a month. This plan makes the most sense for larger organizations. You'll get all the Thinkific features plus the Growth package for unlimited students. It includes SSO (single sign-on), 5 site admin accounts, 50-course admin accounts, public API, and an onboarding package.
For most businesses, the Basic or Pro plan should be the right fit.
[elementor-template id="22359″]
Thinkific Plan Feature Table
This table shows you the specific features for each Thinkific plan so you can see which one makes the most sense for you.
| Features | Free | Basic | Pro | Premier |
| --- | --- | --- | --- | --- |
| | $0 | $49/m | $99/m | $499/m |
| Secure cloud hosting | ✔ | ✔ | ✔ | ✔ |
| Unlimited courses | ✔ | ✔ | ✔ | ✔ |
| Unlimited students | ✔ | ✔ | ✔ | ✔ |
| Unlimited site hosting | ✔ | ✔ | ✔ | ✔ |
| Unlimited video hosting | ✔ | ✔ | ✔ | ✔ |
| Subdomain included | ✔ | ✔ | ✔ | ✔ |
| Accept Stripe/PayPal payments | ✔ | ✔ | ✔ | ✔ |
| Disqus discussions | ✔ | ✔ | ✔ | ✔ |
| SSL certificate | ✔ | ✔ | ✔ | ✔ |
| Multiple instructors | 1 | 1 | 5 | 50 |
| Instant payouts w/PayPal & Stripe | ✔ | ✔ | ✔ | ✔ |
| Email support | ✔ | ✔ | ✔ | ✔ |
| Graded quizzes | ✔ | ✔ | ✔ | ✔ |
| Student management | ✔ | ✔ | ✔ | ✔ |
| Course reviews | ✔ | ✔ | ✔ | ✔ |
| Student progress tracking | ✔ | ✔ | ✔ | ✔ |
| Conversion pixels support | ✔ | ✔ | ✔ | ✔ |
| Student course preview | ✔ | ✔ | ✔ | ✔ |
| Surveys | ✔ | ✔ | ✔ | ✔ |
| Email integrations | | ✔ | ✔ | ✔ |
| Custom domain support | | ✔ | ✔ | ✔ |
| Course upsells | | ✔ | ✔ | ✔ |
| Essential integrations | | ✔ | ✔ | ✔ |
| Bulk student emails | | ✔ | ✔ | ✔ |
| Coupons | | ✔ | ✔ | ✔ |
| Affiliate marketing & reporting | | ✔ | ✔ | ✔ |
| Drip course content | | ✔ | ✔ | ✔ |
| Additional pricing options | | | ✔ | ✔ |
| Recurring payments | | | ✔ | ✔ |
| Course bundles | | | ✔ | ✔ |
| Completion certificates | | | ✔ | ✔ |
| Advanced HTML/CSS editing | | | ✔ | ✔ |
| Priority support | | | ✔ | ✔ |
| Host Captivate, etc ... | | | ✔ | ✔ |
| Private & hidden courses | | | ✔ | ✔ |
| Payment plan | | | ✔ | ✔ |
| Group sales | | | ✔ Pro + Growth | ✔ |
| Zapier integrations | | | ✔ Pro + Growth | ✔ |
| Webhooks | | | ✔ Pro + Growth | ✔ |
| White labeling | | | ✔ Pro + Growth | ✔ |
| Advanced segmentation | | | ✔ Pro + Growth | ✔ |
| Brillium exam integration | | | ✔ Pro + Growth | ✔ |
| Bulk emails | | | ✔ Pro + Growth | ✔ |
| Public API | | | ✔ Pro + Growth | ✔ |
| Infusionsoft integration | | | ✔ Pro + Growth | ✔ |
| ActiveCampaign integration | | | ✔ Pro + Growth | ✔ |
Demo
If you sign-up to the Thinkific free plan, you'll be able to try out almost all of their features. All the core features are available to you including some integrations. You may actually be able to run your course with the free plan, however the transaction fees are much higher on this plan. If you're selling courses, you'll want to upgrade.
Thinkific Alternatives
There are many online LMS platforms around, but not that many are as perfect for small business owners as Thinkific is. However, I've also put together a complete Teachable review since it's another feature-rich course building platform that is similar to Thinkific.
You also might want to take a look at the Thinkific vs Teachable breakdown article that pits these top hosted online course platforms against each other.
Thinkific Review: Pros and Cons
Thinkific is an amazing choice if you're looking for a hosted course solution. Based on the research and the feature table above, here are the main pros and cons:
Thinkific Negatives:
Courses Not as Sleek Looking
2-Step Check Out Pages
Cannot Mix Media
No Native Comments Feature
Thinkific Positives:
Create Beautiful Sales Pages
Instant Payouts
Unlimited Students & Content
White Labeling
Solid Integrations
Course Templates
If you're ready to give Thinkific a try, just click here. They have a great trial offer ready to go for you.