How Michael Gibbs Reluctantly Started GoCloudCareers.com Only to Grow 10x Faster Than Expected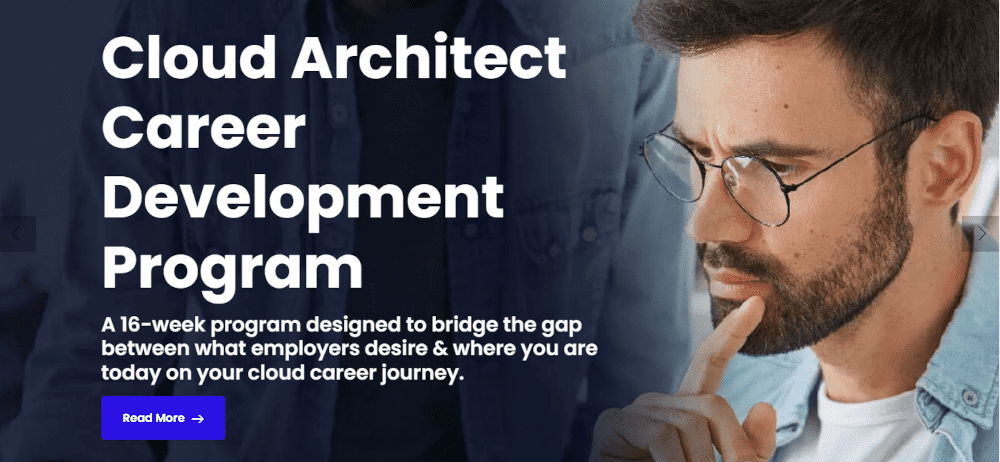 Our content is reader supported, which means when you buy from links you click on, we may earn a commission.
---
Who: Michael Gibbs MS, MBA, CCIE, GCP-PC
Website: gocloudcareers.com
Course Topic: Software Training
Interesting Stats: Given away 50,000 free ebooks this year
Who are you and what course have you created?
I am a cloud architect, network architect, and enterprise architect.
I have 25 years of experience in technology working for the best technology companies as a strategic advisor, advising clients on how to leverage technology to improve their business outcomes.
Additionally, I have 20 years of experience coaching and training technology professionals.
What market does your online course serve?
We create cloud architects, cloud engineers, and technology leaders.
We have students in most countries throughout the world.
What's the biggest benefit of taking your course?
Other companies prepare people to get a tech certification, our program gets people hired.
Almost every graduate gets a six-figure-plus career upon graduation.
How did you get into the market?
I never wanted to create an online course.  That's because I was retired, but I was coaching a friend's son on how to become a cloud architect.  I bought him the training that was available, and what I saw horrified me.  The training was so irrelevant.
See cloud architects are systems designers and business transformation specialists.  The training that was out there was not teaching architecture or business transformation, it was teaching intro to engineering skills.  Which was a different career.
To check my assessment, I interviewed 1000 people from these programs to see if they were hirable – they were not.
So, we launched our program where we teach system design, executive communication, business acumen, leadership, emotional intelligence, interview, and negotiation training.  Our program provides students the opportunity to not just learn the material necessary to pass a certification exam, but the other skills which are critical to success in the field.  It's this "Certifications Plus" that differentiates Go Cloud Careers from our competitors.  And, the net result is our students get hired almost every day!
Why did you decide to create an online course in the first place?
I made a YouTube video telling teaching people how to get their first cloud architect job.  Within hours I had 25 emails from people looking to purchase training.  Since we are experts in this area, we developed a training program based upon this market need.  We launched our program and had instant success with strong sales from day one.
Did you have any moments of doubt before you created/launched it?
As soon as I saw what was out there, I knew I had no choice. Someone needed to help those looking to enter cloud computing careers. I had the background, experience, and capability.  I had been coaching people for 20 years, and I knew I was the right person for the job.
To be fair I had been training engineers and architects at Comcast, Cisco, Riverstone Networks so I had a lot of expertise.
When we officially launched, we were signing people up and creating the courses at the same time.  We worked tirelessly and put together a comprehensive program that gives these aspiring cloud architects the tools and skills to not only pass a certification exam but actually get hired.  Our students have obtained positions with Amazon, IBM, Bearing Point Consulting, Telus just to name a few.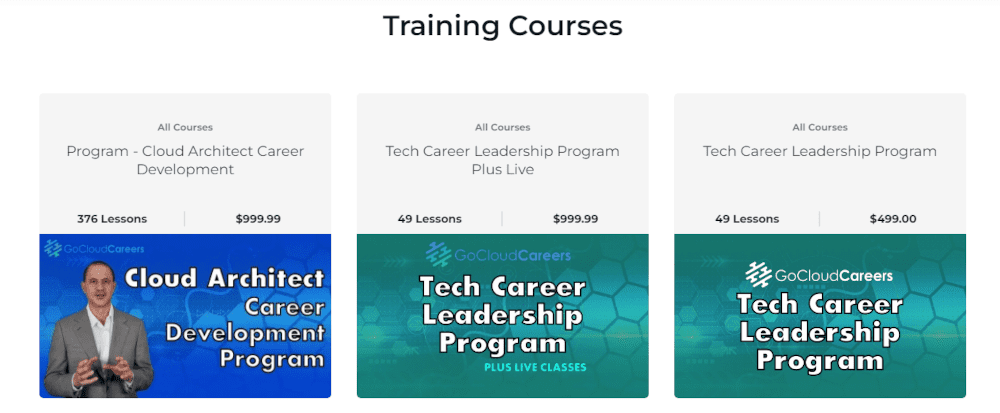 What's your online course like?
It's not a purely online course in the traditional sense.  It's a hybrid course of live and online.
We have multiple live 2 -hour classes per week via zoom.
We have live video – we would never use slides with a voiceover which I find painful to watch.  Moreover, it lacks the feel of a real classroom experience.
A critical part of our program is the lab component where students actually do tech projects in our datacenter/cloud.
To facilitate communication we utilize Slack so students and instructors can converse in between live classes.  It facilitates discussion, improves the learning experience, and strengthens the bond between teacher and student.
How long did it take you to create your course?
It took about 2 months for the team to create the course.  While this sounds very fast, we had most of the materials ready due to the fact I had been coaching people for almost 20 years.  Most of the heavy lifting was recording video, organizing the content, and developing and designing the curriculum.
Tell us a little about the process of launching your course and getting your first sale(s).
Believe it or not, we used LinkedIn.  There were so many people either looking for work, new careers, or interested in transitioning to different fields due to the reevaluation of career and education choices brought on by the pandemic. It was the best platform we thought to target both professionals and those open to working.  Our first announcement was offering a FREE "how to get your first tech job" webinar.  From there, we had instant sales of our full suite of curriculum offerings.
Do you have a lead magnet?
We don't use traditional lead magnets.  We make full eBooks for passing certification exams.  A book that would cost 50-100 dollars we give away for free. We have given away 50,000 free books to those in need this year.
Additionally, we offer free certification courses almost monthly.  Other organizations would charge $4-5k for the week's training.
We do this live and free on YouTube.
This helps those in need and promotes brand awareness.
We are not about lead magnets – we are about improving the lives of all. - Michael Gibbs
Click To Tweet
Those who can pay for our elite coaching services, and the free clients that we train on YouTube, all have a competitive advantage over others in the field.  Students in our career development program have the best outcomes, but our goal is to help educate anyone who desires help in building an elite cloud computing career.

What's the traffic strategy that works best for you?
All of our traffic is organic, on YouTube, LinkedIn, and blogs. The results have been exceptional.  Like I mentioned earlier we started with a single LinkedIn Post offering a free webinar.  While we have not gone "Viral" in the traditional social media sense, we like to think perhaps we went "viral" in the cloud architect sense.
What online course platform are you using?
I use Thinkific as my online course platform.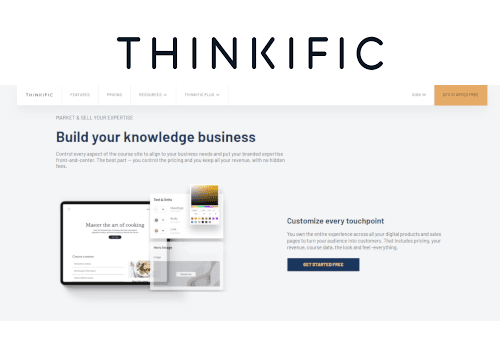 Take a Look at Thinkific!
Thinkific is the most popular online course platform used by successful course creators interviewed on coursemethod.com. It's a complete solution for creating sales pages, uploading all course content, taking payments, and more.
Price Range: Free to $499/month 
Most Popular Plan: Pro Plan at $99/month
Annual Discount: Yes, take 20% off!
Free Trial: Try out Thinkific's core features for free.
*Our content is reader supported, which means when you buy from links you click on, we may earn a commission.
Do you like it?
Yes, it's fine and meets our needs.  Although there are certain features we would like to see incorporated into it.
Are there any features you wish it had?
The ability to host files is greater than 2 GB.  We record videos in 6K to make sure our students have the best experience.  We've only used all professional audio, video, and studio lighting.  We would really like our students to experience all of that quality, however, the 2GB file size affects our ability to deliver 4k, 6k, or 8k video to our customers.
What made you decide to use your chosen platform over others?
When we started we did not have much time to consider all of the options due to our immediate success.  We knew people using the platform who expressed they were happy with it.  Based on those recommendations we decided to use them for our courses.
What other tools do you use to run your online course business?
We run an OpenStack cloud and use VMware ESXI.
We use Blackmagic professional cameras, video encoders.
We're using adobe premiere pro for video editing. We use SEMrush, active campaign, tube buddy, mavsocial, and many custom-developed tools.
And we also use slack for messaging between students and instructors.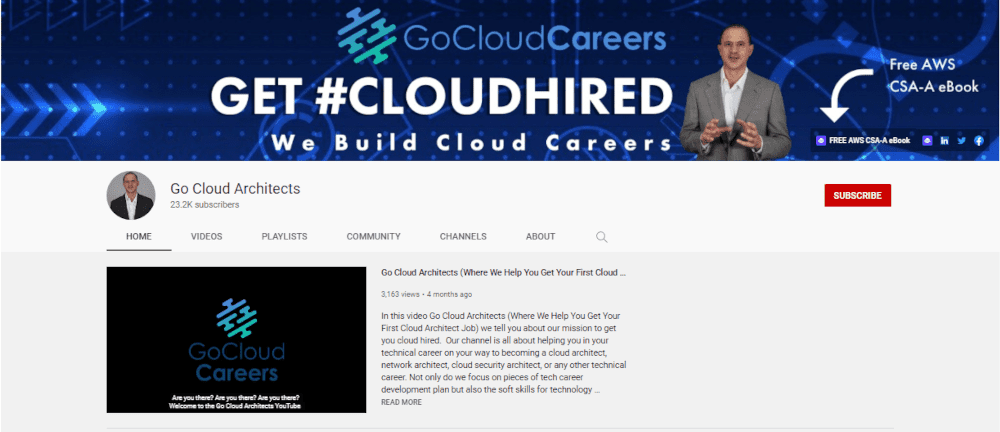 What books or training programs have you found useful on your journey to a successful business owner that others might find valuable too?
I have made it a point to read 3 non-fiction books per week for the last 20 years. Many of these have helped shape my professional career and personal endeavors.  We are never too old to learn and I try to self-evaluate after reading one of these books.  I look for the lesson or message and see how it can impact my daily life.
What has been most impactful on my professional career was practicing internal medicine as a nurse practitioner, in my youth.  The practice of internal medicine taught me communication skills and emotional intelligence.  These are the most critical skills in any career.
Additionally, I would say my MBA, and leadership courses helped shape me into who I am today.
I also have a very senior executive coach that helps make me better every day.
Do you have any big mistakes you've made along the way that you'd be willing to share?
Yes – I did not fully appreciate how fast this program would grow.
My goal was to make it incredibly flexible, in the same way, I trained private clients.
So we intentionally used little structure.
We grew about 10 times faster than we expected, which overloaded our staff with repetitive tasks.
I hired an exceptional Chief Operations Officer who created the needed structure.
Things flow more smoothly now and student success is even higher.
Please share some idea of revenue.
Let's just say we are supporting four families and there is plenty of profit left over.
Please tell us a little about what the money you've earned from your course has done for you.
Truthfully, I have had an exceptional career and did not start this business with the intention of making money.  We were giving things away for free.  Our program was created to help those in need.  Today we are offering a program that's worth about $50K if the elements were to be purchased independently, but we only charge the equivalent of 1-2 days pay for our graduating students.
Obviously, business metrics like revenue, expenses, etc are critical to running a successful organization.  We manage the business well and it has excellent profits.  But the profit is a byproduct of making our students successful.   While it is not about the money for us, and our mission is to help people grow and thrive, revenue is a factor for successfully continuing to operate this growing business and capitalize on the success we have seen thus far.
In addition to revenue are there any numbers you would like to share?
We created a YouTube channel from scratch, and within the course of just under a year, we now have 21,000 subscribers and an average of about 100,000 views per month. - Michael Gibbs
Click To Tweet
We get up to 1000 new emails per week from organic methods.
We've grown a LinkedIn following from 100 to over 10,000 in less than 1 year.
What has creating your course done for you personally?
Every day I have a student that gets hired.  It's a major celebration for me.  It happens every day but it makes me so happy every time.
Do you have a story of a transformation from any of your clients?
Each week we have 3-7 major transformations. Transformations where people went from poverty to six-figure jobs.  There is no better feeling in the world.
What I really enjoy is watching people develop.  Watching them grow.  What makes me proud is our students go out there and help others.  For example, we now have 50 people volunteering in sub-Saharan Africa teaching cloud computing to those in need.  To help people move from poverty to prosperity.
What advice do you have for people just starting out?
Make sure you're an expert in what you want to teach.  An expert has at least 10,000 hours in a focused area.
Learn more about Michael Gibbs of gocloudcareers.com: