Thinkific vs Teachable: Ultimate Challenge of the Top 2 Online Course Platforms
Our content is reader supported, which means when you buy from links you click on, we may earn a commission.
---
You don't have to look very far to see success story after success story from businesses built around online courses.
In fact, Lynda.com recently sold for $1.5 billion.
And there are many, many stories of people quitting their jobs thanks to a business where they offer their expertise.
So it's no surprise that many more people want their share of the action. And they should. Becoming a course creator is a great way to earn a living.
You just need your knowledge (or the desire to gain it in a market where people will pay for it), a few tools, and often, a learning management system to get started.
In this article, I'll compare and contrast two very popular learning management systems; Thinkific vs Teachable.
If you're not familiar with the term LMS, it stands for learning management system.
An LMS is a software application or hosted technology that's used to deliver content, monitor student progress, and interact with students. In addition to the term LMS, these are also often called online course platforms.
Table of Contents
Why Trust This Thinkific vs Teachable Review?
I've sold digital products since 2001 and started offering an online version of one of my products back in 2004. So I've been in the online course industry for at least 16 years.
Nearly all of my income has come from online course creation since that time. So I know it can be a lucrative business. This experience has also shown me the pitfalls of this business model.
I've tried out both Thinkific and Teachable for more than 80+ hours diving into each and every feature they offer. I also created an in-depth Teachable tutorial along with a Teachable review as well as a Thinkific tutorial and a Thinkific review. You can learn how to use either one and/or read detailed reviews of each separately.
With all that effort, I'm comparing Teachable vs Thinkific here in this article because they are the top two cloud LMS platforms. They both offer very similar features and even similar fees. So a lot of people have trouble deciding between the two.
I know I was in this very same position and it was a difficult choice. They both offer a lot of features (many of them the exact same features), but there are differences. In the end, there was a clear choice for my specific needs, but it was only after spending close to 80+ hours of my time! I'd like to help you cut down on that so you can feel confident in your choice and get going much faster.
Why Use Teachable or Thinkific?
Teachable and Thinkific are both a type of learning management system (or LMS) called a cloud-based LMS.
Cloud-based means it's a learning management system that's hosted for you. There's a little more to it than that, but essentially, you don't need to install any software or upload any scripts or plugins to your hosting account with a cloud-based LMS.
You simply log in to your LMS account where you can add content, manage students, and do pretty much everything you need to run your courses all from within the LMS interface.
Who Should Consider Teachable or Thinkific as Their Online Course Platform?
Both Thinkific and Teachable are a good fit for nearly any small business that wants to offer reliable, interactive, online learning. Individuals looking to teach a course, entrepreneurs, and large corporations often choose a cloud-based or hosted LMS like Teachable and Thinkific. These companies offer their LMS as a service in exchange for a monthly fee (like most other Software-as-a-Service or SaaS companies do).
Since you don't need to install anything on your server there's less tech involved with getting started and maintaining your course.
If you're running a self-hosted LMS which is often set-up through a WordPress LMS plugin, then WordPress and the LMS plugins will need to be updated as well as any additional scripts you might be using. Check-out the LifterLMS vs LearnDash article to learn more about the top WordPress LMS plugins available.
If you're running all this on your own, you'll need to manage it. You may need to hire outside or in-house technical expertise to make it work or learn how to do it yourself.
With an LMS-as-a-service, all installation and maintenance are taken care of for you. Any upgrades and updates happen behind the scenes and your course continues running smoothly.
In addition to hosting your course, many LMS-as-a-service offer free hosting for your videos. So that's an expense you won't need. And if you're selling an online course you'll need the means to take payments and keep track of them which both Teachable and Thinkific offer.
Both these platforms are moving toward becoming all-in-one solutions so you don't need much else other than your Teachable and Thinkific account and a domain name to point it to (even that is optional).
Both of these platforms make it easy to get started. You don't need to know HTML/CSS, or how to install and configure plugins.
Both Teachable and Thinkific offer online course creators the means to build a course along with site builders to build landing pages. All these 'builders' are intuitive and consist mostly of dragging and dropping content around so there's not much to learn.
In addition, they both offer the ability to automate the student registration process (even taking payments). They also offer unlimited hosting, video hosting, unlimited students, unlimited courses, and a whole lot more.
Neither platform claims to do everything, but they do claim to do most of the tasks you will need to run an online course business. Thinkific and Teachable are two of the best online course platforms on the market which is why it can be so difficult to choose between them.
You can send emails from both Thinkific and Teachable on different plan levels, but this is not a substitute for an email marketing automation tool. So I suggest whichever option you choose, or even if you go with something entirely different, that you invest in an email marketing tool so you can send emails and follow up with your learners.
Although with both you will get a subdomain and can just run your whole site from there, I don't advise it because it's not going to look very professional. That'll make it hard for you to build up a brand and it will confuse your students when you decide to finally choose a domain name for your online course business. So I suggest registering a domain name right away even though you don't technically have to.
[elementor-template id="22359″]
Keep the Primary Goal in Mind
As you can already start to see, both these top online course platforms offer a lot of features. But when we're doing a comparison, the primary focus needs to be on online learning.
Ultimately you want to deliver your course securely. You also want students who sign-up and pay to get the login information and access to the course right away.
Password management is also crucial. If your students are paying for unlimited access, then they should be able to access the course they bought for the duration you run your business. If students paid for a monthly subscription or an annual subscription then they should get access for the right length of time. After that time period is up then the system should lock them out.
Most importantly, with an online course platform, you want to be able to deliver the content in a professional, organized way. You should be able to upload virtually any type of content like PDF files, text, audio, video, and quizzes.
Another important feature of any LMS is for both you and your learners to be able to see their progress through the course. Both Thinkific and Teachable offer progress features. Learners can monitor their progress through the course and you as the instructor can see how they're progressing.
Cloud platforms like both Teachable and Thinkific are reliable and will not have excessive down-time.
You can check on up-times for these two systems here:
Neither has had content security issues at this time and up-time is reliable.  There are many companies and individuals hosting their courses at both these platforms (in fact 10's of thousands do).
In addition to the course builder and login management systems, both Teachable and Thinkific offer a site/sales page builder, shopping cart for taking orders, and the ability to add-on an affiliate module.
Let's go through the main areas where they differ now because the point is to help you get to where you can figure out which one will be the best platform for you. You don't want to have to switch platforms later on, confusing your students and creating more work for yourself. Make a smart decision upfront.
Keep in mind that I recommend both Thinkific and Teachable as they're both excellent online course platforms. You're here because you know you can only pick one, so let's get to the main differences. Ultimately, you will choose, but I'll go into detail about how each one stacks up.
1. Curriculum Course Builder
In this area, I'll go over the course builder for Thinkific and Teachable. This is where you upload your course contents and where your students work through your course.
| Features | Teachable | Thinkific |
| --- | --- | --- |
| COURSE CURRICULUM OVERALL SCORE | ✔✔✔✔✔✔ | ✔✔✔✔ |
| Professional Course Design | ✔ | ✖ |
| Mix Media | ✔ | ✖ |
| 'Next' Button | ✔ | ✖ |
| Comments | ✔ | ✖ |
| Progress Bar | ✔ | ✖ |
| Survey | ✖ | ✔ |
| Upload SCORM | ✖ | ✔ |
| Quizzes | ✖ | ✔ |
| Mobile App | ✔ | ✖ |
| Course Templates | ✖ | ✔ |
Course Curriculum Winner: Teachable (6 to 4)
Teachable really shines when it comes to their course builder. If the look and feel of your course is most important to you, then I suggest choosing Teachable.
Course Design
The course design relates to how professional the course looks as seen from the perspective of your students.
I know beauty is in the eye of the beholder, but I think Teachable courses look nicer. Here's a screenshot of what I created (and in just a few minutes):
Everything is simple, nice, and easy. Your learners will not be confused about where to click and will be impressed with the sleek course area.
Now to compare, here's an example of a Thinkific course: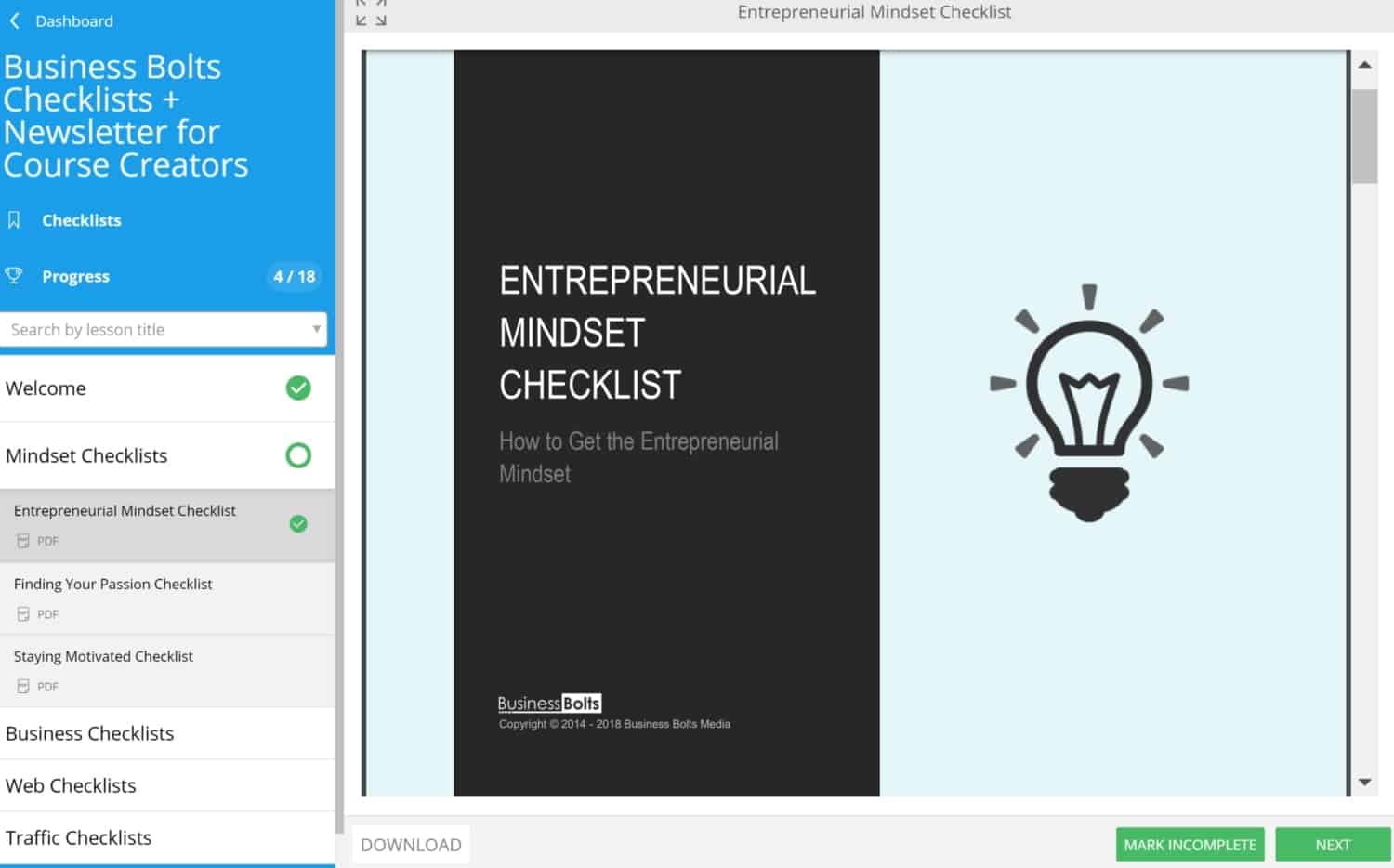 It looks OK and is definitely easy to navigate (all the different lessons are on the left menu), but it's just not as impressive as a Teachable course in my opinion.
Mix Media
You can mix and match your course media in Teachable. For example, you can add text above and/or below a lesson that has a PDF.
You cannot do this with Thinkific. However, Thinkific does have a workaround so you can add in text with a video. I don't believe there are any other mix and match media options with Thinkific at the time I'm writing this review.
Advancing Thru the Course
Another thing is that both offer 'next' buttons at the bottom of their pages as a way for your learners to progress through the course.
Teachable's 'Next' buttons take your learners right to the next lesson. Overall, everything about Teachable's courses look far superior to Thinkific courses. Both are easy to navigate, but the professional, sleek design in Teachable is noticeably better.
You can see the Thinkific 'Next' button in the image above. The Thinkific next button takes you to an intermediate page where they show you your progress. It looks like this:

Some of your learners will like this feature, while others will just want to be taken to the next lesson. You can choose to keep this or turn it off.
Comment System
Teachable comments are native which means they have their own comments system. This also adds to the professional feel of a Teachable course. You can manage your comments all from within your Teachable admin. You can also plug the comments into individual lessons which will help with engagement between your learners.

Thinkific uses Disqus so in order to have comments you'll have to integrate Thinkific with Disqus which is very easy to do. What that entails is to get yourself a Disqus account and then click on integration. It will then be set-up for you.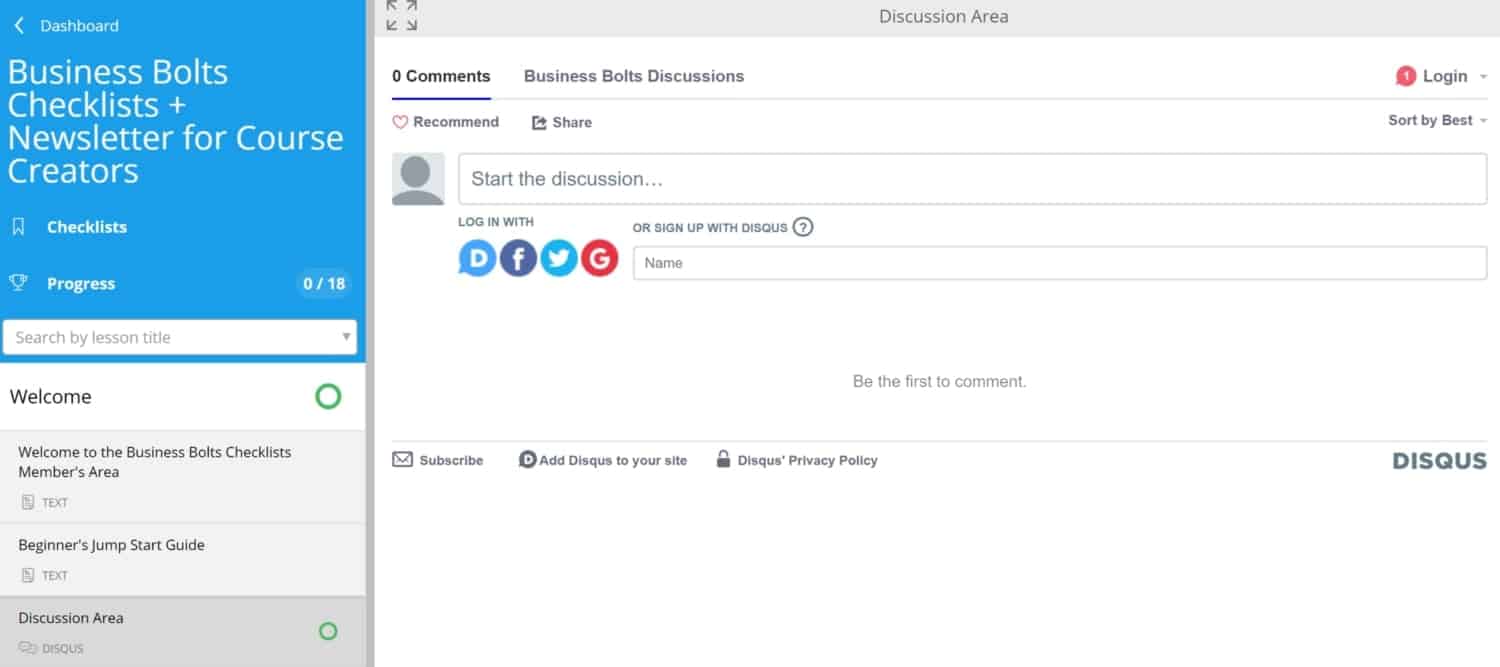 As you can see in the screenshot above, it looks OK. It does look kind of 'meh' though because if you know what Disqus is then you know it's not part of Thinkific. It would be great if they added in their own community feature, but Disqus does work OK. Many bloggers take out regular WordPress comments and use Disqus so many people definitely like it.
Progress Tracker
Teachable also keeps track of your progress. It's in the form of a bar and a percentage which shows up on every page. I think it looks nicer than what Thinkific has put together.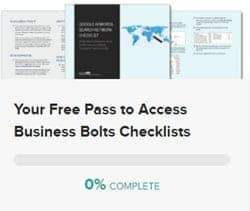 With Thinkific there's a link you can click on called 'Progress' on the menu. It also shows you how many of the lessons you've completed. Here I've completed '0' and it displays that for me right on every page: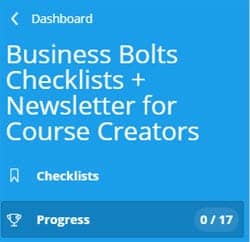 If you click on that 'Progress' link, you're taken to the progress page with a nice graphic which looks like this: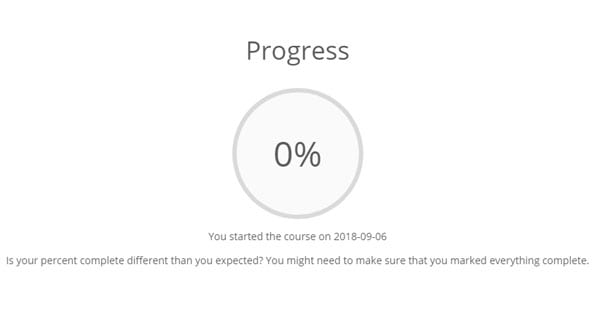 Survey Feature
Thinkific offers the ability to create surveys for your course. You simply add in a survey as you add in any other type of content.
Once you click on the Survey icon, you can title your survey and select a few other options for it.

Then just enter your question. There are also spaces for you to enter in the choices.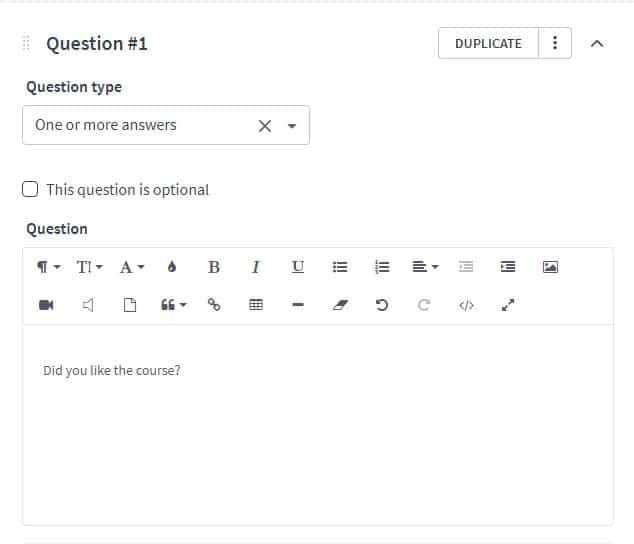 I do not see a way to create surveys for Teachable, but you can embed them if you have another tool to create them with as long as you have an embed code.
Ability to Upload SCORM-Compliant Learning Materials
Thinkific can help you upload courses created with popular SCORM and Tin Can API compliant authoring software like iSpring, Captivate, and others. You can include these within your course, however, the progress widget will not move when your learners complete these lessons (since they're not actually a part of Thinkific).
Teachable does not offer this. They do allow an embed feature, but it will work for course content created with authoring software.
Quiz Platform
The quizzes in Thinkific are more advanced than those in Teachable. Thinkific offers the ability to have a question bank where you can randomize the order of questions and specify the number of questions that will be used in each quiz attempt. I also think the Thinkific quizzes look better. Here's a screenshot: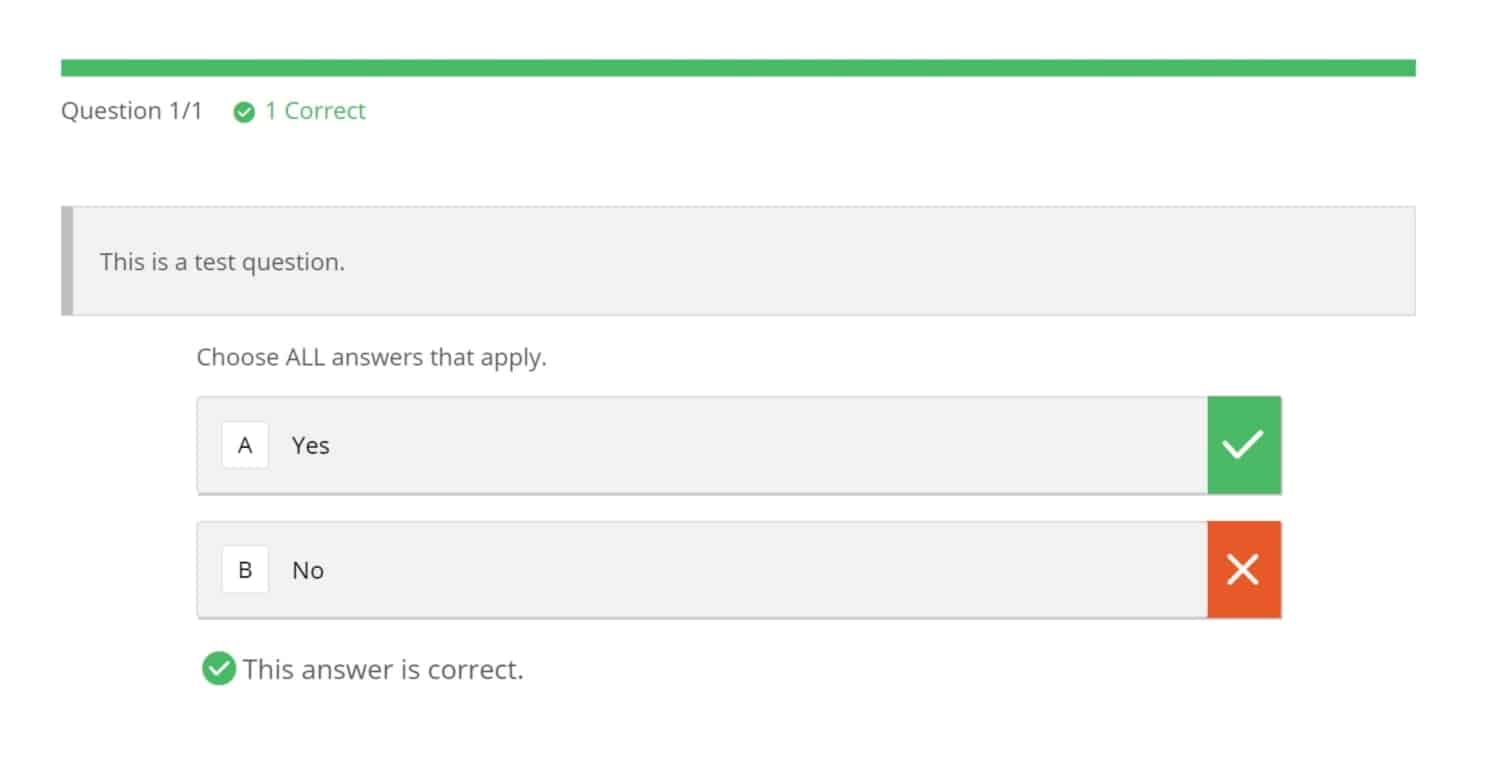 Here's a comparison screenshot of a Teachable quiz: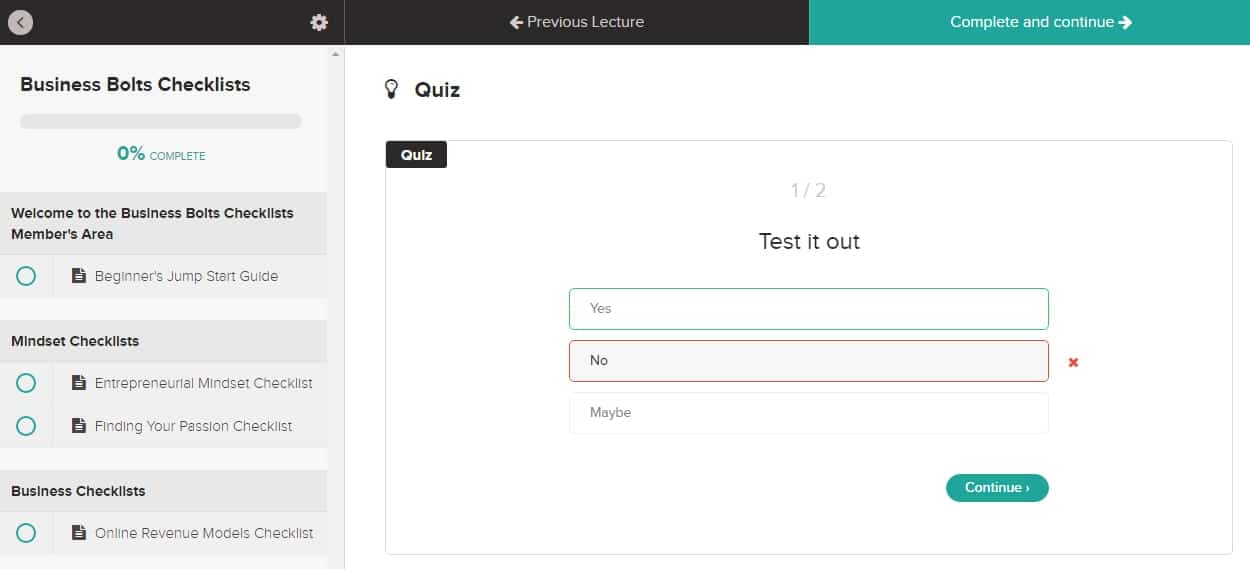 Mobile App
Teachable offers a native iOS app which is a nice feature.
Both are mobile responsive, but with a mobile app, your learners don't need to be connected to the Internet in order to access your course so this is handy.
Thinkific does not offer a mobile app.
Course Templates
Thinkific offers course templates for you. When you're ready to create a new course, you'll be shown a variety of templates you can choose from that'll help short-cut your creation time. Here's just a few you can choose from: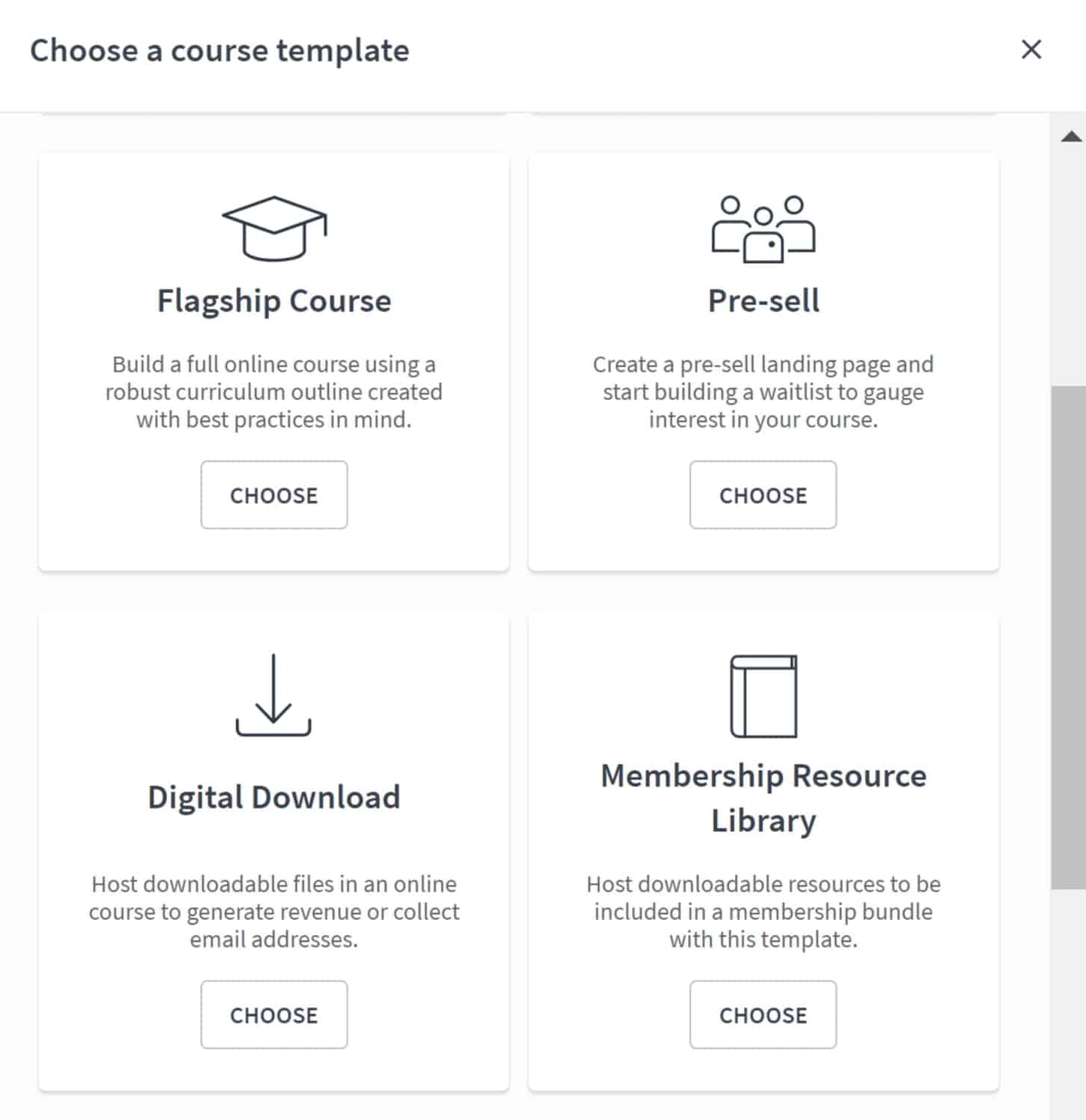 Teachable does not offer course templates.
2. Site Builder
| Features | Teachable | Thinkific |
| --- | --- | --- |
| SITE BUILDER OVERALL SCORE | ✔✔✔ | ✔✔✔ |
| Sales Pages | ✖ | ✔ |
| Course Curriculum Display | ✔ | ✖ |
| Site Level Themes | ✖ | ✔ |
| Course Reviews | ✖ | ✔ |
| Blogging Platform | ✔ | ✖ |
| Preview Courses | ✔ | ✖ |
| | | |
Site Builder Winner: No Clear Winner (3 to 3)
There's no clear winner when it comes to the site builder. Thinkific creates nicer, more feature rich sales pages, but Teachable has many excellent features as well in this category. So it's a tie.
Sales Pages
OK, again, this is subjective, but Thinkific has the ability to make nicer looking sales and marketing pages.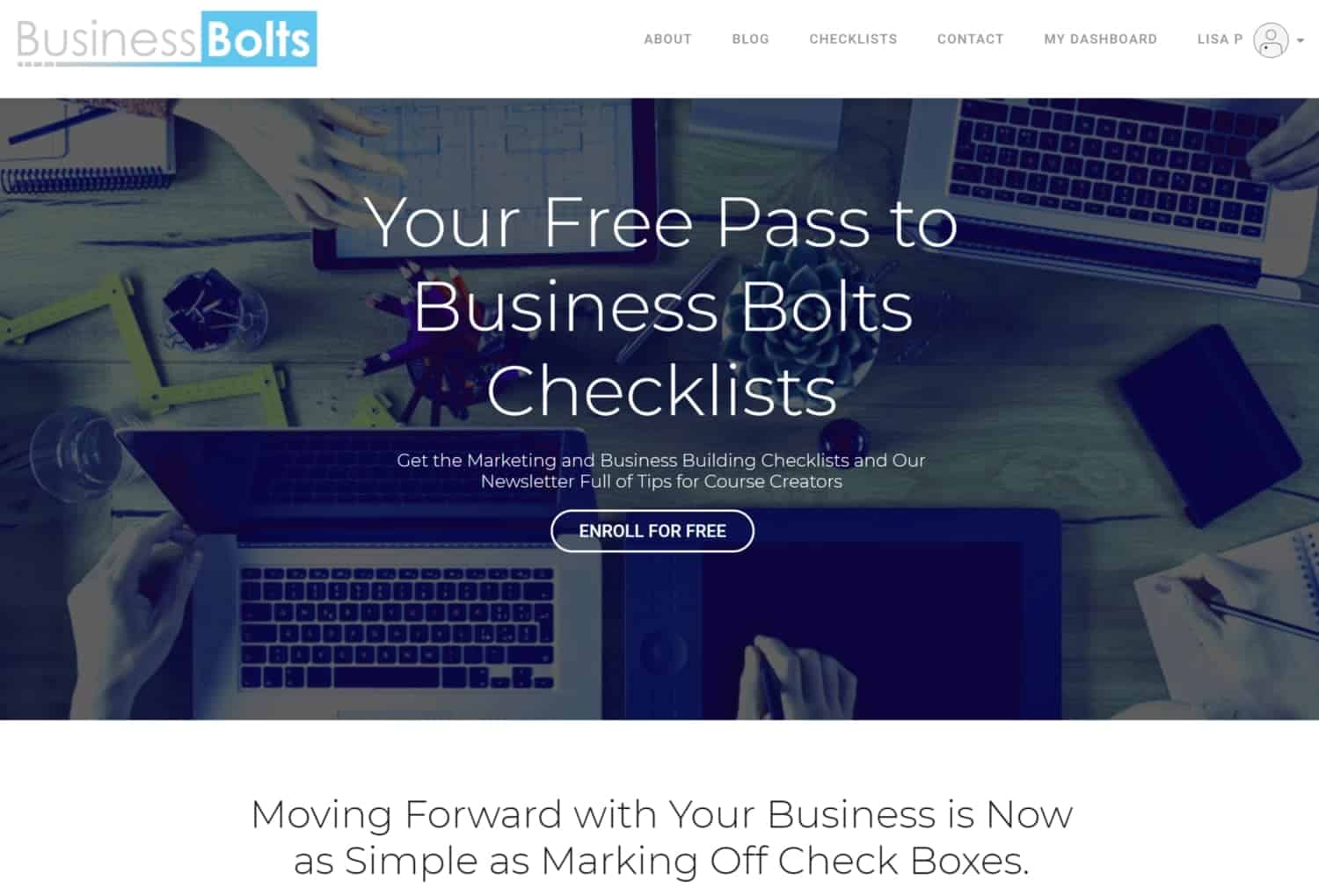 Thinkific also offers icons to go with your text which is a nice feature. I didn't see that on Teachable.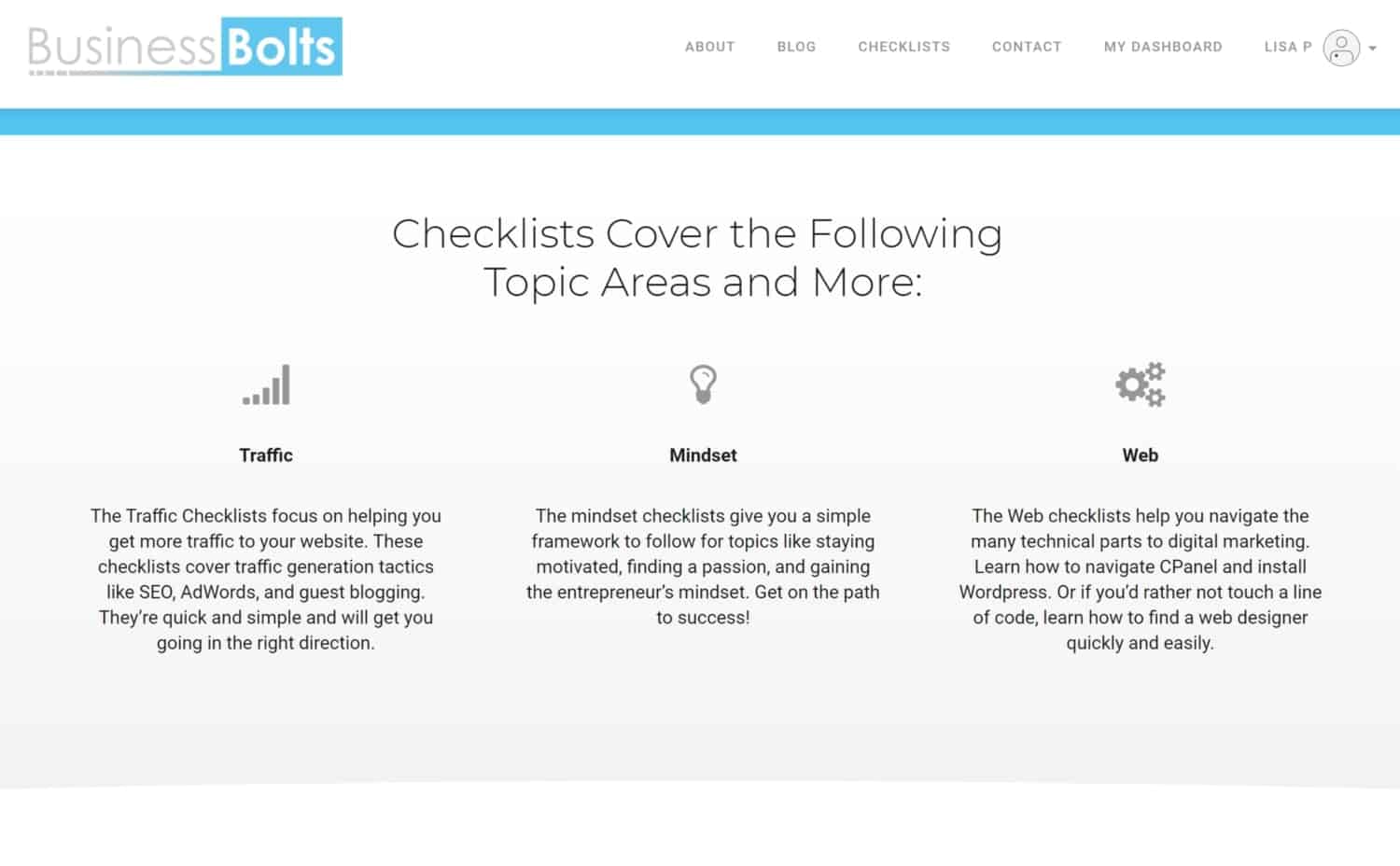 Here's the Teachable sales page: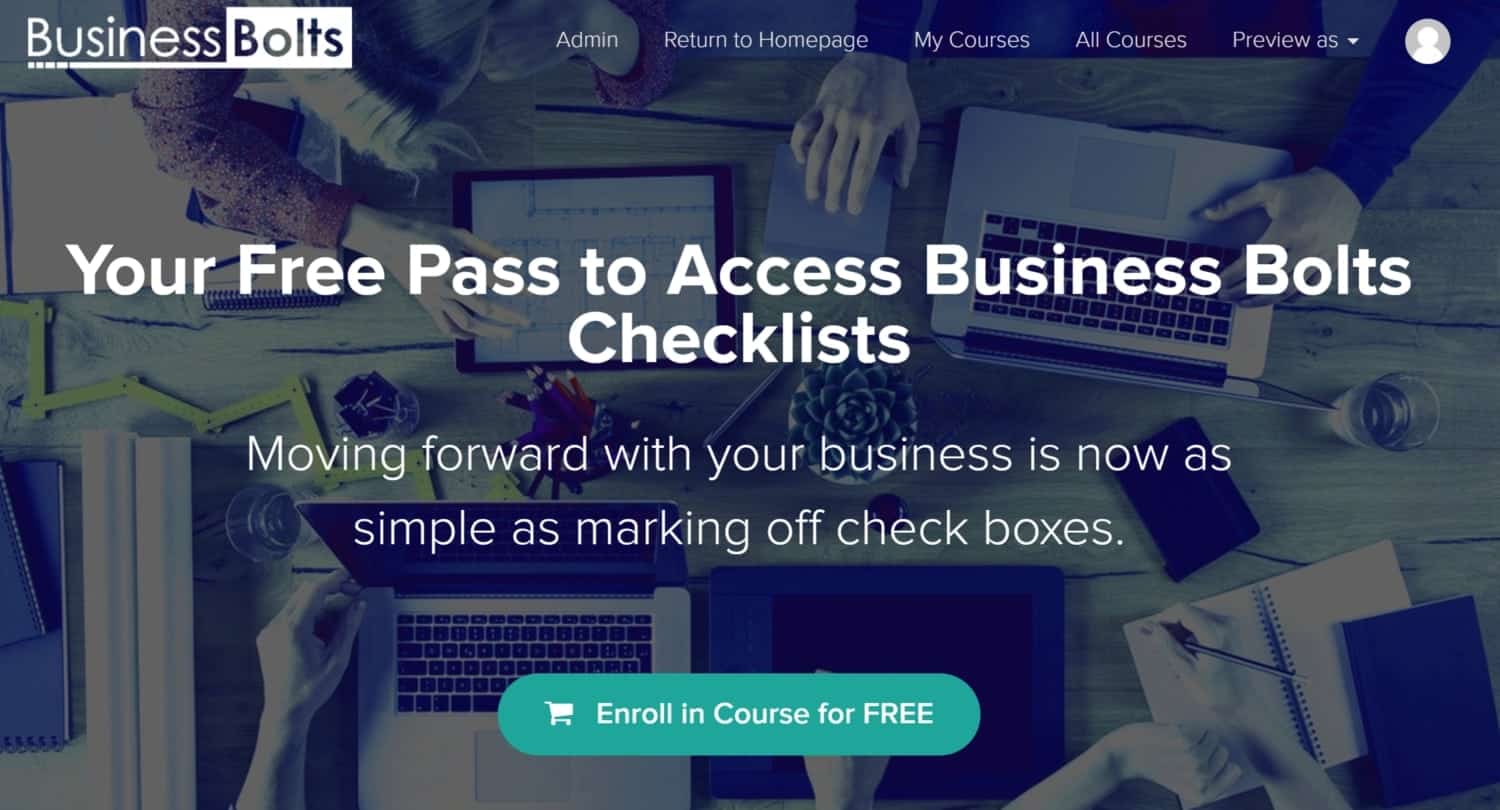 It doesn't look much different from the Thinkific screenshot I've posted, but when you get into the details of it, the Teachable site builder doesn't offer quite as many options.
It does not have icons within it and many other tools are missing. You can only build a standard sales page with Teachable and will not be able to get creative (unless you are on an upgraded plan and are willing to learn HTML/CSS).
Course Curriculum Display
I do like the course curriculum display in Teachable. You can embed this right into your sales page. It looks awesome. In addition, if you allow a lesson to be available as a free preview, potential students can click on it right from the sales page and start learning.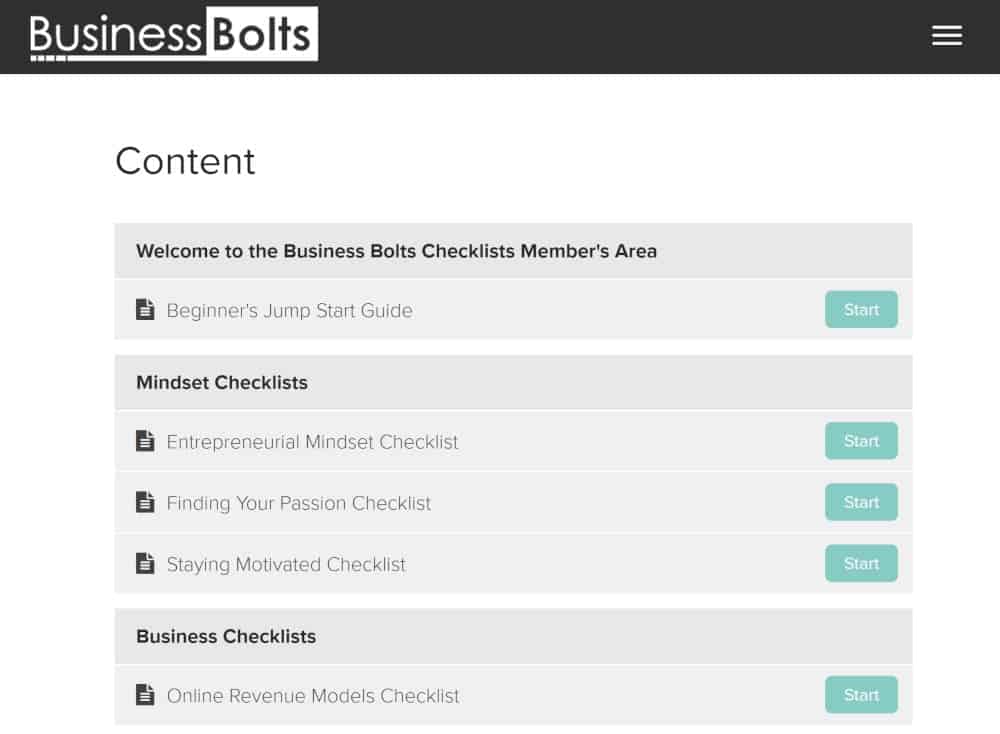 Thinkific does offer this, but it doesn't look as nice. Again, I don't think their course area looks as nice so it reflects through in their course curriculum embed.
Site Level Themes
Site-level website themes are available in Thinkific. This allows you to choose a theme, click on it, and have all your sales pages reflect that theme. Themes will change the default font style and sizes, the content blocks (like your banner, etc …), and where default images show up. Using site themes is a nice and easy way to start making your sales pages look unique.
Teachable's editor does not offer site-level themes at the time of this review. Most of their sales pages will look similar unless you are on an upgraded plan and are willing to dig into the HTML/CSS code to get the look and feel you're going after. Even then, it's somewhat limited.
Course Reviews
Thinkific offers course reviews as a way for your students to review your course. These are kind of like an Amazon review. You can embed these in your sales page and your conversions will likely increase (as long as the reviews are good!).
Teachable does not offer course reviews at this time.
Blogging Platform
Teachable offers you the ability to add-in a blog. I think you'll be better off using a WordPress blog, but you can start out with the Teachable blog if you're ready to get going.
Thinkific does not offer you the ability to add-in a blog at this time.
Preview Courses
The preview course feature allows your students to see some of your courses before they enroll. This is a great sales tactic like a 'try before you buy' and will likely increase your course enrollments if you use it.
Thinkific offers a way for students to preview some of your courses before they buy it. However, it doesn't look as professional as the Teachable preview since again, Thinkific's courses do not look as sleek.
Teachable offers previews of your course on the sales page and it looks great!
3. White Labeling
| Features | Teachable | Thinkific |
| --- | --- | --- |
| WHITE LABELING OVERALL SCORE | ✔ | ✔✔✔✔ |
| Header Customization on Sales Pages | ✖ | ✔ |
| Header Customization on Sign Up/Check Out Pages | ✖ | ✔ |
| Remove Logos and Mentions | ✔ | ✔ |
| White Label URL | ✖ | ✔ |
White Labeling Winner: Thinkific (4 to 1)
Thinkific is the clear winner when it comes to white labeling your course.
Header Customization on Sales Pages
Under the default pages in Thinkific, you can customize some of your check out and sign-up pages.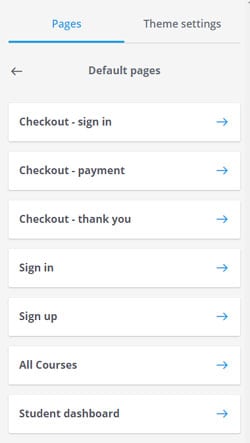 You can change the header on these pages.
It's one default header that is re-used for all these pages, but you can change where the logo link is going to with Thinkific. So my Business Bolts logo on the Thinkific sign-up pages can go to my home page. I was also able to add links that would match the rest of my site's links. Here's what it will look like:
This is a screenshot of the Teachable header.

For one, I wanted a non-transparent header to match the look and feel of my site. I believe I could have done this, but it was hard for me to match it to my main Business Bolts site because when I did, the Teachable course area didn't look right. It's like the controls for the site header and the controls for the course header are interlinked.
In addition, the thing I really don't like about the Teachable header is that the Business Bolts logo will take you to courses.businessbolts.com or when I don't have my own domain enabled it will go to businessbolts.teachable.com. I couldn't change this to just go to businessbolts.com.
To get a link back to your main home page, you need to add in a link like what I've got where it says 'Return to Homepage' (as shown above). That actually does go to my main Business Bolts homepage as it says. But I would prefer to have my logo take my users there rather than insert an extra link in my main navigation.
Header Customization on Sign Up/Check-Out Pages
On Thinkific you can even customize the header on the sign-up page. I was able to make my logo link go where I wanted it to go.

Here on the Teachable sign-up page, I've got a completely different logo and a header from every other page on my site.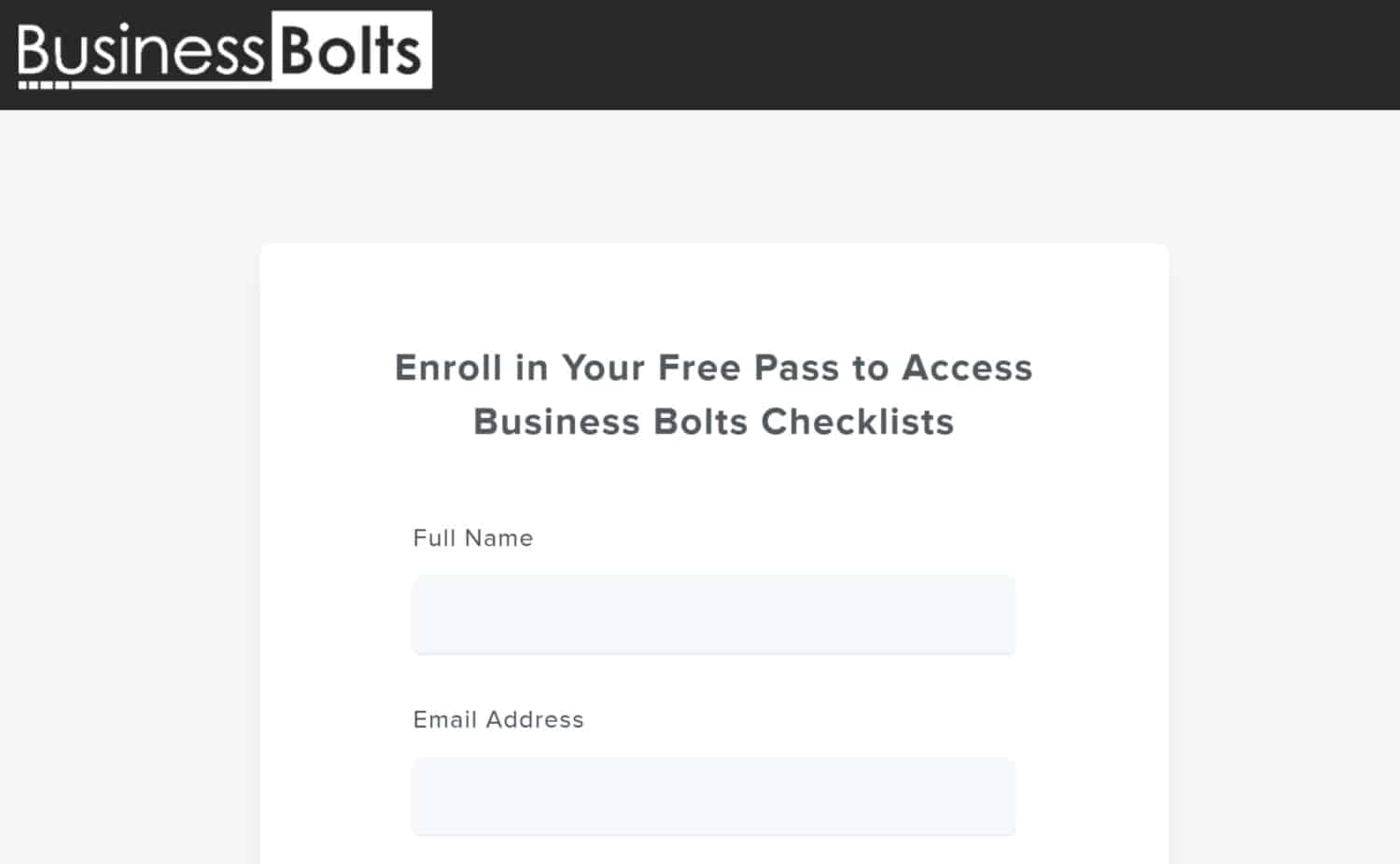 I did not see an easy way to change this so it looks more like the rest of my site. Again, the logo is going back to the Teachable course home page and not my Business Bolts home page. This could confuse users.
Remove Teachable & Thinkific Logos and Mentions
You can pay more for an upgraded plan and get all mention of Thinkific wiped from your online course area. So unless a learner knows what Thinkific looks like, they will not know that's what your course is hosted on (if this matters to you).
You can do the same with Teachable and get the logo and mention of Teachable wiped from your online course area.
White Label URL
You can also white label the Thinkific URL. For example, the Thinkific sign-up pages will show your branded URL like below:

I'm on the free plan so my course pages are running on the Thinkific subdomain, but I could upgrade to get that changed and use something like courses.businessbolts.com which should show up here instead.
With Teachable, the URL on the sign-up pages will have Teachable.com in them. It's not possible to change this.

Thinkific allows you to build a 100% white label course. Teachable is not a 100% white label.
4. Marketing & Sales
| Features | Teachable | Thinkific |
| --- | --- | --- |
| MARKETING & SALES OVERALL SCORE | ✔✔✔✔✔ | ✔✔ |
| Checkout Flow | ✔ | ✖ |
| 1-Click Upsells | ✔ | ✖ |
| Payouts and Payment Gateways | ✔ | ✖ |
| Stunning Integration | ✖ | ✔ |
| VAT | ✔ | ✖ |
| Group Sales | ✖ | ✔ |
| Affiliate Module | ✔ | ✖ |
Marketing & Sales Winner: Teachable (5 to 2)
Teachable is the clear winner when it comes to marketing and sales. They offer a better check out flow as well as 1-click upsells which will result in a user-friendly checkout experience. You'll make sales with either platform, but Teachable just does it better.
Check Out Flow
This section covers the check out pages and the check out process.
The following screenshot shows a dummy course that I labeled 'New Course'. You can upload an image on the right, which I did not do, but other than that, this is what a checkout or sign-up page looks like on Thinkific: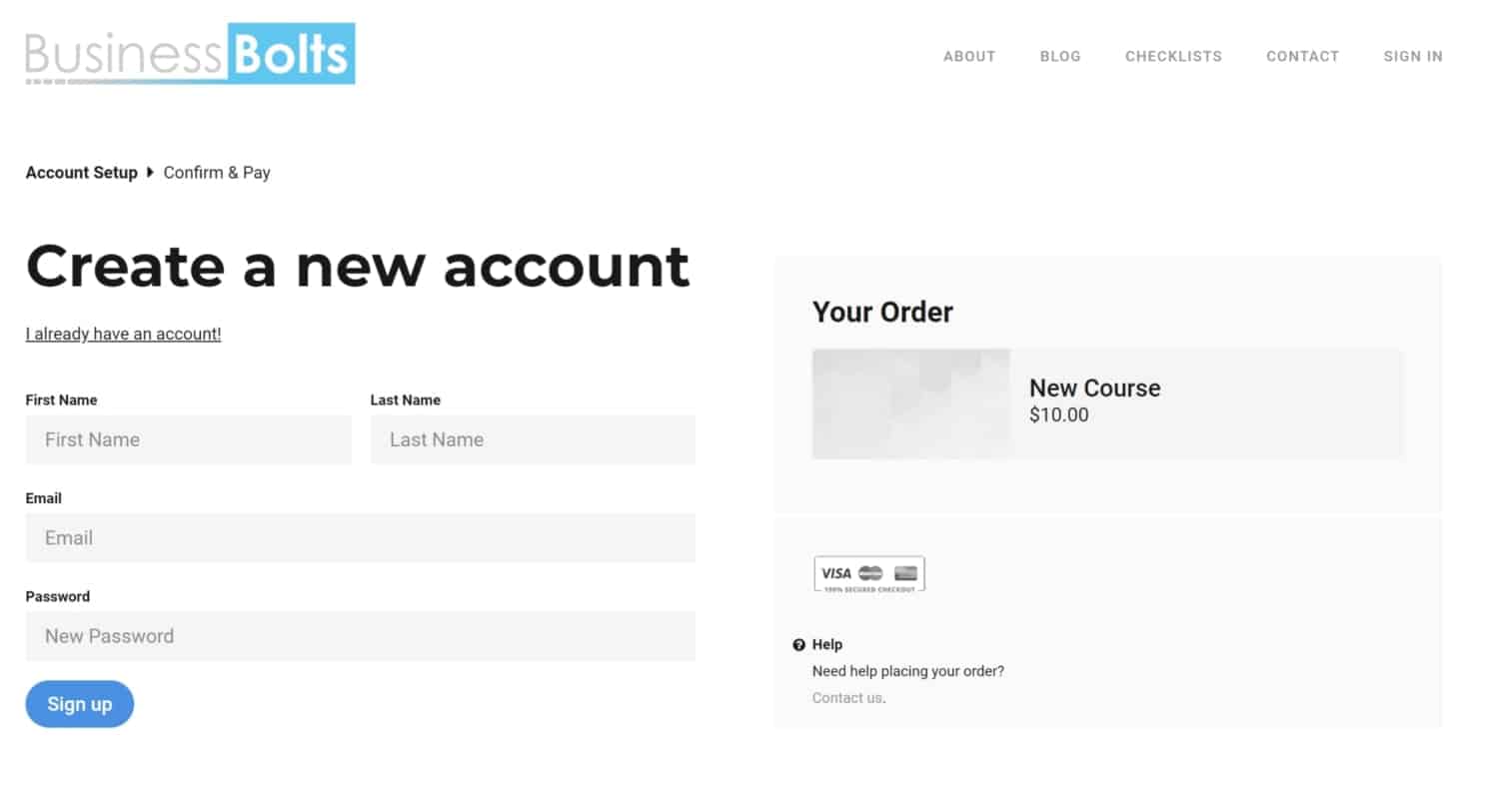 After clicking on 'Enroll' or whatever language you use on your course sales page, your student will be taken to a page like the one above. Your student can enter their information, choose a password, and then click on 'sign up'. After they do that, the page changes slightly to this:
From there, since I have PayPal enabled they'll be taken to PayPal to finish up with the enrollment process.
You can add testimonials and feature boxes to this page, but they will only display below the purchase area shown above. It would be nicer if this was a one-column format and you could add in the testimonials, benefits, and money-back guarantee along-side the check out form.
Also, I don't really like how this page looks. I like my navigation bar, but not the purchase area. It just doesn't look as sleek as what I want my check out pages to look like. Also, ask your students to give their information first and on a separate page will likely lower your conversions.
Teachable has a much better checkout flow. For one, it's all on one page and is in a double-column format. You can add in your testimonials, money-back guarantee, and benefits to the right column. People checking out will see more of your promotional material as they go down the check out page. Here's the top part of this page: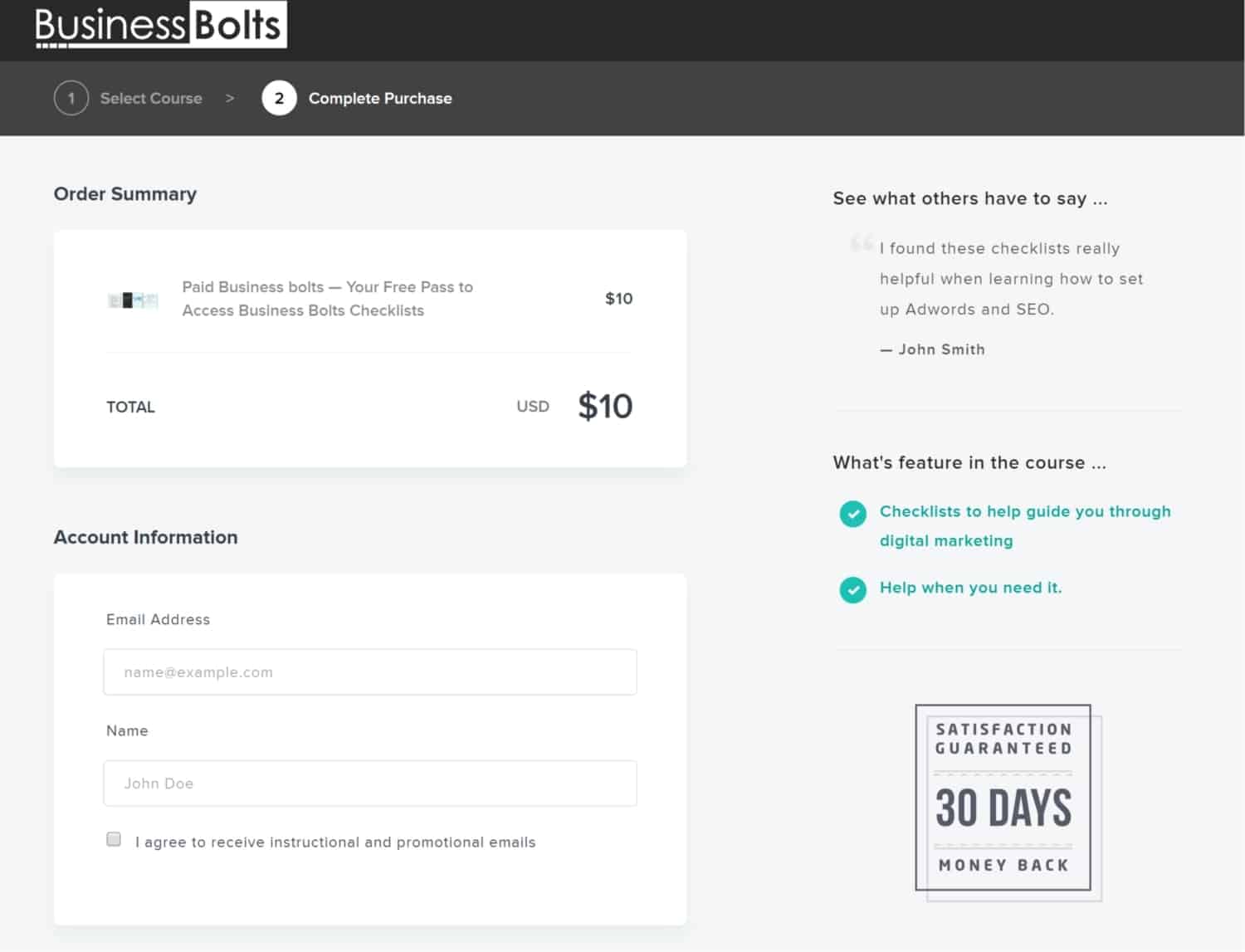 It looks amazing compared to the Thinkific page. Teachable also asks for account information first, but it only asks for an email address, name, and then they display a checkbox that asks if the user wants to receive instructional and promotional emails.
Under that first part collecting a little information comes what's on the next screenshot: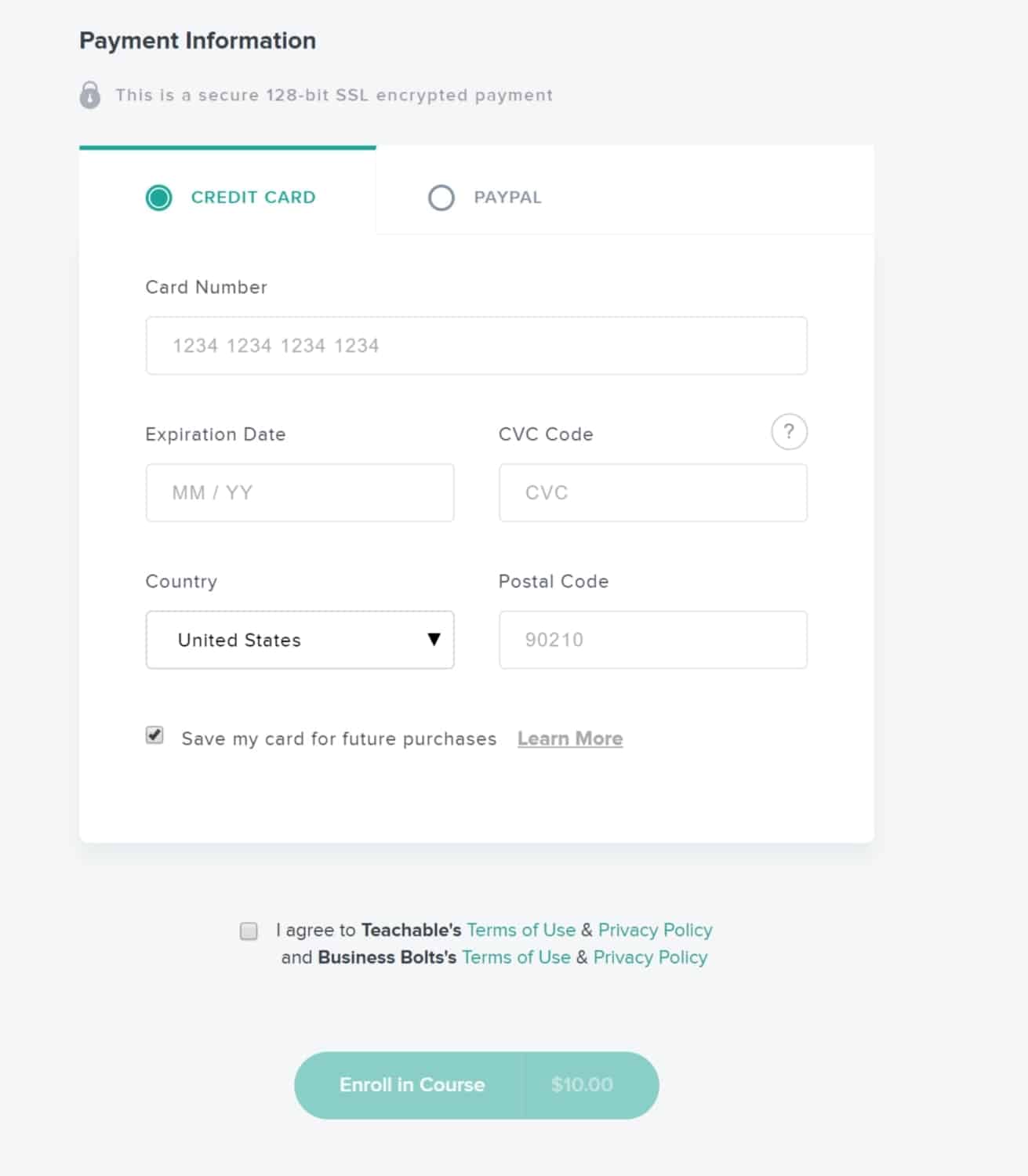 Here, the student selects the payment method, enters their credit card details, and will need to click on the checkbox agreeing to the Terms and Privacy Policies as shown (the order will not be processed until they do this, which is good). Then they click on 'Enroll in Course'.
It's all on one page and looks great. The flow is nice. I think you'll have fewer people think twice about entering their payment information on the Teachable check out page than the Thinkific check out page. Teachable's page really looks great and professional.
Students will be prompted to enter their account information after they buy it.
1-Click Upsells
One-click upsells can be done in different ways. The most traditional way is where customers who have already bought your course are taken to a thank-you page where they can click to buy the upsell. They don't need to enter their credit card information again to do this. They just click and they've bought the upsell. Obviously with this feature you need to make it crystal clear to your students that clicking means buying.
Here, in Teachable you can customize your thank-you page to add in an upsell: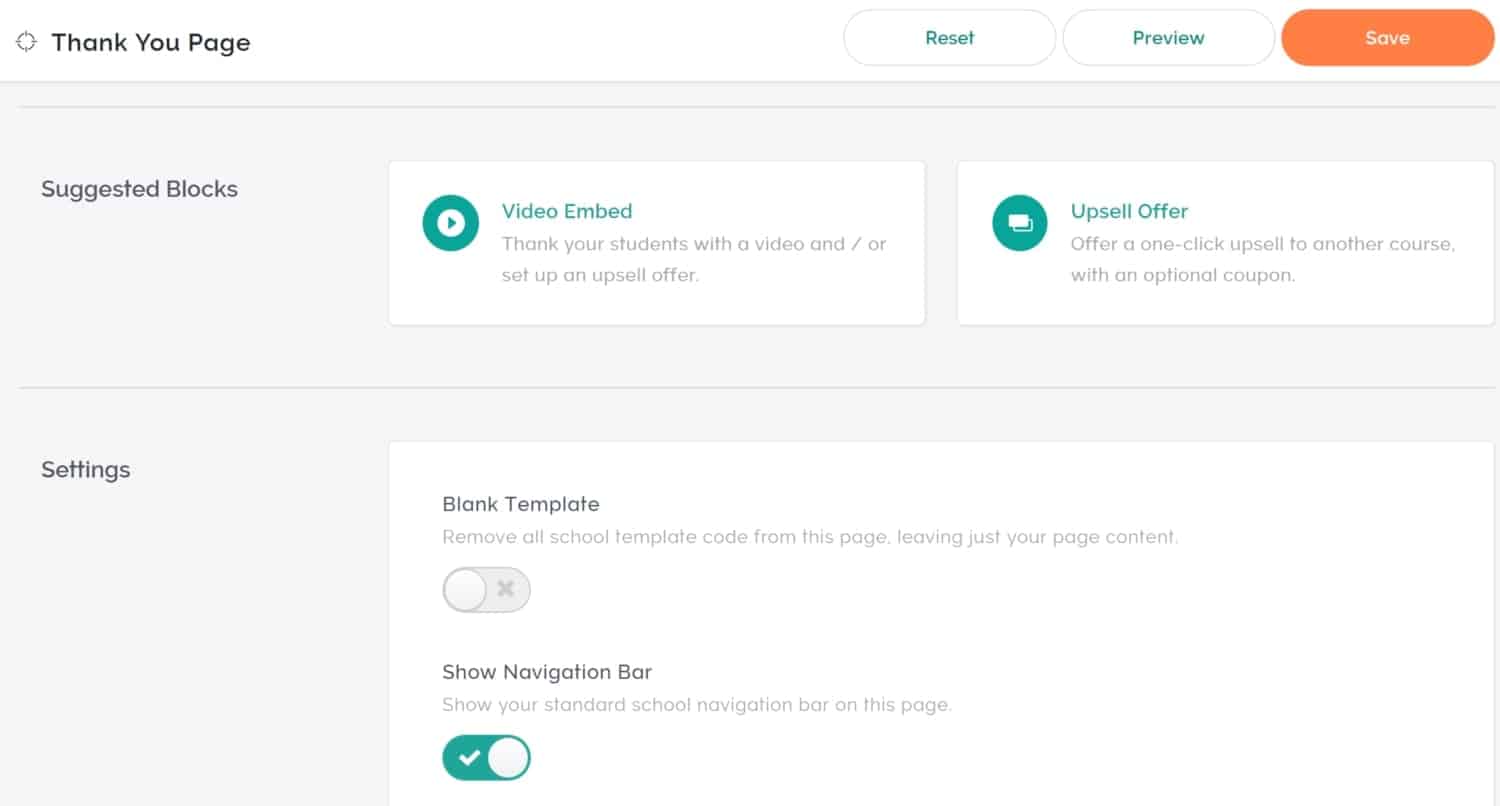 You can also embed a video in that thank-you page that outlines what the upsell is as well. It's very easy to get this set-up.
Thinkific just doesn't do this as well. You can create a custom thank-you page and then manually add in the product you want as the upsell and adjust the page to fit your sales needs.
The regular thank-you page in Thinkific cannot be configured to have an upsell. So you can accomplish the upsell, but it'll take a little more work.
Thinkific does offer something called an upsell on the course sales page which really looked more like options for your course. For example, if you wanted to offer one month access to your course for $30 and then annual access for $90 you could have both those options on the course sales page and your students could select from the two. This really isn't what I consider an upsell though so I think it needs more clarification.
Payouts and Payment Gateways
Thinkific's motto is 'your money is your money'. You will need to sign up for PayPal or Stripe to accept payments on Thinkific and then when a student enrolls, PayPal or Stripe will send you your money (which you can have access to usually within a day or two).
Thinkific allows you to connect to Stripe or PayPal on any plan. They don't offer a payment processor. When on either of these two options you'll be paid out right away.
Teachable also allows you to connect your account to Stripe and PayPal (on upgraded plans only though). If you sign-up to the upgraded Professional plan at Teachable and you hook up with Stripe or PayPal then you can be paid out right away.
In addition to connecting to those two payment processors, Teachable also offers its own payment processor. However, if you use the Teachable payment processor it will take at least 30 days for them to pay you.
They can also manage your affiliate payouts when you use their payment processor so all your payouts can be hands-free. If you choose to use Stripe or PayPal with Teachable then you will need to pay out your own affiliates.
Stunning Integration
Thinkific offers integration with a tool called Stunning to prevent failed Stripe payments. If you're selling a high volume of your course then this could be very useful.
Teachable does not offer an integration with Stunning or with a tool like this so you could be missing out on some sales, but unless you're selling a very high volume, the extra fee to Stunning might not make sense for you.
VAT Tax
With Teachable, if you live in the EU, you can turn on tax compliance (VAT).
Thinkific does not offer this.
Group Sales
Thinkific offers group sales. Groups help you organize your students and bulk sell your online courses to organizations and companies. You can sell as many seats in your online course as you want with a unique link.
Teachable does not offer this feature.
Affiliate Module
Both Teachable and Thinkific offer the ability to enable affiliate modules where you can pass out affiliate links to people interested in promoting your courses.
The Teachable affiliate program allows you to set the length of your cookie. That means if you want affiliates to get credit for any students they send you for only 30 days then you can set the cookie for 30 days. Setting that cookie means if an affiliate sends you a student and they buy after 30 days the affiliate won't get credit. With Teachable you can decide how long or how short to set that tracking cookie (365 days is the maximum).
In addition, with Teachable, you can decide which courses affiliates will get a commission on. If you decide to create your own sales pages instead of using the Teachable sales pages, you can do so and affiliates can still get credit for sending students to those pages.
Thinkific does offer an affiliate program, but you cannot set a different cookie length (the default is for 30 days). In order to create your own sales page and not use the Thinkific sales page builder, but still use the affiliate module, you would need to do some heavy coding. Lastly, if you decide to enable affiliates in your Thinkific admin, they will be able to promote all your courses.
[elementor-template id="22359″]
5. Integrations
| Features | Teachable | Thinkific |
| --- | --- | --- |
| INTEGRATIONS OVERALL SCORE | ✖ | ✔✔ |
| ConvertKit Integration | ✖ | ✔ |
| Additional Integrations | ✖ | ✔ |
Integrations Winner: Thinkific (2 to 0)
Thinkific wins when it comes to integrations.
ConvertKit Integration
There's actually a problem with the checkbox on the Teachable sign-up and checkbox pages. It's the first checkbox as shown below: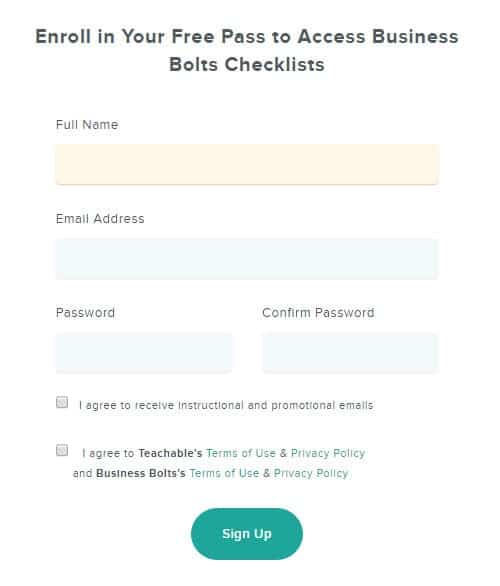 To further clarify it's this one here:

Whether your students check on this box or not, their login or order will be processed, which is great per GDPR standards. However, you'll have to put in some extra work to make it filter out the students who don't mark it off (you don't want to send them promotional emails if they didn't check it off).
I've put together a tutorial that covers how to integrate Teachable to ConvertKit using Zapier if you need help with that. Unfortunately, the native Teachable integration leaves that checkbox nonfunctional. Everyone will get your emails whether they mark it off or not.
I think this issue is a big negative toward Teachable. It's great that they have this checkbox, but it can't be customized to include different text (which I confirmed with their support staff). Since the default text is so bland you'll likely miss out on some email sign-ups. Again, here it is:

Email marketing is the cornerstone of a successful online business so getting fewer sign-ups is a big deal. Plus the checkbox doesn't work with the native integration. Having to pay for another third-party tool to get it to work right just plain sucks. Hopefully, they can solve this problem in the future.
Thinkific does not seem to have any integration issues (at least not with ConvertKit). They do not have have a checkbox like this on their sign-up pages. It would be nice if you could include it if you wanted (and have the ability to change the text), but I did not see that as an option.  You'll have to be sure to explain on your course sign-up pages exactly what your students will be getting (and mention they'll get promotional emails if you're planning to send them and want to be within GDPR standards).
Additional Integrations
Teachable is kind of lacking overall when it comes to integrations. They only offer a few; ConvertKit, Segment.io, Google Analytics, Sumo, MailChimp, and Zapier.
Thinkific offers many more integrations. These include; Stunning, Zapier, Infusionsoft, Google Analytics, Mixpanel, support for Facebook pixels, Segment.io, MailChimp, ConvertKit, Aweber, ActiveCampaign, Accredible, Disqus, and Sumo.
6. Customer Support
| Features | Teachable | Thinkific |
| --- | --- | --- |
| SUPPORT OVERALL SCORE | ✔✔ | ✔✔ |
| Email Support | ✖ | ✔ |
| Priority Support | ✔ | ✔ |
| Facebook Group | ✔ | ✖ |
Customer Support Winner: No Clear Winner (2 to 2)
There's no clear winner when it comes to customer support. Both offer great support and will help you get issues with their platform course sorted out ASAP.
Both Thinkific and Teachable offer great customer service support. You can contact support via email and they'll typically give you a reply back within 24 hours. They also both offer extensive knowledge base tutorials.
Each also has a Facebook group that's very active. You'll hear from other members there and get answers from their respective support teams.
Both Thinkific and Teachable offer priority support on upgraded plans.
With Teachable I found that no one seemed to know how to help with some of the more complex issues (those are the ones you're going to need help with the most!). These were limited to the integration issues with ConvertKit, but it was still frustrating.
With Thinkific I didn't ask as many technical questions because I just didn't need to. Everything was answered in a timely manner when I did ask. So I feel like the Thinkific support was better.
When it comes to the Facebook group, the Teachable Facebook group is far more active.
7. Ease of Use
| Features | Teachable | Thinkific |
| --- | --- | --- |
| EASE OF USE OVERALL SCORE | ✖ | ✔ |
| Admin | ✖ | ✔ |
Ease of Use Winner: Thinkific
Thinkific was slightly more intuitive to use.
It's easy to use both Thinkific and Teachable.
Thinkific might have been a slight bit more intuitive because you just go down their menu as shown in my Thinkific tutorial. As you work through each area on that menu, you'll have your course set-up and ready to go.
Even after spending hours putting together the Teachable tutorial, I'm still not sure where everything is and sometimes have to hunt for it. It's not that big of a deal, but the Teachable admin could be more streamlined.
8. Price
| Features | Teachable | Thinkific |
| --- | --- | --- |
| PRICING OVERALL SCORE | ✖ | ✔ |
| Annual Discount | ✖ | ✔ |
| Free Plan | ✖ | ✔ |
Price Winner: Thinkific
Thinkific wins on price over Teachable, but both offer great plans.
When it comes to pricing, both Teachable and Thinkific offer great plans and options. However, Thinkific offers a better deal when you pay annually. You can do more with Thinkific's free package plus there are no transaction fees with Thinkific.
Thinkific Plans
Thinkific pricing plans offer an annual option where you will save 20% off the prices shown below if you're willing to pay for 12 months in advance. Here are their 4 plans: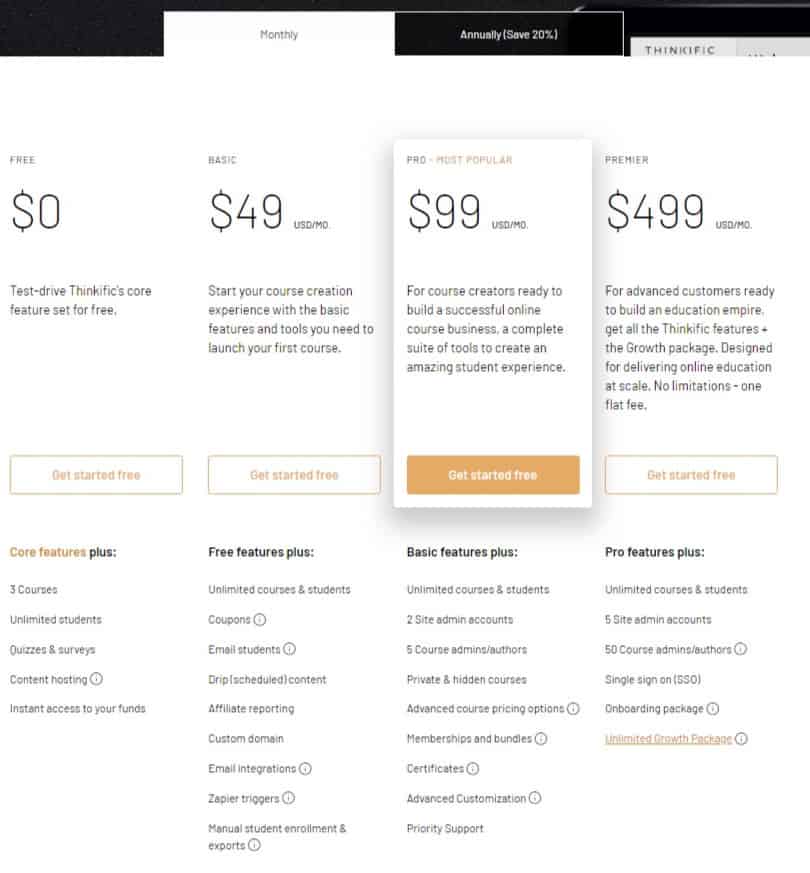 The free Thinkific plan actually offers a lot with it. You can start accepting payments through Stripe and PayPal and get paid right away.
The Basic plan is $49 a month (if paid monthly). You'll be able to access coupons and integrate with an email marketing tool with this plan. You can point your Thinkific courses to your own domain on this plan as well as offer an affiliate program. There are several other features of this plan including content dripping, emailing students (one at a time), and more.
The next plan on Thinkific is the Pro plan which is $99 a month. You'll be able to offer course completion certificates, payment plans, and offer private/hidden courses. There are several other features on the Pro plan that you can look into.
In addition, you can choose to unlock the features in the Growth package. This is still $99/month until you go over 100 active users per month. At that point, Thinkific starts charging you more for additional active users. Features included in the Growth package are; groups, advanced segmentation, webhooks, Zapier actions, Integrations with Brillium, Infusionsoft, and ActiveCampaign, bulk emails, public API, and white labeling.
The highest plan is the Premier plan. This one is $499/month.  It's geared for larger organizations so it includes more site admin accounts and course administrators. In addition, you get all the features of the Pro plan and the Growth package for unlimited students.
If you'd like to see a breakdown of exactly which features are offered on each plan, take a look at the Thinkific review plan comparison table.
Teachable
Teachable pricing plans consist of the 3 plans shown below plus they have a free plan.
You can save close to 20% (it's actually around a 16% savings) if you choose to pay yearly instead of monthly. Here are their 3 plans: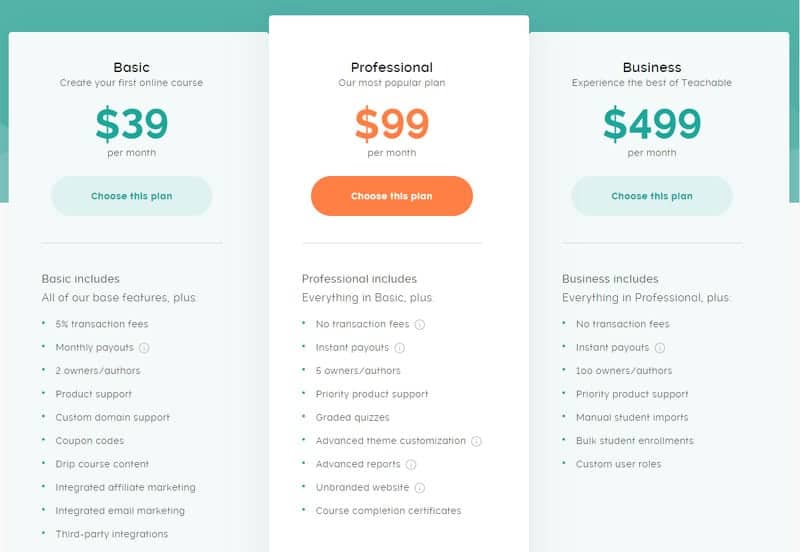 One note to make before I get into the Teachable plans is that with Teachable you're also going to either need to do some webhook programming or use Zapier in order to hook it up to an email marketing automation tool (which I highly recommend!).
Unfortunately, the Zapier plan you need is one that allows a filter which is a 3-step zap and is only offered on the paid plans.
Bummer.
So you can expect to add $25 a month to all these prices. I just don't see a way around this at least for now.
Technically, you can use Teachable and an email marketing tool like ConvertKit without Zapier, but that checkbox can cause you problems. You can't remove that checkbox so it's going to be on your sign-up and check out pages no matter what. The problem is it won't work unless you set-up this integration.
At any rate, in order to fully integrate ConvertKit with Teachable you'll need to use Zapier and you are going to need to be prepared to add $25 a month onto all these plans.
Let's get into the plans now …
Teachable's free plan allows you to try out most everything this online course platform offers which is great. If you sell anything while on that Free plan though, then you'll have to pay a 10% Teachable transaction fee plus a credit card processing fee of 2.9% of the course price + 30 cents.
The Basic plan at $39 is a great deal if you're ready to start selling your course.  With that plan your Teachable transaction fees will be 5% plus a credit card processing fee of 2.9% of the course price + 30 cents. You can use a custom domain with that plan. You'll also have integrated affiliate marketing, the ability to use coupons, monthly payments from the Teachable payment processor, drip capabilities, and more.
The Professional plan is $99 a month and with no additional Teachable transaction fees (you will have to pay Stripe or PayPal fees though). You can get instant payouts on enrollments made through Stripe or PayPal, graded quizzes, have an unbranded website, 5 owners, add coupons, and more. Alternately, if you want to use the Teachable payment processor, you will have 2% Teachable transaction fees plus a credit card processing fee of 2.9% of the course price + 30 cents.
The Business plan is $499 and also includes no additional Teachable transaction fees (you will have to pay Stripe or PayPal fees though). You can have up to 100-course owners, get priority support, bulk student enrollments, and more.
If you'd like more details on the plans, you can check-out them out from my Teachable review plan comparison table.
Thinkific vs Teachable Feature Table
This table shows which features each has. Take a look at Teachable and Thinkific features at a glance. In this table, if it's offered, then they get a checkmark so there's no rating here. It's just straight features.
| Features | Thinkific | Teachable |
| --- | --- | --- |
| Cloud LMS | ✔ | ✔ |
| Unlimited courses | ✔ | ✔ |
| Unlimited students | ✔ | ✔ |
| Unlimited site hosting | ✔ | ✔ |
| Unlimited video hosting | ✔ | ✔ |
| Subdomain included | ✔ | ✔ |
| Custom domain support | ✔ | ✔ |
| Accept Stripe/PayPal payments | ✔ | ✔ |
| Platform transaction fees (this does not include credit card processing fees) | 10% (Free plan), 5% (Essentials plan) | 10% (Free plan), 5% (Basic plan) |
| Graded quizzes | ✔ | ✔ |
| Student management | ✔ | ✔ |
| Student progress tracking | ✔ | ✔ |
| Discussion forums | ✔ | ✔ |
| Completion certificates | ✔ | ✔ |
| Zapier integrations | ✔ | ✔ |
| Third-party integrations | ✔ | ✔ |
| Send emails | ✔ | ✔ |
| Coupons | ✔ | ✔ |
| Advanced pricing options | ✔ | ✔ |
| Affiliate marketing | ✔ | ✔ |
| Customizable sales pages | ✔ | ✔ |
| Conversion pixels support | ✔ | ✔ |
| Sales tracking | ✔ | ✔ |
| SSL certificate | ✔ | ✔ |
| Student course preview | ✔ | ✔ |
| Multiple instructors | ✔ | ✔ |
| Course upsells | ✔ | ✔ |
| White labeling (not URL) | ✔ | ✔ |
| Drip course content | ✔ | ✔ |
| Instant payouts w/PayPal & Stripe | ✔ | ✔ |
| Course bundles | ✔ | ✔ |
| Advanced reports | ✔ | ✔ |
| Recurring payments | ✔ | ✔ |
| Payment plan | ✔ | ✔ |
| Email support | ✔ | ✔ |
| Priority support | ✔ | ✔ |
| White labeling URL | ✔ | |
| Course reviews | ✔ | |
| Group sales | ✔ | |
| Surveys | ✔ | |
| Upload Captivate, etc ... | ✔ | |
| Mix media in lesson | | ✔ |
| Mobile iOS app | | ✔ |
| Single page checkout | | ✔ |
| Blog platform | | ✔ |
| VAT tax | | ✔ |
| | Try Teachable | Try Thinkific |
As you can see from the table above, there are features that only Thinkific or only Teachable offers. If there's a feature you need, then I would start narrowing down your decision based on which one offers those must-have features.
Then you can also use the rating tables to try to figure out which platform offers the best of those features. I've listed out all the different category ratings here:
| Features | Teachable | Thinkific |
| --- | --- | --- |
| Course Curriculum Score | ✔✔✔✔✔✔ | ✔✔✔✔ |
| Site Builder | ✔✔✔ | ✔✔✔ |
| White Labeling | ✔ | ✔✔✔✔ |
| Marketing & Sales | ✔✔✔✔✔ | ✔✔ |
| Integrations | ✖ | ✔✔ |
| Customer Support | ✔✔ | ✔✔ |
| Ease of Use | ✖ | ✔ |
| Pricing | ✖ | ✔ |
| | Try Teachable | Try Thinkific |
Figure out which features are most important to you and then use the tables above to determine your choice.
As you can see, it's very close. Both of these platforms are very good which makes it a difficult decision.
There are a few deciding factors though (and main differences). I think in reality the fact that Teachable has a nicer course area or that Thinkific can allow you to create better sales pages is kind of a neutral point because they are both nice and both will help make your content stand out.
If you do need to offer mixed media and/or want comments within each lesson then Teachable does offer that while Thinkific does not.
With Thinkific you can make your Thinkific sales pages match your site better and you can definitely white-label while it's just not possible to fully white-label with Teachable.
A bigger difference though is the in-house payment processor offered by Teachable. This can be a major selling point for those who want to run an affiliate program. You can get on their $99 a month plan and pay 2% to use their payment processor plus a credit card processing fee of 2.9% of the course price + 30 cents. They will only pay you monthly, but they will also handle your affiliate payments.
If you've ever run an affiliate program then you know this is a huge deal. It will save you time and stress over making all those payments yourself. You also will not have to budget for affiliate payments because Teachable will just send you your share of the money at the same time they take care of your affiliates.
In addition, Teachable's affiliate program has a few more features over Thinkific (like setting the cookie and the ability to track affiliates sent to pages created outside the Teachable platform).
So if an affiliate program is a feature you know you need and you want affiliates to be paid out, then Teachable is the only option for you.
Nothing's perfect and on the flip side of this is Teachable's checkbox issue. If you're offering a paid course then it may be alright with you that you're not going to have as many people accept your promotional and instructional emails (but still!).
If you're offering a free course (or a few free mini-courses) then that checkbox is going to cost you a lot of email sign-ups. People will still get your free stuff, but they won't get your emails if they don't check it off.
Going by this, if you're running a free course then Teachable may not be the best fit for you. I plan to offer several free courses so I know that the checkbox issue is front and center on my mind.
However, with a paid course then Teachable's checkout flow is going to be a deciding factor. With Thinkific or Teachable, you can integrate with a different shopping cart solution (so you don't have to use either one's check out pages), but that will cost you additional money. If you just want to use what they provide you, Teachable's check out pages are better. In addition, Teachable's upsell feature is better. Both these better features can mean more sales of your course and more money for you.
If creating a paid course with affiliates then Teachable may be a better fit for you since you can use their payment processor and have them pay out affiliates (this would be huge stress off your shoulders). However, you will need to be OK with their higher transaction fees. If you don't want to pay any Teachable transaction fees, then you need to be on the $99 a month plan and use Stripe or PayPal. With that set-up, you'll have to be prepared to pay your own affiliates.
You can stick with the Teachable native check out page and have a high converting sales process. You will have to deal with the checkbox issue, but it can be made to work with a Zapier integration.
If creating free (or paid) courses then Thinkific is going to result in more sign-ups to your email list. In addition, you can integrate with Stripe and PayPal on any plan and there are no transaction fees with Thinkific.
You'll have to consider your specific needs and then see whether Thinkific or Teachable meets those needs best.
Once you choose your platform, my advice to you is to stick with it.
I don't think you can make a bad choice with either of these online course platforms. You'll be able to grow your business to a high level with either one.
There are subtle differences between the two, but I can't say one is better than the other. It's all about what you're planning to do with the platform and your specific needs. I do hope this review helps you sort out those main differences and figure out which one is best for you.