38 In-Depth Online Learning Statistics: eLearning is the Future

Our content is reader supported, which means when you buy from links you click on, we may earn a commission.
---
Are you interested in online learning statistics?
Online learning or eLearning is a means of conveying information with the help of technology. Over the years, eLearning has grown alongside traditional learning in schools and academic settings, for professionals upskilling, and in corporate training.
Because of this ability to learn online, more and more people can gain skills and an education from home and at their own pace. There hasn't been a bigger shift in the education sector than the revolution brought on by online learning. The industry is massive and is expected to grow to $370 billion dollars by 2026.
We put together this list of current statistics in the online learning market so you can better understand this growing industry. Take a look at these statistics and start understanding the future online learning holds.
Key Online Learning Statistics
1. The online learning market was worth about 101 billion U.S dollars worldwide in 2019. The global eLearning market is expected to grow to over 370 billion U.S. dollars by 2026. (Statista) 
2. Additional estimates put the eLearning market at 1 Trillion U.S. dollars by 2027. (GM Insights) 
3. Some of the key factors influencing the market growth include the adoption of eLearning in employee training and the adoption of microlearning which is a growing priority. (Business Wire) 
4. Most online learning runs through a learning management system (LMS). The LMS market was worth approximately 18 billion U.S. dollars in 2019 and is expected to grow as the eLearning industry grows. (Statista)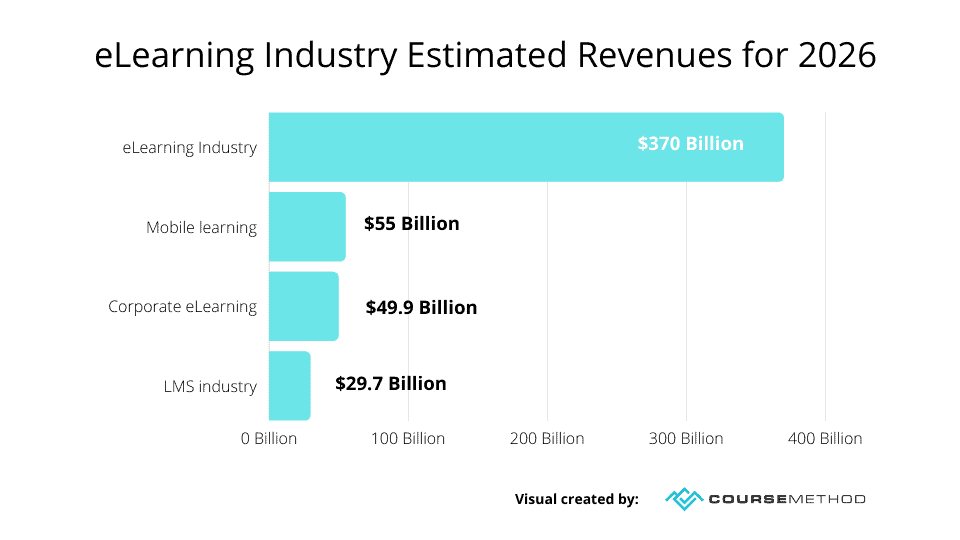 5. The learning management system (LMS) market is expected to reach 29 Millon U.S. dollars by 2026. (Global News Wire) 
6. The mobile learning market was valued at 20 billion U.S. dollars in 2019. Its projected worth is 55 billion U.S. dollars by 2026. Much of the growth will be driven by the increase in smartphones and tablets. (GM Insights) 
7. Corporate eLearning was valued at 14.2 billion U.S. dollars in 2017. Its projected worth is 49.9 billion U.S. dollars by 2026. (Business Wire) 
8. The education industry as a whole was a $1.57 trillion dollar market in 2019. It is expected to be worth $1.96 trillion by 2025. It is typically comprised of kindergarten through 12 grade, higher education like college and professional training, corporate training, and child care. K-12 is the largest segment. 
9. eLearning has been searched for over the last 12 months at a steady rate. A value of 100 on the graph below is the peak popularity for the term. August 2021 was the peak popularity for the term in the months shown in the data. (Google Trends)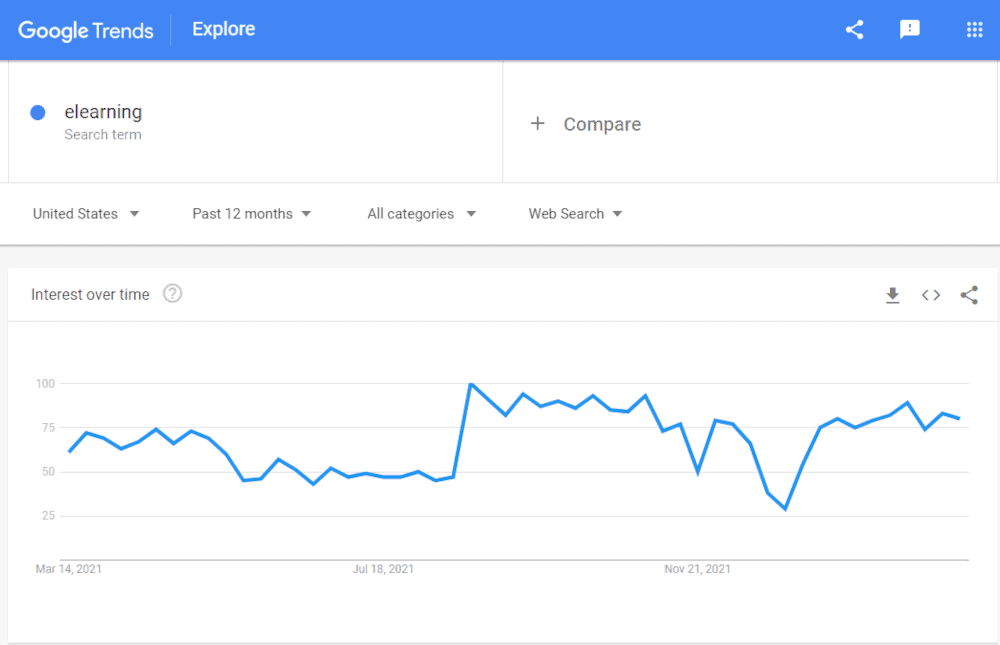 10. Keyword research data shows that 49,000 people search on Google for the term 'eLearning' over the typical month. There are many related keywords that people also search for; bringing the total numbers to hundreds of thousands if not over a million searches per month. (Ahrefs)
11. Students tend to like online learning. In this survey, 93% said it has or they expect it will have a positive return on investment. 48% of students enroll in online programs to help them reach career goals. 95% said they would recommend an online education to others. Many students (74%) thought learning online was better than or equal to learning in person. (Best Colleges)
12. With eLearning, students are able to revisit the training until they've learned it. Therefore, it is estimated that eLearning increases retention by 25 to 60%. (Research Institute of America)
13. With eLearning, students consume smaller and more digestible amounts of information. This increases retention rates. One study showed that employees taking eLearning training learned nearly 5 times as much material in the same amount of time as those in traditional in-person learning environments. (SH!FT)
14. The Massive Open Online Course (MOOC) project offers free online courses for anyone in the world. The MOOC industry was worth 5.2 billion U.S. in 2019. By 2025 it is projected to be worth 21.1 billion U.S. (SDKI.JP) 
Statistics on COVID-19 and the Impact on eLearning
The COVID-19 pandemic began in March of 2020 and accelerated the online learning industry. Many K-12 and college students had no choice but to continue their education remotely. Many have decided they like it and continue on.

The pandemic also forced many businesses running in-person workshops and sessions to move online. Due to the convenience of online learning, many will continue to run their workshops online. Here are some statistics on how COVID-19 changed the education industry.
15. Udemy cited a 425% increase in enrollments during the shelter in place restrictions which began in April 2020 around the world. Udemy enrollments from India increased 200%, Spain increased 280%, and Italy saw a 320% increase to help people stay engaged and active. (Udemy)
16. Udemy specifically saw increases in enrollments in technical courses like web development (60%) and data science (58%). They also saw increases in enrollments for courses supporting wellness like pilates (402%) and meditation (111%) as well as hobby courses like technical drawing (920%) and music courses. (Udemy)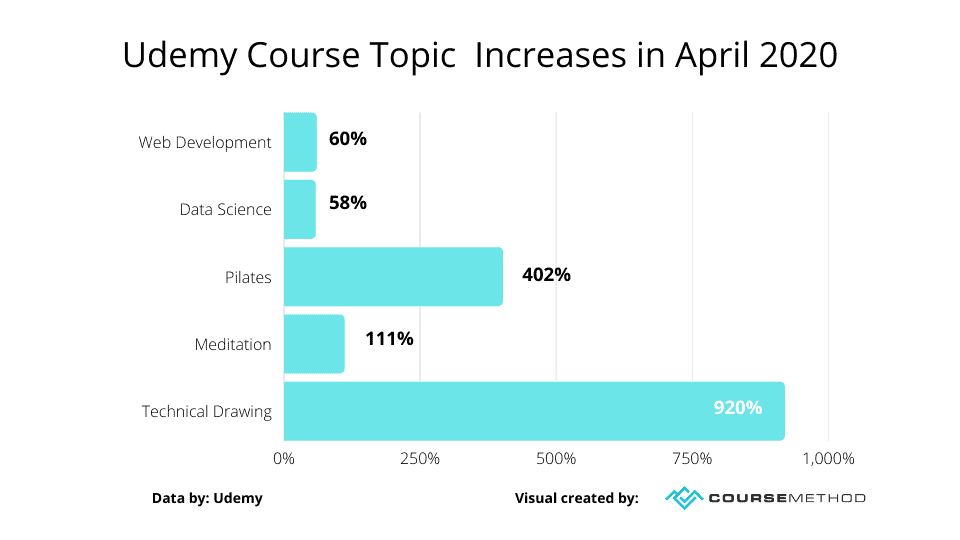 17. It is expected that the eLearning market in the Asian Pacific will grow 13.7% each year between 2020 to 2026 due to the surge from the COVID-19 pandemic. The total market cap for this geographic location over 2020 – 2026 is expected to be $716.5 billion. (Research and Markets)
18. Thinkific saw a 221% surge in new course creation during the beginning of the pandemic. These included entrepreneurs who pivoted online due to the lockdowns as well as educational institutes that needed to support the change from in-person learning to online learning. Corporations needed to create more online training to support and onboard employees. (Thinkific)
19. Thinkific's increase in course creation grew in every category, but three categories stood out. These included arts and entertainment courses (2108% increase), education courses (881% increase), and health and fitness courses (543% increase). (Thinkific)
eLearning Statistics for Academia
Now it's possible to get a Bachelor's degree and often even a graduate degree completely online. Take a look at statistics for online learning in colleges and universities.
20. In the U.S., eLearning enrollments have gone up for the 14th year in a row. However, the number of on-campus students has dropped slightly. In 2011, around 20.6 million students were enrolled in college while only 19 million enrolled in 2016. The decline in college enrollment is expected to be even higher by the late 2020s (although the COVID pandemic likely has accelerated this). Other reasons for the decline in enrollments include the increasing costs of college, doubts about the value of college education, and a refusal to take on long-term debts. (T and F Online)
21. An online bachelor's degree is typically less than an in-person bachelor's degree. The average cost for gaining a bachelor's degree online is $51,091 over the duration of the 4-year degree. That is $12,772 per year on online school. For in-state students, the savings are even bigger since tuition for in-state students averages $38,496 for an online bachelor's degree or $9,624 per year. (Education Data)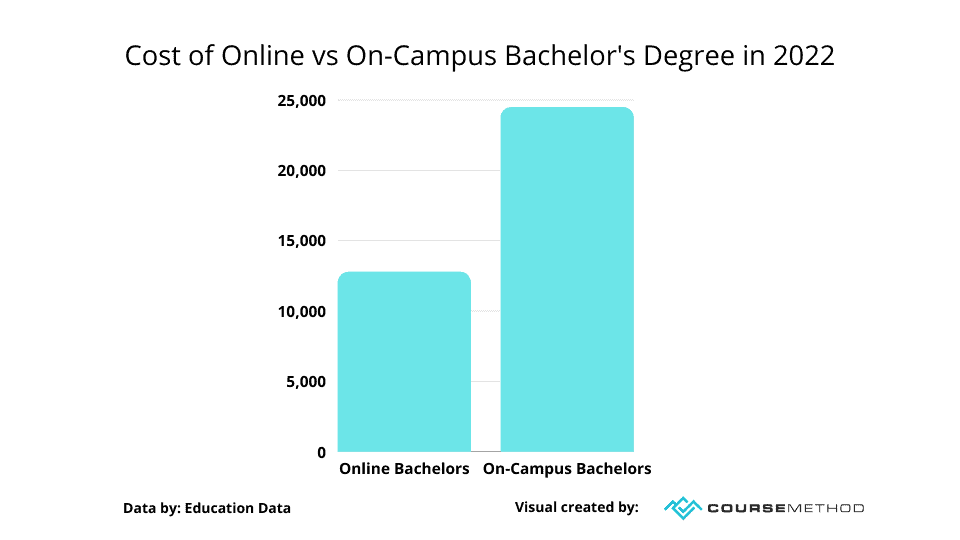 22. The average in-state student living on campus will spend $25,487 at a 4-year institution for just one year. That will add up to about $100,000 for the on-campus bachelor's degree vs about $50,000 for the online bachelor's degree. Over half (51%) of college students cited that the lower costs for an online program were the most important factor for choosing an online college. (Education Data)
23. Although most online degrees are less expensive than their in-person counterparts, 23% of colleges charge more for a degree earned online. Community colleges were the most likely to charge more for online coursework. (Education Data)
24. In addition to typically being less expensive, online learning saves on both energy and emissions than taking courses on campus. Full-time distance learning results in 87% less energy and 85% less CO2 emissions. The lower energy and CO2 use online are mostly due to less student travel. (Research Gate)
eLearning Creator Statistics
In addition to its utilization in academia and K-12, eLearning courses are often created by private companies or entrepreneurs. These uses include professional courses, test preparation, hobbies, wellness, self-help, and many other markets. Experts around the globe are teaching online courses and starting their own businesses offering knowledge.
25. More than 50,000 successful course creators and businesses use Thinkific as their learning management system. (Thinkific) 
26. LinkedIn Learning has more than 27 million users, and 78 Fortune 100 companies take advantage of the platform. (LinkedIn Learning)
27. LinkedIn Learning, formerly known as Lynda.com, is an online learning platform with on-demand, video-based content. The platform offers more than 16,000 courses, 9,000 of which are in English. (LinkedIn Learning)
28. Teachable provides its online course platform to over 100,000-course creators and small businesses who have collectively earned over 1 billion U.S. dollars in courses and coaching. (Teachable)
29. Udemy has 40 million students with 480 million course enrollments. The courses are in 65 different languages across 180 countries, making it a truly global community. Anyone can apply to become an instructor and start sharing (and selling) their knowledge on Udemy. (Udemy)
30. The top 3 industries for course creation founders are career/professional (33%), business/marketing (20%), and arts/creative (13%). Languages were represented by 10% and health & wellness was also represented by 10%. Both software and music were each represented by 7%. (Course Method)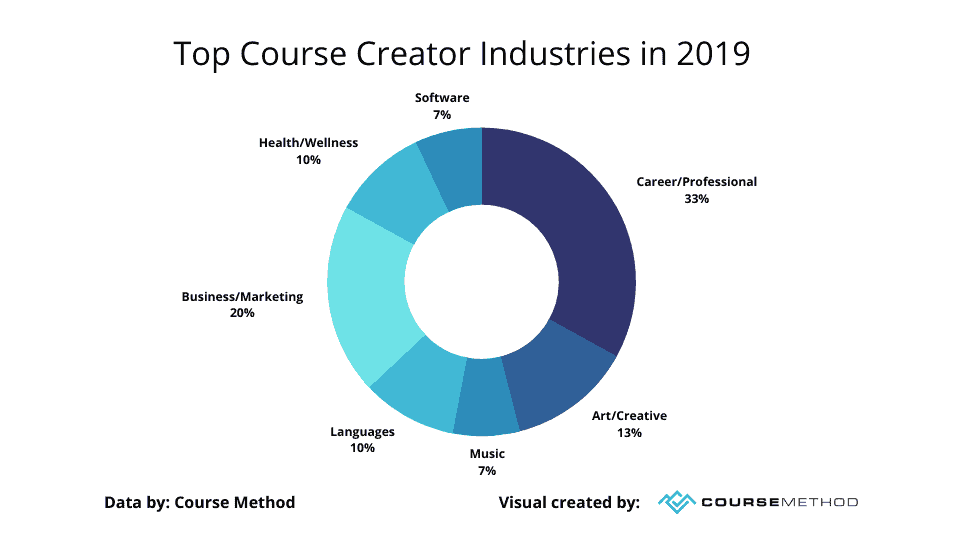 31. Course creators interviewed on coursemethod.com got into offering digital training for different reasons. 43% already had a coaching or service-related business that was in-person and they took it online. 37% reported that their previous job lead to their online course business. 10% created their online training because the topic lacked information and decided to create it for others. 7% got into it due to life circumstances. (Course Method)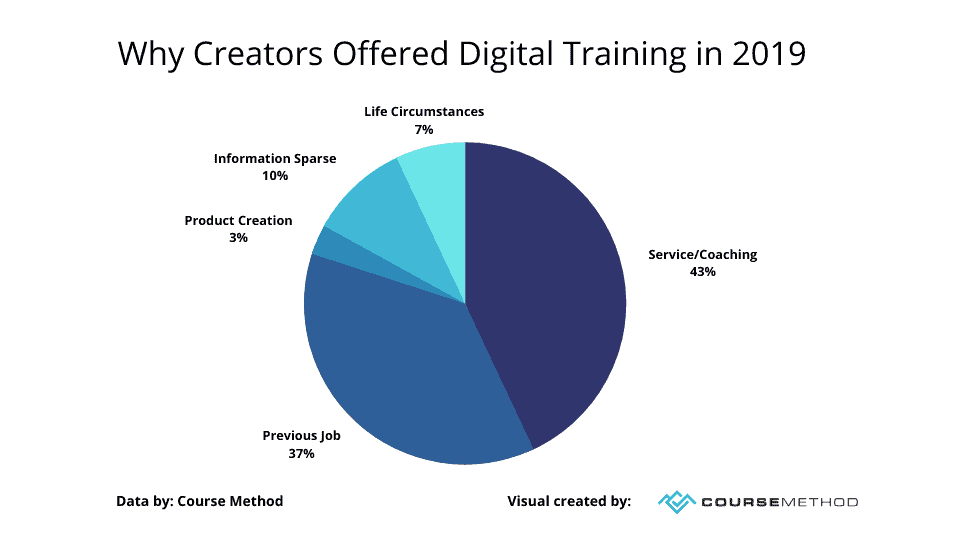 32. 67% of the successful course creators interviewed for coursemethod.com earn 5-figures or above from their courses. (Course Method)
33. 3% earn in the 7-figure range. Of those interviewed, 24% fit into the 6-figure per year bracket. Approximately 27% of those interviewed earn in the 5-figure per year bracket. 13% reported earning right around $10,000/year or above. (Course Method)
34. Pluralsight, an online platform catering to the technology workforce boasts over 1500 expert authors. It is trusted by over 70% of Fortune 500 companies. (Pluralsight)
Corporate eLearning Statistics
Corporations increasingly turn to eLearning to meet their training needs. They frequently offer ongoing training and onboarding for new hires. It is much less expensive for a company to create the training one time and re-use it than to teach it repeatedly in a live format. Here are some interesting statistics related to corporate eLearning.
35. Ninety-five percent of employees like eLearning because they can complete it privately. Eighty-four percent like not having to travel. (KPMG)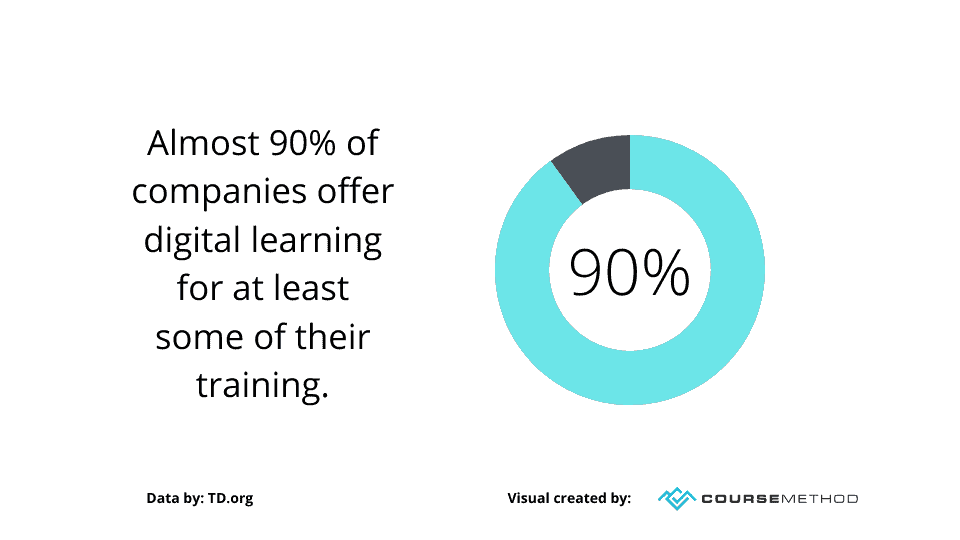 36. The average U.S. company spent over $1,200 per employee on learning in 2018. Almost 90% of companies offer digital learning for at least some of this training. (TD.org)
37. Fifty-eight percent of employees like to learn at their own pace. Therefore, eLearning in the workplace needs to account for this when creating their training. (LinkedIn Learning)
38. Within corporations, 82% run most of their compliance training online while 28% run all of their compliance training online. Sales training is often conducted online (82%) while customer service training is sometimes conducted online (56%). Online training was used least for the onboarding of new employees (49%). (Training Mag)
39. Corporations gain $30 in productivity for each and every $1 they spend on online learning. (Docebo) 
Conclusion
As you can see from these statistics, eLearning has changed the education industry and will continue to do so in the future. As the technology behind eLearning continues to advance and the ability to access the internet increases, the online learning market is expected to grow.
This just scratches the surface of what's happening in the eLearning market. If you're looking for more insights, we've got a wealth of industry statistics articles that dive into different aspects of this growing field. Take a look and see how you or your business can get on board with this important trend.
Top eLearning Stats:
The elearning industry is expected to be worth $370 billion by 2026.
eLearning increases retention by 25 to 60% in most use cases.
eLearning in U.S. colleges has gone up for the 14th year in a row.
67% of successful course creators earn 5-figures or more from their courses.
95% of employees like eLearning because they can complete it privately.