25 Education Industry Statistics that Help Explain the Global Education Market

Our content is reader supported, which means when you buy from links you click on, we may earn a commission.
---
Gaining a good education is the foundation for stability in life. Typically, the more education you seek out, the higher your job prospects become.
According to Nelson Mandela, 'Education is the most powerful weapon you can use to change the world'. Being willing to learn about the world helps us become thoughtful about what happens around us. It can also help each of us become more centered and increase our empathy for people who have far less than us.
As the education industry continues to grow and evolve, it's important to stay up-to-date on the latest trends and statistics. Check out these 25 key stats that will give you a snapshot of where the education industry is today.
From how people are accessing education to what fields they're studying, these numbers offer insights that can help shape your understanding of this essential sector. Keep reading to learn more!
Education Industry Statistics
1. The education industry was valued at 1.57 trillion U.S. dollars in 2019. It is expected to keep growing at a rate of 2.77% and is estimated to be valued at $1.96 trillion U.S. dollars by 2025. (Research and Markets)
2. Colleges and Universities in the U.S. are estimated to be worth $566 billion. These include both public and private colleges and universities. All provide higher education including Bachelor's and/or graduate degrees. In addition, it includes professional education like dental, law, and medical degrees along with military academies. This industry subset does not include community colleges. (IBIS World)
3. The Community College industry in the U.S. is currently valued at $60 billion. Community colleges include post-secondary educational institutions that offer full 2-year associate degrees and courses that will transfer to colleges and universities. (IBIS World)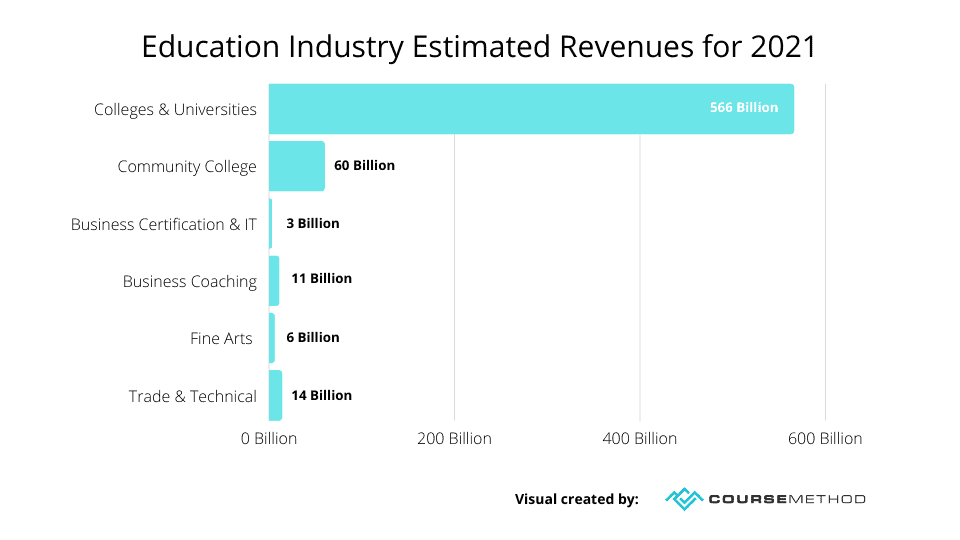 4. The Business Certification & IT Schools industry is estimated to be worth $3.0 billion across the U.S. in 2021. These include career vocational and technical courses including computer programming and electronics technology. The largest companies in this industry are currently Skillsoft, Learning Tree, and New Horizons Worldwide. (IBIS World)
5. The Business Coaching Industry has an estimated market size of $11 billion in the U.S. This industry includes short courses and seminars in the areas of professional development, leadership, management, and others. (IBIS World)
6. Fine Arts schools in the U.S. are estimated to be a $6 billion dollar industry. Fine Arts schools include those that provide art instruction, dance, photography, music, and other related programs. Academic degrees or diplomas are not conferred within this subset of the education market. (IBIS World)
7. Trade and Technical Schools in the U.S. have an estimated market size of $14 billion. This subset of the education market includes schools that offer vocational and technical training. They often confer certifications and include beauty schools, flight training schools, firefighter schools, medical technician schools, and many others. (IBIS World)
8. The education market includes other subsets including for-profit universities, private schools, public schools, testing and education support, driving schools, tutoring, and sports coaching. (IBIS World)
Statistics in Online Education
eLearning or online learning was already poised to grow massively during the 2020s, then the COVID-19 pandemic hit and accelerated it far more than expected. In March 2020, most schools and universities across the globe closed, online learning became the only option for many students. Countries worse hit by the pandemic have seen unprecedented growth in online learning.
9. The pandemic closed schools in March 2020, impacting more than 1.2 billion students across 186 countries. In South Korea, approximately 5.4 million students started online learning via Google Classroom and other platforms like Zoom in April of 2020. Many other nations followed suit. (GM Insights)
10. In February 2021, among 4th through 8th-grade students, 43% were enrolled in online learning and 82% attended schools that offered remote instruction to all students. 21% were enrolled in hybrid instruction. (NCES)
11. The global online learning industry was valued at 101 billion U.S. dollars in 2019. The global eLearning market is expected to grow exponentially and estimates put it at 370 billion U.S. dollars in 2026. (Statista)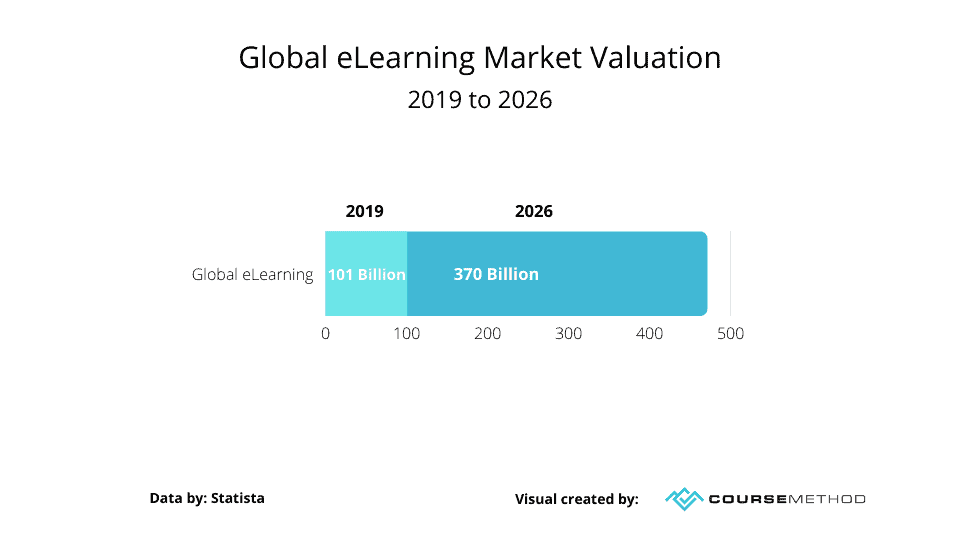 12. The Online Tutoring industry is growing at a rate of 7.2% per year between 2017 and 2022. Industry revenues for Online Tutoring were 1.5 billion U.S. dollars in 2022. (IBIS World)
Statistics on Higher Education
Gaining a higher education degree typically results in higher pay and lower chances of unemployment. Students gain confidence, knowledge, experience, and skills. Often this transfers over to an individual's career and life in general.
13. It pays to gain more education. Individuals who graduated high school earn more than $8,000 compared to those who do not graduate high school. In addition, they lower the risk of unemployment to 3.7%. The amount of pay and lower unemployment rates have a better outlook when an individual completes a higher level of education. Earning a bachelor's degree results in an average pay increase of $26,000 per year and lowers an individual's unemployment rate to 2.2%. (North Eastern)
14. The impacts of gender are still seen today. Median lifetime earnings were compared between men and women with bachelor's degrees vs those with high school diplomas. Men earned $900,000 more over their lifetime than high school graduates while women only earned $630,000 more than high school graduates. (SSA.gov)
15. In the fall of 2020, approximately 19.4 million students were enrolled in colleges or universities in the U.S. Of those, 11.9 million students attended full-time, while 7.5 million attended part-time. Of these, 16.2 million students were in undergraduate programs while 3.1 million students attended graduate programs. (NCES)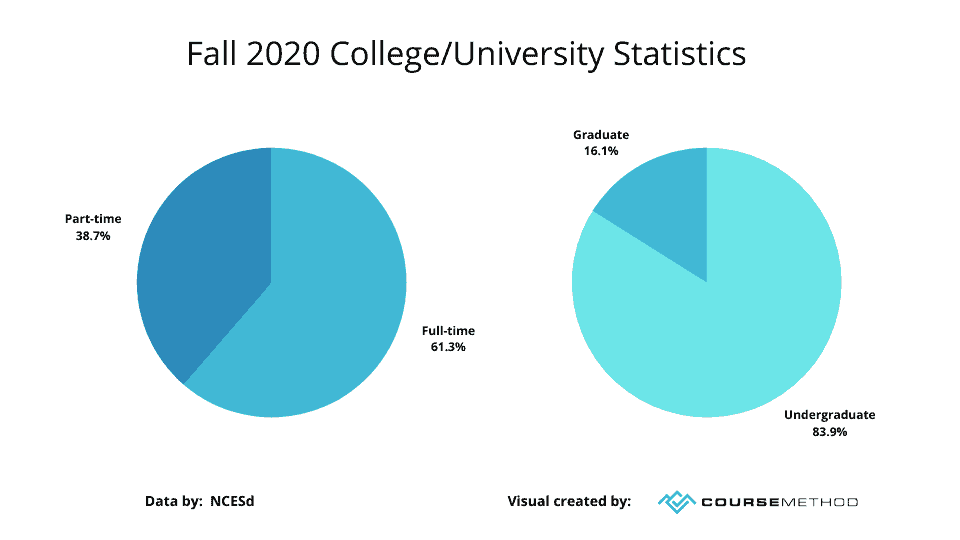 16. Costs of getting a college degree keep increasing. The costs of a 4-year bachelor's degree were $5,144 in 1963 while the same 4-year degree cost $52,892 in 1989. It's much more now. The average cost of college has been increasing at a growth rate of 6.8% per year. (Education Data)
17. Costs for in-state tuition in 2022 were $9,349 while costs for out-of-state tuition were $27,023 per year. Students paying in-state tuition at a public 4-year granting college or university typically spend $25,487 per year. This adds up to over $100,000 for an in-state 4-year degree from a public college or university. (Education Data)
18. Public institutions earned 29% more revenue from tuition and fees from full-time students in the 2018-2019 school year than in the 2009-2010 school year. (NCES)
Statistics in the Education Field
19. High school teachers earn an average salary of $62,870 per year according to the BLS 2020 statistics. They typically have a Bachelor's degree and the growth rate of the career is 8% between 2020 to 2030 which is as fast as average. (BLS.gov)
20. Tutoring is big business. There are well over 350,000 Tutors employed in the U.S. And Tutors are paid fairly well. They earn an average of $35,162 with the top 10% earning $53,000 or more. (Zippia)
21. Approximately 3.2 million teachers were employed by public schools in the 2019-2020 school year while 0.5 million teachers were employed in private schools. (NCES)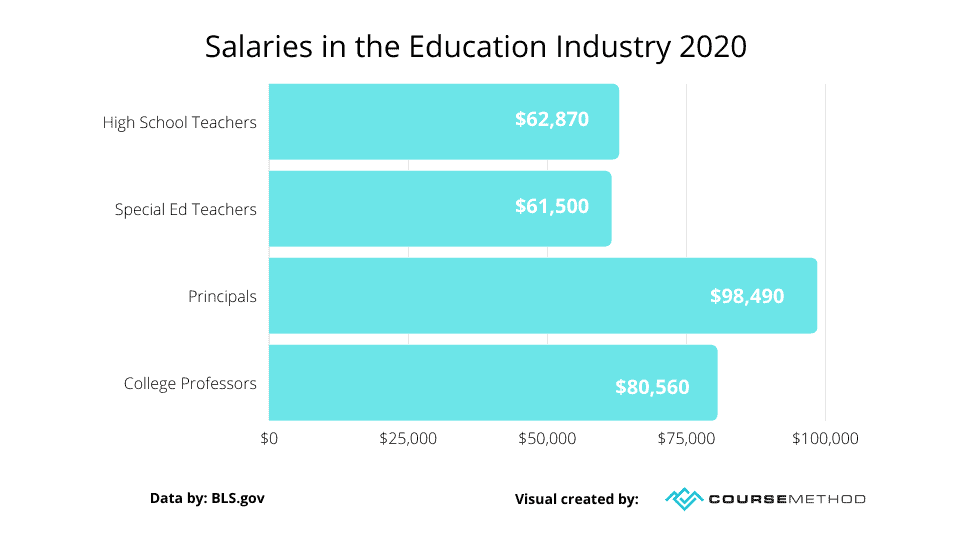 22. Special education teachers earn an average salary of $61,500 per year. Most have a Bachelor's degree. (BLS.gov)
23. In the 2019-2020 school year, 7.3 million or 14% of all public school students needed special education services. Of those, 33% were diagnosed with a specific learning disability, 19% had a speech or language impairment, 15% had another health impairment, and 11% were diagnosed with autism. (NCES)
24. Principals teaching in K-12 schools earn an average of $98,490 per year. The typical entry-level education for principals is a Master's degree. (BLS.gov)
25. Postsecondary teachers, also known as college professors, earn an average salary of $80,560 per year. They typically have a Ph.D., but those teaching at a community college may have a Master's degree. The employment of postsecondary teachers is expected to grow 12% which is faster than the average career. (BLS.gov)
Frequently Asked Questions On Education Industry Statistics
What are the main education industry sectors?
There are a number of different education industry sectors. One sector is higher education, which includes universities and colleges. Another sector is K-12 education, which covers elementary and secondary schools. There are also a number of private education companies that provide services such as tutoring and test prep.
The education industry also encompasses a variety of support services, such as education technology and educational publishing. Each of these sectors plays a vital role in the education system and offers unique opportunities for businesses and entrepreneurs.
How big of an industry is education?
Education is one of the world's largest single industries, making up more than 6% of the GDP according to Holon IQ. The proportion varies greatly by country. It could reach 50% in some countries, such as Finland and South Korea.
Is education a growing industry?
Education is a booming industry. More people everywhere are being educated, and in more ways than ever before.
In addition to colleges and universities, there are a plethora of private and for-profit schools offering all sorts of advanced programs and degrees. Many high schools now offer multiple tracks leading to college, along with an award-winning college preparatory program.
In addition, there are many small businesses offering online schools or courses now more than ever before. From test prep to learning how to cook, these small businesses are also part of the education industry.
There's a constant push for more and better education, and much of this growth is being driven by the express purpose of developing and expanding job opportunities.
What type of industry is education?
Education is often seen as its own industry, separate from others. However, education is actually a part of many different industries.
For example, the education industry includes businesses that produce educational materials, such as textbooks and software. It also includes companies that provide educational services, such as tutoring and test preparation.
In addition, the education industry employs a wide range of professionals, from teachers and administrators to counselors and librarians. As a result, the education industry is actually quite diverse. While it may be its own sector, it is also closely connected to many other industries.
Conclusion
The education industry is massive and is made up of several different markets. There is the eLearning industry, traditional colleges and universities, public K-12 schools, and many other subsets.
There are several career professions required to support the education industry including teachers of different levels, principals, tutors, and more. In addition, an individual's earnings will typically increase the more education they gain.
In this article, we've looked at 25 key stats that give you a snapshot of the education industry today. The industry is growing rapidly and is expected to be worth nearly two trillion dollars by 2025. We've also looked at how colleges and universities in the U.S. are estimated to be worth $566 billion and how the global eLearning market is expected to grow exponentially.
If you want to learn more about how technology is changing learning or what the future of education looks like, take a look at our other industry statistics articles.