How Jessica Caver Lindholm Earns $60K to $100K/Month Helping Others Learn How to Live Free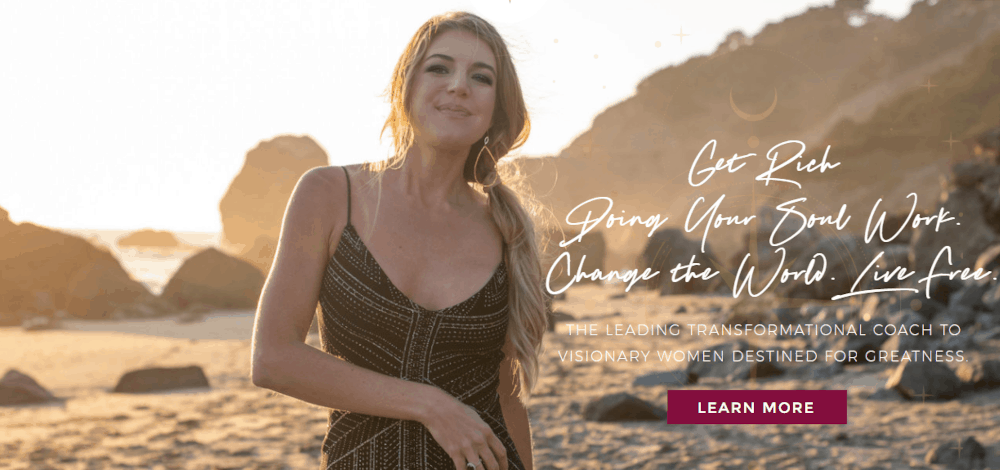 Our content is reader supported, which means when you buy from links you click on, we may earn a commission.
---
Who: Jessica Caver Lindholm
Website: tolivingfree.com
Course Topic: Inspiring business and lifestyle courses
Interesting Stats: Nearly $10k in sales in first afternoon of opening enrollment
Who are you and what course have you created?
I'm Jessica Caver Lindholm, founder of ToLivingFree, coach, writer, speaker, and course creator :). My website is tolivingfree.com which is where you can find my new signature course, Surrender Into Success.
Surrender Into Success is an oasis of space for those ready to drop the struggle. It will help you remember who you really are, create your soul work, prosperity, and impact. And it's all put together in a way that inspires and serves you (and your incredible clients and community). It will help you create the experience of heaven on earth you've been dreaming of … and so much more.
What market does your online course serve?
I work with soul led entrepreneurs, creatives, and visionaries who are ready to discover their soul work and get paid for being all of who they really are. They can change the world, have it all on their terms, and fully live free.
What's the biggest benefit of taking your course?
Creating the life and business beyond your wildest dreams in a way that fills you up instead of drains you :). Dropping the struggle, hustle, and over-complication that is so prolific in the world.  That way you can discover what you actually desire in life and create it without worry or fear.
This is about tapping into something more that many of us are craving. Our deeper purpose and being able to live and grow a business connected to that from a space of freedom and deep inner knowing.
How did you get into the market?
The ideas for my courses and programs are divine downloads, meaning I'm totally surrendered to being a conduit for love on this planet and sharing what's needed most to help others create real freedom, peace, and prosperity.
I never try to figure out what to offer, all my courses come through as inspired ideas that lead me to take inspired action and share the work with the world. - Jessica Caver Lindholm
Click To Tweet
Why did you decide to create an online course in the first place?
Because I'm a content queen, constantly writing, speaking, and focusing on being of service to as many as possible. Courses are a powerful way to get this work into the hands of as many people as possible who need it right now.

Did you have any moments of doubt before you created/launched it?
Honestly, not at all. Some of it might be because I've been coaching and creating courses since 2014.  I have a lot of practice in tuning into what feels aligned to create and live in the energy of certainty around my offers. But, more than that I can say that when I live what I teach in this course, surrendering my life, business, offers, income, all of it over to something greater and then simply showing up and taking the inspired action, the business gets really easy and certainty becomes automatic.
I absolutely use to feel fear and doubt, but living what I teach in Surrender Into Success turned it all around.
What's your online course like?
It's a year-long live space filled with instant access to almost 30 alignments + activation audios. There's monthly video training + coaching calls hosted over Livestream in our private Surrender Into Success FB Group. Monthly guided meditations and mantras go hand-in-hand with the monthly video training delivered in a monthly email just for my Surrender Into Success clients. There's also a monthly hour (or longer) video immersion from my vault of training every month digging deep on the energy of money, manifestation and more. I'm the queen of over-delivering so to have a better idea of what all is included you'll definitely want to check out the sales page.
How long did it take you to create your course?
I'm a big believer in creating courses as you're hosting them, not creating them ahead of time. In almost seven years I've never created a course before I sold it.
I always create courses live with my clients because they have more energy, are more fun and I can make sure the content is specific to what my soulmate clients need most. - Jessica Caver Lindholm
Click To Tweet
So this course will take me the next year to create with my clients.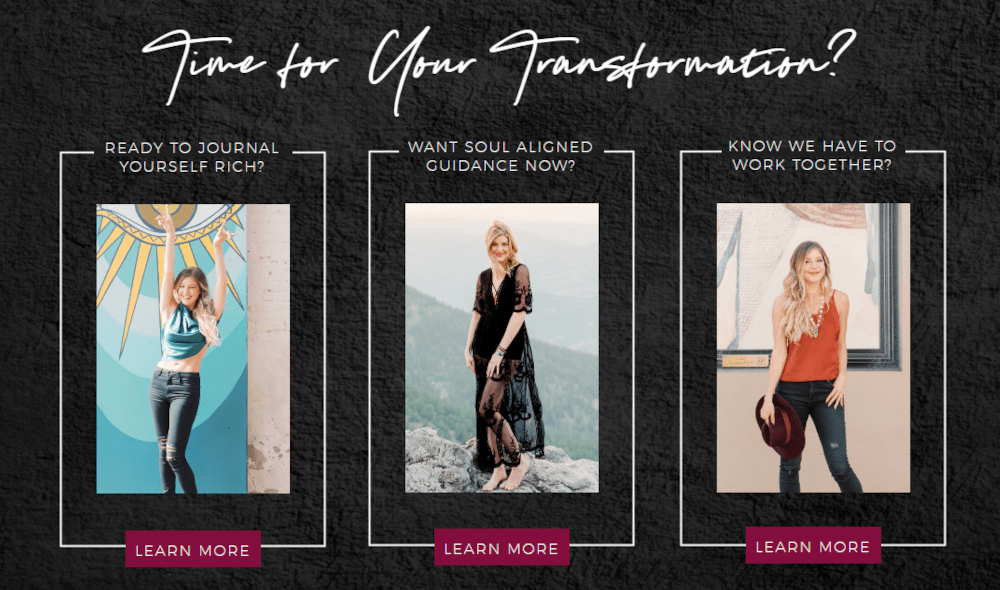 Tell us a little about the process of launching your course and getting your first sale(s).
I don't launch in the way it's normally taught because I believe that launching is easy. It's just creating what I'm inspired to create. I know it will have the biggest impact on my soulmate clients and then telling them about it in the ways that feel good to me.
For me, I love to write so I tend to announce a new program through email. Then email pretty much every day that the program is open with amazing content I feel called to share and an invite to join me in the program. My team takes my emails and posts them on social media. I'll do a live stream or a series of live-streams on social media if it feels inspired, but it's never required.
This is how I sell.
I believe selling is easy and fun and just an extension of me being me. And the launch of my latest program is a perfect example. Sales from amazing soulmate clients started coming in immediately after I sent out the email. I made almost $10k in sales in just the first afternoon of opening enrollment and I expect $100k in sales before the launch ends.
Do you have a lead magnet?
I have a free millionaire mirror visualization and a free prosperity queen Facebook group (that includes a free course). These are available all the time, not specifically for a launch.
I have lots of free resources and content that I share regularly. It's less about one specific resource and more about the fact that all of my free resources and content speak directly to my soulmate clients and show them who I really am.
And I'm incredibly consistent, emailing and sharing on social media at least five times a week for years.
I believe it's this consistency and sharing from my heart that creates the biggest results on repeat. - Jessica Caver Lindholm
Click To Tweet
What's the traffic strategy that works best for you?
My traffic strategy is to be all of me in the ways that feel aligned on all the platforms I feel inspired to share on. That's what I do, just about daily for years.
I personally love Facebook and Instagram and sharing my message on those spaces. This automatically grows my free group, following, and email list. I also use a small ads budget to send traffic to one of my signature courses, Superflow, for just $37 which covers my ad spend and connects me with soulmate clients every day.
What online course platform are you using?
I currently use Thinkific as my course management platform. I do my training live over live streams in a private Facebook group.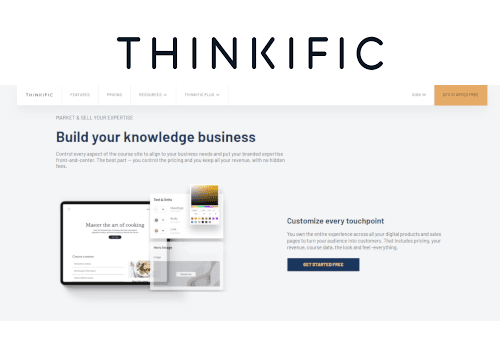 Take a Look at Thinkific!
Thinkific is the most popular online course platform used by successful course creators interviewed on coursemethod.com. It's a complete solution for creating sales pages, uploading all course content, taking payments, and more.
Price Range: Free to $499/month 
Most Popular Plan: Pro Plan at $99/month
Annual Discount: Yes, take 20% off!
Free Trial: Try out Thinkific's core features for free.
*Our content is reader supported, which means when you buy from links you click on, we may earn a commission.
Do you like it?
I do 🙂 I haven't personally set anything upon it at all. My lovely biz manager and COO do all the setup. But, I love how user friendly it is for my clients and that they can easily access their course materials on desktop or mobile.
What made you decide to use your chosen platform over others?
We had a WordPress plugin for our membership prior and I didn't like how it looked. I wanted a membership site that looked cleaner and more aesthetically pleasing and worked better on mobile.
What other tools do you use to run your online course business?
I use the following tools:
Clickfunnels for my sales pages and order forms
Stripe and Paypal to process payments
Infusionsoft to deliver automatic emails
Easy Audio Recorder lite to record my audios
Soundcloud to host my audios
Facebook to create my groups and live streams
Vimeo to host the videos off of Facebook after they're done
Canva to create beautiful graphics
What books or training programs have you found useful on your journey to a successful business owner that others might find valuable too?
So many books, more than I could even list, but some of my favorites at the moment are "Becoming Supernatural" by Dr. Joe Dispenza and "It's Not Your Money" by Tosha Silver.
I probably read "The Science of Getting Rich" six times back to back at the beginning of my business. That really helped get my money mindset where it needed to be to succeed.
Do you have any big mistakes you've made along the way that you'd be willing to share?
My biggest mistake was thinking there was a right way to do things. I was looking for someone outside of myself to be an expert in my life. - Jessica Caver Lindholm
Click To Tweet
I've found the biggest success when I hire coaches and mentors who help me be all of me rather than those who just want to teach me their system or strategy.
For a while, I thought there was a "right" way to do things. If I didn't do it right I would fail.
This created a huge amount of stress and pressure and led me to feel like I'd even broken my business at one point. My business was transformed when I stopped trying to do things "right".
I focused on being all of me and doing exactly what I'd do if I had complete freedom to run my business exactly how I desire and knew it would work.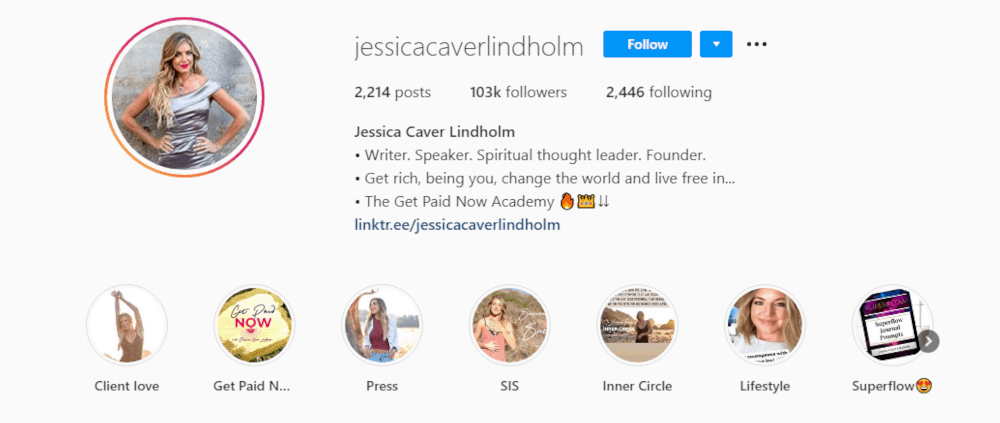 Please share some idea of revenue.
I started my business in 2014, and after making only $7,000 the year before doing side jobs, I quickly turned this business into a 6-figure business in just six months. I proceeded to double my annual income for the next two years.
Then 2017 was the year I found myself getting way too caught up in the rules. I still had a multi 6-figure business but I was done with the hustle and knew I would burn myself out if I kept on in the way I had. So I set all the rules on fire and reset my whole business (and life) back to the soul.
The results were almost immediate with my income quickly climbing in 2018 from $40k to $70k to $100k a month in cash income. I don't focus on sales, I always focus on the actual cashflow into the business.
My business continues to live at the frequency of at least $60k-$100k a month. I don't think about my courses or launches in terms of how they will help me hit income goals. Instead, I focus on being an energetic match for a minimum amount of money and know it's impossible for me to drop below that no matter what.
Please tell us a little about what the money you've earned from your course has done for you.
I believe in living free. That's why my business is called To Living Free. To me freedom is unlimited time, money, and mindset to do exactly what you desire with, feeling totally free in these areas.
My business has helped me create total freedom in all of these areas. I always have money for all of my desires plus excess leftover.
I bought and built my dream home with my husband. My husband quit his job in my first year of business. He has worked with me and lived out his dreams of being a musician since.
I'm writing this to you on my rose gold Mac in the Mercedes sports car I bought last year that I'm about to upgrade to my absolute dream car, a Mercedes G-Wagon, that is being custom-built for me right now. We're driving up to Aspen, Colorado with our two dogs to spend the week at a beautiful property through our luxury travel membership.
I live what I teach. I know that all of my needs are always met. Everything is always working out for me, that the better it gets, the better it keeps on getting. And that we really can have, be and do anything once we get clear on what our soul desires truly are, surrender to our highest self, to love and just keep taking the next inspired action.
In addition to revenue are there any numbers you would like to share?
I honestly don't look at these numbers much at all. For instance, I know my email list is relatively small compared to other people who are at the same income level as me. But…I have no idea what my email list size actually is. I haven't looked at the numbers for my email list in at least a year.
Instead, I focus on my areas of expertise. That is, being a visionary leader, sharing my message far and wide, and helping as many as possible.
What I really am focused on is reaching hundreds of thousands of people every month with my message. I do know that my warm leads reach through Facebook, Instagram and my email list is reaching high numbers. That's what's important to me.
How did I do it? The same way I do everything 🙂 I get clear on what my true soul desire is (in this case reaching hundreds of thousands a month with my message). I surrender it completely over to divine knowing it is done. Then I take any inspired action I'm called to take until it is done.

What has creating your course done for you personally?
I'm living my truth, my destiny, and my legacy by having this business and consistently creating my writing, courses, and doing my soul work. There is nothing more fulfilling than that. I'm doing what I came to this planet to do. To help evolve consciousness and create real positive change while living my fullest human expression, having fun, helping others, being in love, laughing, and living free. It doesn't get better than that.
Do you have a story of a transformation from any of your clients?
I receive messages every day from clients who have had a breakthrough, changed their mind, changed their life or are doing their soul work and creating real results that make them feel amazing, but most importantly, they're setting themselves free.
You can see just a few of the thousands of case studies from my clients over on the Surrender Into Success sales page, the Get Paid Now sales page, or on my website at tolivingfree.com.
What advice do you have for people just starting out?
This is all easier than you think it's going to be.
Just remember who you really are and how powerful you are. - Jessica Caver Lindholm
Click To Tweet
You always know what you truly desire and the inspired action to take to create it. You need to get out of your head. Stop giving your power away to others and tune back into your heart and soul. And if you feel lost and need a reminder of how magical both you and life are, come find me and we'll shift you back to your natural state of unstoppable and free, fast.
Learn more about Jessica Caver Lindholm of tolivingfree.com: