Free & Paid Tools for Transcription [Make Transcribing Videos Faster & Easier]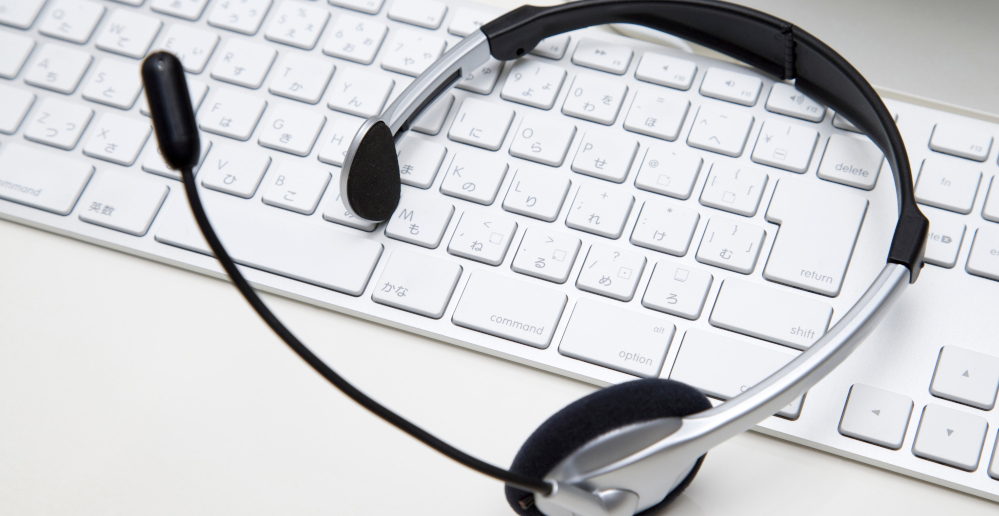 Our content is reader supported, which means when you buy from links you click on, we may earn a commission.
---
Creating a video or even more so, online training, involves a lot of planning and production. One important step in the process is transcription, which can be time-consuming and difficult to do correctly, especially without tools for transcription.
But it's well worth it to transcribe videos. In fact, 85% of the videos on Facebook are watched with the sound off. So people need captions to understand the content of the video.
There are a variety of tools and services that can make the transcription process easier. In fact, the transcription market is quite lucrative. It was valued at $19.8 billion USD in 2019 and is only expected to grow over time.
I've put together a list of my favorite transcription tools. Check out the list below and see which ones work best for you!
Free Transcription Tools
Free transcription tools come in handy. That's why we've designed a list of the best tools to transcribe your video quickly and easily.
oTranscribe
oTranscribe is an easy-to-use manual transcription online web app that transcribes audio and video files and YouTube videos. In addition, oTranscribe offers interactive timestamps and shortcut buttons.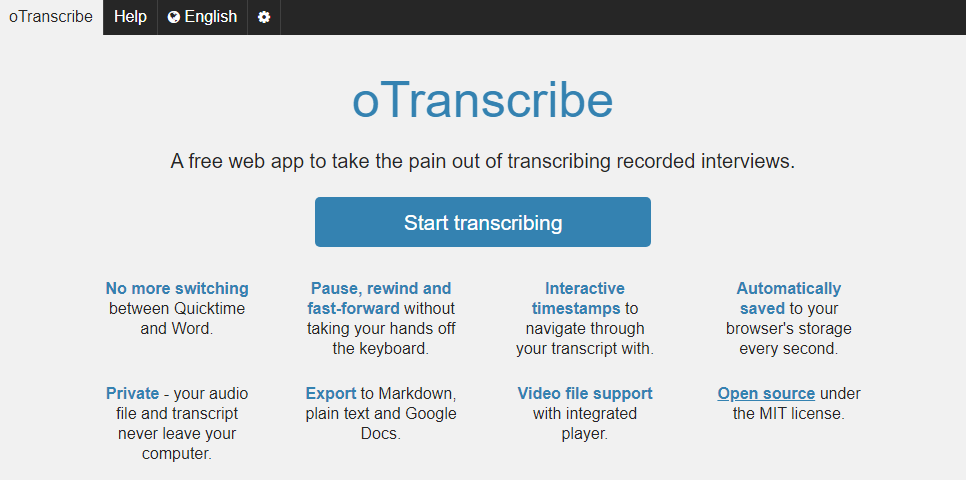 What you do is upload your audio file or type in the URL to your YouTube video. Then oTranscribe will provide you with some tools to help you forward, pause, and rewind the audio.
You have to type in what you hear into the transcription space. It will insert the current timestamp with a keyboard shortcut.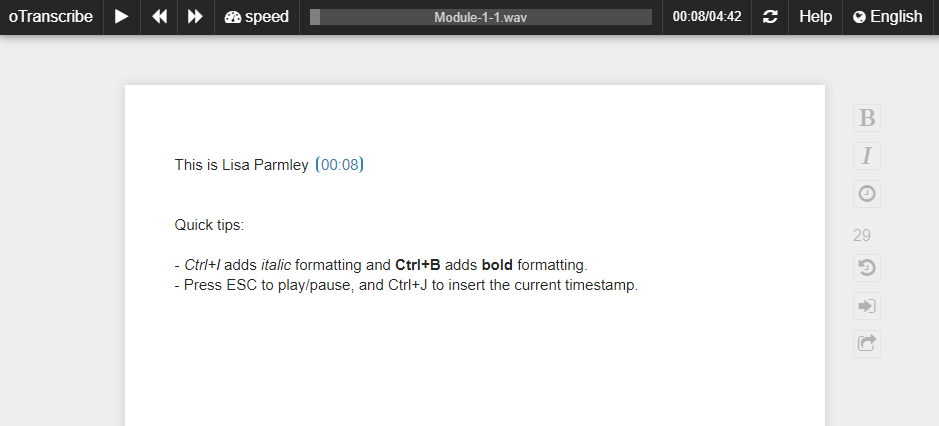 Despite oTranscribe's lack of automated transcription, it will automatically save a copy of your working file to your browser's storage every second. Then oTranscribe makes it easy to export when you're happy with your transcript.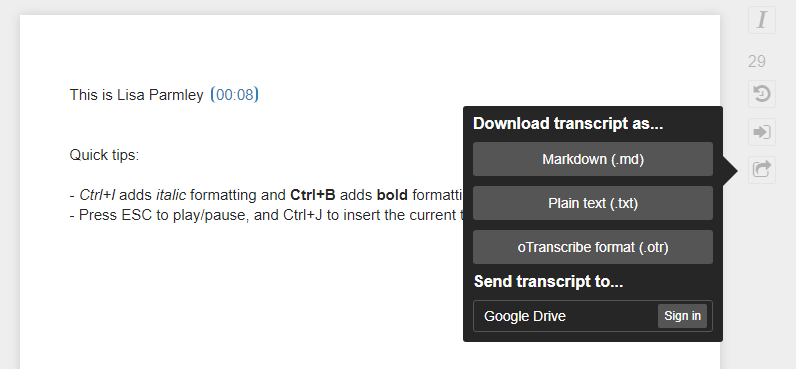 Express Scribe
Express Scribe is free downloadable software that allows content creators to transcribe video and audio files. It features USB foot pedal control and hotkey shortcuts that help save time typing and control the mouse-free playback speed of your recording with additional audio optimization.

It is compatible with PC and Mac and supports over 45 audio and video formats. Express Scribes also integrates speech recognition software such as Dragon Naturally Speaking and FastFox Text Expander to convert speech into text automatically.
The FTW Transcriber
The FTW Transcriber is a premium transcription software for Windows and Android mobile smartphones or tablets compatible with all word processors.

However, FTW Transcribe for Android is not automatic. Instead, it contains a built-in text editor to support manual transcription and enables audio and video playback.
FTW features high-quality enhanced sound capability and automatic customizable timestamps and frames with selective formats and bookmark features for easy share. In addition, you can play the files on a local drive or remote server without downloading them.
Transcribe
Transcribe by W Really uses AI to transcribe recorded speech in over 80 languages into text software with easy and accessible export options such as doc, txt, and subtitle files. It's not completely free but is currently $20/year for the manual version. If you want automatic transcription then the cost is $20/year + $6/hour of transcription.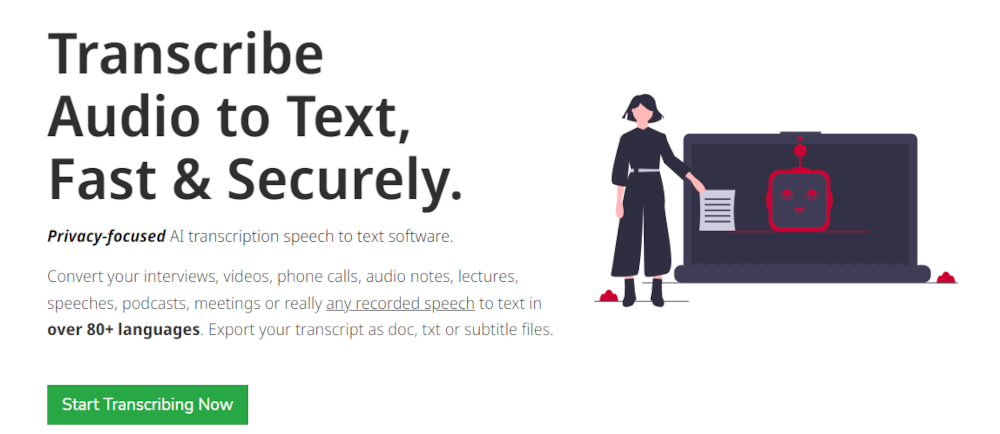 It features manual transcription options with built-in text expanders and foot pedal integration. In addition, Transcribe offers offline editing and playback connection under a secure and private policy. Transcribe never stores your content on their servers after processing, and self-transcribed content remains on your browser or computer even after export.
Paid Transcription Tools
Although free transcription tools may seem appealing, they may not always be the best option for high-quality transcriptions, especially those that are long. Instead, paid transcription tools offer an array of perks that can save online content creators valuable time and get better accuracy.
Otter.ai
Otter.ai captures real-time audio and video files for an economically feasible cost with a simple click using its signature Otter Live Notes. Note-takers can actively listen to the conversation without a pen and paper.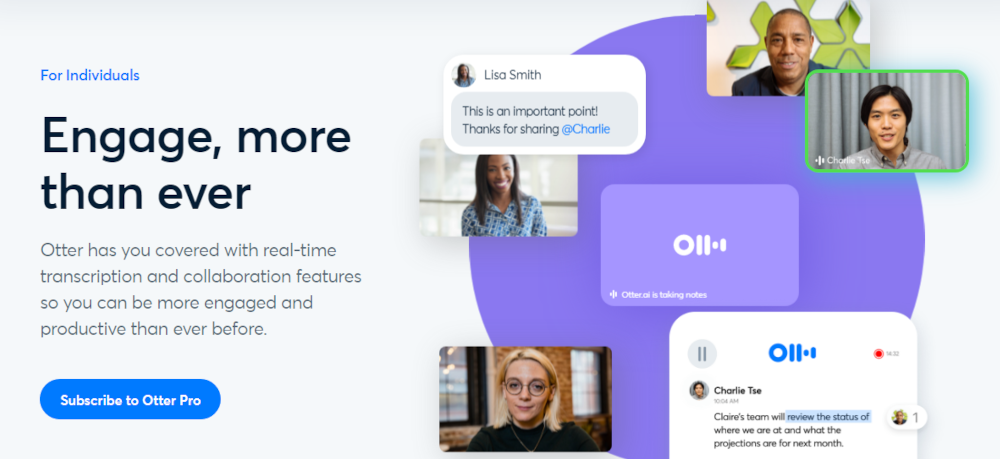 Otter also offers incredibly advanced search options that allow users to search keywords and stand-out phrases at any time quickly. In addition, all transcriptions are ready for export in formats such as PDF and Microsoft Word.
Rev.com
Rev's top-rated speech-to-text transcription solutions help small businesses access affordable, high-quality captions and transcripts. They combine fast technology with accurate and scaleable options that instantly boost content accessibility to your audience and beyond.

In addition, Rev offers the ability to transcribe your English content into non-English audio transcripts vetted by reliable human freelancers. Your content can reach national and international markets.
Happy Scribe
Happy Scribe offers hybrid premium automatic transcription software and human language professionals that convert audio and text into related transcription and subtitles in over eight languages.

Happy Scribe easily integrates with popular platforms such as YouTube without file size and length restrictions. All uploaded files and subtitles are private and protected with a guarantee.
Descript
Descript is the best-paid transcription tool for media creators that lets you start at no cost. Whether your content is recorded as a podcast, video, or screen recording, Descript has your back.

It combines automatic and on-call human transcriptions with collaboration tools that offer the fastest economic turnaround time in less than 48 hours. So, if you're running late, you can give collaborators quick access to any project with instant share and secure cloud protection.
Manual Transcription
Transcriptions can transform audio and video files into written text transcripts available for download or closed captions. Creators that want to reach a wider audience can use the manual human transcriptionist who can pick up on various accents and complex languages that AI cannot.
However, expert manual transcription is a high-value skill that is not economical for long hours of audio collections related to complex subjects resulting in hefty fees.
Transcription Software
Transcribing your content on a simple Word Doc is outdated and requires many carefully dedicated hours. So instead, use manual transcription software such as Inqscribe.
It's simple to use. Drop your audio or video from your drive or servers and type. Inqscribe also features media playback and pitch lock options that allow you to control the speed with timeline scrubbing.
Transcription Foot Pedal
Professional transcriptionists know that having the right foot pedal can help you spend less time finicking with hotkeys and more time typing high-quality transcriptions.
Foot pedals with anti-slip pads are ideal for transcribing performed on the carpet, hardwood, concrete, and tile flooring, with slip and body repositioning likely to occur. Wireless pedals with Bluetooth and Wi-Fi capability are perfect for mobile.
Foot pedals with magnetic switch systems don't interrupt audio recordings with annoying nuanced clicking noises. In addition, they reduce wear and tear on your ankles over time.
Noise-Canceling Headphones
Transcribing your content from anywhere comes with perks but also setbacks that can result from a noisy background. However, noise-canceling headphones engineered to reduce noise allow you to listen to audio and video without distraction.
And ECS Wordmaster Transcription Headphones are the go-to premium monitor headphones that deliver superior sound isolation. Users can adjust the sound to their liking.
FAQs on Transcription Tools
What is transcription in video editing?
Transcription in video editing is the process of converting audio into text. This can be done manually, by listening to the audio and typing out what is said, or by using speech recognition software. The transcription can then be used to create subtitles or closed captions for the video.
Transcription can be a time-consuming process but is essential for creating videos that are accessible to viewers who are deaf or hard of hearing. In addition, transcription can be a useful tool for editing videos, as it can help you to identify key points and sound bites. However, it is important to note that transcription is not an exact science, and there may be some inaccuracies in the text.
What is the most accurate transcription tool?
There are a number of different transcription tools available on the market, but not all of them are created equal. When it comes to accuracy, the most important thing to look for is a tool that uses artificial intelligence (AI). AI-powered tools are able to learn and adapt as they transcribe, which means that they can provide more accurate results over time.
Additionally, AI-powered tools often come with features like real-time editing and error correction, which can further improve accuracy. If you're looking for the most accurate transcription tool available, make sure to choose one that uses AI. From there, you can edit it for accuracy. Alternatively, you can opt to pay for manual transcription.
What are the 4 types of transcription?
Transcription is the process of turning spoken words into written text. It can be used for a variety of purposes, such as creating meeting minutes, transcribing lectures, and producing closed captions for videos. There are four main types of transcription: verbatim, edited, summary, and phonetic.
Verbatim transcription captures the speaker's words exactly as they were spoken, including any fillers or verbal ticks.
Edited transcription is similar to verbatim transcription, but it excludes any errors or non-verbal sounds.
Summary transcription condenses the original speech into a shorter format, preserving the main points and skipping over any unnecessary details.
Phonetic transcription uses symbols to represent the sounds of the original speech, which can be useful for analyzing regional accents or recording rare words.
How accurate is Otter?
Otter.ai is a speech-to-text app that is gaining popularity for its accuracy in transcribing conversations. The app relies on artificial intelligence to identify different speakers and to understand the context of the conversation. This way, it can provide a more accurate transcription than other speech-to-text apps.
Otter is also able to recognize nonverbal cues, such as laughter and applause. This makes it even more accurate than traditional transcription methods.
How long does Otter take to transcribe?
The length of time it takes Otter.ai to transcribe audio varies depending on the length and clarity of the recording, but in general, it takes around 5-10 minutes per hour of audio. So, if you have a 1-hour recording, it will take Otter around 5-10 minutes to transcribe it. Of course, this is just an approximation – some recordings may take longer or shorter to transcribe depending on the individual recording.
Wrapping Up
Transcribing your video content is well worth the effort. As you can see, there are many inexpensive or even free transcription services available.
The best part is, whether you're creating a single video or a series of online training, you only need to transcribe your video once. After that, each and every visitor can benefit from the effort you put in.
It's not just people who have trouble hearing who will benefit. Many people watch videos with the sound off (while at work or somewhere else that's not private). So having those captions will help everyone better understand the content of the video.
Now it's time to get out there and start creating some amazing video content. Don't forget to use transcription to make that content even more valuable to your audience.