The Essential Guide to the 5 Best Free Closed Captioning Software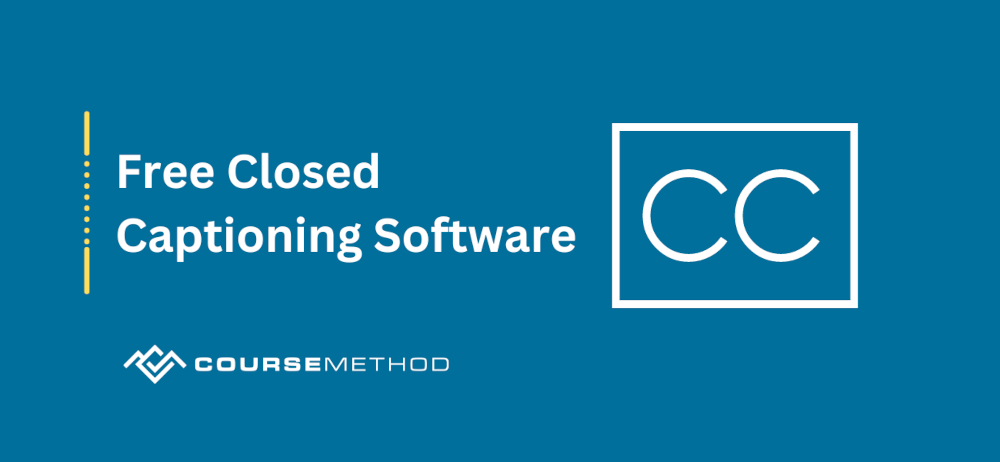 Our content is reader supported, which means when you buy from links you click on, we may earn a commission.
---
Closed captioning is essential for making your online courses and videos accessible to all users. This includes deaf or hard-of-hearing viewers which make up approximately 15% of Americans 18 and older.
Fortunately, there are a number of free closed captioning software options available to help you make your content more inclusive.
In this post, we'll take a look at the best free closed captioning software options currently available. We'll also discuss some tips for creating captions that are both accurate and engaging.
Let's get started!
Closed Captioning vs Open Captioning
Closed captions are softcoded captions that users can turn off if they want. This is because closed captions are saved in a separate file from the video. The best thing about closed captions is that they can be made available in different languages. In addition, they can be modified or corrected even when they have been exported.
Since closed captions are text-based, they are very beneficial for SEO purposes. That's because search engines can read them and have a better understanding of them. This means your video will have a better chance of popping up in response to relevant search engine queries.
Not all social media platforms allow closed captions to be uploaded (including Instagram and TikTok). However, there is a possibility this may change in the future.
Open captions, on the other hand, are permanent captions that are always visible and can never be turned off. These captions have been hard-coded or "burned" into the video itself. Open captions become an inextricable part of the video file.
The benefit of these captions is that you can upload such video files on all platforms, including Instagram and TikTok. However, they do not allow you to upload captions in multiple languages. Since they are not text-based but rather visual-based, search engines cannot read them. That means they are not beneficial for SEO.
Captions vs Subtitles
Captions are a textual representation of the spoken words in a video. They are synced exactly to what is being said in the video. Captions also contain the speaker's ID as well as display what kind of sound effect is being used.
As such, they offer accessibility to people who have difficulty hearing and people who are viewing content that is not in their native language.
On the other hand, subtitles are text of the language spoken in the video. In most cases, subtitles do not contain the speaker's name and sound effects. Subtitles do not offer as much accessibility to some groups of people as captions. Subtitles can also be hardcoded into the video or set up so the viewer can turn them on and off.
The Captioning Process
The captioning process is done in multiple steps. Let's take a look at these steps:
1. Creating the Transcript
The transcript creates all the relevant commentary, narrative, and dialogue, as well as non-verbal elements. In addition, it includes the name of the speaker.
You can manually create a transcript with a basic text editor. However, this process can be time-consuming for longer videos and leaves much room for error. Another option is to hire a transcription service that can do the task for you in as little as a day.
You also have the option of using automatic speech recognition software. Although, in many cases, it might not be very accurate. Still, you can edit the transcript to correct the mistakes. This might take a shorter time than manually writing down the entire transcript from scratch.
2. Creating the Time Codes
Do not try to create time codes by yourself, as it can take a really long time. There's also a high chance you won't get the timestamp right. However, there are several special software available that can create a caption file for you with perfectly synced time codes that can be published to your video file.
3. Adding the Caption File to the Video
Depending on the software you are using, incorporating the captions into the video can be done in a couple of different ways. You can either upload the caption file to the server or upload the caption file to the same location as the video and tell the software that your caption file is present and ready to be incorporated into the video.
How to Make Closed Captions, Subtitles, and Transcriptions Efficiently
The easiest way to create closed captions, subtitles, and transcription is by using transcription tools, captioning software, or a browser-based captioning platform. You can choose the one that fits your needs the best.
You also have the option of using one tool for captions or subtitles while using another tool to convert the file into the desired format.
Whatever you decide to do, the closed captioning software mentioned here can help you achieve this.
Top 5 Free Closed Captioning Software
Here are five of the best closed captioning software in the market.
1. Movavi Video Editor
Movavi Video Editor is a feature-rich video management software that might require a learning curve for beginner users. The software offers a lot of functionality and features to create and edit subtitles and captions. You also have the option to customize the size, font style, and position of the caption.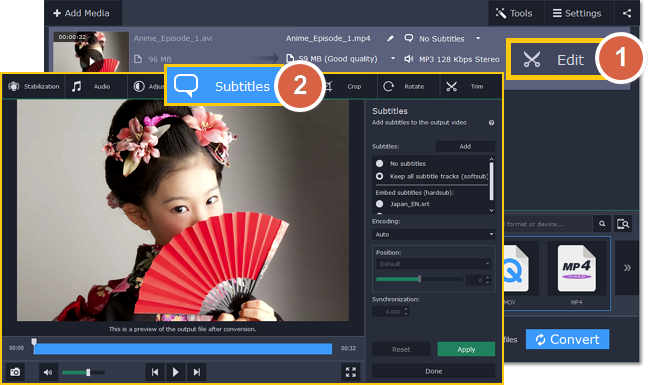 This software comes with bells and whistles and allows you to add various filters, transitions, and stickers to the video. As such, you can turn your presentation into a work of art if you want to. If you need help, the platform offers you various resources and tutorials. It also supports a wide range of video formats.
Keep in mind, though, that the rendering may be a bit slow.
2. EaseUS Video Editor
EaseUS Video Editor is a user-friendly and flexible video editing and captioning software that beginner and intermediate users can operate with ease. The robust editor offers you basic as well as advanced editing tools and support functions like trimming, rotating, cropping, merging video clips, and adding subtitles and captions.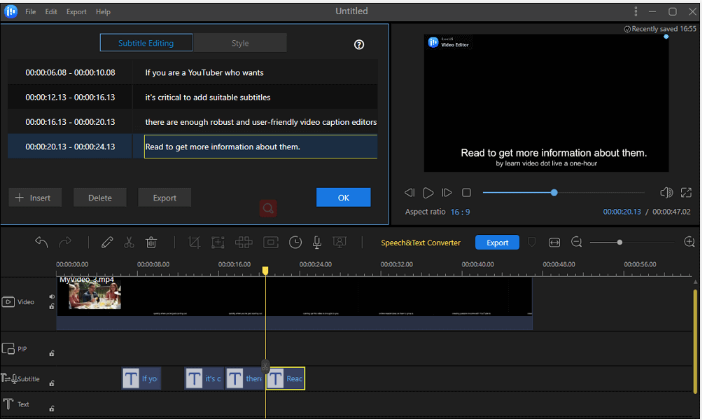 The video editor offers lots of functionalities without adding a watermark to the video. It also gives you the option of either manually adding your captions or importing SRT files. The syncing process itself is very easy since the platform offers you specific tracks for the subtitles.
In addition, it supports various audio and video file formats as well as file export, depending on the playing device.
3. Adobe Express
If you want an intuitive video player from a software powerhouse, then Adobe Express Video checks the box. This is a wonderful platform for creators and instructors who do not have much experience with creating captions.

With Adobe Express, you can take your video to the next level by creating videos through slides. Adding captions to the slides is a simple matter of a few clicks. The software also offers you some pre-made layouts for adding subtitles as well as royalty-free music and images. Keep in mind, though, that you do not have the option of enlarging images and text.
Adobe Express provides direct export of your video to Facebook and Twitter.
4. Amara
Amara is a potent and user-friendly online subtitle editor and is one of the few cloud-based subtitling platforms that are available for free.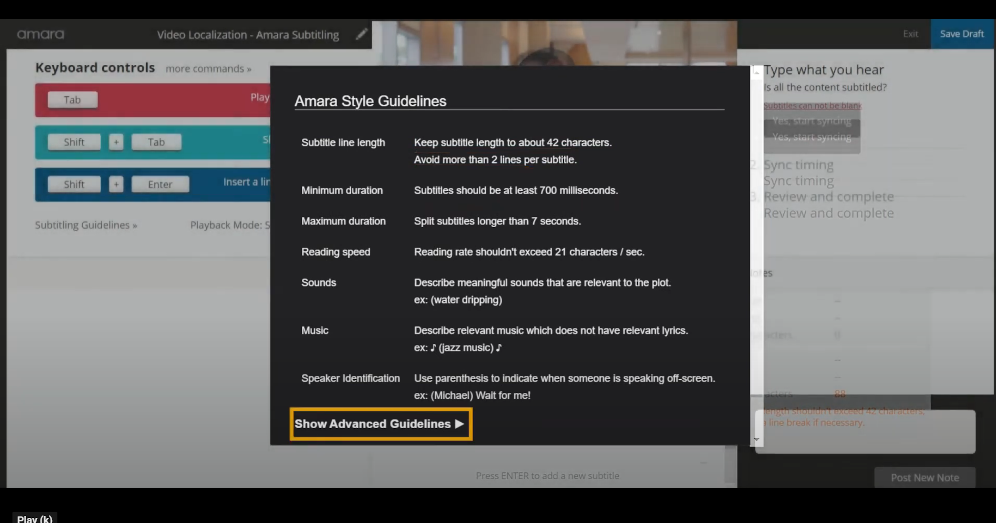 With Amara, anyone can create subtitles without any prior experience and without requiring a learning curve. The platform offers you various keyboard shortcuts to perform specific functions. Course creators and instructors can easily sync the video while it is playing by simply clicking on the up or down key. The platform also offers a different playback mode for beginners and experts so that you can subtitle at your pace.
As you sync the captions to the video, the platform will add time stamps. For experienced users, Amara offers time-cutting features like changing time codes individually or in bulk.
The platform has a built-in player that plays the video as you work, so you can watch the subtitles on the video as the viewers will see it in the final version. This can help you make smart decisions on the placement and length of the subtitles on the screen.
The subtitle editor can also set up a direct integration with YouTube and Vimeo.
5. YouTube Automatic Subtitles
YouTube Automatic Subtitles is a great feature from YouTube that can help you generate captions in various languages, including English, French, Spanish, Italian, German, Japanese, Korean, Russian, and Portuguese. Although the captions may not be 100 percent accurate, the automatic syncing is pretty decent and save you a lot of time captioning your video.

One thing to keep in mind when using YouTube to generate subtitles is to always upload videos with clear and high-quality audio. If the platform detects that your video has too much background noise, it will not give you the option to add automatic subtitles since it doesn't want to offer you low-quality captions.
If your video is in English, the platform will start to automatically caption your video while you are uploading it. However, if it is in some other language, you will need to go to the "Video Editing" page and click on the "Subtitles or CC" option to prompt it to create subtitles for the video.
FAQs on Closed Captioning Software
Is there automatic closed captioning software I can use?
Automatic closed captioning software is a type of software that can be used to automatically generate captions for video or audio content. There are a number of automatic captioning software programs available, and they can vary in terms of features and accuracy. Some automatic captioning software programs are designed specifically for education or government use, while others are more general purpose.
What is video transcription software I can use?
There are a few different video transcription software options available, depending on your needs and budget. One popular option is Otter.ai, which offers a free basic plan as well as paid plans with more features. Another option is Temi, which offers a pay-as-you-go pricing model.
If you have a lot of video footage to transcribe, you may want to consider a subscription-based service like Rev.com, which offers unlimited video transcription for a monthly fee. Whichever video transcription software you choose, be sure to read the reviews to make sure they will meet your needs.
Is there any SRT maker and closed captioning software that can create SRT files?
While there are a number of SRT makers on the market, not all of them have the ability to create closed captioning files. However, there are a few software programs that are specifically designed for this purpose.
One such program is CaptionMaker by Telestream. This software allows users to create SRT files from scratch or import existing files and edit them as needed. CaptionMaker also supports a wide range of video formats, making it a versatile tool for captioning videos.
What closed captioning software works with Zoom?
Closed captioning software options that work with Zoom include Otter.ai, Rev.com, and Live Caption & Transcript.
Otter.ai is a popular choice because it can generate transcripts in real time and has a wide range of features, such as the ability to search through transcripts for keywords and phrases.
Rev.com is another option that offers real-time transcription and a range of other features, such as the ability to export transcripts in different formats.
Live Caption & Transcript is a closed captioning software that offers live transcription as well as the ability to create transcripts from recordings.
What is closed captioning software?
Closed captioning software is a type of captioning that is closed, or not visible to the audience until it is turned on by the viewer. It generally includes captions that are burned into the video signal or stored in a separate file.
Closed captioning can be used for many different purposes, including providing access to television and movies for people who are deaf or hard of hearing, or improving the accuracy of translations into other languages. Some closed captioning software systems also allow users to customize the captions to their own preferences, such as changing the font size or color.
What is an example of closed captioning?
An example of closed captioning is when you can read the dialogue that appears on the screen. Closed captioning or subtitles are also sometimes used for people who are watching a program in a language that they are not fluent in. In these cases, the subtitles can help to provide a translation of the dialogue.
Additionally, closed captioning can be used for people who are in noisy environments, such as bars or airports, where it can be difficult to hear the audio. By providing a text version of the dialogue, closed captioning can help to make a video more accessible to a wider range of viewers.
Wrapping Up
Closed captions can be an important part of your video marketing strategy.
That's even more true if you're hoping to reach a wider audience.
Adding closed captions is easy and free with the right software. There's no reason not to give it a try so get started today!