Kajabi Pricing: Is Kajabi Worth the Price?

Our content is reader supported, which means when you buy from links you click on, we may earn a commission.
---
Kajabi is one of the longest-running online course platforms around. They started offering their product in 2001 and have continuously added to their platform which is why they are still a top choice for selling online courses. Kajabi states online courses run by their customers have earned over 1 billion dollars in revenue.
I don't doubt it. They have some of the top names in the online course creation industry using their platform including Brendon Burchard and Amy Porterfield. I've interviewed many successful online course business owners also using Kajabi. These include Susie Carder of SusieCarder.com and Caitlin Pyle of Proofread Anywhere.
Kajabi is one of the top online course platforms used by successful course creators interviewed on coursemethod.com. Kajabi includes email marketing and other tools that make it easy to run your entire business from their platform.
Price Range: $149 to $399/month
Most Popular Plan: Growth Plan at $199/month
Annual Discount: Yes, take 20% off!
Free Trial: Get a 14-day free trial (credit card required)
What Does a Kajabi Plan Include?
The Kajabi course platform offers all the features typically found in a cloud LMS (LMS stands for learning management system) including eCommerce, a top-notch website builder, and a full suite of LMS tools like video embeds, quizzes, and progress tracking. You can build unlimited landing pages and there's even a Kajabi app so learners can access course content from their mobile devices.
Send Unlimited Marketing Emails with Kajabi Software
In addition to what you'd typically expect, Kajabi has also integrated a fully functional email marketing tool complete with email automations within their platform. With Kajabi you don't need to look for an outside email provider.
You can use their email solution along with a set of exceptional course platform tools to offer your digital products including membership sites and online courses.
Kajabi provides one of the top platforms for running an online business thanks to advanced marketing automation to help you build customer relationships. It's perfect for small businesses just starting out, medium-sized businesses, and multi 7-figure business owners.
Sales Pipeline Builder
Kajabi offers an advanced sales funnel builder to help you go from prospect to sales in no time. You can build landing pages with this, opt-in forms, and your sales pages, all designed with high conversions in mind. There are templates for the landing pages that you can choose so no design skills are needed. This is one of the top marketing tools and it's available with all pricing plans.
Kajabi Community Features
In addition to the built-in LMS, there's also a built-in community platform within Kajabi. This community feature can be used within your course or membership site. It allows your learners to communicate with each other as well as with you.
There are many different community platforms available to you, but Kajabi features one right within their platform. No third-party platform is needed. This is a very convenient feature since your learners won't need to log in to another platform. They can access the community right from within their course or membership site hosted by Kajabi.
Kajabi's Pricing Plan Overview
Kajabi offers three pricing tiers and you can choose from monthly or annual billing options. There is no free plan with Kajabi, however, you can get a free trial of any plan. The free Kajabi trial lasts for 14-days. The tiers consist of a Basic, Growth, and Pro plan.
You choose the tier that's best for you and then claim your Kajabi free plan for 14-days. Your first payment will be due after that.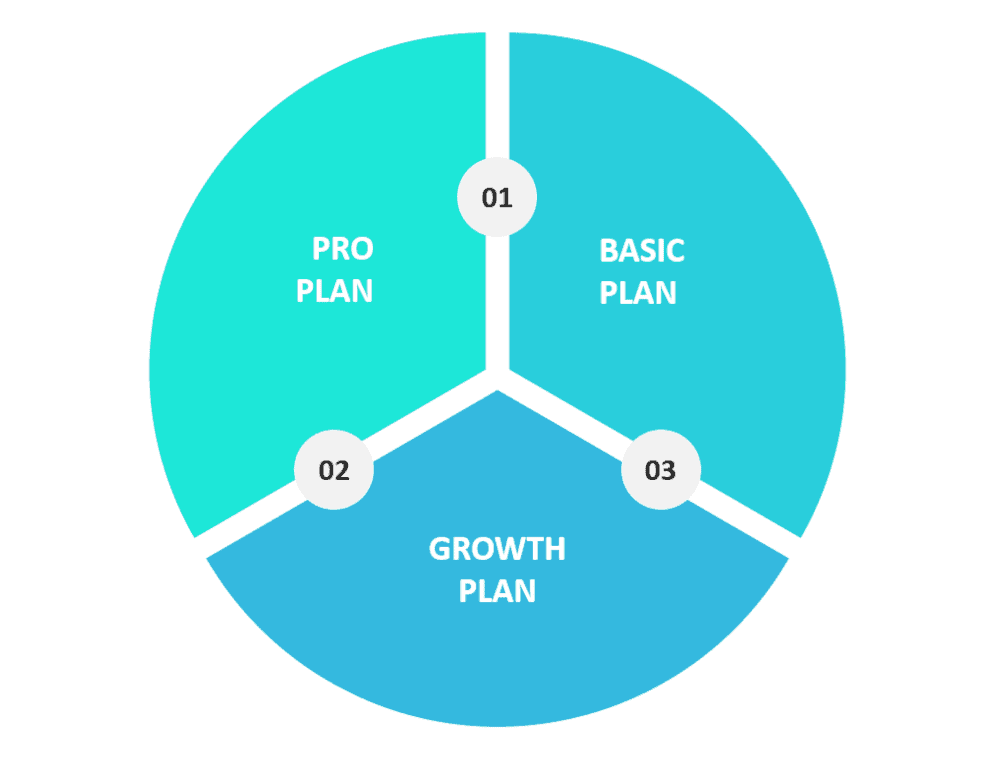 You'll save 20% off Kajabi costs if you choose a yearly plan. Here's a screenshot of the current monthly costs:

Here are the pricing plan options along with prices listed out in table form:
| | | |
| --- | --- | --- |
| Plans | Monthly Pricing | Yearly Pricing |
| Basic | $149 per month | $119 per month |
| Growth | $199 per month | $159 per month |
| Pro | $399 per month | $319 per month |
There are no transaction fees involved with any of the Kajabi plans. You will have payment processing fees, but that's unavoidable with any method for taking payments online.
Every Kajabi plan comes with a powerful suite of tools that work together. The course platform is beautifully created and you can choose from customizable themes so your course doesn't look exactly like everyone else's.
Each Kajabi plan offers seamless integration with Stripe and PayPal where you can use subscriptions, payment plans and one-click upsells. You'll have access to Kajabi email which offers forms and a visual email builder as well as automations and pipelines to wow your learners.
There's a mobile app as well as communities, and tracking, and analytics. In addition, you'll gain access to Kajabi University which walks you through everything you need to start selling online courses. Kajabi University includes access to Bootcamps on how to use the platform as well as the How To Series which helps you build your business online.
All pricing tiers come fully loaded making it a good choice for many business owners offering online courses.  Here are the key features for each of the 3 Kajabi pricing plans.
Kajabi's Basic Plan: Offer Up to 3 Products
The Basic Plan allows you to have up to 3 digital products and 3 pipelines. You can connect up all your marketing through the pipelines including your landing page, opt-ins, email sequences, and more. Pipelines are very useful serving as a way to help automate your sales processes.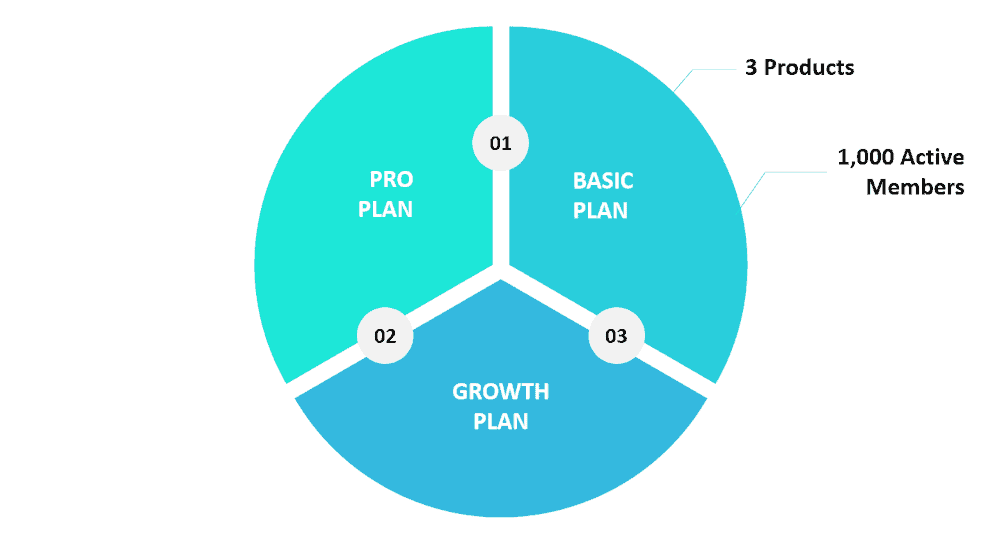 With the Basic plan, you have unlimited access to the landing page builder and may send unlimited marketing emails. However, you are limited to 10,000 contacts (which is still enough for many online business owners).
You do however have limitations on the number of active members you have. These active members are people who have logged into your courses at least one time during the month. With the Basic Plan, you can have up to 1,000 active members.
Lastly, the Basic Plan gives you access to assessments which include quizzes as well as surveys, automations, and live chat support.
Who Should Use Kajabi's Basic Plan?
If you are just starting out and have 3 or fewer products then I would suggest using the Basic Plan at first. The Basic Plan offers you a great way to start building your online course business until you need the features in the next plan.
Kajabi's Growth Plan: Offer Up to 15 Products
This is the most popular Kajabi pricing plan. With Kajabi's Growth Plan, you can create up to 15 products and have up to 15 pipelines. You're limited to 25,000 contacts and can have up to 10,000 active members. At Growth Plan level, you may also have 10 admin users.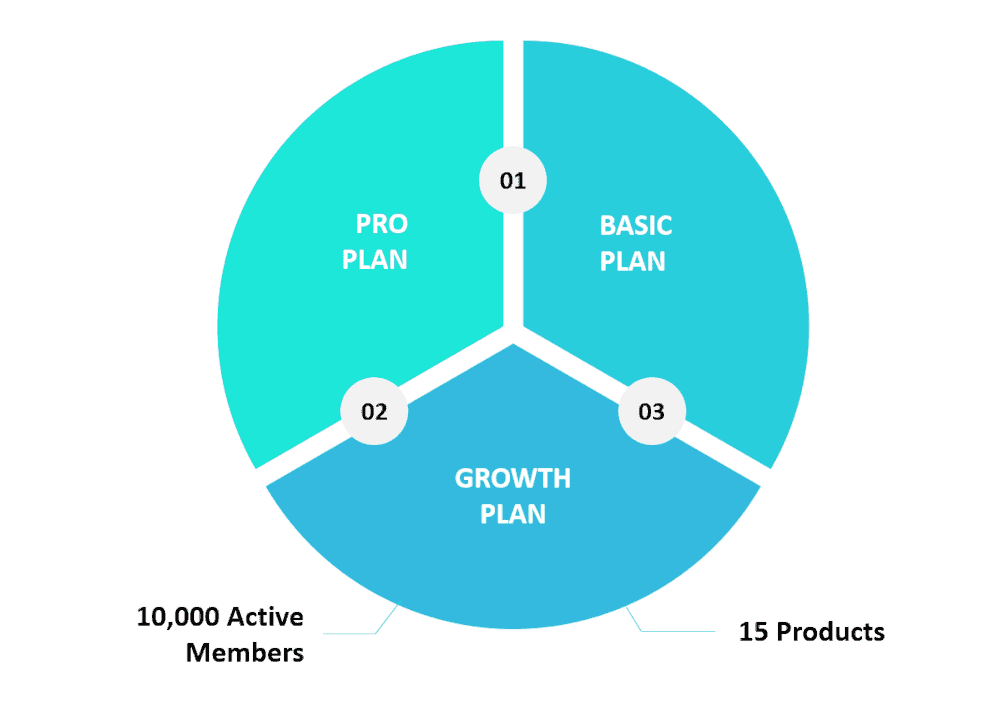 Now in addition to all these upgrades, the Growth Plan allows you to remove the Kajabi branding from your site which is a plus. This might be another reason to start out at the Growth Plan level.
With the Growth Plan you will also gain access to advanced automations, the ability to run an affiliate program, and receive 24/7 chat support as well as a Customer Success Activation call.
Who Should Use the Kajabi Growth Plan?
This is the pricing tier Kajabi recommends you start with. Since you get the affiliate program, the ability to remove the Kajabi branding, and advanced automations, it makes sense especially if you will have more than 3 courses fairly soon after you sign up. Kajabi's Growth Plan is definitely an all in one platform.
Kajabi's Pro Plan: Offer Up to 100 Products
With Kajabi's Pro plan you can offer up to 100 products and have up to 100 pipelines. You can send up to 2 million marketing emails per month. You'll have a limit of 100,000 contacts and can have up to 20,000 active members.
Just like the previous plan, the Pro plan gives you access to advanced automations, the ability to run an affiliate program, and you'll receive 24/7 chat support as well as a Customer Success Activation call.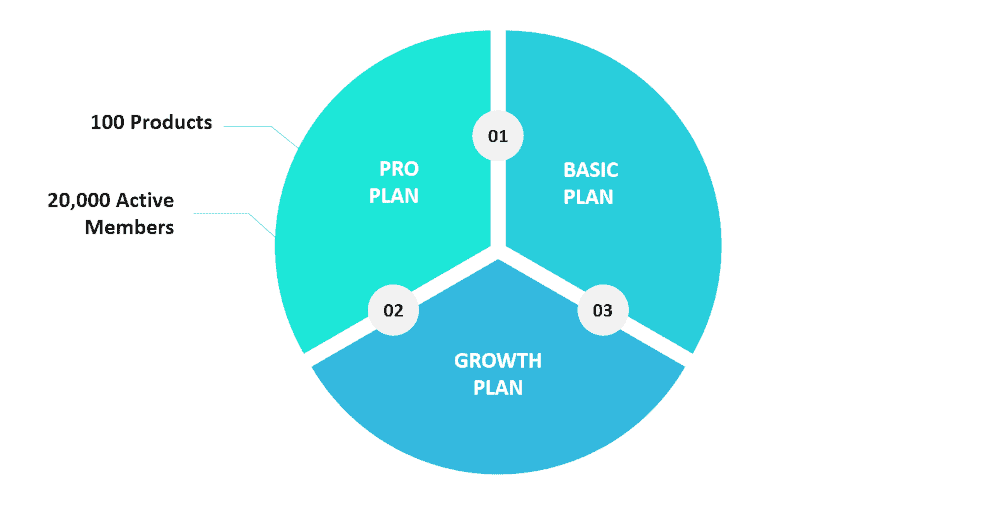 With this Kajabi pricing plan, you can run the platform 3 different websites and have 25 admin users. Another benefit of the Pro plan is that you'll have access to the code editor where you can change up the templates Kajabi provides and customize them.
Who Should Use Kajabi's Pro Plan?
Since this plan is double the cost of the Growth plan make sure that you really need it before you lock yourself in. Aside from the ability to edit the templates, it only offers more of everything else. So unless you're transferring to Kajabi from another platform and are already running a successful online course business with high numbers, you likely don't need to start here.
A New Addition: Kajabi Access
Kajabi just released a new pricing option which is called Access. You can add Access to any plan for an additional $99/month.
The key features of Kajabi Access include 6 one-on-one sessions with a Customer Success Manager. Kajabi Access also enables you to double all your plan limits! That means if you're close to going over any of your limits, you can double it without having to move up to the next tier.
With Access you can also use the Custom Code Editor and you get early access to new releases and product improvements. It's an all in one solution for getting more out of your Kajabi plan.
Pricing Compared to Competitors
Overall, the Kajabi platform is typically more expensive than other course platforms, but no other solution incorporates an email marketing tool within their platform. That means Kajabi offers more marketing features than any other platform. So it's kind of a trade-off that you will need to consider.
With Kajabi, you can use their platform and still integrate with another email solution to build your email list if you prefer. All the Kajabi pricing plans offer several integrations with top tools.
Teachable vs Kajabi Pricing
The Teachable pricing plans are quite a bit lower than Kajabi's pricing.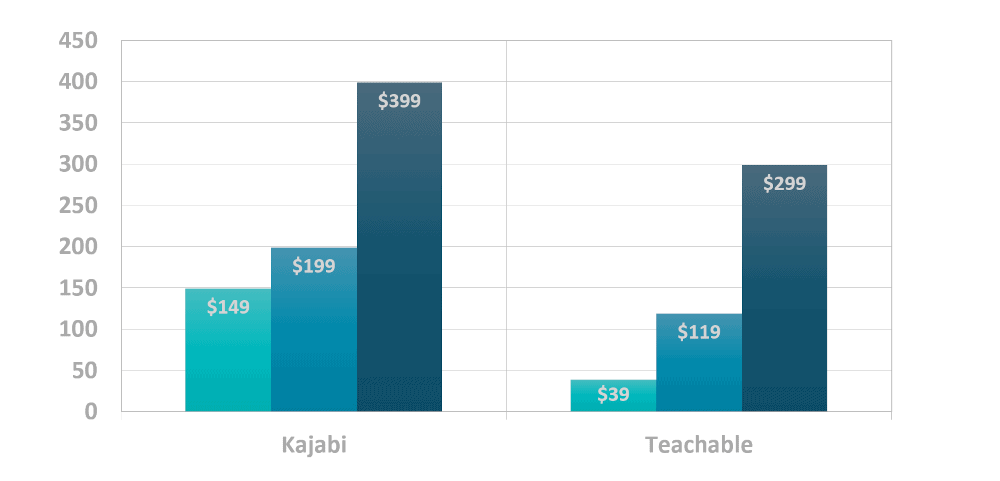 Teachable's mid-tier plan is $119 per month. With Teachable you can create an unlimited number of courses and have an unlimited number of students.
Kajabi's mid-tier plan is $199 a month and you can create 15 products and have up to 10,000 active members (which again, includes those who logged in that month). So you have a cap with Kajabi.
One thing to consider if you're deciding between the two is whether you need more products and will likely have more active members than the set caps. That's because Kajabi's next plan up is double the price at $399 per month.
With Teachable, you'll need to integrate with an email marketing solution. ConvertKit is a popular email marketing solution. To get a ConvertKit plan with up to 25,000 contacts (which is what you'll get with Kajabi's $199 plan) you'll pay $199 a month. So with a Teachable plan with 25,000 contacts, you'll be paying your $119 per month to them and $199 a month to ConvertKit. Plus some Teachable plans will take a transaction fee for each sale you make.
When compared that way, Kajabi is actually slightly more cost-effective, plus it'll be easier to have your list integrated within the platform.
You'll have to determine if those Kajabi limits work for you and if you're willing to use the Kajabi email platform or if you want to use another email platform to factor your total costs.
Thinkific vs Kajabi Pricing
Thinkific pricing includes a mid-tier plan for $99 a month that has integrations with a few email marketing tools.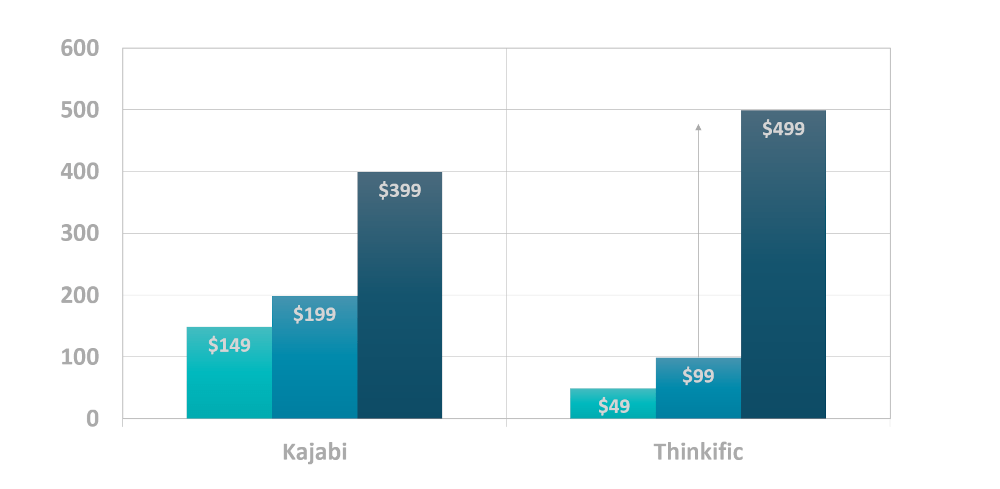 These include Convertkit, Mailchimp, Constant Contact, and Aweber. These are a few of the top email marketing platforms out there so you may already be covered at this lower pricing tier.
However, if you'd like to integrate with Infusionsoft or Active Campaign, you'll have to get on their Growth package. You do get 100 students for free on that package, but then it costs 10 cents per student after that up to $499/month.
Kajabi will integrate with both Infusionsoft or Active Campaign at any plan level if you decide to use them. However, Kajabi does have a cap on the number of courses you can create. At the $199/month level, you're limited to 15 courses and 10,000 active users. So there's a trade-off.
Pricing Compared to Other Online Platform Options
WordPress LMS Plugins vs Kajabi Pricing
In most cases, Kajabi will wind up being more expensive than using a WordPress LMS plugin like LearnDash.
You can get the LearnDash Plus package for $189/year that comes with all the bells and whistles. Then you will need some integration plugins. Even if you purchased several of these that might cost you another $150/year. Calculating this out per month is only about $30/month.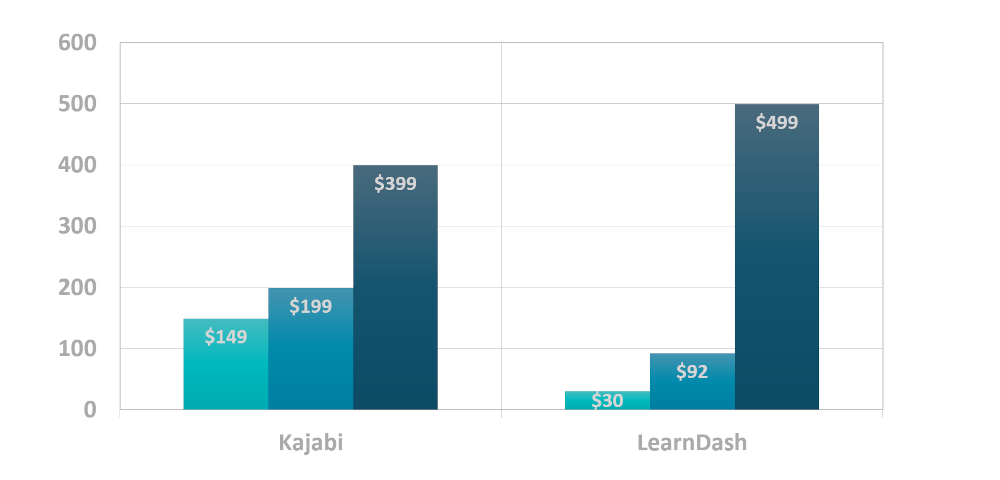 However, with LearnDash, you will also need hosting. Hosting varies, but on the low-end, you'll pay $50/month because LearnDash requires better hosting to run a course platform with multiple students logging in at once. If you're offering videos then you'll need video hosting (which is a minimum of $12 a month through Vimeo). This will bring you closer to about $100/month.
You will also need to invest in an email marketing solution. These charge on a sliding scale based on how many contacts you have. So in the end, the options are fairly similar, it really just depends on your specific LMS plugin configuration.
The best way to decide between a cloud LMS and an LMS plugin is to consider if you require a custom solution above and beyond what a cloud LMS offers. You can do just about anything using a plugin like LearnDash. Also, consider whether you are up for maintenance.
Corporate Learning Solutions vs Kajabi Costs
Corporate solutions typically charge per the user and can wind up being very expensive depending on the number of users taking your courses.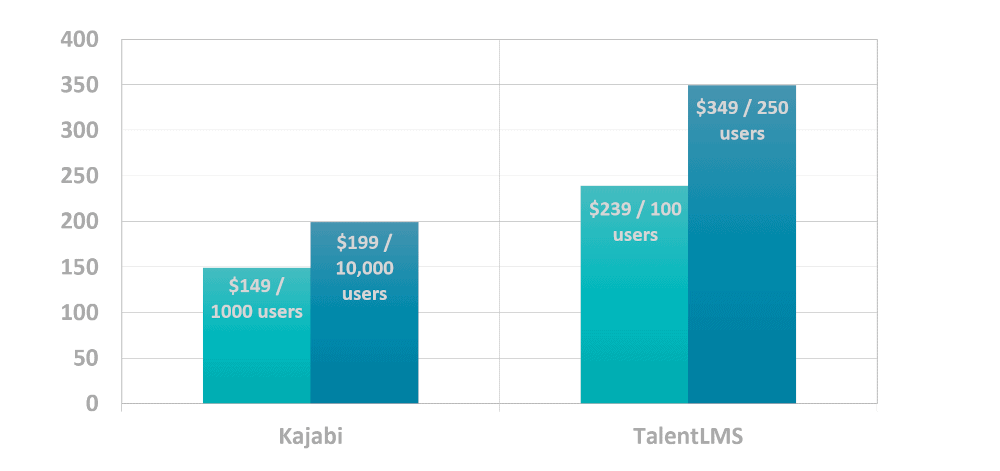 Kajabi sets limits on the numbers of users you may have, but the limits are fairly high. For example, even on their lowest-priced plan, which is the Basic plan for $149 a month, you can have up to 1,000 active contacts.
Talent LMS, a popular corporate LMS, charges $239 a month for up to 100 active users. That's on a plan that doesn't offer reporting or automations.
Also with Kajabi, you will have access to an email marketing solution built right into the platform. So you can send email sequences to your users and help walk them through your courses. While Kajabi isn't necessarily geared toward corporate usage, it can work in that manner. It really depends on your unique needs.
Kajabi Pricing FAQs
Does Kajabi have a transaction fee?
There are no transaction fees for your sales through Kajabi. You will, however, need to pay your payment processor (like Stripe and PayPal). There's no way around payment processing fees when it comes to online transactions, but Kajabi does not keep any of your money.
How does Kajabi count active members?
Kajabi counts an active member as one who has logged into their account and registered activity in the last 30 days. So members who have access to an online course, but who have not logged in or completed any actions in the last 30 days will not count in your active member numbers. Different plans allow for different levels of active members.
Does Kajabi have a money-back guarantee?
Kajabi offers a 30-day money-back guarantee. Simply cancel your subscription and then contact Kajabi for your refund.
Does Kajabi offer a free trial?
Kajabi does offer a 14-day free trial. You will need to enter your credit card number to start your Kajabi trial. Your card will be charged after 14-days if you do not cancel.
The Kajabi trial is fully functional and allows you access to the Growth Plan. You can keep your plan, upgrade, or downgrade after the trial is over. It's a great way to give Kajabi a try!
Kajabi is one of the top online course platforms used by successful course creators interviewed on coursemethod.com. Kajabi includes email marketing and other tools that make it easy to run your entire business from their platform.
Price Range: $149 to $399/month
Most Popular Plan: Growth Plan at $199/month
Annual Discount: Yes, take 20% off!
Free Trial: Get a 14-day free trial (credit card required)