How Susie Carder Has Helped 100,000+ Entrepreneurs Increase Their Revenues Through Online Training Like Her Predictable Success Method™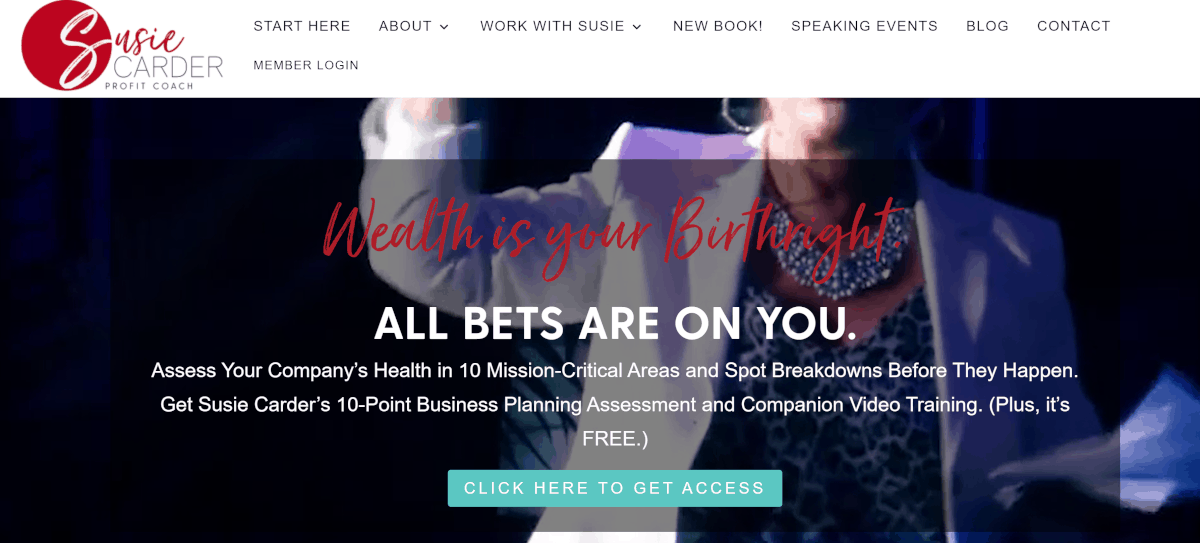 Our content is reader supported, which means when you buy from links you click on, we may earn a commission.
---
Who: Susie Carder
Website: susiecarder.com
Course Topic: Entrepreneurial success
Interesting Stats: 600 opt-ins/month from brand new business
Who are you and what course have you created?
Susie Carder started out as a low paid hairdresser trying to support her two little girls, but working for someone else became a challenge (to say the least). However, she decided to do whatever it took to create her own business. After blood, sweat, and tears (mixed with cheap mascara), she went on to create, not one, but two $10 million companies!
Her biggest strength is the ability to simplify complicated issues by creating simple proven systems that are guaranteed to create dramatic growth for any company. She has helped over 100,000 entrepreneurs increase their revenues by more than 3,000% and worked with top business moguls including John Assaraf, Lisa Nichols, Steve Harvey, Doug Carter, and Paul Mitchell.
In her popular program, the Predictable Success Method™, Susie has guided hundreds of companies to develop personalized operation systems in finance, sales, and marketing. An international speaker, Susie's spit-fire personality, sharp wit, and heart-warming stories are beautifully woven in with her decades of business knowledge to educate and compel audiences toward financial freedom.
In her newest and tenth book, 'Power Your Profits,' a bulletproof start-to-finish plan for taking your business from startup mode to the multi-million-dollar mark is shared.  

What market does your online course serve?
My online course serves small businesses from $250,000 to $10 million. A large percentage of users are speakers, authors, writers, leveraging, and monetizing their intellectual property.
20% are small businesses wanting to leverage, scale, and grow.
What's the biggest benefit of taking your course?
RESULTS! We can increase their financial situation by 50 percent!
How did you get into the market?
I have been an entrepreneur for 25 years. I have owned and built 7 businesses and 5 were multimillion-dollar businesses.
My passion is to help entrepreneurs create a legacy brand for themselves and create multiple revenue streams, increasing sales, and profitability.
My story is unique because I started out as a hairdresser and made $250,000 annually. An average hairdresser makes $30,000, so I wanted to teach others how to do the same. I created the largest training development company in the beauty industry and sold it to Thompson Learning.
I then moved into the entrepreneur space, teaching entrepreneurs' the same systems sales, marketing, operations, and finances.  In 1995 when I started, online courses weren't available, but we've adapted and changed with the times.  Every course and product created has co from finding the need and filling the need.
Why did you decide to create an online course in the first place?
Our clients asked us to, simply because they wanted the information.  I got tired of traveling all over the country and not knowing if students actually implement the work I shared.  So I wanted to find a way that I could see the progress and the results.  I wanted to create a sustainable model and create another revenue stream that didn't involve me getting on an airplane often.

Did you have any moments of doubt before you created/launched it?
Of course!  Who doesn't?
Not knowing the online space, we wanted something that would be beneficial instead of sitting in front of a live audience and be accessible online. For me, the questions were would clients actually finish the program or would it be wasted money?
We look at the results that clients are creating to help us monetize and validate the processes and systems that do work. -Susie Carder
Click To Tweet
What's your online course like?
We have videos, workbooks, Q&A, and PowerPoints. Each module is 5-10 videos with specific homework and accountability. There is also an interactive Facebook group, group mastermind calls, and accountability coaches for our higher-end programs.

How long did it take you to create your course?
Global Leadership Program is a yearlong program – that program took a year to complete.  I would create a module then share it with students. I was always one month ahead of the students in creating the program.  I'd been teaching the content for 7 years but all LIVE, so changing the format was the only thing I was doing differently.  It was a huge lift.
Bullet Train to Profits – 3 months with filming and I hired a course creation team.  Honestly, I don't feel that the money I spent was worth the result.  I like the way my internal team had executed all my other programs.
On average it would take me 3-6 months to complete a program from start to finish, working on it while running the company.  I have a refined process now that allows me to build content quickly.
Tell us a little about the process of launching your course and getting your first sale(s).
This has been the hardest part and most expensive piece of the puzzle.  Getting the marketing copy, the funnels built, and the advertising campaign down.  Most sales were still done offline. We are currently building out all of our funnels to execute our online sales process.

Do you have a lead magnet?
Yes, we have a few lead magnets including a quiz lead generator. We're getting the analytics on those, but it's still too early to share the effectiveness.
We have 10 points to profit, which is a free video with a business assessment.  We're also generating roughly 600 new leads a month on ALL lead generators.
Conversion is another story completely.
What's the traffic strategy that works best for you?
Here's what we're using:
Facebooks ads
Live Events
Podcast
Press
Joint Ventures
All of these are effective the Joint Ventures and Live events are still the ones producing the most traction and results.
What online course platform are you using?
Kajabi. I like it ok. In my previous organization, we had to custom build our course platforms, so this is so much easier and cost-effective.  There aren't really any features I find I need right now though.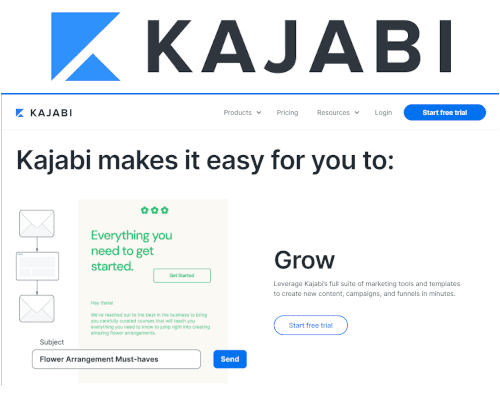 Kajabi is the All-In-One Course Platform
Kajabi is one of the top online course platforms used by successful course creators interviewed on coursemethod.com. Kajabi includes email marketing and other tools that make it easy to run your entire business from their platform.
Price Range: $149 to $399/month
Most Popular Plan: Growth Plan at $199/month
Annual Discount: Yes, take 20% off!
Free Trial: Get a 14-day free trial (credit card required)
*Our content is reader supported, which means when you buy from links you click on, we may earn a commission.
What made you decide to use your chosen platform over others?
My graphic designer recommended this online course platform for us as the best one to use.
What other tools do you use to run your online course business?
We also use Zoom.
What books or training programs have you found useful on your journey to a successful business owner that others might find valuable too?
I have been creating programs for so long, it's now trial and error. I have not found anything that expands what I know from creating courses for 20 years.
Do you have any big mistakes you've made along the way that you'd be willing to share?
The biggest mistake was not having a complete marketing funnel and plan for a sell-through campaign.  Build it and they will come is not a strategy, so having a comprehensive launch strategy around the course is KEY.

Please share some idea of revenue.
When we launched Global Leadership we had a $250,000 launch. The second launch was $299,000. Gross annual revenue for 2019, which was launch year, was 1.3 million and projections for 2020 are 3 million.
Please tell us a little about what the money you've earned from your course has done for you.
I have a dream business and an amazing team.  My life is unrecognizable!  I have traveled all over the world, and have been able to give my children a life I could have NEVER imagined.
Being an entrepreneur is hard and challenging, but extremely rewarding because at the end of the day you know that YOU are the creator of your destiny and your future! -Susie Carder
Click To Tweet
Financial freedom is a blessing and a gift.  I have been on both sides from building multimillion-dollar companies to losing millions in the market crash, what I can always count on is my intellectual property.
In addition to revenue are there any numbers you would like to share?
2019 was my launch year for this new business.
All numbers were organic and built from scratch! Here they are:
Database 9,900
Facebook 150,00
Instagram 28,000
LinkedIn 8,000 Connections
Averaging 600 opt-ins a month

What has creating your course done for you personally?
It has helped me see that I can be the change I wish to see in the world! That I can help entrepreneurs' live their dreams and monetize their gifts from within.
At the end of the day, I am proud of my business, my clients, and the legacy we create.  It's all about the results that show up for them by implementing what they have learned.  Isn't that the true meaning of leadership?
What advice do you have for people just starting out?
Create your plan, hire experts to help you execute that plan.  Benjamin Franklin said, take the coins from your purse, invest them in your mind and your mind will fill your purse overflowing.
Create your clearly defined financial goals to help you monetize immediately!
Learn more about Susie Carder of SusieCarder.com: