How Jessi Beyer Went From a $1000 Launch to a Projected Million-Dollar Year

Our content is reader supported, which means when you buy from links you click on, we may earn a commission.
---
Who: Jessi Beyer
Website: jessibeyerinternational.com
Course Topic: Book Publishing
Interesting Stats: 2500 students by the end of June 2021
Who are you and what course have you created?
I am an international award-nominated speaker. Number 1 best-selling mental health author, and founder of the Aspiring Author Incubator. The incubator helps entrepreneurs take their book from idea to published in less than five hours a week. That way they can get it into the hands of their perfect readers. You can learn more about the program here!
What market does your online course serve?
My course is, broadly, for entrepreneurs. More, specifically, I work with service providers. These are most commonly coaches, other course creators, and those in the healing or mental health spaces. My students are not the "hustlepreneur" type of authors where they slap a book together as quickly as possible and throw it up on Amazon. Instead, my students are as interested in helping their readers and leaving a legacy as they are growing their business with their books. Most often, my students write in the self-help, memoir, business, and health spaces. I've also worked with a children's or fiction author here and there!
What's the biggest benefit of taking your course?
After taking my course, my students will have started by saying, "I want to write a book." Then they've moved all the way through the writing, publishing, and post-publication marketing processes. In other words, they'll have written a book they're proud of, launched it to the world (and maybe all the way to a best-sellers list!), and implemented strategies to consistently reach new readers and grow their businesses with their newfound "author" status.
I pride myself and my program on being a one-stop-shop. There are other programs out there that teach you how to write, how to publish, or how to market a book. However, I don't want aspiring authors to waste time trying to piece together bits of information from different sources and different methods. Instead, I want them to be able to get everything they need to write, publish, and market their book in one place.
How did you get into the market?
Like many course creators, I created the Aspiring Author Incubator to save my students from going through the same struggles I did. When I set out to write and publish my book, I knew very little about the industry. I spent way more time than I'd like to admit scouring the internet, reading books, and listening to podcast episodes to piece together a strategy to get my book out into the world. I made a lot of mistakes and wasted a lot of time.
When I looked back on my writing and publishing process, I saw that I could streamline it into a repeatable, fun, and effective process that I could teach other aspiring authors. - Jessi Beyer
Click To Tweet
Additionally, I've always been a huge book nerd, both in terms of writing them and reading them. The thought of working with authors and books day-in and day-out seemed like a great idea. Now that I'm in the trenches of my program, I can confidently say that it is a great idea.
Why did you decide to create an online course in the first place?
I value 1-on-1 services because of the depth and personalization you can get into. But I wanted something that was scalable and that could allow me to reach more people than I ever could offering 1-on-1 services. Additionally, I'm a major introvert, so the thought of spending all day, every day, on coaching calls was exhausting.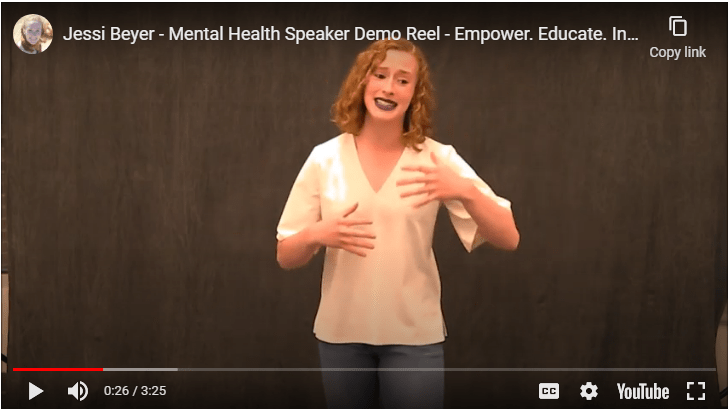 Did you have any moments of doubt before you created/launched it?
I had doubt at almost every step of the process, and if I'm being honest, I still have doubts sometimes! To give a few specific examples, I doubted whether people would buy my course because I'm young. I also doubted whether I was good enough to teach the subject I do because I only had one best-selling book instead of ten like I saw other people online did.
Additionally, when I looked at the biggest giant in my industry, I definitely had a moment where I wondered why I was even bothering to compete with them. That's because there was no way I'd ever be able to out-market them (which I've thankfully learned was a very false limiting belief!).
To move past those moments of imposter syndrome, I asked myself when I would ever feel like enough. For example, if I wrote another #1 best-selling book, would I feel like enough then? If I sold a million dollars worth of education, would I feel like enough then? When I started asking myself those types of questions, I realized that there's no guarantee that I'd ever feel like enough. More than likely, I'd find myself on my deathbed having never gone after the dreams I had for myself. That line of thinking really put things in perspective for me.
What's your online course like?
The foundation of my course is face-to-camera videos. If I'm explaining a technical process, like using Kindle Direct Publishing, I'll do a screen share video to walk students through the process. Each is generally between five and ten minutes long. And they're split into eight modules. Each focuses on one part of the writing and publishing process. Additionally, each video lesson has a transcript for students who are hard of hearing or who prefer reading to listening. These transcripts are word-for-word, not just copied and pasted from an AI transcription software that often gets more words wrong than it does right.
Alongside the videos, there are a few other learning elements. I include six types of pitch templates for endorsement requests and various PR opportunities. I have three bonus trainings on Amazon ads, podcasting for authors, and book cover design briefs.
Additionally, I give my students two pre-made sales funnels they can use to sell signed copies of their books. Plus they get access to the first, totally messy draft of my book to help bust through their perfectionism. Finally, we do have a student center Facebook community where I answer questions from my students and host monthly coaching/Q&A calls, occasionally with guest experts.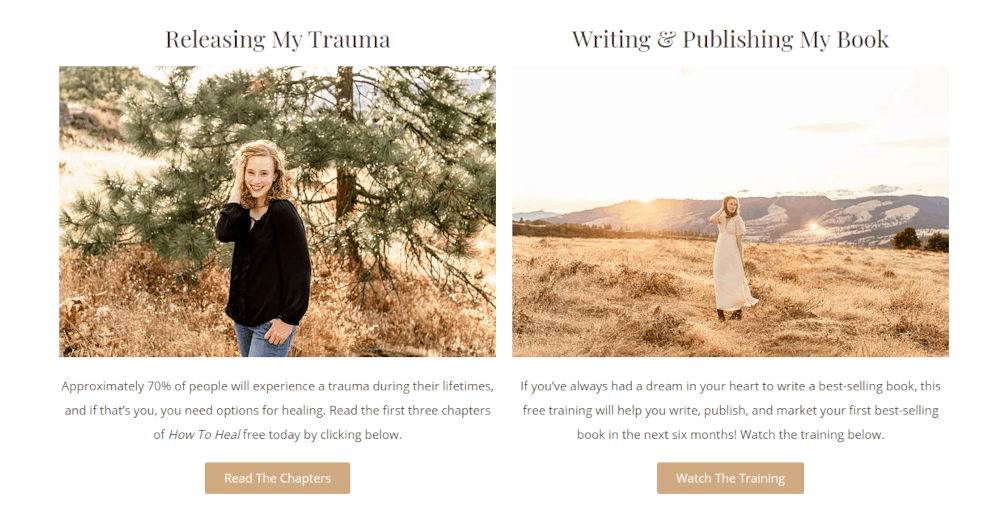 How long did it take you to create your course?
I definitely putzed around for a bit in the beginning when it came to creating my course, but once I got going, I decided to publish Module 1 in advance, market the course to get my first sale, and then create the rest of the modules afterward. I would write one module's lesson scripts in one day and then record and upload the videos the next day.
Occasionally, it would take me longer than two days to write and record a full module, but that's basically the process I followed. I had an outline that I made in the beginning, as well. That way I wasn't just flying in the dark. In terms of the templates and scripts, I already had those from my publishing process. It was really just about copying those into the members' area.
Tell us a little about the process of launching your course and getting your first sale(s).
My first sale didn't actually come from my launch! Part of my marketing strategy is affiliate partnerships, so I was connecting with potential affiliates on Instagram when I met a chiropractor who wanted to write a book. I initially reached out to her with the intention of bringing her on as an affiliate. She actually checked me out, watched my webinar, and joined my program before we were even three messages into the conversation! I still use partnerships and affiliate campaigns as a large part of my marketing strategy. I'm focusing on publicity and paid advertising from here on out.
Do you have a lead magnet?
I use a free webinar as my lead magnet, and it's pretty much the only thing responsible for selling the Aspiring Author Incubator. In other words, I don't actively market the course. Instead, I focus on generating leads for the webinar, and the webinar does the selling. I tried multiple different webinars before finding the one that worked. Now the webinar I have converts at an average of about 5% across both live and evergreen presentations.
It's interesting because webinars are my least favorite lead magnet as a consumer. I find they over-promise, under-deliver, and spend way too much time on the instructor's backstory. I use Haley Burkhead's Easy Yes webinar formula from her program, Recurring Profit, but the gist of it is that I spend less than 60 seconds on my story, and the majority of the webinar is actual, usable education before moving into a short sales pitch at the end.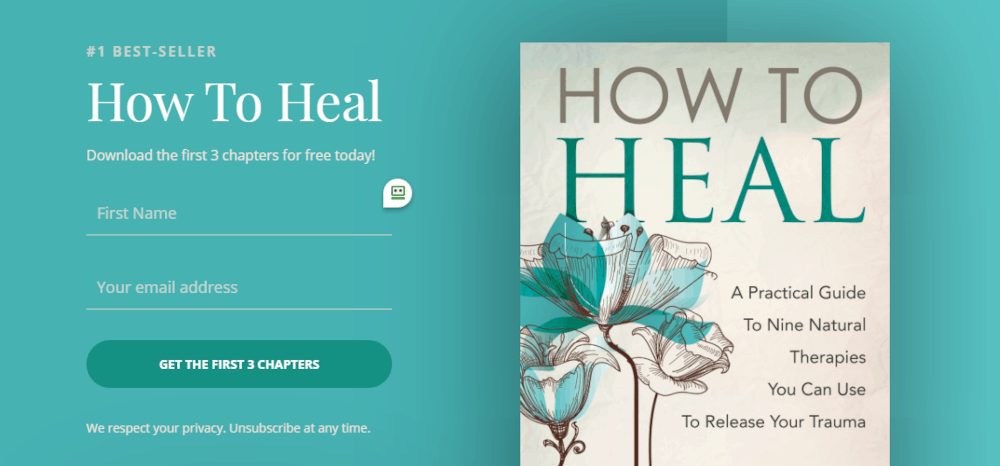 What's the traffic strategy that works best for you?
The traffic strategy that works best for me is definitely affiliate campaigns where I host a live webinar for their audience with the aforementioned sales pitch at the end, but affiliate campaigns are not something I'm planning to use forever. Again, I created a course for scalability, and constantly doing live presentations and partnerships is not scalable to the level I want to grow to.
I'm happy to trade money for time, to switch the traditional phrase, so paid advertising (social media advertising, podcast sponsorships, summit sponsorships, and the like) are what I'll be focusing on most moving forward. That being said, paid advertising is already a successful strategy for me, as I'm generating webinar registrations from Facebook and Instagram for less than $3.
What online course platform are you using?
Clickfunnels!
Do you like it?
I do like it! Clickfunnels's members' areas are not as visually appealing as Teachable's or Thinkiffic's. But it's easy to navigate and it serves my purposes well.
Are there any features you wish it had?
I would love it if it had an auto-next-lesson feature like other course hosting platforms do. Instead, students have to manually click to the next lesson using the menu on the left-hand side of the screen.
What made you decide to use your chosen platform over others?
I wanted an all-in-one platform, and I didn't want to spend a lot of money when I was starting out. Since I was already using Clickfunnels for my sales funnels, I decided to use their members' area function to host my course, too.
What other tools do you use to run your online course business?
I use ConvertKit for my email service provider, Stripe to process payments, and Facebook for our student group! On the backend, I use Asana to communicate with my team and manage team-based tasks.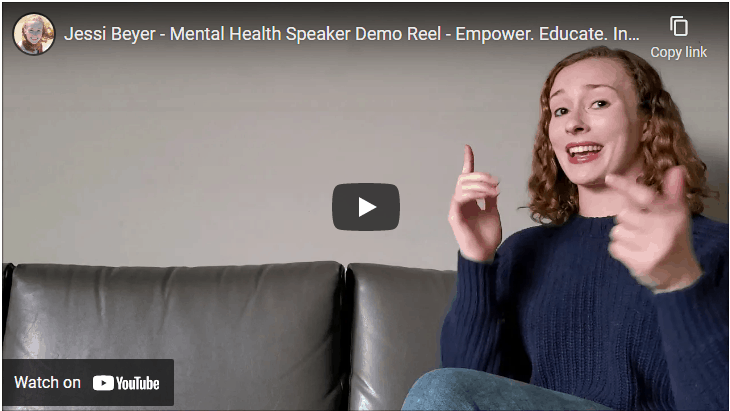 What books or training programs have you found useful on your journey to a successful business owner that others might find valuable too?
Every course that I've taken or book that I've read has been immensely valuable. That's because I've been able to pull at least one golden nugget from it. But a few stand out to me as being better than the rest. First is Jaclyn DiGregorio's College Speaking Masterclass. Her program had absolutely nothing to do with course creation, but it helped me get started speaking on stages. This led to me writing my book, which then led to me founding the Aspiring Author Incubator.
The second is You Are A Badass At Making Money by Jen Sincero. I spent as much time on the money mindset as I did on business strategy. That book was absolutely revolutionary when it came to my personal development and relationship with money.
Finally, Rudy Mawer's 16-Week Accelerator was amazing, not only for the coaching and education but for the custom-built sales funnel. The webinar registration page that Rudy and his team built converts at an average of 80% for me!
Do you have any big mistakes you've made along the way that you'd be willing to share?
The biggest mistake I made was being scared to invest, specifically in advertising. For example, when I was first testing webinars, I'd generate 20 or 30 leads through Facebook ads. I'd see zero sales, and scrap my entire webinar because I didn't think it was converting. Obviously, it takes a lot more testing than that to truly see if something works. But I was so terrified of wasting money that I'd stop if I didn't hit something out of the park on the first try.
Luckily, and partly in thanks to all the money mindset work I did, I now understand how much ad spend is required to truly make a decision on something. - Jessi Beyer
Click To Tweet
I'm not scared to spend it. That's because I see that spend not as wasted money, but as paying for data that can inform future decisions.
Please share some idea of revenue.
We're on track to hit 2500 students by the end of June and seven figures of revenue by the end of the year. I'll also share that my first launch – my first affiliate campaign – I made about $1000. This was then reduced to $700 once I paid my affiliate. Those humble beginnings can turn into incredible things if you just stick with it!

Please tell us a little about what the money you've earned from your course has done for you.
For me, entrepreneurship has always been about time freedom. I'm a proud pet mom to a dog and a cat that I treat like human children, and my dog and I are a K9 search and rescue team. The revenue from my course, and from my business as a whole, has enabled me to schedule my day around spending time with them and dedicate a significant portion of my time to search and rescue.
In addition to revenue are there any numbers you would like to share?
While the year isn't over, we've achieved such an immense level of growth due to two main things. First, we focused on partnerships. We were lucky to land a partnership with a group that reached about a million potential students. Second, we honed and refined our webinar. That way we could scale rapidly with paid advertising.
What has creating your course done for you personally?
Creating a successful course has given me the business safety net to pursue other endeavors. With my course's marketing largely outsourced or running on autopilot, I can scale my revenue up or down when and as much as I want. This allows me a bit more freedom to try other offers or spend quality time on non-business activities.
Do you have a story of a transformation from any of your clients?
One of my favorite testimonials that I ever got was from a woman who was helping her mother-in-law write her memoir. Neither of them believed they were very good writers. After working together, she had a path to get her book published and her mother-in-law's voice heard.
That's what meant the most to me – I helped a voice be heard. Yes, I want my students to hit a best-sellers list. Yes, I want them to grow their businesses with their books. But at the end of the day, if I can help someone share their story and have their voice heard, that means more to me than anything else.
What advice do you have for people just starting out?
You know more than you think you do. Creating a course will run you into the same imposter syndrome that writing a book does – am I good enough? Am I experienced enough? Do I know enough? I'll tell you the same thing I tell all my students.
If you've lived at least five years of life, you've been through enough and learned enough lessons that you can change someone else's life with what you know. Don't let you stand in your own way. - Jessi Beyer
Click To Tweet
Learn more about Jessi Beyer of jessibeyerinternational.com: