Learn How Jimmy Naraine Reached 200,000+ Students to His Udemy Courses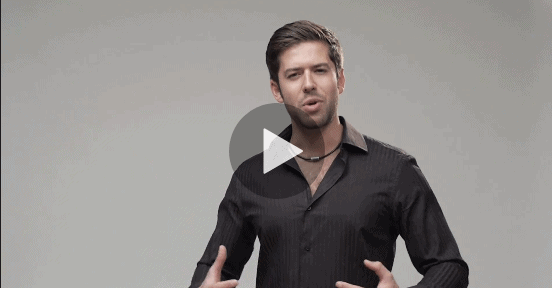 Our content is reader supported, which means when you buy from links you click on, we may earn a commission.
---
Who are you and what courses have you created?
I was born in post-communist Poland, but at the age of 18 bootstrapped myself into a British university. In my previous "life" I worked for companies such as Goldman Sachs, however, seven years ago, I realized that a traditional path wasn't for me.
I dove deep into entrepreneurship and have explored 76 countries while building online courses amongst other ventures. I teach personal development and business skills such as building confidence and social skills, becoming a powerful presenter, and increasing productivity. So far I've created over 20 courses and all of them can be found here. I have also written a ±200 page book about course creation.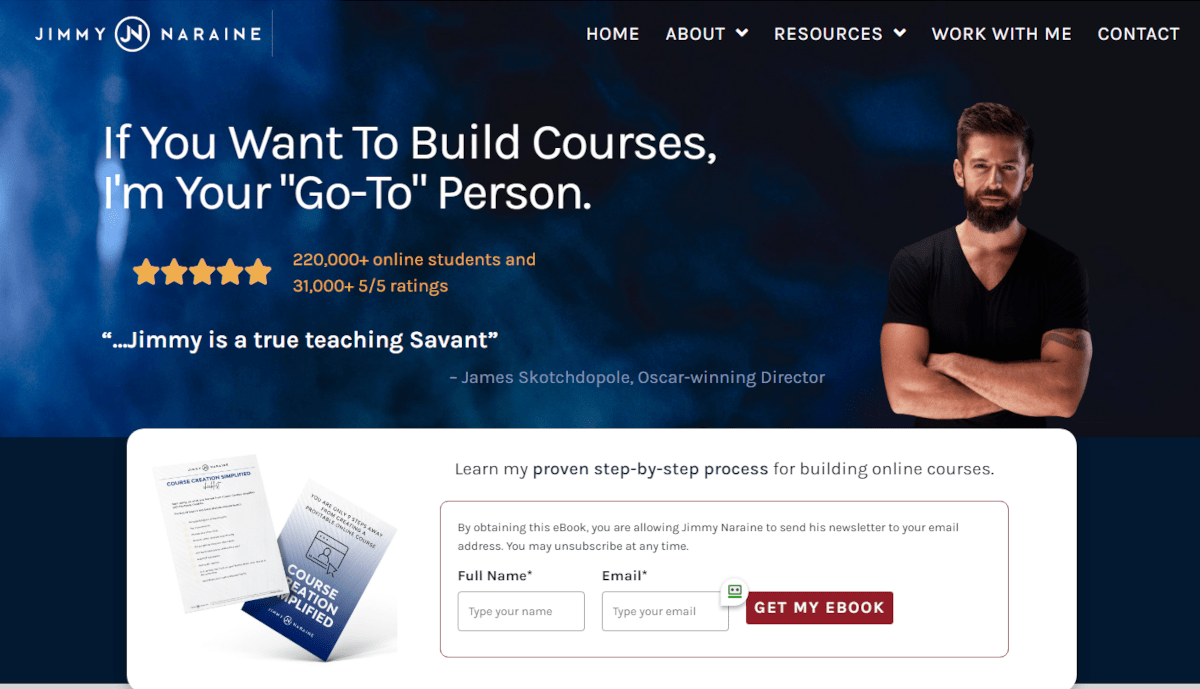 What market do your online courses serve?
Since I sell courses on various topics within personal development, the market I serve is fairly wide. I teach 200,000+ people from 198 countries with all types of backgrounds. However, based on my data, most of my clients are 25-to 40-year-old professionals from the US and Western Europe.
What's the biggest benefit of taking your courses?
This naturally depends on the course topic, but my general rule is to always ask myself: "what's in it for them?" and focus on top-notch production quality. I believe that creating high-quality, captivating videos has a huge impact on students' learning experience. This is why I chose to film many of my courses outdoors in exotic locations.
Whenever I'm about to film a new course I start by drafting very clear learning objectives and try to figure out how to exceed them. - Jimmy Naraine
Click To Tweet
I believe that this is the key that many people miss. Instead of shooting content blindly and hoping for the best, it's essential to have very clear learning goals in mind every step along the way.
How did you get into the market?
After quitting my start-up job in Budapest I knew that I wanted to get into the education business, but wasn't sure how. That's when I found out about the platform called Udemy and decided to give it a shot.
I knew that if I wanted to enter the market successfully I had to stand out. Instead of trying to do everything by myself, I found a video crew and offered them a simple % deal. Instead of paying them hard cash (that would put me in a difficult financial situation), I offered them a cut of my future profits. It turned out to be a massive WIN-WIN and we've been working together ever since.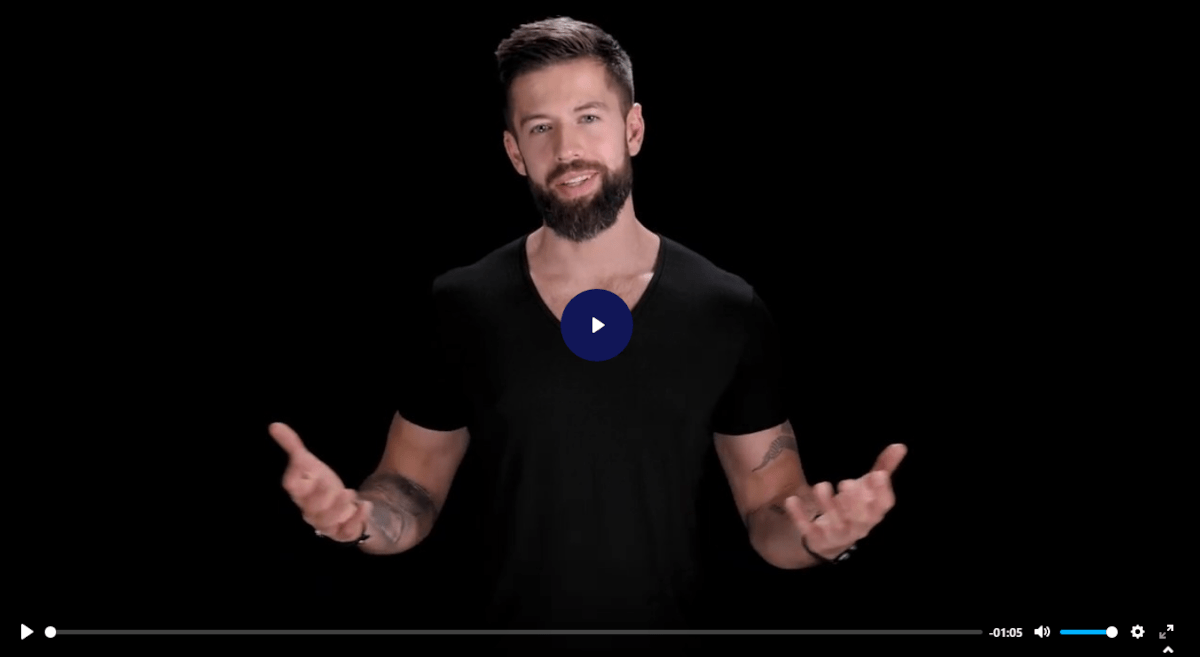 Why did you decide to create an online course in the first place?
My initial idea was to focus on creating written content and producing YouTube videos, but my path to monetization wasn't clear. When I discovered the course market I quickly realized that it had massive, unfulfilled potential. The demand for online courses was growing rapidly, yet there were not many high-quality courses available.
Creating a course seemed like a tremendous opportunity and I knew that I wouldn't forgive myself if I didn't try. Besides, I had a feeling that creating a course would allow me to truly connect with my audience while building something that's scalable.
Did you have any moments of doubt before you created/launched it?
I know many content creators and what connects us is that every single one of us has experienced some self-doubt at some point.
When I was getting started I had no experience and no mentors to pave the way. Sometimes, my internal dialog would whisper: "what if you fail? what if you embarrass yourself?" However, every time it happened I tried to remind myself that building a course wasn't about me, it was about helping my target audience.
In life, we often focus too much on ourselves. However, I've learned that when you focus on your mission of helping others it's easier to summon the necessary courage. Even after creating several successful courses, the imposter syndrome would sometimes kick in and trigger procrastination.
If so what made you turn it around and do it anyway?
As mentioned above, it's so important to control what you focus on. Instead of going down the negative spiral, it's crucial to pause, reflect, and recalibrate by focusing on the value you are about to contribute to the world. Also, I've learned that defining the potential worst-case scenarios really helps. It makes you realize that they are not very probable and even if they happen, you can fix them.
Many people don't realize how much power they actually have. For instance, if you publish a course that doesn't sell well or doesn't get top reviews, you can always do something about it. You may add fresh content, bonus material, or improve your sales funnel.
The bottom line is, no matter what your results are, you can always do something about it. - Jimmy Naraine
Click To Tweet
All in all, I believe that you don't have anything to lose as long as you focus on creating value.
What are your online courses like?
All my courses are comprised of "talking head," 3 to 9-minute videos filmed either in a studio or outdoors. We always film with zoom-ins or two angles in order to make the videos more dynamic. I often add supplementary material such as downloadable lecture summary PDFs.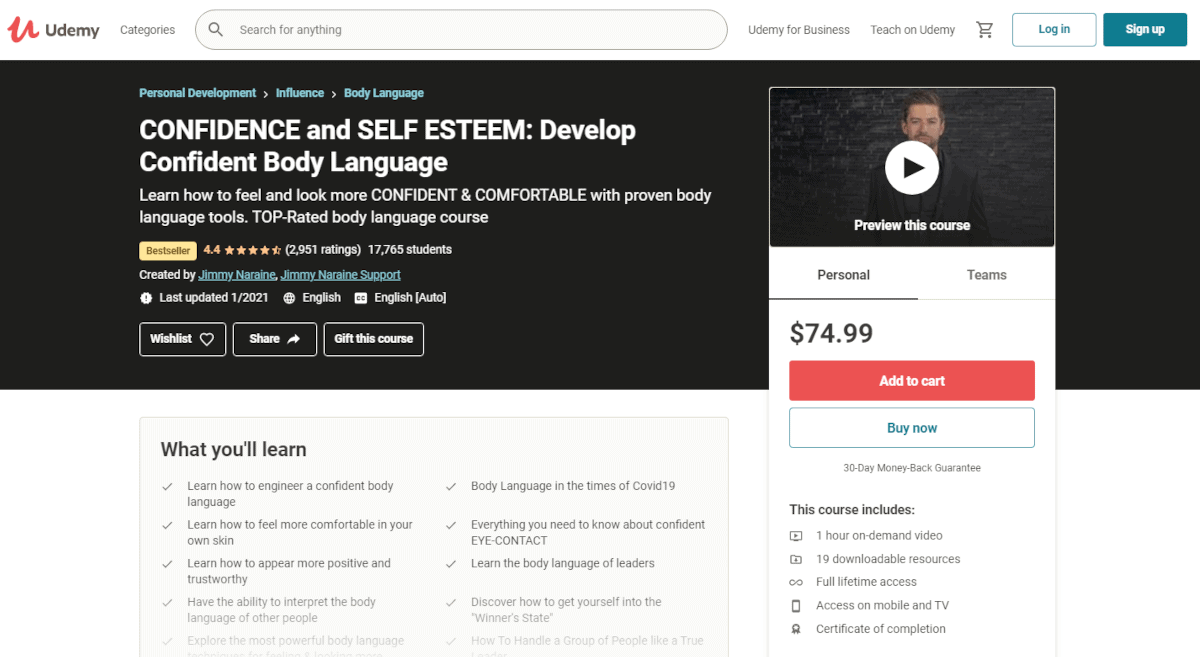 How long did it take you to create your first course?
The first course took the longest – around 1 month. However, like with anything in life, the more you practice the more efficient and effective you become. Nowadays, it takes me roughly a week to produce a course.
Here's my process in a nutshell.
Once I pick the course topic I go deep into research, for instance, I ask my target audience what are their pain points. Based on my findings, I write down the full list of course objectives as I'm a firm believer that you always have to start with the end in mind. When I design my curriculum I always ask myself: "how can I make sure that I fulfill all those objectives?" My courses are divided into sections that serve as idea clusters and each one of them has several videos.
The content of my videos is based on my knowledge, personal experiences, storytelling, case studies, references, action steps, etc. I prepare for the video shoot by writing down the bullet points for each lecture and then practicing out loud to refine my delivery. Filming and post-production are handled by my Team.
Tell us a little about the process of launching your course and getting your first sale(s).
Launching a course starts before you even have it. Most people underestimate the importance of the pre-launch campaign, but it's crucial that you start building the hype early on. Nowadays, when I launch a course I start by running a massive sale for my existing audience. This way, I get to reward people who have been already loyal to me. It's a true win-win, as my core audience gets the best price, but I receive instant credibility in the form of early sign-ups.
Nobody wants to be the first one to buy a new product (unless it's an iPhone) so social proof, whether it's the number of students taking a course or ratings, is always helpful.
However, for people starting out on their course creation journey, I recommend taking pre-launch even more seriously. Start building your mailing list and social following as early as possible. This will serve as a foundation for your launch.
Also, activate your inner circle. In fact, I recommend that you share free access codes with best friends and family members so they can give you honest feedback that will be instrumental in improving your course. Besides, people will appreciate it and I'm convinced that some of them will even end up leaving you a great review.
Do you have a lead magnet?
Yes, over the years I've used various lead magnets and nowadays focus on giving away value-packed eBooks.
However, to be completely frank, most of my sales come from organic traffic on Udemy as I've built a very solid base there.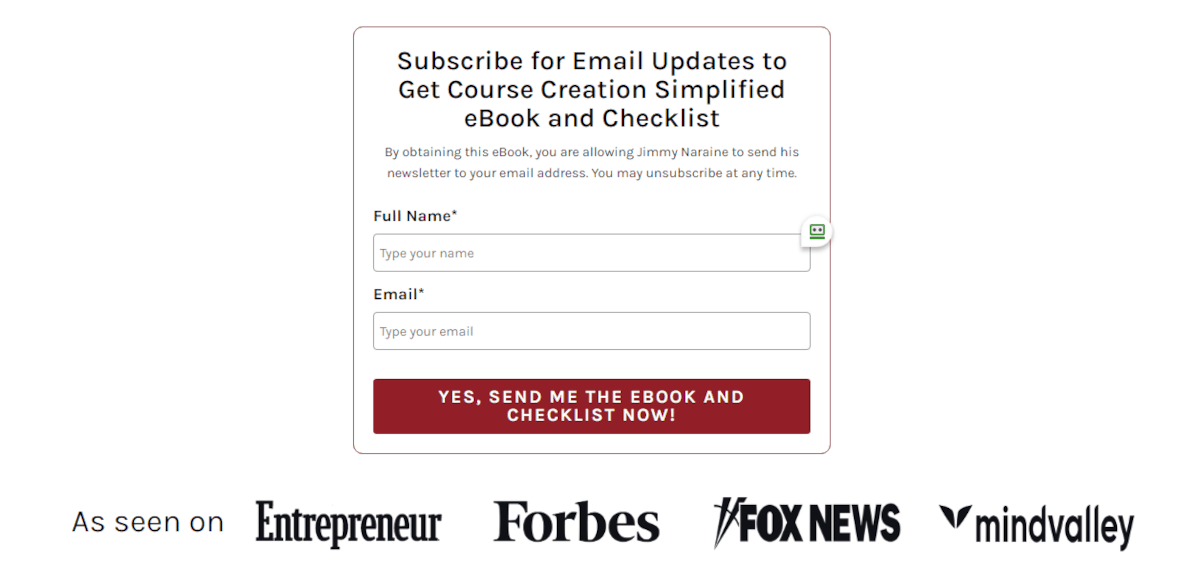 What's the traffic strategy that works best for you?
As mentioned before, Udemy has been working extremely well for me. I've been using this platform for 7 years now and optimize my courses in such a way that they show up on the top of search results in my niches. Udemy also runs paid ads on my courses and I have a network of affiliates promoting my products.
What online course platform are you using?
I use Udemy for all my courses, but together with my Team, we are also in the process of building a membership site using Teachable.
Do you like it?
I like Udemy, but as with any platform, it has pros and cons. I've been working very hard over the years optimizing my Udemy courses and building a reputation on the platform. I love the fact that they have a marketplace with over 50 million students. This means that every single day, I'm getting free organic traffic to my courses.
Are there any features you wish it had?
As mentioned, there is no perfect platform. I wish I could get direct access to the email addresses of my students, but I also fully understand why this is not allowed on Udemy.
What made you decide to use your chosen platform over others?
I chose Udemy because I wanted to maximize my impact internationally. Since Udemy is a low price/high volume platform I knew that it would enable me to teach a huge number of people from all over the world.
I'm currently teaching over 200,000 people and feel grateful for the opportunity to make a global impact. Also, when I started 7 years ago Udemy was clearly the best option. If you are getting started now, however, I would highly recommend that you test various platforms and see what works for you.

What other tools do you use to run your online course business?
Here are some of my favorite tools I use:
Upwork for hiring freelancers
Slack, WhatsApp, Zoom, and Google Drive/Docs for team communication
Scrivener for creating content
Cold Turkey Writer for the days when I don't feel like writing content (blocks your laptop until you type X number of words)
Grammarly for spell checking my content
What books or training programs have you found useful on your journey to a successful business owner that others might find valuable too?
I've been a voracious reader all my life, but I will keep my recommendations concise and relevant. Here are several titles I recommend specifically for course creators and business owners:
all books by Daniel Priestley
all books by Gary Vee
"The War of Art" by Steven Presfield
"The One Thing" by Gary Keller
"The 4-hour Workweek" by Tim Ferriss
Do you have any big mistakes you've made along the way that you'd be willing to share?
There are two mistakes I can think about right away:
First of all, not focusing on building an email list early enough turned out to be a massive opportunity cost. The truth is that email is still the best way to contact potential customers. In today's world, we often have an illusion that a large social media following is enough. However, the problem happens when you want to reach your audience directly, for example, to promote your product. Without an email list, it gets very tricky so start building your email list early on.
Letting the imposter syndrome "paralyze" me. As mentioned before, I experienced moments of self-doubt in my life as a course creator. It led to lots of missed opportunities as I sabotaged myself and said NO to golden opportunities such as speaking gigs or podcast requests. Remember: if you experience an imposter syndrome, you are not alone. Instead of going down the negative spiral work on yourself and realize that you are good enough.
Please share some idea of revenue.
As a blanket policy, I don't share the exact numbers. However, my courses have generated well over a million euros in revenue and I sell on average 1000 to 2000 copies per month.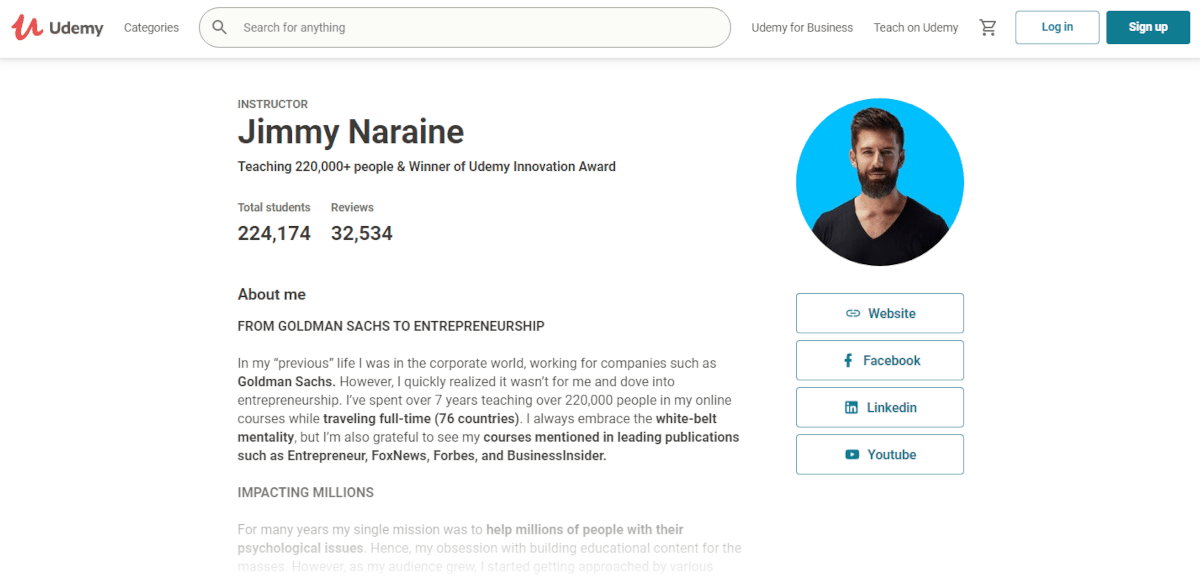 Please tell us a little about what the money you've earned from your courses has done for you.
I feel extremely grateful for the ability to teach online. Ever since I remember, I wanted to travel the world and live life on my own terms. The money I make from my courses has funded the entire 7 years of exploring 76 countries full-time as a Nomad. In essence, the passive income I make from my courses exceeds my expenses, which gives me a lot of freedom. It means that the income I make from other business ventures is an "extra" that goes towards expanding the business, saving, and investing.
In addition to revenue are there any numbers you would like to share?
I'm about to reach the milestone of receiving 30,000 official top ratings on my courses. Frankly, this number makes me happier than anything else as it shows the impact online education can have on people.
People often wonder how I managed to get so many reviews teaching 200,000 people as the ratio is usually much smaller. I believe that it happened because I focus on over-delivering early on in my courses.
Instead of slowly unleashing my best content, I try to exceed expectations right from the beginning. - Jimmy Naraine
Click To Tweet
Some examples (feel free to replicate it) include:
gifting my students' free eBooks early on
getting personal with my students by vulnerability sharing my story and asking them to share theirs
providing lecture summaries right away
adding valuable bonus videos at the beginning of each course
listening to the feedback my student give me and implementing changes based on it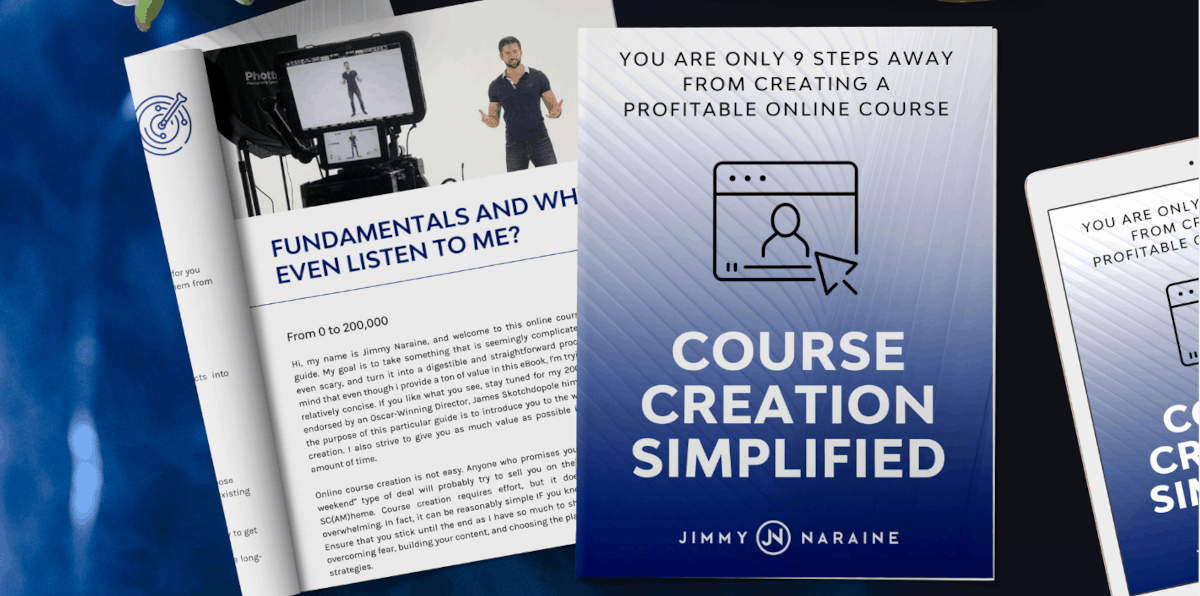 What has creating your course business done for you personally?
My mission is to help millions of people with their psychological issues and the online course world has given me the opportunity to scale my impact. Sometimes I have to pinch myself in disbelief. We are blessed to live in a world where it's possible to share our knowledge so easily. Imagine trying to make a huge impact 50 years ago. It was a totally different ball game. Nowadays, anyone with a smartphone can share their expertise internationally with just a few clicks.
I feel extremely grateful to be able to help people from various walks of life while living my dream lifestyle of being a full-time nomad. I know that it's a blessing and never ever take it for granted.
Do you have a story of a transformation from any of your clients?
I keep getting messages from my clients sharing how much my work has impacted them. It always warms my heart, but the most impactful stories of transformation were the ones I received early on. It's probably because initially, it felt surreal that a video course could have such an impact in real life.
One example is Martin who always had a dream of becoming location independent, yet didn't know how to make it happen. After watching my courses he got inspired to start his own business and travel the world. He ended up making it happen, exploring Europe and Asia, and eventually pivoting to get his dream (and remote) job at Google. Thanks to his sheer perseverance, I ended up meeting Martin in person and we became friends. His story is fascinating and he shares it in this speech:
What advice do you have for people just starting out?
Firstly, don't overthink the process as it may trigger a lot of procrastination and in some cases, even paralysis. Start small, but get started right away – this way you get your "feet wet," learn the process and keep optimizing based on the feedback.
Over the years I've met a lot of aspiring course creators who kept being dwarfed by the enormity of their goal. Unless you have absolute certainty about what you want to do and how to do it, focus on building a smaller product first. It's better to release a 60-minute free course in a short period of time, learn from the experience and add new courses, rather than getting stuck in the perpetual "draft" mode.
Secondly, the real power comes from building a strong community. Engage with your audience early on, answer questions, produce bonus videos, let them know that you really care. This is the best way to build a core base of raving fans who will end up buying your new products and recommending you to their friends.
Learn More about Jimmy Naraine of jimmynaraine.com: