How Abbey Ashley Went From a Virtual Assistant to Owning a 7-Figure Digital Training Company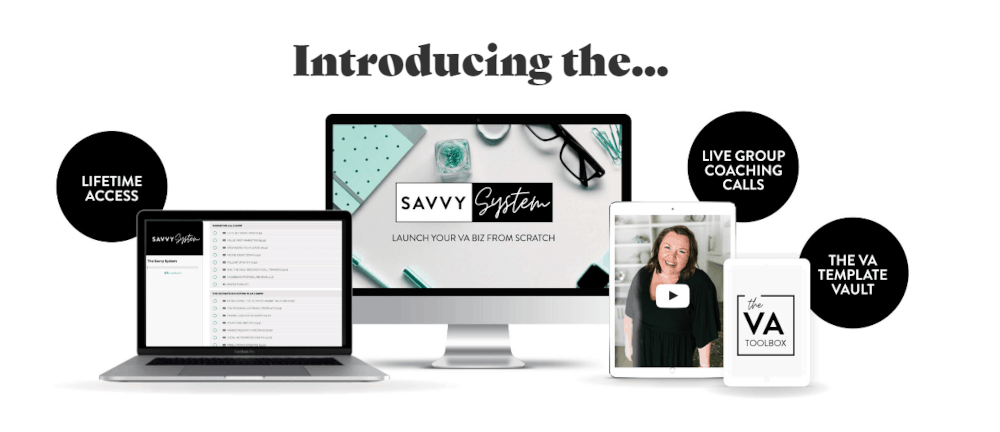 Our content is reader supported, which means when you buy from links you click on, we may earn a commission.
---
Who: Abbey Ashley
Website: savvysystem.com and thevirtualsavvy.com
Course Topic: Start a Virtual Assistant Business
Interesting Stats: Latest course launch over $750k in sales
Who are you and what course have you created?
I am the Founder & CEO of The Virtual Savvy, a virtual assistant training company.
Our training, The Savvy System is here. You can also access our free training here.
What market does your online course serve?
We train everyone from stay-at-home moms to digital nomads to use the skills they already have to start their own remote virtual assistant businesses. Our community has over 65,000 virtual assistants and continues to grow in a world that is getting increasingly more comfortable with hiring remotely.
What's the biggest benefit of taking your course?
Our students get lifetime access to The Savvy System to revisit as they hit different points in their businesses. We take them from step one of establishing their businesses and booking their first clients, to scaling their businesses with subcontractors and creating the lifestyle they desire.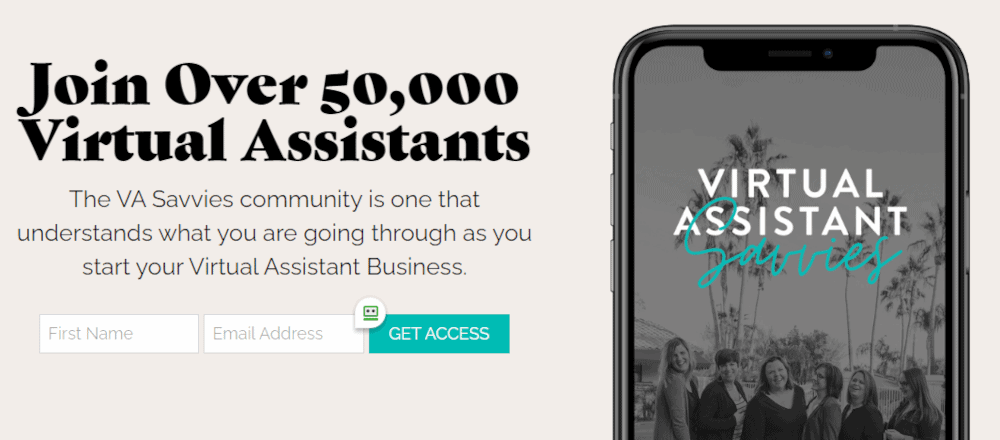 How did you get into the market?
I started my journey as a new mom. Even though I had ALWAYS wanted to be a stay-at-home mom once I became one… I was BORED. I needed a way to have a creative outlet and I also desired to contribute to our family income while staying home, so a friend suggested I look into becoming a virtual assistant. Our family was living in a basement apartment at the time and living paycheck to paycheck, so any extra income was definitely needed!
My virtual assistant business grew SO quickly that I was able to hire a team of subcontractors to help me with the workload. This was my first taste of making money online, on my own time. I was hooked!
Why did you decide to create an online course in the first place?
One of my first clients was a course creator. He would launch these courses and have hundreds of people join at once. I was so inspired. I started creating my own audience via building an email list. Once I had 1000 subscribers, I asked my list what they wanted to learn from me. Overwhelmingly, they wanted to learn how I made money as a virtual assistant. That's when I decided to create a course on "becoming a VA".
Did you have any moments of doubt before you created/launched it?
One of the ways that I was able to have less doubt when launching my course was because I chose to validate the course idea BEFORE I created it. - Abbey Ashley
Click To Tweet
Essentially – I asked my list what they wanted me to teach them and pre-sold the idea before I even created the course. This definitely helped with the "imposter syndrome" thing…
However, that doesn't mean I didn't have my doubts. My first real-life panic attack happened not before I launched, but actually, once people started buying the course there was a fear of, "What if I can't deliver? What if people don't like the content I create?".
But I KNEW the life change that virtual assistance had done for me and I had to keep in the forefront of my mind the life change I knew it could have in others. When I kept my mission in front of me, it helped the fear seem like less of a hurdle.
What's your online course like?
The Savvy System is made of live-action videos with downloadable PDF resources. I wanted a course that would not only tell people what to do but show them how to do it. Our team is also in the process of incorporating gamification throughout the course to keep students motivated and engaged!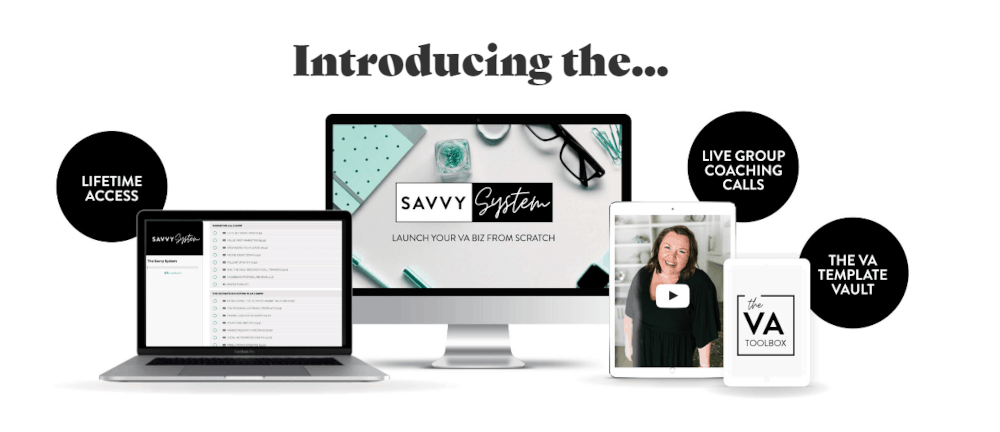 How long did it take you to create your course?
I decided to validate my course idea before I created it. That means I essentially put up a sales page detailing what I would be teaching, even though no content was actually created yet! Once I validated the course idea (with people paying me money – not with free "beta" testers), I was ready to start creating content.
The way I create my content is by listing out in bullet points what I want to cover in a lesson. Then, I create slides for each of my bullet points. Lastly, I use screen recording software to film my face and the slides at the same time, so it feels like a PowerPoint presentation but you get to see my face while I'm talking as well!
Tell us a little about the process of launching your course and getting your first sale(s).
I had built a list of 1000 email subscribers. Once I had that list (it was a goal that took me about 7 months to achieve), I simply emailed my list asking them what they wanted to learn from me. It was overwhelmingly obvious from their responses that they wanted to learn how I started an at-home virtual assistant business.
So, I took the time to list out everything I knew about starting a business. From choosing services to legalities to marketing. Once I had the content outline, I created a sales page. This listed out what I would be teaching in my course. I knew I wanted to eventually sell the course for $997, so I launched the first time at $497. I promised that I would deliver the content over the next 12 weeks and those first students would actually get to be a part of the creation of the content!
Then I sent a series of emails over a one-week period that became my very first "launch". During that week – 16 people purchased! That means that I was able to make nearly $8k in one week – which was almost a month's income for me at the time!
Do you have a lead magnet?
We do! Our main opt-in is a PDF checklist called the "Virtual Assistant Checklist & Starter Kit" – it lists out all of the steps you need to take to start a VA business. It is incredibly helpful but tells a lot more of the "What to do" when starting a business than the "how to do it".
We then invite people to watch our pre-recorded webinar, Become a Booked Out Virtual Assistant". During this webinar, we give incredible, actionable tips for landing clients. Once people hear our teaching style and see that we have value to give – we pitch our course to them. The webinar converts incredibly well and we now make 100k+ per month just from that one pre-recorded webinar!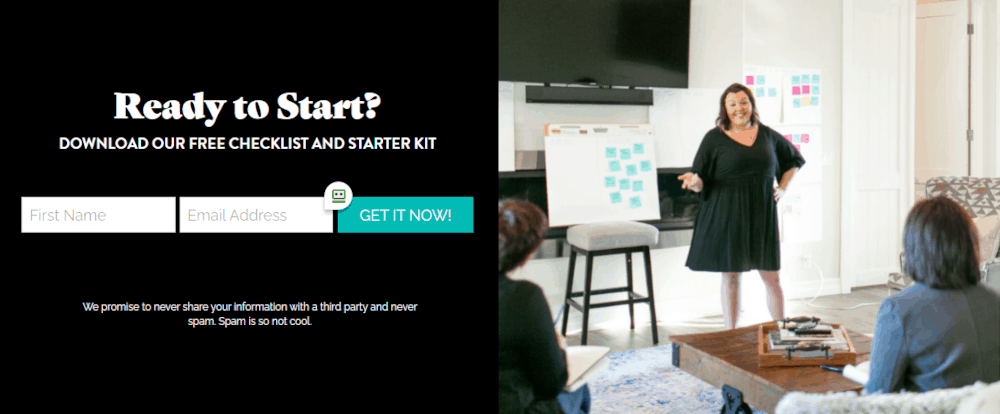 What's the traffic strategy that works best for you?
Over the years, we've tried to choose one place to go all-in on to build traffic out of Paid, Partner, and Organic traffic. We focused first on Organic traffic – for us, that has mainly been writing long-form blog posts and using an organic Pinterest strategy to get users to our site.
We've added in paid marketing efforts – mainly, Facebook Ads. We also pursue strategic partners to promote our course as well.
What online course platform are you using?
We recently switched from Teachable to Kajabi as our course platform.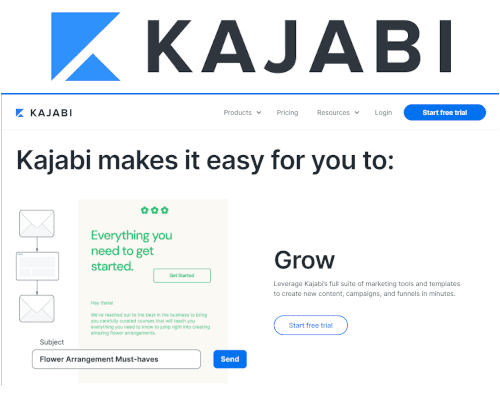 Kajabi is the All-In-One Course Platform
Kajabi is one of the top online course platforms used by successful course creators interviewed on coursemethod.com. Kajabi includes email marketing and other tools that make it easy to run your entire business from their platform.
Price Range: $149 to $399/month
Most Popular Plan: Growth Plan at $199/month
Annual Discount: Yes, take 20% off!
Free Trial: Get a 14-day free trial (credit card required)
*Our content is reader supported, which means when you buy from links you click on, we may earn a commission.
Do you like it?
We are LOVING Kajabi! It is incredibly user-friendly for both us and our students.
Are there any features you wish it had?
At this point, we are completely satisfied with the platform!
What made you decide to use your chosen platform over others?
Kajabi, in our opinion, offered an overall cleaner and more pleasant student experience and excelled when it came to native integrations with our payment processor and other applications. These were some of the things that were most important to us as we continue to grow.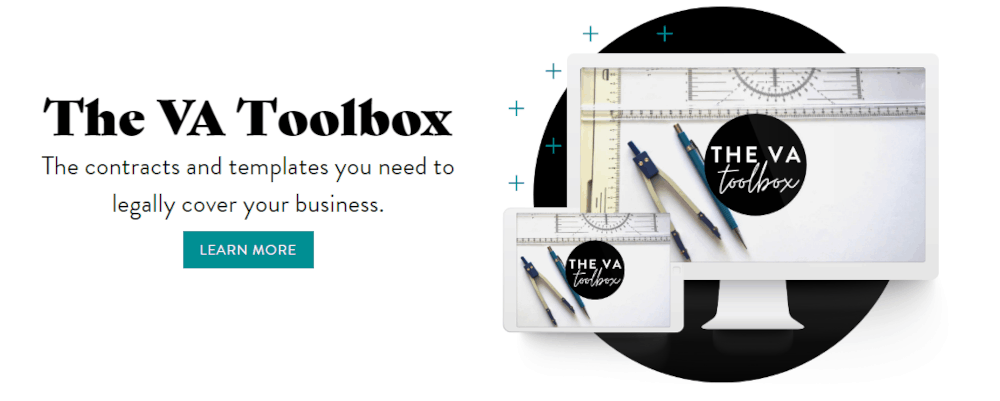 What other tools do you use to run your online course business?
For our sales funnel we use Kajabi, Leadpages, Deadline Funnel. For email marketing, we use ConvertKit. We use SamCart to manage our affiliate program, and Chatra and Helpscout to manage student support.
What books or training programs have you found useful on your journey to a successful business owner that others might find valuable too?
Throughout my journey, I've latched onto different mentors. The first was actually one of my VA clients! Bryan Harris is the founder of "Growth Tools" – he was my client and working for him was like the best-paid internship ever! I learned so much while working for him about how to launch an online course.
Dana Malstaff – founder of Boss Mom has been a huge influence in my business as well as Mariah Coz. My most recent coach was Kristen Kahle. It's been incredible because her business is SO different than mine – but she's grown her company to $6 million in annual revenue and I love learning from her. I always say that I'm going to need a DRINK at 10 am after our chats because she pushes me past my fears!
Do you have any big mistakes you've made along the way that you'd be willing to share?
We call it "The Chicago Fire" – 2 years ago I was in Chicago talking at a conference. My COO calls me and says "Are you sitting down"?
I immediately think that someone has died. She proceeds to tell me that she made a mistake and accidentally emailed EVERY person on our email list (about 30k people at the time) with EVERY email we had. That means that over 30k people got 20+ emails in their inbox saying "You Purchased ____". "Sorry to see you go ____" etc. I told her "Deep Breath – everything is fixable". It looks months to clean through the mess but honestly – it was amazing to see how our team came together during that time. We learned that we CAN get through difficulty in our business when we put all hands on deck! We also hired a tech person so our COO never had to log into our email management software again : )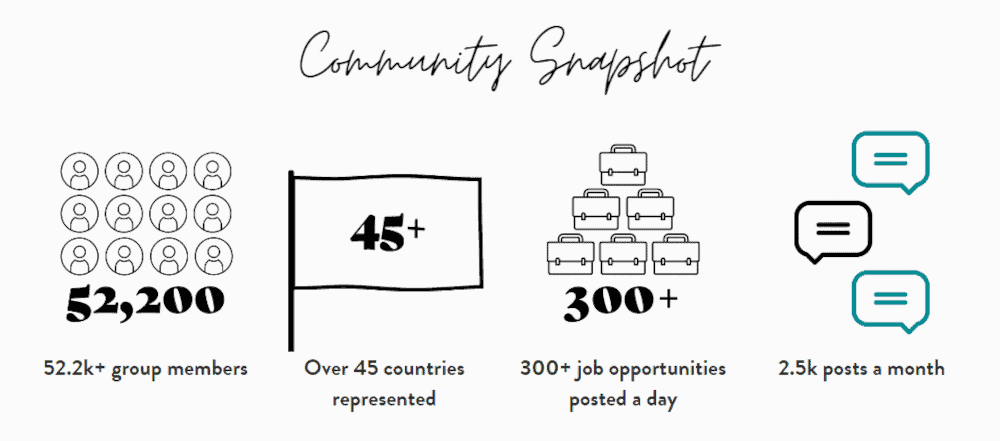 Please share some idea of revenue.
I'm happy to share this info. By simply being consistent and selling the same two products over and over – we had our first $1M year in 2019, made over $2M in 2020, and are on track to do over $4M this year! Our most recent course launch made over $750k in sales and we're hoping to do our first $1M launch this year (fingers crossed!).
Please tell us a little about what the money you've earned from your course has done for you.
It's been a huge blessing to be able to create the kind of financial freedom that for my family that would have been impossible working a typical 9-5. My husband was able to quit his job and now works for the business full time. We are able to travel and share adventures with our kids that we never would have been able to imagine we could do.
One of our core values in our family and at our company is "irrational generosity", so we've also been able to give to efforts we care about around the world, whether that is building wells so families can have clean water or contributing to individual foster care families we decide to support.
In addition to revenue are there any numbers you would like to share?
We went from 6- 20 employees in less than a year and are up to $4M in annual revenue!
What has creating your course done for you personally?
Honestly – I'm just the happiest and satisfied in my life than I ever have been. I feel like I'm fulfilling a true mission. I love the team that I get to work with (they are seriously the most incredible humans ever) and I love the lives that we get to transform. I'm so fulfilled and grateful that this is the work I get to do.

Do you have a story of a transformation from any of your clients?
Here's one of my favorite testimonials we've received from a student:
"I took Abbey's program in August of 2018. I quit my full-time job in November of 2018 and now I run a Virtual Assistant Agency that supports female entrepreneurs, creatives, and coaches. Abbey's course does work and I am so thankful I found her!"
I love what she said in her story because nothing replaces getting to spend time with your kids, especially as a new momma! I'm really happy that our course helped her get that kind of time with her family.
What advice do you have for people just starting out?
Validate, then create – Our company does over $4M a year now – but it didn't start that way. We started by growing an audience that was passionate about a topic (for us, working from home) – and then ASKED them what they wanted.
Even before we created our product – we validated that people actually wanted the product by having them pre-purchase it. Nothing will validate your idea more than people actually paying MONEY for it.
Validate your big idea with actual sales - then create at mass scale. - Abbey Ashley
Click To Tweet
Learn more about Abbey Ashley of savvysystem.com: