14 Exciting Microlearning Platforms to Transform Online Learning

Our content is reader supported, which means when you buy from links you click on, we may earn a commission.
---
In this day and age who doesn't want the world at their fingertips?
We all do and we just about have it with the popularity of Smartphones and free Wi-Fi practically everywhere. You can learn anything from just about anywhere.
Microlearning ties well into this.
Microlearning is an eLearning tool revolving around bite-sized content geared toward meeting very specific goals. For example, instead of watching a 5-hour course on car mechanics, microlearning consists of shorter videos walking the learner through tasks like changing a tire, changing oil, etc …
It's a win-win because the learner feels like they're accomplishing something instead of just passively learning. In addition, the course developer will see more engagement with their course.
Microlearning shifts the focus from sequential course material to an experience where the learner can guide their own path based on their specific goals.
Microlearning utilizing mobile devices reinforces the learning of bits and increases material retention.
If you're interested in creating micro-courses, then the best way to get started is by reviewing what's available in the microlearning platforms market. See what the top learning management or LMS platforms can do and make the best selection for your needs. If you're not yet sure what the term 'learning management system' means, then read what is an LMS to get up-to-date first.
While most of these platforms are geared for corporate eLearning you can model off the features and still incorporate much of this into any type of online course.
Corporate Microlearning Platforms
The following learning management solutions or LMS platforms are geared toward corporate training. Most offer pay per user plans which are significantly more expensive then other payment options. However, any of these LMS platforms can be used for any purpose.
1. Adaptive AI Modular Course
Surge9 is a modular course warm-up for your students using "polls, quizzes, and other mobile activities." It's sold as software as a service but it integrates with many different types of learning management systems.
Although Surge9 can work with SCORM compliant courses, SCORM courses are generally hours long and built for a desktop environment. Therefore, you may need to re-purpose your SCORM content to fit the microlearning model.
Surge9 also includes adaptive learning through the integration of artificial intelligence. Surge9 can refine a learner's next steps through the course by reviewing how they've performed in the past. It's pretty high-tech stuff.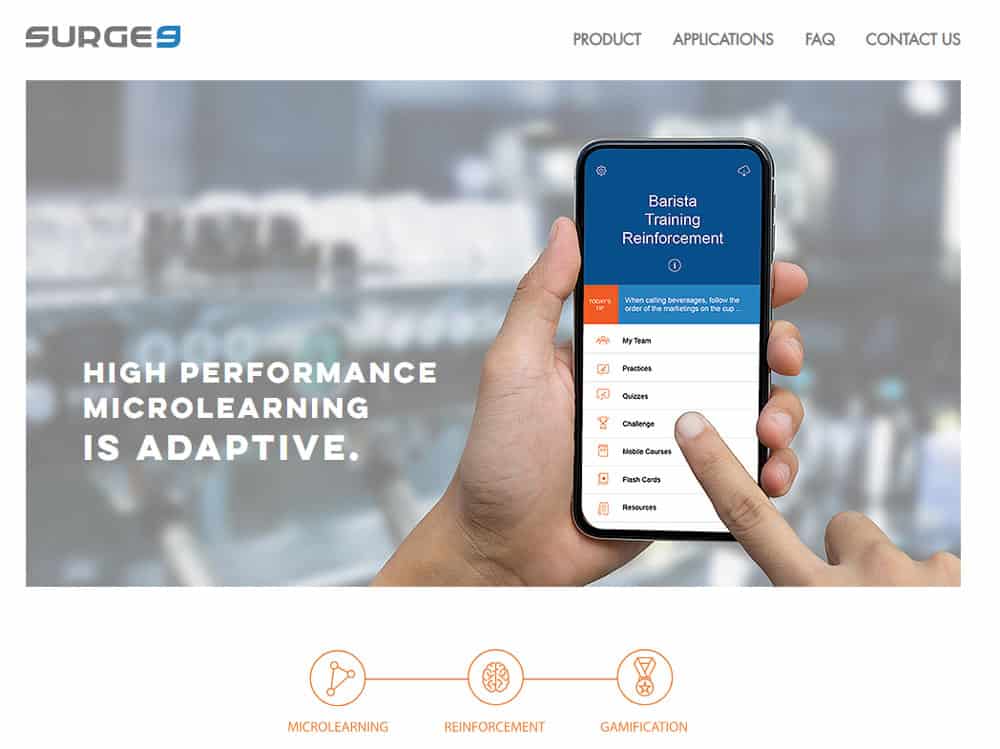 Smartphone use enables learners to go back and review material on the go which enhances and reinforces appropriate behavior.
Surge9's adaptive AI employs the same controls whether online or offline. It tracks and reinforces material retention by allowing busy employees and professional learners to use activities that build competency. Surge9 virtual analysis allows you to determine the effect of learning on learners.
Surge9's authoring mode allows you to convert your existing material into flashcards, games, quizzes, etc. to transfer course material into optimum memory bite-size pieces.
2. Web-Based Flash Cards, An Economical ML Tool via Mobile App
Talentcards explains that microlearning "is a learning approach ideally suited for skills training, [that reduces] skill or idea to … bite-sized learning nuggets." Its smartphone app utilizes a flashcard approach which definitely qualifies as bite-sized learning nuggets.
Built-in user tools enable you to evaluate your program, enhance any card with multimedia, and develop learner competition using gamification.
Talentcards notes that its approach produces higher engagement, reduces learning time needed, is cost-effective given alternatives, and allows the learner to gain new knowledge in under 10 minutes.
Each microlearning course component is an average of 6.5 minutes. The Talentcards approach allows variety per card (e.g., interactive audio, games, graphics, presentations, text, or video).
3. Engaging Employees with ML Gaming
mLevel utilizes a game approach to accomplish microlearning. The company promises measurable results with its methods.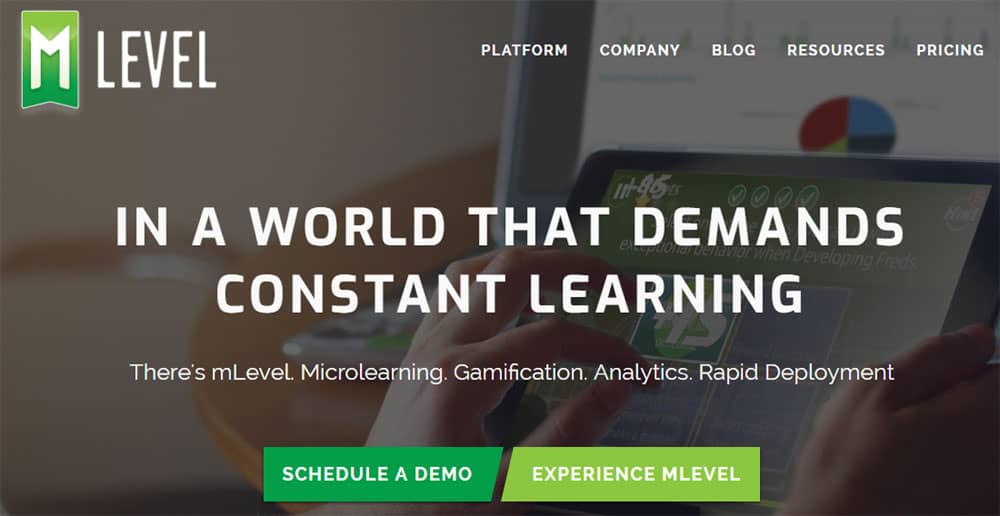 mLevel offers corporate solutions aimed at helping learners retain information over the long-term. The mLevel platform has 15 different interactive activities to choose from as well as real-time insights. It boasts rapid deployment. The platform includes microlearning, eLearning gamification, and analytics to help learners engage with the material.
4. Learning Faster by Microlearning in the Workplace
Using bite-size data to train your employees more quickly, Gnowbe focuses on business leadership. It seeks to extend employee learning beyond the workday using online or mobile learning courses in life skills, technology, business, leadership, innovation, and sales.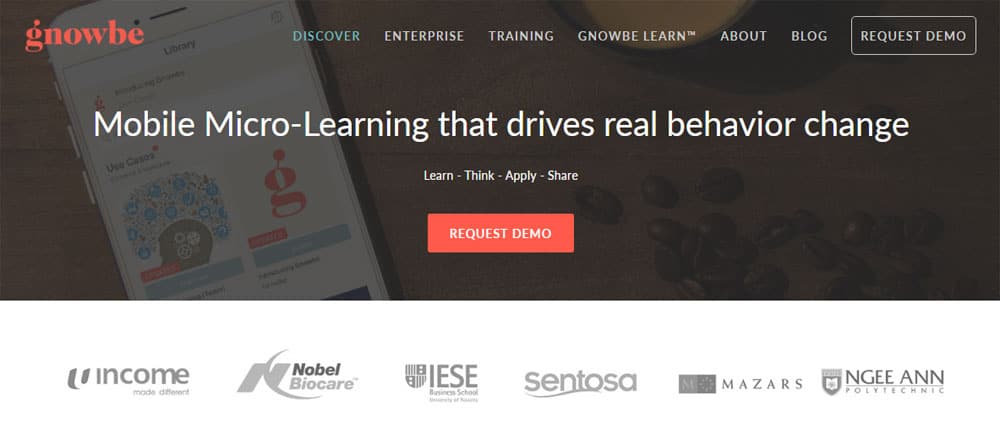 The company notes the successes in its approach. Learners love Gnowbe (90%), they master learning tasks ten times faster than with traditional learning, and Gnowbe improves knowledge confidence (75%) compared to other training modes. Many classes are under $50.00.
Institutional educators have designed these digital courses to develop skills sufficient to get employees certified in skills related to your industry. Gnowbe can also make limited customizations.
5. Fun Addictive Learning to Learn, Share, and Develop
With licensing designed for under 100 or over 100 users, Smartup.io offers basics to all customers. This includes a customized learning platform that allows your to upload your own audio, video, and textual content.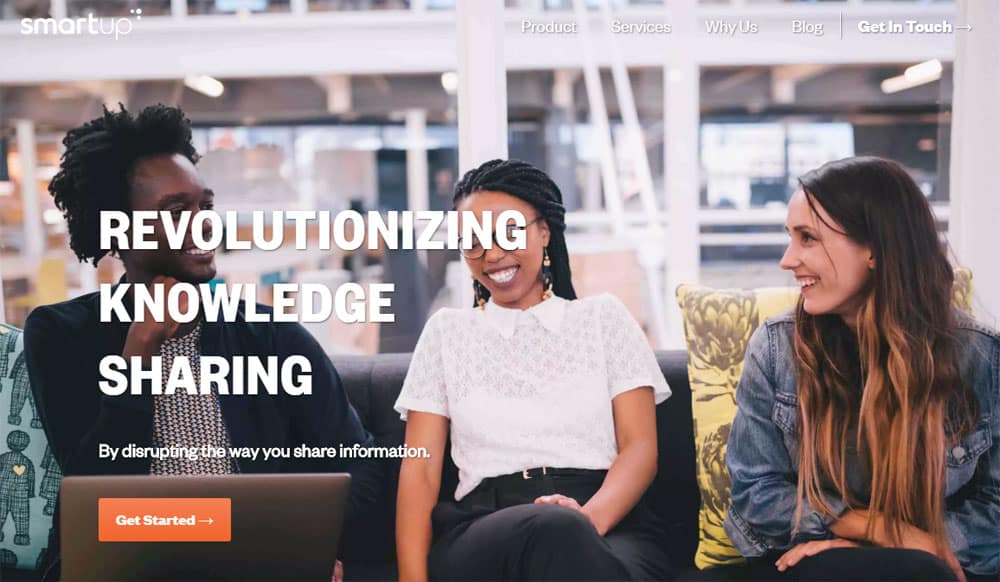 For its basic package, Smartup offers dedicated customer "success" management and access to learning expertise. The platform itself allows you to customize content so learners can "learn, share, like, comment and chat anywhere, at any time and on any device."
Your manager's dashboard allows tracking and analytics to identify employee talent.
6. A Solution for Learner Involvement in an Education Program
OttoLearn has been designed to answer several questions:
How do you know whether your learner is learning?
Do you know if the learning module clicks with your learner?
How can you get your content out quickly and efficiently?
A company's Key Performance Indicator (KPI) values how effectively a company achieves its objectives. OttoLearn improves KPIs and evaluates employees daily using very short "Mastery Moments" to assess learner knowledge and data retention. Mastery Moments are customizable based on your assessment of learner level.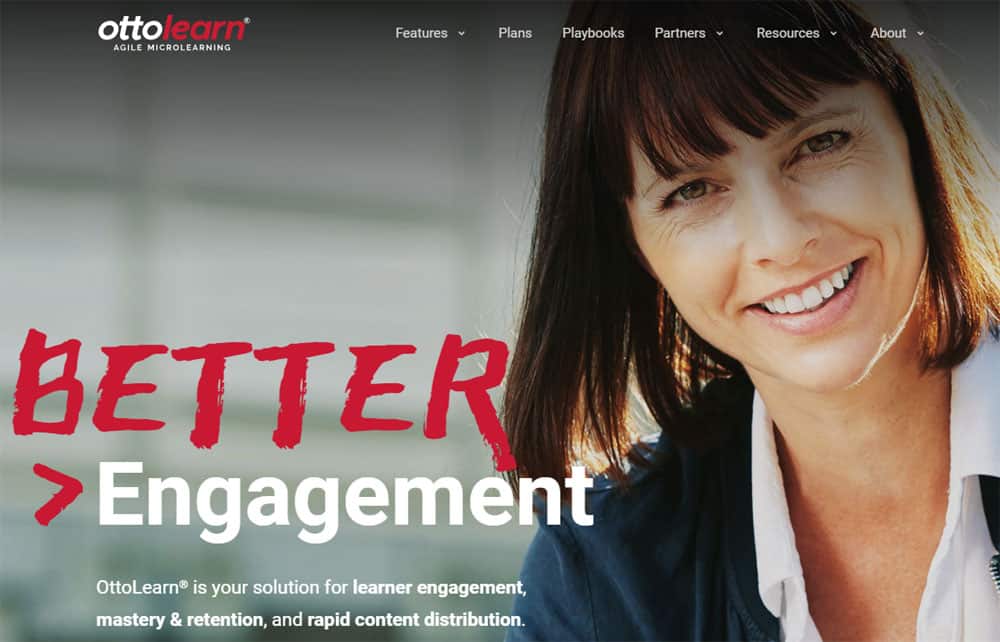 Your learners will be able to search for help based on their knowledge or browse by a given category. The idea is that you build independence by nurturing independence in learning.
OttoLearn's analytics allow you to modify your education program or develop information sought by learners but not present in your education program. OttoLearn facilitates determination of your student learning needs, including data retention required as set by you.
Its microlearning approach allows learners to use any screen and any device. In addition, content can be custom-designed with analytics to verify the design is working. Lastly, one-on-one coaching is available in case you need it.
7. Team Productivity as a Function of Product Knowledge
Microlearning has become a priority for many who desire a continuous learning experience. EduMe was designed to engage learners in activities that could be completed in a microlearning setting.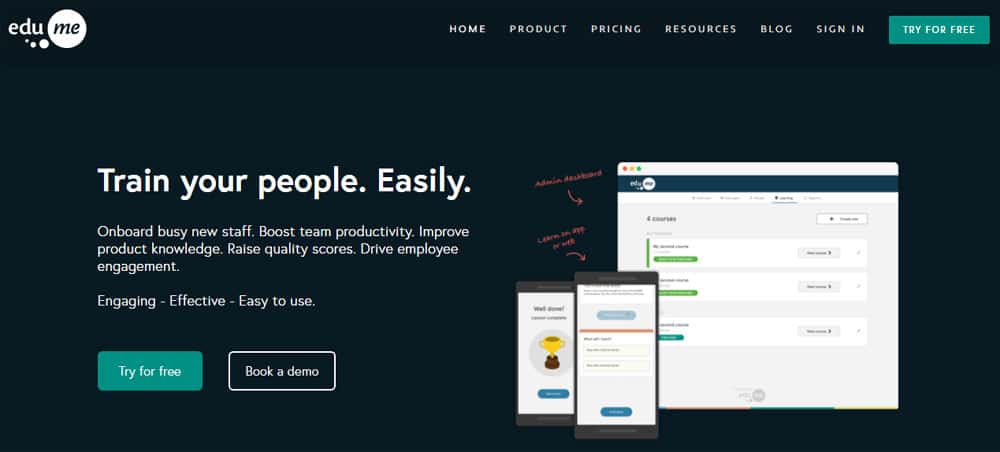 The platform is easy to use, creative, and able to deliver concise and engaging content in its mobile medium.
As platform manager, you are given analytics to both track and assess learner behaviors. EduMe offers integration of your learning material with commonly-used management systems, while maintaining data security.
The messaging component within EduMe allows learners ready access to developing material. Your learners may access this educational program via smartphone or web.
Companies using EduMe have reported productivity increases (8%), sales increases (66%), and quality improvements (25%).
8. A Cloud-Based System Allowing Simplification of Record-Keeping
TalentLMS has designed a microlearning platform to facilitate online learning via native iOS or Android apps. The company provides a customized domain, logo, and visionary theme for you.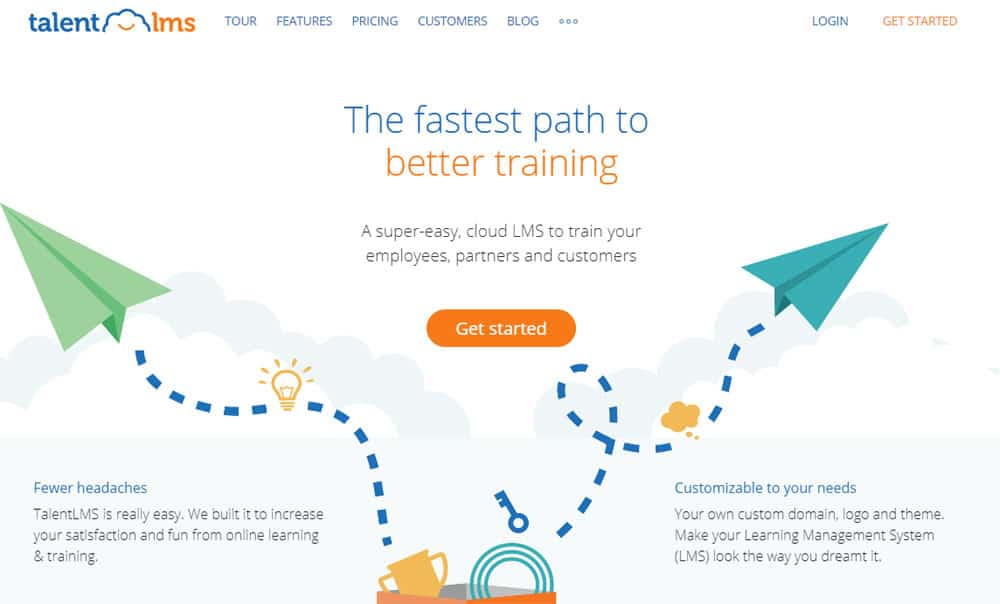 You can build courses from scratch or from recycled presentations, videos, texts, and pictures or from the TalentLMS social integration software.
Analytics enable you to monitor all operations of your microlearning training program. Platform resources facilitate employee preparation and compliance training, focused sales and marketing training, and support training.
You can partner with your strategic customers to develop new business as you utilize TalentLMS many cloud-based options. TalentLMS offers options like conferencing, gamification, course marketing, development of user-profiles, video-conferencing, and analytics to determine what platform configurations work best for you.
Microlearning Platforms Not Strictly for Corporate Use
The next set of online course platforms are not specifically created for corporate use or for microlearning. However, they can be used in this capacity. With microlearning, it's all about the course content. Realistically, the microlearning tools you use can play a bigger role then the LMS. Even platforms like those listed below can offer microlearning opportunities.
9. The Thinkific Platform is Perfect for Just About Any Course Creator
Corporate platforms typically charge using a per user basis which can make things expensive for small businesses. However, Thinkific, which can be used by both small and large enterprises, accommodates microlearning.
Thinkific is a cloud LMS with a wide range of plans to fit any business model. As far as microlearning is concerned, you can upload any length of video to the platform. You can organize your videos in such a way that users can move through them based on their own path. You can also include simple quizzes or assessments after a video or a group of videos. Content and quizzes are marked off so learners know what they've already finished.
In addition to the multimedia content you create, Thinkific offers the ability to add in media created with H5P.org. H5P.org offers flashcards (but they're not great since they don't shuffle), memory games, fill-in-the-blank questions and answers, and other interactive materials to your course. You can also connect up Brillium Exams to Thinkific which can allow you to add in even more question types. However, the tracking for this additional content will not show up for users in their Thinkific LMS account.
Check-out the Thinkific tutorial and Thinkific review if you're interested in learning more.
10. Teachable and Microlearning
Teachable is another popular cloud LMS platform for online course creators. This platform can accommodate microlearning although to a lesser degree than Thinkific (check-out the full Thinkific vs Teachable review to see a comparison of these two platforms).
However, one big plus for microlearning is that Teachable offers an iOS app built right into the system. Learners can start and stop on different devices and their progress will continue to be tracked. Learners can create their own path through the course.
11. LifterLMS Offers a Complete Package
LifterLMS is a WordPress LMS plugin which means you will host it from your own server. You'll have to maintain your LMS on your own instead of a cloud LMS which will maintain the platform for you. The trade-off between this and a cloud LMS is that you'll likely have more features to choose from.
You can use H5P.org interactive content which includes flashcards and other interactive presentations with LifterLMS. If you need more information, view the LifterLMS review and the LifterLMS tutorial to see a full list of its features.
12. LearnDash is Highly Customizable
LearnDash is another WordPress LMS plugin like LifterLMS (check-out the LearnDash vs LifterLMS review to see the differences between the two). However LearnDash has more features when it comes to the management of your course. The trade-off is that it is not eCommerce ready right out of the box.
Of the 4 non-corporate platforms, LearnDash has the most promise when it comes to microlearning. That's in part because it has 3 hierarchies within the course management system. You can also use H5P.org interactive content with LearnDash. In addition, you can use AppPresser (see below) to turn your LearnDash course into a fully functioning app.
The sky really is the limit with a tool like LearnDash. Check-out the LearnDash tutorial to see what you can do with this LMS. Lastly, read the LearnDash review to get a full list of its pros and cons.
App Creation Microlearning Platforms
13. Launching a Proprietary Customized Native App
AppBoss is designed to augment your WordPress site. It uses native app technology built with React Native to access WordPress via Rest API.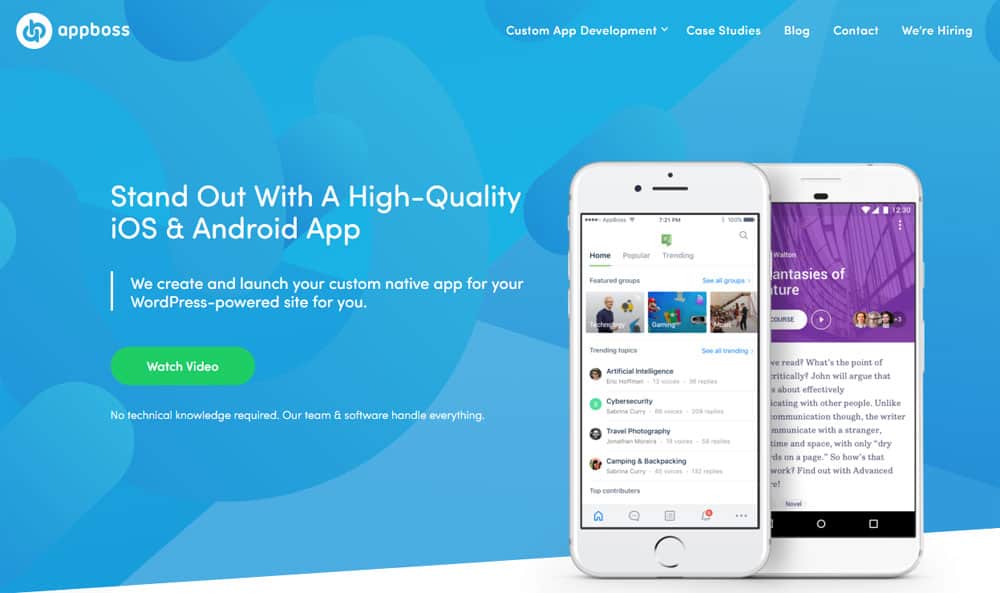 AppBoss expertise strategically builds your microlearning quickly, using its technology resources to assemble and efficiently deliver your app.
AppBoss handles all development from idea to platform to marketing to app stores. Moreover, it monitors and maintains your app for you. Your mobile app will provide microlearning resources such as bbPress and WordPress forums in native iOS and Android apps, a learner app for a LearnDash powered e-learning site, and others, some in development.
Moreover, you can customize your own pages via your WordPress dashboard within the app. The native mobile app synchronizes with your website.
Content revision happens on your site in real-time via the AppBoss plugin. Your learners may access your app with existing social account passwords or alternatives.
14. App Development by Piggyback on Existing Site
AppPresser uses several WordPress plugins to augment your microlearning platform's access to your WordPress site.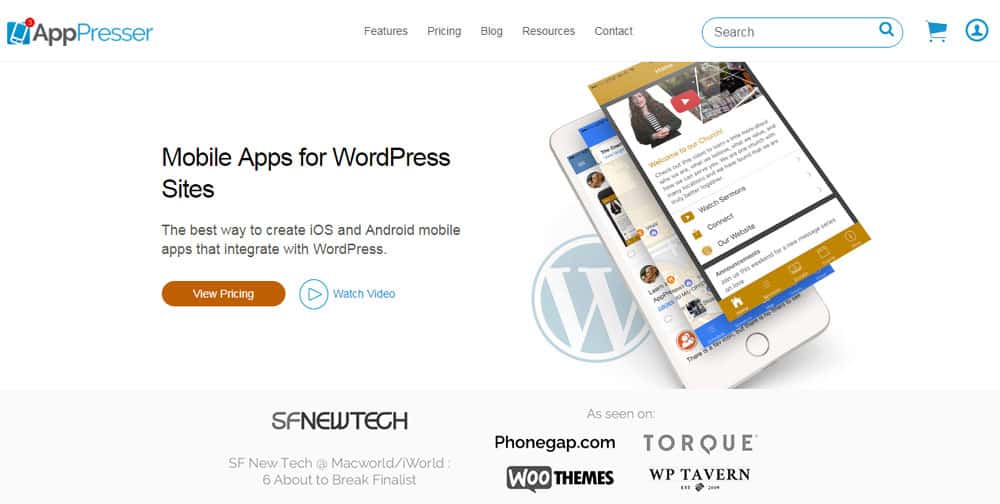 Even novice designers can develop high-quality mobile apps despite limited coding skills by using AppPresser's cloud-based technology and your own WordPress site.
You can integrate WooCommerce, BuddyPress, your own video, and other resources into your platform options.
AppPresser enables you to build your microlearning app from any website with WordPress.  In addition, custom mobile app help is available through AppPresser if you need it.
Conclusion
As you can see, many LMS platforms can accommodate microlearning. By focusing on microlearning, you will stand out in a crowded market and help your learners reach their goals faster.
Some of these platforms will help you produce very high class learning experiences. Many have fun and engaging set-ups, especially for accessing content from mobile devices.
If you want to include microlearning in your course, take a look at a few of the platforms mentioned in this article. In addition, you can check out microlearning examples and even sign-up for a few to see how they work. You can also review the top microlearning tools to help you create your content.
Create your online course with microlearning in mind!