Complete LearnDash Review: Is It The Perfect Solution?

Our content is reader supported, which means when you buy from links you click on, we may earn a commission.
---
Why Trust This LearnDash Review?
To give you the best review possible, I bought a LearnDash license and installed it on a domain already running WordPress. I estimate I spent over 30 hours using the features available through the LearnDash plugin.  I also created a very in-depth LearnDash Tutorial that will walk you through all the features of this plugin.
LearnDash was so impressive to me that I'm considering switching my main online course over to this platform.  I've run this course since 2004 so in addition to being in the online course business myself, I know a lot about the features that will make your course better and your life easier when it comes to running an online course business.
I only review products that I believe are the best (after lots of careful research) and LearnDash definitely makes the cut.
In addition to trying out and using LearnDash, I also contacted their customer service email (several times) to see how well they respond to questions. Plus it turned out I needed a little help!
Please note, I am a part of the LearnDash affiliate program. That means I'll receive a small commission if you purchase LearnDash through the links on my site and this LearnDash review. There's no cost to you and it helps me continue to write detailed reviews like this.
Table of Contents
What is LearnDash?
LearnDash is a learning management system (or LMS). If you're not sure what an LMS is, briefly, it's software designed to help you create an online course including management of users, progress tracking, and more. LearnDash is a self-hosted LMS which means you host it on your own hosting account. Specifically, it's a WordPress LMS plugin so you'll need to install WordPress first, then install the LearnDash plugin through your WordPress dashboard.
Once you've installed the plugin, you're ready to start setting up your online course. LearnDash will enable you to set-up your courses, lessons, topics, and even quizzes from within your WordPress admin. You'll be able to customize and add-on to the core functionality of LearnDash with other plugins to create a highly interactive online course.
Who is LearnDash Best Suited For?
If you're already familiar with WordPress and are comfortable running your own course platform on your hosting account, then LearnDash may be an excellent fit for you.
This plugin will give you the ultimate in flexibility for your own course. With LearnDash, you will need to update your plugin over time and make sure integrations are working well. You may also need to contact your hosting company to make sure everything is running smoothly.
A WordPress LMS plugin is an alternative to a cloud LMS where the system is hosted for you.  With a cloud LMS, you won't need to install plugins or maintain anything. However, you are limited by what the LMS offers as often you cannot customize much.
Some cloud learning management systems take transaction fees and all require monthly payments which can increase over time (and/or features can be limited). With a WordPress LMS plugin, you don't have to worry about this as much, but maintenance is definitely a trade-off.
Type of LMS
LearnDash is a self-hosted LMS which means you'll host it on your hosting account (like Kinsta, Liquidweb, etc …). It is a WordPress LMS plugin which means you will need the WordPress content management system installed on your hosting account. LearnDash is a plugin that you install through WordPress.
LearnDash Customer Service
I sent LearnDash several emails both before I bought a license and as I was working through the plugin features. Each email was answered within 24 hours and by knowledgeable staff who were able to answer my questions. So I feel good about the support LearnDash offers.
There's also a very active community on Facebook. You can join the Facebook group, share ideas, network, and get help there as well. There's also a forum running within your LearnDash account (you'll gain access to this once you purchase). The Facebook group is a better way to go.
Another great sign is that the software is updated constantly.
Tech Knowledge Required
It's best if you're already familiar with how a WordPress website runs. If so then you'll understand the admin area (which is where LearnDash) is installed. You'll also understand how to create posts and pages which is what you use to add in your content. Most of this is fairly intuitive. That's what makes WordPress the top content management system online. Even if you don't know anything about WordPress sites, you can get started with LearnDash as you figure it out.
It's best if you already know how to install WordPress. This can be done simply through Softaculous which is an auto-installer available through most web hosting control panels. It's also best if you already know how to install plugins and activate them as well as how to navigate through a WordPress admin area. If not, you can learn it as you uncover LearnDash.
Again, with any WordPress LMS plugin, you will have to update plugins and test them out to make sure your integrations and the plugins themselves are working over time.
Recommendations with LearnDash
If you're using LearnDash, then there are a few additional tools you'll need to run your online course business. These include:
Domain name (get tips on how to choose a domain name for your online course business)
Hosting
WordPress installation (this is free and easy to do from within your hosting account)
WordPress LearnDash theme (you can use a free theme or paid theme)
Email marketing automation tool
Video hosting if you're offering video training videos.
Other plugins or add-ons may be necessary depending on what integrations you need and any additional features you want. Let's start moving forward with this LearnDash review …
What I Like/Which Features Stand Out
Sample Lessons
If you'd like to offer a lesson as a sample, then all you have to do is mark off a checkbox. Once the sample lesson box is marked, visitors can take the sample lesson and all of its associated topics and quizzes. The rest of the content will not be available to them until they enroll in the course.

Multi-Tier Courses
With LearnDash you're not just limited to lessons within a course. You can also offer topics within each lesson. This creates a more robust hierarchy. It's very useful if you've created a large course.
In addition, there's support for almost any type of content or media. You can add in videos, audio, text-based content, links to PDF files, etc …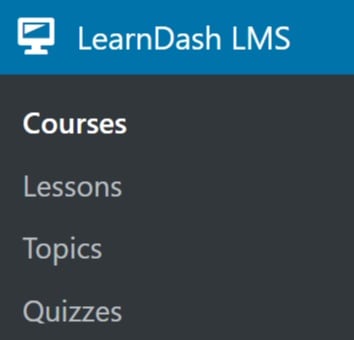 Custom Labels
You can change the text headings in one place and have it updated everywhere. You can change the text 'lesson' to 'module' if that suits your course better.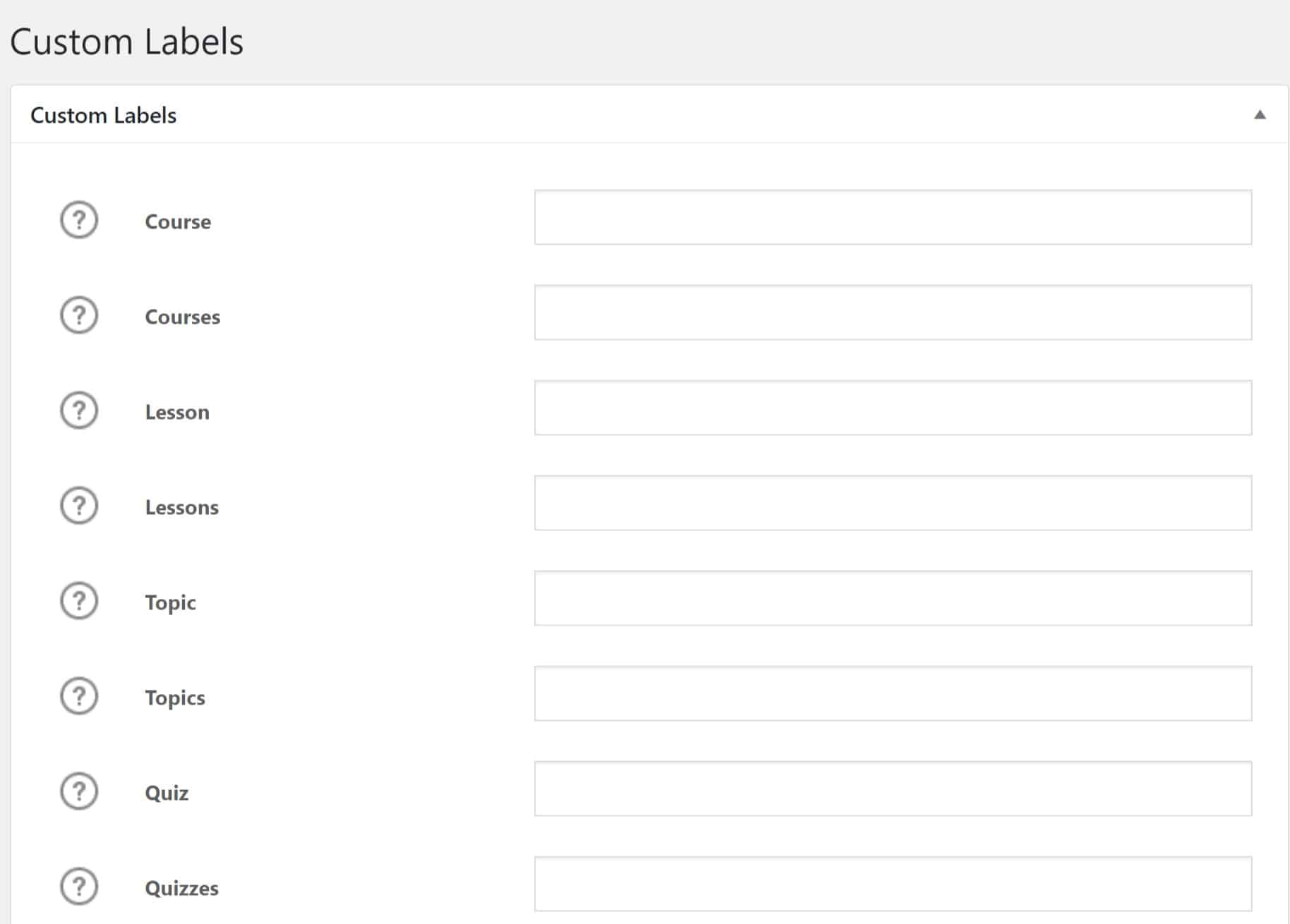 Progressive Learning
When you build out your course, lessons, topics, and quizzes, you can enable progressive learning which means the learner will need to go through them all in the order you presented them. Otherwise, they won't be able to access the next piece of content or take the next quiz. They will need to click on the Mark as Complete button to keep going.
You can easily disable this on a course-by-course basis if you need to, but it's a nice feature to have as an option. You can also set prerequisites where learners need to take one course before they may start another. Both these options really enhance the learning experience for your users.
Payment Options

The full list of payment options are; Buy Now, Open, Closed, Free, Recurring. So you can easily decide the best way to offer your course right through LearnDash. Alternately, LearnDash works well with many other plugins if you need a more sophisticated system for running your courses.
Forced Lesson Timers
With LearnDash, you can drip the content and set timers so people can't mark a lesson as complete until they've spent a certain length of time on it.

There's also a Forced Topic Timer too. This sets a minimum amount of time a learner must spend on the topic page before it can be marked off as complete. That's a very handy feature.
LearnDash Quiz Features are Phenomenal
I can't really say enough about the possibilities with quizzes and LearnDash. I was blown away by all the features you have to choose from. I'll start going through a few of the top features, but this only barely scratches the surface of the quiz features available to you.
Associated Certificate
Here you can optionally associate a quiz with a certificate.

This way when a learner passes a quiz (and only when the quiz is passed), they will get a certificate. This helps keep learners engaged with your course and if you include quizzes throughout your course, they don't have to wait until the very end to get a certificate.
Display Question Randomly
This feature allows you to randomize your quiz questions which is great if you're allowing learners to retake quizzes. Anytime they retake the quiz it will seem like a new experience for them.

Show Only Specific Number of Questions
This feature allows you to set a quiz to display a maximum number of questions. This is very useful if you want to have a large question bank that pools only a certain number of random questions from within the bank of questions.

Statistics
Enabling this allows the admin to see the quiz statistics after each completed quiz.

Statistics IP-lock
This feature allows you to protect the statistics from spam. LearnDash has a recommendation of 1440 minutes. That means the result will only be saved every 1440 minutes from the same IP address.

View Profile Statistics
This setting allows you to enable the learner to view statistics for this particular quiz on their profile.

Prerequisites
If you activate prerequisites then you can choose the quiz which must be finished before the learner can take the current quiz.

Question Overview
This allows you to add a quiz question over at the top of a quiz allowing for easy navigation. The learner can mark questions 'to review' later on.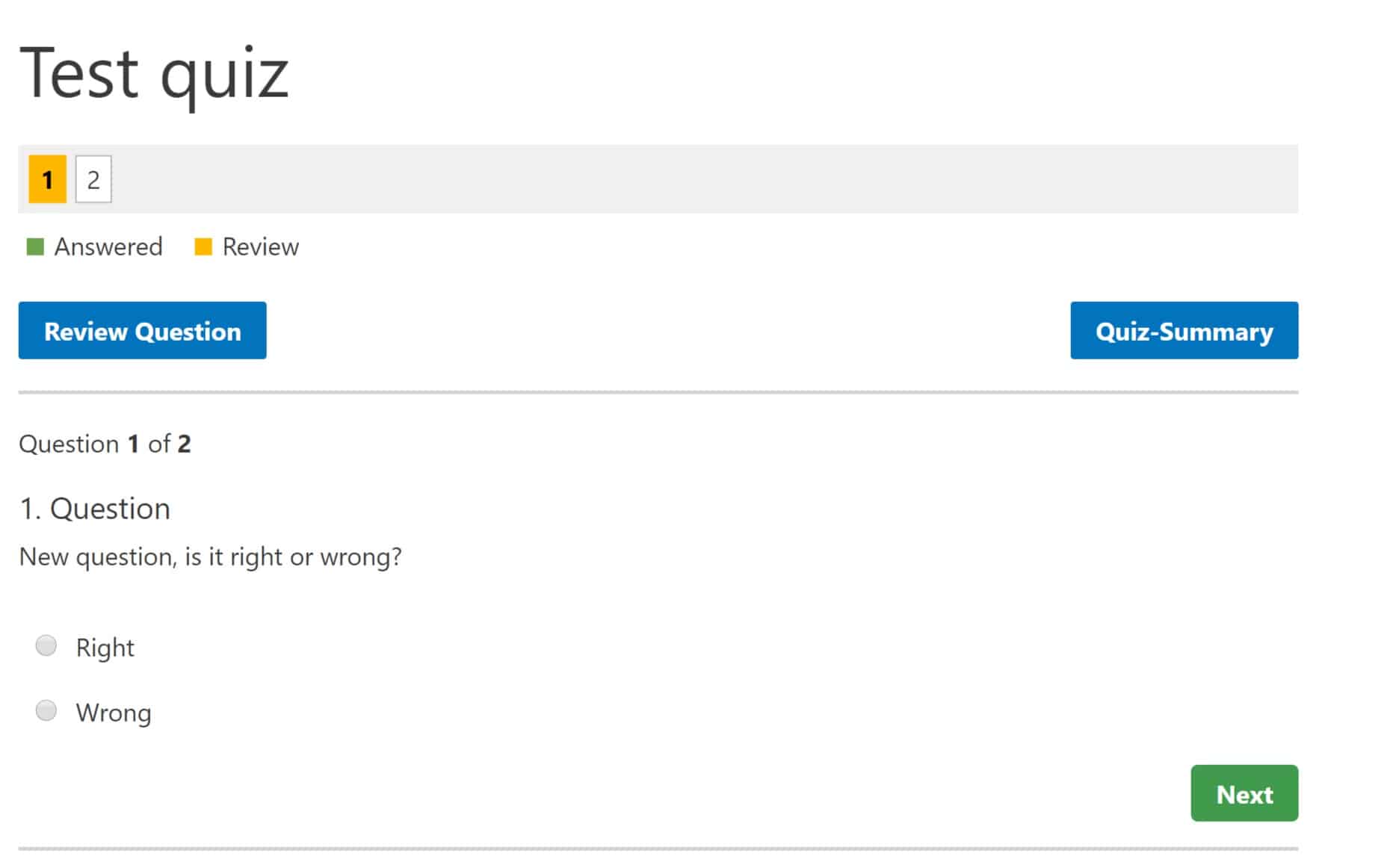 Profile Area is Impressive
You can create a profile page by simply dropping a shortcode on a designated post or page. Then the user goes to this page: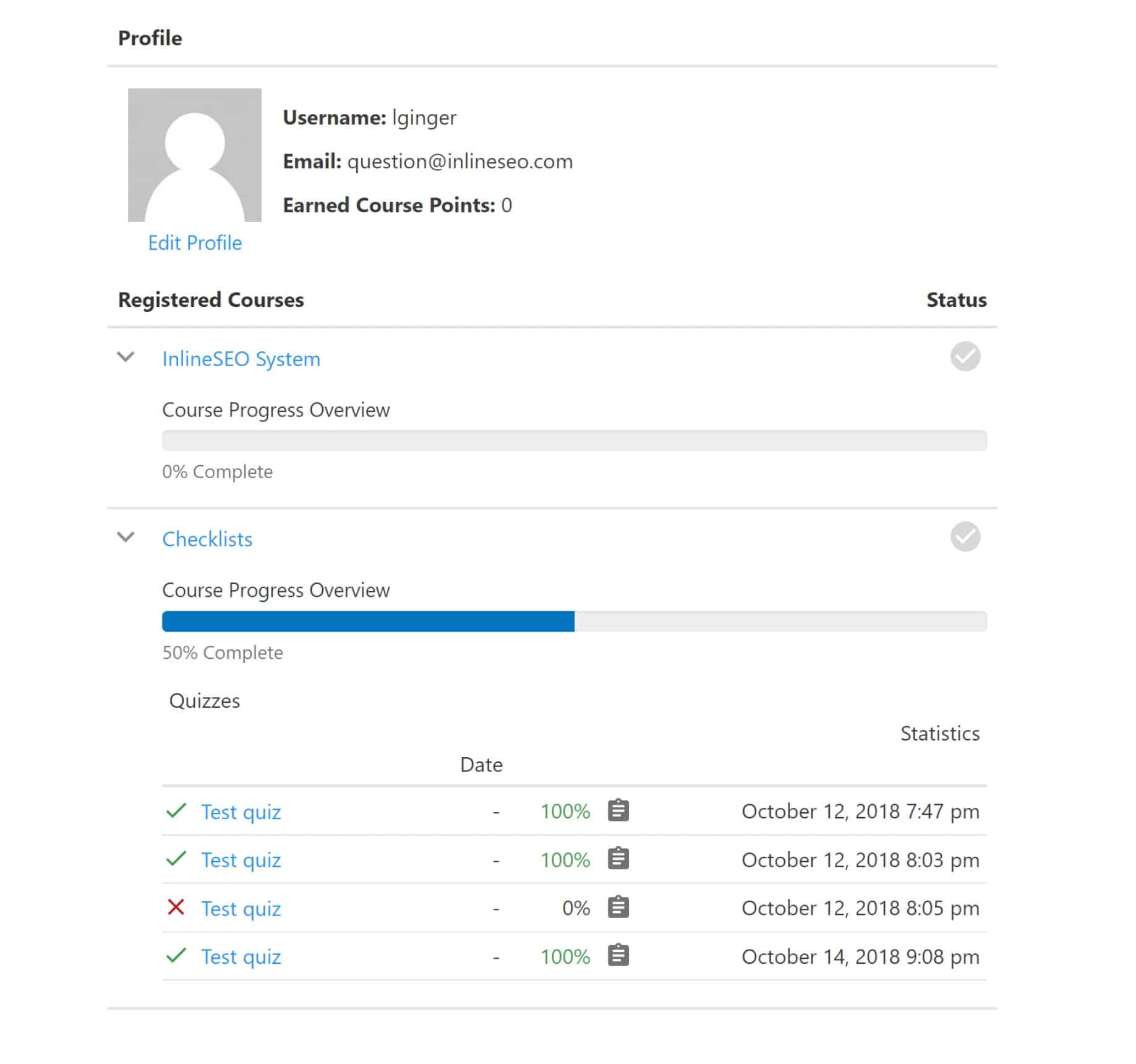 If you click on that text icon next to a quiz score, you can get an expanded view of all your quiz attempts:

PayPal Integration Built-in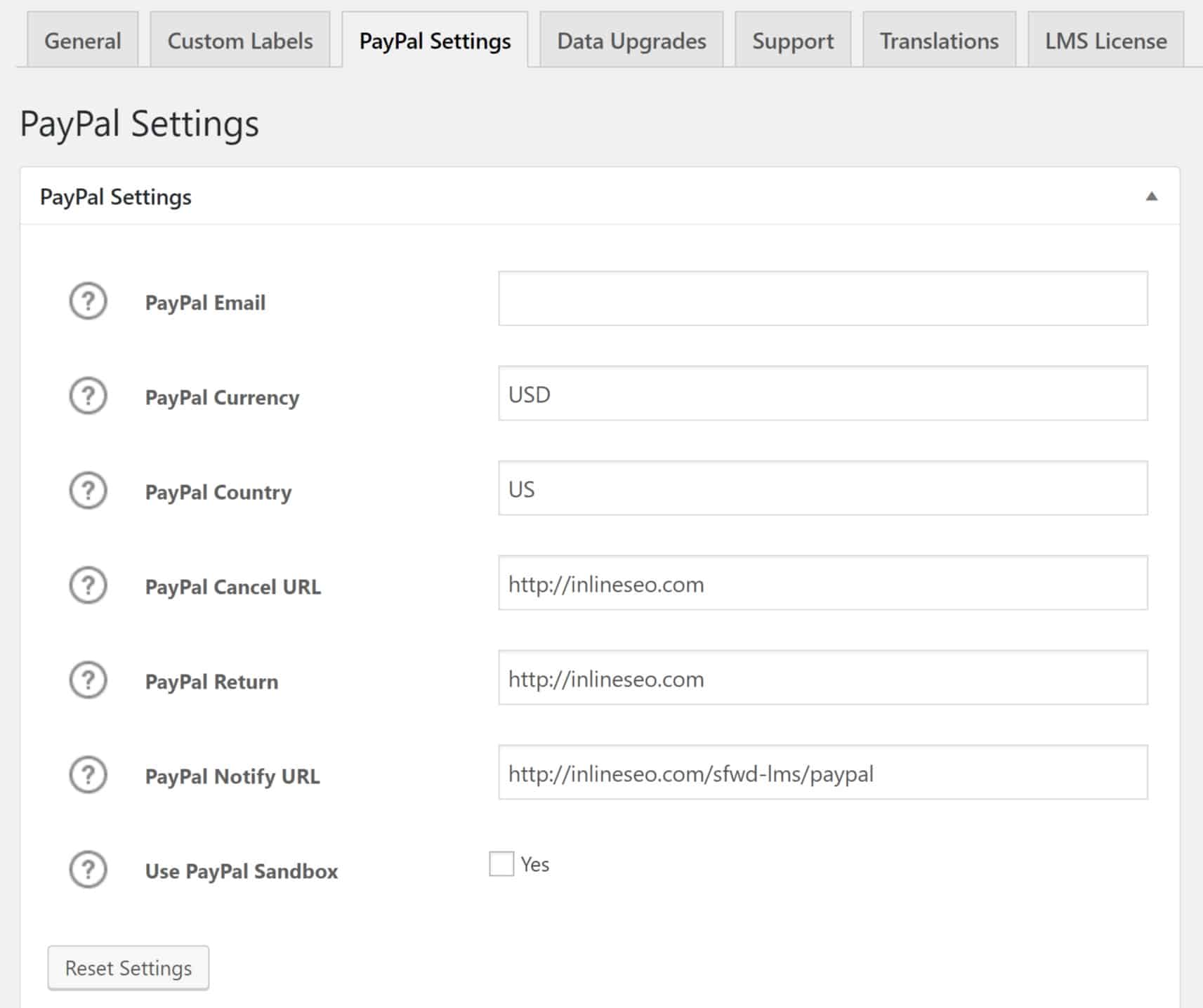 New Features
LearnDash is now on version 3.0, packed full of new features. Let's go through them here:
Updated LearnDash Course Builder
These include a new course builder which is even easier to use. The drag and drop course builder produces engaging, eye-catching templates for you to insert your course content. Adding in a new lesson, or quiz is simple and you'll have more fun while creating your course. Course creation is now much easier and will result in a better user experience for both you and your learners.
Focus Mode
Focus mode allows you to remove all the distracting navigation menus so your learners can focus on the content only. This will help provide a better user experience for your learners while increasing retention and completion rates. Focus mode is perfect for learners using mobile devices. Best of all, they control when they use focus mode and when they return to the regular user interface. It's online education at its best!
Better Login and Registration Process
This had been a real problem in the past, but LearnDash 3.0 has solved it. You can now allow your learners to register and log in without the need for a 3rd party plugin. LearnDash will still work with many registration plugins, but you will be able to offer a much more seamless experience for your users without the steep learning curve for you. This really sets LearnDash up as a nearly complete out-of-the-box solution.
Areas for Improvement
Need a Theme
Again, you cannot use LearnDash right out of the box. You will need a LearnDash theme. There are many that even work well with LearnDash and offer extra features. These include the Astra theme, Social Learner (which offers social learning and gamification options right within the theme), eLumine, University, Education, and LearnPlus.
In addition, you can use just about any WordPress theme for building your course. I experimented with the Ocean Theme and the free version of that theme worked great for my needs.
Payment Process
The LearnDash payment system does allow you to connect with PayPal and there's even a Stripe upgrade. However, you're only going to get a very basic experience with the native functionality.
You really need to consider LearnDash as the online course builder and management tool and use another plugin to handle the login as well as payments. Fortunately, most plugins will handle both.
I use Infusionsoft for my email marketing, affiliate program management, eCommerce solution, and more.
Combining LearnDash with Infusionsoft is the perfect solution. With a monthly membership plugin, you can get the two to integrate on a crazy level whereas your learners go through your course, you can send out an email to help motivate them and keep them going.
I experimented with using Memberium with LearnDash and was very impressed with how they really complement one another. This is a $49 a month fee, but if you're using Infusionsoft, Memberium will help you maximize that tool as well. Memberium also has a less expensive version for ActiveCampaign so that's an option too.
Again, then there are many other membership site options you can choose from. PaidMembershipsPro and MemberPress are both popular options.
Support Tutorials
When you buy LearnDash you'll get access to an account area that could have more direction. It's not an out-of-the-box solution. You have to put some work into it. They could offer more guides and even just FAQs in the help area.
I had to search around (outside the account area) to figure out what add-on I needed. Not every beginner is going to know that the course grid add-on helps make your course list look nice.
Once I figured out the right add-on I needed (sometimes I had to write in and ask them), then I would type into Google search to find out how it worked.
Summary of Pros and Cons
So those are the major shortcomings.
Overall LearnDash wasn't meant to be an all in one solution, but rather just handle your course content which it does extremely well.
You can overcome all of its downsides pretty easily by getting a good theme and then a membership site solution to wrap that over LearnDash.
Another plus with LearnDash is the number of add-ons available.
LearnDash is so popular many companies have sprung up just offering plugins for this LMS.
There are a ton of plugins to add functionality to LearnDash. You only add what you want so you don't slow down your site.
LearnDash Pricing
One thing I noticed is that LearnDash pricing is too cheap! Even with the shortcomings, Justin and his team should be charging more.
The Basic plan is usually $199/year. They were running a sale (which seems to run frequently) for $159/year.
You get everything in this plan with a license to use LearnDash on 1 site. The next plan up is the PLUS Package and the only difference is you can use LearnDash on up to 10 sites. It also includes ProPanel which is a nice reporting tool.
Lastly is the PRO Package which just allows you to have a license for up to 25 sites.
Judging by the pricing alone, there are a lot of developers who buy bulk packages with a number of site licenses and help website owners set their LearnDash site up.
The prices increase by license.
All the features you need are in the Basic plan so unless you have more than one site you want to install LearnDash on or you're planning on helping others get their LearnDash site set-up you don't need to pay more than the $159/year (or $199/year if there's no sale going on).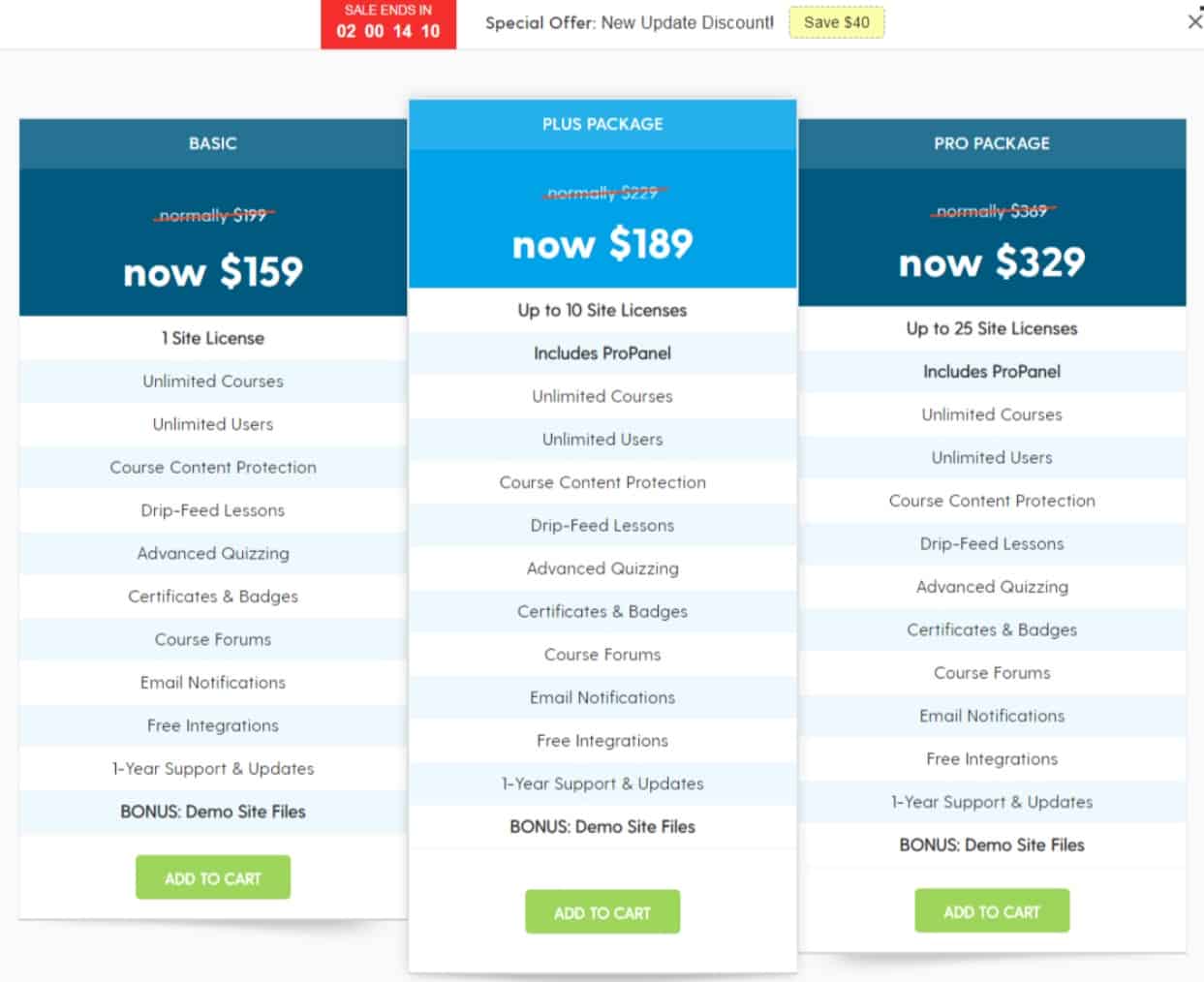 LearnDash Demo
There is a LearnDash demo all set up on their site. You can log in and see what it's like. But this isn't what LearnDash will look like when you install the plugin on your site. They've customized it a bit and it also doesn't allow you to see the admin features.
The only way to really try it out is to buy it and then install it on your site. You'll have 30 days from the date of install to try it out. You can get a refund within 30 days.
Check out our LearnDash tutorial to see all the features available in LearnDash before you buy it.
Alternatives to LearnDash
The other top WordPress LMS plugin is LifterLMS. LifterLMS does offer support for login and registration as well as integrations with payment processors right out of the box. Depending on your needs, it may make more sense for you. I've put together a LifterLMS tutorial as well as a LifterLMS review that you may want to take a look at.
If the idea of running a WordPress LMS plugin seems too intimidating or the idea of maintenance is not your style, then you should consider a cloud LMS. The top two cloud learning management systems are Thinkific and Teachable. I've done a ton of research on them as well.
You can take a look at my Teachable tutorial and Teachable review. I've also got a Thinkific tutorial and Thinkific review too. I've spent dozens of hours trying each of these tools out, creating tutorials and writing reviews. I think it'll be helpful for you. In addition, there's also a Thinkific vs Teachable comparison article if you're thinking a cloud LMS will work better for you.
LearnDash Features
| Features | Basic Package |
| --- | --- |
| Unlimited courses | ✔ |
| Unlimited students | ✔ |
| Course content protection | ✔ |
| Student management | ✔ |
| Student profiles | ✔ |
| Discussions | ✔ |
| Multiple authors | ✔ |
| Course points | ✔ |
| Free courses | ✔ |
| Paid courses | ✔ |
| Drip course content | ✔ |
| Email students | ✔ |
| Advanced quizzes | ✔ |
| Completion certificates | ✔ |
| Email support | ✔ |
| PayPal integration | ✔ |
| Stripe integration | ✔ |
| MailChimp integration | ✔ |
| ConvertKit integration | ✔ |
| Intelligent course builder | ✔ |
| Lesson Timers | ✔ |
| Flexible prerequisites | ✔ |
| Course bundles | ✔ |
| Group management | ✔ |
| Assignment management | |
| | Try LearnDash |
LearnDash Review: Pros and Cons
Based on the feature chart above and the discussion throughout this review, LearnDash gets a strong review. It's the top WordPress plugin LMS on the list due to all the positive reviews as well as my own experience with it. Here are the top pros and cons:
LearnDash Negatives:
LMS Only, No Membership Module
Will Need to Customize Design
Ongoing Maintenance
LearnDash Positives:
Highly Advanced Quiz Builders
Progressive Learning
Complex Plugin but High Ease of Use
No LearnDash Transaction Fees
User Profile for Quiz Tracking
Multi-Tier Unlimited Courses
LearnDash is a leader in online education and may just be the right WordPress LMS plugin for you.
LearnDash has a full 30-day money-back guarantee so give it a try if you're interested by clicking on the link here.