7 Camtasia Alternatives: Find the Best Screen Recorder Tool For Your Needs

Our content is reader supported, which means when you buy from links you click on, we may earn a commission.
---
Are you considering creating an online course using screen captures with voice over recordings? If so you'll need to use Camtasia or a Camtasia alternative.
Camtasia, and other screen capture software, allow you to set up space on your computer screen (or your entire screen) which will be recorded. With screen recording tools, you can record yourself running through a PowerPoint presentation or working through the steps to accomplish a task online. Then you can easily share videos you create with your audience.
By adding a voice over recording to your recorded video presentation you can quickly create instructional videos. Best of all, it's super easy. And Camtasia offers advanced tools to create ultra-professional videos if you're willing to take the time to learn how to use them.
Why Do People Use Camtasia?
Camtasia's many features allow trainers and digital marketers to give direction, create tutorials, make explainer videos, give lectures, demonstrate procedures, and give tests or quizzes. This software tool is very flexible and can be used to add
audio to PowerPoint
and
Google Slides
.
You can even insert a video within your screencast. That way you've got your slideshow with audio along with a video of you actually giving your presentation. Camtasia essentially allows you to give your live presentation once and then your learners can watch it at any time.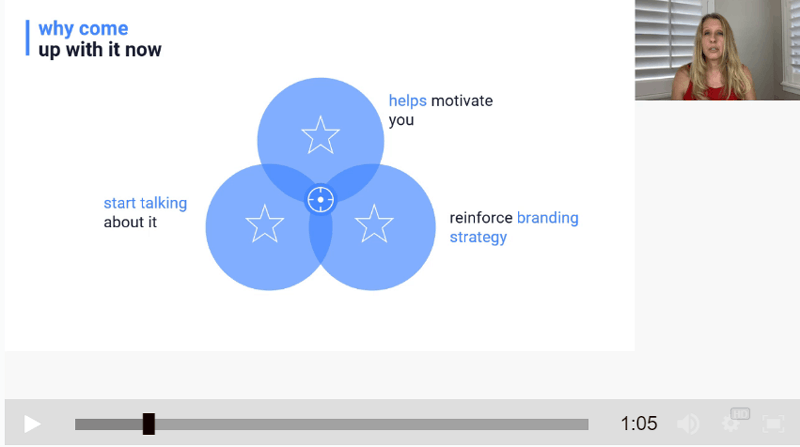 The screen capture and webcam settings allow you to be versatile and creative. Instructors can conduct exciting games and challenges while using the software. It has everything instructors need to make lectures that can run themselves and stay relevant.
A Little About Camtasia
Camtasia's newest and most improved version includes many useful settings. While it's robust, it's still a manageable screen recorder and video editor. Here is what the layout of Camtasia looks like: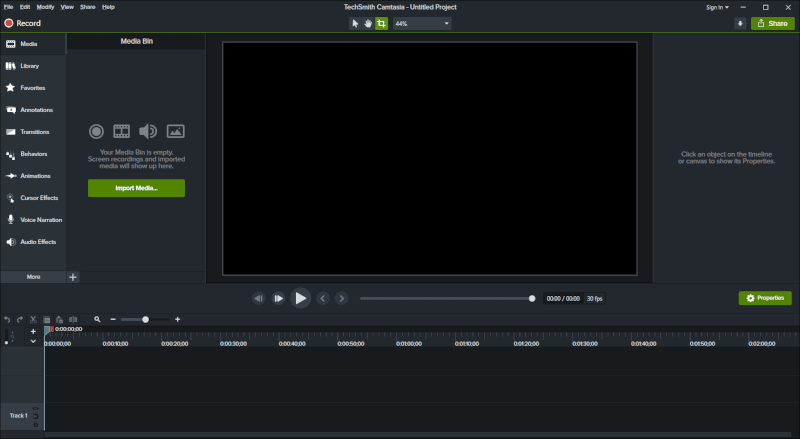 Ability to record screen and audio, so lectures will be more interactive.
The software can record your webcam and screen at the same time, so you can have a presence on the screen.
A powerful video editor that allows trainers to zoom in on time.
Users can preview video frames precisely forward or backward for more visual control.
The software includes advanced visual adjustments that enable users to alter opacity, scaling, inclination, and vision to make content more artistic to produce high-quality videos.
Camtasia has new audio editing tools to fluctuate volume and regulate gain at different times to add dimension to your work.
Screen record the whole screen or a portion of the desktop screen so capture videos with only the information you want to share.
Editing capabilities including cursor effects to create interactive videos.
Advanced speed settings allow users to make video or audio faster or slower to enhance important information.
Add captions, annotations, and even highlight sections for a more concentrated learning experience.
Video clips can be split, shorten, or stretched to keep lectures interesting.
One-click video sharing feature to produce HD video and output virtually any type of video file.
Top Camtasia Alternatives
Camtasia
doesn't offer a free version but does have a free trial. The free trial is limited to 30-days and all videos you produce will include a watermark.
Although it was once the only screen recording tool on the market, there are now many others to choose from. Let's take a look at a few of the top Camtasia alternatives …
1. ScreenFlow Screencasting and Video Editing for MacOS
As far as Camtasia alternatives go, ScreenFlow is considered top of the line for Mac users. ScreenFlow from Telestream, Inc. is a screen recording and video editing software for MacOS.
It boasts an easy-to-use interface with three options for navigating the program. There's a 'New Recording' option enabling you to capture screen or audio. The other two options include the ability to create a blank file and open a saved document.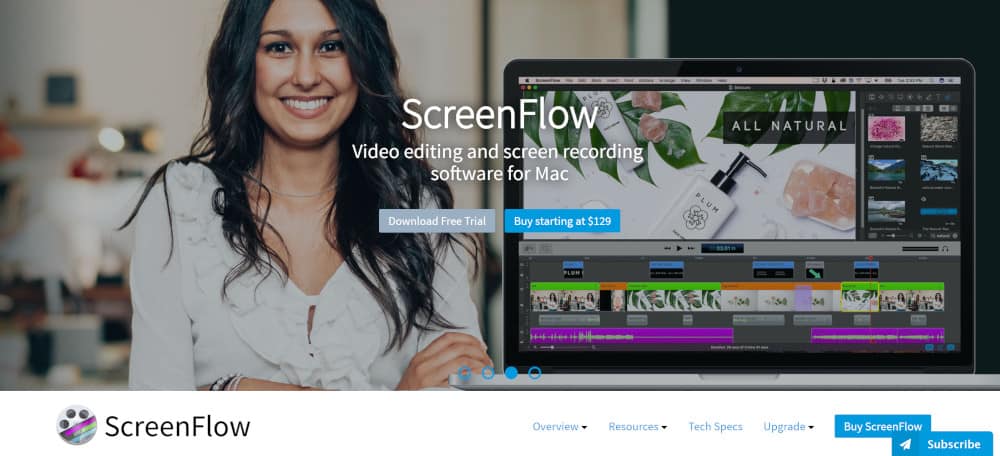 When it comes to Camtasia vs Screenflow, the latter is an ideal choice for educators, marketers, and mobile app developers looking for a way to create high-quality tutorials, demos, presentations, and training material online. The platform provides a rich set of features that can be used to create attractive training courses and presentations with just a few clicks.
Some of the stand-out features that ScreenFlow offers include iOS recording, an advanced video editor, streamlined media management, professional-quality motion graphics, MP4 encoding, GIF support, closed caption support, and publishing options. The platform also offers a variety of ways in which you can export files, including the FILE>EXPORT option.
PROS
Easy-to-use and intelligent UI.
Powerful screen recording features (even better than that offered by Camtasia).
Advanced editing features.
Streamlined media management.
Publishing options.
CONS
The price is a bit expensive for those on a budget.
Cannot create quizzes or surveys.
Need extra care while editing since editing the action can affect the start and endpoint.
All this makes it a formidable Camtasia alternative especially if you're running on MacOS.
2. Filmora Video Editing Suite
Filmora is another Camtasia alternative you'll want to take a look at. The truth is, both Camtasia and Filmora are well-designed and reliable. But, Filmora is the ideal software tool for beginners who are looking to use some advanced functionality when it comes to video editing capabilities but aren't looking to do anything too extreme.
The company behind Filmora, Wondershare, also offers an easy-to-use screen recorder with what they say has 'zero learning curve'. You can record audio and do screen casting with this tool.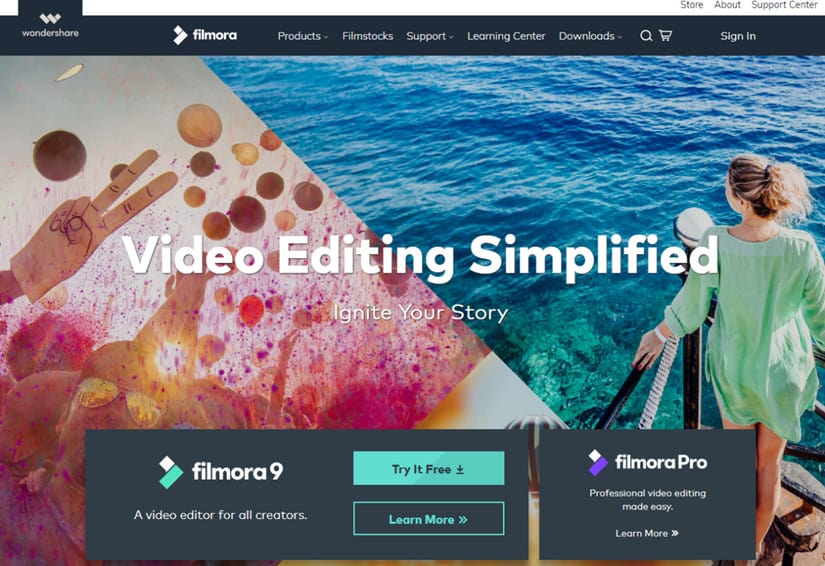 Similar to Camtasia, Filmora is also a non-linear video editing suite that offers a timeline editor. The editing suite offers everything from basic cutting, cropping, and trimming features to advanced editing tools such as the camera shake stabilizer.
Filmora is geared towards those users who are often making videos and posting them on YouTube or Facebook, which is why there are plenty of flashy filters and features. But that doesn't mean it cannot be used to create how-to screen recordings as well. Overall, Filmora offers a smart user interface and workflows, making it easier to learn and use the software suite than many other Camtasia alternatives.
PROS
User-friendly interface.
Managing projects is easy.
The online store makes it easy to add a variety of effects.
Export projects using multiple options and formats.
CONS
Can lag while editing because of computer resource consumption.
No audio files are included in the standard package.
No multiple video tracking function.
The online store might require several login attempts to function properly.
No access to storyboard editing.
Filmora is another Camtasia alternative with a free download. Give this free tool a try if you're looking to add some creativity to your recordings.
3. Snagit ScreenCapture Tool
Snagit is created by the same company as Camtasia, which is called TechSmith. It's not as much a Camtasia alternative as a very slimmed-down version of Camtasia.
It's an easy-to-use and reliable platform for capturing screenshots and recording video and audio files. The software allows individuals and businesses to get their point across by creating crisp and effective screenshots and record videos very quickly. All the tools provided in the Snagit platform are designed to simplify communication and collaboration for business growth.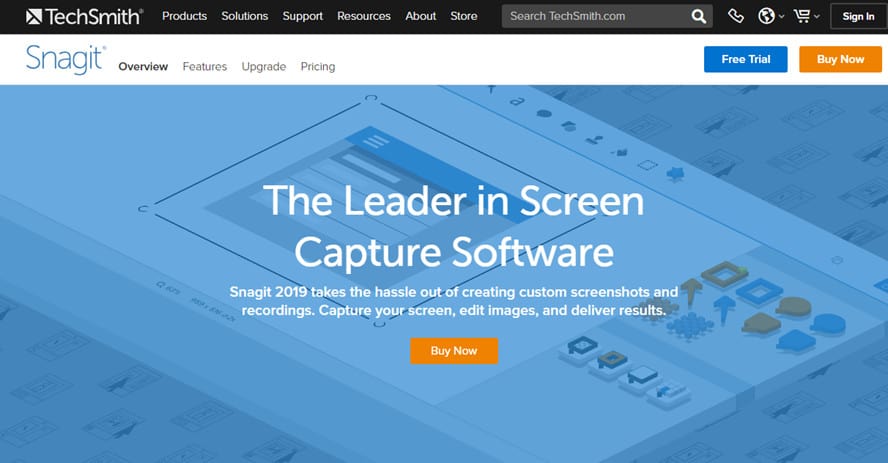 Some of the benefits of using Snagit include its drag and drop interface allowing you to easily customize your video files. Additionally, the captured images maintain a high level of quality since they do not suffer from pixel inaccuracy, meaning you can create rich, high-quality videos on the fly.
When comparing Camtasia vs Snagit, one of the things that stands out with Snagit is the ability to create simple and quick-response screencasts to show customers how to accomplish a certain task.
PROS
Ability to screenshot a particular area on the screen.
Save screenshots or videos in different formats, even for an LMS.
Stable image capture tools.
Great for creating videos, editing photos, adding texts, and creating panoramic shots.
CONS
High price compared to other applications that offer similar features.
Scrolling can get a bit slow at times.
Only basic editing features are available.
No editable layers.
If you're not looking for a full-blown Camtasia alternative, but want to keep a few features while getting rid of others, then take a look at Snagit. Like Camtasia, they don't offer a free version, but instead, offer a trial. If you like it then you can easily upgrade to the paid version.
4. SmartPixel Screen Recording Software
SmartPixel is a free Camtasia alternative. It's an easy-to-use screen recorder and video editor tool that allows you to record anything in high resolution. While the program was initially designed for Windows devices, it can also be used on Android and Mac OS. When it comes to a free Camtasia alternative, SmartPixel is considered to be the most trustworthy and reliable option by many video editors and Mac users.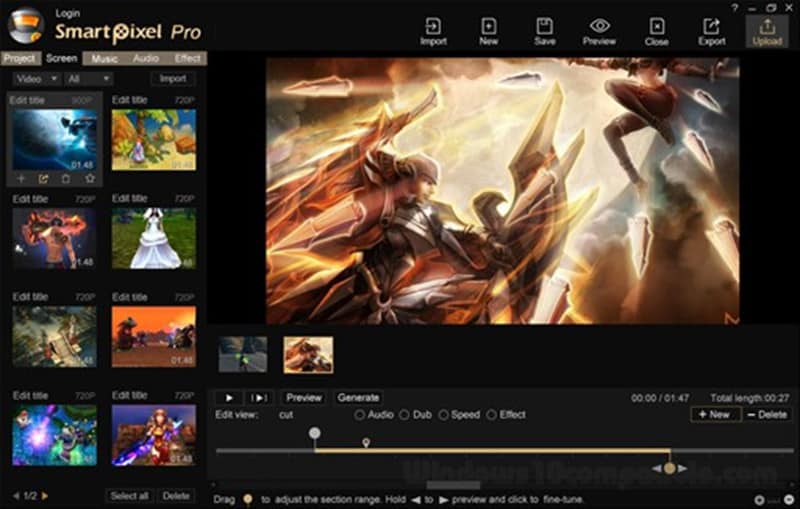 SmartPixel has the ability to capture audio from the PC, microphones, and from multiple-channel type audio systems all at the same time. The interactive recording feature of the tool allows you to record on the fly.
The software can be used to easily edit audio, animations, text, transitions, and images. It also supports multiple file formats such as MOV, M4V, GIF, and MP4 along with many other file formats allowing you to work with multiple file types.
PROS
Easily record in HD quality.
Add annotations and live commentary to videos on the fly.
Can record a selective area of the screen.
Ability to upload videos to YouTube.
Export to various formats.
CONS
Zooming and panning features are not available.
The program can sometimes crash during recording sessions.
Complicated interface with a steep learning curve.
High price tag.
Take a look at this SmartPixel, one of the top free Camtasia alternatives. This screen recorder tool truly offers a free version that is very easy to use. You can use the screen recorder and editing features. SmartPixel offers an upgrade which does require a fee.
5. EzVid Screen Recording Application
Probably the most useful screen recorder application for the PC is the freemium EzVid recorder. But, don't get fooled by its minimalist interface.
EzVid is one of the best free video recorders available out there that won't ruin your video footage with ugly watermarks just because you didn't pay for a monthly package. The first thing that stands out with EzVid is the incredibly easy-to-use interface.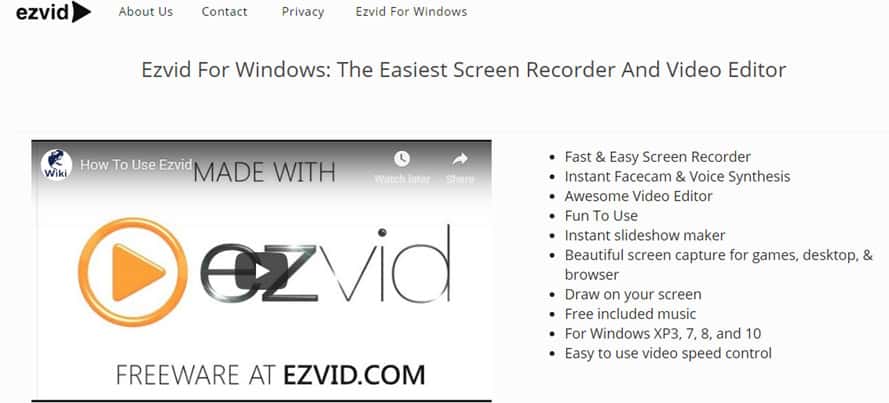 The software uses a screen widget that appears during the recording and allows you to make quick changes and annotations which is extremely useful when making tutorials or how-to videos. The program can also be used to record games, but you might need to run it in windowed mode.
One of the standout features of this software is its ability to save video recordings automatically. It is also extremely easy to create slideshows which is a nifty feature if you find yourself making slideshow presentations for business.
PROS
Clear and easy-to-understand interface.
No watermark on the video.
Built-in powerful video editor to make adjustments to your recorded videos.
CONS
Export limited to YouTube.
No way to save recordings on PC.
45-minute recording limit.
Take a look at EzVid, one of the many free Camtasia alternatives that have cropped up over the years. If you're looking for a free, fast, and easy screen recording tool, this one is worth the download.
6. FRAPS Game Capture Video Recorder
FRAPS game capture video recorder and FPS viewer might seem like a mouth full, but it is a hugely popular Windows application used to record video games. This tool captures audio and video up to 7680 x 4800 with custom frame rates of 1 to 120fps.
You can use it with games that have inbuilt OpenGL or DirectX graphic technology. FRAPS can carry out a number of tasks making it a good, but cheap screen recording alternative to some of the big-name brands.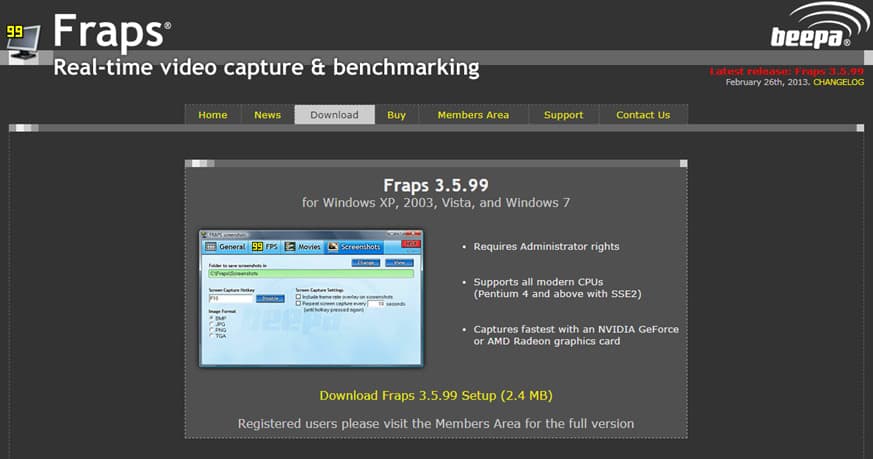 What makes FRAPS stand out from other similar programs such as Camtasia is that it is also compatible with older versions of Windows such as Windows XP. While it might not offer video recording yet, it is light years ahead of the competition when it comes to frame capturing.
PROS
Easy to use screen recorder tool.
Smooth drag and drop functionality.
Skype call, video game, and online video capturing capabilities.
Can capture sound via microphone.
CONS
No webcam recording.
Does not have timeline capability.
Lacks the ability to record system audio.
Cannot add titles to video.
If you're interested in recording games then FRAPS might be the best screen recording tool for you. Don't miss a frame of your gameplay by using this screen recorder.
7. Free Cam Screen Recorder with Video Editing Tools
Free Cam is a simple and easy-to-use screen recorder that is free. Not only does it have an attractive and intuitive user interface, but it also features a built-in audio/video editor that allows you to create crisp videos without wasting much time.
One of the main points of Free Cam is that it does not include any watermark on the video recording despite it being free. This makes it a great option for beginners who like to create videos but do not necessarily want to invest in a paid program just yet.
Another area where the Free Cam stands out is how easy it is for users to frame the screen and choose dimensions for the video recording. Users also have the choice of exporting their video recordings straight to YouTube or saving it on their PC in a .wmv format.
PROS
No watermark on video recordings.
No time limit to video recordings.
Ability to record voice-overs and computer sounds.
Can record video in high-resolution.
Access to a wide array of sound effects.
CONS
Can save recordings to WMV only.
No webcam recording capability.
Basic editing features only in the free trial version.
Free Cam is another of the many Camtasia alternatives that offer a completely free version. You can also upgrade to the Pro version to unlock more features.
Conclusion
As you've seen, there are several Camtasia alternatives on the market. Whether you find Camtasia too expensive, too difficult to use, don't like the editing features available to you, then you can choose from one of the many other video creation tools to get the best screen recorder tool for your needs. Start creating your video content to share with one of these powerful screen recorders!