Snagit vs Camtasia: Which Tool Best Suits Your Needs?
Our content is reader supported, which means when you buy from links you click on, we may earn a commission.
---
TechSmith is making waves by creating programs that simplify social media and online tasks for users. Two of the most recognized products known are Snagit and Camtasia. They are famous for capturing all sorts of desktop screen activities that users want.
These tools allow for different levels of editing and have brilliant features with high-grade interface quality and support options.
The idea behind a screen capture tool is to record whatever is happening on a screen, save it in AVI format, and help you edit them into customized videos. You also have the option to use features like picture-in-picture, live streaming, and gameplay optimization when using these cool programs!
Statistics show that around 67% of people learn better when they are presented with visual information. Hence, desktop screen recordings are not only famous amongst gamers, but also amongst real estate agents who can use the best of Google Maps through screen recording programs.
They're also great to use for sales teams to communicate with remote clients and give them a demonstration of how their digital product works. They are also making waves in the world of marketing by making information available internally and externally, packed with details like videos, graphs, infographics, and KPIs.
And lastly, they are perfect for creating online training programs, where instructors may need to walk learners step-by-step through their screen. They can also be used to record a PowerPoint presentation. Record once and 1,000's of learners can view the resulting video whenever they want.
So let's get to the showdown between Snagit and Camtasia. We'll start by covering what each one can do.
Snagit: Screen Capture and Recording Software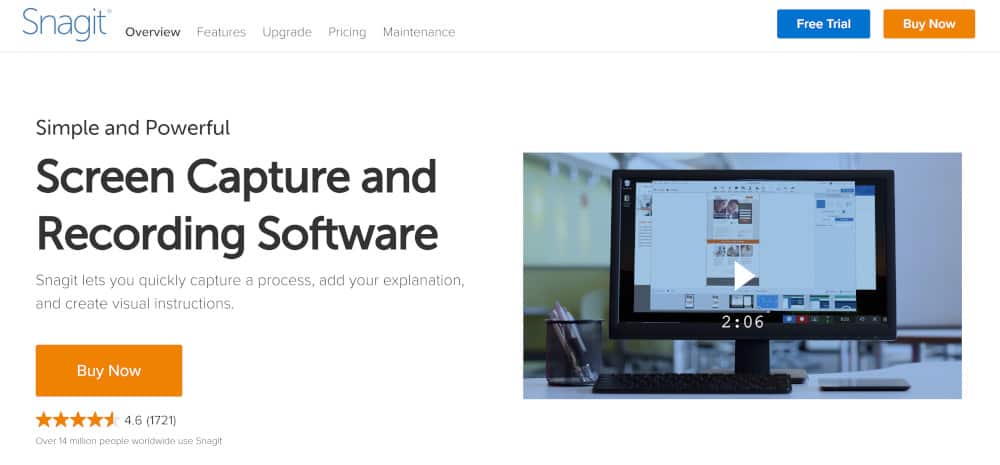 With a 14 million loyal following, Snagit provides an all-in-one capture feature that captures your entire desktop while you work through some steps or perform functions. You can take screenshots of web pages and virtually any other screen content as well. You can save your files as MPEG-4, MP4, WMV, and AVI, or save images as JPG, PNG, PDF, animated GIF, or even separate individual frames taken from the video.
The software also has professional markup tools to add personality and presentation to your videos. You can customize your own set of tools to use, too.  It comes fully equipped with user-friendly tutorials, how-to guides, and manuals. It's popular amongst visual artists and professional gamers for its high-resolution images and color values.
Some noticeable features of Snagit are:
Screenshot and video capture.
Integrates with Cloud programs and services.
Customizable.
Includes image editor.
Social sharing integration.
Options for Pre-and-Post Selection.
Adds visuals to any document.
It's the ideal solution for anyone looking to jazz up emails with videos and images and those looking to make a professional-quality blog post, websites, training, etc. Furthermore, Snagit runs on Windows and Mac.
A single-user license of Snagit retails for about $40 so it's fairly inexpensive.
Camtasia: Screen Recorder and Video Editor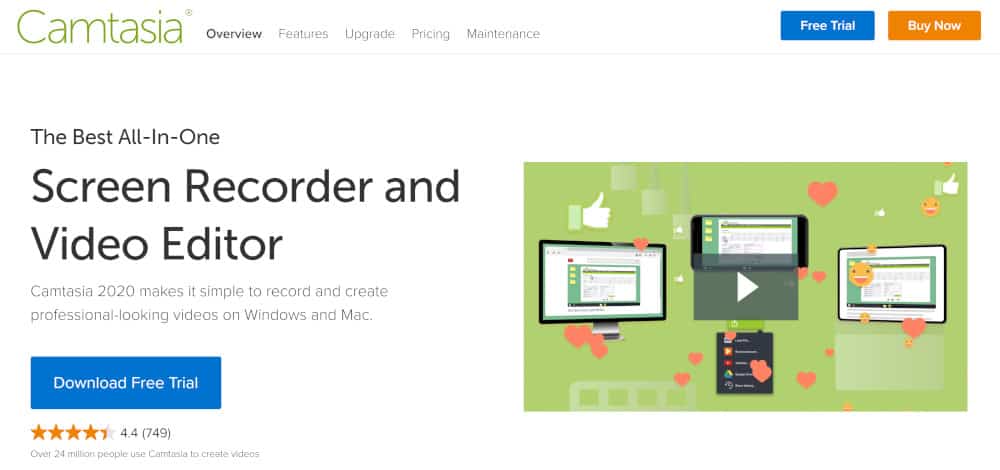 Over 24 million people use Camtasia for its brilliant but simple video editing tools. It has become a fan favorite because it offers premade videos, a huge library of royalty-free music and audio, and the opportunity to jazz up your videos with cool animations, quizzes, annotations, effects and so much more.
It allows you to record and import your screen-recorded presentations directly onto the program and offers amazing transitions to create stunning videos. You can even record your face in a separate video.
Camtasia is an industry standard in video editing and screen recording software. The main users of Camtasia are professionals in the visual industry looking to produce high-quality videos. Camtasia is also perfect for those interested in recording video games. It is compatible with Windows, Mac, and even iOS and Android devices.
Some distinguishable features of Camtasia are summarized below:
Data Import/Export in a variety of video media formats.
Includes Screen recorder.
Option to record in full screen mode or to resize the screen.
Webcam and Voice narration compatibility.
Archive of audio, visual, and animation effects.
Annotations.
Video transitions.
Multi-track timeline.
A license retails for $199.99 so it is considerably more expensive then Snagit.
Snagit vs. Camtasia: A Comparison of TechSmith's best
Snagit vs. Camtasia is a debate most often Googled amongst avid users trying to figure out which software works well for them. Here's a comprehensive breakdown so you get just the information you need.
Compatibility
Snagit works amazingly with other capture-focused tools, like microphones or webcams, and allows you to record audio directly from your computer, making it great to use when preparing tutorials or demos.
The handy toolbar that allows for quick capture is also compatible with Excel, Internet Explorer, PowerPoint, Outlook, and even Word. This means that all users need is this software, a good quality microphone, and webcam – and they're good to go.
Like its sister software, Camtasia is compatible with all Microsoft office applications. It's also great with cloud storage services and the video formats are perfect for quick uploading or downloading.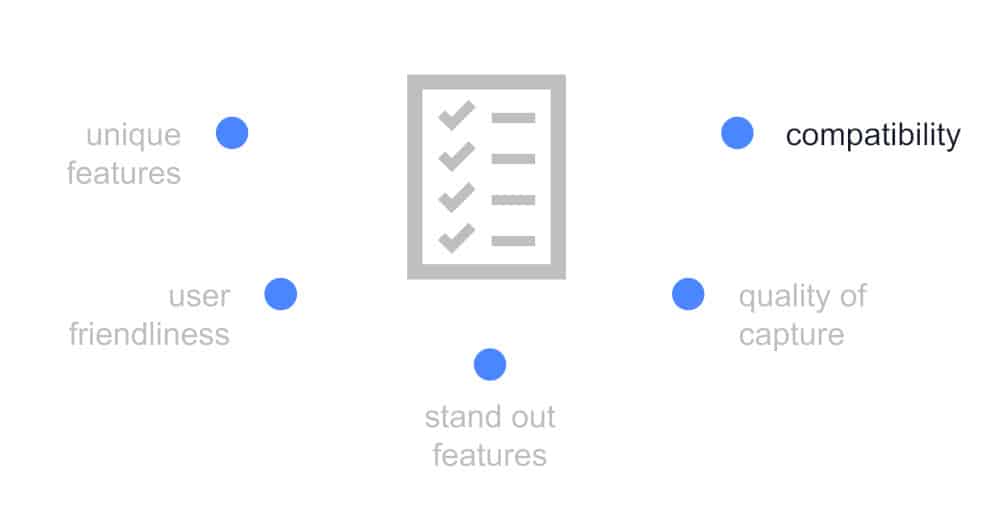 Quality of Capture Capability
Snagit allows you to capture images that are longer than the computer's screen without scrolling through the entire interface, and also allows users to capture specific parts of the screen, windows, or applications. It works brilliantly to capture video and audio from instant messengers like Skype, making it easy to prepare seamless videos with great ease.
On the other hand, we have Camtasia. Professionals who want to make training materials for online courses, how-to videos, or even YouTube videos love the software for its great editing tools.
You can also record video calls with no snags, and with easy controls, users can control the length of the video clip. In other words, this amazing software lets you create highly professional-looking content with half of the effort.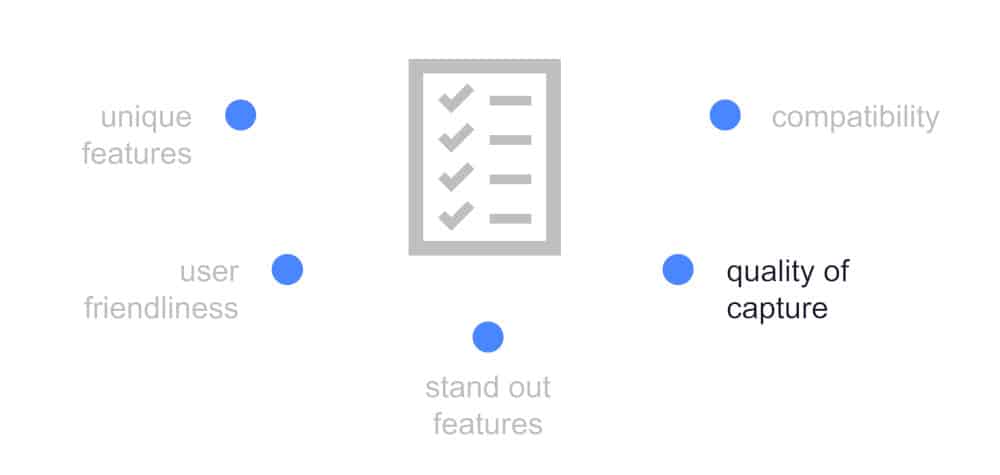 What Features Stand Out?
Snagit has super easy to use editing features. You can easily trim off unwanted sections of images or modify them inside the editor. You can annotate, add effects, and designs to your media by using an assortment of built-in shapes. Everything is built right in.
Camtasia goes a few steps beyond its sister software Snagit. The built-in editor has incomparable tools that aid professionals in clipping videos and joining them together for great videos, whether they're for online lectures or presentations. And the quality is a favorite amongst videographers and experts alike.
User Friendliness
After installation, Snagit is easy to familiarize with. It's great for beginners because it's got a robust and attractive interface, keeping users engaged. Screen capture allows you to use various formats – full screen, all-in-one, copy-to-clipboard, menu plus time delay, and freehand. Easy hotkeys or the control panel allow you to quickly record videos, making Snagit one of the most adaptable software out there.
As intimidating as Camtasia sounds, it's not. It's one of the most easy-to-use video editing software, which comes with a great tutorial for first-time users who can familiarize themselves with the software in no time. The software allows users to move media files to and from, and comes with the option to share videos to Google Drive, Vimeo, YouTube, and screencast.com – it's got everything a videographer could ask for.
Unique Features
Snagit comes with a host of features ready to help with snapshots and video recordings. The handy toolbar is packed with features that help users fast-track their work by implementing the best tools and formats for seamless screen recording.
Camtasia is definitely known for its editing screen. It has a timeline displaying audio and video options, a player preview, and a palette that lets you upload clips alongside a menu bar – the interface is prepared to cater to the most demanding of jobs. The voluminous tools include callouts, special effects, blur, zoom, and also include cursor effects and many more animations.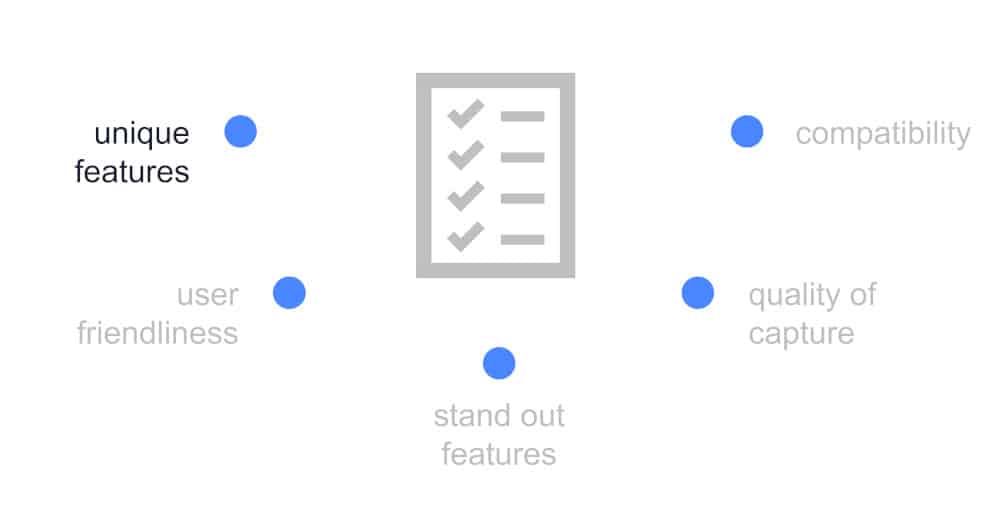 The Verdict: Snagit vs. Camtasia
Honestly, it's not so hard to decide between either. They're both great, but they serve different purposes; Snagit is a brilliant screen recording software with tools aligned to serve that purpose, whereas Camtasia is an advanced digital media editing software, which lets you record, import, and export video.
Who Are You and What's Your Purpose?
If you're looking for small scale video production software, check out Snagit for its low price tag and easy to use interface. The software is packed with tools and features to prepare great videos and take seamless screen recordings.
But if you're a professional ready to splurge on something great, you should opt for Camtasia. The intuitive interface packed with any and every feature makes for a great investment if you're looking to churn professional and sellable material.
Some Considerations
Although superb and top of the line, both software have some slight drawbacks.
Snagit is a great app to record the videos of your dreams but lacks the tools to edit them. Setting up an email address to share files is also a lot more complicated than it seems.
On the other hand, Camtasia is pretty expensive and some even complain the built-in media is limited in quantity. It also can't execute live recordings via DV cameras. However, it is the better choice if you can afford it since it will allow you a full stack of features when it comes to video production. The real question is whether or not you need these additional features.
What's It Going to Be?
Despite the minor setbacks, TechSmith has wowed the digital world with these two software programs. They're great investments if you're passionate about digital media and looking to create stunning content.
In the war of Snagit vs. Camtasia, they're both winners!