5 Teachable Alternatives for Running Your Online Course Business

Our content is reader supported, which means when you buy from links you click on, we may earn a commission.
---
If you're creating an online course, then there's no doubt you've heard of Teachable.
Powering over 186,000 courses online, Teachable is one of the most popular cloud learning management systems (LMS) available today.
Why Many Online Course Creators Use Teachable
The internet has opened up a lot of opportunities for learning at home. Online lessons are becoming valuable to people who want to save time, accelerate learning, and set their own schedule.
Not only is Teachable easy to use, but it's also a turn-key solution for entrepreneurs who want to teach courses for a living. If you consider yourself an expert in your field, this platform might help you develop a new revenue stream.
Variety of Features
Teachable features provide course creators with tools for building courses, enrolling students, getting paid, and more. Platform features allow you to sell your course using an all-in-one solution. Teachable also gives you administrative and billing tools to manage your online course business.
Platform Credibility
Teachable, based in New York, registered its domain in 2003. It's one of the top platforms for selling online courses available.
One of the keys to attracting students is to encourage customer reviews for your courses. While competitor Udemy puts much more emphasis on reviews for generating leads, Teachable is more of a platform for entrepreneurs who do their own marketing.
Courses
You can create multiple courses with Teachable and keep complete control over the content. Teachable's tools give you the ability to create and edit your own courses, as well as customize and personalize your website to maximize your sales.
Branding
Teachable allows you to brand courses the way you choose. Big-name brands that use this platform include; The New York Times, Intuit, Shopify, Pearson, and Penn Law. Teachable is suitable for white label branding, allowing you to use whatever logos, colors, and customized branding you desire.
Pricing
Teachable pricing is pretty low compared with the income potential from selling your own courses. Monthly pricing for course creators is divided into basic, professional, and business tiers ranging from $39/month to $499/month.
Course creators set their own prices for their courses. A marketplace platform like Udemy offers courses priced from $10 to hundreds of dollars.
Teachable Alternatives
Teachable has been built from the ground up to help course creators like you get your online course business up and running. But what if you don't like the feature set of Teachable? Or what if you want to create a course that'll look unique?
The fact is, there are many Teachable alternatives for you to consider. Enough so that it can make it frustrating to decide.
Which do you choose? Who is reputable and reliable? Luckily, we've already done the research for you and put it together for you in this article.
Let's take a look at the top Teachable alternatives so you can stop spinning your wheels and finally put your course online where real people can access it …
Podia
Podia is a top Teachable alternative and an excellent online platform. Its simple interface is easy to use for both beginners and experienced sellers. You can start by signing up for a 14-day free trial to create self-directed, group, or hybrid courses on the platform.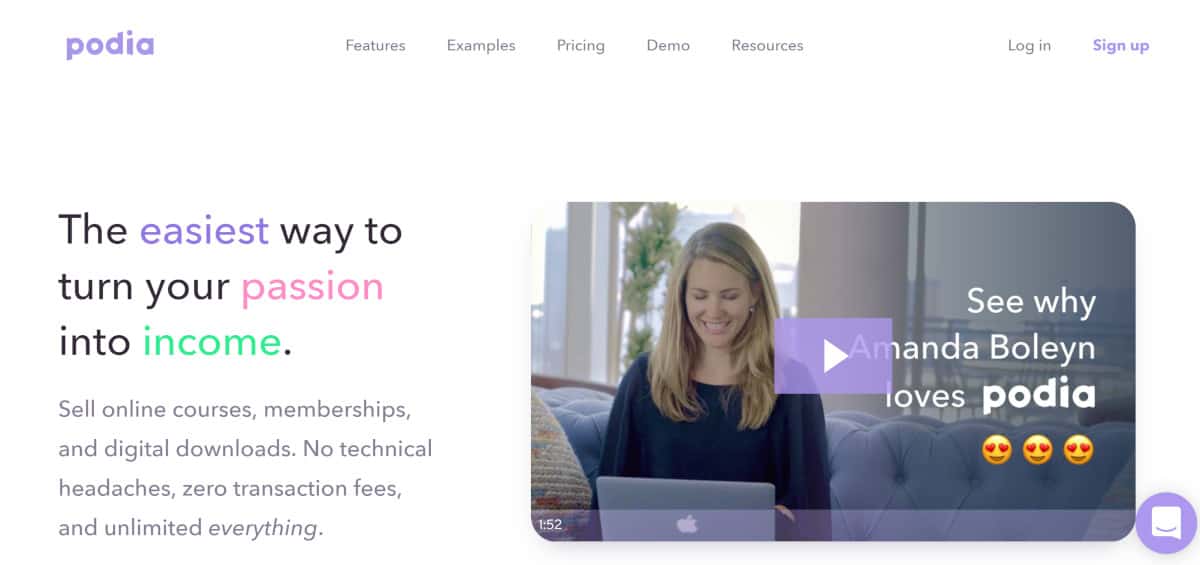 Both Teachable and Podia include unlimited courses, bandwidth, hosting, and students. However, Podia allows all of its users (not just those on the most expensive plan) to customize their branding. This means you can upload your logo and designate a primary color matching your website or branding.
Like Teachable, Podia provides the option to host both digital products and online courses. Furthermore, Podia offers email marketing integration with no cap on the number of subscribers or emails sent. If that isn't enough, Podia offers a very simple, 2-step checkout process, which increases your chances of converting potential customers.
Podia has a simple and easy course builder user interface. In addition, it offers affordable plans with no transaction fees paid to the platform. For instance, you can sign up for Teachable's free plan, but you will be charged money on every transaction. Needless to say, this quickly adds up. On the other hand, Podia has a full feature set without the platform-related transaction fees which means you keep more money.
PODIA PROS
Custom domain, color, and branding.
Ability to use embedded forms to collect emails from the landing pages on your website.
Ability to create quizzes.
Allows students to leave comments on course content.
Hosts both free and paid courses.
Unlimited bandwidth, courses, file size, and students (making it a top alternative to Teachable which also offers unlimited everything).
Instant payouts.
Excellent customer support.
Product bundling options.
PODIA CONS
Limited design and customization options.
Email integration system not as robust as other similar platforms.
Limited payment gateways.
Podia offers a starter plan for $39/month and another for $79/month so it's a very affordable platform.
Thinkific
Another of the best Teachable alternatives is Thinkific. Both Teachable and Thinkific have been battling it out for the top spot in the online course creator niche over the last few years.
The two platforms have also been consistently updating their services, upgrading their customer support, and adding new features to the mix to pique their user's interest. The reason behind the popularity of both all-in-one platforms is their ease of use when it comes to creating and delivering online courses.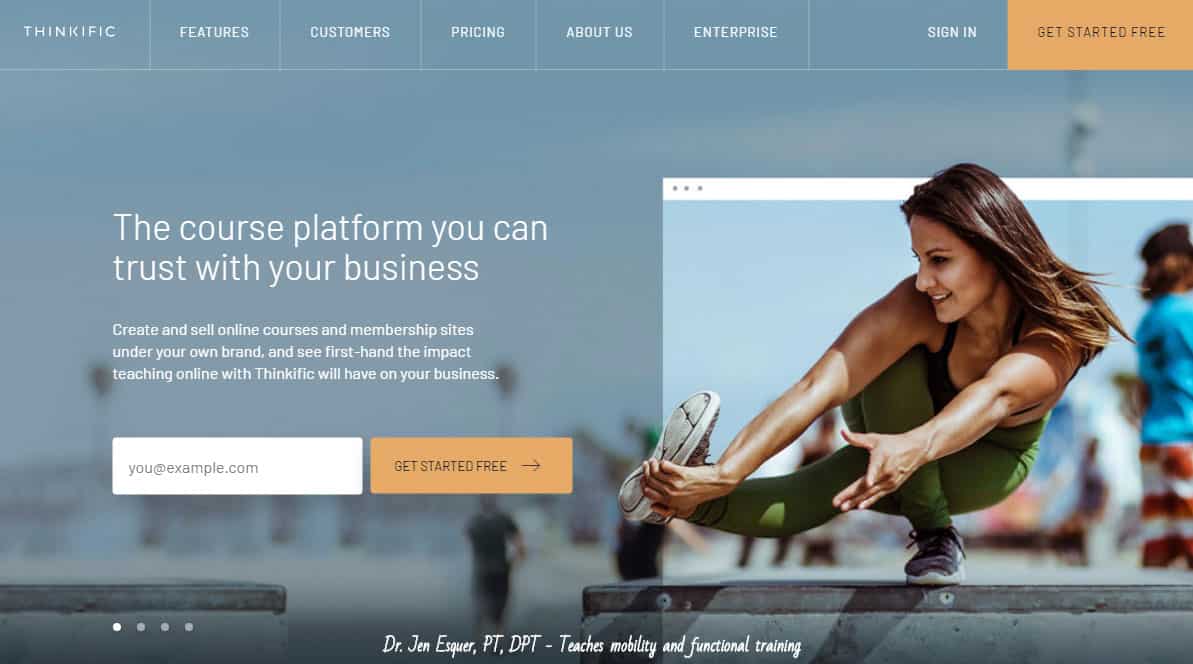 Both Teachable and Thinkific provide their users with the ability to host unlimited videos with Wistia, create interactive quizzes, and organize content into modules or lessons. Both platforms also offer the ability to track courses using analytics, drip-feed content, and send certificates. One place where Thinkific takes the lead over Teachable is in terms of the types of content that are natively supported. For example, Thinkific uses a native survey element to gather feedback and make assessments on their courses. In order to gather the same feedback on Teachable, you will need to use other third-party solutions such as Google Forms.
Thinkific also allows users to import Captivate and Storyline files, which is a handy feature especially if you need your courses to be SCORM compliant. Another area where Thinkific outshines Teachable is that you can integrate with an exam creator software if you need to create exams or quizzes with more robust features. Like Teachable, Thinkific also offers many helpful tutorials, user manuals, and webinars to help you get familiar with the platform and its various features.
I've looked into Thinkific extensively and am very impressed with the platform. If you'd like more information on Thinkific, take a look at my Thinkific review as well as an in-depth Thinkfic tutorial covering every aspect of this online course platform. Lastly, I also put together a massive Thinkific vs Teachable review that compares and contrasts the two platforms head-to-head.
THINKIFIC PROS
Slick and easy-to-use course builder interface makes Thinkific a top Teachable alternative.
Supports advanced quiz elements like randomization and question banks.
Ability to bulk sell courses.
Built-in affiliate program to help sell more courses.
Zero transaction fees.
Top-notch customer support to handle any issues that may arise.
Free option available for those who are just getting started in creating courses.
THINKIFIC CONS
Marketing efforts are left solely to the user, which means you will need to promote your courses.
The many features available on the platform can be overwhelming for some users.
Lack of customization for templates.
Thinkific offers plans ranging from $0 to $99/month. They also offer Thinkific Plus which is perfect for enterprises.
Ruzuku
Next on our list of Teachable alternatives is Ruzuku. Ruzuku has been designed to create online courses and group programs. Ruzuku allows you to create structured online courses with just a few clicks. Both Ruzuku and Teachable enable you to set the price of a course or program, but Ruzuku is more focused on registering people for a course. The platform can also be used via an ongoing membership or a continuity program.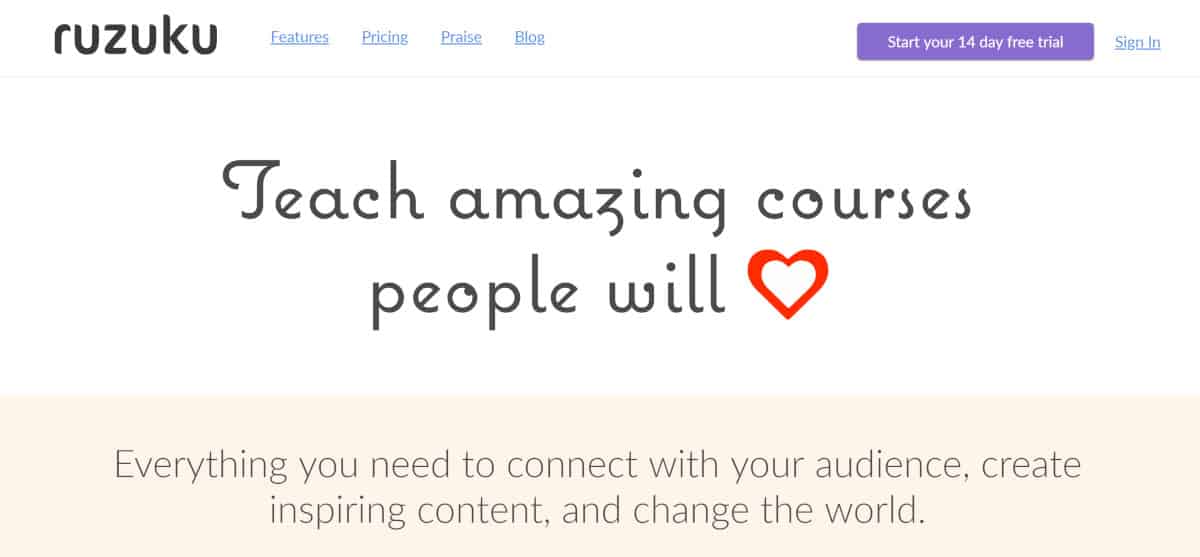 One area where Ruzuku outshines Teachable is that it offers both scheduled and evergreen courses, while Teachable only offers immediately available courses. By offering both types of courses, Ruzuku caters to both self-study courses and those based on defined dates that multiple users can participate in together.
Unlike Teachable, a veteran in the online course creating a niche, Ruzuku offers a more personalized experience for both you and the students. For instance, students registered for your Ruzuku courses can maintain their own social profiles, bios, and photos within their course community and also take part in discussions and other specific activities. Students on Ruzuku also have the ability to post PDFs, images, and videos in their responses, which is not allowed on Teachable.
RUZUKU PROS
Easy and sleek user interface.
Complete student tracking feature.
Get a dedicated account manager for the university plan.
Ability to do webinars.
RUZUKU CONS
Not allowed to set up a custom domain name.
Courses aren't available for bundling.
No marketplace available, courses need to be promoted by their creators.
Affiliate programs not allowed for courses.
No advanced CSS/HTML editing.
Free trial only lasts 14 days.
Ruzuku pricing ranges from $99/month up to $199/month.
Academy of Mine
Academy of Mine is also considered one of the best Teachable alternatives when it comes to creating online courses. This all-in-one solution provides you with the ability to design, launch, and sell your courses online.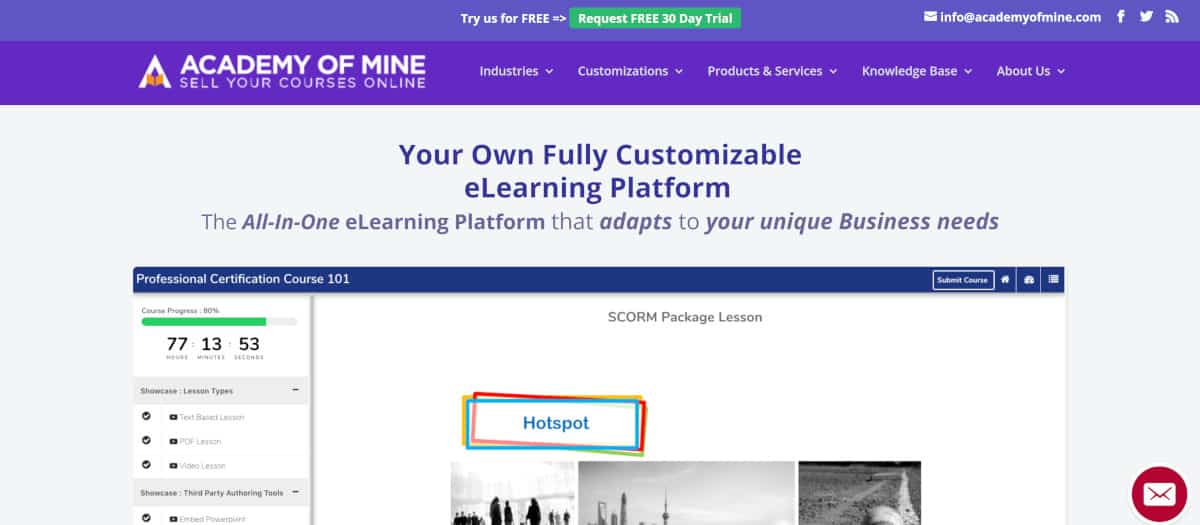 The platform offers a library of templates for creating landing pages and courses, which helps save loads of time. For those searching for complete course creation, this option is a no-brainer. With Academy of Mine, course creators can create chapters, modules, quizzes, and assignments. They can also assign badges or provide certifications upon course completion all under one platform.
Academy of Mine is easy to use and manage. It also offers an eCommerce component allowing your students to register for a course and make payments online. Individual courses can be packaged together to offer a promotion along with coupons. Academy of Mine also boasts an experienced and reliable support team that's responsive and accommodating.
The platform is the go-to choice for many. One of the main advantages of using Academy of Mine is that it offers the ability to customize the LMS platform, with free development hours offered as a standard feature across all packages.
ACADEMY OF MINE PROS
Powerful LMS.
Easy to use, drag, and drop course builder.
HTLM5 and SCORM ready.
Ability to include quizzes and assignments.
Students can take part in virtual/live classes.
Designed to be compatible with various screens.
Course analytics and drip features.
ACADEMY OF MINE CONS
Limitations in the starter plans.
Marketing features are lacking.
Pricing plans may seem steep for some folks especially compared to other Teachable alternatives.
Academy of Mine is the most expensive of the Teachable alternatives on this list. Their plans start at $499/month and go up to $899/month. In addition, you can also pay more and get a completely custom plan.
Kajabi
Last on our list of Teachable alternatives is Kajabi, a learning management system allowing small businesses and individuals to host and sell online courses. The platform allows you to incorporate customized themes for course building along with a landing page builder to market your courses online. Kajabi makes it easy to create online courses, training portals,  and membership sites that are attractive and engaging.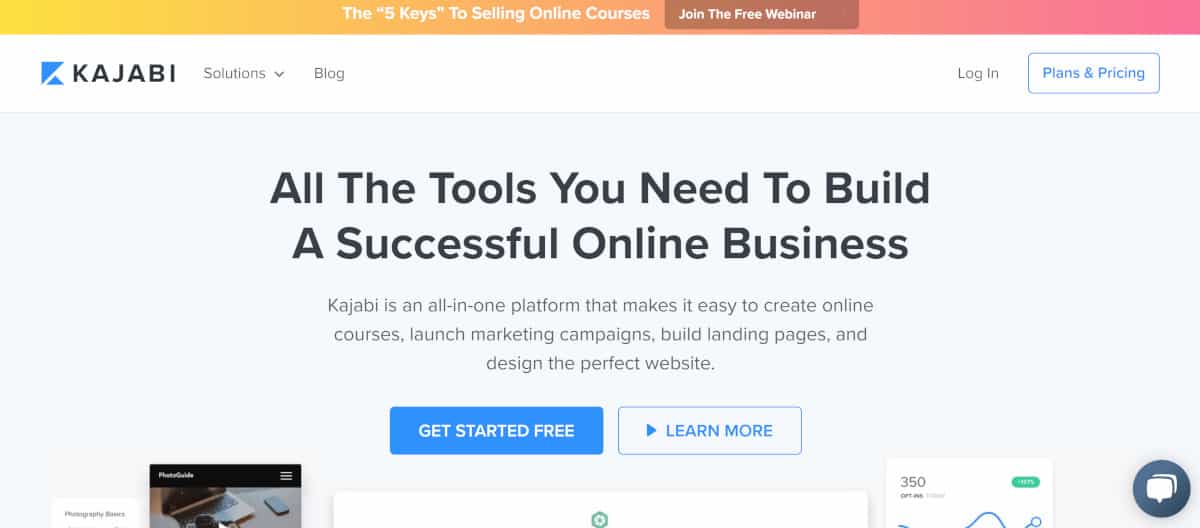 Kajabi's marketing features makes it easy for you to sell your online courses once they have been created. Users can build customized forms and landing pages using a library of pre-designed templates. Users also get access to a built-in affiliate program so they can create and sell their courses.
Apart from that Kajabi also offers an in-house email marketing solution. You can send email broadcasts and track their performance using built-in email marketing analytics. One downside of using Kajabi is that the higher the number of users you have registered for your courses, the higher the price you will pay. Unlike the other Teachable alternatives on this list, Kajabi's pricing is pay-per-user.
KAJABI PROS
Easy to use, interactive interface.
Create beautiful courses with a library of images and templates.
Ideal for individuals and small business owners.
Build a complete course business without piecing together several different marketing tools.
Course creation and marketing funnel all under one roof.
Kajabi marketing features are unrivaled compared to other teachable alternatives.
Access to live customer support and 24/7 live chat.
Adds on an email marketing tool which makes it a very viable alternative to Teachable.
Powerful analytics to track email marketing performance.
KAJABI CONS
It does not offer completion certifications.
Gamification of courses is not possible.
Some features can be slow.
Features like the built-in email marketing solution and affiliate program are useful, but may be limited to stand-alone tools.
Support for custom fonts could use improvements.
Somewhat expensive option compared to other Teachable alternatives on this list.
Kajabi plans start at $149/month and go up to $399/month and above. Each plan has limits on the number of courses and students you can have.
Conclusion
As you can see, there are many Teachable alternatives to choose from.
The first place to start is to consider the exact features you need for your online course. From there, you can narrow down your search to a platform that meets your exact specifications.
If you'd like more information on Teachable, I've done extensive research on this online course platform and offer a full Teachable tutorial. I also have a Teachable review that covers each and every feature of the platform. If it's a good fit for you then test drive Teachable by signing up to get a free trial.