How to Make Animated Presentations [Use Cases +7 Animation Tools]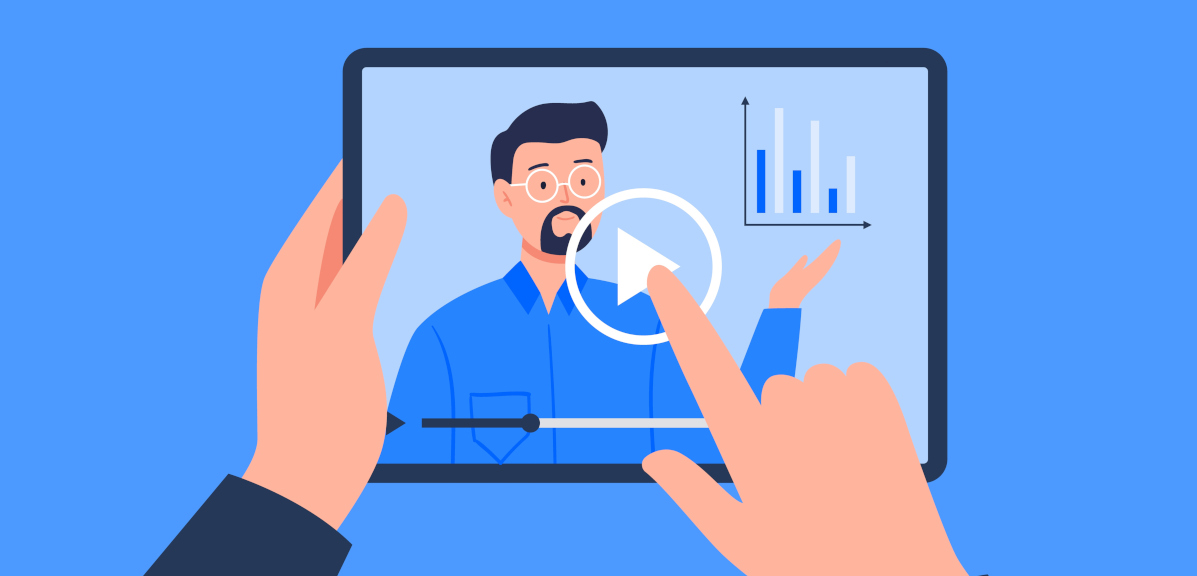 Our content is reader supported, which means when you buy from links you click on, we may earn a commission.
---
Creating videos can be a great way to share your knowledge with the world, but it's important to make sure they're engaging and interesting. Animated presentations can help you do just that, by adding some visual stimulation to your content.
In this blog post, we'll discuss how to make animated presentations, and share some tips on how to make them effective.
Let's get started.
The Power of Animation
A well-designed animation can convey complex information in an easy way.
Animation in video can be used to tell stories, convey messages, and even promote products. A customer of Vyond reported a 38% boost in video sharing on social media platforms just by using animated videos.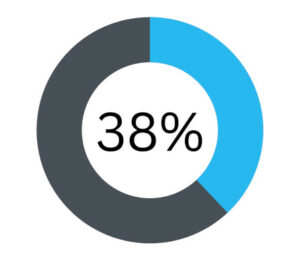 Perhaps the most important use of animation is to educate. By its very nature, animation is extremely versatile. It can be used to explain complex concepts in a simple and engaging way.
This makes it an ideal tool for teaching difficult topics such as science and history in school. In fact, a Google 2020 report showed that younger generations seek out short tutorials and video clips like animations to help them learn and for entertainment.
In addition, animation can also be used to teach adults about new technologies and ideas.
Animated Presentations are Great for Your Business
Animated presentations offer a great way to make your business more engaging and exciting. By using animation, you can add visual interest to your presentation and make it more enjoyable for your audience.
By using animation to break down information into manageable chunks, you can help your audience understand and retain the information you are presenting.
In addition, animated presentations are a great way to add personality to your business. By infusing your presentation with your company's unique voice and style, you can create a presentation that is truly memorable.
Tell a Visual Story to Create Engaging Presentations
You're in a meeting, and the presentations are droning on. You've seen the same three slides for what feels like hours, but wait…is that a gif? And is it .. .moving? Suddenly, you're riveted to the screen as the presenter brings their data to life with moving visuals. This is the power of animation.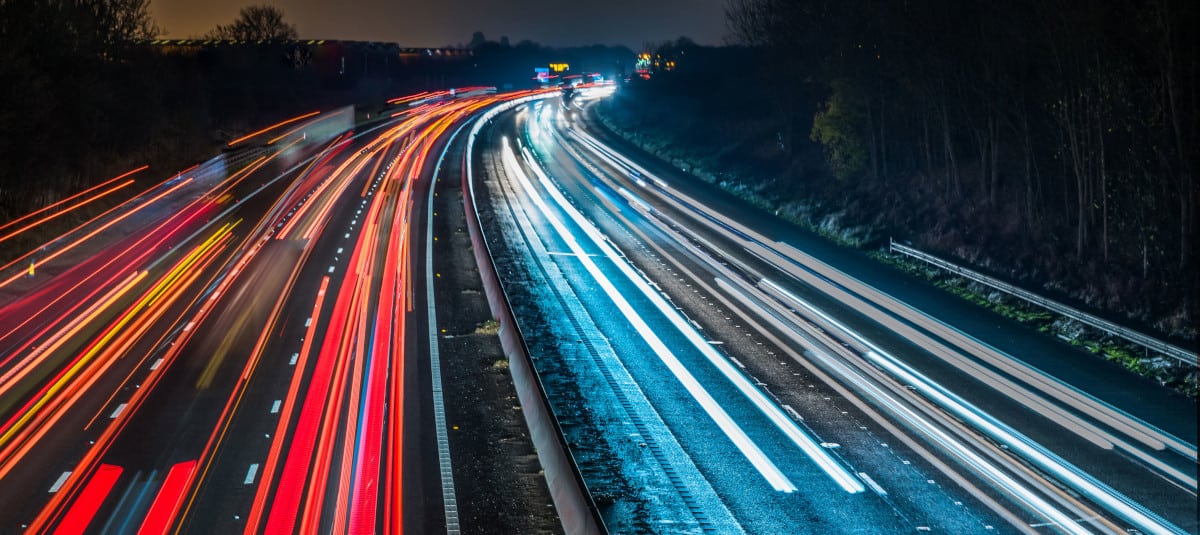 By adding movement to otherwise static images, you can create engaging presentations that capture your audience's attention and help them better understand complex concepts. Whether you're using simple animations to highlight key points or creating richly detailed visual stories, animation can help you take your presentations to the next level.
Animation Keeps Attention
Animation offers a great way to keep your viewers' attention. When used sparingly, it can add interest to an otherwise static image. Animation can also be used to highlight important information or to direct the viewer's gaze to a particular area of the screen. However, it is important that you don't go overboard with animation, as too much can be overwhelming and distracting.
Animations are Great Tools to Explain Complicated Concepts in a Simple Way
With animations, you can break down complex ideas into manageable chunks and explain them step by step.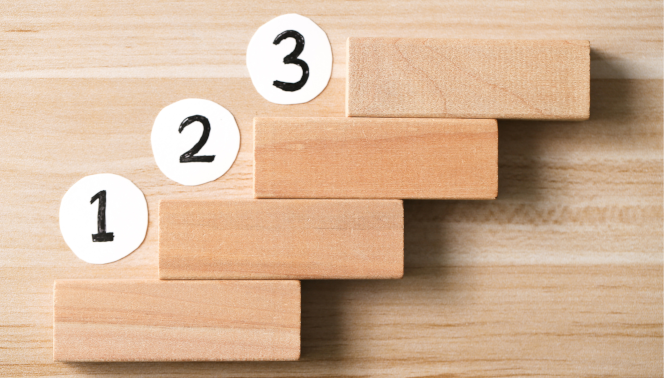 This makes animations an ideal tool for teaching difficult concepts to students of all ages. In addition, animations can be a fun and engaging way to learn. They can help to hold attention and interest, and they can be used to review key points later on. Whether you're trying to explain the laws of physics or the inner workings of the human body, animations are a great tool to have in your arsenal.
Animated Videos are Very Affordable and Easy to Make
Animated videos are very affordable and easy to make, and they can help you reach a wide audience. They also offer a unique way to tell your story and explain your products or services in an engaging and visually appealing way.
Animated Videos Impress and Convert
Animated videos grab attention and get your message across. They're also highly effective at converting viewers into customers or clients.
The reason they're so successful is that they're able to engage viewers on an emotional level while also providing information in an easily digestible format. Animated videos are also highly shareable, meaning they have the potential to reach a wide audience.
Uses for Animated Videos
Awesome Explainer Videos
If you're looking for an engaging and effective way to explain your product or service, animated videos are a great option. You can create animated videos without coding skills or expensive software.
In addition, you can easily create professional animations with just a couple of clicks.
Whiteboard Animation
If you're looking for a creative and engaging way to create videos, whiteboard animation is a great option.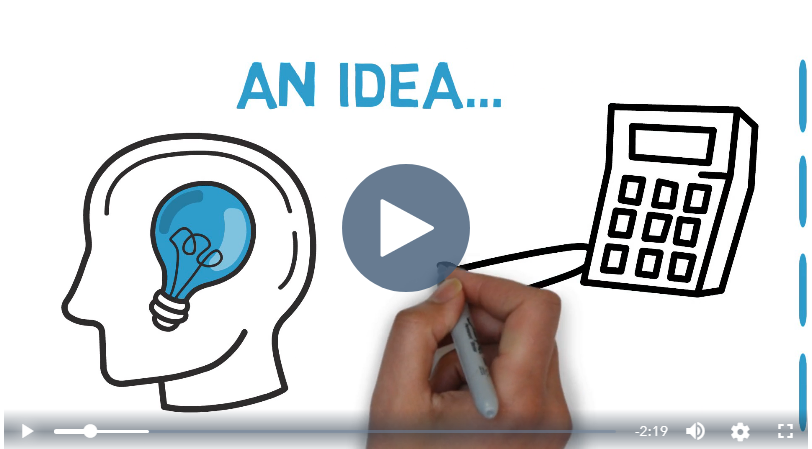 Using simple illustrations and captivating narration, whiteboard animations can bring your ideas to life in a truly unique way. Plus, the medium is extremely versatile – it can be used for everything from educational videos to marketing campaigns.
Visualize Your Data
Animations offer a unique means for visualizing your data. By animating your data, you can see patterns and relationships that would otherwise be hidden. Animations can also help you to understand complex processes. For example, by watching an animation of a chemical reaction, you can see how the reactants interact with each other to form the products.
Instructional Videos
Animations can help bring instructional videos to life. By adding visuals, you can provide a more engaging and exciting experience for your viewers.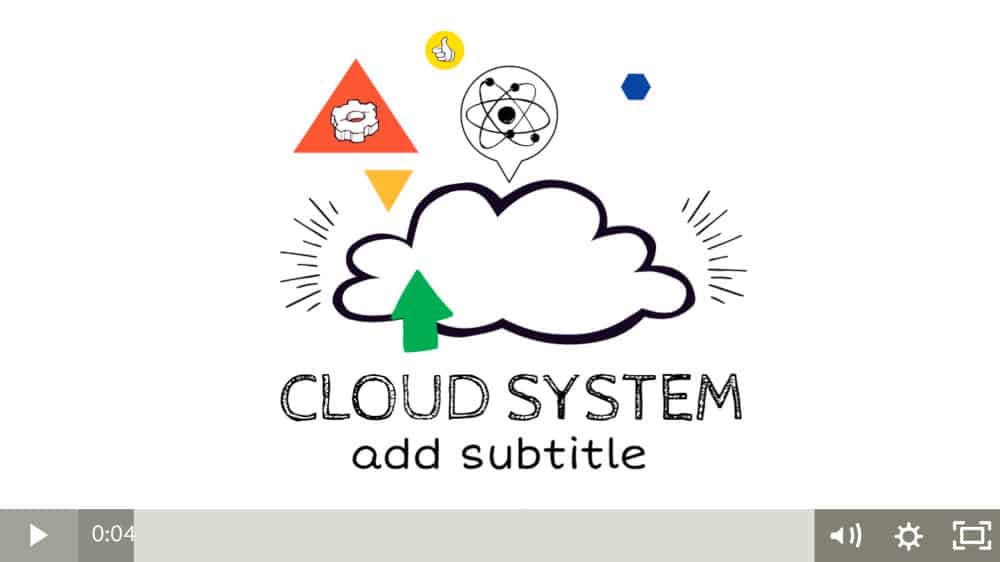 Animations can help to break up the monotony of a talking head video, and they can also be used to illustrate complex concepts. In addition, animations can add a touch of humor to your videos, making them more enjoyable to watch.
Best Animation Presentation Software
Presentations are a staple of the modern workplace. Whether you're pitching a new product to potential clients or presenting your findings to your boss, being able to deliver an engaging and effective presentation is essential.
While there are a variety of software programs that can help you create a great presentation, not all of them are equally well-suited for animation. If you're looking for the best animation presentation software, here are the top programs to take a look at.
1. Microsoft PowerPoint
Microsoft PowerPoint is the most popular presentation tool, with over 90 million downloads per month.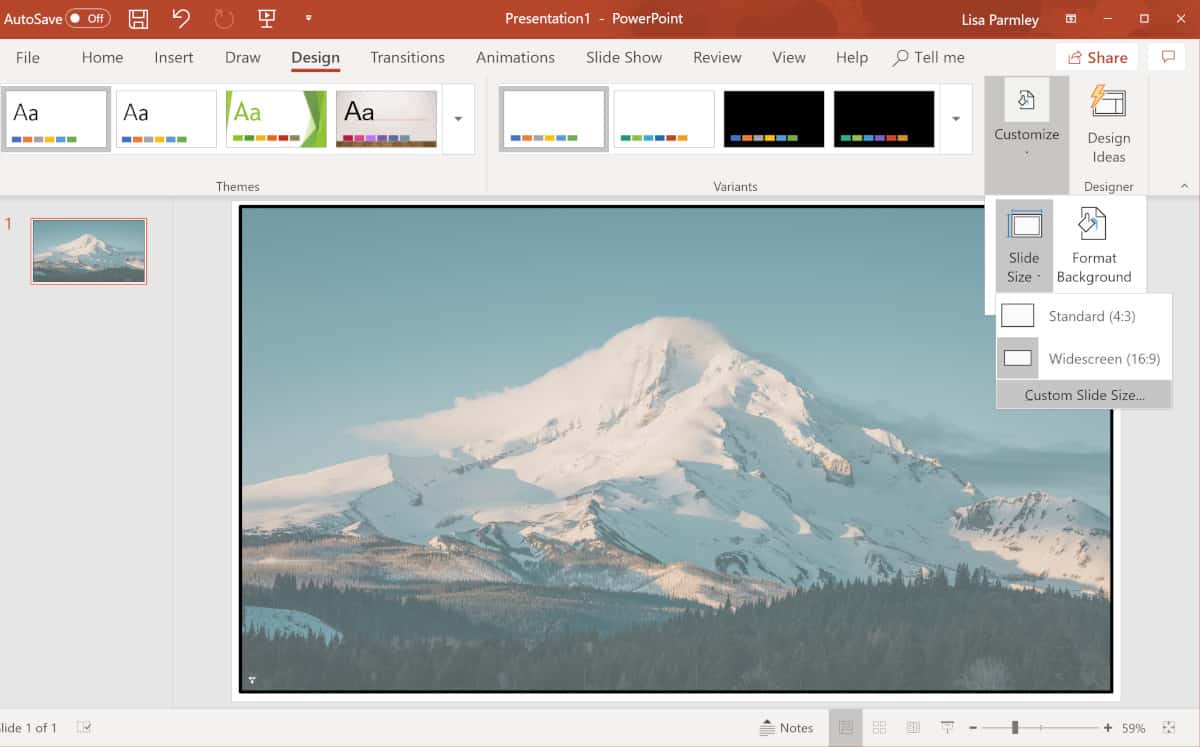 And a Microsoft 365 family subscription is very affordable. In fact, it costs less than $10 per person per month.
While PowerPoint is not typically known for its animation capabilities, with a little creativity and imagination, it can be used to create simple or complex animations.
To create an animation in PowerPoint, you will need to add images, shapes, or text to a slide and then use the software's built-in tools to animate them.
You can use the "Motion Paths" tool to make objects move along a predetermined path.
Or, you can use the "Timeline" tool to control the order and timing of your animations.
By leveraging the powerful features of Microsoft PowerPoint, you can create impressive animations that will captivate your audience.
2. Prezi
Prezi is a web-based platform that allows you to create stunning visual presentations.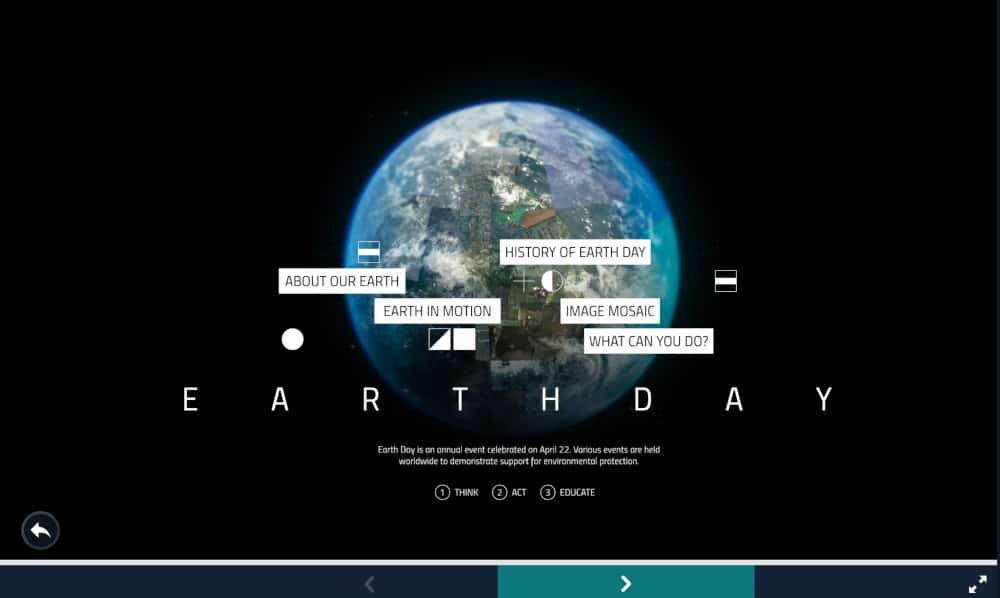 It's a great tool for creating animated presentations and Prezi's interface is simple and intuitive.
Unlike traditional presentation software, which relies on slides, Prezi uses a zooming interface to allow you to zoom in and out of your content. This makes it easy to add animation and movement to your presentations, and it's also great for presenting complex information in an engaging way.
Plus, Prezi is really easy to use – even if you have no experience, you'll be able to create a beautiful presentation with Prezi in no time.
3. Google Slides
Google Slides is a free tool that allows people to easily make and share presentations.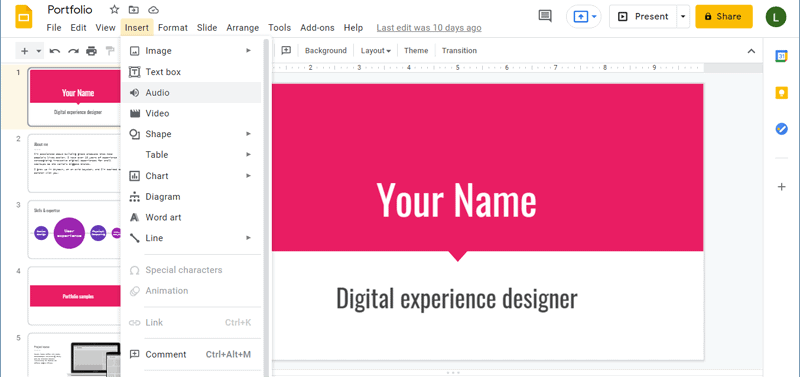 It's a great tool for creating simple animations. By adding multiple images to a single slide and then changing the image order, you can create the illusion of movement.
This technique is often used to create GIFs, which can be used to add visual interest to presentations or simply to share fun moments with friends.
To create an animation in Google Slides, start by adding the images that you want to use. Then, select the slide that you want to animate and click "Insert." Lastly, select "Animation" from the menu and choose the animation that you want to use. With just a few clicks, you can add some excitement to your Google Slides presentation.
4. Haiku Deck
Haiku Deck is a great tool for creating slideshows and presentations.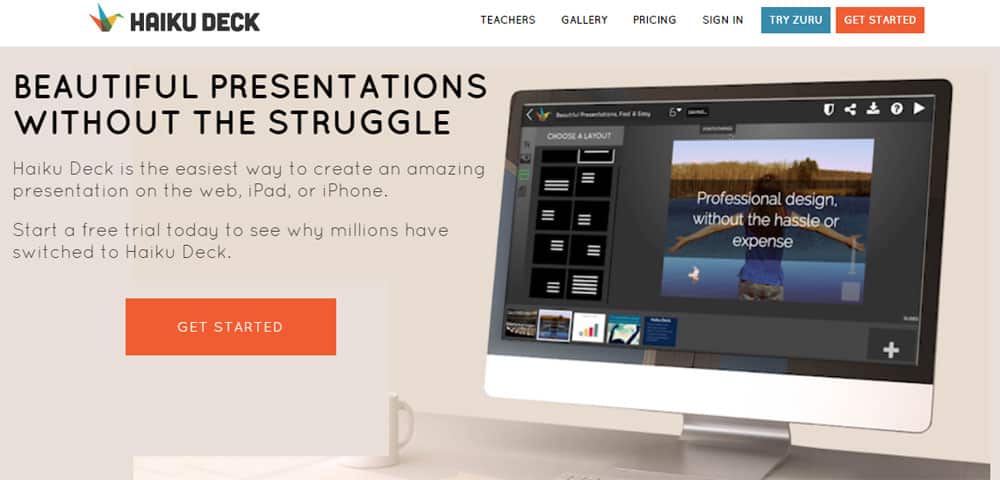 It's very easy to use, even for beginners.
Haiku Deck offers a wide range of templates, so users can create their presentations from scratch or choose from a selection of pre-made templates. The app also supports a wide range of media types, so users can include photos, videos, and audio in their presentations.
5. Powtoon
PowToon allows you to create presentations without having any coding knowledge.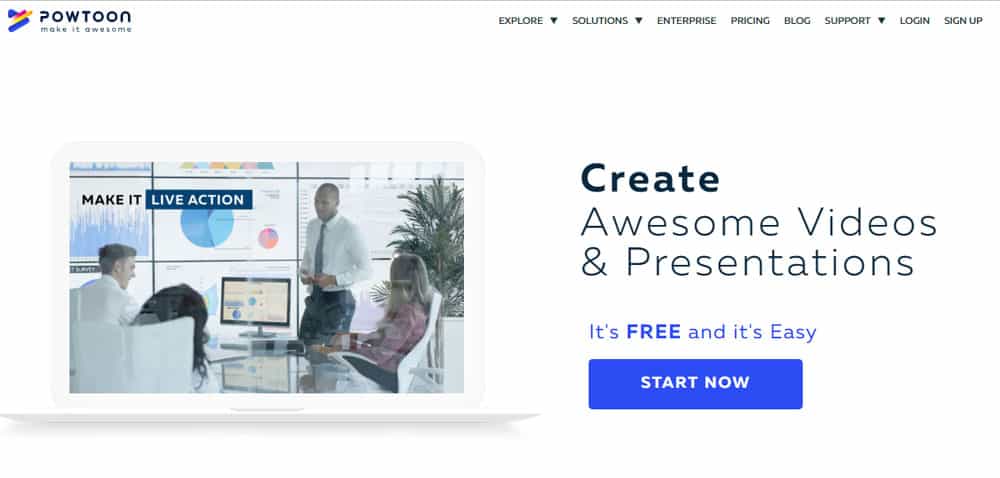 It's a tool that allows users to create animations, which can be used for a variety of purposes, such as creating video lessons or explainer videos. The interface is user-friendly and the results can be quite professional.
Powtoon is a great option for those who want to create animations without spending a lot of money on professional software.
6. Vyond
Vyond offers you a point-and-click way to create professional-looking videos, slideshows, infographics, and animated GIFs.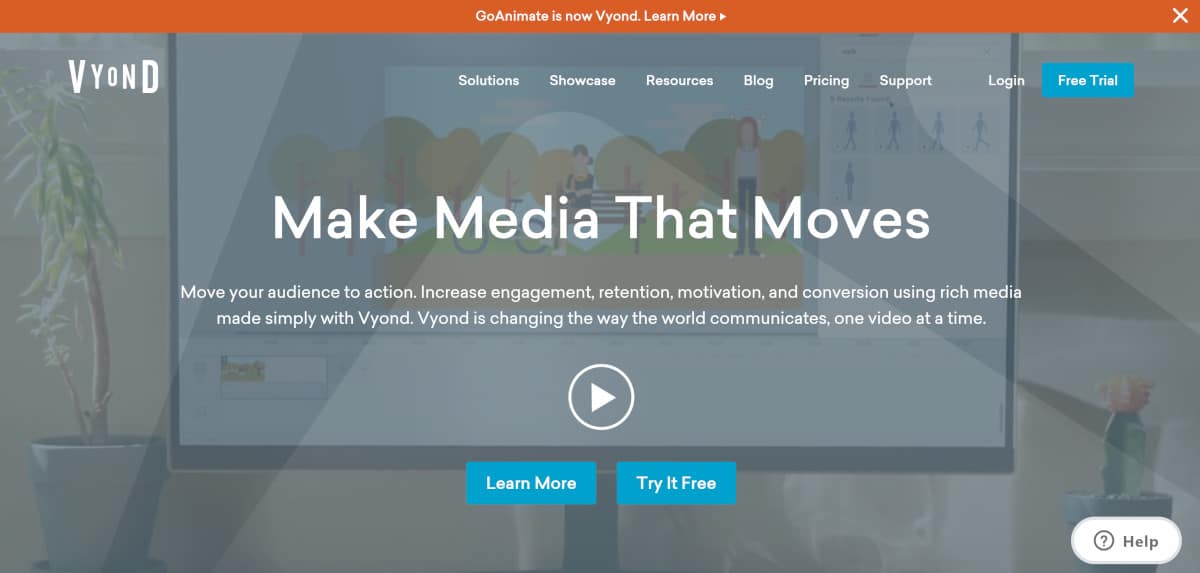 It's simple to use and has a wide range of features, making it perfect for both beginners and experienced animators.
With Vyond, you can create both 2D and 3D animations, and the software supports a variety of different file formats. You can also add audio tracks and special effects to your animations, which really helps to bring them to life.
7. Visme
Visme is easy to use and has a variety of features that make it perfect for creating high-quality animations. One of the best things about Visme is that their Basic plan is free.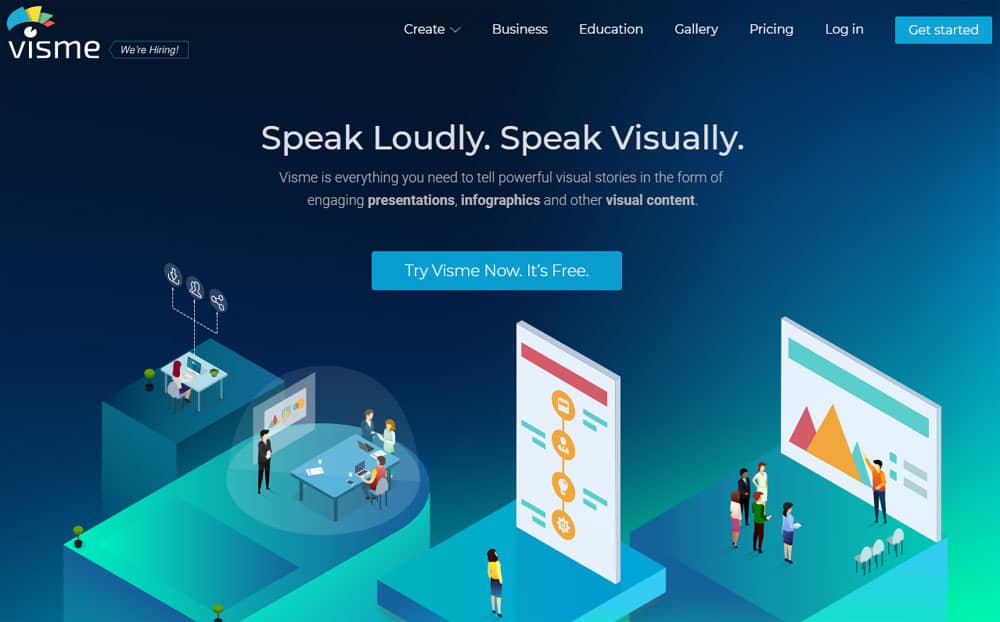 You can create an account and start animating right away.
Visme also offers a wide range of templates and illustrations that you can use to create your animation. If you're not an artist, don't worry – Visme's drag-and-drop interface makes it easy to create animations without any prior experience. Simply select the elements you want to use and drag them into place. Visme also offers a wide range of different exporting options, so you can easily share your animation with others.
FAQ on Making Animated Presentations
What are the 4 types of animation?
There are four main types of animation: 2D, 3D, stop-motion, and vector. Here is a quick run-down of each:
2D animation is drawn on a flat surface, often using software like Adobe Flash or Toon Boom Harmony.
3D animation is created using computer graphics, and objects are given a three-dimensional appearance.
Stop-motion animation involves taking photographs of physical objects that have been slightly adjusted between each frame.
Vector animation uses mathematical curves to create movement and is often used for video games or explainer videos.
What makes a good animation?
Some people might prefer the more traditional hand-drawn style of animation while others might prefer the aesthetic of CGI.
A good animation should be able to transport you into its world and make you care about its characters. It should be visually stimulating and make clever use of its medium to tell its story.
How do you make animated cartoon presentations?
When it comes to making animated cartoon presentations, there are a few different software options that can help you get the job done. One popular option is Adobe After Effects.
After Effects is a powerful tool that can be used to create sophisticated animations. However, it can also be used to create simpler animations, making it a good option for those who are just getting started with animation.
Another popular option is Toon Boom Harmony. Toon Boom Harmony is a professional-grade animation software that is used by animators all over the world. It offers a wide range of features and is capable of creating high-quality animations. However, it can also be quite expensive.
For those on a budget, there are also free options such as Pencil2D and Synfig Studio. While they may not be as feature-rich as professional software, they can still be used to create basic animations.
How do you make animated educational videos and presentations?
Some common choices include Adobe After Effects, Powtoon, and Vyond. Each has its own set of features and capabilities, so it's important to choose the right one for your project.
After Effects is a powerful tool that can create complex animations, but it can also be used for simple tasks like creating text animations.
Powtoon is a great option for creating cartoon-style videos.
GoAnimate is ideal for creating educational videos with a more serious tone.
What online tool is used in creating whiteboard animations?
There are a number of online tools that can be used for creating whiteboard animations. Some of the most popular options include Animaker, Vyond, and Doodly.
These tools allow users to create animated videos by adding text, images, and other graphical elements to a virtual whiteboard. The videos can then be exported as MP4 files or shared online. Whiteboard animations are an effective way to communicate ideas and information, and they can be used for a variety of purposes, including marketing, training, and education.
What are the 4 types animation of in PowerPoint?
There are 4 types of animation of PowerPoint: 1. Entrance; 2. Emphasis; 3. Exit; 4. Path.
The entrance animations bring your slide content in, and the exit animations take it away again. Entrance and exit animations can be set to occur automatically when the slide appears or is advanced, or they can be set to occur in response to a mouse click. Emphasis animations draw attention to specific elements on a slide, such as bullet points or charts.
Path animations allow you to create complex motion paths for your slide objects. For example, you could have an object travel across the screen, bounce up and down, or spin around before coming to rest in its final position.
When used sparingly, animation can help to highlight important information and make your presentation more engaging. However, too much animation can be distracting, so use it sparingly and only when it genuinely adds value to your presentation.
What is the best free animation software?
There are a number of free animation software programs available, and the best one for you will depend on your needs and preferences. If you're looking for something that's easy to use and doesn't require a lot of experience, then using GIMP for simple animations might be a good option. It offers a wide range of features and is fairly user-friendly.
For something that's more versatile and geared towards professionals, Blender is worth checking out. It has a steep learning curve but is packed with powerful tools. And if you're after something specifically for 2D animation, then Pencil2D could be what you're after. It's open-source and relatively straightforward to use.
Bottom Line: Make Animated Presentations
Animated presentations are an engaging and powerful way to communicate your ideas.
They can help you stand out from the competition, make a complex topic easier to understand and keep your audience engaged from start to finish.
If you're not using animated presentations in your video strategy yet, now is the time to start.