Text to Video Animation: Complete Guide with 7 Generators and Steps to Make Your Animations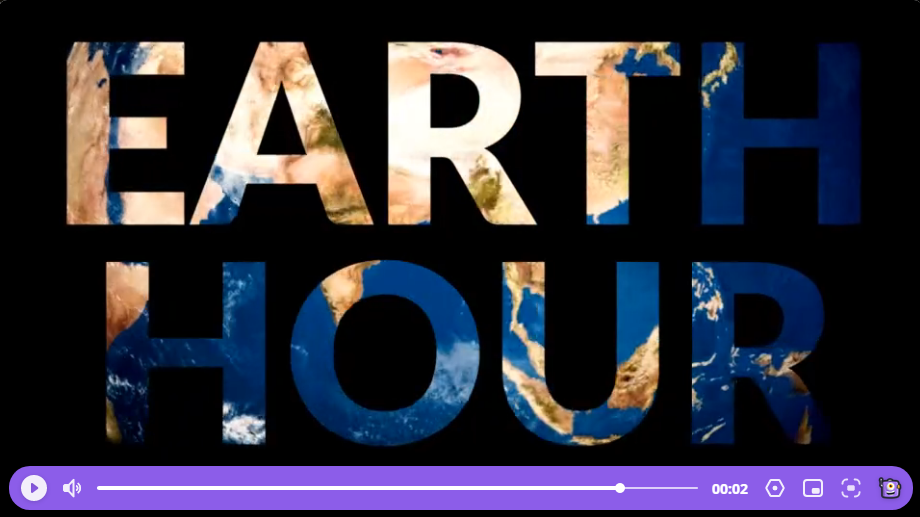 Our content is reader supported, which means when you buy from links you click on, we may earn a commission.
---
Text-to-video animation is an engaging way to communicate your message. It grabs attention and creates a more powerful connection with the viewer than plain text or talking heads.
Plus, using animation makes you stand out from the crowd and shows that you're creative and innovative.
If you want to create a video that really packs a punch, consider using text-to-video animation.
Keep reading and we'll uncover the details.
Why Animated Texts?
Conveying messages through videos is a very effective way to spread information to your target audience.
Viewers remember 95% of a message they see in a video while only 10% remember the message when they read it in the text.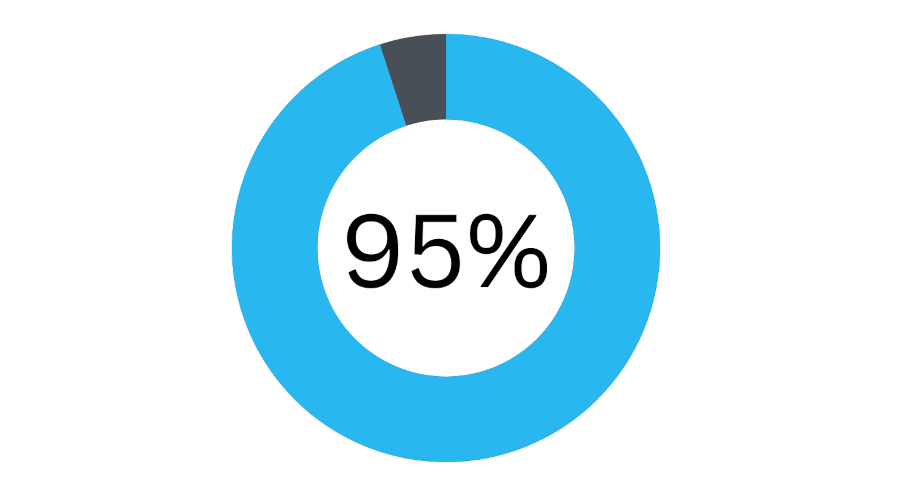 Animation can help add dimensionality to your message and make it more engaging and interesting for your viewers. People love watching animation. They help convey information faster and easier.
Animation can also be used to highlight certain words or phrases in your video for emphasis. This ensures that your viewers remember the most important parts of your message.
Animated Text Keeps the Viewers' Attention
Animated videos are highly engaging. The motion and visuals help hold the viewers' attention so they don't get distracted and tune out.
People are more likely to pay attention to a video that contains animation. In fact, studies have shown that people retain up to 95% of a message when it's delivered through video, as opposed to 10% when delivered through text.
They help create a lasting positive impression. Animated texts are great for creating an engaging visual experience that will leave your viewers wanting more.
Plus, they help build trust and credibility. By using animation, you're showing that you're a creative and innovative business. This can help instill confidence in your viewers and make them more likely to do business with you.
Create Videos that Drive Action
Animated videos are not only great for getting your message across, but they're also highly effective at driving action.
Whether you want your viewers to buy your product, sign up for your service, or simply remember your message, animated videos can help you achieve your goals.
Engages Viewers Even Without Sound
Animated videos are also great for grabbing attention even when there's no sound.
With so much noise online, it can be hard to get your message across. But with an animated video, you can still engage your viewers even if they're not watching with the sound on.
This is because animated videos are visually stimulating. They can still convey your message even without sound.
What is an Animated Text Generator?
An animated text generator allows you to create animated texts quickly and easily.
Text generators offer a means of adding visuals to your video without having to hire a professional animator. You can save time and money by using a generator.
Best Animated Text Generators
There are many different kinds of animated text generators. Here are a few of the top software programs that you can use to create animated texts.
1. Animaker
Animaker offers a lot of features that make it easy to create professional-quality videos. It's simple to use and offers a wide range of templates, characters, and scenes. Plus, it has a library of pre-made animations you can use.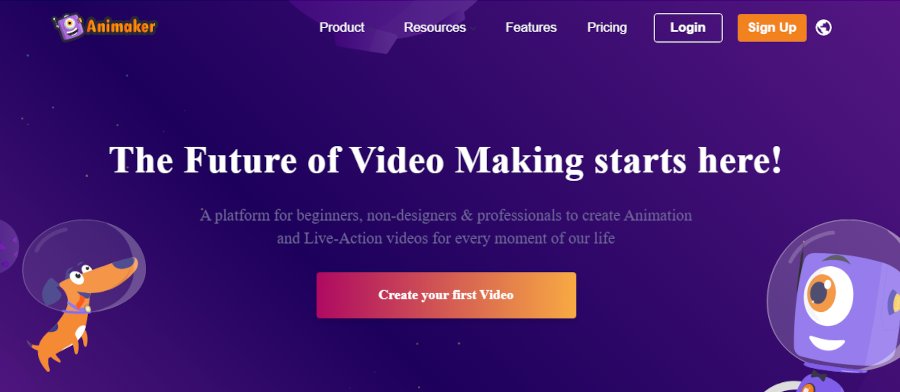 2. Kapwing
Kapwing is easy to use and offers a wide array of features. It's a great tool for creating text videos and animations. Kapwing has a simple interface that makes it easy to create videos with text, images, and audio. Kapwing also offers a variety of features that make it easy to customize your videos.

3. Biteable
Biteable is a text video animation app that makes it easy to create stunning videos in minutes. Biteable has a library of beautiful templates, millions of royalty-free images and footage clips, and a vast array of fonts and music tracks to choose from. This software also offers a wide range of customization options so you can make your video unique.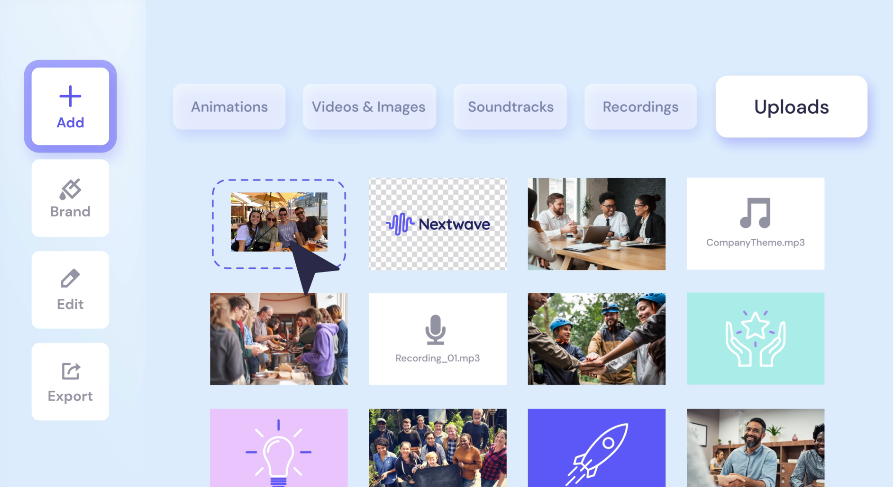 4. Adobe After Effects
Adobe After Effects is a digital motion graphics and compositing software and is often used in film and video post-production. After Effects can be used to create title sequences, lower thirds, and other text-based graphics. It can also be used for more complex animations, such as character animation or explainer videos. After Effects has a steep learning curve, but once you get the hang of it, it can be a powerful tool for creating stunning visuals.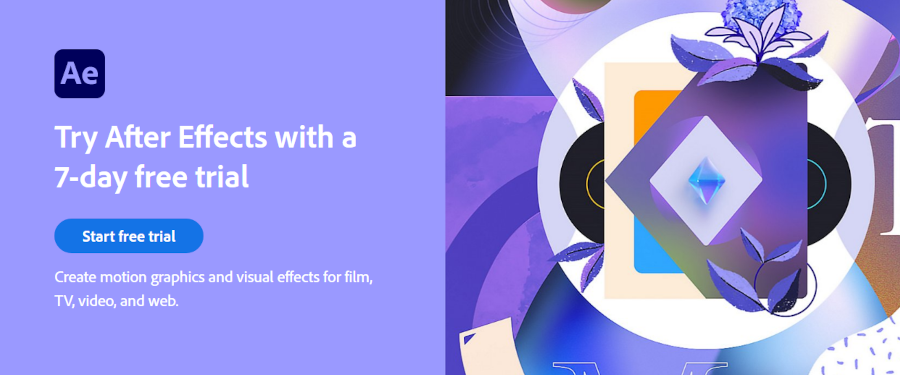 These next three tools will create cool text for you and then you will need to use software like PowerPoint to animate it.
5. Cool Text
Cool Text is a text video animation app that allows you to create text that you can then animate for your videos. The app has a wide range of options, including fonts, colors, and effects.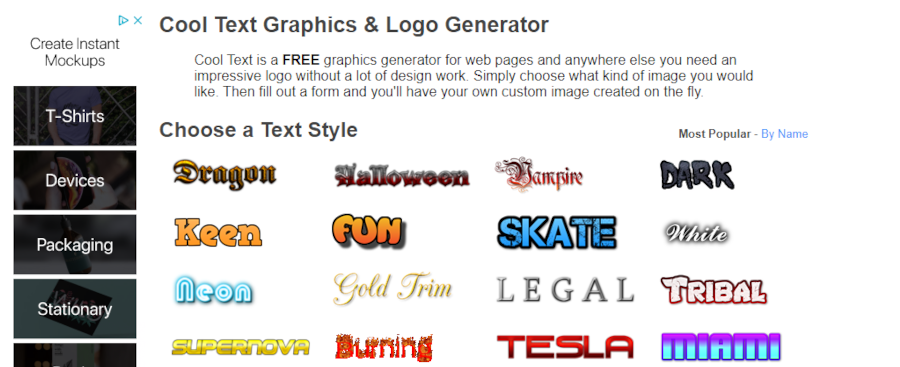 6. Flaming Text
Flaming Text allows you to create beautiful, text that you can then animate with a presentation tool. The easy-to-use interface and wide range of options make Flaming Text a great choice for anyone looking to add a little flair to their videos.

7. Textanim
Textanim offers a way to add some wow to text. Textanim offers a wide range of options for creating your text, including different fonts, colors, and sizes.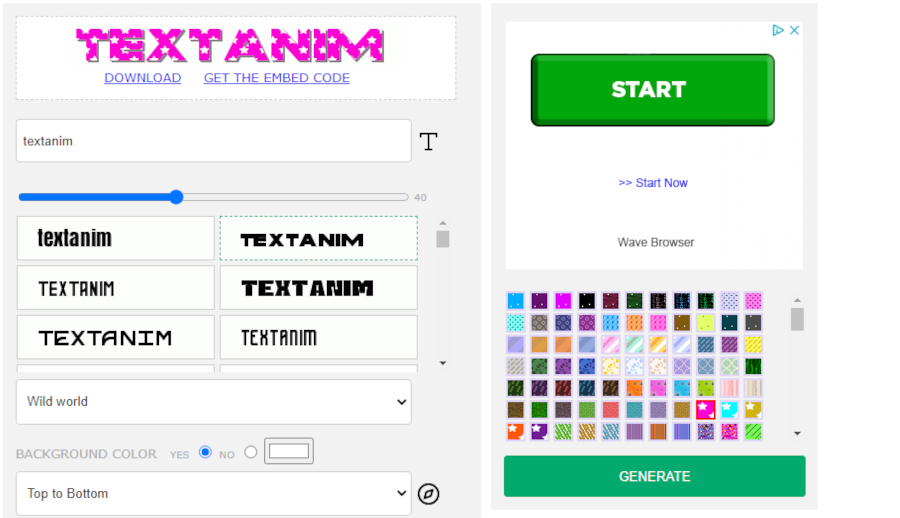 Steps for Creating Animated Text
Let's go through the steps to create animated text from one of the many software programs available. Add professional text animations to your video without the high expense of a professional animator.
Step 1. Pick a Template or Start From Scratch
Choose the template for your animated text scene.
When it comes to creating text-to-video animations, there are often several templates (sometimes 100's!) you can choose from.
You can choose a plain template that simply consists of text on a white background. This is great for short animations or for adding text to an existing video.
Other templates are slightly more complex and include a simple graphic behind the text. This can be used to add visual interest or to help convey a message.
Complex templates are also a possibility. These include both graphics and animation. This is ideal for longer animations or for creating a more interactive experience. Whichever template you choose, make sure that it fits with the overall tone and style of your video.
Step 2. Choose Your Font
When you're creating a text-to-video animation, one of the most important choices you'll make is picking the right font.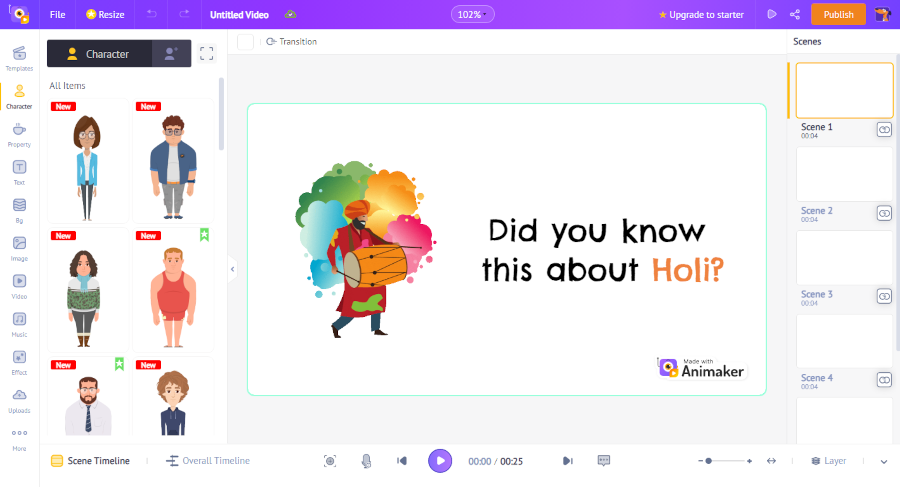 The font you choose will set the tone for your video, so it's important to pick one that conveys the message you want to communicate. If you're not sure where to start, a good place to look for inspiration is other videos in your genre. Pay attention to the fonts they use, and think about how each one makes you feel. For example, a vintage font might convey a sense of nostalgia, while a modern font could convey a sense of urgency. Once you've narrowed down your options, experiment with different fonts until you find one that feels just right.
Add your own texts into the scenes and start creating your own unique video.
Step 3. Add Music or Sound Effects
This step is optional but will help bring your video to life.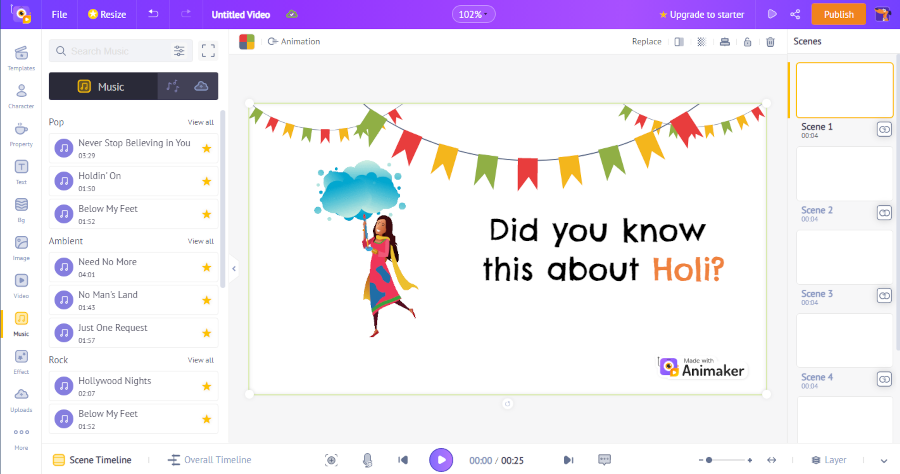 When it comes to music or sound effects for your text-to-video animation, it's important to consider the overall tone and mood you're trying to create. If your animation is light and playful you'll want to choose music or sound effects that match that tone. If your animation is more serious or instructional in nature, you'll want to choose music or sound effects that are appropriate for that type of content.
In either case, it's important to test out a few different options before making a final decision. Listen to how each one affects the overall feel of your animation, and then go with the option that best fits the overall tone and mood you're trying to create.
Text Animation Tips
Videos are great for sharing information or entertainment and adding text animation can help you tell stories visually.
When done well, animations can help to highlight key points, add visual interest, and make complex concepts more understandable. And video doesn't attract only one type of user. 59% of executives agree they are more likely to choose video when both text and video are available on the same topic.
Here are a few tips to help you create effective text animations:
Keep Your Copy Concise
When animating text, less is often more. Keep your animations simple and to the point, using them to highlight only the most essential information.
Choose Your Timing Carefully
The timing of your animations is crucial. Animations that are too slow will be boring, while those that are too fast will be difficult to follow. Find the right balance for your particular audience and content.
Use Cues Wisely
If you want your audience to pay attention to a particular piece of information, consider using an animation cue such as an arrow or spotlight. These cues can help to guide viewers' eyes to the most important parts of your animation.
Choose Contrasting Colors
To create effective text animation you need to choose colors that contrast well with each other. A high-contrast color scheme will make your text pop and will ensure that it's easily readable, even when it's in motion.
FAQs about Text Animation
What is Kinetic Typography?
Kinetic typography is the use of moving text to create an animation. It can be used to add visual interest to a video or presentation or to add emphasis to a particular message. Kinetic typography can be used to create a range of different effects, from simple text animations to complex infographics.
When used effectively, it can make a big impact on your audience.
The Bottom Line: Text-to-Video Animation
Text-to-video animation can be a powerful way to get your message across. It's also a great way to show off your brand personality and create a connection with your audience.
This guide has given you tips when using text-to-video animation as well as a brief rundown of software you can use to generate it.
Now you're ready to start creating text-to-video animation today!