The Story of How Joeel and Natalie Rivera Created TransformationAcademy.com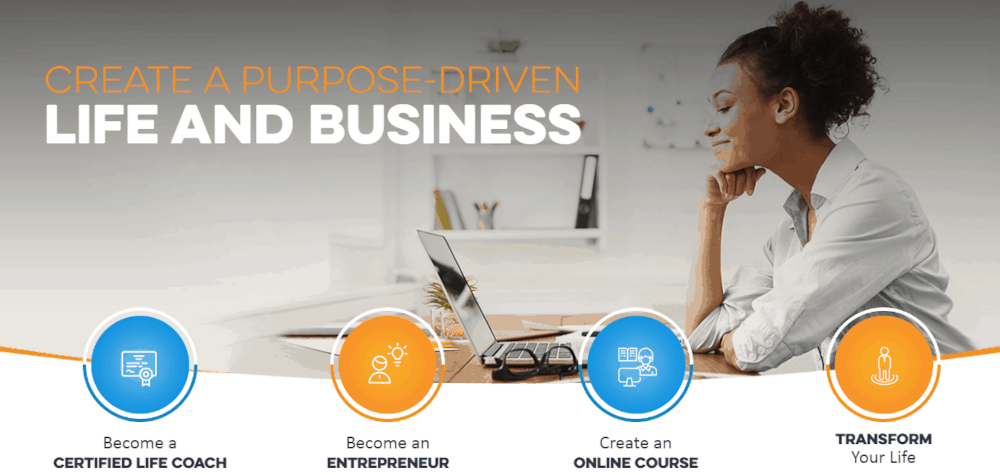 Our content is reader supported, which means when you buy from links you click on, we may earn a commission.
---
Who: Joeel and Natalie Rivera
Website: transformationacademy.com
Course Topic: Business & Personal Development
Interesting Stats: Have sold nearly 1,000,000 courses
Who are you and what course have you created?
We are Joeel and Natalie Rivera and we are the founders of Transformation Academy. Instead of a course, we have an entire academy, including 85 courses, most of which we created ourselves. We have nearly 500,000 students from 200+ counties and territories. Our website is TransformationAcademy.com
What market does your online course serve?
We have three different markets that we serve. These are INDIEpreneurs (independent entrepreneurs), life coaches, and people seeking personal development.
What's the biggest benefit of taking your course?
All of our courses are intended to empower our students to fulfill their purpose, reach their potential, and live life on their terms. However, the specific way they achieve this depends on what they're looking for. Whether it's to live a happier life, master their mindset, reach their goals, start a side hustle, or make a difference.
How did you get into the market?
We were both drawn to the personal development field due to our own passionate pursuit of purpose.
I (Joeel) dove into studying psychology after failing my first year of college, immediately followed by losing my brother in a car accident. That experience gave me a sense of purpose. I went back to school for psychology to deal with my pain. I had the vision to pursue a Ph.D. in psychology and open a center to help at-risk youth.
While enrolled in my Ph.D. program, I opened a non-profit youth center. This is where we met.
I (Natalie) am a lifelong seeker who was inspired to changing my career after seeing an Oprah episode about Challenge Day, a bullying prevention program.
I went back to school for sociology and education and created a vision board of my dream career. The day before graduation, I responded to a Craigslist ad that Joeel had posted about needing a new founder to run the center. Not only was it exactly what I had put on my vision board, but it was the seed that would eventually blossom into our relationship and the business we built together.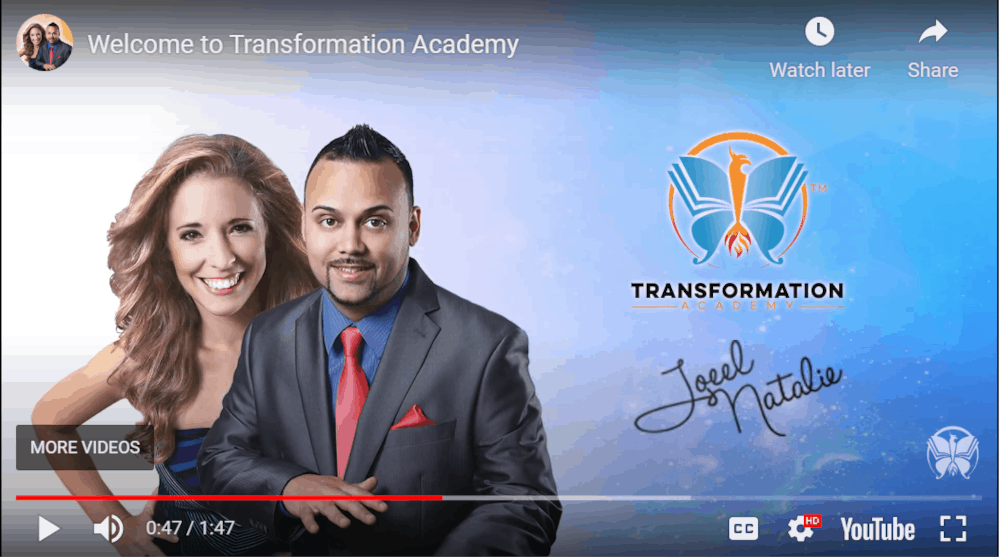 Why did you decide to create an online course in the first place?
Since meeting we've created many businesses. These include life coaching, a magazine, book publishing, a holistic virtual office center, as well as running events, trainings, and conferences. In 2014 we were running 5 different businesses. That's when I (Joeel) became deathly ill. Natalie was my full-time caretaker. As months and months went by without being able to work, our business crumbled around us.
I was bedridden for nearly a year. But we looked at the experience as an unintended sabbatical in which to reflect on life and re-strategize our business. I asked myself what my legacy would be if I passed away. All of the knowledge and experience I had accumulated would die with me. I dove into learning about online courses. I saw them as a way to continue to reach our audience, even from within our limited circumstances.
In 2015 as I started to get better, we launched our first course. It worked, so we made another and another and another. I was empowered to hear from our students from all over the world. They shared how our courses were impacting their life. It gave me purpose and drove us to work harder.
It was not about the money, it was more about being able to contribute. Our students could feel that, so they wanted to support our mission. - Joeel and Natalie Rivera
Click To Tweet
Did you have any moments of doubt before you created/launched it?
When we started, we were selling our furniture to pay medical bills, so we could not afford to buy video equipment. We started with a digital camera that shot up to 20 minutes of HD video, and we used our iPhone earbuds as a lapel mic. We also bought inexpensive clamp lights and daylight bulbs from The Home Depot. The quality was not great—in fact, it was embarrassing, so we had apprehensions.
If so what made you turn it around and do it anyway?
At the end of the day, it wasn't a choice for us. We knew this was the way to generate income from home and create something that would outlive us. We figured that even if we did not make any money we were going to put it out there because we had a sense of purpose.
It turns out our students loved our first course, despite its questionable quality. In fact, our first course is still a top-selling program and receives excellent reviews! It was a great lesson to learn that it is the content and delivery of a course that matters, not the lighting and video quality.
What's your online course like?
Our online courses are all 100% self-paced. They consist of video lectures. Most of which are talking head format (us teaching on screen). And some of which are PowerPoint style with a voiceover. Our courses are designed to be interactive. That way students can apply the material to their own lives. So nearly all lectures are accompanied by a detailed worksheet that provides practical application.
How long did it take you to create your course?
For a few years, we were creating two courses every month. Much of the content we were using to create our courses were already developed, as we had previously been conducting trainings and workshops, which we converted into video.
Later we created courses based on research and other previous experience. We both have a background in curriculum development, however, the process is quite simple. We brainstorm and research ideas for the course, expanding on each topic fully until we reach a saturation point. Then we organize the content into topics and sub-topics.
We create an outline based on all of our material, structured much like a traditional essay as we all wrote in high school or college, with an introductory section, several main topic sections, and a wrap-up or conclusion section. From there, we break each main topic down into sub-topics. At that level, we evaluate how much content is in each sub-topic to determine if it needs to be broken down into smaller sub-topics. The reason for this is that a video should be no longer than 20 minutes, with about 10 minutes as the ideal length.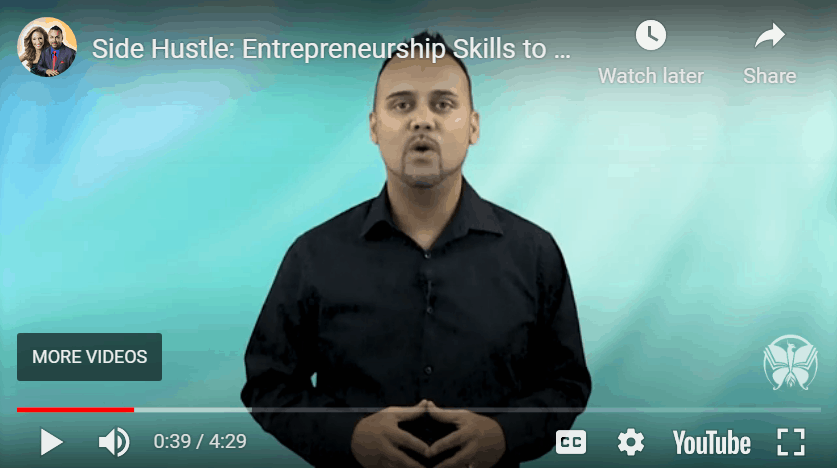 In the end, we end up with an outline of sections (major topics) and videos (sub-topics).
Lastly, we flesh out the content for each individual video. In some cases, we know the content inside and out, and so our final content for a given video may consist only of an outline of topics that we will discuss off-the-cuff on screen. For other content, we write a complete script and record it using a teleprompter.
Tell us a little about the process of launching your course and getting your first sale(s).
When we first started, we did not have a large email list to market to because even though we had a number of businesses, we had done very little digital marketing. Since we couldn't depend on our own list to get enough sales, we developed a strong understanding of our niche target market.
We identified online groups and forums where they tended to participate, as well as in-person locations where they gathered. These included personal development workshops, new thought churches, holistic wellness centers, and health food stores.
We then became part of those communities and found ways to contribute to them, whether through networking or collaborating with the people who ran the groups or businesses where our ideal customers were located. We also placed our course in online course marketplaces, where thousands or even millions of students were already looking for online courses.
Do you have a lead magnet?
We do have several lead magnets, most of which are free mini-courses. We do not market them heavily and they are not a large contributor to our course sales.
What's the traffic strategy that works best for you?
Our strategy has evolved over the years. We started using mainly course marketplaces to sell our courses. While they were sold at a big discount, it was like getting paid to market ourselves. For course sales on our own site, organic search engine traffic is by far the best. However, it takes a long time to develop this, both because it takes time to really hone in on your target market, marketing copy, and SEO, but also because for us our OWN students searching for us is how we started ranking.
We've used social media and YouTube to provide content related to our courses and build community, however, this has not been a big driver either. None of these strategies are nearly as effective as paid advertising. However, paid advertising would not have been effective for us before we had a strong grasp on our target market, product positioning, and price-point. It is an ever-evolving process.
What online course platform are you using?
We use Thinkific to host our courses and Shopify as a shopping cart.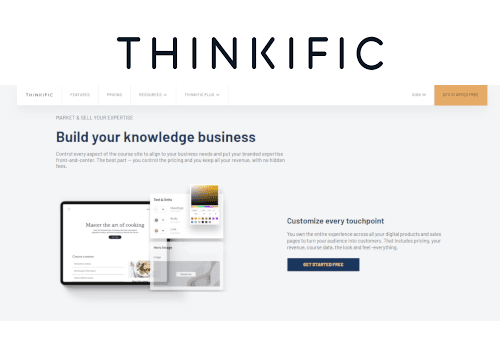 Take a Look at Thinkific!
Thinkific is the most popular online course platform used by successful course creators interviewed on coursemethod.com. It's a complete solution for creating sales pages, uploading all course content, taking payments, and more.
Price Range: Free to $499/month 
Most Popular Plan: Pro Plan at $99/month
Annual Discount: Yes, take 20% off!
Free Trial: Try out Thinkific's core features for free.
*Our content is reader supported, which means when you buy from links you click on, we may earn a commission.
Do you like it?
Yes, they have had their growing pains like any tech company, however, they've added many integrations and apps that make it easy for the instructor to customize their platform and for the student to have a good user experience.
Are there any features you wish it had?
We wish they had the functionality to have students add courses to a cart and check out for more than one course at a time. This is why we moved our purchases to Shopify.
What made you decide to use your chosen platform over others?
While our main website is in WordPress, we have found that the functionality and user experience of course platforms such as Thinkific is far better than WordPress plugins. Thinkific compared to other course platforms is similar in many ways, however, we found it to be more user-friendly and simple. However, this was 6 years ago, so a lot has changed in online course technology since then.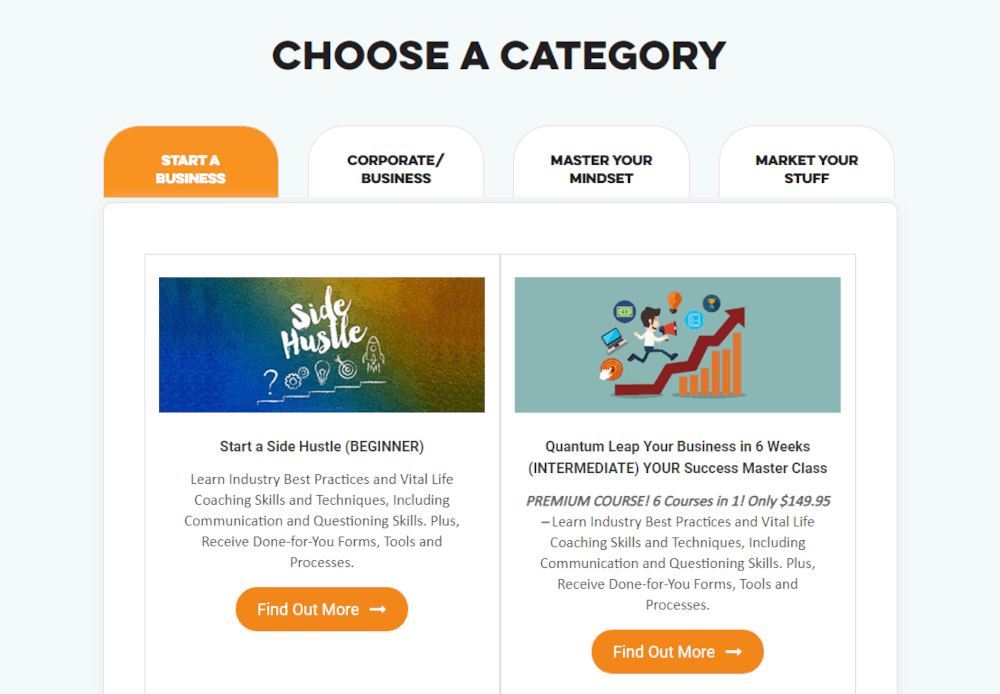 What other tools do you use to run your online course business?
We use Shopify for our shopping cart and course catalog, and we love it so far. Thinkific integrates with Shopify and provides a better sales and check-out experience. We also use services like Zapier, which helps us automate many of our back-end processes. We also use Accredible to fulfill the official certifications that our students earn when they complete a life coach certification course. This also integrates with Thinkific.
What books or training programs have you found useful on your journey to a successful business owner that others might find valuable too?
We are lifelong learners and have read, listened to, and attended a thousand books and programs, so this is a hard question.
As Jim Rohn says, "Your level of success will rarely exceed your level of personal development."
We agree, which is why we believe personal development is vital to business success, and recommend the following books:
Daring Greatly by Brené Brown, Ph.D. 
Mindset by Carol S. Dweck, Ph.D.
Do you have any big mistakes you've made along the way that you'd be willing to share?
Absolutely!
Taking on too much at once and burning ourselves out.
Getting distracted by the shiny object.
Sticking with things too long out of a sense of obligation.
Not outsourcing video editing and customer support sooner.
Please share some idea of revenue.
We currently bring in over 7 figures in profit from our courses.
Please tell us a little about what the money you've earned from your course has done for you.
When I (Joeel) was sick, we lost everything. But creating online courses gave us purpose and hope. The last time I was hospitalized, I had a view out my window of an island called Clearwater Beach. I told my wife, "just keep blinking and one day we'll be over there."
A year later, because of online courses, we moved into those condos. We have used online courses to re-build our business in a way that has expanded our reach worldwide and provides a semi-passive form of income, which provides freedom of time and location.
More than anything, we are blessed to do what we love. Plus, creating financial success has allowed us to contribute to family and friends when they most needed it or to help them pursue their dreams. For example, when my dad was transitioning due to cancer in 2019, our business gave us the flexibility to take a lot of time off for several months so I could be there for him.
In addition to revenue are there any numbers you would like to share?
While we don't have any fun numbers we can explain how we did it, we can share some for inspiration as to what is possible…
We've sold nearly 1,000,000 courses.
In the last year, our students have watched 25,000,000 minutes of our course videos (that's 416,000 hours)—which is mind-boggling (and a bit embarrassing)! - Joeel and Natalie Rivera
Click To Tweet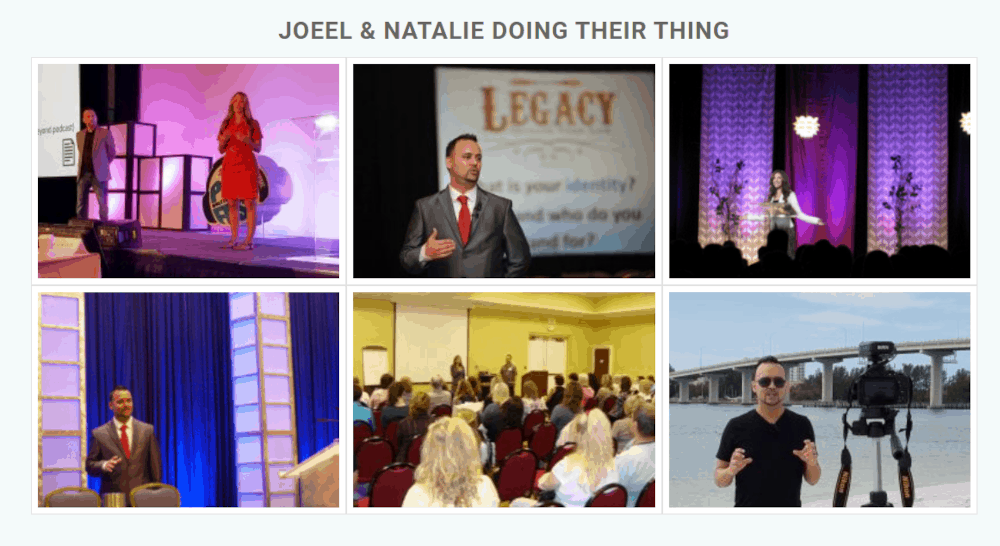 Do you have a story of a transformation from any of your clients?
One of our favorite stories we received from a student was a young man who lived in Syria. He enrolled in our Happiness Life Coach Certification and messaged us to thank us for providing tools he could use to bring happiness to his community during a time of war.
What advice do you have for people just starting out?
Don't wait until it's perfect, since it will never be.
Our one regret is not creating courses sooner. We had friends that told us about the success they were having with courses, but we were busy with our other businesses. So we did not take the time to create courses until the illness forced us to re-prioritize our life.
Ask yourself, what would happen to your life and business if you could not work for six months or a year? Had we started creating courses earlier, we would have had a foundation that would have helped us weather the storm financially.
Learn more about Joeel and Natalie Rivera of transformationacademy.com: