How Rob Stand of SEOBetter.com Helps People Make Money Online Selling Goods or Services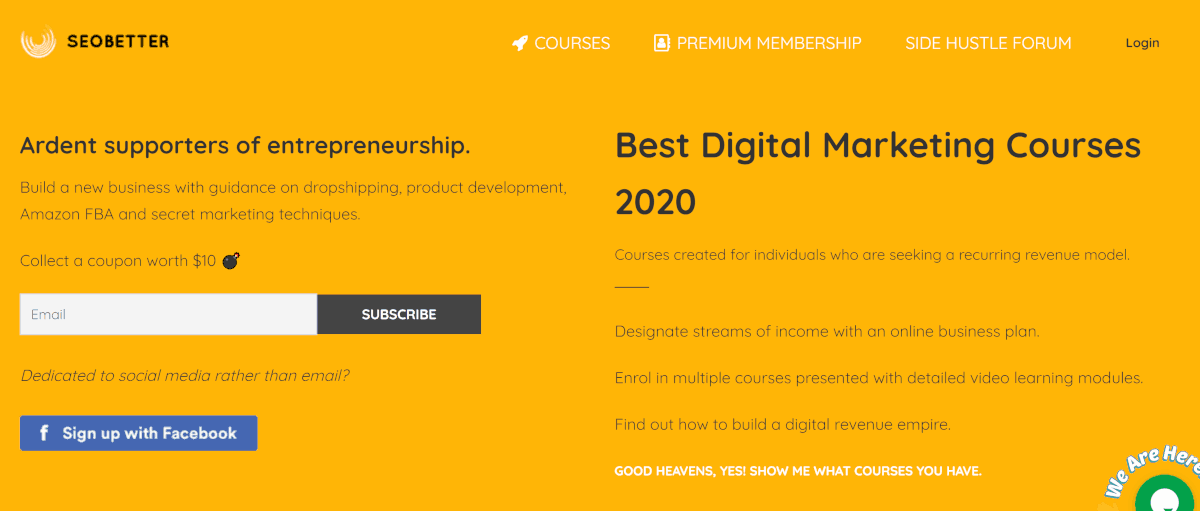 Our content is reader supported, which means when you buy from links you click on, we may earn a commission.
---
Who: Rob Stand
Websites: seobetter.com
Course Topic: Dropshipping and search engine optimization
Interesting Stats: Student making 18K/month
Who are you and what courses have you created?
I have created 2 courses and 1 subscription-based membership. You can find all of my courses here.
The first course I created shows people how to start a dropshipping company (based on Woocommerce).
The second course is the complete guide to finding and launching a product on Amazon.
The subscription-based course is more like the Patreon idea where users pay and subscribe for you to consistently create new content. It also comes with monthly reviews of your website as you work on it along with quality feedback.

What market do your online courses serve?
My courses serve the market of online entrepreneurs. The courses focus on people who want to learn how to make money online by selling goods or services. Dropshipping became a big search term in 2019 with most people looking at Shopify. I changed this up a bit to show people how you can build a quality site on Woocommerce and scale it by pushing products to eBay and Amazon to 3 x your sales each month.
The other course shows people how to sell on Amazon and was created based on a real-life application. We learned what tools and tricks you can use to find a profitable product, launch on Amazon FBA, and then scale. If you do this right you have the potential to make $100,000 + in sales per month in under a year. The Amazon course shows you exactly how to achieve this.
What's the biggest benefit of taking your courses?
The benefit of taking our courses is that they show you real-life examples. For instance, with the dropshipping course, I build a site with you in real-time to show how it's done. The end product of the site is still live and is consistently making money so you know that it works. When you take our courses we also provide 1 on 1 support while you build your product brand and launch to your customer base.

How did you get into the market?
I got into the market by doing this for myself. I started as a web developer on Joomla and WordPress and built hundreds of sites for customers. From here I realized I could make my own sites and start dropshipping products for profit.
After a few sites, I realized that anyone could do this if they had the knowledge. -Rob Stand
Click To Tweet
So I created the courses as a guide so others could make money online as well.
Why did you decide to create an online course in the first place?
I wanted to create a course to make some extra money of course. Though from experience if you can genuinely help others make money, that can benefit other people's lives as well.
After 15 years of working in the business, I needed to get my knowledge out and share it. There are so many ways to approach dropshipping, online marketing, and selling on Amazon. The way I teach my students is self-taught based on my own trials. It basically saves you years of testing ideas.
Did you have any moments of doubt before you created it?
There were a few times where I thought I would not finish and that no one would sign up. It takes time to record and set up a video including editing and creating lesson content. I struggled with a few things such as finding a high-quality video host, though after sorting out these things starting and moving forward became easier.
What are your online courses like?
My online courses are based around chapters and lessons. Each lesson contains a video with text instructions so you can follow it in real-time. Our videos are created from screen capture. You get to see exactly how I do the website or online marketing technique.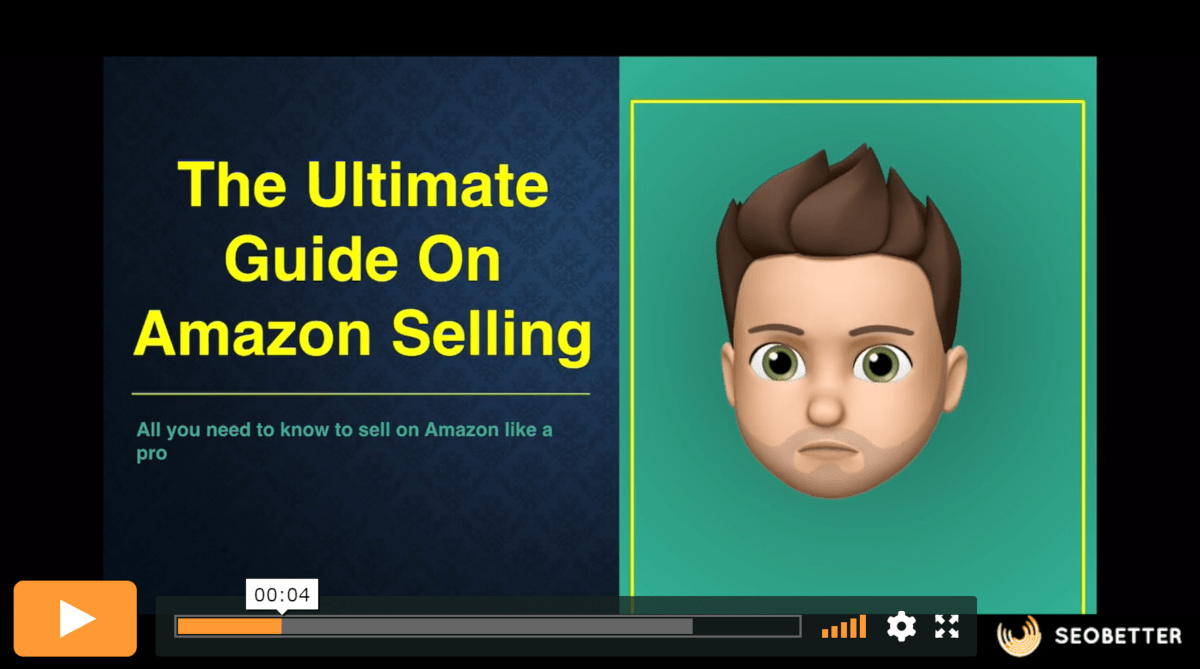 How long does it take you to create your courses?
The first course on dropshipping took me around 2 months to create. As it was my first try building a course I had to learn about video hosting, writing content, and recording high-quality audio.
I found a great tool that filters out all background noise based on A.I which was excellent! After this my videos were crisp.
The process for me was to get the content ready first by creating the lessons. I wrote all this all down on a document like chapters in a book. From here I recorded and built the process. For me, this involved building an entire website and going over each of the software plugins I used in the process. I had to build each page and then launch it.
My second course on Amazon took around the same time. You basically just have to sit down and stick it out until all the recording videos are done.
Tell us a little about the process of launching your first course and getting your first sale(s).
When I launched I did a free giveaway on Reddit so I could get some feedback and customers. From there I did a bit of promotion on Reddit. Honestly, I wouldn't suggest anyone try it.
People on Reddit are VERY anti-online courses and any hint of someone trying to promote a course (unless it is free) will get harassed and downvoted. After I realized that people on Reddit did not respect the time and effort it takes to create a course, I knew it was not the place to promote it or try to get students.
From there I worked on content marketing through blog posts. I embedded a lead capture form. This process allows users to download my eBook in return for their email address. I then set up an automated email campaign that sends a sequence of 8 emails to try and get users to sign up for my course.
I have also tried an Adwords PPC remarking campaign. This shows display ads to people who have visited my website. This can work quite well, though I found that Gmail PPC campaigns were not worth the money. I would only suggest search and display ads.
Do you have a lead magnet?
All of my lead magnets are in my blog posts. They include a call to action to subscribe to download my ebook. It works well as some of my content ranks for high traffic keywords.
What's the traffic strategy that works best for you?
I have found that the best traffic strategy is content marketing. The reason being is if you create high-quality content related to your field it backs up that you know your stuff. From here you can use the content as a marketing platform at places like Taboola. This allows you to share your content. I have also found that contributing to Facebook groups, Linkedin, and Growthhackers worked well for me.

What online course platform are you using?
I use WordPress and a customer plugin that works with my backend.
Do you like it?
I like the learning plugin, it integrates with everything such as Woocommerce. If I could change anything I would probably go with another WordPress course plugin such as Learndash. I have come too far now to make any changes to the platform. It works so that is all that matters.
Are there any features you wish it had?
I would like to turn my site into an app one day, I do think integrating the plugin into an app would be time consuming and expensive.
What made you decide to use your chosen platform over others?
When I started to build my site, I based it on a theme and plugin that I used to develop a previous customer's website. When I finished building his site I saw his sales statistics. He was making so much money, $200 – $300 a day in sales, and of course, I thought to myself that I could do that as well.
It was more work and effort then I expected but I still enjoy using the course platform. The plugin provides everything that I need in order to run a successful course instruction website.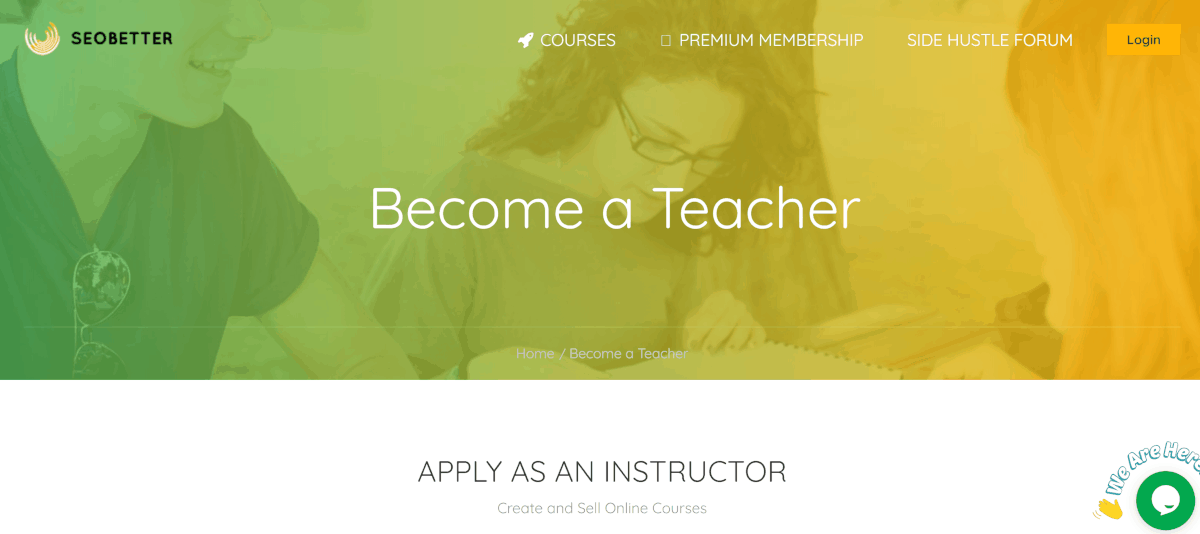 What other tools do you use to run your online course business?
There are two tools that I pay for and use. The first is for keyword research (blogs and course meta-information), plus I use it to sell my own products on Amazon. It's Helium 10.
This is an amazing tool for keyword research. Many people use Adwords, but for eCommerce and finding keywords that drive people to buy, Helium 10 for Amazon is by far superior.
The second tool I use is awario.com. This is a social media tool that allows you to monitor and respond to any hashtag. It will pull from social mentions on Twitter, YouTube, Instagram, and Facebook. Once you're alerted of the hashtag mention, you can reply and drop a link to your course. Most people will reply and sign up as they think you are following them but you are just listening for keywords.
What books or training programs have you found useful on your journey to a successful business owner that others might find valuable too?
Most of my learning comes from blog posts rather than books. I frequently read growthhackers.com for new trends in online marketing. And I also watch a ton of YouTube instructional videos. The group at Helium 10 has helped me find plenty of high-quality keyword research for eCommerce.
Do you have any big mistakes you've made along the way that you'd be willing to share?
The biggest mistakes I had made have been with SEO and link building. I wrote an epic blog post which I thought would rise to the top organically. I was wrong and it only made it on page 3. After all the time put in to write the posts, it can be a bit disheartening.
The other mistakes I have made have been with link building. People will offer to place a link to your website from their own. Sometimes this can end up for the worse and your rankings can drop. There are many low-quality websites out there that you don't want linking to your own website.
SEO is a really tough game, I would say it's one of the hardest strategies. If you can do SEO well and rank a landing page, you can do any kind of online marketing.
Please share some idea of revenue.
We have about 30 new students signing up each month, so that turns into between $3000 – $10000 a month. Since our courses are so informative and our students love them we end up getting a ton of referral traffic.

Please tell us a little about what the money you've earned from your courses has done for you.
Building online courses has allowed me to pay off debt and travel more often than usual. I have seen many places around the world and always go away for a week each month to a new place by the beach and just chill out. I enjoy my lifestyle.
In addition to revenue are there any numbers you would like to share?
I am currently working on my YouTube channel.
I recently tried uploading some best of Tik Tok videos to see what kind of views it would get, and it did quite well. If anyone needs to boost their YouTube subscribers I would suggest creating the best of videos from Instagram or Tik Tok. Everyone can relate to them and they are easy to watch.
You can embed your "watch this video next" and subscriber button at the end of each video. You can really gain some traction there.
What has creating your training done for you personally?
Creating a course has been a learning experience. As previously stated most of my time goes into my dropshipping business and selling on Amazon so this is just a way for me to tell people "Hey, it is not that hard to create your own revenue, just give it a go".
I feel like people put themselves down before they even try. It may take time, maybe a month out of your social life.
In 3 years you could create that extra $2000 you need at the end of each month. -Rob Stand
Click To Tweet
Do you have a story of a transformation from any of your clients?
I had a student based in the UK who took our Amazon course. He followed it step by step and is now making about 12k in sales per month in pounds so that is around 18K USD or around that. It only took him a few months and he found a local supplier who would drop ship for him. That way he stayed competitive.
What advice do you have for people just starting out?
My advice for people starting out in dropshipping would be to try something different. Find a local supplier in your country and then start dropshipping. This way you get return customers and can scale on Amazon and eBay. My course shows you how to really build a profitable business on WordPress, not Shopify.
For people looking to start selling on Amazon FBA, my advice would be to do your research first before you launch your product. Our course shows you how to do this exactly. You need to know your competition and use a profit calculator so you know what you can make each month. Once you start and those sales start coming in you will be set for life.
Learn more about Rob Stand and SEOBetter.com: