7 Popular PowerPoint Alternatives to Make Your Presentations Sparkle

Our content is reader supported, which means when you buy from links you click on, we may earn a commission.
---
If you're creating an online course, then you may be considering producing lecture-style videos. Often these videos will use PowerPoint. It's a great piece of software offered by Microsoft Office and used by millions around the globe.
More than 30 million PowerPoint users create presentations on a daily basis. PowerPoint users have cited numerous reasons for preferring to use the software to create their presentations, whether for academic, professional, or personal purposes. The primary reason that emerges from these is ease of access and use. In more detail, PowerPoint users have specifically driven forward the thought that using PowerPoint is easy because of its mass availability and provided support for users.
There's a certain look and feel to many PowerPoint presentations, however, with a little effort, you can create something unique with this tool. If you don't like PowerPoint or just want something different, then take a look at the PowerPoint alternatives we've rounded up here.
Table of Contents
1. Moovly
Moovly Studio provides web-based tools to create unique presentations and videos. It's also an animation presentation software program, cloud-based, and absolutely free. Additionally, the Moovly App is available for both iOS and Android mobile devices.
In comparison, the mobile app gives you access to a variety of pre-animated templates, fully customizable, like the desktop version. While their mobile application allows for viewing, editing, presenting, recording, capturing, uploading and cloud syncing on-the-go, it does not include the Video Generator. The Video Generator automatically generates video presentations from other content videos from any source. Unlike standard PowerPoint presentations, Moovly adds creative flair to your message and aids to engage your audience more efficiently.
Subscription and education plans range from a free trial to customized annual billing.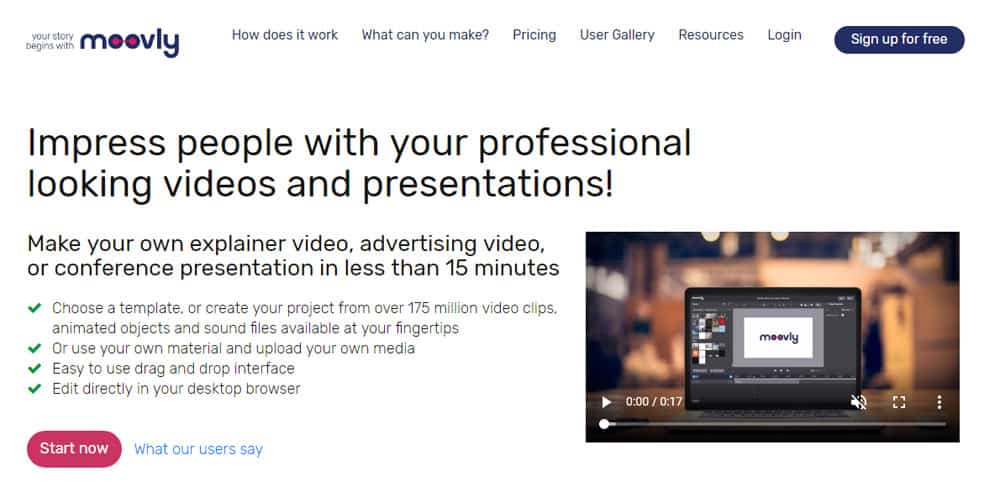 Top Moovly Features:
Complete HTML5 cloud-based editor
Over 1 million free videos, images, and sounds
Over 170 million premium videos, images, and sounds
Social media publishing
Download and export capability
Video quality up to HD 1080p
The ability to create templates
Numerous group features
Multiple account option
2. Keynote
Next up is Keynote, Apple's version of presentation software. It's a powerful PowerPoint alternative which comes as part of Apple's iWork Office Suite. In more ways than one, Keynote features resemble PowerPoint. Comparable to PowerPoint, Keynote allows for unique effects and transitions of slides. It also comes with pre-made templates. On the other hand, Keynote remains a slightly more advanced PowerPoint alternative, due to its high-quality models, interactive templates, and cloud-based services.
With its brilliant effects and powerful tools, Apple's Keynote resources allow for a compelling presentation. Unlike PowerPoint, Keynote's clean interface, and critical tools stand front and center.  Subsequently, team members can easily edit and add text, charts, photos or cinematic effects effortlessly. With current slides, clock, and notes all in one view, Keynote lets you rehearse on the go with your iPad or iPhone.
While this PowerPoint alternative provides productive tools, pre-made templates exceed completely customizable options, and only MAC users benefit from this software. Nonetheless, Keynote remains a PowerPoint friendly software which supports importing and editing of PowerPoint files.
The software comes with MAC OS X Mavericks free, otherwise, you may purchase Keynote for under $20.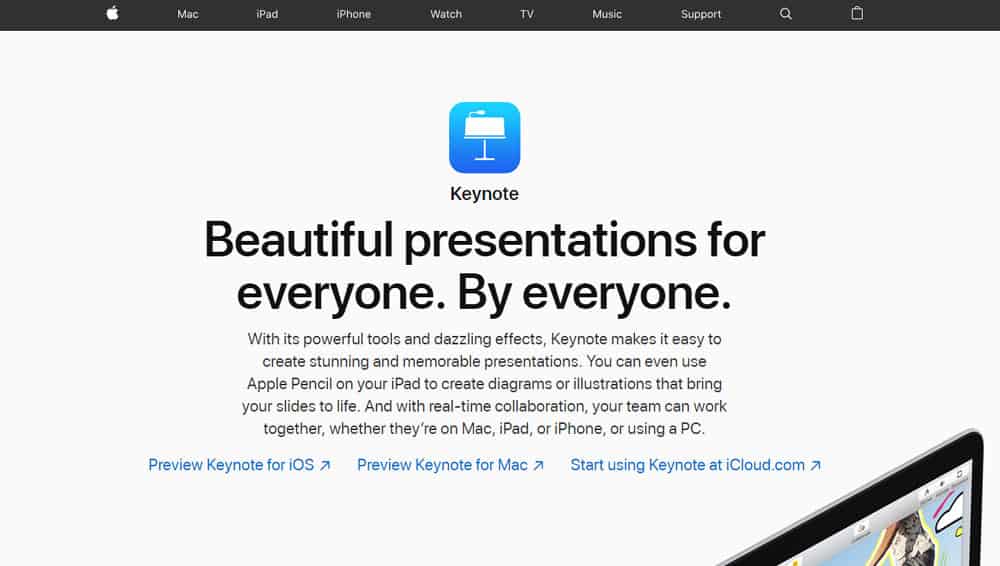 Top Keynote Features:
Over 30 eye-catching themes give your presentations a professional look
30+ cinematic transitions and effects
Over 700 customizable shapes
Instant sync with Apple devices
Real-time, live presentations people can view while in different locations
Compatible with Apple Pencil
Collaborate with anyone anywhere around the world
3. Prezi
Engaging, persuasive, and more effective than PowerPoint is the interactive tool, Prezi. Prezi is a PowerPoint alternative that zooms in and out of subtopics instead of multiple slides. It's a powerful tool for people who are not presentation designers. Like Moovly, designers can create and collaborate in the cloud or on the desktop.
Unlike PowerPoint, Prezi presentations allow users to organize presentations as a whole. The program incorporates Smart Structures which make it easy to arrange content with a simple drag-and-drop, without disrupting the layout. Although Prezi is effective, efficient, and an excellent alternative to PowerPoint, it needs time to master. Prezi tutorials are completely free, and the software comes with a 30-day free trial.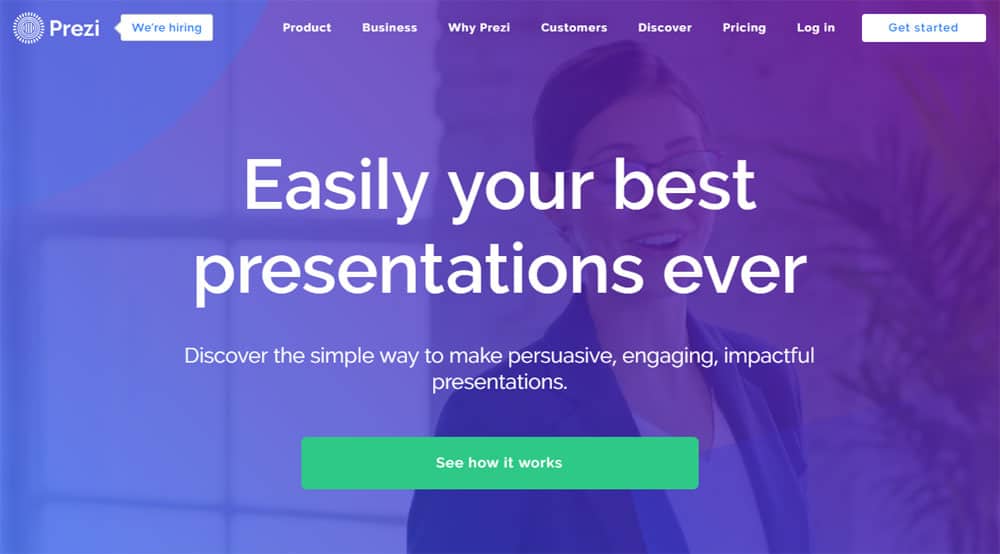 Top Prezi Features:
Accessible over multiple platforms
Available offline
Create and collaborate in the cloud
4. Haiku Deck
Create amazing presentations easily on the web, iPad or iPhone with Haiku Deck. Although Haiku Deck is an acceptable alternative to PowerPoint, it's extremely simplistic and offers limited customizable features. Haiku Deck allows presenters to add images, insert text, choose a master layout, insert new slides, present and export presentations for free.
In over 21,000 schools, Haiku Deck makes presentations fast, easy and professional-looking for educators and students. Haiku Deck provides teachers with sample student presentations, tips for the classroom and information blogging with their software.
Haiku Deck Classroom makes classroom integration easy and affordable with their classroom management dashboard. It's possible to share with LMS systems, course galleries for presentation viewing, and the optional combination of Google Classroom.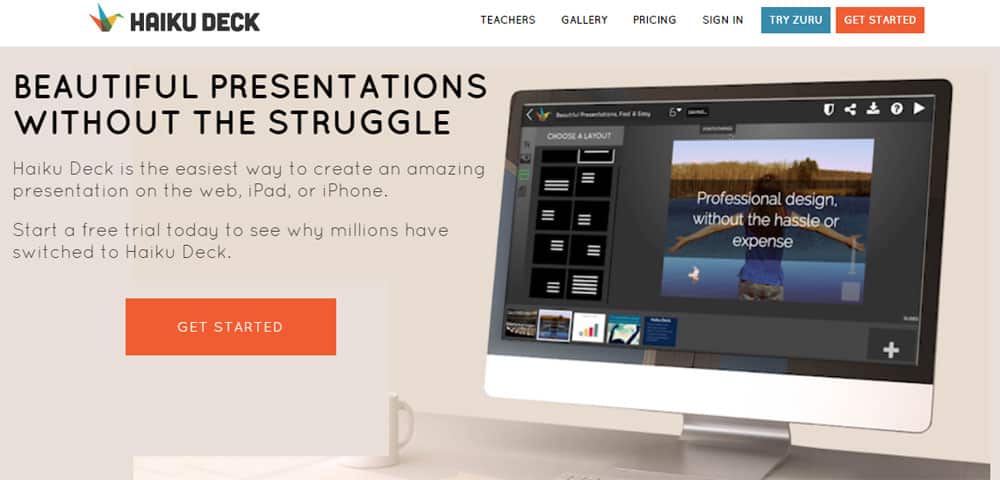 Top Haiku Deck Features:
Simple to use
Popular tool for educators and students
Built-in professional guide for professional slides every time
5. Visme
Another of the top PowerPoint alternatives, is Visme. Visme has the reputation of creating the most engaging presentation designs that catch people's eyes. For instance, it provides icons, graphs, and charts, and allows for uploading video and audio files into the present design.
Comparable to Canva, Visme has over 100 fonts, millions of free images, and numerous templates to choose from. In addition to stunning flexible templates, Visme allows for full control and interactivity. You can change your presentation and objects to fit specific needs. Designers can add interactivity and links to different objects.
Visme built-in analytics feature time spent and views. Unless a person pays for outside analytics that measures content performance, this service might not be readily accessible. Likewise, this platform syncs with MailChimp allowing users to collect emails from those who visit their content.
Unfortunately, users may only create three presentations free, and they include the Visme watermark. Visme logo does not appear in the presentation after purchasing an upgrade. Pricing for premium templates varies from about $14 to $75 per month, not including customizable business and educational plans.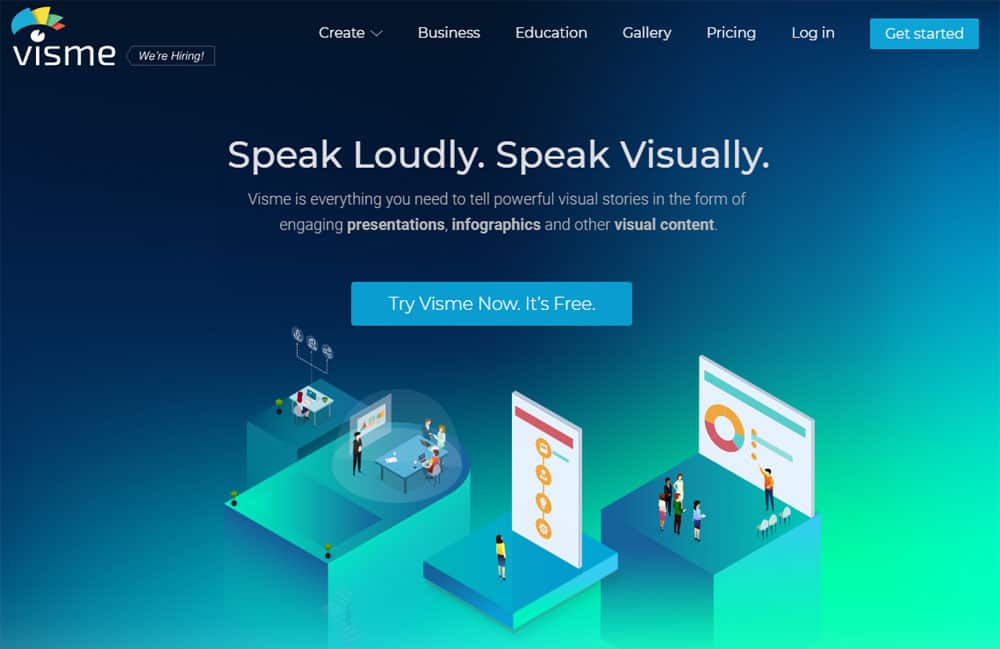 Top Visme Features:
Powerful interactivity platform
Hundreds of pre-designed professional templates
Millions of images, icons and fonts
One click share and download
6. SlideDog
Although a few identify SlideDog as an alternative to PowerPoint, it does provide a different perspective in comparison to traditional presentations. Unlike other presentation platforms, SlideDog allows for smooth integration of PowerPoints, Prezi, PDF documents and various other elements into your presentation. With such a unique platform, the presenter never has to switch between various programs during a presentation. SlideDog does not misformat playlists, and each screen displays as expected. After uploading documents, content replays as one seamless file.
Prezi and SlideDog both focus on interactive presentations, but SlideDog raises this to another level. Presenters have the option of audience feedback via live chat or questionnaire. SlideDog has a long list of features which also include real-time sharing, remote control via SlideDog remote app, live stream presentations, three categories of interactive elements, and dual screen support. Above all, this professional software alternative is free with the option of a Pro license.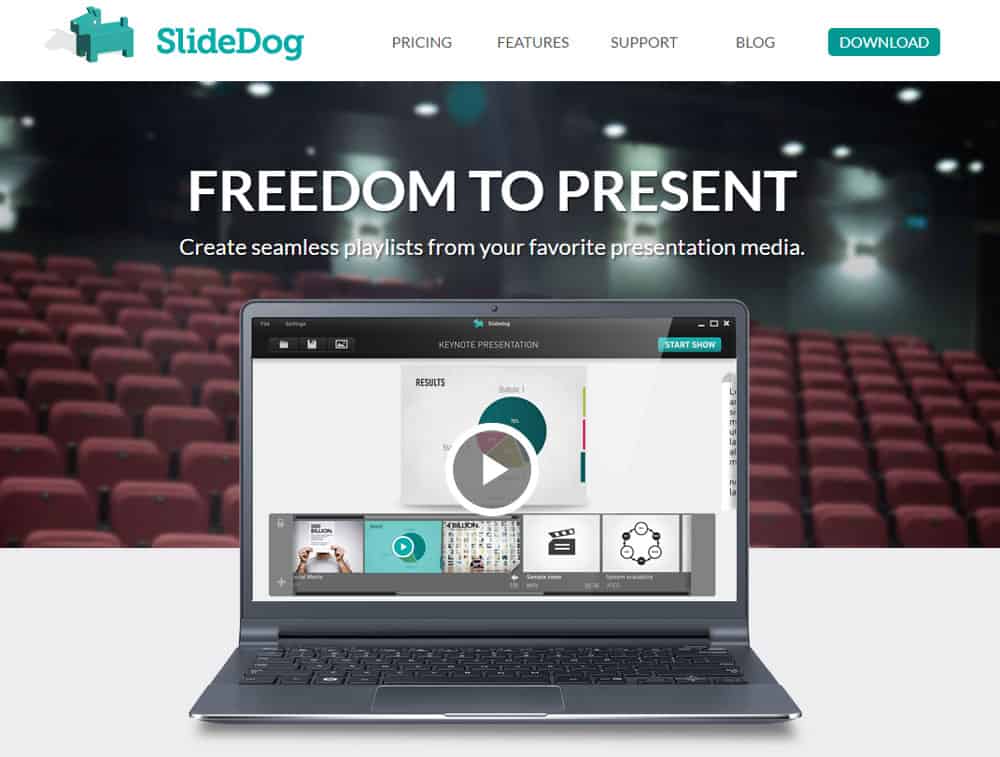 Top SlideDog Features:
Supports various file uploads
Presentation feedback, polls and live chat interactive tools
Live stream presentations
SlideDog app remote control
Customizable playlists
7. Google Slides
Lastly, Google Slides offers several advantages over PowerPoint. Built for collaboration, Google Slides allows team members to make edits that sync instantly. Due to its web-based structure, files easily back-up into the cloud with instant access via any device. While PowerPoint files are simple to import, they often require some rework. The more complex the imported PowerPoint file, the more modification required.
Nonetheless, with Google Slides, you can build professional training modules, project presentations, pitch decks and more. Even better, no special software is needed, and each change is automatically saved. If you choose to take advantage of Google Slides tutorials, learning basic software navigation takes approximately 10 minutes.
When Google Slides first launched, it was an unpopular alternative because viewing presentations outside of PowerPoint was unusual. However, this disadvantage is slowly fading as technological understanding increases. Furthermore, the software is compatible with Microsoft PowerPoint, ODP, Text file, PDF, JPEG, Png and Scalable Vector Graphics. Although user-friendly alternatives come recommended, people have successfully created engaging professional-looking presentations with Google Slides.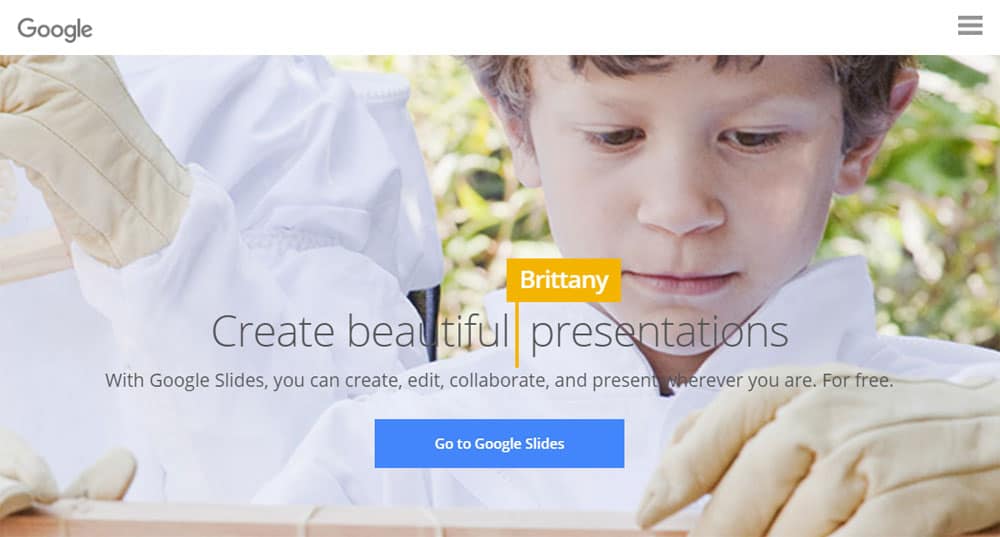 Top Google Slides Features:
Variety of portfolios, pitches and pre-made presentations
Access, create, and edit presentation from anywhere on phone, tablet or computer
Offline access
Multi-user, same-time access with auto sync
Compatible with PowerPoint
Free Google Slides Learning Center
Conclusion
If you're planning on creating a presentation and want to wow your viewers, consider one of the PowerPoint alternatives listed above. Whatever tool you decide to use, it's probably wise to stick with it until you master it. That's because mastery of presentation software will only lead you to create better presentations with every new project you complete!