Elna Cain Shares Her Story to 6-Figures a Year From Blogging and Freelance Writing Courses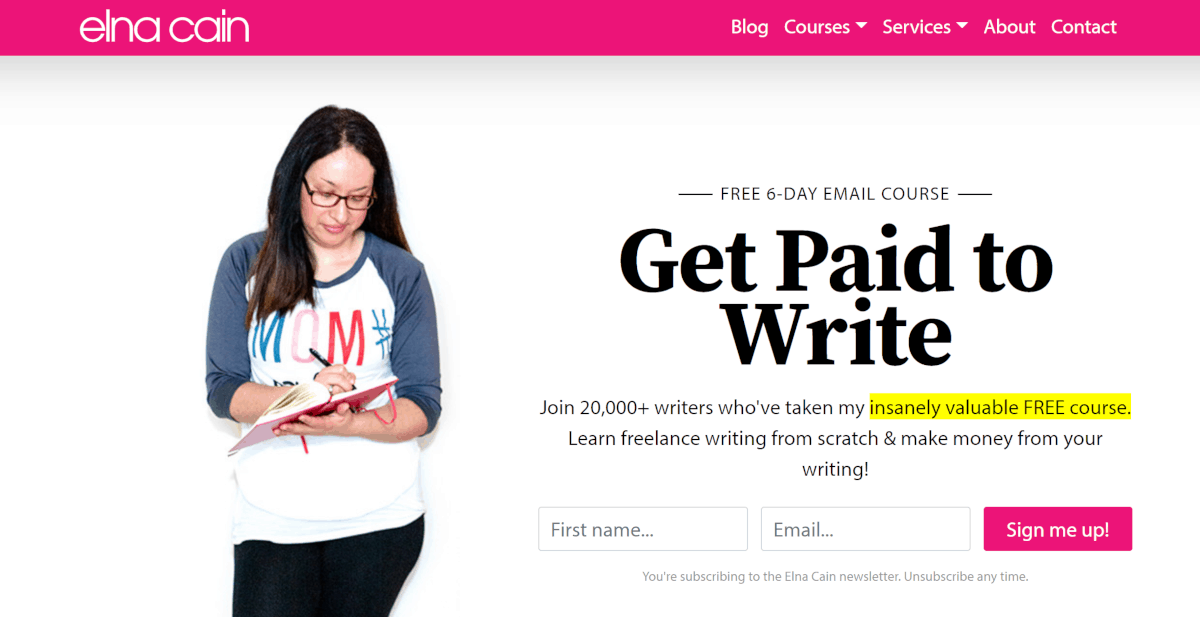 Our content is reader supported, which means when you buy from links you click on, we may earn a commission.
---
Who are you and what course have you created?
My name is Elna Cain. I run elnacain.com along with a few additional sites.
My course, Write Your Way to Your First $1k, serves aspiring writers wanting to make money with their writing. They are usually working full-time in a job they dislike and want a change. Usually, writing has always been a passion of theirs. The course helps them get on the fast track to success with freelance writing.
I also have another business, twinsmommy.com, where I sell courses on blogging. My courses from that site include; "Ready Set Blog For Traffic", "Create Content for Blog Traffic", and "Pinterest Perfection Masterclass". The courses help new blog owners get their blog set-up and start bringing in traffic.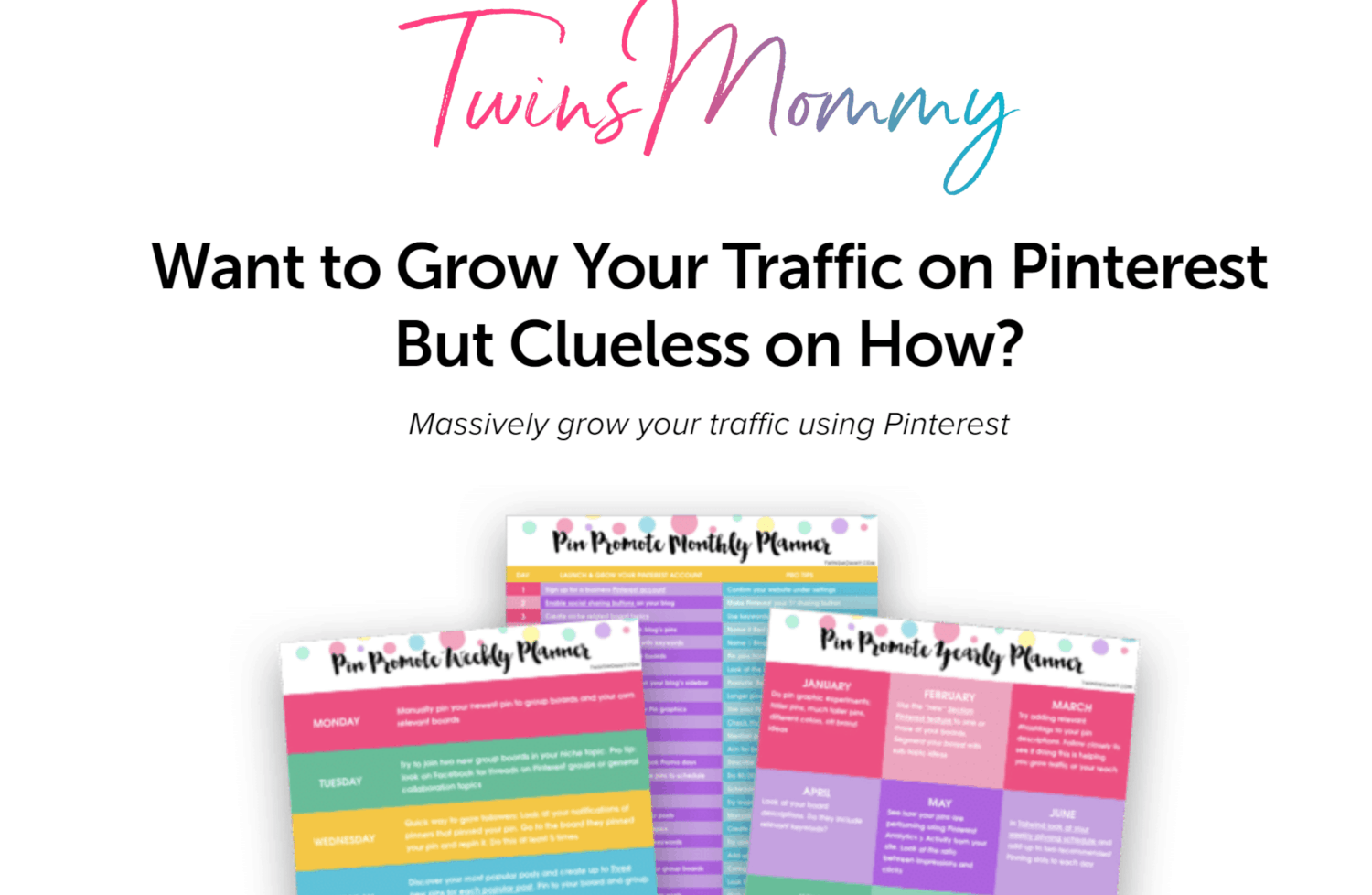 What's the biggest benefit of taking your course?
The biggest benefit is having everything in one place from A-Z. My course is an all-in-one stop to help writers learn the business side of writing so they can make money doing it. Other benefits include having me – the course creator – available. I regularly answer student emails and engage with my course students in our private Facebook group and on my Facebook page for writers.
How did you get into the market?
After a year of freelance writing, I started offering coaching to struggling freelance writers. I realized after a few months that doing this was too-time consuming and many of my coaching clients asked the same questions. I decided at that time I should create a course to answer their main questions which would also save me time.
Why did you decide to create an online course in the first place?
I've always wanted to explore other monetization strategies as a blogger and freelancer. After coaching, I created an online course and after that I started doing affiliate marketing.
Recently, I've started running display ads for my other blogs.
Learning how to monetize my blog in different ways ensures that I'll have a consistent income and not have to rely on only one source of revenue. - Elna Cain
Click To Tweet
Did you have any moments of doubt before you created your first course?
It took me over 6 months to create my first course. I also didn't pre-sell the course as selling was a new thing for me. I didn't have a doubt, but I did have some apprehension about my marketing strategy.
If so what made you turn it around and do it anyway?
I chose not to shy away from my course or marketing strategy. After my launch I generated income and I was ecstatic. I had created a plan on the tactics to launch my course and followed it, even though I was slightly apprehensive by it all.
What's your online course like?
My WriteTo1k course is quite comprehensive and it's mainly written. I'm a writer so I prefer writing (mostly in MS Word although I've been using Google Docs more and more lately). Most writers like reading, so it works out great. The course is online, but I manually created a PDF of all the course lessons for a student one time, and it ended up being over 300 pages!
For product walk-through and tutorial videos I don't use a script, but I often end up doing multiple takes. For the main course video lessons, I use a loose outline to cover the main points of the video.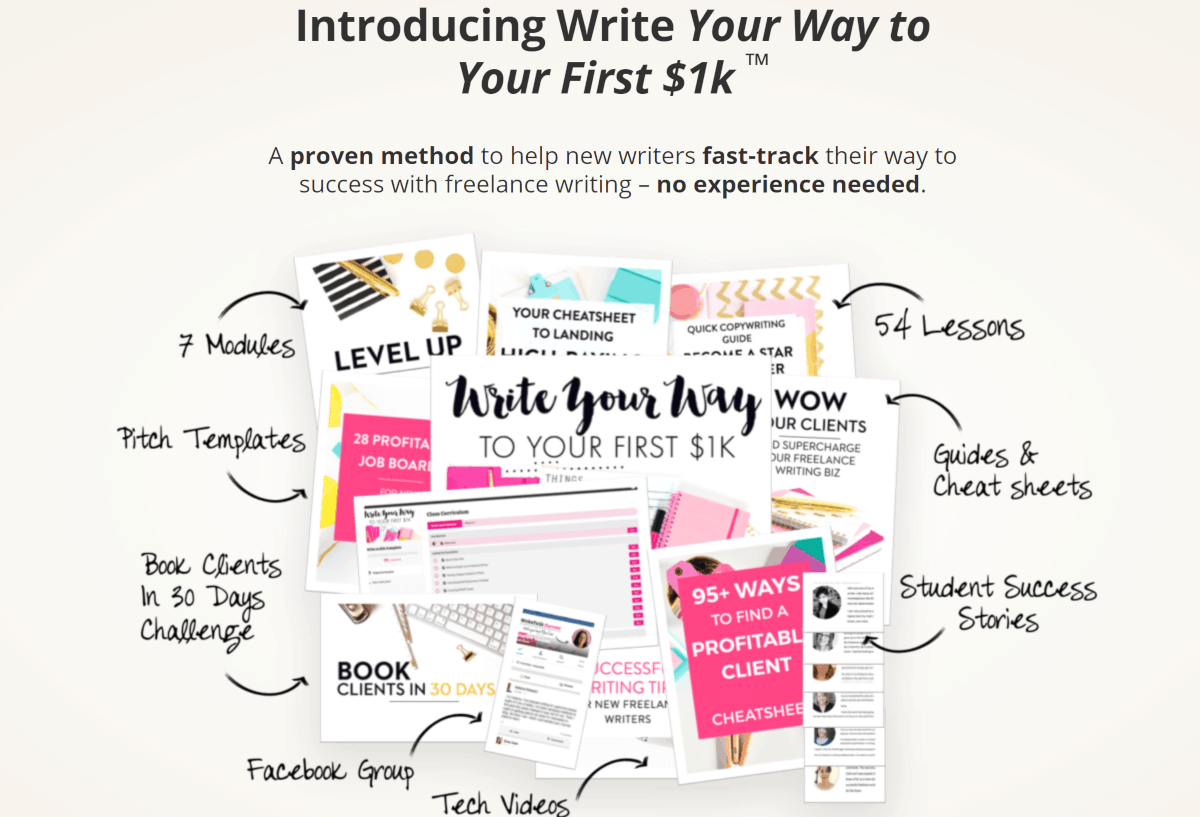 The lessons are often slide presentations created in Keynote. I use DepositPhotos for my stock photos and Creative Market for almost everything else like fonts and vector graphics. I've found musicians at SoundCloud and end up on their site to purchase licenses.
As far as hardware, my setup is pretty simple. I use a Logitech c920 webcam for video and I was using a Blue Yeti mic for the longest time but I found it was picking up too much background noise, especially when the kids were home. About a year ago I switched to an ATR-2100 on a RODE PSA1 boom arm and couldn't be happier with the quality improvement.
Some people think creating a course is a one-off and done, and in some niches this may be true. But at least for my niches, I've found maintaining a course takes constant updating and redoing video after video. Some SaaS companies love to change their UI around and at one point MailChimp was changing things so much (I had a MailChimp course once upon a time), I found myself redoing the same videos week after week. Eventually, I couldn't keep up and it made financial sense to sunset the course and support my existing buyers one-on-one.
Support does factor into my day every day. I try to reply to every single email and help out all my students with a quality answer the best I can. Some days, this can take 2 hours or more. Fortunately, my husband handles all the tech support questions and I handle the business questions so together, we can help more of my students.
How long did it take you to create your course?
My first course took 6 months to create. I created all the written lessons first and then added video tutorials later. Since I had a full content schedule with client work, I couldn't work on my course lessons every day. When I had small pockets of time I would write lessons.
Tell us a little about the process of launching your course and getting your first sale(s).
I decided to do a webinar to launch my course. I launched the course with bonus materials and a special price for my subscribers.
This generated my first sales. I then lined up several guest posts on writing and blogging blogs to share helpful advice and either talk about my course or email lead magnet.
I then created an email funnel to market my course to subscribers that join my list.
Later on I added a tripwire – a video mastercourse on freelance writing – and extended my funnel to include a bundle package deal for my products.
Do you have a lead magnet?
Yes! My main lead magnet that is tied to my course is a mini-course. It's called Get Paid to Write Online.
This free course has been updated several times and is the beginning of my email marketing journey.
When someone signs up to my free course they receive a tripwire offer.
When the subscriber finishes the 6-day course, with their consent, I offer a free lesson to my paid course and a special gift of my packaged bundle deal. -Elna Cain
Click To Tweet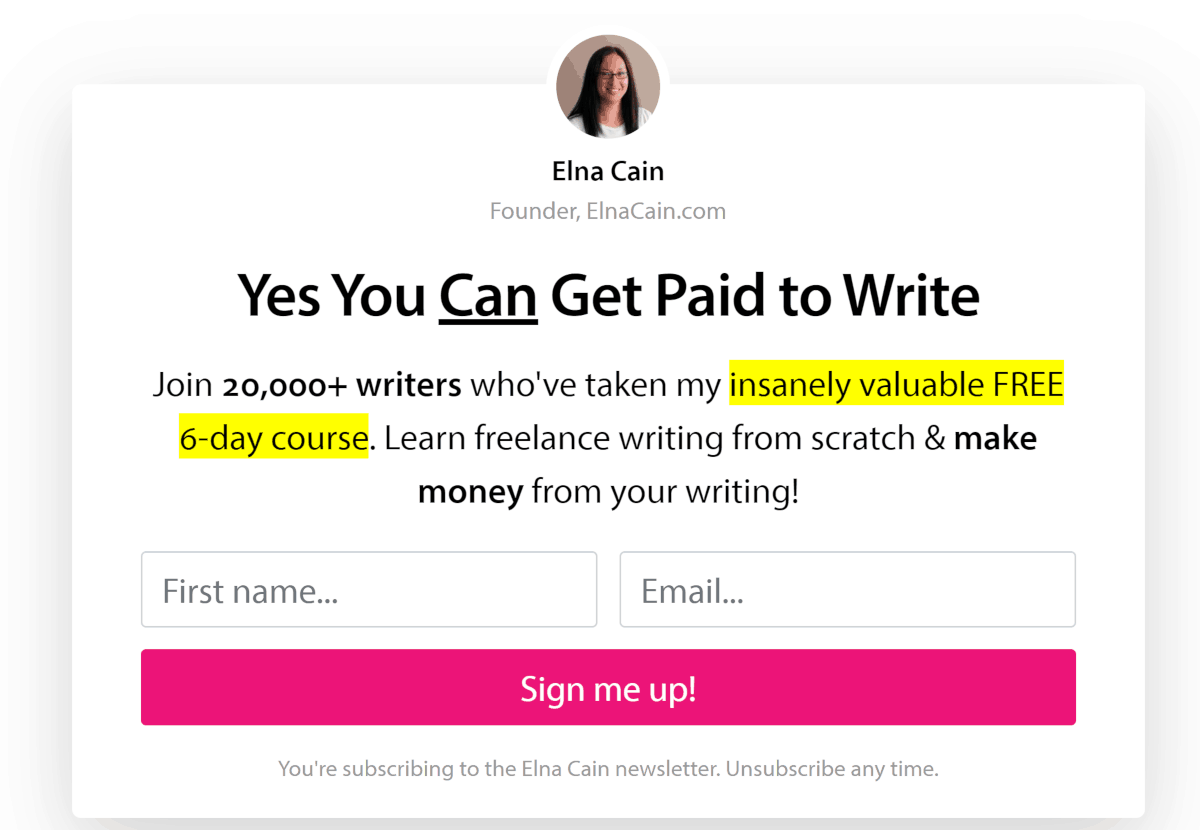 What's the traffic strategy that works best for you?
The best traffic strategy for me is relying on organic traffic and Pinterest traffic. Together I'm able to market to moms, millennials, and those wanting to find ways to make money with their writing.
Organic traffic took a year or so to kick in, and it grows almost every month.  I enjoy searching for keywords for my blog and creating highly valuable content filled with the best tips.
Most of my posts rank all on their own, and I'm a big believer in creating valuable content as my primary SEO strategy. I don't really pay a lot of attention to optimizing my posts or my site. Instead, I look at the user intent of the content idea I want to write about and work on an outline to answer every possible question for that topic idea.
And great content naturally attracts links and referrals. It can be a slow process, but it's the one I'm most comfortable with and I don't have any complaints about the results.
Pinterest traffic is a great source of invested traffic. Many of my course students – moms in particular – first find me on Pinterest. I didn't learn about Pinterest marketing until I started a new blog – Twins Mommy.
I've built up my Twins Mommy profile to over 45,000 followers and a million-plus views without doing anything tricky. Again, I focus on creating great content and naturally attracting followers and visitors. I also worked heavily on using Pinterest SEO tactics like naming my boards topical ideas on Pinterest and filling out my Pinterest description with specific keywords related to my content.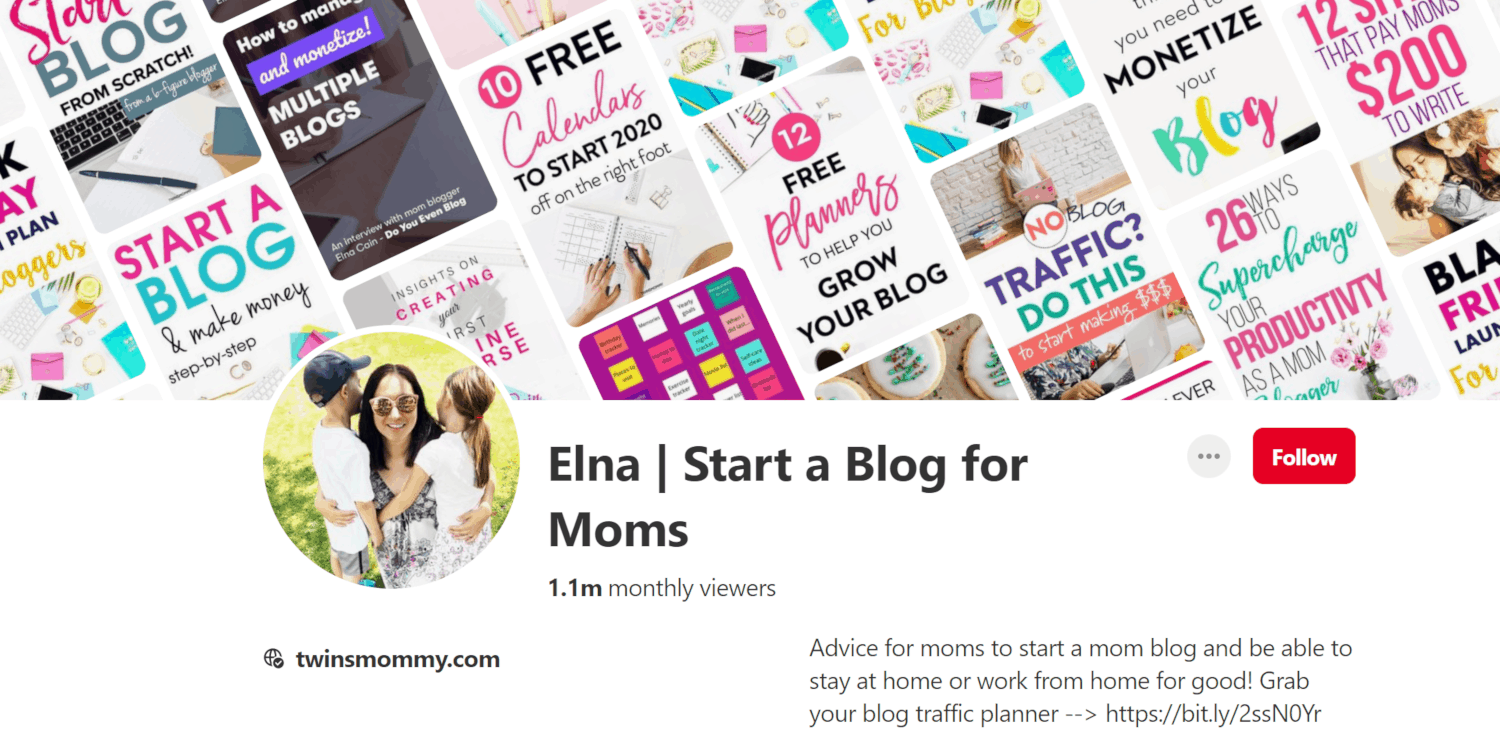 I love creating Pinterest graphics (usually in Photoshop but occasionally in Canva) and I love trying out new fonts and styles. Most of my images are paid stock photos from DepositPhotos, but I also create multiple pin graphics per post, and sometimes the alternate pins use free Creative Commons photos from sites like Unsplash.
I have no design training and before I got into this business, I'd never touched Photoshop and I couldn't tell you what the difference between a serif and sans-serif font was! I just practiced and learned as much as I could about making great pins.
But Pinterest (and Pinterest's audience) seems to like my pins and after manually pinning for the first time, I add the post to Tailwind and move on to creating my next blog post.
What online course platform are you using?
I am using Teachable to host all my courses.
I 100% like it. Teachable makes everything super easy. I never have to worry about downtime because they handle all payment processing and compliance, take care of paying my affiliates, and their support is always responsive and helpful. Best $100/month spent in the business.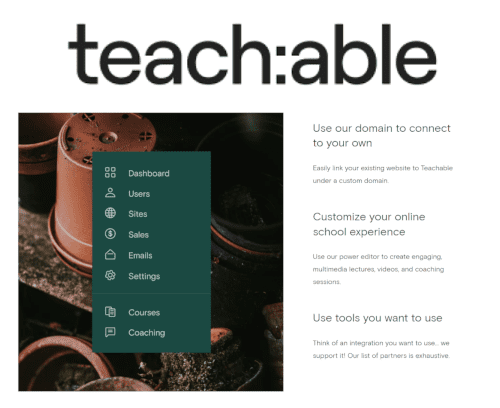 Check Out Teachable
Teachable is one of the top online course platforms used by successful course creators interviewed on coursemethod.com. It is easy to set up and build your site pages, and the course area looks great. 
Price Range: $0 (+ transaction fees) to $299/month
Most Popular Plan: Pro Plan at $119/month
Annual Discount: Yes, take 17% off!
Free Trial: Try out Teachable's core features for free
*Our content is reader supported, which means when you buy from links you click on, we may earn a commission.
Are there any features you wish it had?
I can't think of anything else!
What made you decide to use your chosen platform over others?
The course started out with a self-hosted WordPress LMS plugin and some custom code to tie things together. It worked fine but wasn't totally reliable, so after a year it made sense to outsource everything to a third party. The very next month sales almost doubled with no other changes.
I chose Teachable because they handle any necessary compliance, collect payment, or process refunds, and then they pay you (or your affiliates). You do not have to use your own payment gateways, but the option is there. It's very flexible.
What other tools do you use to run your online course business?
ConvertKit for email, GSuite for support, and Zapier to keep things in sync with the rest of the business.
Please share some idea of revenue.
The business has multiple streams of income like affiliate marketing, ads and client services, but the course aspect itself generates well into the six figures per year.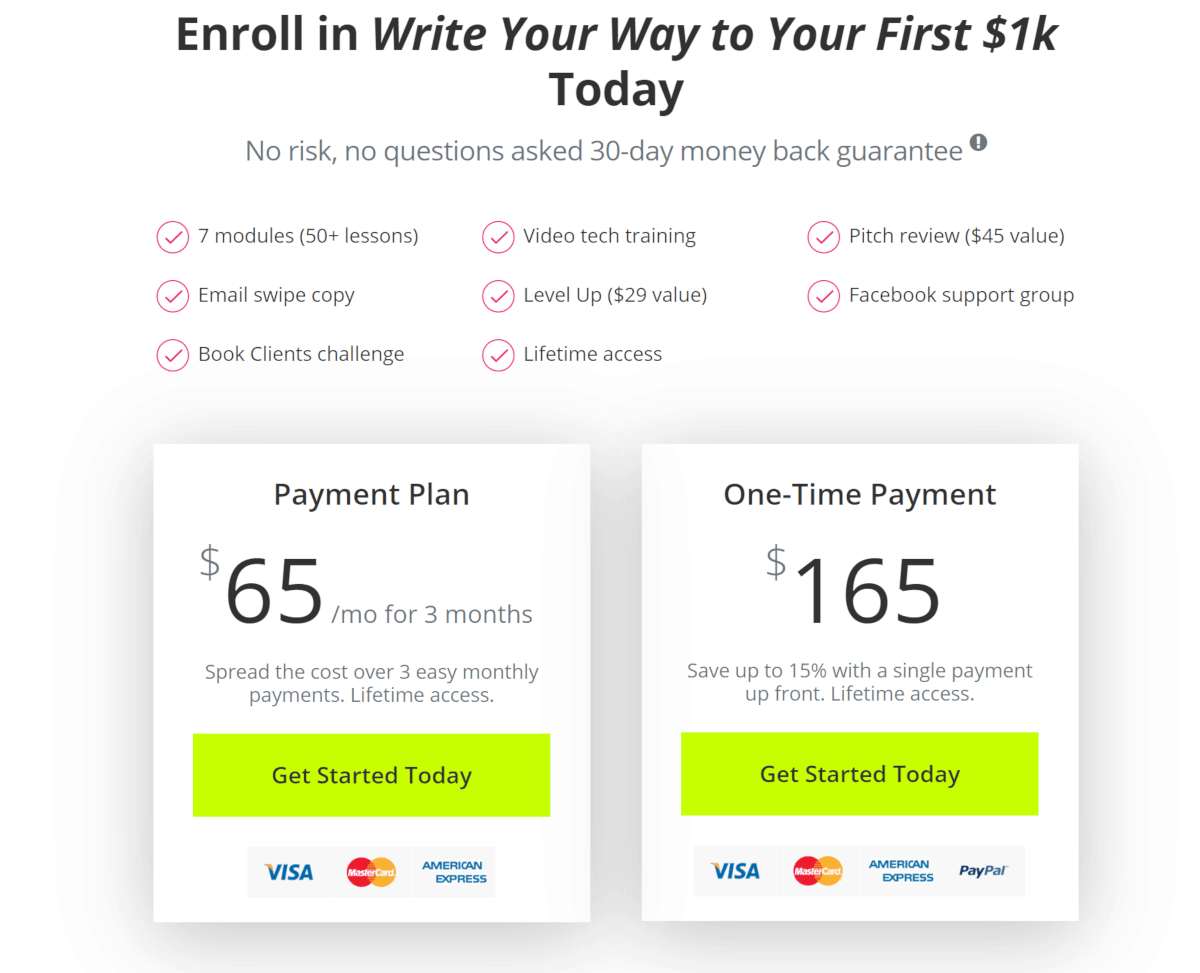 Please tell us a little about what the money you've earned from your course has done for you.
I got interested in working from home when my maternity leave was about to run out. I didn't want to go back to my 9-5 and put my twins in daycare. -Elna Cain
Click To Tweet
All I really wanted was to contribute to the household expenses. Financially, it's blown that goal out of the water and while not having to worry about money is a blessing, the best part is I've been able to stay home with my twins since the day they were born. Freedom is priceless!
In addition to revenue are there any numbers you would like to share?
I recently got my first 1,000 subscribers on YouTube, which was a surprising result. I mostly use YouTube to re-purpose my Facebook Live videos.
But, for a short time, I decided to make actual YouTube videos and publish them weekly or twice weekly. Doing this and learning more about YouTube SEO has helped me gain subscribers quickly.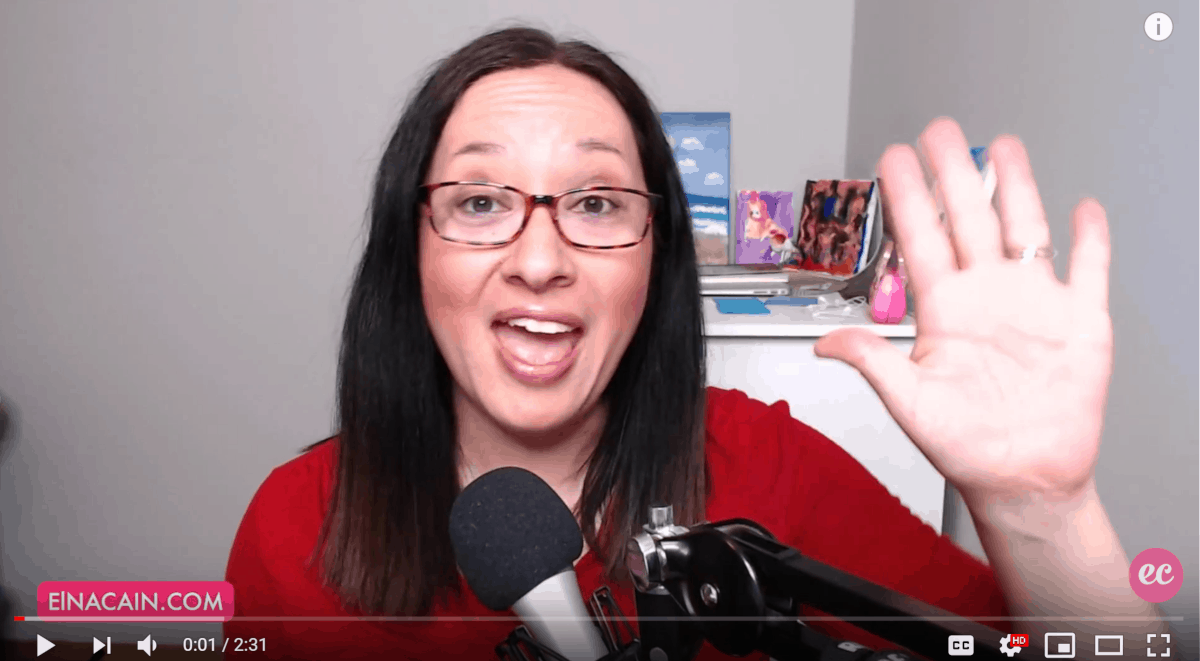 What has creating your course done for you personally?
One thing that creating this course has done for me is to help me see that I do well in teacher mode.
It helped me gain confidence that I can teach and help others. Also, when others follow my advice, they succeed better than I ever have when I first started out as a freelance writer.
Do you have a story of a transformation from any of your clients?
One of my students had to quickly find a way to support her family after she was recently laid off. She learned about my freelance writing course and purchased it. In a short time, she picked up client work and made more money than she ever did at her previous job.
I was so proud of her and congratulated her. The tactics she used are ones mentioned my course, but not my main tactic for finding clients. So, knowing that what I teach is a proven framework just gives me more confidence that it can truly help people monetize their passion for writing.

What advice do you have for people just starting out?
I want people to realize it is possible to make money with your writing. So many people feel this isn't a legit business or that you need to do affiliate marketing or create your own courses to make any money online. This isn't true. Offer your writing to small businesses and with the time you can make a living as a writer.
Learn more about Elna Cain and her courses: