How Arlie Peyton Turned His Process for Earning Up To $3,000 Per Article Into a Successful Online Course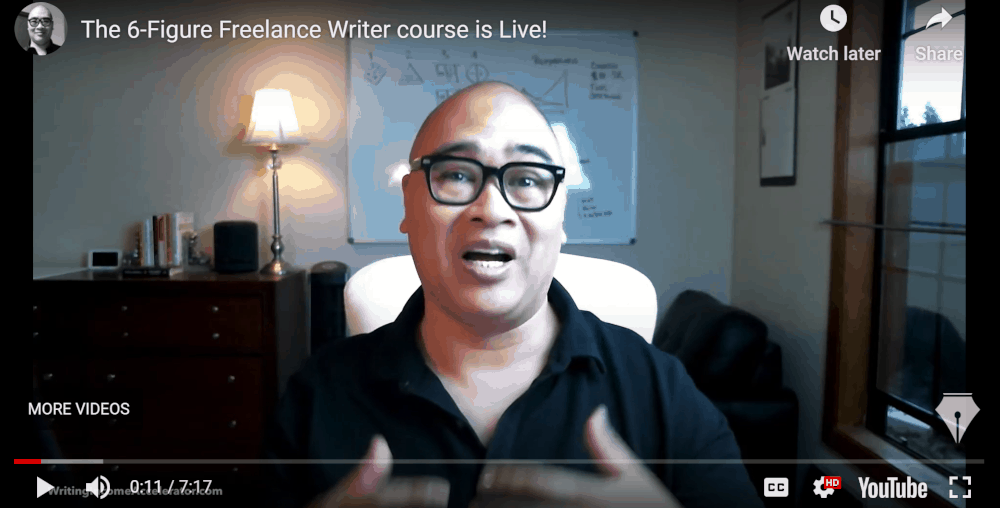 Our content is reader supported, which means when you buy from links you click on, we may earn a commission.
---
Who are you and what course have you created?
Hi, I'm Arlie Peyton but I just go by Peyton.  I spent 10 years in medicine, then 8 years in public education. I have a master's degree in literature and so for my third act, I combined all three to become a Brand Journalist. My course is called 6-Figure Freelance Writer.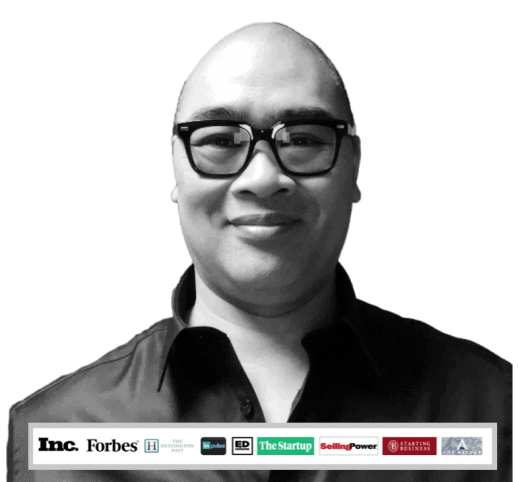 What market does your online course serve?
I'm in the freelance writing marketing and my course serves intermediate or advanced writers who struggle to make a great income writing.
Basically, that describes the first two years of writing for me. I had been declined by countless editors and I failed to make a decent living writing.
However, I figured out a unique system that targets a type of writing going through a revival right now: Brand Journalism. I believe it's the purest form of business writing because of the strong ethics and storytelling components. In my course, I teach students how to leverage this type of writing to command $1,000 – $3,000 per article.
What's the biggest benefit of taking your course?
Writers walk away with a real skill set in major demand: there is no fluffy theory stuff at all. The content marketing industry is worth $413B [Source: Technavio]. That includes videos, email copy, infographics, podcasts, etc. However, blogs and long-form posts are a sizable chunk of that $413B. Most writers I come across don't know how to take advantage of that or how to adapt their writing skills towards fulfilling this demand.
How did you get into the market?
I stumbled upon this market by pure accident, which isn't to say I'm the only one doing this. Not by far. However, no one is doing it like me because I invented a lot of the results-centric tactics I teach in my course.
It all started when I failed to produce results from a marketing course I bought for $999. I was really bummed and I realized I might have just crash-coursed it, paying very little attention to the actual lessons. Instead of being mad at the instructor, I just retook the course—but this time more carefully.
When I finished, I applied what the instructor said and tripled my investment in the course. I was so elated, I offered to write a review of the course for the instructor and he approved. That article went viral and brought him massive traffic to his landing page. I charged him for the article this time. I went from making zero from writing to $1,000 for one article. Rinse and repeat, and here we are today. I created a complete system I've replicated several times with other writers. It's a mix of brand journalism, Article SEO, funnels, and content promotion.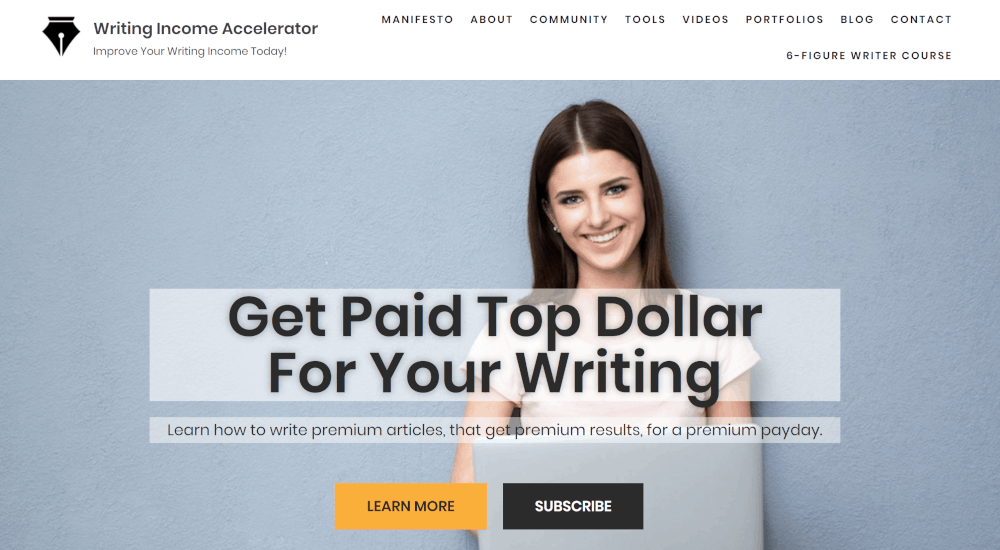 Why did you decide to create an online course in the first place?
I created my course for a couple of reasons. First, most writers are dirt-poor. It's a bit of a starving artist and labor of love thing. I wanted to change that narrative.
Secondly, there wasn't much out there for intermediate to advanced writers. That was where I was despite having never been published. I mean, I did earn two advanced college degrees. I wanted someone to teach me how to lose the academic style of writing and make what I had more commercially viable. It was a lot easier than I thought!
Lastly, I never really wanted to make a course but so many people asked me to. They couldn't believe that I was making $3,000 an article after only writing for two years.
A writing partner pointed out that what I thought was a janky little writing routine was, in fact, a robust original system. And if I could help my fellow writers out with this system, why not teach it to them? - Arlie Peyton
Click To Tweet
Did you have any moments of doubt before you created/launched it?
The course has not been live very long, however, I've been teaching online courses for well over a decade at the university level. I was an early adopter back in 2007. I'm kind of an organization and planning freak because of all the curricula I've done over the years. Humblebrag, I've even created two self-funded business programs in my state so nothing about courseware scares me.
What does scare me is what professors often encounter: The Curse of Knowledge. Sometimes I forget that even intermediate writers don't know basic things, and I have to dial it back a bit to cover the basics. Some of my first lessons were total flops because I failed to start at the right place.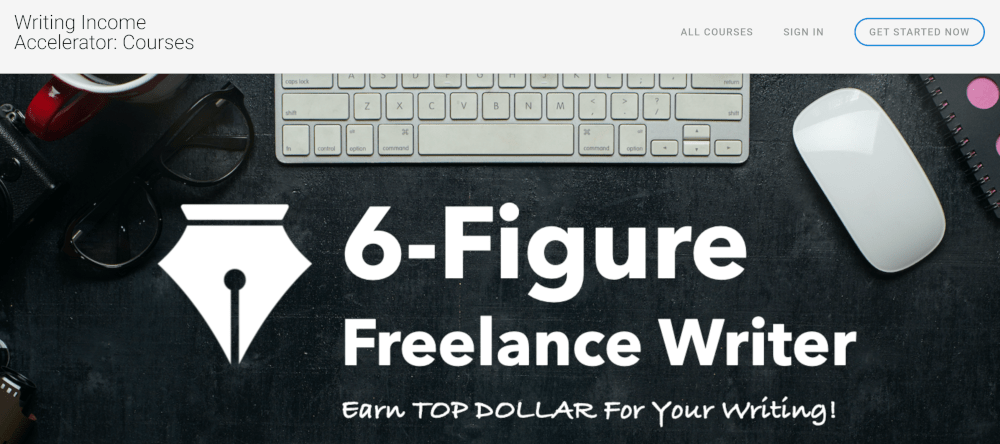 If so what made you turn it around and do it anyway?
At the time, I had a friend who wanted to start making talking head videos on YouTube about his craft. I wanted to do the same, so we agreed to critique each other's videos. We challenged each other to keep posting week after week. He stopped, but I kept going. I still have an obscure channel!
However, I got accustomed to making videos that are par for creating a course. (I hate those courses that are just PowerPoint presentations and a voice-over.) It got easier and people started telling me the tutorials really helped them understand things like Article SEO. It was encouraging.
What's your online course like?
Nearly all of my lessons have a video component where it's me talking face-to-face with the viewer over a screen recording. Sometimes I have to move around to show parts of my screen. Add to this, I have text within the lesson that goes over the preview and highlights of the video lesson.
Most of the lessons have a quick assignment to apply the lesson. As mentioned earlier, I was a public educator for years (and also the State Representative for Vocational Education). I know people benefit from being taught through literature and through listening to others. What I did was kind of overkill, but I really wanted writers to master what I learned—not just skim over it.
I should have made quizzes and a final exam, but it's not a course that will be accredited so I didn't think it was absolutely necessary. It's supposed to be a short course, but already it was at 60 micro-lessons and 8 hours of video.
How long did it take you to create your course?
It took me weeks to plan it, over ten days to film it, and weeks to edit it. I really hate editing! It takes so long.
Tell us a little about the process of launching your course and getting your first sale(s).
For the course launch, I did the typical Russel Brunson approach. I had funnels and sequences set up. I'm doing a webinar right now since it just launched. I waited because I'm in the soft beta period right now.
I'm finishing up my tour with the first cohort, making sure all the lessons are good. I'll improve them with the feedback and then double the course cost (probably $997 next time).
I offered my email list a special deal. The first 20 get a free 20-minute video chat consult with me after they finish the course. I could live-edit their articles or talk about anything related to their writing business.
In a week, I'm going heavy on pushing out the webinar. I'll also double-down on Facebook and YouTube promos too. That's pretty standard, so that's what's next.
Do you have a lead magnet?
I have one lead magnet, but I'm working on a five-email free course. My lead magnet now is a white paper on the $413B content marketing opportunity and how writers need to jump on this ASAP. It's gotten decent traction, but I need a longer sequence and face-time with potential course buyers.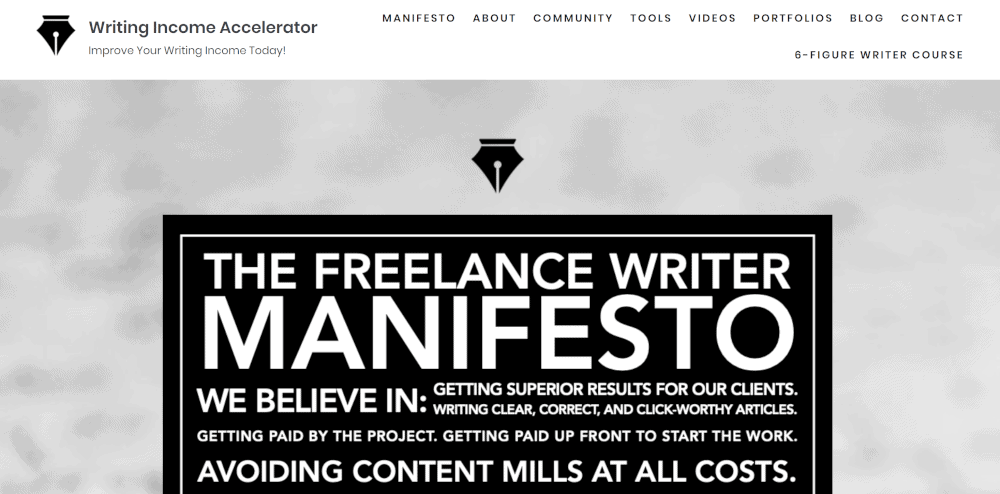 What's the traffic strategy that works best for you?
I'm a writer so ranking my articles in Google works best. However, I'm also good at Facebook ads so there's that. I want to get better at YouTube SEO, so that's yet another traffic avenue. I'd say that for the short amount of time doing it, YouTube has been one of my strongest sources and it makes sense since course are a video-based asset.
What online course platform are you using?
I'm using Thinkific as my course platform of choice purely because everyone I know is using Teachable. It might actually be superior, I don't know. I just don't like to be like everyone else.
Also, I think the UI and UX are way better. It feels more organized. It might be lacking in some of the administrative features Teachable has. Once you've designed courses on sophisticated university platforms like BlackBoard, Canvas, and Desire2Learn everything else is a breeze. I find most commercial platforms lacking in countless ways.
I like Thinkific because you can get creative with it, and it doesn't look like the millions of Teachable sites out there!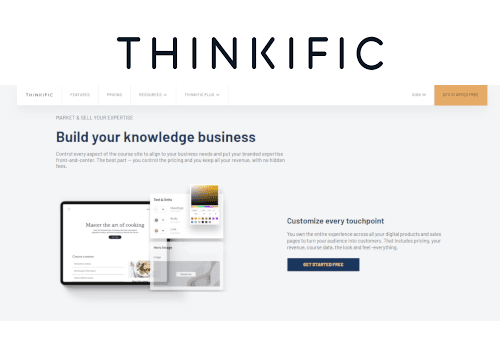 Take a Look at Thinkific!
Thinkific is the most popular online course platform used by successful course creators interviewed on coursemethod.com. It's a complete solution for creating sales pages, uploading all course content, taking payments, and more.
Price Range: Free to $499/month 
Most Popular Plan: Pro Plan at $99/month
Annual Discount: Yes, take 20% off!
Free Trial: Try out Thinkific's core features for free.
*Our content is reader supported, which means when you buy from links you click on, we may earn a commission.
Are there any features you wish it had?
Now I'm getting greedy, but they hold back on some features I think should be free. You can't give the course away or give anyone a discount without upgrading. I think even on the freemium level, they should let you give the course away to ten people.
Also, I have not figured out how to export a back up the course. This freaks me out, but they say they do it on their end. Maybe it's a paid feature!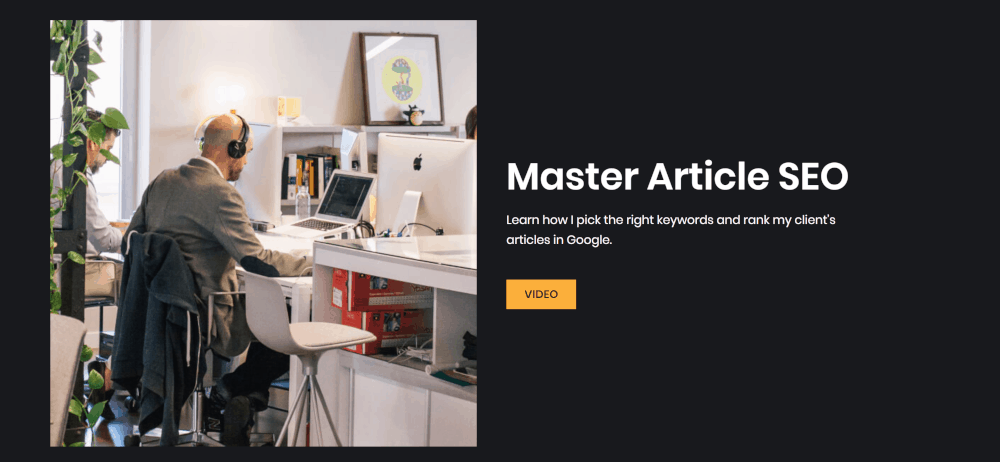 What other tools do you use to run your online course business?
I use ClickFunnels, Trello to organize my projects, CheckVist to outline my course, and create a live-updated FAQ for students, MailerLite, Stripe, or PayPal, and ScreenFlow (Mac only).
What books or training programs have you found useful on your journey to a successful business owner that others might find valuable too?
Follow the ClickFunnels training on Webinars, Funnels, and Launching. That's all you really need. I did take a course on Udemy for ScreenFlow by Mel Aclaro. It was for ScreenFlow 4 and I think they're up to version 9 so that's how long ago it was. Still, Mel is a fantastic teacher.
For course creation, I think Dan Henry has the best program. It's very minimal, yet effective. It's scientific in the way he validates the market and sets up your launch. I feel like his course is the distillation of all the ClickFunnels stuff.
Amy Porterfield has some good course training as well. She's really approachable and knowledgeable.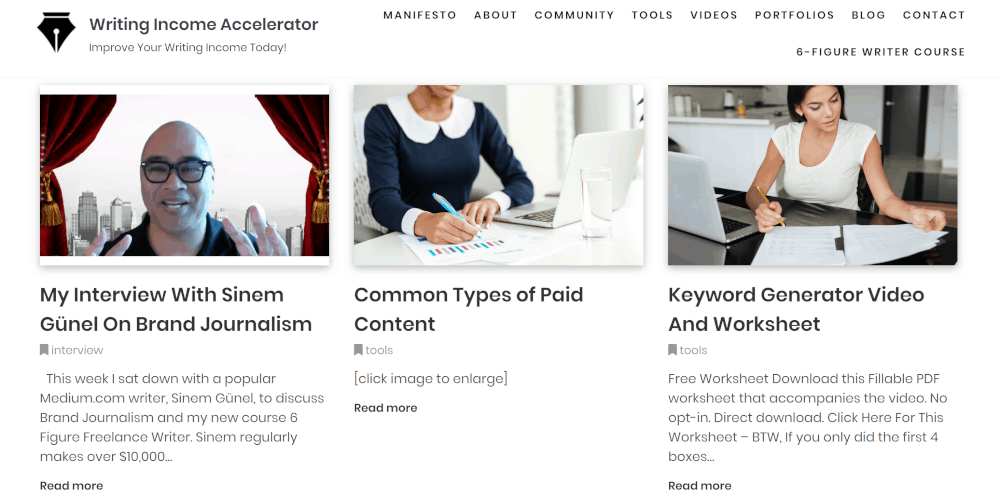 Do you have any big mistakes you've made along the way that you'd be willing to share?
I think being a perfectionist took too much of my time. I would shoot a section of my video, totally mess up, and instead of restarting sometimes, I'd nix the whole recording to start completely over. It was an all-or-nothing sort of thing, which was unproductive. That was pretty much the first ten videos until I wised up.
It's not a big mistake, but on ScreenFlow, you can hide the desktop icons/files before you record. Sometimes I forgot and my screen recording looked all messy. When I forgot, I'd move my talking head video over the files at the top, but then that was inconsistent because I always had the video in the lower right corner!
Please share some idea of revenue.
I just launched, so there is not much to report. I've launched other courses with massive success but this one is just getting its wings. I'm expecting another five-figure launch. However, I did accidentally publish the course a day early and when I woke up a sale came in! I still don't know how they even got the URL.
Please tell us a little about what the money you've earned from your course has done for you.
From my series of courses and writing services, I've been able to semi-retire for the last five years. That means I haven't woken up to an alarm clock in years so that's always a plus. I did put my business on auto-pilot to be a management consultant for six months, but that wasn't for me so I went back to becoming a part-time entrepreneur. I'm totally unemployable. As for income, some months my income dips, but other months are bringing in well over $10,000. I'm on track for a six-figure year.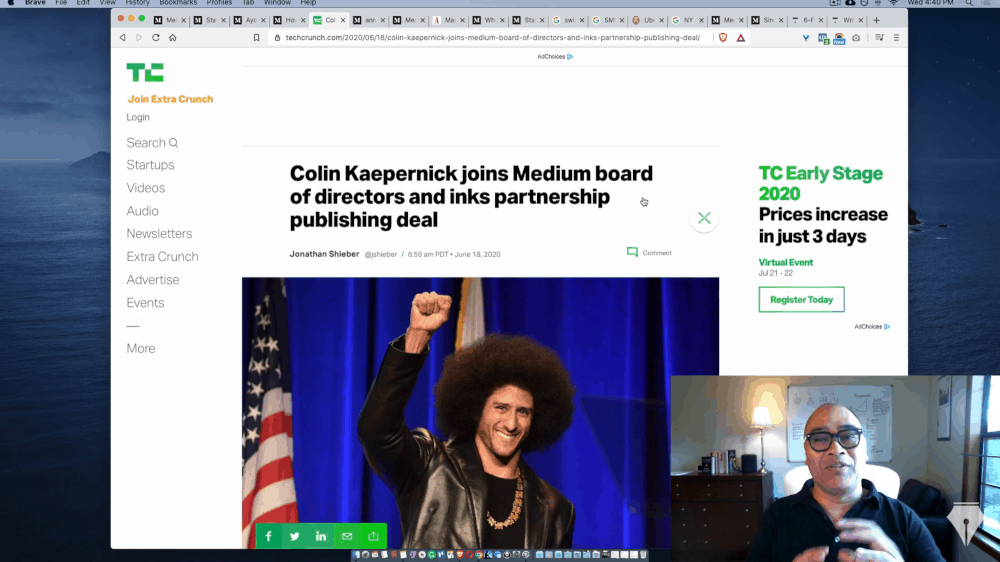 In addition to revenue are there any numbers you would like to share?
As mentioned, for course creators I think YouTube should be your primary marketing tool. There are other video platforms like Facebook Live, but it's not the same as YouTube.
When I was asked to be interviewed, my views and subscribers ramped up fast! I'm definitely trying to get more of those. For the interviewer, my video is the second most viewed video and she's been working on that channel for over two years. For me, it increased my subscriber count by 100 in the first week alone.
Also, I have over 3,500 connections on Linkedin and that has helped some. I think people find me on YouTube and for some reason, they contact me via my website or Linkedin. Maybe they want to check my credentials.
What has creating your course done for you personally?
The day I was done, I felt great. I really feel proud of the final product. Also, there was a lot of editing involved and I felt like I accomplished something big. I know the next course will come easier and this is encouraging.
Do you have a story of a transformation from any of your clients?
I have a coaching client that transformed her business significantly. She went from being obscure and scared to being wildly influential and popular in our niche. And with that fame, the money came rolling in as well. She was green. I showed her how to market services better and become a sought-after personal brand. In one month, her Facebook group grew from 1,000 to 70,000 members. I felt so happy for her because I was the catalyst for this change.
What advice do you have for people just starting out?
Start small and let it snowball. The lessons, videos, worksheets, and marketing all get easier. - Arlie Peyton
Click To Tweet
Keep offering amazing value to your fans because that's how you build a tribe. Simultaneously, all that extra effort is like building up a pre-sale. I didn't quite know how powerful that was until I'd get these messages like "can't wait until your course drops!" I thought I was giving too much of my time away and I was wrong.
Learn more about Arlie Peyton of the WritingIncomeAccelerator: