How Sheila Fung, Manager of Program Delivery for Uvaro, Helps Create Training to Move Millennials out of Poverty Levels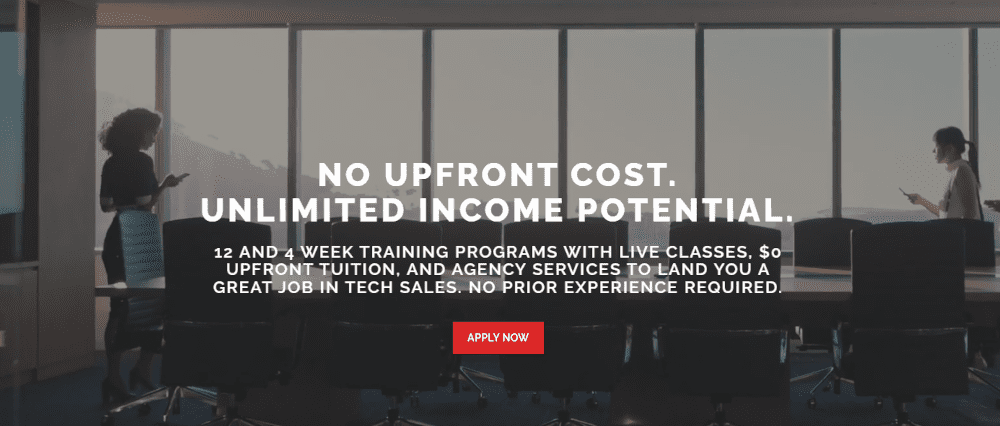 Our content is reader supported, which means when you buy from links you click on, we may earn a commission.
---
Who: Sheila Fung
Website: uvaro.com
Course Topic: Sales Training
Interesting Stats: Revenue increased by 3 million dollars in 2021
Who are you and what digital training company have you created?
I'm Sheila Fung, Manager of Program Delivery for Uvaro, an online tech sales training academy. Our mission at Uvaro is to help accelerate careers in tech sales across North America. Currently, there are 72 million millennials in the U.S. between the ages of 22 and 37 who work retail and service jobs at a near poverty level income. We saw a golden opportunity to empower aspiring sales professionals, many of whom come from disenfranchised minority groups working in low-paying labor markets, to gain the skills needed to successfully transition to high-skilled and high-paying careers in tech sales.
Uvaro's live online training, $0 recruiting fees for employers, and access to our sales residency program de-risks the hiring process for account executive and business development roles.
Since opening our virtual doors to members in January 2020, we have trained 300+ individuals from all backgrounds and our program graduates have an 80% placement rate with employers. Uvaro's unique mixture of live training + technology training + hands-on employment experience/apprenticeship means our members ramp up in one-third the time and achieve 50% more quota than their counterparts.
I am dedicated to all things growth-inducing and I lived my whole life by a motto: "Be fearless in the pursuit of what sets your soul on fire." That mantra has led me to intervene during mental health crises for underserved and at-risk communities. To lobby (successfully!) for changes to Ontario's Endangered Species Act. And to jump out of multiple airplanes, and found two businesses.
With Uvaro, I get to feed my soul by accelerating careers in Tech Sales across North America. I help people change their lives and facilitate access to opportunity while redefining the face of Tech Sales. And it's pretty cool to watch people grow, realize their dreams, or even, attain what they didn't believe was possible.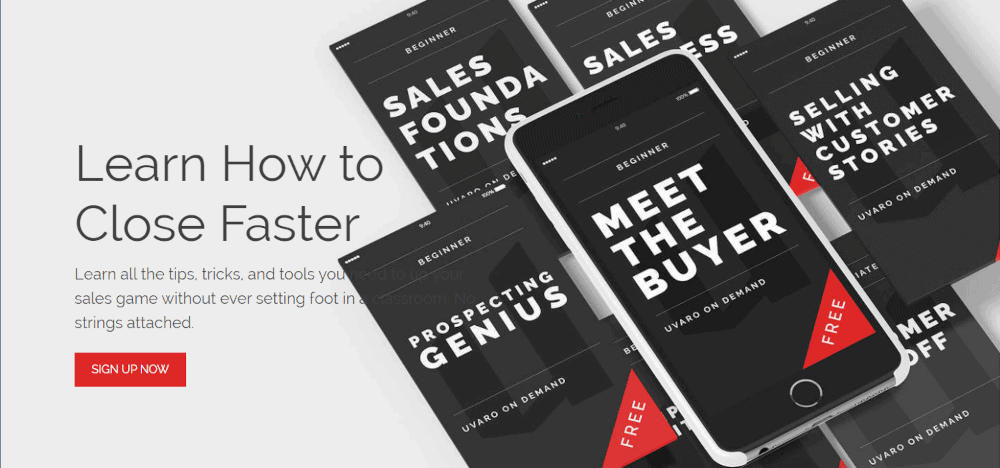 What market does your digital training serve?
Right now, in North America, there are more than 283,000 open positions for revenue-generating roles in tech companies. Partly due to the Great Resignation, but also due to a lack of trained, work-ready talent, employers are really struggling to fill those roles. And the problem is only getting worse as the tech sector is one of the fastest-growing in the economy and demand for talent is projected to rise exponentially.
So Uvaro serves two sides of the market. On the employer side, we supply a pipeline of sales talent that is fully trained on sales methodologies and tools, and because members apprentice with tech employers they go into their jobs with applied experience in sales roles. On the job candidate side, our highly accessible and affordable online training offers opportunities for people of all backgrounds to forge a career pathway into sales and into the tech industry.
We have members who are former pastors, bartenders, flight attendants, nurses, just to highlight a few. Many members will tell you that Uvaro's 12-week (and now four-week) training programs are life-changing for them. These individuals are thriving in tech sales roles thanks to Uvaro. Most would never have imagined themselves in this profession.  Our market is worldwide. With the shift to remote work, employers and members can be located anywhere, in any time zone, in any country.
What's the biggest benefit of taking your online courses?
There are several benefits. First and foremost, our members land well-paying jobs in an industry that is booming. So, they are able to achieve their career and life goals. We have clients who were struggling to pay for groceries a year ago, or couch surfing who are now making a great salary and many are progressing into more senior sales roles.
Our members will also tell you they have found a community where they feel supported and lifted. They don't feel alone in their journey. When they graduate from our program they continue to receive encouragement and support and resources from their peers and from our coaches. Uvaro's community truly cares.
How did you get into the market?
Uvaro is the brainchild of my brother Joseph, who is the company's CEO. He's founded and built several successful tech startups. He saw firsthand how difficult it was to find and retain great sales talent. In tech, salespeople mostly learn on the job. He discovered that less than 2% of colleges and universities offer sales programming or degrees. So, there was a hole to be filled.
He co-founded the business with my sister Donna Litt and his CTO Derek Hall. I have a master's degree in education, so it was a perfect opportunity for me to exercise my pedagogical skills and background and grow an incredible business that meets a real need for individuals and for the tech industry.

Why did you decide to create a digital training company?
Well, first and foremost we wanted to reach the world with our training. So it made sense to offer our program online. This way we and our members would not be defined or confined by their geography. A member living in Halifax Nova Scotia can be trained online with us, and end up working for a tech company in Silicon Valley. Tech by its nature is accustomed to virtual work and to using technology. So our online training academy wasn't a huge leap for most.
The other unexpected thing that happened is that Uvaro was founded in January 2020, two months before the declaration of a global pandemic. So the shift to remote work, the Great Resignation were phenomena that we didn't expect but became huge beneficial influencers in our business model.
Did you have any moments of doubt before you launched your training company?
We dove into the process with the intent to build something impactful. I wouldn't call it doubt, but we definitely shared a hyper-focus on building out a curriculum that would do our subject matter justice. The tech industry is gigantic. It's growing at a rate that seems impossible to encapsulate into 1 program.
The hardest part was distilling an astronomical amount of content into the core, foundational pieces that will help our members get where they want to be. Our biggest concern is following through on the promise that we make to our members. We're talking about financial agency, life transformation, and career aspirations. That can't be taken lightly.
If so what made you turn it around and do it anyway?
Conviction.
Knowing the space we're working in, knowing how to foster adult learning, and understanding the demand for sales talent that the tech industry is currently facing. With all those pieces in place… we knew the effort would yield a result.

What are your online courses like?
Our courses use video as a primary way to engage with our class members; mostly through Zoom. While our instructors do present content using slides through Google Slides, they facilitate open discussion and dialogue about the content that is presented. This creates a collaborative learning environment where instructors can be reactive to the students' needs.
Our classes are typically given in 2-hour sessions. Then there is the expectation that there will be homework assignments to complete.
Our 12-week and 4-week accelerator courses present sections of learning in the following competencies:
Fundamentals such as researching leads, prospecting & outreach, discovery & objection handling.
Tools & Technology: Training our members in the tools that they will most likely encounter in their day-to-day work in their new career.
Sales methodologies
Demo fundamentals
Job search and career planning and advancement
How long does it take you or your team to create a new course?
It's very easy to fixate on curriculum and course preparation, start with it, and never get past this step. So as a course creator I and my team always fight this temptation. The format of learning (live in-person vs Asynchronous) is a big determinate in our course preparation and delivery.
At Uvaro, we went with a combination of live-in-person learning, along with several asynchronously consumed resources. Because of the nature of our course content, we also rely heavily on input from subject matter experts from within our collective networks.
Because we do use some asynchronous formats, we heavily used video as it is currently the most widely used medium for content. I have a background in adult education that influences the learning structure and flow. And we have folks who assist with producing visuals and materials our members consume. We heavily use Google slides and Canva as our favorite tools for this portion.
Tell us a little about the process of launching your first course and getting your first enrollment(s).
We started by standing up a landing page to see what sort of interest we could garner. We were very transparent about our timeline for start dates etc and used every conversation we had with potential buyers as an opportunity to learn about what they were looking for in order to make sure our program offerings mapped to their career goals.
The interest was immediate: from where we stood up course content to align with our "launch date" and started pushing for our first sign-ups…they happened pretty quickly with some of the initial people who had inquired about the program.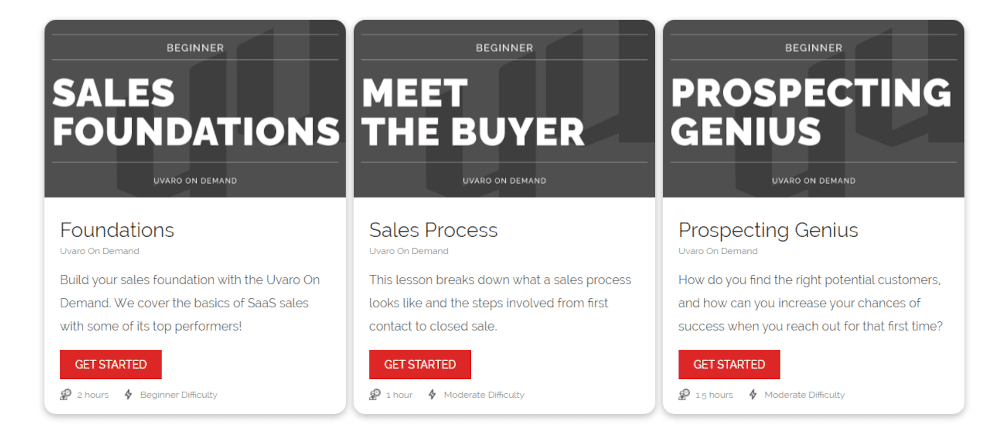 Do you have a lead magnet?
We use two primary lead magnets:
Step Into Tech: This is a bite-sized crash course delivered in 2-hours that is intended to give people who are considering a career change into tech sales a taste of what to expect in our programs and classes. This has been invaluable for people to see if an online learning environment is right for them.
Uvaro On-Demand: This is a series of modules that we offer to anyone, completely for free, that provides a deep level of understanding into the best practices that one should become familiar with when changing one's career into tech sales.
What's the traffic strategy that works best for you?
We rely heavily on social media and online channels to drive awareness and interest in our courses. Often, if someone is looking at a career change, they are always thinking about it. Regardless of whether they are engaged in activity that directly relates to their career change, or if they are just surfing a social media channel, the odds are that the question of "Should I change my career?" is front and center in their minds.
So we make it easy for people to find information, engage with us and start answering their questions around a career change and the tech sales industry.
What online course platform are you using?
We are using teachable for components of our course content.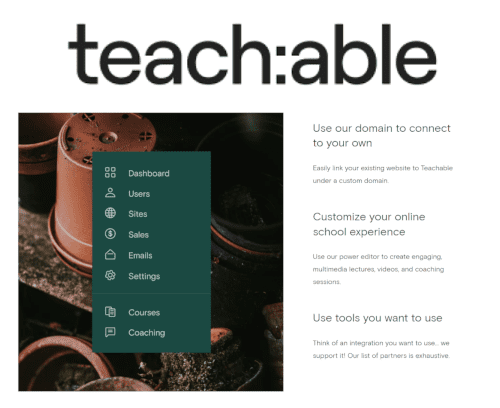 Check Out Teachable
Teachable is one of the top online course platforms used by successful course creators interviewed on coursemethod.com. It is easy to set up and build your site pages, and the course area looks great. 
Price Range: $0 (+ transaction fees) to $299/month
Most Popular Plan: Pro Plan at $119/month
Annual Discount: Yes, take 17% off!
Free Trial: Try out Teachable's core features for free
*Our content is reader supported, which means when you buy from links you click on, we may earn a commission.
Do you like it?
It adds to the learning experience for sure- we're using it in combination with live classes and the two compliment each other well.
Are there any features you wish it had?
If there were a way to integrate the teachable course components with Zoom and Slack, that would be a huge value- add.
What made you decide to use your chosen platform over others?
Tooling is one of the primary focuses that we have at Uvaro to ensure that our Members are able to learn as effectively as possible. The truth is that we all learn in different ways. Some people are auditory learners, others are visual, and others are tactile learners where they have to get hands-on experience to have our course material really stick.
This is a roundabout way of saying that we haven't found the perfect blend of tools that cover all of the learning styles yet. We're close though with the tools that we are using in our courses. But we know that in order to ultimately meet the needs of our Members we need to build a platform that is expressly made for them, rather than cobbling various tools together for an effective learning experience. We'll be talking a lot more about this through the year as we solidify our plans and share them with the world.
What other tools do you use to run your digital training business?
On the delivery side, we use Slack extensively, as well as Zoom, and retool.
Adam Response: We are always looking for ways to improve our customer experience and increase their chances of success in supporting them through mentorship and coaching, robust programming, and training tools and technology. At present, these tools consist of items such as:
Slack
Zoom
Gong
Salesloft
Hubspot
Vidyard
Salesforce
Outreach
Zoominfo
LinkedIn (and SalesNav)
Seamless.ai
CheetahIQ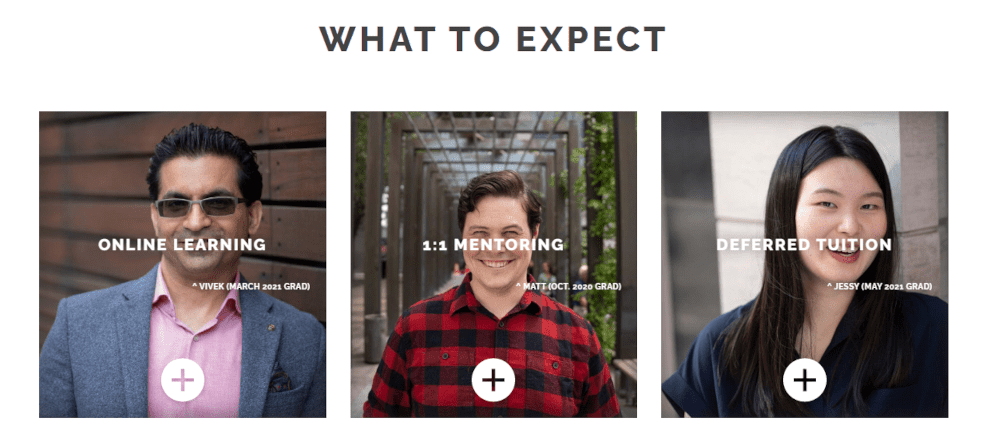 What books or training programs have you found useful on your journey to a successful business owner that others might find valuable too?
Good to Great by Jim Collins, and Fanatical Prospecting by Jeb Blount has been impactful on how I approach most things.
Do you have any big mistakes you've made along the way that you'd be willing to share?
We've tried to be proactive in anticipating all the snags and speedbumps that might arise. The one area I wish we'd done a better job at is really understanding the wide range of experiences and abilities our students would bring to our program.
We adjusted and have been able to adapt materials to make program results accessible to a wider audience; it took some time to course-correct though.
Please share some idea of revenue for your digital training company.
Uvaro has enjoyed significant growth year-over-year since our launch. Last year we were able to enjoy a $3M revenue gain in 2021. - Sheila Fung
Click To Tweet
This growth allowed us to secure our Series A funding with Whitestar Capital as well as existing partners totally $12.5M USD in funds to grow our business and become an industry leader in our category.
Please tell us a little about what the money you've earned from running your digital training company has done for you.
For me, it's meant that I could finally move my family to a cabin in the woods! It's partly about finances but also about the ability to work remotely. It's made an enormous difference to the quality of life my 2 kids are living. We have a forest in the backyard, they can play outside… We were living in a tiny condo in Vancouver's lower mainland. It's a huge improvement for all of us.
In addition to revenue are there any numbers you would like to share?
We have increased our overall web traffic by over 200% within the year. This increased organic traffic by over 780% to about 68k visitors. This is a strong indication that our brand recognition is increasing in our space.
We have done this by making solid investments in long-form authoritative content positioned on our blog, significantly changing our messaging to be more 'hero's story' focused, championing our graduate's successes, and sharing these success stories with the broader community through social media channels as well as earned media.
What has creating your digital training business done for you personally?
It's allowed me to make the kind of impact I've always wanted to drive while maintaining financial control AND achieving a level of work/life balance I've never had before. I feel pretty lucky! - Sheila Fung
Click To Tweet
What advice do you have for people just starting out?
Getting started is the hardest part.
The pieces inevitably come together if you have subject matter and an audience you care about. Taking that first step is the most important thing.
Learn more about Sheila Fung of uvaro.com: