How Rochdi Rais Pushed Through His Self-Doubt to Launch His Fiverr Course on Udemy

Our content is reader supported, which means when you buy from links you click on, we may earn a commission.
---
Who: Rochdi Rais
Courses: on Udemy
Course Topic: Freelancing on Fiverr
Interesting Stats: Made $3K on Udemy
Who are you and what course have you created?
I am Rais, an online marketer and author with years of experience in freelancing. I've worked as a freelancer on Fiverr, Freelancer.com, and Upwork. I've created an online course that teaches people how to earn money from Fiverr called "Fiverr Blueprint the success formula". In the course, I made sure to show my online students all the tips and tricks I knew throughout my freelancing experience on the website.
What market does your online course serve?
There isn't a specific market that the course serves. For instance, anyone from any field can indulge in the interesting world of freelancing. This includes content writers, programmers, graphic designers, and any other field. In other words, the work-from-home market is a very welcoming place and it has a chance for everyone.
What's the biggest benefit of taking your course?
It allows people to earn money from home. They can even ditch their 9 to 5 if they have the mindset. I believe the biggest benefit is that it allows people to be freer with their time once they get a grasp of how freelancing on Fiverr actually works.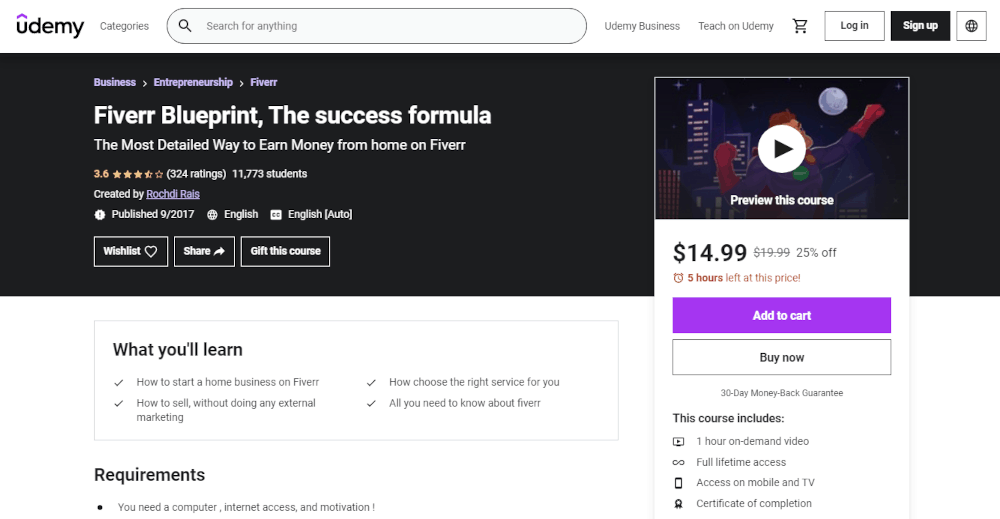 How did you get into the market?
I always searched for online courses that would help me start working as a freelancer. But it's always the same scam of people trying to sell you dreams. Most of the time, it's people telling you about becoming a millionaire overnight but you'll end up broke if you keep on following their line. I relied on books to learn how to make money from Fiverr and working as a freelancer.
I thought that there is an opportunity to share my knowledge in an online course instead of reading tens of books to acquire the same information. - Rochdi Rais
Click To Tweet
Why did you decide to create an online course in the first place?
There weren't many online courses about Fiverr back when I first launched my online course in 2017. In fact, my courses quickly rose to fame on the platform. Hundreds of students were joining monthly. The biggest reason behind wanting to create the course is sharing the experience and knowledge while at the same time making connections with the students.
Did you have any moments of doubt before you created/launched it?
Yes, several times. I'd be lying if I said that I was 100% confident that my course will be successful and that people would be interested. As a matter of fact, I thought that I might not even be able to make the course. I mean, how would I explain all these very complicated concepts in a simple manner for a beginner to understand? I had many questions that made me doubtful about if I was ever going to create my course.
If so what made you turn it around and do it anyway?
When I started freelancing, I thought I wouldn't make a dime out of this. I mean, working from home and making money and waking up whenever you want is something too good to be true, or at least seemed like it back then. However, I was able to launch a successful profile on several freelancing platforms. Then I said to myself, since I made it as a freelancer, it won't be hard to make it as an online course instructor who teaches people how to freelance.
What's your online course like?
It's hybrid. It includes footage where I'm recording myself speaking. It also has recorded video from my computer while I take students on the journey of creating their profiles and gigs (services). But the most interesting part was creating some lectures in whiteboard animation.
How long did it take you to create your course?
It took me about a month or two. The most daunting part of creating the course was making an outline and structuring the course.
Since students are new to the concepts, my duty as an online instructor involved trying to dismantle complicated concepts, explaining them, and at the same time keep a certain flow and structure that would make sense. - Rochdi Rais
Click To Tweet
So I looked at it from my own perspective and tried to remember how I actually acquired the knowledge I currently have about freelancing and then started sharing it bit by bit on different drafts. Then I finally found the perfect structure for my course and eventually started recording and modifying the videos, etc…
Tell us a little about the process of launching your course and getting your first sale(s).
Oh, the first sale. It was a very difficult one, and it's always the case with every launch. When you're launching an online business, you'll suffer to get the first sale and it's the same for an online course and everything else. I had to promote my course with coupon codes that would make it totally free to get few students. After the first students completed the course, they left me positive feedback.
Positive feedback is very important when it comes to online courses. People are afraid to waste their money and time on courses that aren't worth it. After I acquired the first positive feedback I was able to make my real first sale, who actually paid to get the course.
Do you have a lead magnet?
Since my course is on Udemy, there isn't such a thing as a free trial. The platform however allows teachers to leave few lectures available for everyone so students can get a perception of how the course is recorded etc. Nonetheless, as I said, I made sure to share my course for free for people with coupon codes and then started promoting it on YouTube, Facebook, and every other social media platform.
What's the traffic strategy that works best for you?
I rely heavily on search engine optimization to drive traffic. This is because it's free and you'll get people who are actually interested in your course so your conversion rate will eventually be high. In other words, SEO allows you to target the right segment without spending an arm and leg on promotions and paid ads and it's working out well.
What online course platform are you using?
Udemy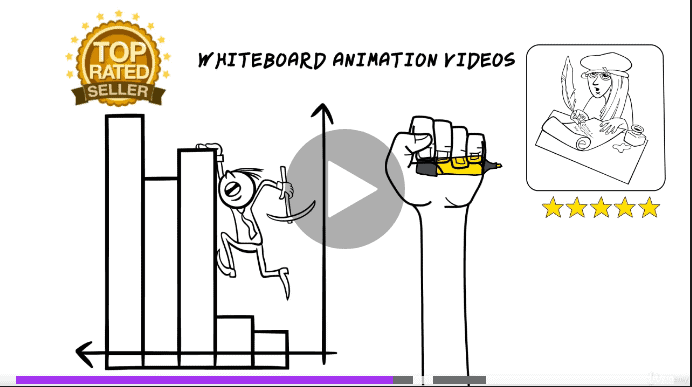 Do you like it?
Not really, I think I'll transition into teaching on my own website since the competition is becoming fierce on the platform and people tend to go for courses that have the most students instead of courses that provide real value.
Are there any features you wish it had?
I actually wish their algorithms were fair. I mean Udemy's algorithms favor courses with the most students instead of relevance or quality and that is bad for the online learning industry as a whole.
What made you decide to use your chosen platform over others?
I chose Udemy because it was so famous in 2017 and people were crazy about it. It was an opportunity to target all these newcomers who are passionate about the online learning experience.
What other tools do you use to run your online course business?
Udemy doesn't allow integrating any other tools and that's another thing I hate about it.
What books or training programs have you found useful on your journey to a successful business owner that others might find valuable too?
The best books I've read in my life that helped me in my entrepreneurship journey are Zero to One by Peter Thiel, Influence the psychology of persuasion by Robert Cialdini.
Do you have any big mistakes you've made along the way that you'd be willing to share?
If they took me back to when I first created the course, I would have definitely created and shared it on my own website instead of Udemy.
Please share some idea of revenue.
Udemy would limit your earnings. This is because the platform makes promotions whenever they want and if your course is $200, you might find it being sold for $19 at any moment. That being said, my earnings weren't as I expected. I wanted to at least get around $10,000 from the course but I only ended up with $3,000 which is very low compared to the effort I've made and the information I've shared with the students.
Please tell us a little about what the money you've earned from your course has done for you.
I used the money to go on an internship as an English teacher in Turkey. I've paid for everything for my two months' rest, and that money was more than enough to cover the costs of living while exploring the beautiful country.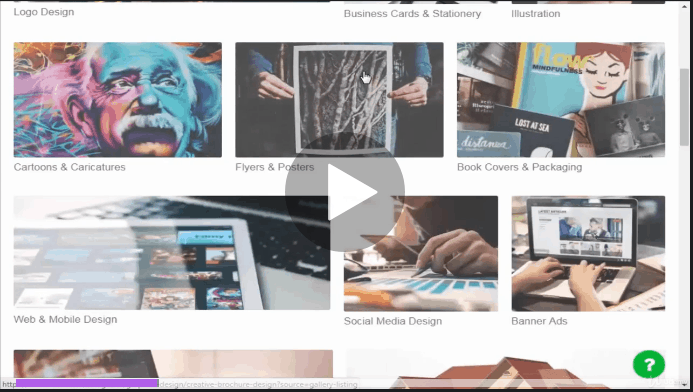 What has creating your course done for you personally?
Even if I didn't gain as much money from my course, reading the positive feedback from my students boosts my confidence and makes me feel like I'm doing something good in this world. - Rochdi Rais
Click To Tweet
I mean, these people might be struggling or in a financial crisis and I'm providing a course that would help them with that, that's something I feel proud of.
Do you have a story of a transformation from any of your clients?
There is one review from a client that I really loved. He is a university professor in Italy who said this:
"Really all you need to know to get started, including the ugly truth that in the very beginning on Fiver you better buy your own gig to get out from nowhere-land and get noticed. I have to say, I was really impressed. The lessons are never boring, always reactive, and well implemented. The quality of both audio and video is perfect. Rochdi really opens up to the user without playing around. You really feel it talks to you and not to yourself like in other classes, it brings his own experience and tells you all you need. And it' more than just a Fiverr introduction course, it covers marketing and psychology. It's absolutely worth it. It gives you even more than its promises. It's real, not an edulcorated virtual classroom. thank you Rochdi."
What advice do you have for people just starting out?
The start is the hardest part. But at the end of the road, you'll be really happy with the results.
I believe that the greatest enemy is within, it's the self-doubt that tries to compare us to other people's highlights. - Rochdi Rais
Click To Tweet
One should always ignore the negative internal noise and push as hard as one can.
I'm not a very successful person, but when I look back at my life, I feel proud, and I really wish everyone arrives at a moment when they say, I'm really satisfied and happy about where I am now.
Learn more about Rochdi Rais: