How Nicki Traikos Earns Nearly $1,000 a Month from Her Creative Courses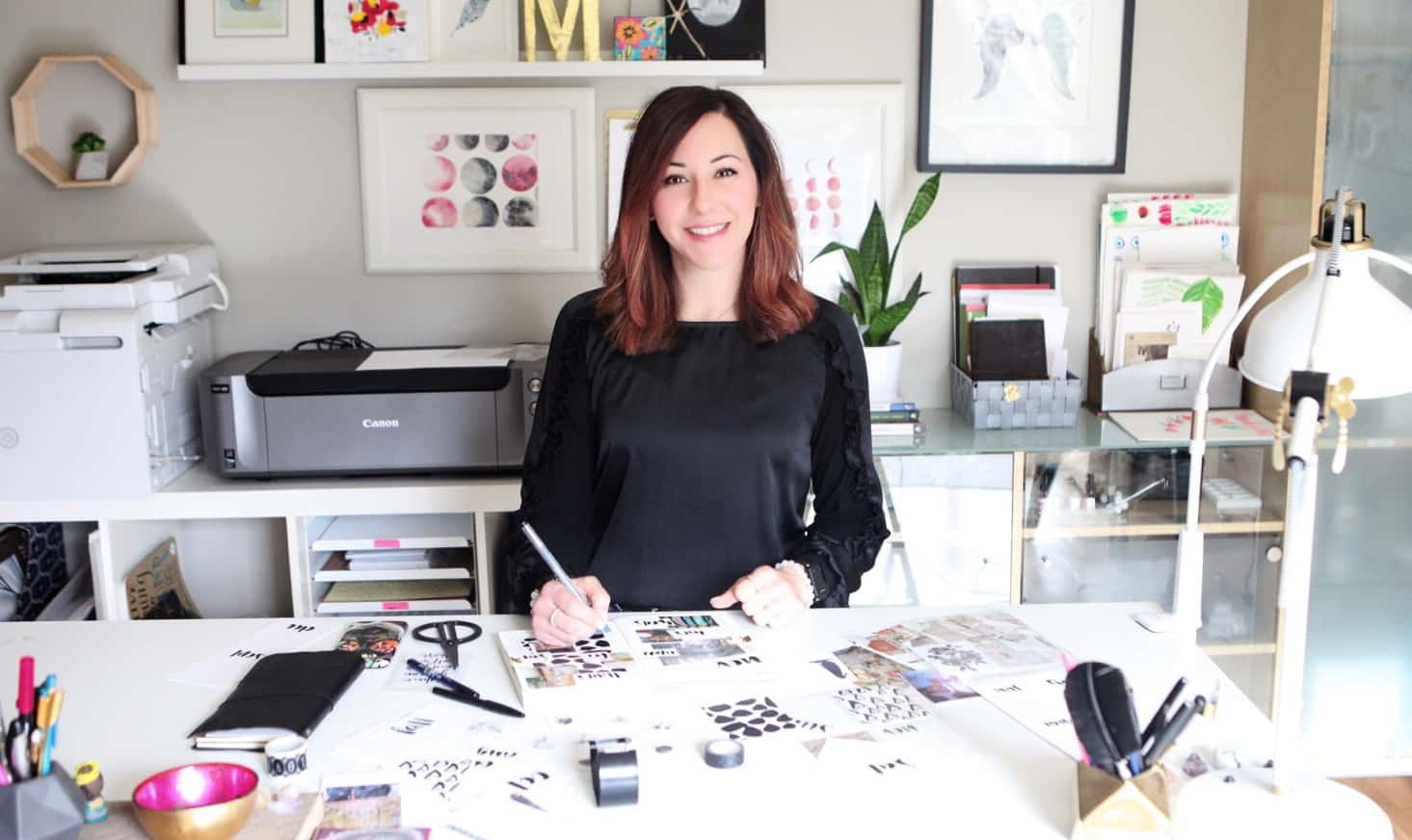 Our content is reader supported, which means when you buy from links you click on, we may earn a commission.
---
Who: Nicki Traikos
Website: lifeidesign.com
Course Topic: Calligraphy and other creative endeavors
Revenue Stats: Under $1,000 a month
Tell us a little about yourself and the online courses you've created.
My name is Nicki Traikos and I've created online courses that are targeted towards creatives and those who want to work from home or start a side hustle. I started teaching in-person workshops a few years ago and felt grateful to empower my students by teaching them a new skill or a way to express their creativity.
Often I would get emails from people asking if I could teach workshops in their local area so I explored the idea of teaching online classes.  I've been taking online classes myself for years and am a huge supporter of continued learning with specialized classes.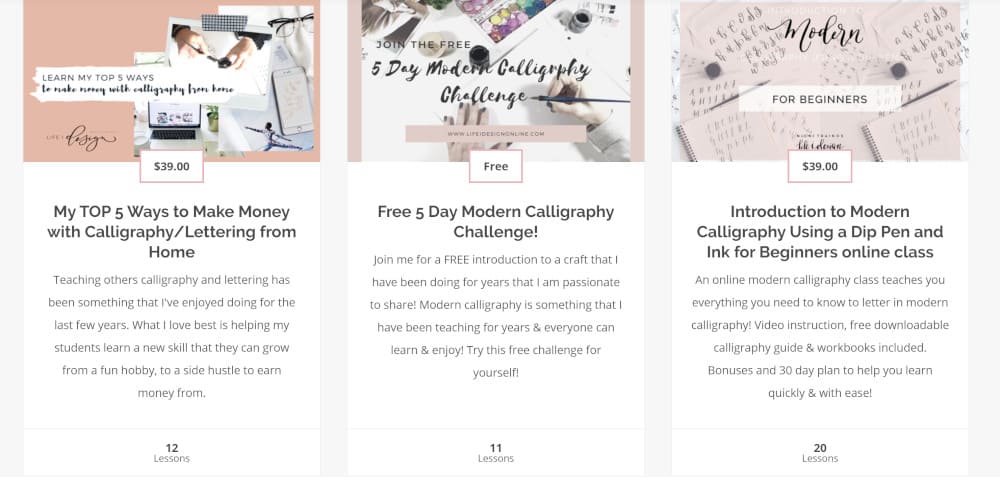 So I took the leap in July of 2018 and began by teaching dip pen and ink modern calligraphy. Now I have about 7 courses related to lettering, digitizing and how to make money from calligraphy working from home.
I have another round of courses in the works for this upcoming year and will focus on everything from watercolor to social media and marketing.  Basically classes that help to boost creative skills and practices along with all the business tips and tools I've learned and used in my own personal business.
What's the biggest benefit of taking one of your courses?
I think the biggest benefit is learning a tangible skill that you can use as a personal hobby or one you can start making money from for a reasonable price. That way you can afford to continue learning and growing.
How did you get into the market?
I've been a fan of taking online classes which is how I started life I design in 2012.  I began taking an online course to learn how to start my own WordPress site. I've also taken online courses to learn everything from building a business to using Adobe Illustrator. I'm a believer in lifelong learning. With how quickly things change these days, I believe it's the only way to stay current – both with our skills and knowledge.
Why did you decide to create an online course in the first place?
Creating online courses were my way of serving a greater audience.  After teaching in-person workshops, I realize there were many people who couldn't make it out to or afford a workshop with me. Online courses allowed me to give my current students more content so they could continue learning on their own time.
It also allowed me the ability to grow my revenue to create an additional passive income stream so that I could spend more time on my passion of painting and making art!

Did you have any moments of doubt before you created/launched it?
YES! Of course! I had no idea how to structure a class, film it, edit it, or market it.  The most challenging part for me centered around filming and editing. I take lots of online classes and am in awe at all the cool editing and effects in some courses.  It's a learning process for me and I think I'm finally close to being happy with how my classes are coming together.
Now that I have a year of producing, editing, and marketing under my belt, I am more efficient with my process and have a stronger plan for the upcoming year.
There's nothing more beneficial than practice followed by lots of trial and error. - Nicki Traikos
Click To Tweet
I feel that we learn best from our mistakes!
What are your online courses like?
I typically produce courses that are instructional, casual, and full of videos.  I create downloadable PDFs and workbooks to help support my student's learning experience.  Text only would bore me. I hope that my courses offer lots of visual inspiration and make the student think about what they want to do with their new skills.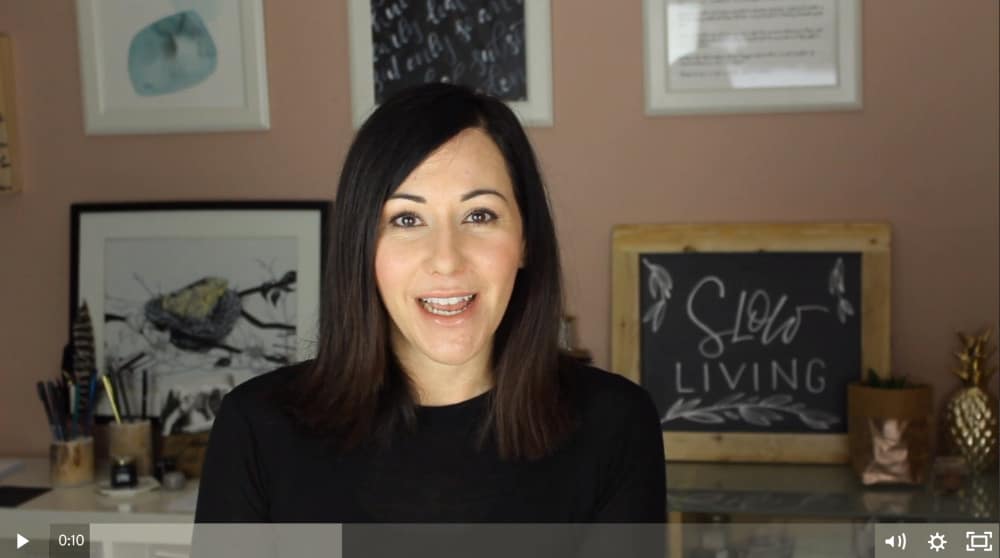 How long did it take you to create your first course?
The first course took about a month of solid focus along with playing around with how to best film and record clear audio.  From planning, to filming to editing, I did it all!
I wrote out exactly what I wanted to teach, who my class would benefit, and how I wanted to deliver the content. Then I began filming head-on videos and demos.  It helps to have teenage kids who can offer some help with video editing too!
A lot of what I film is demonstrating lettering or painting so those are much easier to do and I can edit in audio from my snow ball mic much easier.  Editing comes quickly when I have photos and images ready that I want to include in the editing process. I'm still working on how best to market my classes and have begun working with a marketing specialist to help broaden my reach.
Tell us a little about the process of launching your courses and getting your first sale(s).
Launching my online classes was something that I kind of just jumped into without much thought or planning.  I think the thrill of actually seeing the course complete distracted my initial plan for marketing the class.  Again, practice and experience builds on knowledge, I am working on a plan before I even begin recording my next round of classes.
For the first round of classes, I shared them on social media along with my email list and continued to promote them as often as I could.  My classes are evergreen and are constantly being added to and even upgraded, so I feel like it's something that's a part of what I offer at the moment.  And of course, it's exciting when someone buys a class and posts a review to help validate that what I'm creating is needed and helps people grow. I also get nervous though, and hope I've met the student's needs and expectations.  I'm big on giving value and quality content.
Do you have a lead magnet that is working to help sell your online course?
I have a free Creative Library I created a few years ago that I consistently add content to. I'm currently working on sales funnels and email campaigns to help with my online course sales specifically.  I do have a free online challenge that people can sign up for which does well for me, I just need to work better at pushing them through a funnel. The creative side of me wants to spend all my time on creating. Consistently emailing my newsletter subscribers is something that I'm working on being better at.
What's the traffic strategy that's working best for you?
For the most part, Pinterest has been a great generator of traffic for me.  I've taken an online course on how to use Pinterest more strategically. From that I implemented a few new strategies and with some effort have seen great results.  I feel like Pinterest is underrated and is a very valuable tool to get new email subscribers and students.
I also use my email list to promote new classes and design launches.  I'm sure I could use my email list better and that's something on the top of my list for the fall.  I'm actually working with a marketing specialist to help me with my email list.
I also use Facebook ads to promote my workshops and will start to use them for my online classes in the fall.
What online course platform are you using?
I tested out Teachable and Thinkific at the same time to see what felt like a better fit for me.  I've gone with Thinkific and am not sure it's the best platform to use, but for the time being it's working for me.  Teachable may offer a cleaner experience from a student's perspective, but for now, Thinkific is working out.
I'm more familiar with how to design my landing pages and feel that the course viewer is easy to use in Thinkific.  I also have classes on Skillshare where I quickly became recognized as a "Teacher to Watch" and have just recently published a few classes on Udemy. The beauty of online classes is that once you've created the content, you can choose to share them on a number of platforms broadening your ability to draw additional revenue.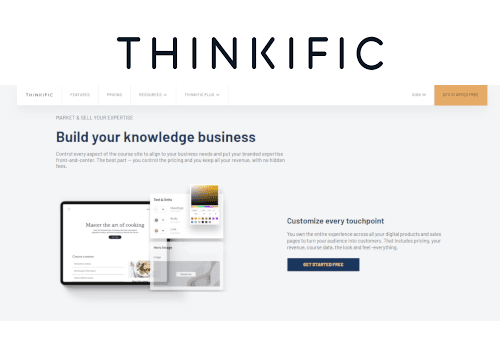 Take a Look at Thinkific!
Thinkific is the most popular online course platform used by successful course creators interviewed on coursemethod.com. It's a complete solution for creating sales pages, uploading all course content, taking payments, and more.
Price Range: Free to $499/month 
Most Popular Plan: Pro Plan at $99/month
Annual Discount: Yes, take 20% off!
Free Trial: Try out Thinkific's core features for free.
*Our content is reader supported, which means when you buy from links you click on, we may earn a commission.
Are there any features you wish it had?
I wish I could make the landing pages look more interesting and could drag and drop sections easier.  However, Thinkific does often update their user experience so I'm hoping the more I play around with the aesthetics the better I can improve my landing pages. It's similar to building a Squarespace site which I currently use for lifeidesign.com.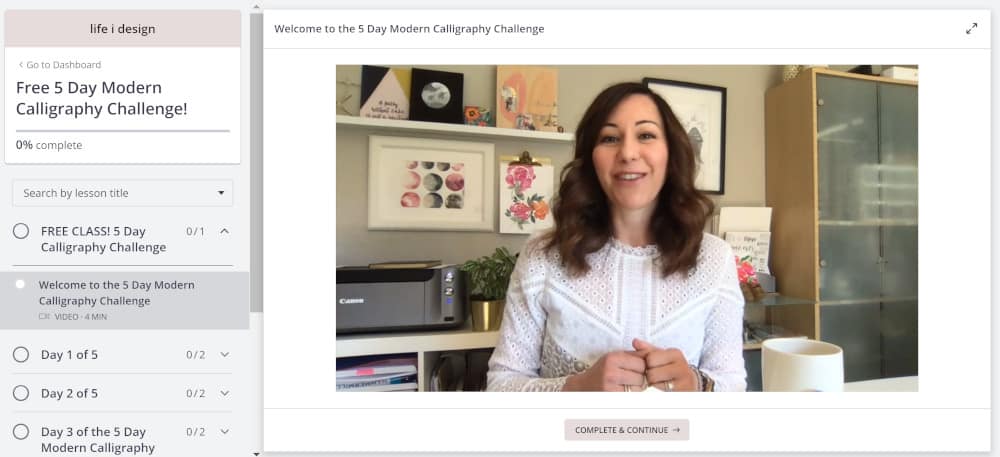 Why did you decide to use your chosen platform over others?
For me, going with Thinkific meant my courses would be a bit more secure than if I self-hosted by running a WordPress LMS plugin on my own site.  I also like that you get your revenue instantly rather than waiting until the end of the month to be paid like Teachable.  They also have good free options for those just starting out and want to test a course before they launch.
What other tools do you use to run your online course business?
Mailchimp is a must for me to keep all of my subscribers organized and easy to connect with.  Of course, my main website is essential which I use Squarespace for. PayPal also is a biggie, as it allows me to get paid if people don't want to use Squarespace and enter their credit card.
Are you willing to share some idea of revenue?
I currently earn under $1,000 per month on my courses.  My goal is to triple that this year and I'm working on uploading existing courses on other sites like Udemy and Skillshare.  I'm also planning on creating more online classes and spending more time on marketing and promoting my courses. I believe there is much more opportunity to build a greater revenue from my online classes and honing in on a few changes will get me there in no-time.
Would you mind telling us a little about what the money you've earned from your course has done for you?
Earning extra income from my classes has allowed me to teach less in-person workshops and spend more time on my first love which is painting and lettering!
What has creating your course done for you personally?
Personally, I've just expanded my tech abilities to include video production, editing and producing!! How great is that to accomplish in a year!??
I feel more confident in my video production and editing skills and know that I have 10 years of experience and knowledge that I can share in the hopes of saving someone else time, effort and money.  I am more confident today than I was a year ago around creating classes that help people learn, grow and thrive!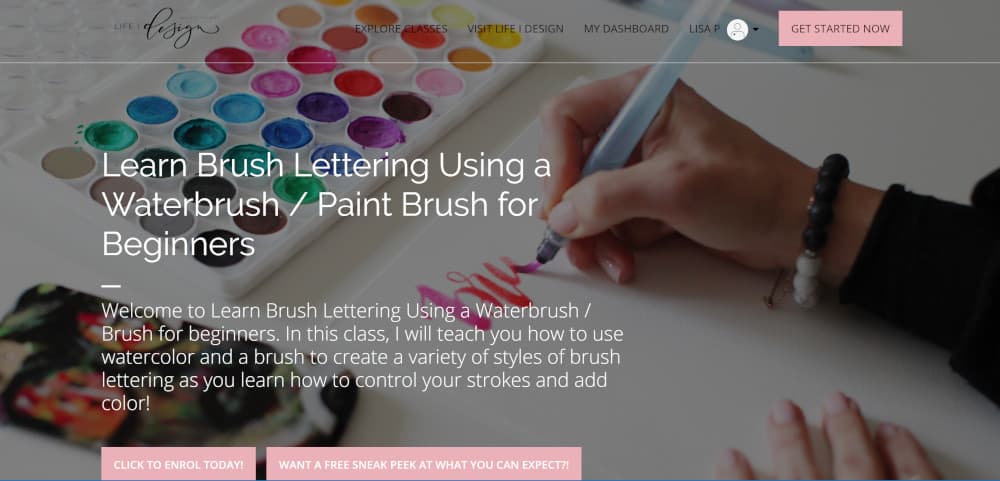 Do you have a story of a transformation from any of your clients?
I have a few students who are now able to earn money from their calligraphy skills because they've taken classes with me.  Lots of students who never considered themselves to be artistic have emailed me letting me know they are using a dip pen and ink to express their creativity and artistic side because of my classes.
I just published my first business class showing my students how to make money from their calligraphy skills, so I'm excited to get my first message from a student sharing how they are leaving their full-time job to work on their calligraphy business.  That's the hope anyway!
What advice do you have for people just starting out?
Just do it! And do it even if it's not perfect, or if you are unsure, or the timing isn't ideal.
There will always be something that you can improve on, but most people won't even notice! - Nicki Traikos
Click To Tweet
Create quality content and give more than people expect.  Share tips and how to's. And don't overthink it!
Learn more about Nicki Traikos and Life I Design: