Looking for an Infusionsoft Alternative? Here are 6 to Consider …

Our content is reader supported, which means when you buy from links you click on, we may earn a commission.
---
Infusionsoft is a popular marketing automation software used by over 25,000 small business owners. Combining sales, ecommerce and customer relationship management (CRM) into one single platform, Infusionsoft offers 300 apps through their marketplace, all of which add to its functionality. In addition, Infusionsoft can integrate with a horde of platforms out there.
Of all the offered features, the campaign builder is a particular favorite of many. The interface is intuitive and easy to use. Having your email marketing and ecommerce all under one run increases your conversions greatly. In addition, there is such a big market for this tool that there are hundreds of Infusionsoft consultants to help you navigate the software.
However, Infusionsoft does have its limitations. For instance, it doesn't come with a content management solution (CMS) and has high training costs. And let's be honest, some Infusionsoft competitors do offer lower priced plans. Generally speaking, the rich feature-set of Infusionsoft is best suited for small businesses with revenues exceeding $100,000.
So where exactly does Infusionsoft fall in the race? Among the available options, which are the best Infusionsoft alternatives? Read on to find the answers.
Wishlist for Infusionsoft:
Better deliverability rates – Deliverability is hard to measure, but Infusionsoft deliverability rates have been reported on the lower side. Moreover, you can't set up dedicated IP addresses for emails.
Easier Setup Process – Infusionsoft has a complex and tedious setup process. You can't just become a customer by signing up on their website. Instead, you have to show interest by scheduling a demo or giving them a call. Their aim is to ensure you talk to one of their reps before using the software, but this adds to the complexity of getting started with this tool. Once you do sign-up, you'll still need to go through their onboarding process.
Dropping the Kickstart fee – Infusionsoft charges a hefty price if you want advice and guidance from a consultant.
Less pricey — Depending on your revenue levels, at $199/month, Infusionsoft's Basic plan may seem like it's affordable. But some of the features are so compelling that you will want to upgrade. For instance, the Premier plan is $399/month and it gives you the ability to sell from Infusionsoft's shopping cart and order forms.
If you're not sure about Infusionsoft, you can definitely consider an Infusionsoft alternative. I'll quickly take you through six Infusionsoft alternatives here.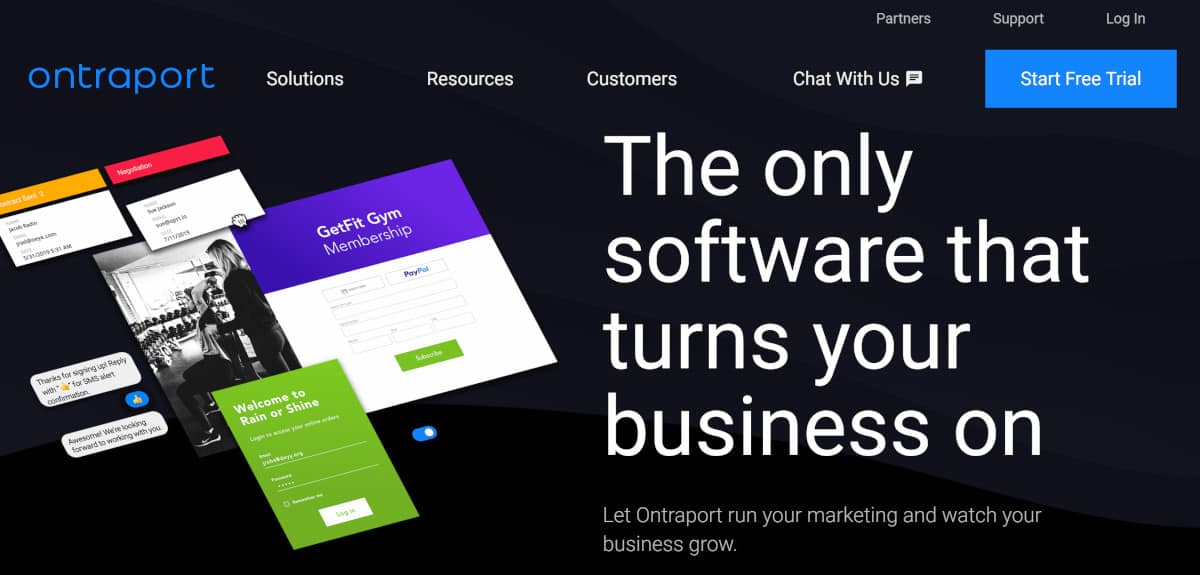 Ontraport is an Infusionsoft alternative with similar marketing automation features. This tool offers a unified platform through which you can manage content marketing, key information, and sales. Functionalities like automation, split testing, social media integration, and file sharing are included in the basic version. Thus, Ontraport manages your leads, sales, existing customers and many other business related aspects.
You can also use the software for creating attractive pages that enhance your target audience more effectively. This will only increase your conversion rates. The sales tool is what many customers see as the best part.
What's Good?
Facilitates postcard marketing.
Follows up automatically if customers abandon their cart.
Automates SMS marketing.
What's Not So Good?
Ontraport features a not so appealing dashboard that does not display graphs.
Lags behind with the automation campaign builder; the module works by adding text rules one after another, whereas a flowchart style (which not offered) would be much easy to use.
It is more expensive than other Infusionsoft alternatives.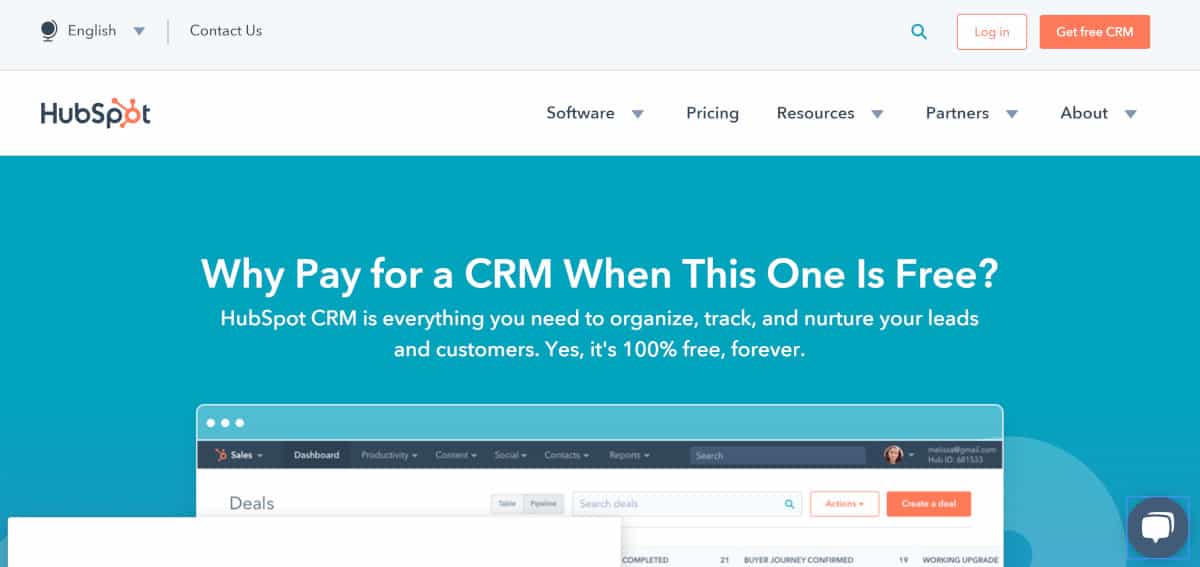 HubSpot has earned a name in the industry because of its marketing automation and content management system. In addition, it comes with general sales and customer management tools as well. It's all offered through cloud platforms catering to both B2B and B2C companies across a wide range of industries.
To be eligible for discounts you can buy the components separately or bundle them together. HubSpot's Basic CRM app is absolutely free so that is a major plus. If you want more features, you'll have to pay a monthly fee. But the nice thing about a free version is that you'll be able to try it out first.
You can quickly create articles, blog posts and other content forms to improve your SEO. Comprehensive lead nurturing and management features are also offered. You can make sure your message is conveyed to the right recipient in a timely manner.
What's Good?
The free CRM app (which is free even for unlimited users).
It streamlines online marketing through an easy to understand set of tools.
Requires you to pay only for the features you need, which allows you to save money.
What's Not So Good?
Offers limited features offline.
Sales tool doesn't match up to what the competition offers.
If your sales process is too complex, the platform might not offer your desired flexibility.
If you'd like to learn more about how HubSpot stacks up in comparison with Infusionsoft, take a look at the Infusionsoft vs HubSpot article.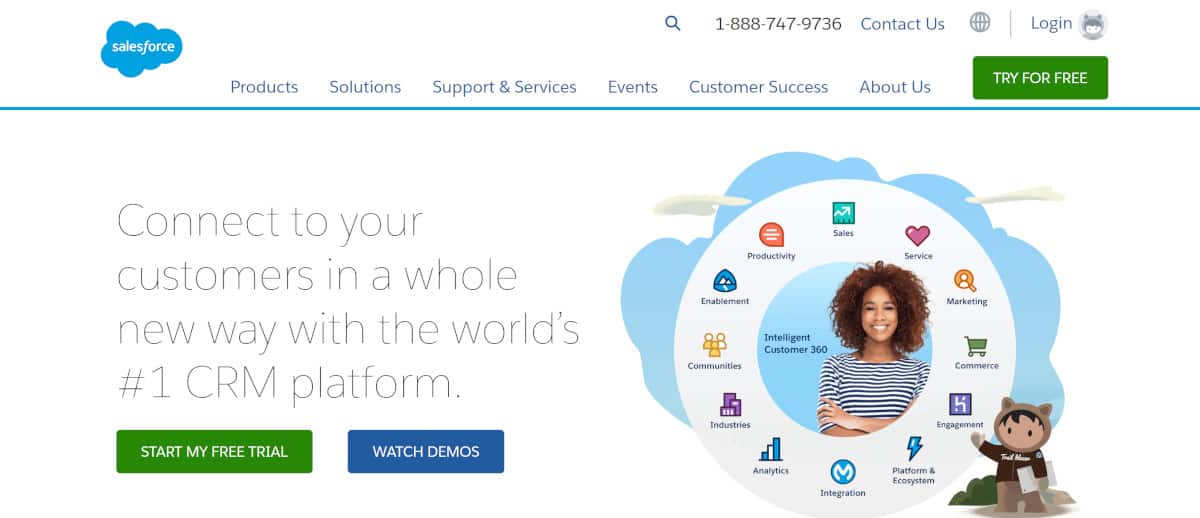 Salesforce offers cloud-based solutions for marketing and CRM. Through the software, you can optimize your strategies for capturing a greater number of leads, and turning more of them into paying customers. This increases productivity levels while also providing you with valuable insights through which you can improve performance.
Packed with intuitive dashboards and reports, Salesforce enables you to perform a thorough analysis. Plus, the Marketing cloud maximizes your social media presence to help you achieve greater engagement levels.
What's Good?
Offers predictive intelligence tools that help you refine your strategies.
Bundles everything for creating, tracking and scheduling mass email campaigns into one great package.
Increases business efficiency; the features help you watch out your sales funnel, analyze the various parts, and adjust your sales strategy if required.
What's Not So Good?
While the offered features are lucrative, Salesforce is still a complex solution, and may not be the most 'ideal' choice for small businesses.
Switching from or to other tools can be tedious.
Pricing is on the higher side.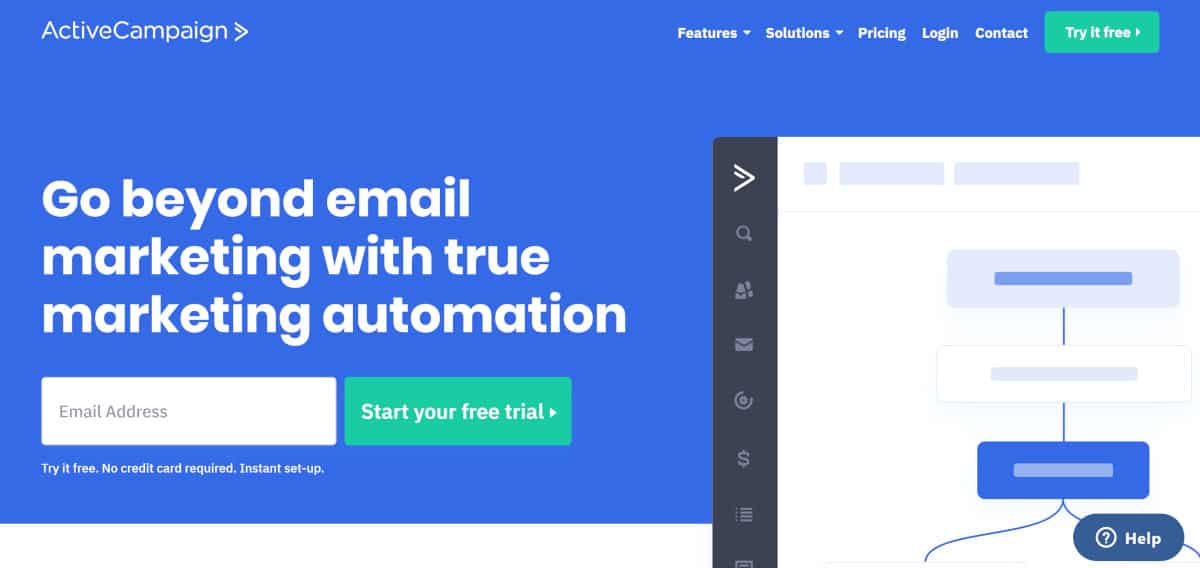 ActiveCampaign is an integrated solution based on different marketing elements.
This tool allows you to create engaging emails, reach out to your target audience through social media, find more information on your captured leads and automate your marketing.  You can try all these features without providing any billing details. However, you do have to create an account.
The most distinguishing feature of ActiveCampaign is the price. The Lite version is a mere $9 per month, limited to 500 contacts.
What's Good?
Extremely powerful marketing automation features that are simple to use.
Comprehensive reports related to page visits, geo, tracking, click-maps and other aspects.
Migration from another software to ActiveCampaign is carried out for free.
What's Not So Good?
The tool is advanced, so it will take some time before you can get a grip on the features.
The CRM and email builder definitely have room for improvement; other tools offer more intuitive versions.
No landing page editor is available.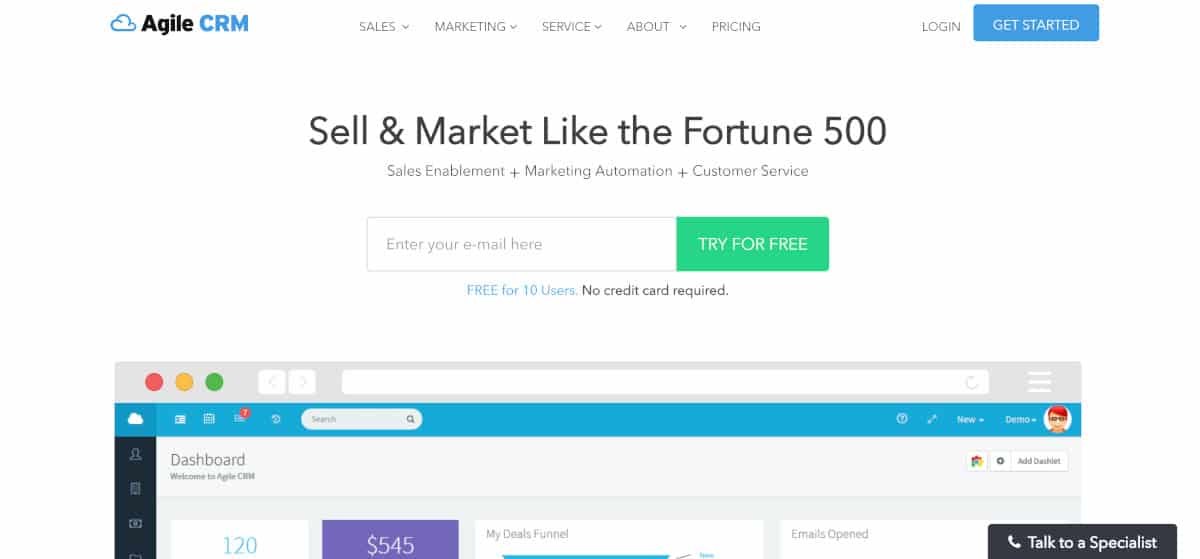 Agile CRM is a robust solution featuring marketing, web engagement, sales and service all within a single platform. It offers many great features such as automation, scheduling, customer service, sales automation, social media marketing and even project management.
This tool brings together all your information and people on one single platform. Tasks are streamlined, collaboration is improved, and greater productivity is achieved at both an individual and team level.
What's Good?
Comes with a drag and drop interface that can be highly intuitive and engaging.
Stores all contact details, making them accessible from anywhere.
Allows sales team to keep a close tab on purchase cycles and the sales journey.
What's Not So Good?
Customization options appear to be limited when compared to other tools.
No tutorials are available for advanced features.
Email builder should be accompanied with an open HTML component so that you can embed code easily if required.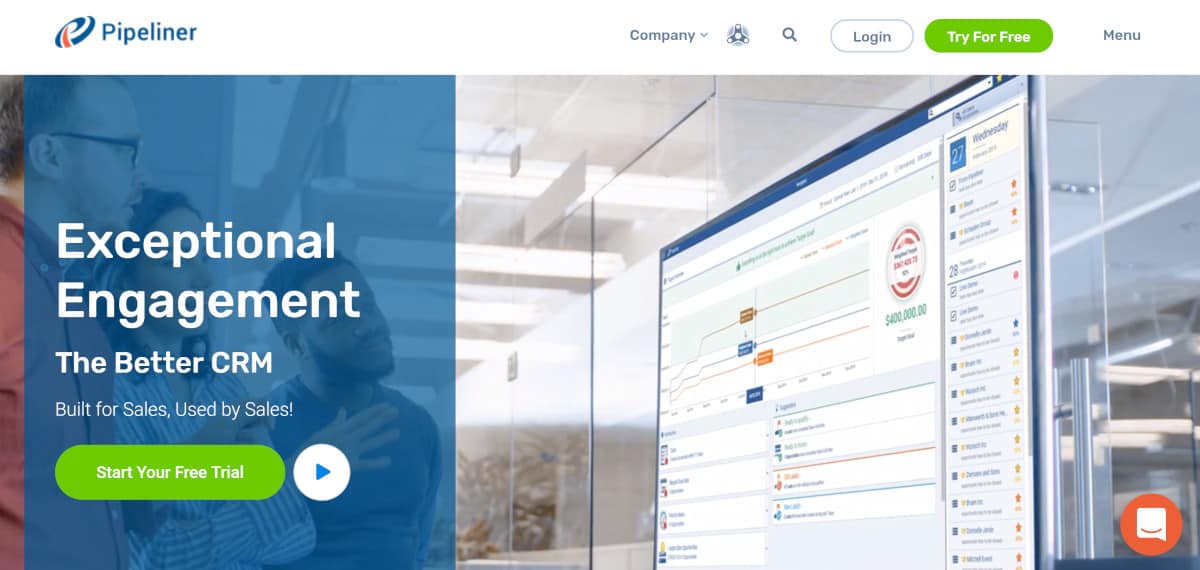 Pipeliner is a sales automation tool that comes with a built-in CRM module.
This tool identifies hot leads and reports their progress through the purchase cycle via interactive features. All sales information is categorized in real-time, so you always have access to insights.
What's Good?
Offers advanced business intelligence and analytics dashboards that display real time data.
Provides a complete picture of sales activities.
What's Not So Good?
No built-in marketing tools provided.
Can't import VCF cards if you create a new lead.
Best for 200 users only; bigger companies should try another alternative.
Conclusion
The tools above are the top Infusionsoft alternatives, but there are definitely others. Many email marketing solutions offer at least a few features similar to Infusionsoft. If you're OK not having an all-in-one email and eCommerce marketing solution then an email marketing tool is a great place to start. One such option is Mailchimp which I've written about in a Mailchimp vs Infusionsoft review.
So which Infusionsoft alternative is the best choice?
The answer depends on your needs, priorities and of course, your budget. Figure out your requirements in detail, come up with a checklist and then see which software ticks off all the boxes.
Let us know of your experience with Infusionsoft or its alternatives in the comments below …