Infusionsoft vs Hubspot: What are the Main Differences?

Our content is reader supported, which means when you buy from links you click on, we may earn a commission.
---
Looking for a complete marketing tool can be a tedious task considering the many alternatives available in the market.
Between HubSpot vs Infusionsoft, which is the best for your business?
HubSpot and Infusionsoft are two of the most popular options out there. Both tools offer numerous automation features allowing you to optimize your online presence through a well crafted and well executed marketing strategy. Both of them claim to be the best all-in-one marketing software, but the features vary. Of course, there is some overlap, but HubSpot and Infusionsoft are meant for different purposes.
At its very core, Infusionsoft is designed to be a customer relationship management (or CRM) and automation tool for your email marketing and sales process.
HubSpot is more diversified in the sense that it can be used for managing customer relationships, automating sales/email, creating landing pages, managing social media, tracking website analytics and even fueling your lead campaigns.
Here's a screenshot taken from the HubSpot site showing the different 'Hubs' they offer (each with its own features) …

So, is HubSpot the winner in the HubSpot vs. Infusionsoft race because it offers more features?
Not at all. While it is crucial to choose software based on the number of features that it offers, it's also crucial to see if those features meet your needs. So let's run a side-by-side comparison of both HubSpot and Infusionsoft.
The target audience of Infusionsoft and HubSpot differs.
While HubSpot serves to be a seamless content management system (or CMS), packed with other features that aid CRM strategies, Infusionsoft offers a CRM plus eCommerce capabilities.
We'll begin your Infusionsoft vs. HubSpot comparison by reviewing functionality and integration and then move on to other aspects.
Features and Functionality
While the features of HubSpot and Infusionsoft are different, they promise nearly the same set of benefits.
Those include getting more leads to your site, converting them into paying customers, and then analyzing the entire process to figure out how to increase your conversions. Later on, the process can be modified to refine your strategy. So basically, both the tools let you attract, convert, and analyze but through different ways.
Here's a screenshot of the Infusionsoft cycle: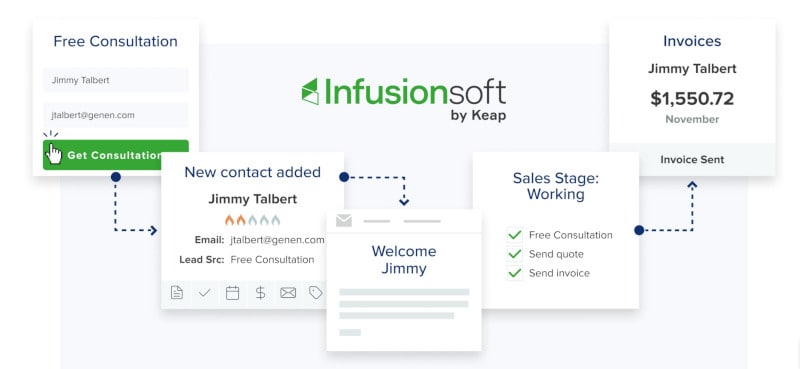 It includes adding in a new contact, sending out a welcome email, scheduling a consultation, tracking the follow-up tasks that have occurred for that contact, and finally getting a sale. Follow-up is where Infusionsoft takes the lead.
While Infusionsoft is the master at allowing you to automate your follow-up with prospects, it doesn't offer everything HubSpot offers, including some lead generation tools. I'll get into that next …
Attracting Potential Customers
HubSpot is packed with an advanced CMS, referred to as the Content Optimization System (COS), on which you can set up your blog, your landing pages, or your entire website depending on your needs. HubSpot has already taken care of responsive design, so you're only left with the set-up part. The software automatically scales pages according to the device on which they are being viewed. A CMS integrated with an automated marketing tool simplifies things at your end, giving you greater control over website design and allowing you to share your content effortlessly.
Other than their COS, HubSpot includes a robust keyword tracking tool, on-page SEO help, and inbound link tracking. Many of these are related to search engine optimization or SEO, an area where Infusionsoft lacks when compared to HubSpot. That means Infusionsoft has to be integrated with your CMS and any SEO tools you may be using. On the other hand, Infusionsoft serves as an eCommerce platform, helping you take payment for your customers. In a sense, the two tools are very different.
As far as social monitoring is considered, both HubSpot and Infusionsoft offer relevant features.
Converting Leads
CTA's are what help you convert leads. The most common ad design is a banner or a button on a landing page or your blog. With HubSpot, you can graphically build these CTA buttons and design landing pages through a simple process, both of which are crucial for conversions.
Infusionsoft also offers the ability to build landing pages, but you would have to create the CTA graphics elsewhere and then place them on the page. Both tools offer automation and workflow creation features, which drive conversions, but Infusionsoft's intuitive graphical interface is better than what HubSpot offers.
Email related features are extensive for both HubSpot and Infusionsoft, including campaign execution, list segmentation and analytics. Once again though, Infusionsoft's interface wins over HubSpot. Here's a screenshot of my Infusionsoft account campaign builder:

That looks like a complicated campaign, but it's easy to put together with Infusionsoft's very intuitive campaign builder.
Analyzing Performance
Considering analytics, both tools collect data through slightly different procedures, but both allow you to track and analyze customers over their entire life-cycle, from when they first visit your website to the stage where they become paying customers.
The Marketplaces
Program adaptivity is an important consideration. Generally, good tools are those that can easily be integrated with a wide range of external apps available for free or at reasonable prices.
HubSpot Marketplace is packed with 150 applications in different categories like CRM, SEO, Content Creators and Social Media. Each app extends the basic platform and makes the experience seamless. Some of these are free, whereas others charge either a flat fee or a periodic subscription amount. Users of specific apps can rate and review the apps.
Infusionsoft also has a marketplace, but it has a smaller database than HubSpot. Categories include analytics, led generation, eCommerce and business management. Like HubSpot, each app can be rated and reviewed by users. Prices are fairly similar.
Training and Support
HubSpot comes in three different versions: Basic, Professional and Enterprise. Training is similar across all three versions, but the overall cost and depth of the training programs vary as shown in the table below:
| | |
| --- | --- |
| Training Program | Monthly Costs |
| Inbound Consulting | $350 |
| Technical Consulting | $650 |
| Premium Consulting | $1200 |
Infusionsoft includes training costs in a one-time fee that you pay up-front. For the most basic version ($399), only three training sessions are offered. Their best value plan offers five training sessions ($999), and their Kickstart Pro provides you constant access to an expert ($1999).
Pricing
HubSpot offers four modules separately, along with their Growth Suite, which is full software offering a complete list of features.

The CRM is completely free, whereas four different versions are available for the rest of the modules. The fee is monthly, but if you pay yearly you'll get a discount.
The prices are specified in the table below (please note pricing can change at any time):
Module
Version*
Fee**
HubSpot CRM
–
$0
Marketing Hub
Free
$0
Starter
$50
Professional
$800
Enterprise
$3200
Sales Hub
Free
$0
Starter
$50
Professional
$400
Enterprise
$1200
Service Hub
Free
$0
Starter
$50
Professional
$400
Enterprise
$1200
Growth Suite***
Free
$0
Starter
$150
Professional
$1600
Enterprise
$5600
*Professional and Enterprise editions are billed annually.
*Monthly fee for 1,000 contacts.
*Ongoing promotion reduces prices by 25%.
Infusionsoft offers a single module, but like HubSpot, is available in three different versions.
| | |
| --- | --- |
| Version | Monthly Fee |
| Basic | $199 |
| Pro | $299 |
| Premier | $399 |
Here's a screenshot showing the Infusionsoft pricing options along with the max number of contacts for that plan. It's much easier to understand than HubSpot's pricing.

Please note that HubSpot and Infusionsoft pricing may change at any time.
Understanding Major Differences
HubSpot

Create customized landing pages which you can track and monitor later. If you don't want to build them yourself, use a pre-designed template from the marketplace. You can create landing pages with Infusionsoft too with all their plans.
Search for relevant keywords, see how your website ranks against them and see your competitors' positions on the SERPs. Infusionsoft lacks in this arena, but pair it with another tool like SEMrush (a paid tool), and you'll have a complete package.
HubSpot comes with a built-in blog. As you draft that post, you'll know exactly how it would appear to your readers. Plus, the offered features allow you to customize each post for search engines. And when uploaded, you can view a complete range of performance related metrics.
Infusionsoft

Infusionsoft Campaign Builder is the same thing as workflows on HubSpot, but the offered functionality is greater. It provides a visual interface where you can see the extra flow between sales and marketing funnels. HubSpot flows are more traditional and are more difficult to comprehend.
You can tag 'contacts' so that you can work with them more easily.
Infusionsoft lets you send customized invoices to stored contacts within the system. HubSpot sale module does allow you to close the deal, but doesn't offer any invoice generation features.
Which Tool Should You Go For: HubSpot or Infusionsoft?
Find answers to the following questions, and then decide.
What are your target revenues?
How many members will be using the software?
Which features are most desired?
Who will be responsible for implementation?
If your yearly revenue is lower than $200,000, then Infusionsoft may be a better choice.  If your budget is greater and you want a more complex solution, then you may want to go with HubSpot.
| | | | |
| --- | --- | --- | --- |
| Feature | HubSpot | Infusionsoft | Remarks |
| Fully integrated CMS | Yes | No |   |
| Built in CRM | No | Yes | HubSpot: CRM can be integrated through an API |
| Order forms, shopping cart and other eCommerce related features | No | Yes | HubSpot: Can be integrated through the App Marketplace |
| Landing page creation | Yes | Yes | |
| Email marketing | Yes | Yes | |
| Social media sharing and maintenance | Yes | Yes | |
| Lead Scoring | Yes | Yes | |
After analyzing the features, it's obvious that there's no clear winner in the Infusionsoft vs. HubSpot race because both serve a different target audience. HubSpot is appropriate for small and medium sized businesses that want to take their marketing campaigns a level higher. It's not necessarily an all-in-one email marketing and eCommerce solution. Infusionsoft, however, is and is built primarily for small businesses.
If you're still not sure which tool is right for you, take a look at Infusionsoft alternatives. Hubspot is on the list, but there are several other options for you as well.
Before choosing any of these tools, consider your own goals and needs, and accordingly, pick the most suitable platform for you.