26 Interesting EdTech Industry Statistics

Our content is reader supported, which means when you buy from links you click on, we may earn a commission.
---
What does the future of education look like? According to recent studies, it may be a lot more tech-focused than we thought and fortunately, the EdTech industry has us covered. EdTech includes learning management systems (LMS), interactive whiteboards, virtual reality headsets, 3D printing, and just about any other tool that enhances learning.
From online course platforms to classroom gadgets, here are 26 mind-blowing statistics about the EdTech industry that will help you paint a picture of where things are headed. Get ready for a glimpse into the future of education!
EdTech Statistics
1. EdTech on Google trends shows an increase in searches for the term 'edtech' between spring of 2021 and spring of 2022. (Google Trends)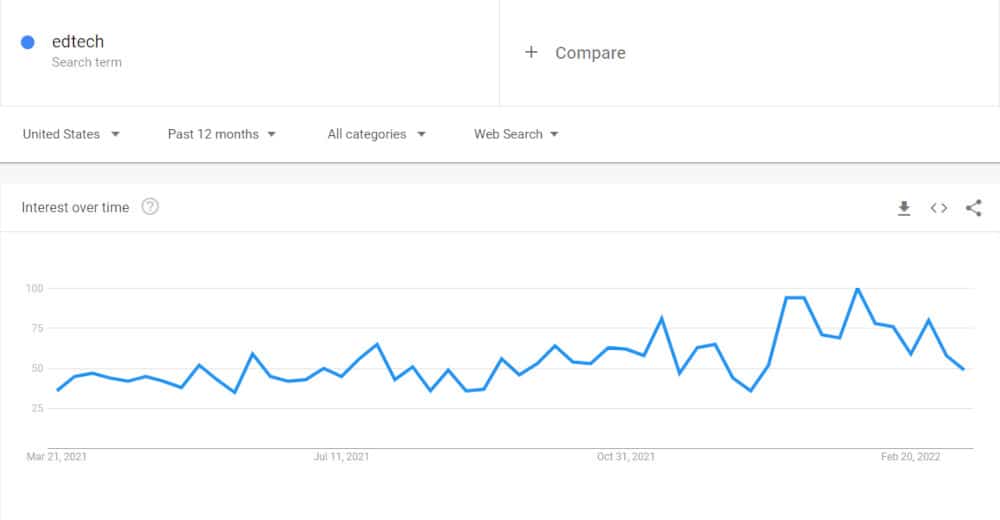 2. The EdTech industry is expected to grow to 605.8 billion U.S. dollars by 2027. This is up from 254.80 billion U.S. dollars in 2021. (Global Newswire)
3. The virtual reality headset market is expected to grow to 26.8 billion U.S. dollars globally in 2027. This is up from 7.7 billion U.S. dollars in 2020. (Valuates.com)
4. The interactive whiteboard market size is estimated to be worth $2.8 billion by 2030. This is up from a market size of $1.6 billion in 2020. (Grandview Research)
5. The 3D printing market is expected to grow from $12.6 billion globally in 2021 to $35.4 billion globally by 2027. (Market Research Future)
6. The learning management system (LMS) market is expected to reach 42 billon U.S. dollars by 2027. (Global News Wire)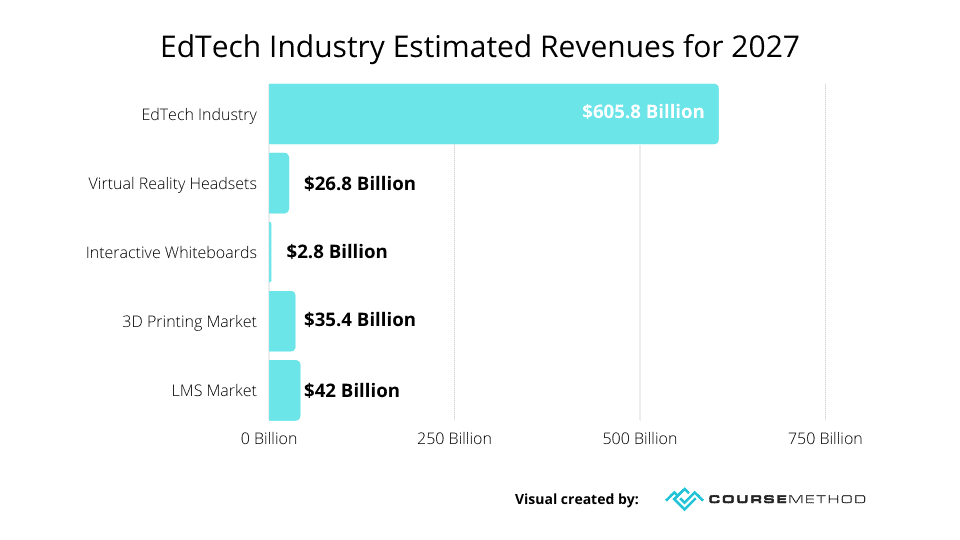 7. There is a big money in EdTech. Coursera is valued at over 1 billion U.S. dollars. As an online education provider, they partnered with the Abu Dhabi School of Government to train 60,000 government employees. (Forbes)
8. 47% of college administrators would like more money allocated to instructional design. They are especially interested in instructional design-related resources and processes. (Best Colleges)
9. North America is currently one of the top EdTech leaders. The North American market share was 35% in 2020. Most of the valuation comes from top universities and the highly sophisticated internet infrastructure available in this region. (GM Insights)
10. There are a number of EdTech companies earning billions. These include Kahoot! with a valuation of 39.3 billion (Yahoo Finance), Yuanfudao with a valuation of $15.5 billion (Edtechreview), BYJU'S worth an estimated $12 billion (Wikipedia), Chegg, Inc worth an estimated $11.5 billion (Yahoo Finance), and Udemy estimated at $3.3 billion (Techcrunch).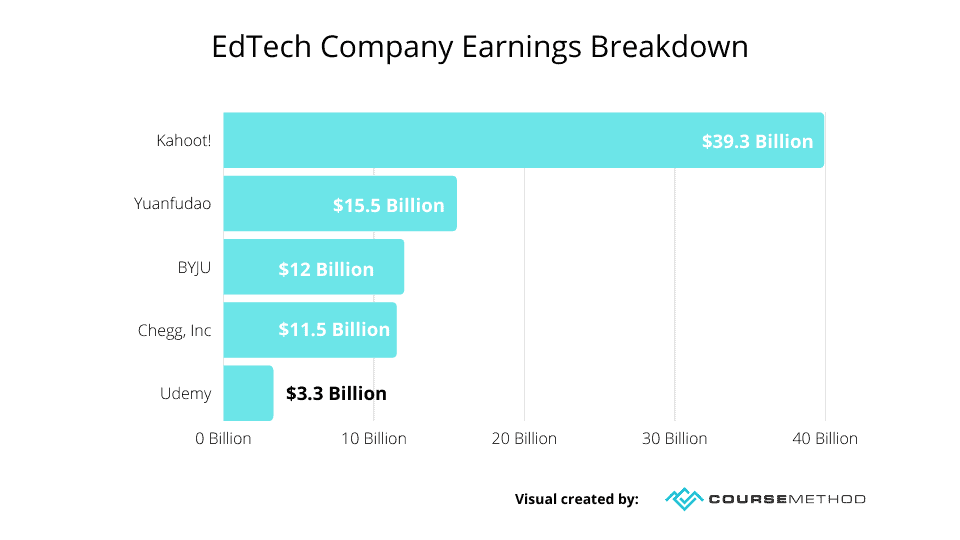 11. Zoom can be considered an EdTech company, especially since so many online schools use Zoom to run and manage the classroom aspect of their programs. It is one of the leading video communications solutions and has grown tremendously since it started in 2011. Zoom customers include 95% of top universities in the U.S. and 58% of Fortune 500 companies. They have experienced triple-digit year-over-year revenue and user growth with $145.5 million in funding. (Freshworks)
12. The pandemic greatly accelerated the growth of Zoom. At the end of December 2019, the maximum number of daily meeting participants taking place on Zoom was approximately 10 million. In March 2020, Zoom had more than 200 million daily meeting participants. (Zoom)
13. Personalized learning is gaining steam in education. About 50% of K-12 educators view personalized learning as a 'promising idea'. 21% view it as potentially transformational in K-12 schools. 11% view it as a passing fad while 10% say it is not something they think about at all. 8% see it as a threat to public education. (Edweek)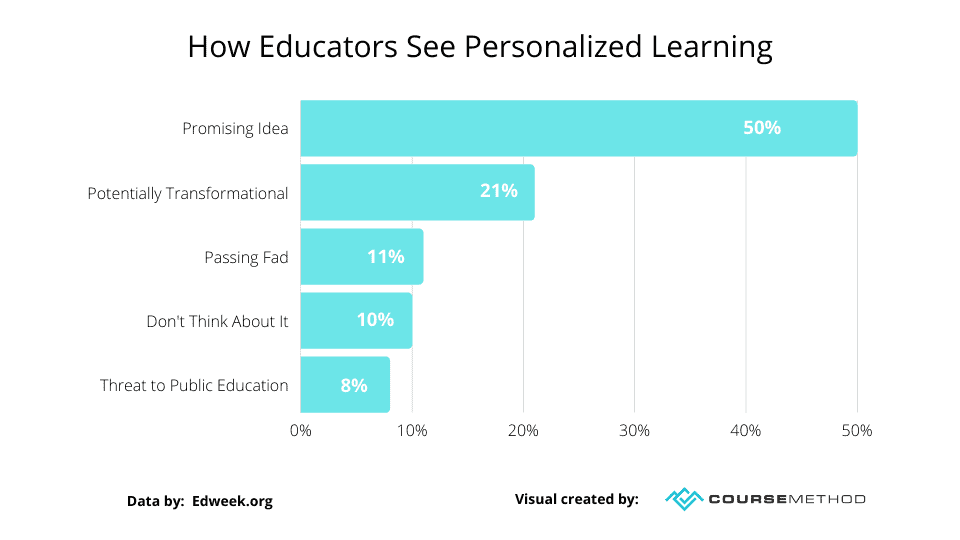 14. The use of personalized learning including adaptive software is not yet common in schools. 60% of K-12 educators say they never or rarely use adaptive software. (Edweek)
15. The educational technology company, Byju crossed 15.5 billion U.S. dollars, shortly after the COVID-19 pandemic began in 2020. (Business Standard)
16. Less than 10% of schools use artificial intelligence, virtual reality, or augmented reality despite their popularity in education technology conferences. (Eric.ed.gov)
17. 83% of grade 6-12 students reported using Google tools at least once a week if not more to complete their schoolwork. (Eric.ed.gov)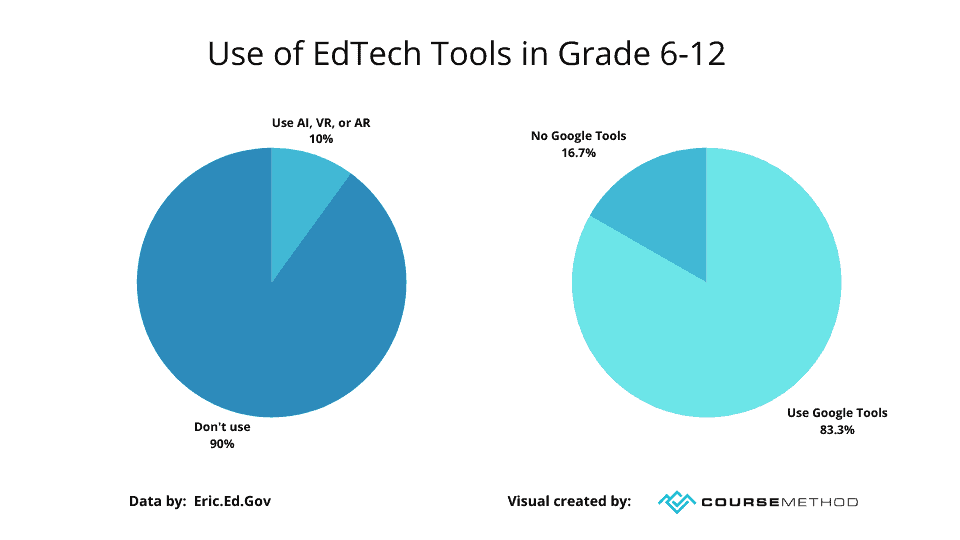 18. 58% of parents with children in K-12 reported that using technology in their school coursework is a good way for their children to gain skills. 82% of parents say the use of technology in school is important for their child's future. (Eric.ed.gov)
MOOC – Massive Open Online Courses (MOOCs) offered by Coursera, EdX, and other platforms.
19. The Massive Open Online Course (MOOC) project offers free online courses for anyone in the world. The MOOC industry was worth 5.2 billion U.S. in 2019. By 2025 it is projected to be worth 21.1 billion U.S. (SDKI.JP)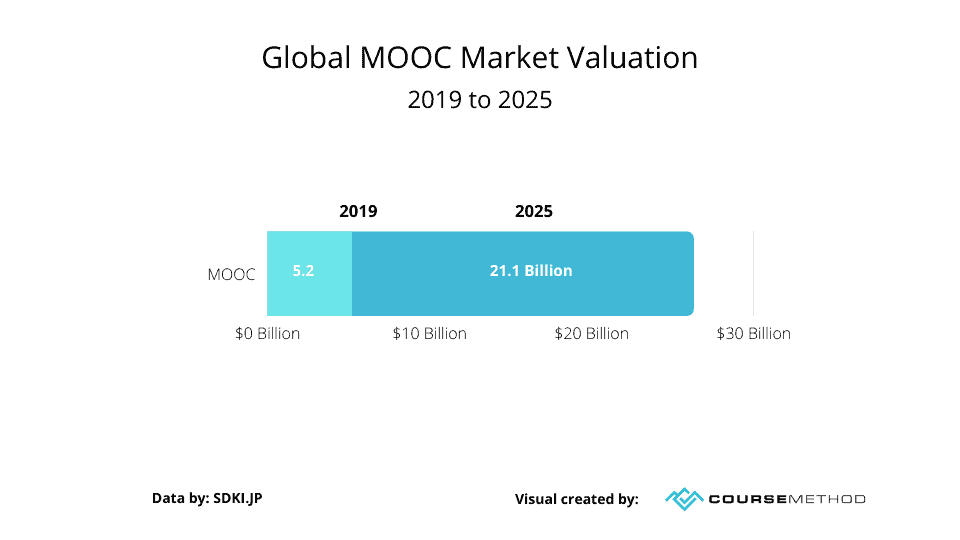 20. 22 out of the top 25 US universities offer free online courses for those interested in taking them. (Mordor Intelligence)
21. edX was acquired in 2021 by 2U. They paid $800 million dollars for edX, which was started by MIT and Harvard. edX. (Edsurge)
22. While completion rates for MOOC courses can get as high as 40%, the average completion rate is often only around 15%. This is likely due to the fact that they are free. (Katy Jordan)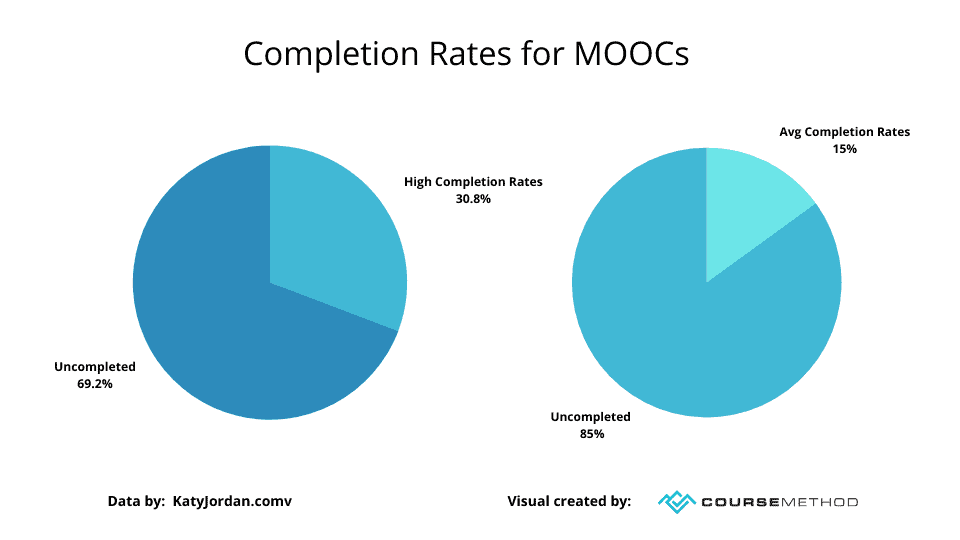 23. Coursera was worth nearly $750 million dollars in 2021 when it went public. (Edsurge)
24. Coursera is one of the top 5 MOOC leaders helping 45 million learners with over 3,800 courses. Learners can even get one of 16 degrees from Coursera including Bachelor's and Master's degrees. (Class Central)
25. Additional top 5 MOOC providers include edX, helping 24 million learners through 2,640 courses, Udacity, helping 11.5 million learners through their 200 courses, FutureLearn, helping 10 million learners through 880 courses, and Swayam, also helping 10 million learners through over 1,000 courses. (Class Central)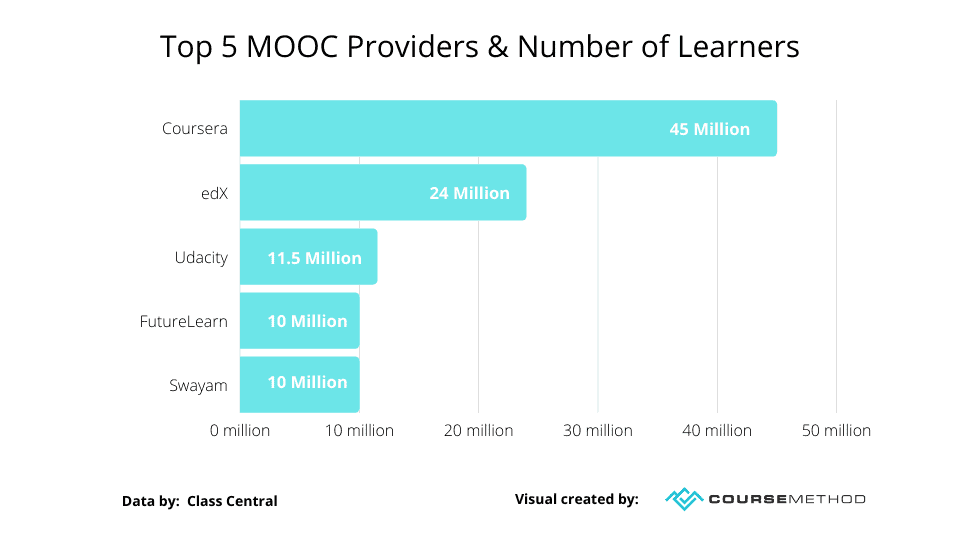 26. 80% of those enrolled in a MOOC have a Bachelor's degree or higher. 60% come from developed countries and almost 60% have a full-time job. (HBR.org)
Frequently Asked Question on Edtech Industry Statistics
How is the Edtech market segmented?
Edtech, or educational technology, is a relatively new field that is growing rapidly. The Edtech market is segmented into three main categories: classroom tools, online learning platforms, and Edtech products.
Classroom tools include digital whiteboards, tablets, and software that can be used in the classroom to improve teaching and learning.
Online learning platforms are websites or mobile apps that offer courses or other educational content that can be accessed by learners anywhere.
Edtech products include data management systems, assessment tools, and instructional materials.
Is the EdTech industry growing?
The EdTech industry is definitely growing. More and more businesses are starting to invest in educational technology, and the market is becoming increasingly competitive.
EdTech startups are raised billions of dollars in funding every year, and the industry is only expected to continue to grow.
There are a number of factors driving this growth, including the increasing demand for personalized learning experiences, the rise of mobile learning, and the growing popularity of distance learning.
Is EdTech a tough industry?
EdTech is a tough industry. It's fast-paced and constantly changing, which can make it difficult to keep up. There are always new startups popping up, and established companies are constantly innovating.
That said, it's also an industry with a lot of opportunities. EdTech is one of the few industries where you can have a huge impact. EdTech companies are making an impact on education globally, and there's a lot of room for growth.
Is the Edtech market overcrowded or is there still space to expand?
The EdTech industry is growing rapidly. In the last few years, we've seen a boom in new startups and products. But is the market becoming too crowded?
There's no doubt that the EdTech market is competitive. With so many choices available, it can be hard for new products to stand out. And with budgets tightening, schools and districts are becoming more selective about which products they adopt.
Despite the challenges, there's still plenty of room for growth in EdTech. The industry is relatively young, and there are many areas where new products and solutions are needed. For example, we still haven't seen a breakthrough solution for assessment and data-driven instruction.
Additionally, EdTech adoption rates in developing countries are still quite low. So while the EdTech market may be getting more crowded, there's still plenty of opportunity for expansion.
What are the opportunities in EdTech?
EdTech, or educational technology, is one of the hottest areas in the tech world right now. With opportunities to create new tools and platforms that can improve how we learn and how teachers teach, there is a lot of potential in this field.
There are many different opportunities in EdTech, from creating new software to designing hardware to developing educational content. And with the rise of online learning, there are more opportunities than ever to reach students all over the world.
Conclusion
In our research, we found some really interesting statistics on the current state and future of the edtech industry. We've included 25 of them in this article to give you a snapshot. If you want to explore additional statistics, we have several other articles. A good place to find more is our elearning industry stats article.
With technology becoming more ubiquitous in classrooms every day, it will be interesting to see how the education industry continues to evolve and what new technologies emerge as key players in the field.