DaVinci Resolve Vs. Premiere Pro: Which is Best?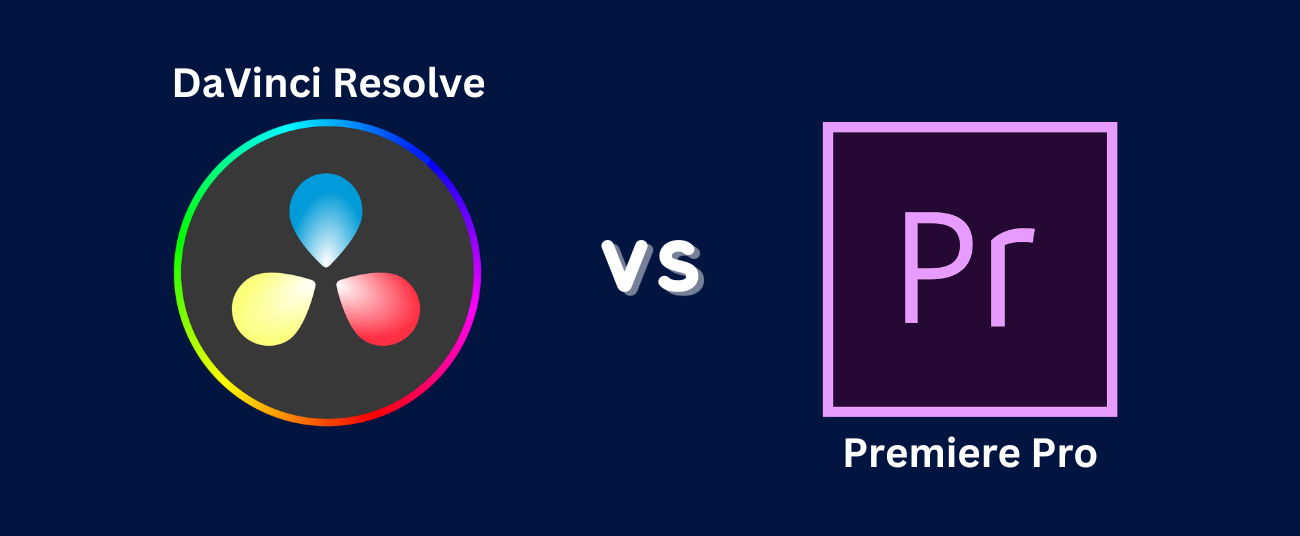 Our content is reader supported, which means when you buy from links you click on, we may earn a commission.
---
As a content creator, instructor, or anyone who wants to edit videos, you might be looking for the best type of video editing tool.
Black Magic's DaVinci Resolve and Adobe Premiere Pro are two of the best video editing software in the market, which offer a wide range of editing services.
But which is the best choice for you?
Let's find out.
DaVinci Resolve Vs. Premiere Pro: Overview
DaVinci Resolve and Premiere Pro are non-linear video editing software tools created for professional-grade video editing. Both tools allow you to organize and rearrange video clips to create the final video the way you want. They also include an array of options like color correction, audio editing, and visual effects to perfect any video.
Both software tools can be used on Windows and Mac systems, so you are not limited in what device you need to choose when working with either of these tools.
DaVinci Resolve Vs. Premiere Pro: Key Features and Characteristics
To know the difference between DaVinci Resolve and Premiere Pro, let us compare some of their features that make them stand apart from each other.
User Interface
DaVinci Resolve uses a Freeform Timeline Editor that segments the interface into various options or features, depending on what you want to do. The sections consist of Edit, Cut, Color, Fusion, and Fairlight. The segments Edit, Cut, and Color, are self-explanatory, while Fusion is a motion graphics tool, and Fairlight is an audio editing feature.
On the other hand, Premiere Pro comes with a non-linear timeline interface that utilizes sequence tracks comprising of video, audio track, picture, or other supported media. These tracks turn Premiere Pro into a more optimized tool. All the panels can be rearranged, and you have the option to save your workspace. This option to rearrange panels makes the interface more convenient to use and accessible and increases productivity.

Ease of Use
Both DaVinci Resolve and Premiere Pro come with lots of features, which means they do require some learning curve. However, for beginner users, Premiere Pro offers a more streamlined and intuitive design than DaVinci Resolve.
Premiere Pro has a clean and decluttered drag-and-drop interface that does not offer distraction. If you have not worked with a non-linear editing tool before, Premiere Pro is a great tool with which you can polish your skills.

Media Organization
DaVinci Resolve consists of a dedicated section where users can add and arrange their media files. This tab allows you to add content into "bins," which are locations similar to folders. Here, you can add images, videos, audio, and all other supported file formats. These media can be organized into specific folders, and you can also create folders within folders to keep your work organized.
Premiere Pro also uses bins to store data. Just like DaVinci Resolve, you can use bins to store any supported file format and create bins within bins. The software tool also allows you to color code your labels.
Since Premiere Pro is a part of the Adobe CC Suite, you can also access various files and assets from other tools in the suite, like Adobe Photoshop, Illustrator, After Effects, and others, from the convenient Libraries tab.

Audio Mixing and Editing
DaVinci Resolve has a separate tab that offers audio management. This tab is called Fairlight and is a built-in tool within the platform that allows professional-grade audio editing of recordings and other media. However, keep in mind that Fairlight is a full-service audio workstation and lets you add a wide variety of track mixing options and effects.
If you are only a beginner user and do not require advanced audio editing options, you can also simply switch to the Edit tab, which will offer you basic editing options.
When it comes to audio management on Premiere Pro, you can use the primary Audio Mixer tool, which allows you to edit your audio track. This is a standard video editor that does not offer you a large range of complex sound options and tools. Premiere Pro is part of the Creative Cloud suite, which means you can get access to Adobe Audition. This is where you can access state-of-the-art audio tools that can help you edit and mix tracks, add sound effects, pinpoint adjustments and then quickly and easily import them to Premiere Pro.

Color Grading
DaVinci Resolve first started as a color correcting and grading tool, so it is no surprise that it is most known for that. If your video editing project requires a lot of color grading, then DaVinci resolve is an excellent choice since it comes with a range of tools that offer extensive and advanced color grading options.
On the other hand, Premiere Pro offers fewer color-grading tools than DaVinci Resolve. However, fear not; it is still able to offer you an impressive amount of features when it comes to color grading. You also have the option of setting up a color workspace which can ease workflow, which is something that DaVinci Resolve already offers.

Motion Graphics
DaVinci Resolve offers motion graphics capabilities through its Fusion program. This is an advanced tool that requires a learning curve from beginner users. The tool has the same type of capabilities as Adobe's After Effects (a bit more on this below) but also has a few limits. The tool supports seamless timeline editing.
Premiere Pro does not offer a lot of functionalities when it comes to motion graphics. Hence, a lot of users would prefer using the After Effects tool, which is made for exactly that and comes in the Adobe CC Suite. This tool integrates seamlessly with Premiere Pro and offers you a seamless motion graphics experience.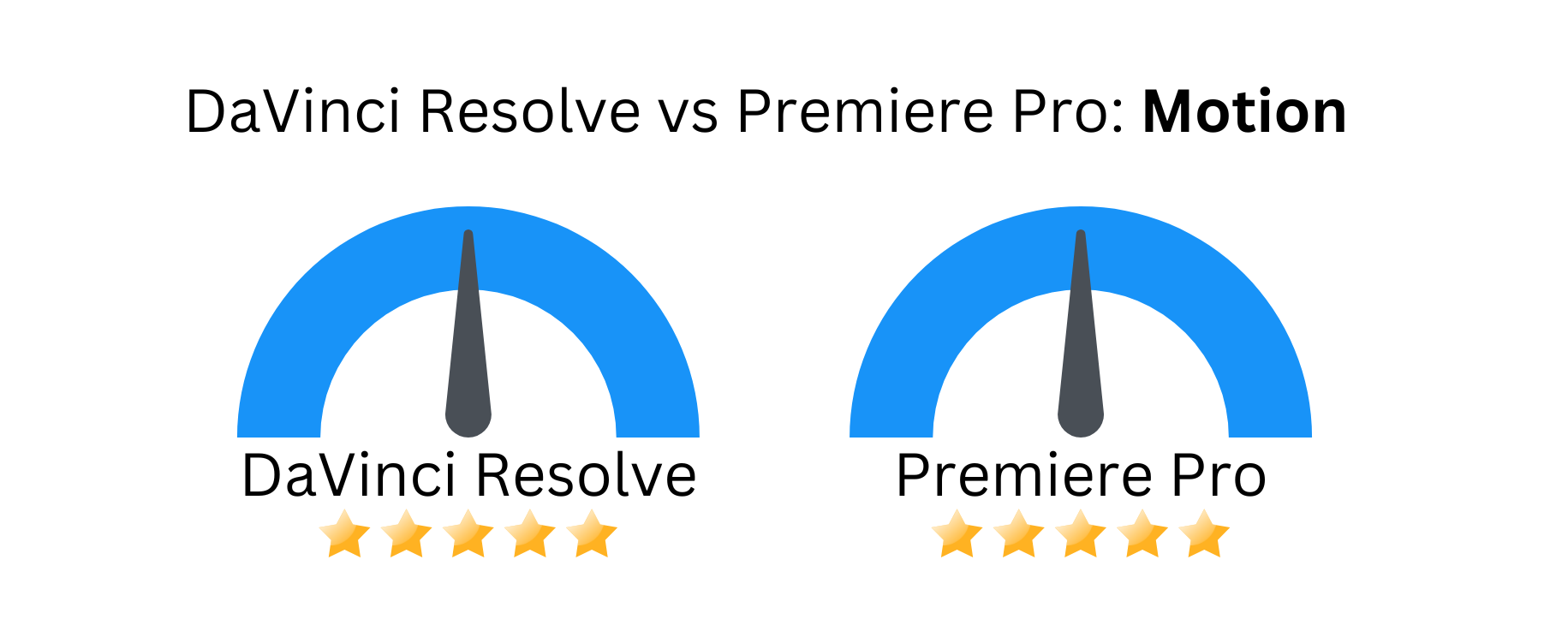 Effects
Although DaVinci Resolve has a decent amount of built-in effects and an excellent graphic generation option, it does not hold a candle to Premiere Pro. The Premiere Pro comes with robust tools like Warp Stabilizer that can add effects to the non-linear editing program. It also allows you to create titles quickly, correct color-fast, and remove any color or video noise.
With a little fine-tuning, you can create very advanced effects in your videos.

Support and Resources
When it comes to DaVinci Resolve, community support is limited since Blackmagic is a relatively recent company. On the other hand, Premiere Pro is part of Adobe, which has been leading in the software industry for decades. As such, there is a huge number of tutorials, online support, and third-party extensions and plugins that allow you to use the software easily.
Adobe also has several forums which feature resolved topics which makes troubleshooting that much easier for users.

Pricing
The best thing about DaVinci Resolve is that the basic version is an open-source, free-to-use video editor which can be accessed by anyone. If you want to access more extensive premium features, you can always buy the commercial version, which costs a one-time fee of $299.
Premiere Pro comes in the Adobe CC Suite bundle, which is a subscription-based service. You can choose the monthly or annual subscription package; the monthly plan will cost you $31.49 per month, while the annual plan will cost you $20.99.
Keep in mind, though, that this price is only for users who want to use Premiere Pro from the bundle. If you want the full Creative Cloud package, you will need to pay $52.99 per month, which will give you access to the entire suite of tools as well as 100 GB of cloud storage space.

DaVinci Resolve Vs. Premiere Pro: Who Should Use Them?
If you want professional-grade color correction, then DaVinci Resolve is the best tool for the job. It integrates seamlessly with any professional color correction hardware and allows you to get ultra-precise color grading for any project.
As a video editor, DaVinci Resolve's color correction and grading tools can be a big help for you. In addition, it offers access to color grade presets, which allows you to automate the color correction process.
Premiere Pro, on the other hand, serves as a primary video editor tool. Whether you are a DIY filmmaker who is looking to professionally edit their clippings or are an editing house, Premiere Pro offers perfect capabilities to assemble footage with precision.
For content creators, Premiere Pro can help create high-quality, sharp, and clear video content. It is a great tool not just for basic editing on your laptop or PC but also has access to Premiere Rush, which allows you to edit your videos on the go via a smartphone.
Many filmmakers also prefer Premiere Pro since its offers an array of tools within a single roof. This is a wonderful place to create a narrative project, including the end. It offers a simple workflow which is excellent for beginner users who do not want to get entangled in technical issues.
DaVinci Resolve Pros and Cons

Let us take a look at some of the benefits and cons of DaVinci Resolve:
Pros:
An excellent open-source video editor that comes with a free version for easy accessibility.
Offers the best color grading and correction results in the market.
Easy uploading, processing, and sharing of videos to social media platforms like YouTube.
Has facial recognition capabilities that can detect a face in the video, making editing more precise.
A powerful hardware control panel for controlling different parameters.
Cons:
The interface can be complicated for new users.
No cloud storage option is available.
Premiere Pro Pros and Cons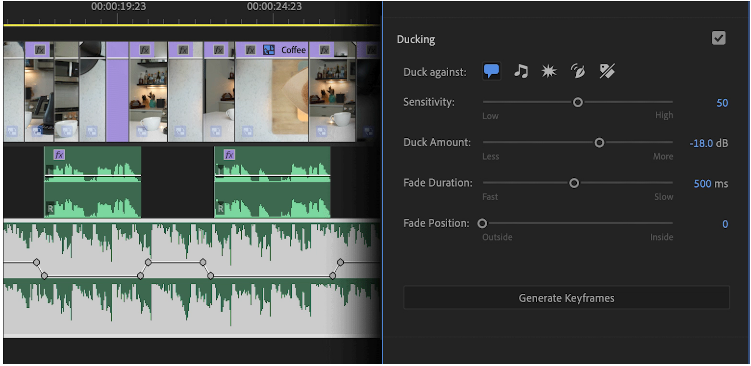 Let us take a look at some of the benefits and cons of Premiere Pro:
Pros:
Offers integration with Adobe Creative Cloud Suite which offers access to Adobe Photoshop, Illustrator, Audition, After Effects, Speed Grade, and more.
Allows you to edit several videos simultaneously and import multiple projects at the same time.
The Adobe Media Encoder Program means Premiere Pro supports a large variety of formats.
100 GB of cloud storage.
Has more than a thousand free tutorials, plus excellent community support.
Cons:
The learning curve is a bit steep since the software requires extensive and advanced features.
Your system needs to be highly efficient since Premiere Pro is an advanced software.
Although the price is not that high, it can be prohibitive for some content creators and users.
DaVinci Resolve Vs. Premiere Pro: Which Is the Best Editing Tool?
As you can see, both DaVinci Resolve and Premiere Pro have their advantages and limitations. If you are interested in excellent color correcting and grading functions and want free basic software or are willing to pay to upgrade, then DaVinci Resolve is a good choice.
However, if you want to use the combined functionalities of Photoshop, After Effects, Audition, and other software in the Adobe CC Suite, then Premiere Pro is a great choice.
It all depends on your needs and the type of project you want to work on. Choose one, and get started!