Best Audio Recording Software [Top 9 Programs]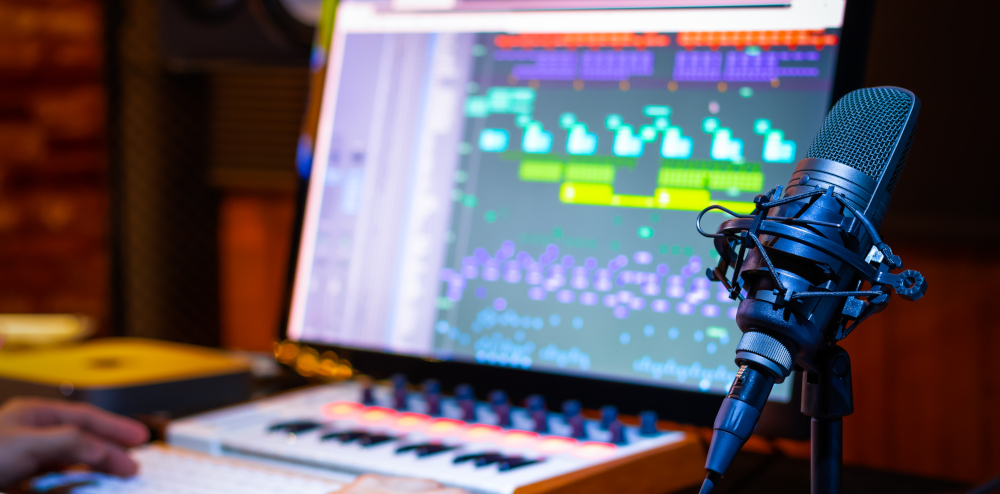 Our content is reader supported, which means when you buy from links you click on, we may earn a commission.
---
There's no question audio quality is important when creating online courses and videos. If your audience can't understand you or if the sound quality is poor, they won't stick around for long.
In this post, we'll discuss some of the best audio recording software available and show you how to use it to create high-quality content.
What is Audio Recording Software?
Audio recording software is software that allows you to record sound on a device. It works by inputting sound from an external source and processing it into a digital format that is compatible with your PC, laptop, and/or phone.
Thanks to advancements in technology, audio recording has evolved exponentially and now goes beyond just recording sound. Today, digital audio workstations allow you to change, edit, mix, add special effects, and produce audio files in a number of formats.
Best Audio Recording Software Features
Here are some of the best features of audio recording software:
Sound Editing: Sound editing involves changing or manipulating the audio files to produce the kind of sounds you want. This may include trimming, splitting the file, or deleting audio tracks, but you can also change the length, volume, speed, and composition of the recorded sound.
Sound Effects and Filters: Sound effects involve various audio-enhancing features like noise reduction, amplification, reverb, echo, equalization, crossfade, and more. This feature is mostly used in the music and movie industry, though content creators can leverage this as well.
Multitrack Recording: Multitrack recording options allow creators to capture and record sound from multiple sources. This allows you to make multiple takes to create a single cohesive video.
Processing Power: Audio recording software that is more robust and has 64-bit processing power can record audio better than 32-bit programs. They also result in reduced CPU consumption when recording audio.
Audio Quality: High-resolution audio files offer clear, crisp, and superior sound to the audience. Good quality audio will not have any disruptive noises or unnecessary echoes, will have adequate loudness, and be very clear and comprehensible, ensuring an immersive experience for your online viewers.
Different Types of Audio Recording Software
There are various types of audio recording software that offer excellent performance. Let's take a look at them.
1. Audacity
Audacity is a free, open-source tool that is compatible with Mac, Windows, and Linux operating systems.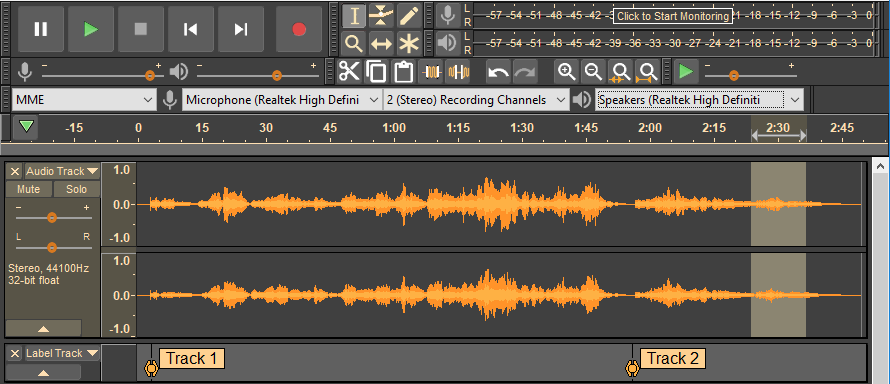 Key features and benefits include:
Captures audio as well as offers various sound effects, accurate video editing options, noise reduction features, and support for various plugins, including VST, voice isolation for karaoke tracks, etc.
Exports in various formats, including MP3, WAV, etc.
Created professional-grade audio files.
Available in 28 different languages.
Lightweight with minimal requirements and can function on low-end devices.
A supportive online community that offers updates and improvements.
2. Adobe Audition

This is a powerful audio editor from the Adobe powerhouse and offers a huge range of features, including:
A voice recording software that dubs as a powerful digital audio workstation.
Has a powerful processor, sound library, and a rich toolbox.
Offers smart functions, including multitrack UI that allows you to record sounds from multiple microphones, and automatic noise reduction.
Can handle both linear and non-linear audio editing methods.
Can edit waveforms in tiny granules, thereby making it possible to change precise moments in the recording.
World-class audio restoration abilities to restore old, damaged, and poor-quality audio.
Offer lots of online resources and pre-made tutorials for support.
3. GarageBand
GarageBand is a free audio workstation that allows you to learn, play, record, edit, mix, and share music.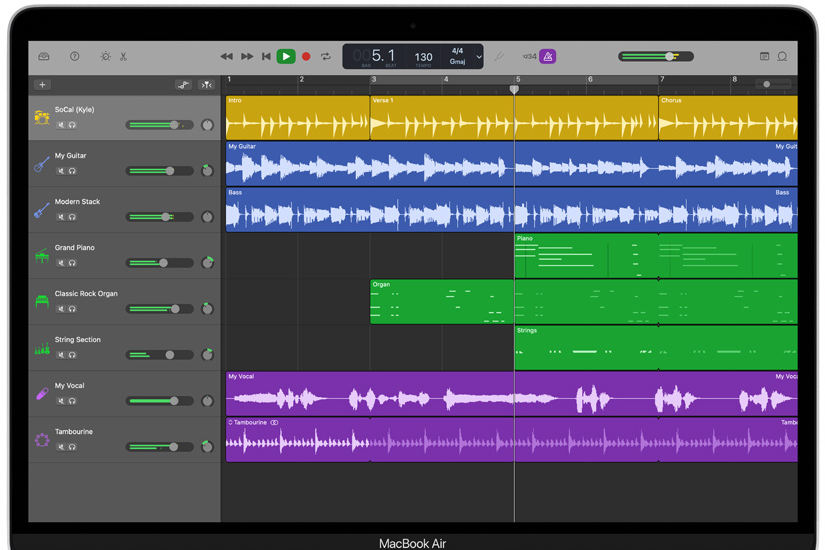 Key features include:
An intuitive UI that allows beginner users to learn how to use it quickly.
Excellent choice for making music as it comes with synths and presets for guitars, pianos, drums, and up to 40 instruments.
Comes with various sound effects and amplifiers to enhance music and audio.
Allows you to create musical tracks without using any musical instruments.
Intuitive keyboard sampling.
Comes with both free and paid pre-recorded music lessons for piano and guitars taught by music luminaries like John Legend, Ryan Tedder, and Nora Jones.
A great choice for Mac users.
4. Avid Pro
Avid Pro tool comes with an essential suite of tools for composing, recording, mixing, and sharing audio.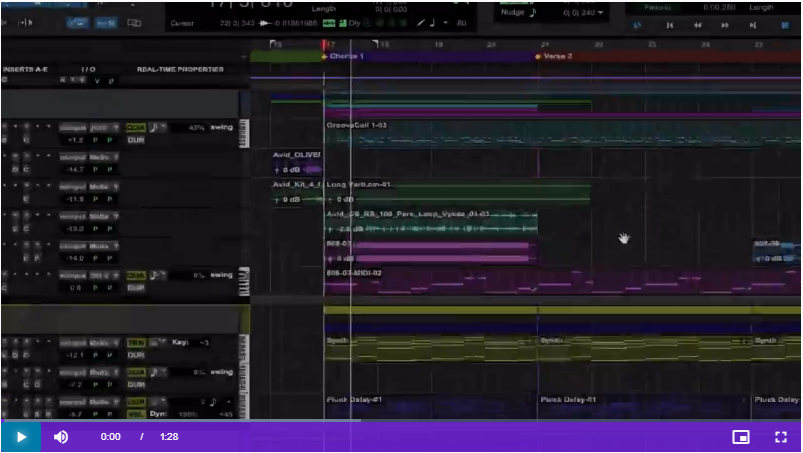 Features include:
A professional-grade audio software used by music artists and bands for recording music and working on tracks.
Great 64-bit music recording, editing, and mixing with a quick and clean sound editing workflow.
Offers excellent cloud collaboration support by allowing users on different devices to work together on the same project.
Multichannel recording allows you to fill up the window with hundreds of tracks.
Allows you to create sound and music tracks without the use of real instruments.
Offers an extensive array of MIDI tools.
Offers a sample library, plugin, and loop.
5. PreSonus Studio One
PreSonus Studio One is an excellent DAW that is an ideal tool for budding artists that offers abundant production tools.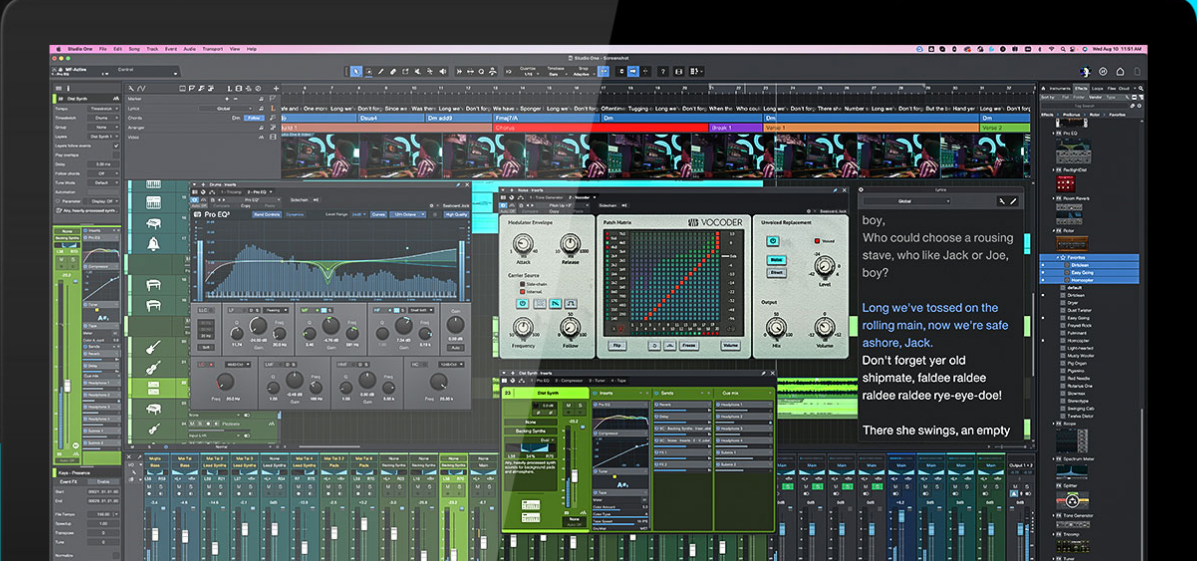 Key features include:
Comes with features like drag-and-drop workflow, a music score editor, unlimited tracks etc.
Finished mastered projects linked with songs and stems.
In-built support for multiple screens and HIDPI display.
An attractive interface designed for the excellent coordination of live performances.
Offers MIDI note-level effects, including chord generator, as well as virtual instruments.
World-class chord, arranger, and marker track.
Support users to import keyboard shortcuts with other audio recording software as well as third-party software integration.
6. Sound Forge
One of our top picks for the best audio recording software is Sound Forge which guarantees crystal-clear audio, thanks to its selection of editing and mastering tools.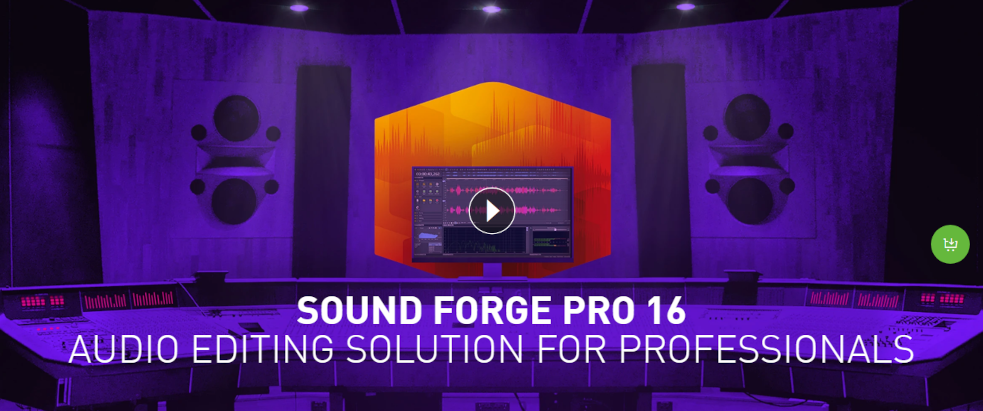 Here are a few features:
Ability to record with 64-bit/768 kHz on as many as 32 channels.
Offers ultimate sound stability and the lowest latency, allowing the recording of instructions, podcasts, and instruments with extreme clarity.
A wide selection of cutting-edge editing tools allows you to customize the sound.
Offers excellent audio restoration capabilities.
Ability to master audio material with industry-leading DSP algorithms.
Allows the use of top-grade effects for loudness optimization without compromising transparency.
Creation of red book masters, master files, and DDPs for streaming services like Apple Music, Spotify, etc.
7. WavePad
WavePad is one of the fastest sound recording, editing, and restoring audio tools in the market.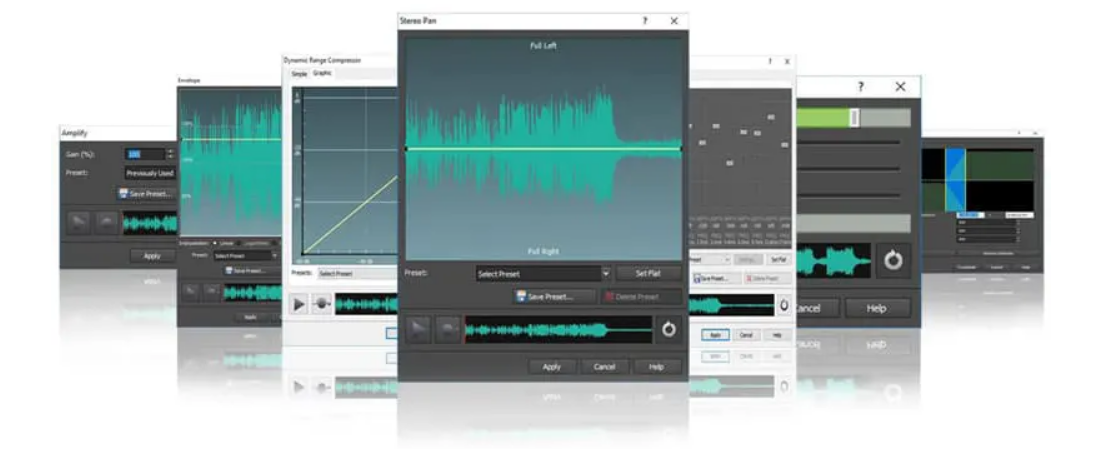 Key features include:
Equipped with a beginner-friendly user interface with tons of advanced features.
Quick and easy navigation and an intuitive setup.
More than 20 filters and advanced sound effects.
A powerful editing tool with quick editing options like making cuts, splits, merging, and duplicates at the same time.
Ability to add a range of sound effects, including echoes, reverbs, reverses, crossfades, and more.
Has a restoration tool which noise reduction and click-pop removal options that can enhance the sounds of old records.
Import multiple formats including MP3, AAC, WAV, M4A, FLAC, etc. without sacrificing quality.
8. Ardour
Ardour is a free DAW that records, edits, and mixes audio files on Mac, Windows, and Linux.

Ardour's feature set includes:
Designed to enhance noise and bring out the best in recorded audio.
Comes with a plethora of editing tools that can cut, trim, and split audio tracks.
Drag-and-drop user interface and a range of add-ons and plugins.
Allows multitrack recording, editing, and mastering.
Comes built-in with virtual instruments as well as composers.
Supports up to 30 audio formats, including MP3, WAV, OGG, FLAC, etc.
Compliant with industry standards for MIDI, XML, and BWF.
9. Ocenaudio
If you want an audio recording software that can simplify a sound recording experience, Ocenaudio is a great choice.
Some features include:
A very smart audio capture and editing tool with intuitive technology.
Offers robust and impressive technology for quick and easy recording and editing.
Allows copy and paste of sections and video for application of effects and filters.
Multi-selection functionality that allows you to edit various portions of audio files for complex editing.
Offers a large number of audio effects and filters.
Offer real-time previews.
A very helpful spectrogram as well as file analysis ability.
FAQs on Audio Recording Software
What audio editing software do professionals use?
One popular audio editing choice for professionals is Pro Tools, which is widely used in both the music and film industries. Another popular option is Adobe Audition, which is a powerful and versatile program that can be used for a variety of audio editing tasks. Finally, Logic Pro X is another popular choice for professionals, as it offers a wide range of features and tools for audio editing.
Which is the best audio editor for beginners?
You want to look for an editor that is easy to use and has a lot of features that will allow you to experiment with your audio. A lot of popular editors these days are geared toward more experienced users, so it can be hard to find one that is truly beginner-friendly. However, there are a few options out there that fit the bill.
Audacity is one of the most popular choices for beginners, as it is free to use and has a wide range of features. Another good option is WavePad, which offers a free trial so you can try it out before you commit to purchasing the full version.
How do I remove background noise from an audio file?
If you're using Adobe Audition, you can try the adaptive noise reduction tool. First, select a section of your audio that only contains background noise. Then, go to Effects > Adaptive Noise Reduction and hit Preview. Adjust the settings until you're happy with the results and hit Apply.
Finally, if you're not using any special software, you can try just turning up the volume on your audio track. Background noise is usually softer than the actual audio, so increasing the overall volume can sometimes help to drown out the background noise. This won't work in all cases, but it's definitely worth a try!
How do I improve the sound quality of a recording?
If you're not happy with the sound quality of a recording, there are a few things you can do to improve it.
Check the levels and make sure that the audio is not clipping. Clipping occurs when the audio is too loud and distorts the sound. If the levels are set too low, the audio will sound quiet and muffled.
Try using a pop filter to reduce plosives. Plosives are pronounced sounds made by abrupt changes in air pressure, like the sound of your breath hitting the microphone. A pop filter helps to diffuse the air so that these sounds are not as pronounced.
Adjust the EQ to improve clarity and remove any unwanted frequencies.
How do I remove background noise in audacity?
To remove background noise in Audacity, select the section of the recording that you want to clean up. Then, click the "Effects" button and select the "Noise Reduction" option.
In the Noise Reduction window, click the "Get Noise Profile" button. This will analyze the selected section of the recording and create a profile of the background noise.
Next, select the entire recording and click the "Noise Reduction" button again. This time, enter the values from the Noise Reduction window and click "OK". Audacity will then process the entire recording and remove the background noise.
What is the highest-quality audio format?
Essentially, the highest-quality audio format is the one that provides the best sound quality while taking up the least amount of space. For most people, this means choosing a lossless audio format like FLAC or ALAC. These formats allow you to maintain all of the original audio data, resulting in excellent sound quality. However, they do require more storage space than lossy formats like MP3 or AAC.
Ultimately, it's up to you to decide which trade-off is more important. If you're looking for the absolute highest quality audio, go for a lossless format. But if you need to save space, a lossy format will do the trick.
Is WAV or MP3 better quality?
When it comes to audio quality, there are two major camps: those who prefer WAV files, and those who prefer MP3s. Each format has its own advantages and disadvantages.
WAV files are uncompressed, which means they retain all of the original data from the recording. This results in better sound quality, but also larger file sizes.
MP3s are compressed, which means that some of the data is removed in order to reduce the file size. This can result in lower sound quality, but the files are much easier to store and share.
If you're an audiophile who demands the highest sound quality possible, then WAV is the way to go. But if you're more concerned with saving space or sharing files easily, then MP3 is the better choice.
Conclusion
Your specific needs will determine the best audio recording software for you.
If you want a basic program to record lectures or interviews, Audacity is a good option. If you need more features, such as transcription or noise cancellation, Adobe Audition may be a better choice.
No matter which program you choose, make sure to test it out before your big recording session so that you're confident in its capabilities. With the right tools and preparation, you can feel confident capturing high-quality audio recordings for your business or personal use.