Camtasia Price Plans: Find Out What You Need to Know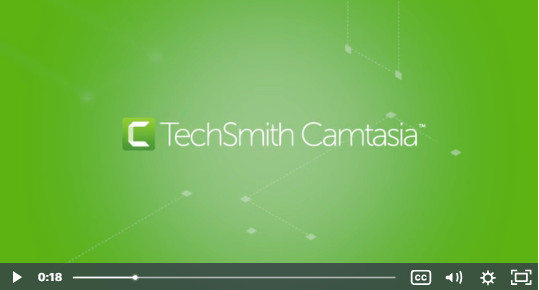 Our content is reader supported, which means when you buy from links you click on, we may earn a commission.
---
Camtasia is a powerful video production tool created by TechSmith. It can be used to create engaging online courses and videos.
Camtasia offers a wide range of features and tools that allow you to produce high-quality videos. I started using Camtasia when it first came out which was around 2004 or 2005. I found the price high, but I used it to create instructional videos that I sold so the investment was well worth it for me.
Videos are so popular that in addition to creating an online course that you sell, they can also drive a lot of traffic to your site.
In fact, research by Statista showed that over 240 million internet users watched videos in the U.S. in 2020. The number of video watchers only keeps increasing so it's worth it to create content in video format.
In this post, we'll take a look at the different pricing options available for Camtasia as well as the features.
What is Camtasia?
Camtasia is a tool that allows you to create professional videos quickly and easily. Powerful yet simple to use, Camtasia makes video editing and screen recording easy. It's so simple, in fact, that over 34 million people use Camtasia according to the TechSmith site.
A wide variety of built-in themes and annotations help you create even more polished videos in less time. Camtasia allows you to zoom into any part of the screen or even move the entire screen around. Plus, with callouts, you can personalize your videos by adding a unique touch with comments, quizzes, and links.
Key Features Of Camtasia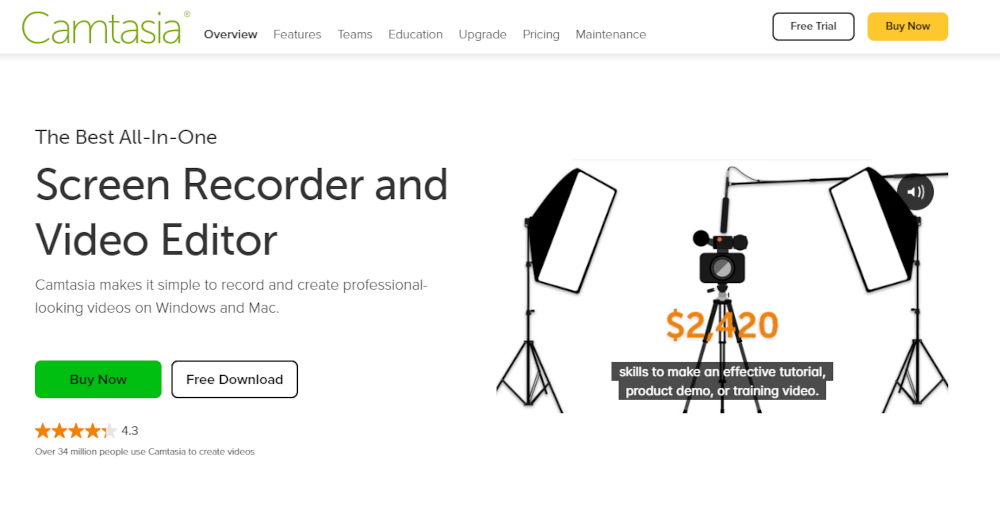 There are lots of cool effects available in Camtasia. Here are a few:
Customizable video recordings
Screen capture with audio
Editing tools
Transitions and effects
Green screen effect
Annotations and callouts
Camtasia Quick Walkthrough
Camtasia is a great tool for creating screencasts, but it can be a little overwhelming at first. The nice thing is if you're using it to record videos, then you don't need to worry about most of the options. There are only a few you need to worry about first.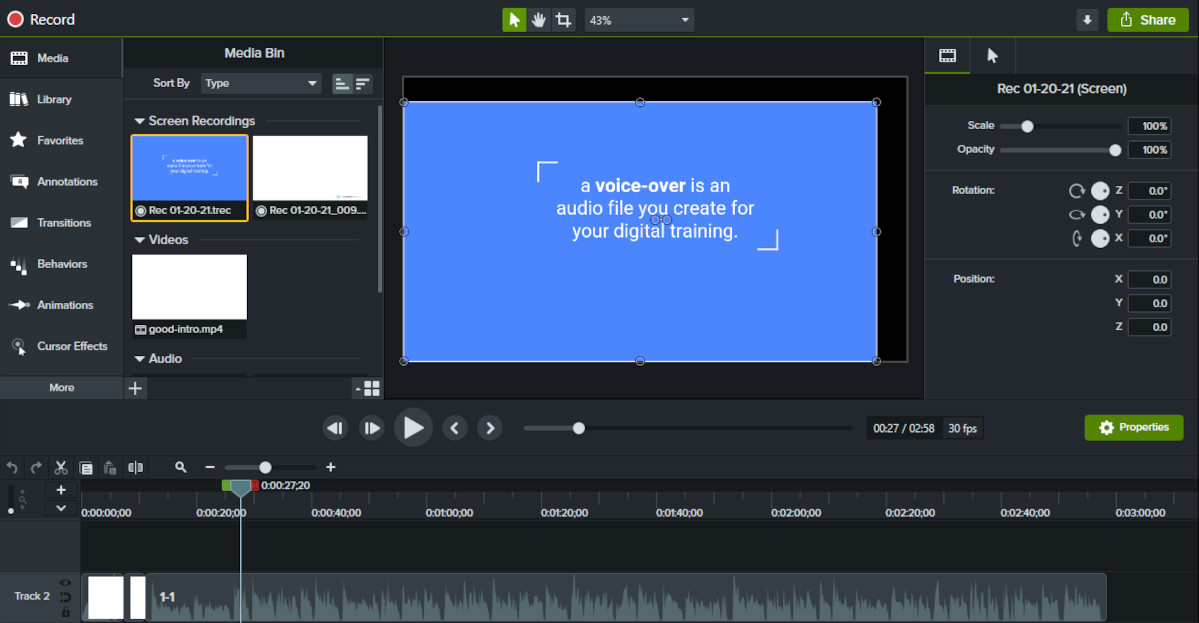 This quick walkthrough will help you get started. Camtasia allows you to record your screen and audio at the same time, so you can easily create instructional videos or demos.
To get started, open Camtasia and click on "Record." Camtasia will give you the option to choose which screen you want to capture – your entire screen, a specific window, or a region.
Once you've made your selection, Camtasia will start recording. To stop recording, press the "Stop" button or use the keyboard shortcut "Ctrl+Shift+S."
That's all there is to recording! With Camtasia, you can easily create high-quality screencasts with just a few clicks.
Pros & Cons of Camtasia
Here are a few pros of Camtasia:
Camtasia is an all-in-one tool that makes creating videos quick and easy.
It offers you flexible recording options.
There are loads of features and effects.
There is a 30-day trial period.
Cons of Camtasia:
There are some glitches and bugs with Camtasia.
Video editing tools like Camtasia aren't always intuitive or simple to use.
Camtasia lacks many keyboard shortcuts.
There's some frustration around export issues with Camtasia.
It is very expensive compared to other similar products.
Is There a Free Trial of Camtasia?
The nice thing with Camtasia is that all plans include a 30-day trial period. That means you can download it and use it to make and edit a few videos, see how everything works, and that it runs well on your system, then you can purchase it.
Individual and Business plans are $299.99 per year per user (regular price), however, they often run sales prices.
Camtasia Individual Plan
The individual plan is for one user license. All the plans include the same features so that means you get ALL of Camtasia's features with this purchase. And the software will still run after one year, you just won't get any upgrades after one year and you won't have access to as much support (you can still get support through the community). So really, you don't have to pay for it every single year.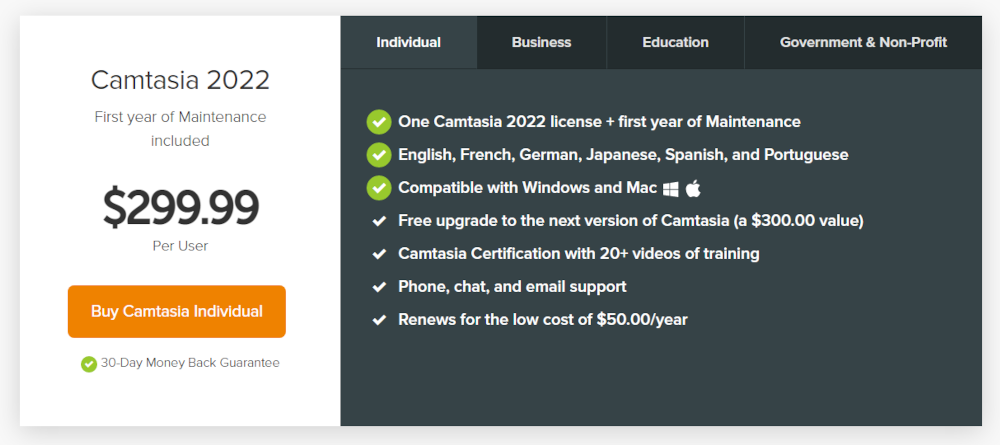 Who Should Use the Camtasia Individual Plan?
The Camtasia Individual Plan allows you to easily add text, images, music, transitions, and effects to any screen recording.
This plan is best for those who need to create professional-quality videos and tutorials. If you are new to video editing, this plan will give you everything you need to get started.
The individual plan is perfect for bloggers, YouTubers, and online instructors. This plan includes all the tools you need to record, edit, publish, and share.
Camtasia Business Plan
Camtasia Business Plan is designed for companies who want to create videos for marketing purposes. Each user will gain access to all of Camtasia's features with this plan.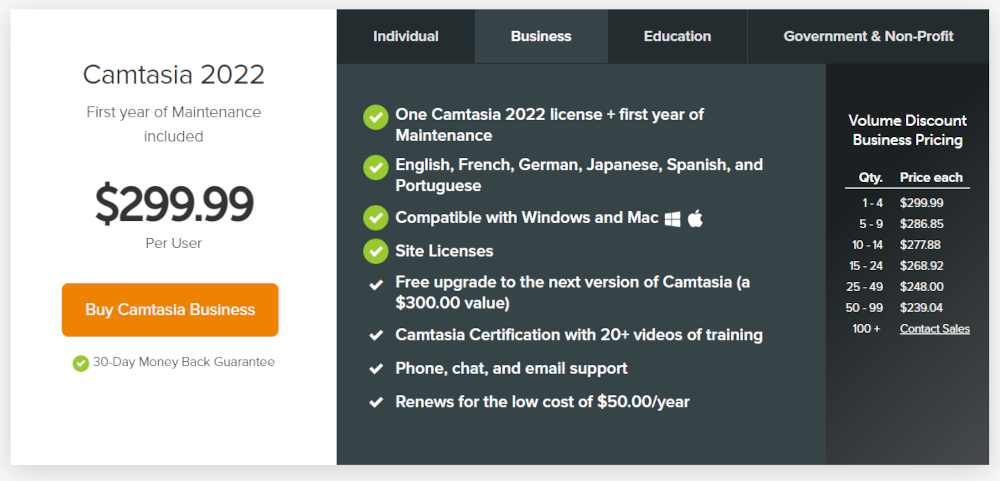 Who Should Use the Camtasia Business Plan?
Camtasia is perfect for businesses because it allows multiple people to work together simultaneously.
This plan is perfect for teams of any size.
The Camtasia Business Plan includes all the features and functions of Camtasia. Camtasia offers discounts for large teams.
Camtasia Education Plan
The Education Plan is targeted toward educators and institutions. All the features Camtasia offers are included with the Education Plan, the only difference is that it is a little less per user than the Individual or Business plan.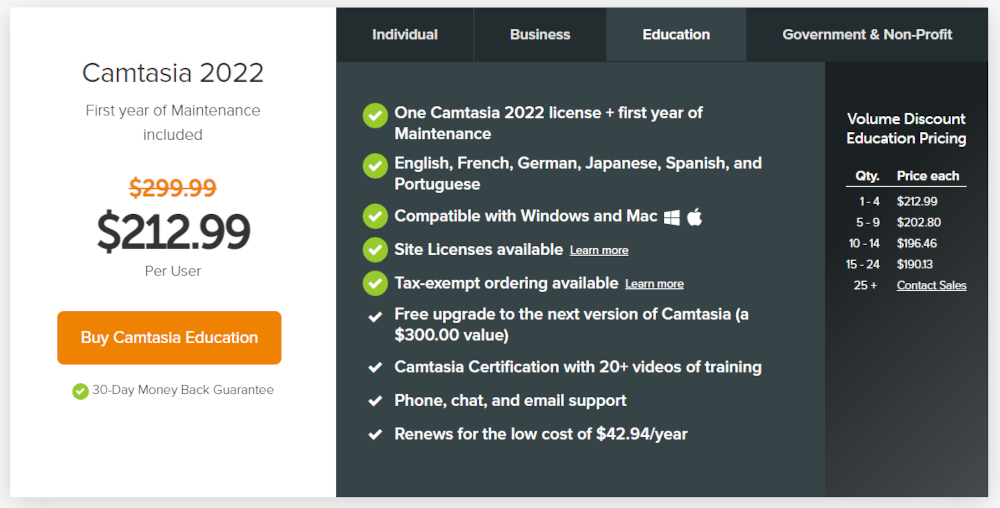 The Camtasia Education Plan is perfect for educators and institutions who want to create instructional videos. Camtasia offers discounts for large quantities.
Government and Non-Profit Plan
Camtasia is ideal for government and non-profit organizations that need to create training, marketing, or fundraising videos. Camtasia's Government and Non-Profit Plan gives you unlimited access to Camtasia for Windows and Mac and it's at a slightly less expensive price than the Individual and Business plans.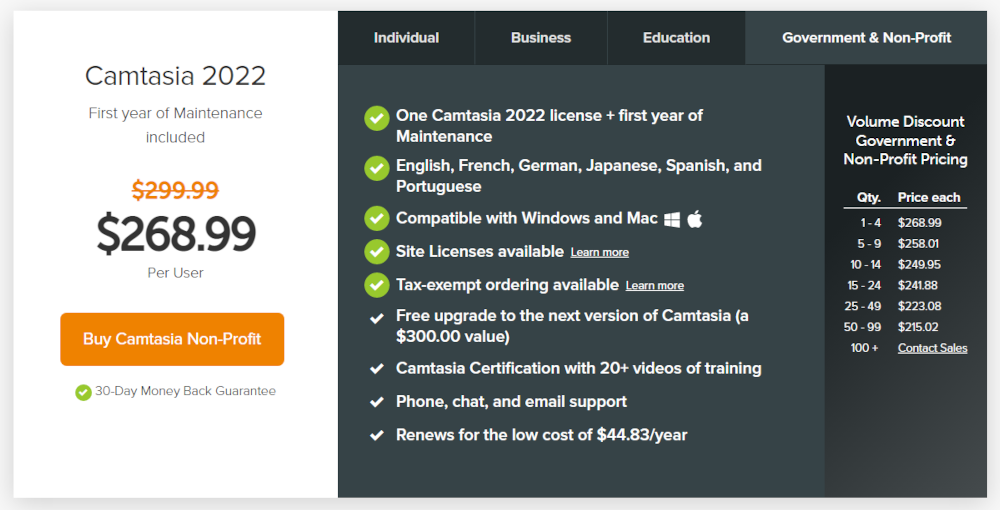 Camtasia Alternatives
Camtasia can be expensive and may not be the best fit for everyone. There are a number of alternatives to Camtasia that are worth considering.
One option is Screencast-O-Matic. This software is very similar to Camtasia and offers many of the same features. However, it is a bit less expensive and may be more user-friendly for those who are just getting started with screen recording.
Another option is Snagit. This software is also similar to Camtasia but offers a few different features that may be appealing to users. For example, Snagit has built-in image editing capabilities, which can be helpful for those who want to create professional-looking images.
Finally, there is Jing. Jing is a free screen recording software that includes basic video editing capabilities. It is a good option for those who are on a budget or who only need the basics when it comes to screen recording.
All of these Camtasia alternatives are worth considering depending on your needs and budget. Screen recording software can be a great way to create tutorial videos, product demos, or just capture moments on your screen. Experiment with different software until you find the one that works best for you.
Camtasia Pricing Q & A
Can you get Camtasia for free?
Camtasia is not free to use. The software includes a watermark on exported videos, and you'll need to purchase a license to remove it. While it may possible to find free downloads of Camtasia on an illegal site, it's not recommended. It's better to buy the software from TechSmith. That way, you'll know you're getting a safe and legal copy of the software.
Is Camtasia worth the money?
Camtasia is a powerful video editing tool that can create professional-looking videos. The software is also very easy to use, even for those with no prior video editing experience. On the other hand, Camtasia is a bit pricey, and there are some cheaper alternatives on the market that offer similar features. Ultimately, whether or not Camtasia is worth the money comes down to personal preference and budget.
If you're looking for a top-of-the-line video editor and can afford to pay a bit more, Camtasia is definitely worth considering. However, if you're on a tight budget, you may want to look at some of the cheaper options out there.
Is Camtasia good for beginners?
When it comes to video editing software, there are a lot of choices on the market. For beginners, it can be tough to decide which one to use. Camtasia is a popular choice for many reasons. It's user-friendly and has a wide range of features, making it ideal for those starting out with video editing. Plus, Camtasia offers a free trial so you can try it before you buy it. If you're looking for video editing software that's easy to use and has plenty of features, Camtasia is worth checking out.
Is Camtasia free for educators?
Camtasia is an industry-leading video editing and screen recording software that is used by educators all over the world. But it is not free for educators. However, Camtasia does offer educators access to all their features for a lower price than to non-educators. So make sure to save some money and purchase through the Educator Plan.
Does Camtasia include Snagit?
Snagit is a separate software program that can be used to capture images and videos. It is often used in conjunction with Camtasia, as it can be used to create assets for video projects. However, it is not necessary to use Snagit in order to use Camtasia.
Camtasia includes its own image and video capture capabilities, as well as a wide range of editing features. As such, it is a complete solution for creating video content. While Snagit may be useful for some users, it is not required in order to use Camtasia.
Is Camtasia a one-time purchase?
You can purchase Camtasia one-time, but after one year, you will not be eligible for upgrades or able to access support through TechSmith. They do offer Camtasia Maintenance for a much lower yearly fee (right now it is $50.00 a year) and that will give you access to the next upgrade and support through TechSmith.
The Bottom Line
If you're looking for an easy way to create professional videos quickly, Camtasia is a great option.
It has a user-friendly interface and a wide range of features that make it easy to produce high-quality videos.
The only downside is the price tag – but it's worth the investment if video marketing is part of your content strategy. Take a look at what Camtasia offers and see if it's worth it for you!