How Bryan Collins Helps Non-Fiction Writers Through Blogging and Online Courses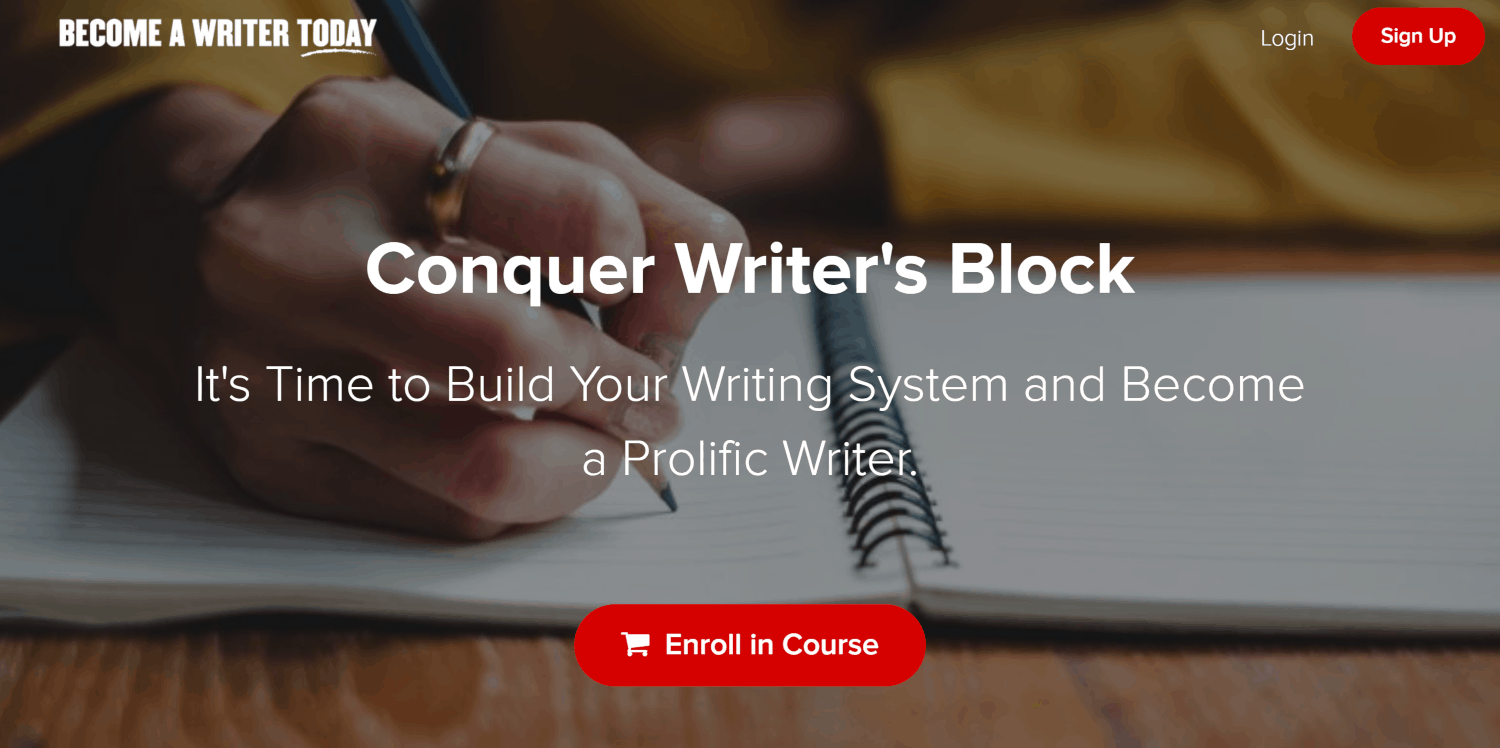 Our content is reader supported, which means when you buy from links you click on, we may earn a commission.
---
Who: Bryan Collins
Website: becomeawritertoday.com
Course Topic: Writing Courses
Revenue Stats: $15K from course sales
Who are you and what course have you created?
I am an author from Ireland who helps writers build authority and earn more money on Become a Writer Today. You can see my courses at courses.becomeawritertoday.com.
I mostly do this by publishing articles or podcasts once a week with practical writing advice. I also self-publish books about writing.
Course creation forms a smaller part of my business but it's one that I have been focusing on more this year.
What market does your online course serve?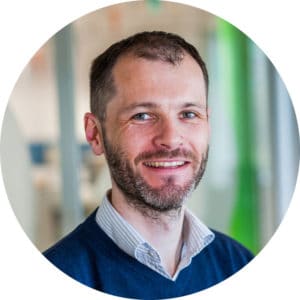 I serve new writers, specifically non-fiction writers who want to earn more money or solve problems like writer's block.
My course Write Your Book teaches non-fiction writers how to come up with an idea for, write, and publish their first book.
Conquer Writer's Block teaches new writers how to become more prolific.
My course Master Self-Editing teaches the basics of editing articles and book chapters.
I also have a club that non-fiction writers can join if they want to turn their hobby into a profitable career.
What's the biggest benefit of taking your courses?
I offer several courses.
My first course is for people who want to write a book. I also teach new writers how to become more prolific, master self-editing, and earn money from their hobby or interests.
How did you get into the market?
In 2013, I started a blog about technology called Work Read Play. That blog morphed into my current site Become a Writer Today.
While growing that site, I studied how other non-fiction writers earn a living and discovered many of them offer more than a book. They run coaching programs and also sell online courses.
I also worked with a coach who explained creating courses is a valid business model for online entrepreneurs.
Why did you decide to create an online course in the first place?
I wanted to explore if I could create an online course that people would buy and find useful. It felt like an interesting challenge that could help me serve my readers in different ways and also increase my monthly revenue.
I had just published a book about productivity for writers and I figured the contents could make a good course. I also wanted to improve my video creation skills. Finally, I'd nothing to lose apart from time!
Did you have any moments of doubt before you created/launched it?
Successful non-writers give early versions of their unfinished books to beta readers. They want critical feedback so they can improve their writing before the wider world reads it.
After recording several lessons, I sent rough edits to a select group.
"Be brutal," I said.
They suggested things I hadn't considered.
For example, one writer suggested I include a writing exercise with every module in the course.
Her suggestion strengthened the quality of materials in the course.  That said, I found the initially negative feedback difficult to take and it took me some time to update the course and turn it into one people would buy.
I also spent time asking students and teachers of other courses for their feedback.
Looking back, I didn't get enough of this critical feedback.
I learned more from these students and teachers than I could have learned by myself.
What's your online course like?
Each course usually contains 10-15 lessons that are about 5-10 minute long each. The lessons also include:
A downloadable PDF or worksheet
Text notes
Additional bonuses like some my books
Discount on writing software and tools writer use (these are popular!)
Other relevant reading materials and resources
30 day email support
A 60-day money-back guarantee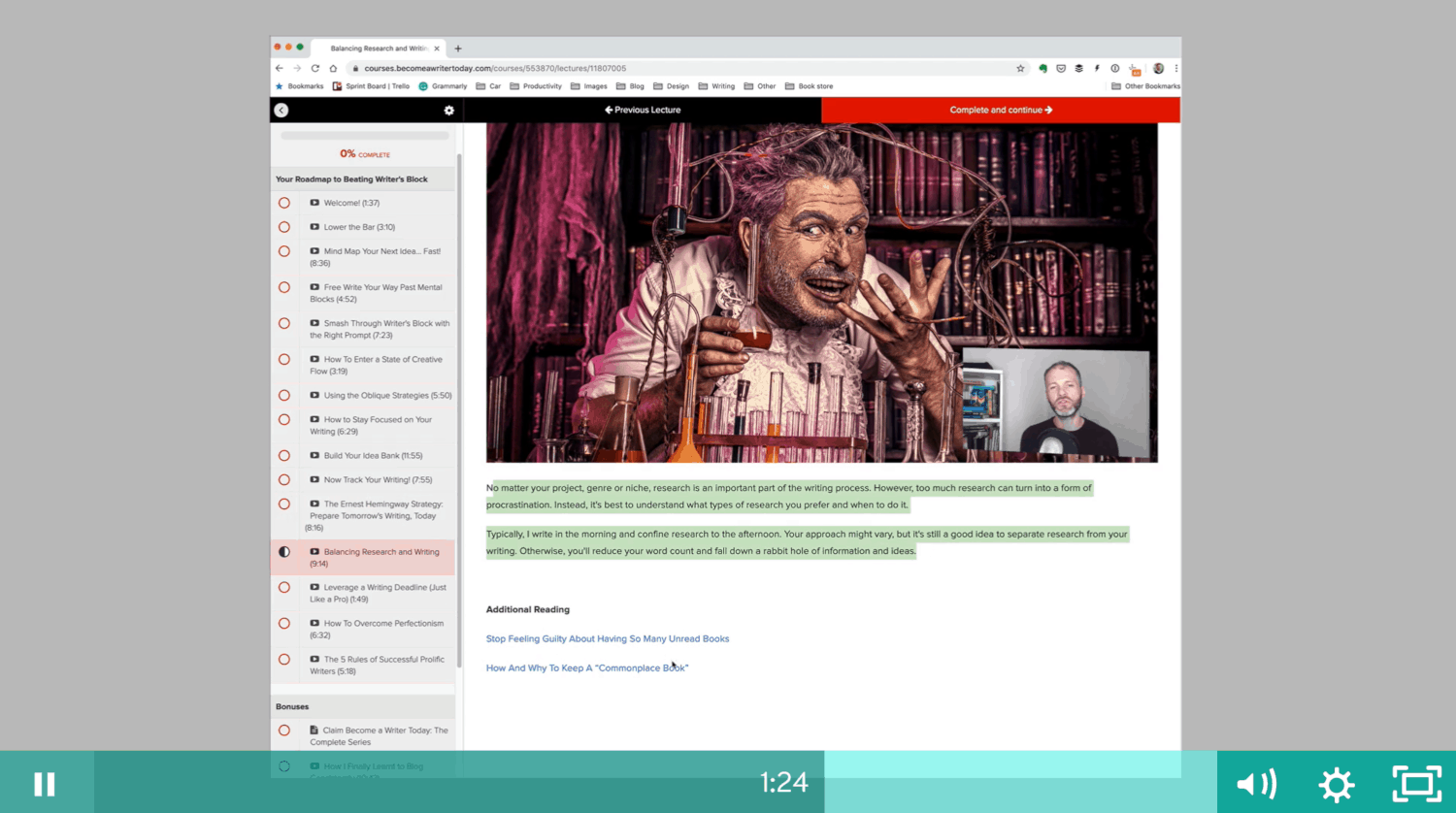 How long did it take you to create your first course?
It took about two to three months to create, record and launch my first course, which was too long looking back.
Before I write a book chapter, I pick a target word-count and plan my content by writing down three to five bullet points per section on a series of index cards.
Click To Tweet
This way, I know what I'm going to say before I say it.
Most chapters in non-fiction books are between 1,500-3,000 words long. This is a rule of thumb, but I didn't know the equivalent when it came to creating a course.
The videos in version 0.5 of my course were too long. One video was 25 minutes long!
A tutor suggested chopping the videos into digestible chunks, each of which was between five and 10 minutes long.
His suggestion set me back about a week. However, the re-recorded materials are more digestible and practical. (I know this because I asked a student if the changes worked).
Even today, I've taken courses where the lessons are one or two hours long. I always groan when I come across a lesson that long and increase the playback speed. People don't have time for lessons that they can't watch in short bursts. The best teachers know this.
Check out LinkedIn Learning, Creative Live, or anything by Ramit Sethi.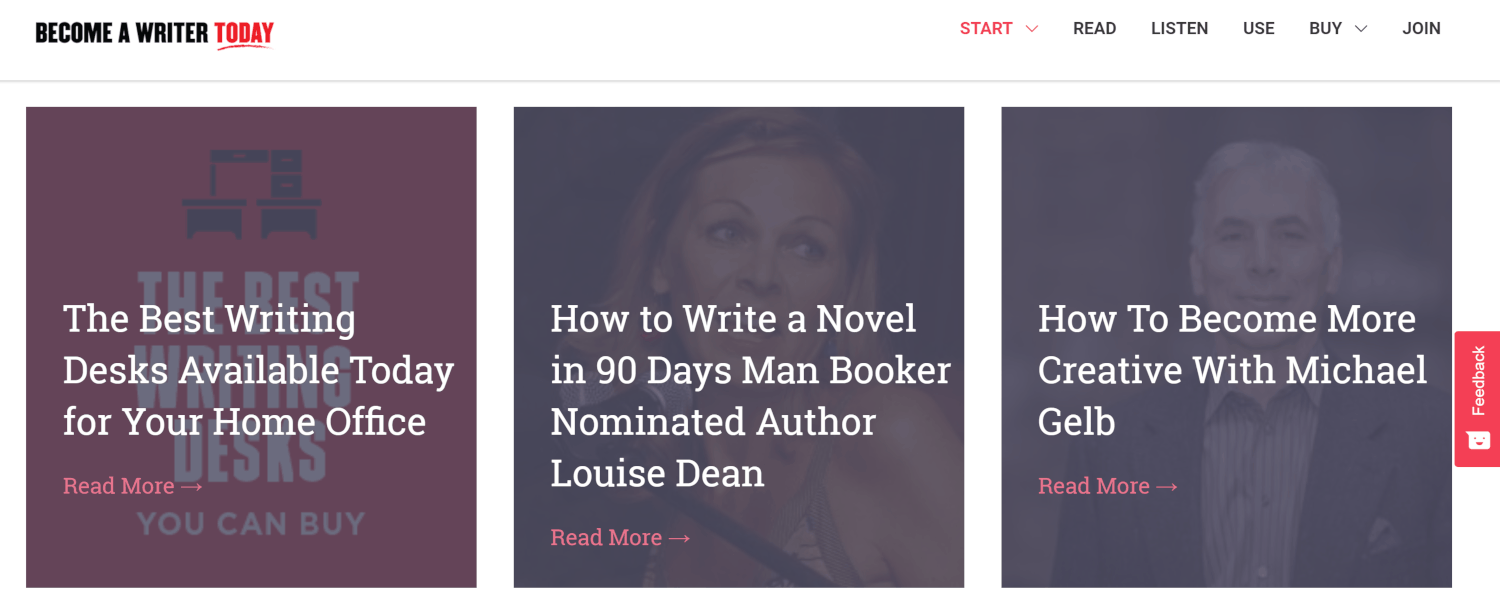 Tell us a little about the process of launching your course and getting your first sale(s).
My first course was called FINISH Your Book.
It was a ten part video and audio course that includes emails, worksheets and PDF download, and is based on a book I wrote about productivity for writers.
It took two months of concentrated work to create the materials for FINISH.
My research and the validation of the course took longer. I spent almost two years (yes, that's too long) listening to email subscribers say things like:
"I have too many ideas, and I don't know which ones to stick with."
"I'm worried people judge me for not being a good enough writer."
"I don't feel confident about writing."
Towards the end of the year, I surveyed my audience and asked more about these writing challenges. I also interviewed six people on my email list over Skype, and I tried to solve their problems on coaching calls.
I listened to what these people told me to outline a more relevant online course for potential students.
Later, I reworked and rebranded the course as Write Your Book. I've sold it directly on my site and also as part of a bundle of courses. This bundle is promoted by a series of course creators to their respective email lists. Students continue to take it today as a result.
Do you have a lead magnet?
I offer a book of writing prompts. I offer this via my website and Amazon for free.
It's actually a book in itself in that it's nearly 100 pages long and I spent dozens of hours on it. I know some lead magnets should be short but I wanted to create a high-quality one that offers value.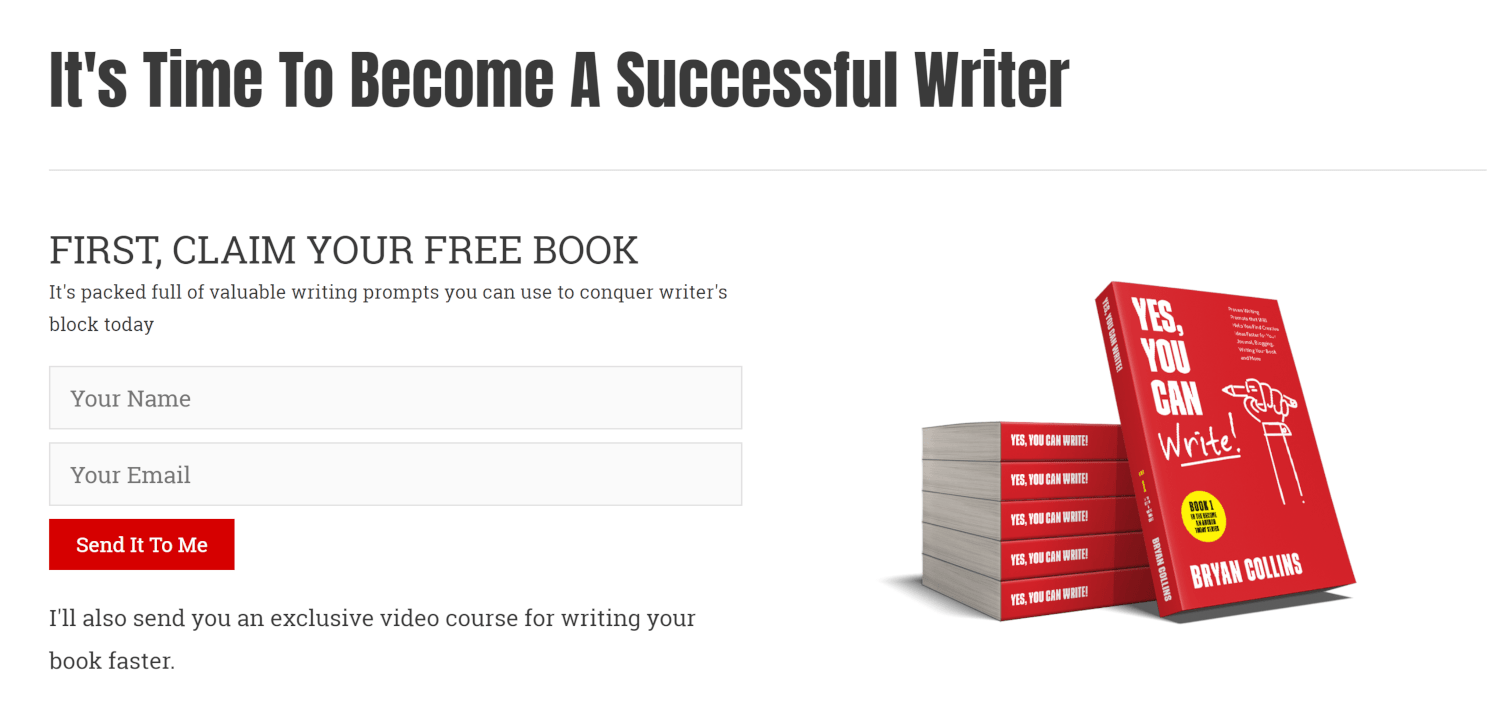 What's the traffic strategy that works best for you?
I rely on organic traffic via publishing blog posts that offer advice for new writers. I also sell books on Amazon which drive subscribers to my email list.
My free Amazon book drives some traffic to an opt-in page and subscribers to my email list.
I experimented with paid traffic in the past. It proved expensive and was difficult for me to master both paid and organic traffic. So I doubled down on organic and studied SEO. That paid dividends.
What online course platform are you using?
Teachable is my primary tool and my course platform. Teachable is easy to use and the team behind it regularly updates the product. It's also built with course creators in mind.
Clickfunnels is my secondary tool. Clickfunnels is a bit more involved and is more for creating sales pages and funnels rather than just providing online courses.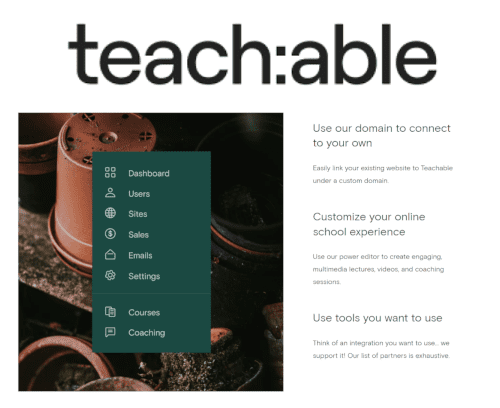 Check Out Teachable
Teachable is one of the top online course platforms used by successful course creators interviewed on coursemethod.com. It is easy to set up and build your site pages, and the course area looks great. 
Price Range: $0 (+ transaction fees) to $299/month
Most Popular Plan: Pro Plan at $119/month
Annual Discount: Yes, take 17% off!
Free Trial: Try out Teachable's core features for free
*Our content is reader supported, which means when you buy from links you click on, we may earn a commission.
Are there any features you wish it had?
I sometimes wish Clickfunnels was as easy to use as Teachable for hosting and creating courses, but it excels at sales pages.
On the other hand, I sometimes wish Teachable offered more landing page templates. The sales page editor has some formatting quirks that I find frustrating, but it's still one of my top tools. I recommend it to other bloggers and course creators.
Both products serve different needs.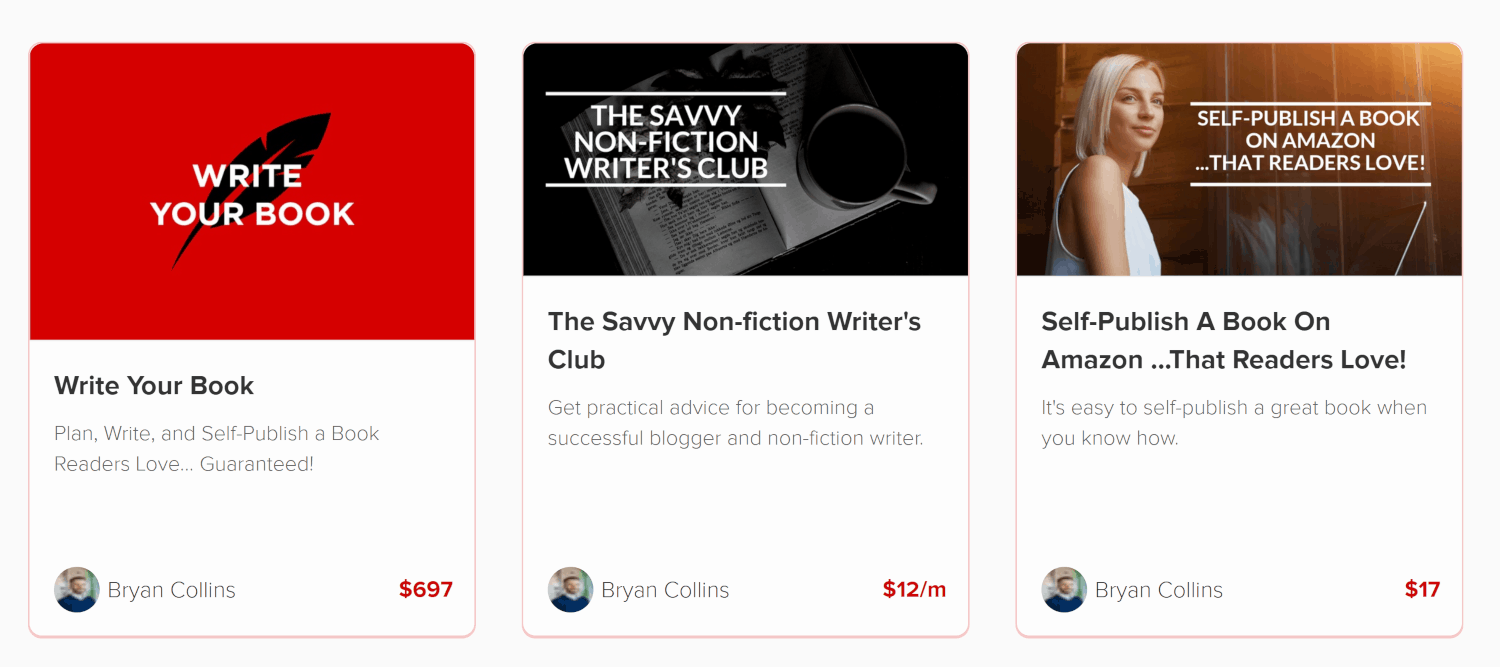 What made you decide to use your chosen platform over others?
I picked Teachable as I'd read many reviews about it and it looked affordable and relatively intuitive. It was also recommended by a podcaster and course creator I admire: Pat Flynn, of Smart Passive Income.
What other tools do you use to run your online course business?
Leadpages for creating landing pages.
An iMac and Blue Yeti microphone to record the materials.
Keynote to create course presentations.
Canva to create visual assets for the course.
An iPhone for taking pictures for the course.
ConvertKit for delivering course materials.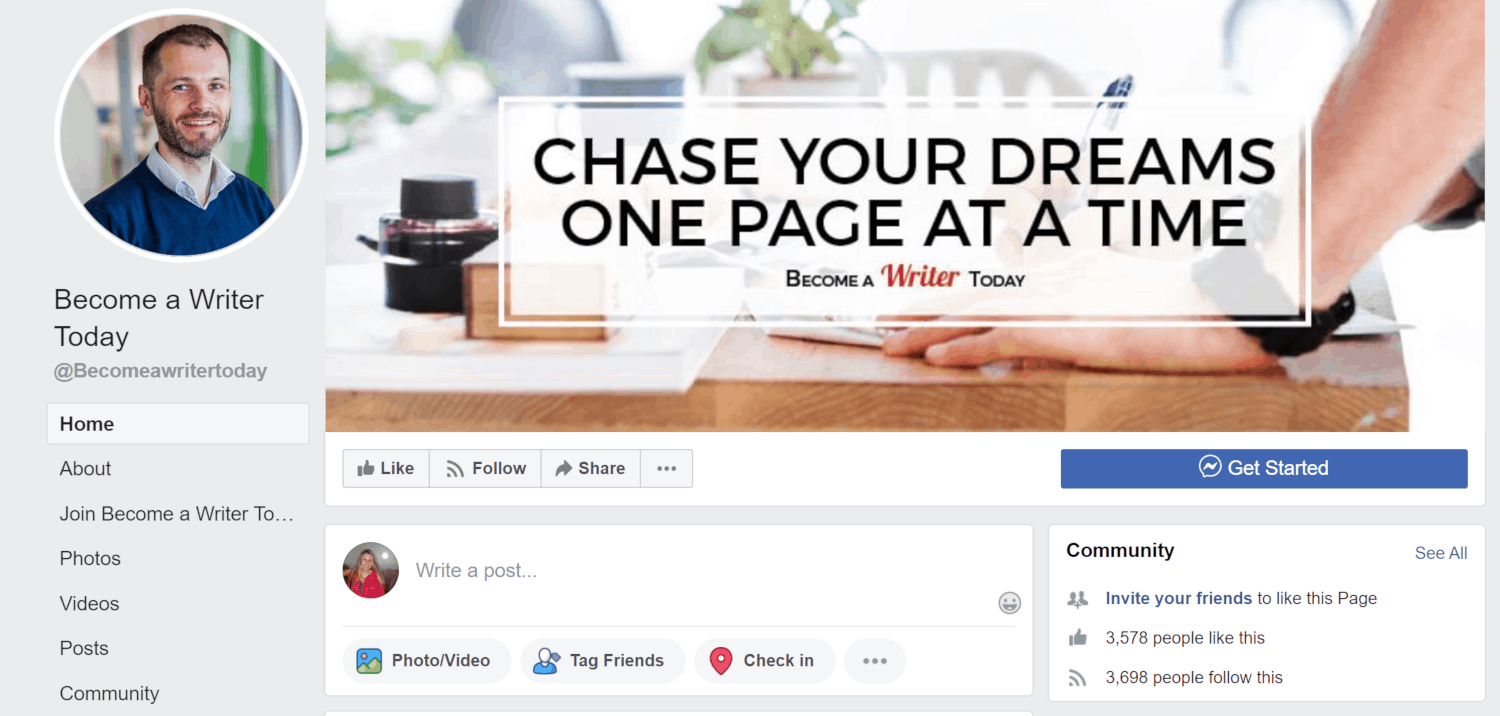 Please share some idea of revenue.
I've made about $15,000 selling my courses over the past two years. That's not that much compared to other course creators. However, I spent large chunks of that time writing books and engaged in freelance writing. I only really returned to selling online courses properly this June. Course creation takes a lot of time and it hasn't always been a business priority.
I've earned at least another $20,000+ as an affiliate for other courses alongside some other prizes. That takes less time but affiliate launches can get overwhelming. I try to road test the course first and see if it's a good fit for my audience. I've gotten some odd pitches from course creators who want me to promote offerings that have nothing to do with writing! I say no to those.
Please tell us a little about what the money you've earned from your course has done for you.
Selling courses forms about 10-15% of my business revenue (mine/other people's).
I mostly invest the money from courses straight back into the business. For example, I hired a video editor to edit videos, bought a better quality web camera, and a studio ring light. I also work with a virtual assistant who helps with administration and so on. I also improved, re-shot, and re-edited many of the original lessons.
In short: I use money from courses to either improve the business itself or free up my time via outsourcing.
Don't get me wrong, I still pay myself a salary from the business but that's funded by other revenues streams e.g. book sales, affiliate marketing.
In addition to revenue are there any numbers you would like to share?
I currently have about 15,000 email subscribers. I grew my list to this size using content marketing and by creating content upgrades on my top posts. Examples include discounts on grammar checker software and also a book of writing prompts. I also spent a lot of time writing guest posts for publications like Forbes and Copyblogger.
What has creating your course done for you personally?
Creating an online course took more time and resources than I realized. My income from course sales is still modest compared to other online course creators but it's growing slowly.
I didn't focus too much on course creation or promotion in 2018 or during the first half of this year. It's become a bigger priority this year after some guidance from a mentor. I've now mapped out my launches for the next four months (both my courses and ones I promote). I typically put content at the front and center of these launches so I'm not always asking for the sale. That means email subscribers should still get value even if they can't afford the course.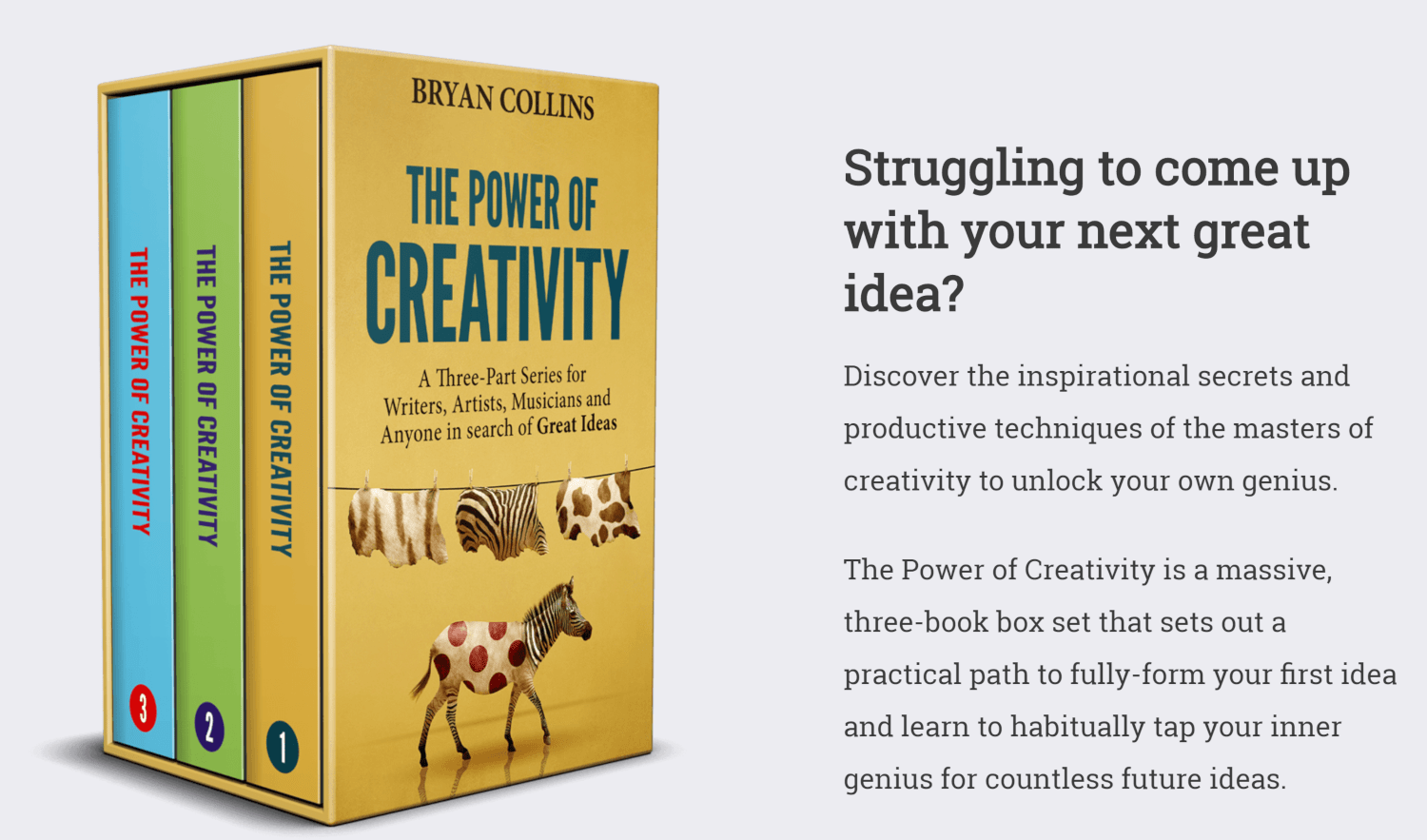 What advice do you have for people just starting out?
Many online writers and bloggers say a course is a great way of serving readers and generating a reliable income stream.
They're right, but they don't always explain how much work creating a course is, particularly if it's your first time.
The written word rather than video or audio is my natural medium, and I didn't make allowances for the learning curve of creating an online course.
For example, I had to learn how to:
Feel comfortable being in front of the camera.
Use Screenflow to record course materials.
Put a presentation together that looks good even on small screens.
Speak into a microphone in an even and consistent tone.
All of this took more time than I first thought.
Unless video and audio editing is your thing, you'll save a lot of time by hiring someone to edit your video and audio files. I worked as a radio producer in a past life, so I fancied editing the files myself. The edits were more time consuming than I thought, and I lost days tinkering with the audio settings on my computer.
One beta student suggested I edit the pauses, 'umms' and 'aahs' from my videos.  I knew these edits would take a lot of time. So I bit the bullet and hired an audio and video editor on Upwork to polish the materials. I saved more than a dozen hours and only spent two hundred dollars.
Still, the creation of the online course means you can offer more advice to your audience in a way that suits them.
You can iterate this course as you go or create a new one faster because you've learned from your mistakes along the way.
Once you get into the habit of creating something, it will become easier and more natural to use your chosen medium to share ideas with the world. - Bryan Collins
Click To Tweet
Better yet, you'll have a product you can use to grow your income and re-invest in your business.
Creating courses isn't for everyone and it's not easy. I've had more success with other income streams, but I still believe it's key to building a sustainable business online.
Learn more about Bryan Collins and Become a Writer Today: