Top 7 Audio Recorders for Podcasting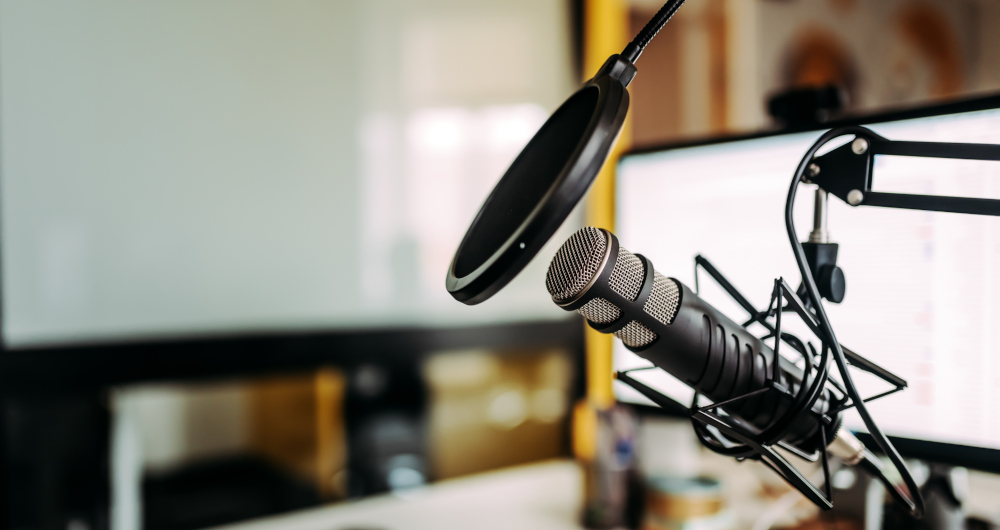 Our content is reader supported, which means when you buy from links you click on, we may earn a commission.
---
Are you looking for an audio recorder to help you produce your podcast? If so, you're in luck!
In this blog post, we'll recommend a few audio recorders that are perfect for podcasts. We'll also provide a buyer's guide to help you choose the right audio recorder for your needs.
Over 104 million Americans regularly listen to podcasts. So let's get going with yours!
What Is a Podcast Recorder?
A podcast recorder is a tool you can use to tape your podcast sessions. You can use either a program or a device for this.
You can install computer software that lets you record your podcast using your laptop's built-in microphone. And you can also use a handheld recorder for the same purpose.
Of the two options, the preferable choice is a physical audio recorder for podcasts because of several reasons.
Why an Audio Recorder for Podcasting?
A digital audio recorder is a handy device with a built-in microphone, memory storage, and input and output ports. It's highly recommended for podcasting because of the following reasons:
1. It's Portable
Because of its compact design, a handheld audio recorder is convenient to carry around, so you won't have to miss out on interesting content you may come across whenever you're on the go.
Its portability essentially helps get rid of the limitations you encounter if you use a laptop to record your podcasts.
2. Offers Better Sound Quality
Compared to using a smartphone or a laptop, a digital audio recorder can offer better audio output. Most recorders have a noise-canceling feature that eliminates the background noise in your recordings—a feature you can't find in phones and laptops.
If you'd like crisp sound quality for your podcast, your best bet would be a handheld recorder.
3. Has Substantial Storage
Physical audio recorders also have built-in memory storage that allows you to save multiple longer recordings. With laptops and smartphones, the storage that comes with them is divided between other files like images, videos, documents, and apps.
Since a digital recorder's storage is dedicated only to audio files, it offers substantial space for your recorded sessions.
4. Battery Lasts Long
Because its purpose is limited to recording and saving audio files, a physical audio recorder can last longer than your smartphone and laptop.
Without any apps running in the background draining its battery, your recorder's power will be reserved for its only function.
How to Choose the Best Audio Recorder for Podcasting
Digital audio recorders come in different forms and qualities. So, it's important to consider the following factors if you're planning to get one for your podcast:
Sound Quality
Since podcasts are mostly voice-only content, high-quality audio is a must.
If you're looking for a digital audio recorder, it would be good to choose one that records well.
Pick a recorder based on its sampling rate. The higher the sampling rate, the more crisp and detailed the audio is going to be.
We recommend you pick one that samples at a rate of 44.1 kHz. This is actually the standard sample rate for podcasts.
Price
Other than wanting high-quality recordings for your podcasts, you're also going to want gear that's affordable.
When considering the price you'd want to spend on your digital audio recorder, shelling out a little bit more is going to benefit you in the long run.
If you pick low-end recorders, they won't only produce low-quality audio, but they will also cost you more in the long run than what you paid for buying them.
Cheap recorders will most probably not last long and will require lots of costly repairs because of low-budget components.
Budget Audio Podcast Recorders
If you're a first-time podcaster, starting with budget-friendly gear is probably an OK option. These are some entry-level digital recorders we recommend:
1. Samson Go Mic
The Samson Go Mic is pretty handy. It has a built-in microphone, a headphone jack, and a USB port for a power supply.
There's also a clip you can use to attach it to the edge of your laptop. It also has a base you can use to set it on your table.
It can sample at a rate of 44.1 kHz, but it can still pick up some minor background noise like outside traffic or your neighbor's dogs barking.
2. Logitech USB Microphone
The Logitech USB Microphone is more of a desktop mic. It has a weighted base that provides stable support when it's set on a table. Its ball joint at the bottom of the mic makes it easier to adjust to the direction where it can best record.
This mic also has a noise-canceling feature that can get rid of noises coming from air conditioning and machinery, but it can't completely achieve a high-fidelity recording.
High-Quality Audio Podcast Recorders
If you're ready to invest a little bit more money in your podcast, then it's time to upgrade your equipment. Look into these choices and find out which one you like best:
3. MXL 770 Cardioid Condenser Microphone
This digital recorder is much bulkier compared to the previous ones we've mentioned, but it's a good microphone choice. The MXL 770 Cardioid Condenser Microphone comes with a hard plastic case and a shock mount as free add-ons.
As a small-diaphragm condenser, this device is a double-edged sword. Its low-sensitivity feature is both a pro and a con. The good news is that it doesn't recognize so much background noise. The bad news is that it can't record your voice as accurately as you'd like.
However, it's not like a few adjustments can't fix it! Its cardioid pickup pattern allows it to only recognize the sound coming from the front and reduce the noise coming from the sides and the back. So, just make sure you're always speaking into the front part of the mic.
4. Blue Yeti USB Microphone
The Blue Yeti USB Microphone is designed to be positioned in many ways. You can pivot it around in its base as it sits on your table. You may also unscrew the mic and mount it on a mic stand or a boom arm.
With three highly sensitive internal condenser capsules, it picks up the smallest noises around it. However, similar to the MXL 770, it also has a cardioid pickup pattern that strongly focuses on the sound it hears right in front of it.
Pro Audio Podcast Recorders
Going pro means giving your all when it comes to the gear you'll be using for your podcast. Here are some of the recorders + that will give you your money's worth:
5. Tascam DR-05
The Tascam DR-05 is lightweight and easy to use. It has two built-in mics, and you can plug in the third one between them. It has a standard audio jack for playback and a USB port for transferring audio files.
Its sampling rate options are 44.1 kHz, 48 kHz, and 96 kHz. It also has a noise-reduction filter that can mostly get rid of background noise.
Although it records well, it's difficult to record the audio with consistent sound levels. All people being recorded must be positioned in certain ways and avoid moving too much as it will affect the recording.
6. Rode Rodecaster Pro Podcast Production Studio
This production studio is definitely for pros. It's a portable audio kit that's the size of a binder with multiple functions suitable for full-on podcast production.
The Rode Rodecaster Pro has four mic inputs, a Bluetooth connection, a USB port, a micro SD slot, four audio jacks, and eight programmable pads for playing sound effects.
Its microphone preamplifiers will enable any mic to pick up crisp, low-noise recordings. It's got a compressor to even out sound levels during recording. It also has a high-pass filter that minimizes pops and low rumbling noise.
You'll need additional components to make this work. Pair it with one of the microphones above and you'll be ready to create a pro-level podcast.
7. Zoom PodTrak P4
The Zoom Podtrak P4 allows you to plug in and record four mics, and it has sound pads, too. It also provides independent headphone control for all individuals you're recording with so they'd be able to hear themselves during the session.
FAQs on Audio Recording for Podcasting
What is the best way to record audio for a podcast?
When it comes to recording audio for a podcast, it's important to find a quiet place to record. Background noise can be distracting for listeners, so it's best to find a room that's as quiet as possible. Additionally, you'll want to make sure that your microphone is positioned correctly. The closer the microphone is to your mouth, the clearer your voice will be. Finally, it's always a good idea to test the sound quality before you start recording. This way, you can make sure that everything sounds the way you want it to.
What do I need to record a podcast at home?
Recording a podcast at home is a great way to get started in the world of podcasting. All you need is a computer with a microphone and an internet connection. If you want to get more advanced, you can invest in some additional recording equipment, but it's not necessary to get started. There are plenty of great software programs that make it easy to record and edit your podcast, so you can focus on creating great content. Once you've recorded your podcast, you'll need to find a hosting service to host your files and make them available for listeners.
Do podcasts make money?
There are a few ways that podcasters can generate income. One is through advertising, either in the form of traditional ads or by partnering with brands for sponsored content. Another is by charging for access to premium content, such as bonus episodes or exclusive interviews. Finally, some podcasters rely on listener donations to support their work. Ultimately, whether or not a podcast makes money comes down to the creativity and tenacity of the creators.
Do you need a microphone for a podcast?
You need a microphone of some sort to record your podcast.  There are a wide variety of microphones available, so it's important to do some research to figure out which one will best suit your needs. In general, though, having a good microphone will make your podcast sound more professional and polished, which can help you attract and retain listeners.
How much does a podcast microphone cost?
If you're thinking about starting a podcast, one of the first things you'll need to think about is what kind of microphone you'll use. There are a lot of different options out there, and the cost can vary widely. For example, a simple USB microphone can cost as little as $50, while a more professional model can cost several hundred dollars.
Ultimately, the cost of a podcast microphone will depend on your budget and the quality of sound you're hoping to achieve. However, it's important to remember that even a modestly priced microphone can produce excellent results if it's used correctly.
Why do podcasters wear headphones?
Headphones help to isolate the sound of the person speaking and make it easier for the listeners to hear. This is especially important when there is background noise or other people talking. Headphones allow the person speaking to hear their own voice, which can help them to gauge their volume and pace. Lastly, wearing headphones creates a sense of intimacy between the person speaking and the listeners, which can make the podcast more engaging.
Wrapping Up
Choosing an audio recorder for podcasting is one of the most important up-front decisions you'll make about your podcast.
We've gone over what you should look for before deciding on your audio recorder. In addition, this post includes a list of low-budget recorders as well as recorders and production equipment for those with higher budgets.
Hopefully, between the lists, you can find the right recording device for your podcast.  Now get started recording your podcast!