How the ADDIE Process Can Help You Build Your Next Course or Online Training Program

Our content is reader supported, which means when you buy from links you click on, we may earn a commission.
---
Are you frustrated because you can't figure out the best way to analyze the needs of your audience for online courses?
Are you uncertain of what the learning goals and objectives for your eLearning course should be?
If so, many of your questions will be answered here as we help you determine the appropriate learning strategy and learning environment for your lessons.
For many digital trainers and instructional designers, these problems and concerns occur on a daily basis. Your goals are to see your students succeed, obtain knowledge, learn things, expand their horizons, and have a brighter future.
But how can that happen when you don't know how to get there?
The answer is simple: the ADDIE process can help. For the first time, you have access to an instructional design model that is easier to use than you may think.
Let's explore the ADDIE Process and discover how it will answer your questions and address your concerns today.
ADDIE Training Model and Instructional Design 101
The ADDIE Process is a roadmap and the most popular and commonly used set of instructional design principles. Instructional designers use it to craft unique learning environments to ensure students meet specific objectives.
ADDIE is an acronym for the five steps instructional designers take in educational technology. Utilizing it allows them to build the best instructional systems design and create the most relevant training materials they can.
But what is instructional design?
In short, instructional design (ID) is the design process of using information and constructing it in a simpler, more interesting, and easier way. This helps students better understand the information provided to them. There are several different instructional design models out there, but ADDIE is the most commonly used one.
The ADDIE 5 Step Training Process
ADDIE stands for:
Analyze
Design
Develop
Implement
Evaluate
The five ADDIE phases guide you through the course design process.

ADDIE is a roadmap for building a training course(s) to help students meet their individual objectives. Let's start going through the five phases.
Analysis Phase
While most designers would like to start with the more enjoyable phases first, it's essential to avoid skipping over these earlier, research-based phases and steps.
So, to start, what subject matter analysis do you need to execute?
Instructional designers address these three critical analyses: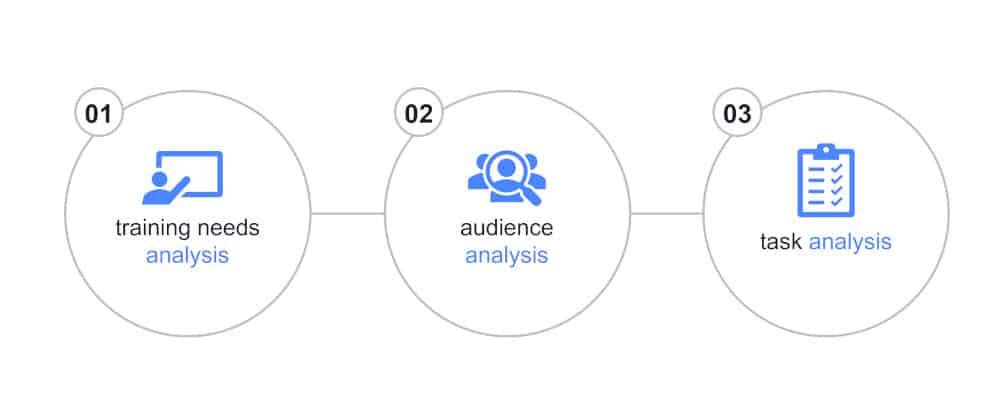 Training Needs Analysis: To not only determine if training is required but to identify and measure performance improvement expectations. You complete this analysis first.
Audience Analysis: If training is required, the next step is to analyze your students. You'll want to figure out the best way to present the material. Understanding the major demographics and background of your audience can help you determine the best delivery method.

For example, Leah Remillét delivered her Thriving Photographer™ online training through audio. That's because her audience was mostly very busy moms who wouldn't have time to watch videos.

Task Analysis: Once you know the course's purpose and understand more about the enrolled students, you can successfully advance to the next steps of the ADDIE instructional design model. You'll train learners by breaking the process up into a step-by-step format.
Design Phase
You wouldn't try to find a treasure without a map, would you?
Exactly!
That's why you should not skip over this first "D" step — the design stage — in the ADDIE process ID model.
During the design process, you should have an idea of how and where information should be laid out. This typically means you will design your course outline. You should also understand the overall connections between the text, media, and navigation.
This stage is important for addressing your instructional objectives. Different factors play a role in your created deliverable during the design stage including:
Time
Budget
Resources
Project plan outline
Typically, one of two deliverables comes out during the design process: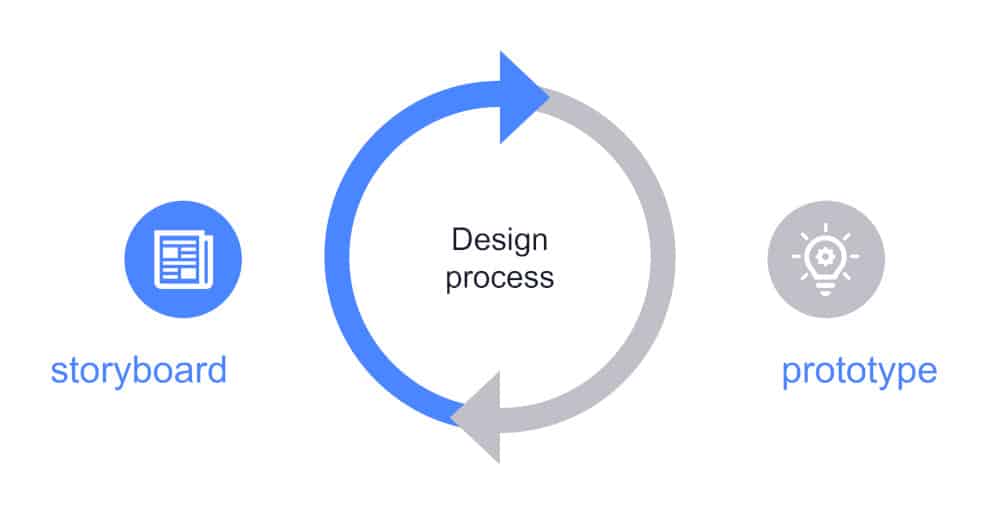 Storyboard: A storyboard lays out your content elements like a story, showing how the content will appear on each individual slide, and the content may not always be text. Sometimes it may be imagery or narration script. Your decision in regard to your storyboard's elements depends on the project you're working on.
Prototype: Testing and identifying whether specific features or concepts are appropriate for the project is executed with sample slides utilized by instructional designers. Rapid prototyping provides any collaborators with a better idea of what the overall look of the course will be, in addition to its potential functionality. This gives course developers a springboard into the next phase which is the development of the course and each of its individual features.
Development Phase
Finally, we've reached the fun part — the development process! By using tools like course authoring software or PowerPoint, you'll be able to successfully build your eLearning and instructional material content.
Two sub-tasks encase the ADDIE process development stages and these are: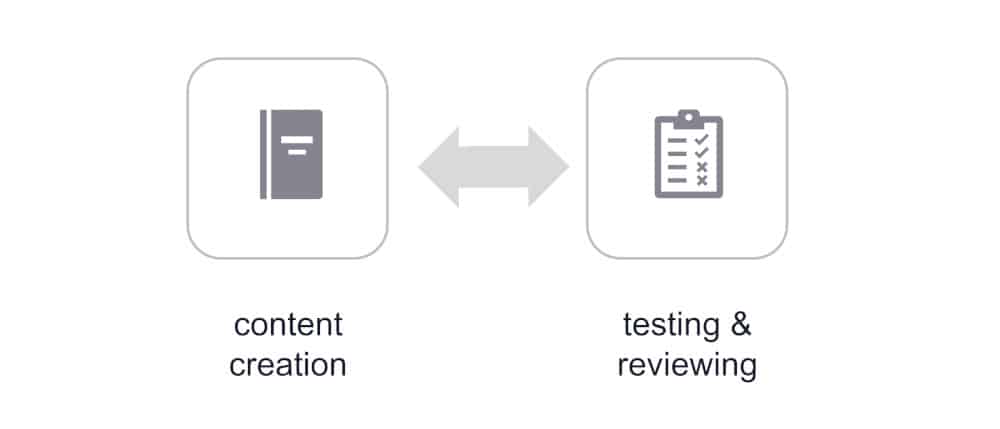 Content Creation: By appropriately and carefully choosing the best final images, multimedia, fonts, and colors, you'll give your course a sophisticated and regal appearance, and thereby create a better course. Your online learning platform will give you the opportunity to build interactive elements like:

activities
quizzes
interactions
functional navigation (to create an interactive and social learning environment)

Testing & Reviewing: Testing your content is the next step once it's been completely developed. It's crucial to review things like:

spelling
grammar
learning objectives
navigation
flow
Since course creators need to make changes when testers find problems, testing is usually executed during the development stage instead of after.
Implementation Phase
This is where your eLearning materials are complete and ready for learners to access! The learner can access your course and the instructional materials via two different ways during the implementation stage.
Whether or not you need to trace and record learner behavior will assist you in determining which implementation method to use.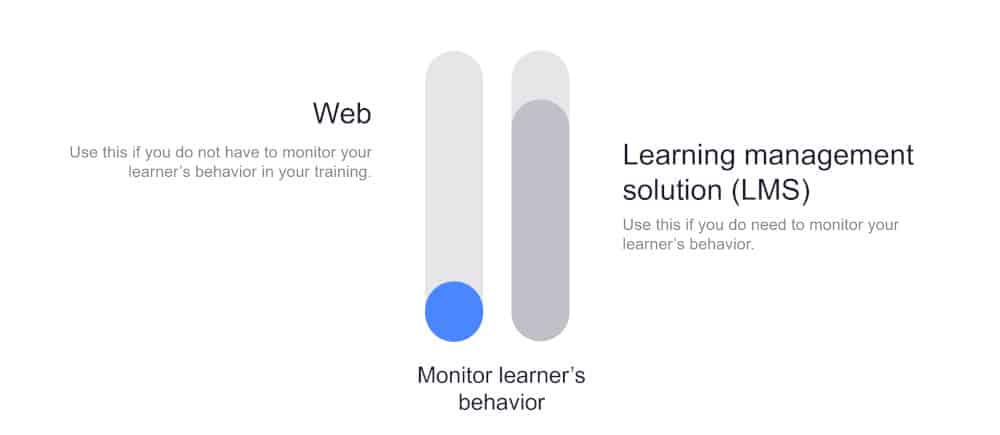 Here's more information on these two methods:
Web: This is the appropriate choice if you do not have to monitor your learner's behavior. Even though students can access the learning environment with an accessible URL link after you upload the content directly to the web, you will be unable to determine if students completed a module, finished the course, how long it took them, and/or whether an instructional problem occurred.
Learning Management System (LMS): This is the appropriate choice if you do have to monitor your learner's behavior. You can provide learners with your content by uploading it to an LMS. Although the functions and features vary from system to system, some offer the same capabilities (e.g. tracking capabilities to determine if a learner completed a module, etc.)
Evaluation Phase
This final step is the evaluation process. This phase requires a trip down memory lane as you travel back to the training needs analysis that you completed in the first phase of the ADDIE model.
During the evaluation of the design, your training analysis consisted of how your training would address and identify specific performance improvements, and how to measure those improvements.
In the final stage of the ADDIE process, your moment of truth awaits: did your results from the training correlate with your needs analysis by way of the measurable performance improvements?
If so then you did your job!
Advantages and Disadvantages of the ADDIE Process Model
Advantages of the ADDIE model include that it:
Serves as the foundation for most other instructional design models.
Is flexible with structured guidance.
Is often used for traditional instruction, individual instruction, and across industries.
Works with different evaluation strategies.
Disadvantages include that:
ADDIE is a linear process.
You cannot move onto the next stage until the completion of the previous stage.
It is time-consuming.
It is expensive.
Is the ADDIE model outdated?
The U.S. Military created the ADDIE process model in the 1970s. Despite that, the ADDIE process step approach is still relevant today. It brings about successful, effective, and efficient results when executed correctly.
What's the major difference between ADDIE and SAM?
SAM stands for the "Successive Approximation Model". As an agile eLearning approach, SAM has been a replacement model for ADDIE for many instructional designers due to the criticisms ADDIE has received for its disadvantages (e.g. too systematic, too linear, too inflexible, too constraining, too time consuming, etc.).
SAM is one of many training programs with an interactive and agile design, as well as an emphasis on collaboration and prompt prototyping.
The developer of SAM, Michael Allen, promotes four criteria for instructional systems development:
Iterative Process.
Support collaboration.
Efficient and effective.
Manageable.
Both models — SAM and ADDIE — are acronyms in and of themselves representing their process. Both models are both iterative as well, but they use a different process.
There are other models built to speed up the process of creating online training.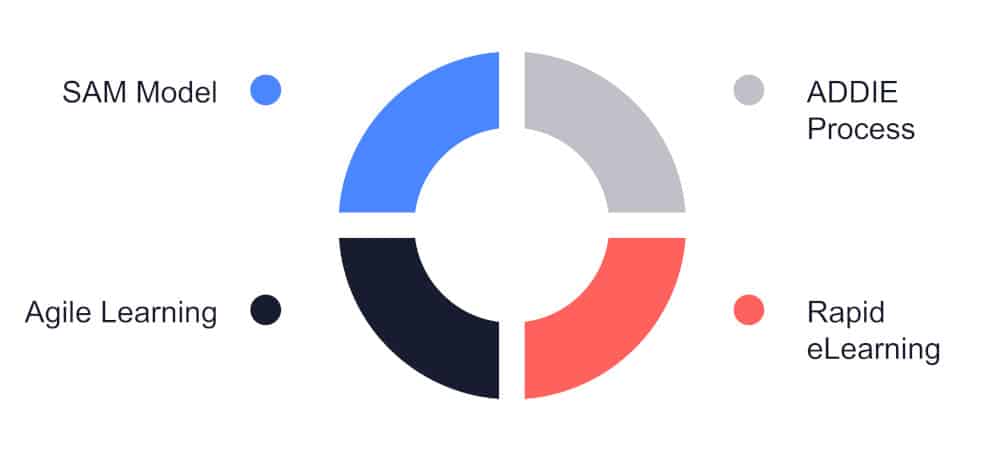 These include agile learning design which is based on agile methodology typically used in software development.  Rapid eLearning is another strategy although it is loosely defined and much less rigid. With rapid eLearning, you can use rapid authoring tools and recycle as much of your training as possible within lessons, modules, and multiple courses to speed the development up.
FAQs on ADDIE Process
What is the best instructional design model?
The best instructional design model according to many experts is the ADDIE model. That's because it's a very comprehensive approach covering all aspects of instructional design.
The ADDIE model is very flexible and can adapt to fit the needs of any specific situation. It is also proven effective in a variety of different settings and with a variety of different populations.
What are the 3 major components of instructional design?
The 3 major components of instructional design include; the learner, the content, and the environment. Each of these plays a crucial role in ensuring that learners are able to engage with the material.
The first component is the learner. To design effective instruction, you need to consider the unique needs, abilities, and motivation of the learner. What are they hoping to gain from the experience? What do they already know? How can the instruction meet their individual needs?
The second component is the content. The instructional designer must create appropriate materials for the desired learning outcomes. The materials should also be engaging and accessible.
The third component is the environment. The instructional designer must consider the space and the digital tools needed. Will learners be working in groups? Will they have access to technology? How will they receive feedback?
Thinking through all these factors helps instructional designers create an effective learning environment.
Why is analysis important in ADDIE?
While all phases of the ADDIE model are important, analysis is particularly crucial. This is because analysis provides the foundation for all later decision-making.
During the analysis phase, designers gather information about learners, learning objectives, and context. This data is then used to design and develop the instructional materials. Without a solid analysis, it would be impossible to create effective materials that meet the needs of learners.
What is the design phase of ADDIE?
The design phase of ADDIE is when you develop the instructional materials and activities used in the actual instruction.
This includes creating any visuals and writing the script or lesson plan. You also need to decide on the methods and assessment strategies. This is the phrase where you're putting together everything to be included in the instruction. That's why it's important to take your time and do it right. Once you have everything designed, you can move on to the next phase. This is where you actually deliver the instruction.
What are the 5 steps of the ADDIE model?
The 5 steps of the ADDIE model are Analysis, Design, Development, Implementation, and Evaluation.
The analysis is where you determine the needs of your audience along with the objectives of the training.
Design is where you create a blueprint for the training program.
Development is when you create the actual training materials.
Implementation is when you deliver the training to your audience.
Evaluation is when you assess how well the training went and make changes as necessary.
Conclusion
While ADDIE methodology is sometimes scrutinized, dissected, torn, and ripped apart, in the end, faithful followers continue using it for the success they've seen since the 1970s.
In its current situation, the ADDIE process model stands for: analyze, design, develop, implement, and evaluate.
Numerous advantages and disadvantages to using the ADDIE process model exist. In reality, the use of any model simply boils down to the instructional designer's preference. But if ADDIE is the way you choose to go, remember that it aims to help relieve your frustration, address your uncertainty, and take away your stress.
Your goal is to see your students succeed, obtain knowledge, learn things, expand their horizons, and have a brighter future — and the ADDIE process model can help you achieve that goal!