2020 Top 5 Course Creator Interviews & Statistics
Our content is reader supported, which means when you buy from links you click on, we may earn a commission.
---
Are you looking to get inspiration and learn from those who have found success in course creation? If so, then you've come to the right place!
In this blog post, I'll be sharing my top 5 favorite course creator interviews of 2020. I conducted exactly 100 interviews so it was a challenge to narrow my top picks down to only 5. From uncovering their wins and losses as an entrepreneur to discovering how they created successful courses, these stories are sure to leave you feeling energized and motivated for what your online learning journey has in store.
Take a look!
'At a Glance' Stats of Caitlin's Business:
Industry: Career and Professional
Course Topic: Earning money by proofreading
Interesting Stats: $2 million a year + 8 team members
Traffic Strategy: Content marketing, Email marketing, Facebook ads, Affiliates, Paid ads
Revenue: 7-figures per year
Summary of Caitlin's Full Interview:
Caitlin Pyle founded Proofread Anywhere, which helps proofreaders earn extra income from anywhere in the world.
She offers two courses: Transcript Proofreading and General Proofreading. She also started Work-At-Home School, an online learning program that provides various work-from-home skills.
Her customers range from college students to those seeking flexibility to "break free" from their 9-to-5 job.
Caitlin entered the market by helping fellow students while studying abroad in Germany and creating a blog in 2012. In 2014, she launched her website as it stands today.
Her courses include text and video content, quizzes after each module, and a final exam (for Plus members).
She worked 16 hours a day for quite some time when launching her course and got her first sale through her email list of only nine people.
Her lead magnet comes in the form of free workshops for both courses, and she drives traffic through paid ads, blog posts, emails, and affiliates.
–> Read more of Caitlin's interview …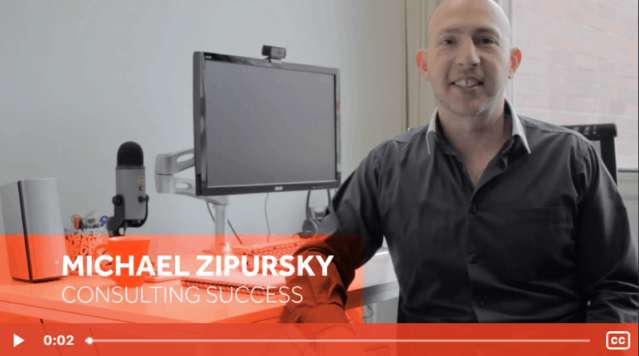 'At a Glance' Stats of Michael's Business:
Industry: Business and Marketing
Course Topic: Consulting
Interesting Stats: Added several thousand subscribers during the last launch
Traffic Strategy: Content marketing
Revenue: 7-figures per year
Summary of Michael's Full Interview:
Michael Zipursky has over 20 years of experience in consulting and advising major organizations and has helped more than 400 consultants from 75 industries to add 6 and 7 figures to their annual revenue.
Momentum is a program designed to help people working in their corporate jobs quit and start their consulting businesses, as well as newer consultants below the 6-figure mark who want a proven plan to grow.
Through the program, participants will learn how to set the right foundations for their consulting business, brand their business and stand out among competitors, write compelling proposals, sell services without coming across as pushy or spammy, rank their website on the first page of Google with SEO, and more.
Michael Zipursky started building his consulting businesses 11 years ago and created an online course because his audience asked for it.
Momentum contains 11 lessons with video, text, and quizzes; action steps are included for more straightforward implementation.
The traffic strategy that works best for Michael is consistent; in-depth content focused on providing value on topics such as his experience as a consultant, answers to common questions in the industry, and stories about what worked well or not.
–> Read more of Michael Zipursky's interview …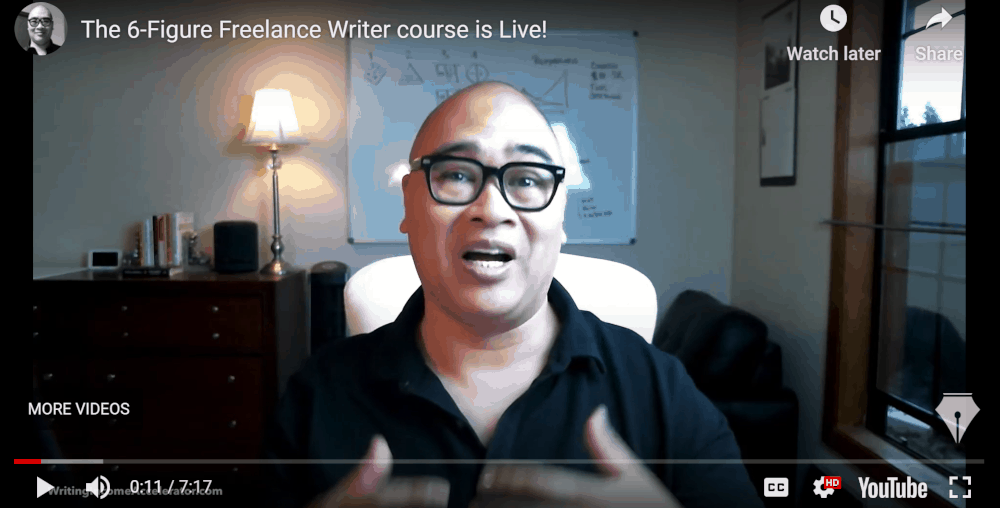 'At a Glance' Stats of Arlie's Business:
Industry: Business and Marketing
Course Topic: High-End SEO Writing
Interesting Stats: 6-figure/year earner
Traffic Strategy: SEO, Facebook ads, YouTube
Revenue: 6-figures per year
Summary of Arlie's Full Interview:
Arlie Peyton (aka "Peyton") is a Brand Journalist and the creator of 6-Figure Freelance Writer, an online course for intermediate or advanced writers who struggle to make a significant income writing.
The most significant benefit of taking the course is that students walk away with a fundamental skill set in significant demand – brand journalism – which has been revitalized and can command $1,000-$3,000 per article.
Peyton stumbled upon this market by accident and created his system out of hunger to succeed as a writer; he decided to create the course after many people asked how he could make such fast progress and find success.
His course consists of 60 micro-lessons and 8 hours of video with a conversational tone; it took weeks to plan and film, plus additional weeks for editing.
To launch the course, he implemented Russel Brunson's approach and webinars and promotions on Facebook, YouTube, email lists, and Google search engine rankings.
While he currently has one lead magnet (a white paper about content marketing), he plans to create a 5-email free course for further engagement with potential buyers.
–> Read more of Arlie's interview …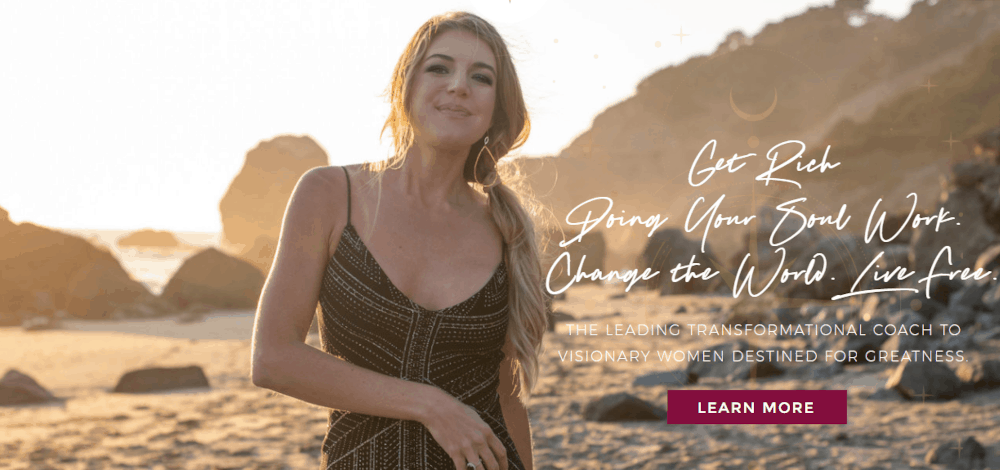 'At a Glance' Stats of Jessica's Business:
Industry: Business and Marketing
Course Topic: Inspiring business and lifestyle courses
Interesting Stats: Nearly $10k in sales in first afternoon of opening enrollment
Traffic Strategy: Facebook ads, Instagram, and Organic social media
Revenue: 7-figures per year
Summary of Jessica's Full Interview:
Jessica Caver Lindholm founded ToLivingFree. She is a coach, writer, speaker, and course creator.
Her signature course is Surrender Into Success, which caters to soul-led entrepreneurs and creatives.
The most significant benefit of taking her course is to help people create a life and business beyond their wildest dreams without draining themselves.
While there were no doubts about this course, it took her one year to create it with her clients.
She launched by writing emails to her list and then had her team post them on social media and do live streams if inspired.
Her traffic strategy consists of being herself on all platforms, using a small ad budget, and growing her free group, following, and email list.
–> Read more of Jessica Caver Lindoholm's interview …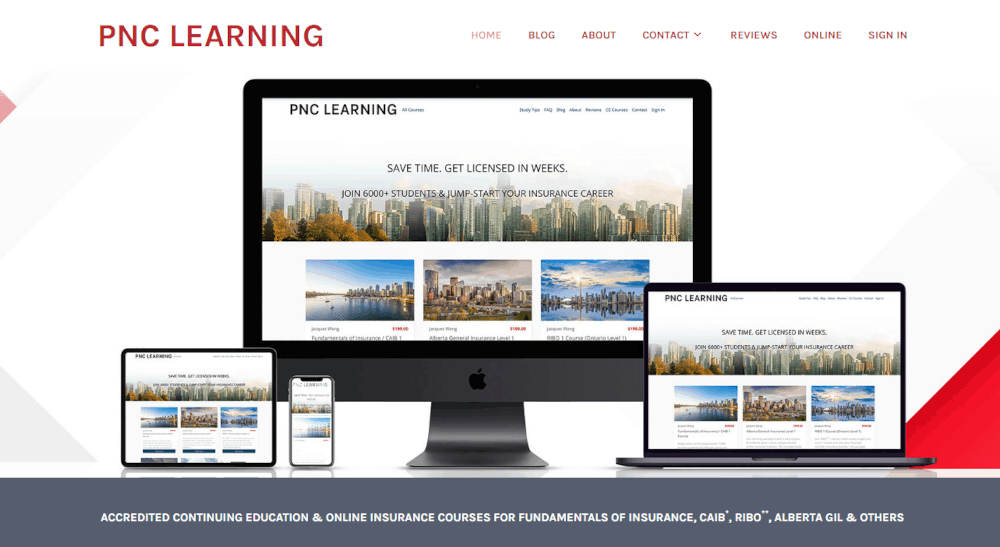 'At a Glance' Stats of Jacques' Business:
Industry: Career and Professional
Course Topic: Insurance licensing exams
Interesting Stats: Mid 6-figures in 2 years
Traffic Strategy: SEO and Paid Ads
Revenue: 6-figures per year
Summary of Jacques' Full Interview:
Jacques Wong is an insurance leader at ReFrame Insurance and an educator at PNC Learning, a digital training company created to make a career in the insurance industry accessible.
PNC Learning offers simplified study materials available online 24/7 in multiple languages.
The biggest benefit of taking their courses is user-friendliness with no jargon, less fluff, and focus on core concepts. It also provides students with flexibility and costs less than traditional education providers.
The idea for the company originated after Jacques won awards for his academic performance while taking licensing exams and was asked by his colleagues and people in his network to help them prepare for their exams using his study material.
The primary market PNC Learning serves are current and aspiring insurance professionals looking for a career change or to learn new skills while they adapt to changing job markets.
While launching their first course, they gathered feedback from early customers to improve their product before officially launching it.
They now collect contact information through lead magnets such as exam guides and licensing guides, as well as free trials for each course, before engaging them with an email nurture campaign.
–> Read more of Jacques Wong's interview …
Those are the top 5 interviews! Hopefully, you will read and learn from them.
Here is more information on the 2020 interviews for you to look at.
2020 Revenue Breakdown
The 2020 revenue breakdowns we gathered from our successful course creator interviews were quite interesting. Out of the roughly 100 individuals we spoke to, just one only earned around $1,000 per year. Ten individuals earned upwards of $10,000 per year.
Even more impressive were the 27 individuals who earned five figures per year, demonstrating a strong ability to generate consistent income from their courses. On the higher end of the spectrum, we found that 22 individuals earned six-figures per year, indicating a level of success that most course creators hope to achieve.
Finally, we spoke to 7 individuals who earned seven-figures per year, representing an elite group of course creators who have truly mastered their craft. While 33 individuals did not disclose their earnings, the data we gathered still provided some fascinating insights into the world of successful course creation.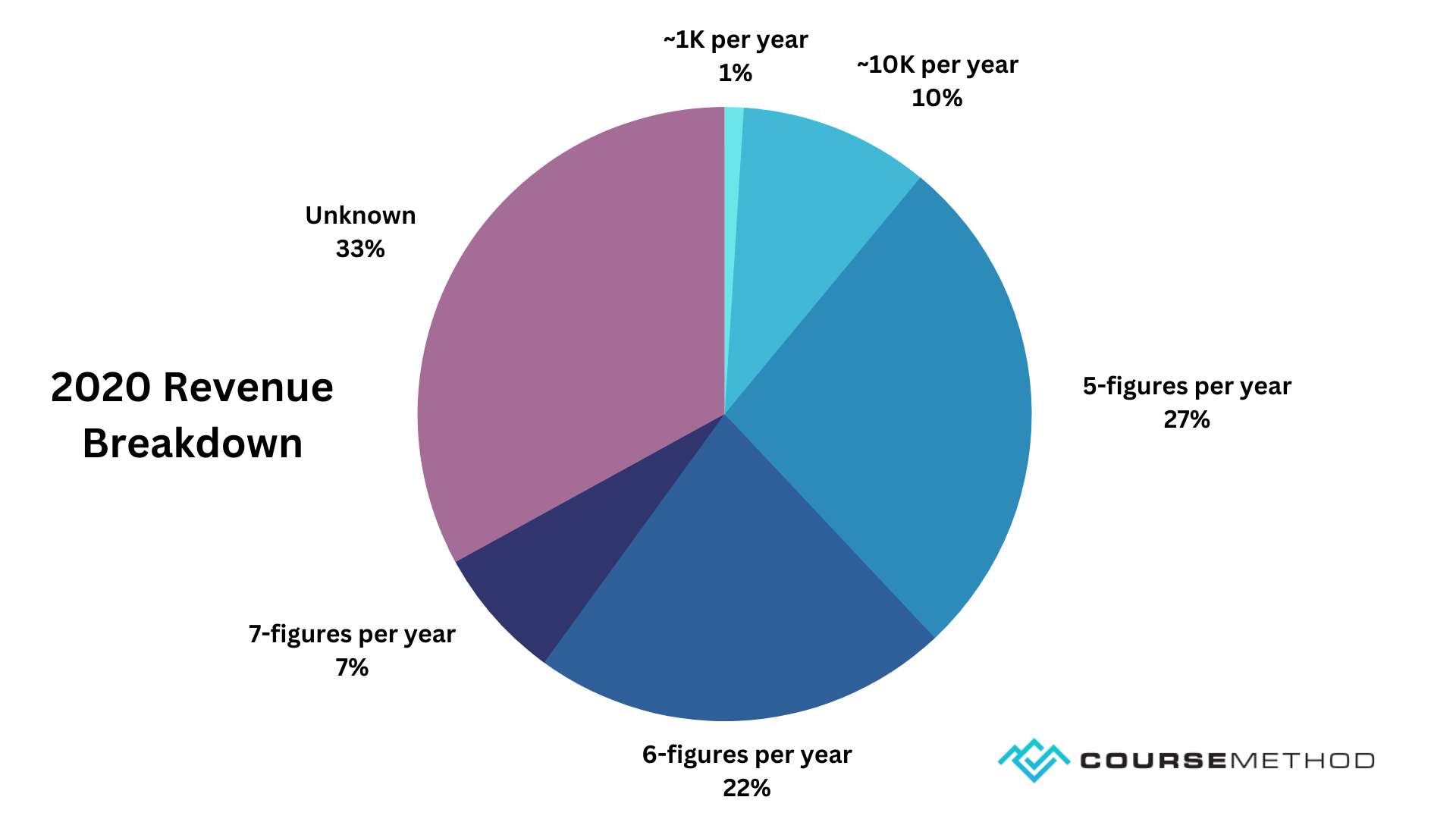 2020 Industry Breakdown
As we looked at the data from our successful course creator interviews, we were interested to see the breakdown of industries for 2020. Interestingly, business/marketing and career/professional programs made up the bulk of the market with 39 and 27 respectively. This suggests that people are continually striving to improve their professional skills and progress in their careers, perhaps due to the ever-changing economic climate.
On the other hand, it was heartening to see that health and youth education was well represented, with 4 and 3, respectively.  Music, software, finance, and languages all had just three courses each for 2020. Overall, it's fascinating to see the diversity of industries that continue to thrive in online learning.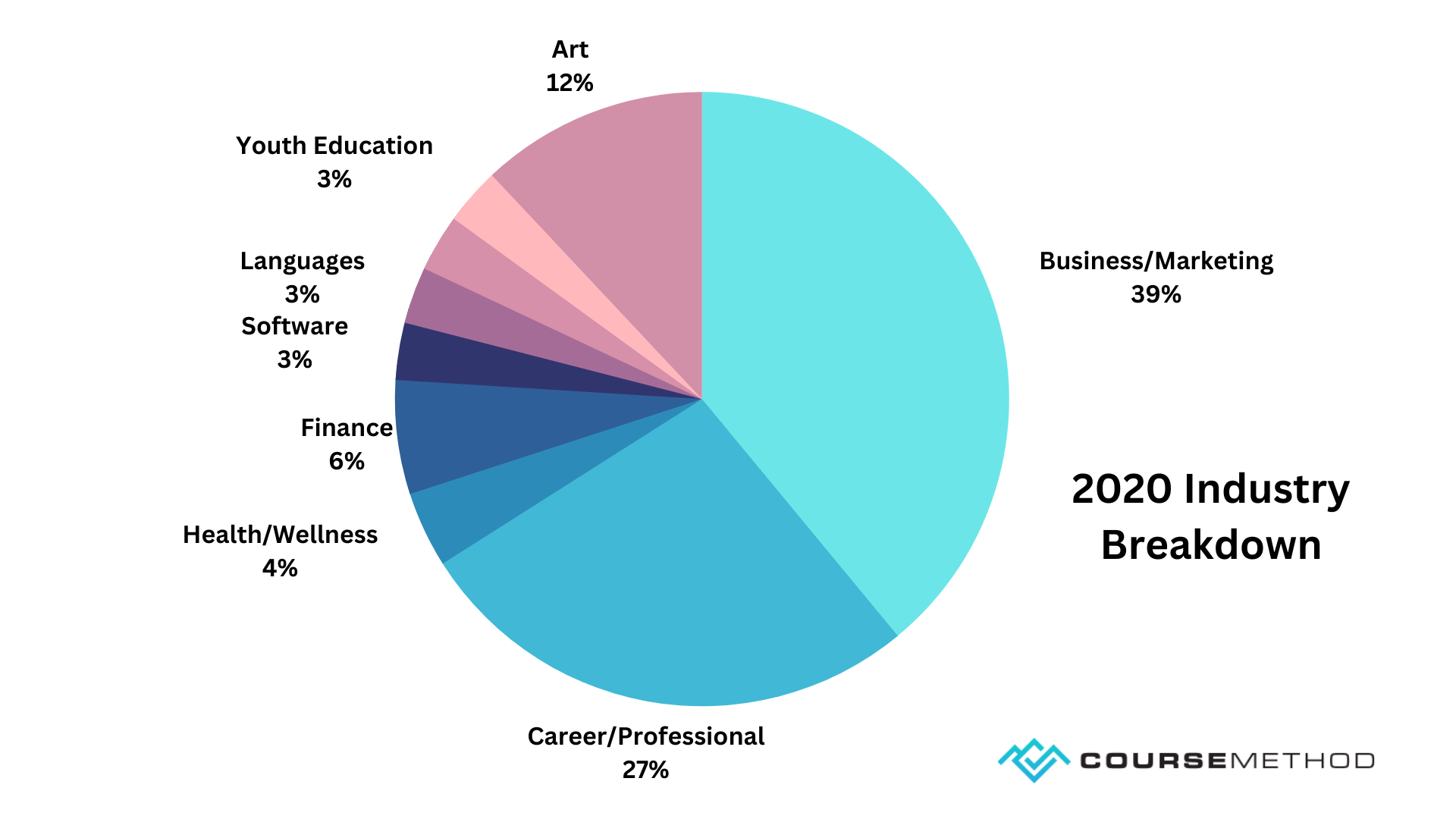 2020 Online Course Platform Breakdown
Based on successful course creator interviews, our research shows that Thinkific is the clear winner with 21 course creators using this platform, followed by Teachable and Kajabi, with 13 course creators using each.
#1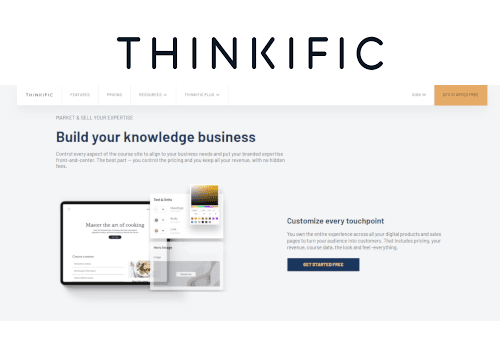 Thinkific is the most popular online course platform. 24% of the successful course creators interviewed use Thinkific. 
#2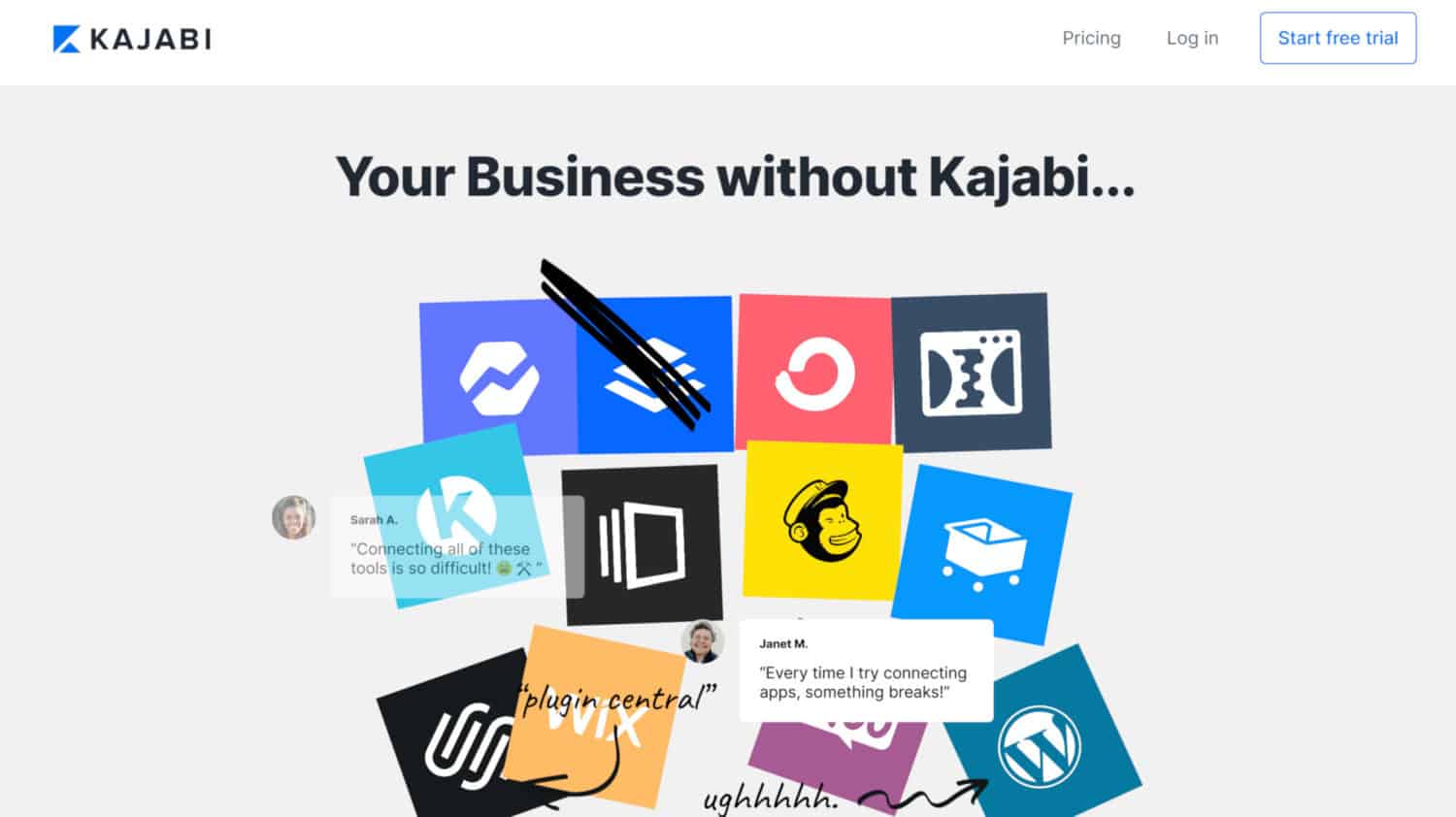 Kajabi comes in at a close second place. Twenty-three percent of course creators interviewed Kajabi. 
#3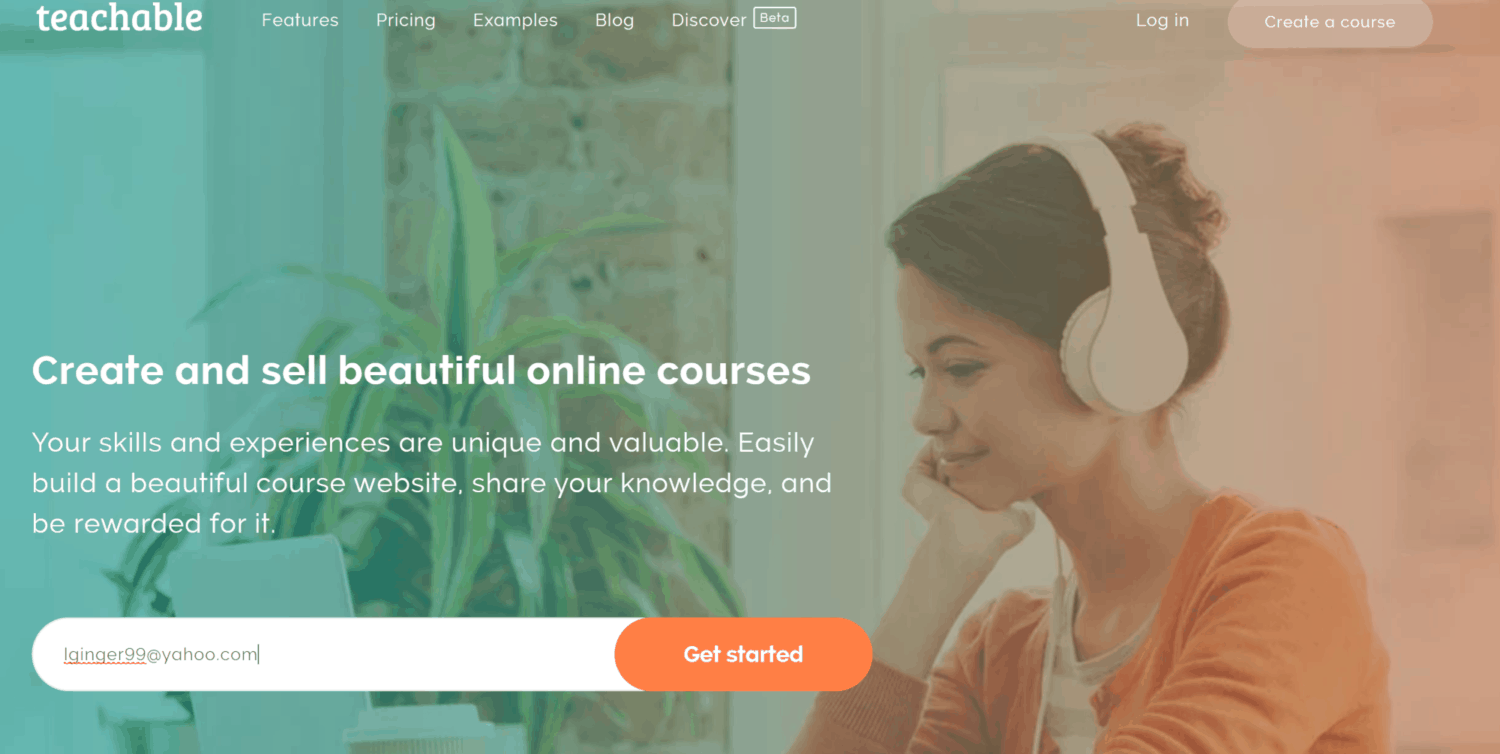 Teachable comes in third place. It's used by 20% of the course creators in the dataset. 
*Our content is reader supported, which means when you buy from links you click on, we may earn a commission.
Learndash, Podia, and LifterLMS also received mentions, while some creators opted for custom or WordPress solutions, or none at all. Interestingly, Udemy, a popular platform for course creation, was only used by two course creators in our research.
These findings suggest that course creators are looking for online course platforms offering a range of features and flexibility, allowing them to create and sell their courses in a way that suits their needs.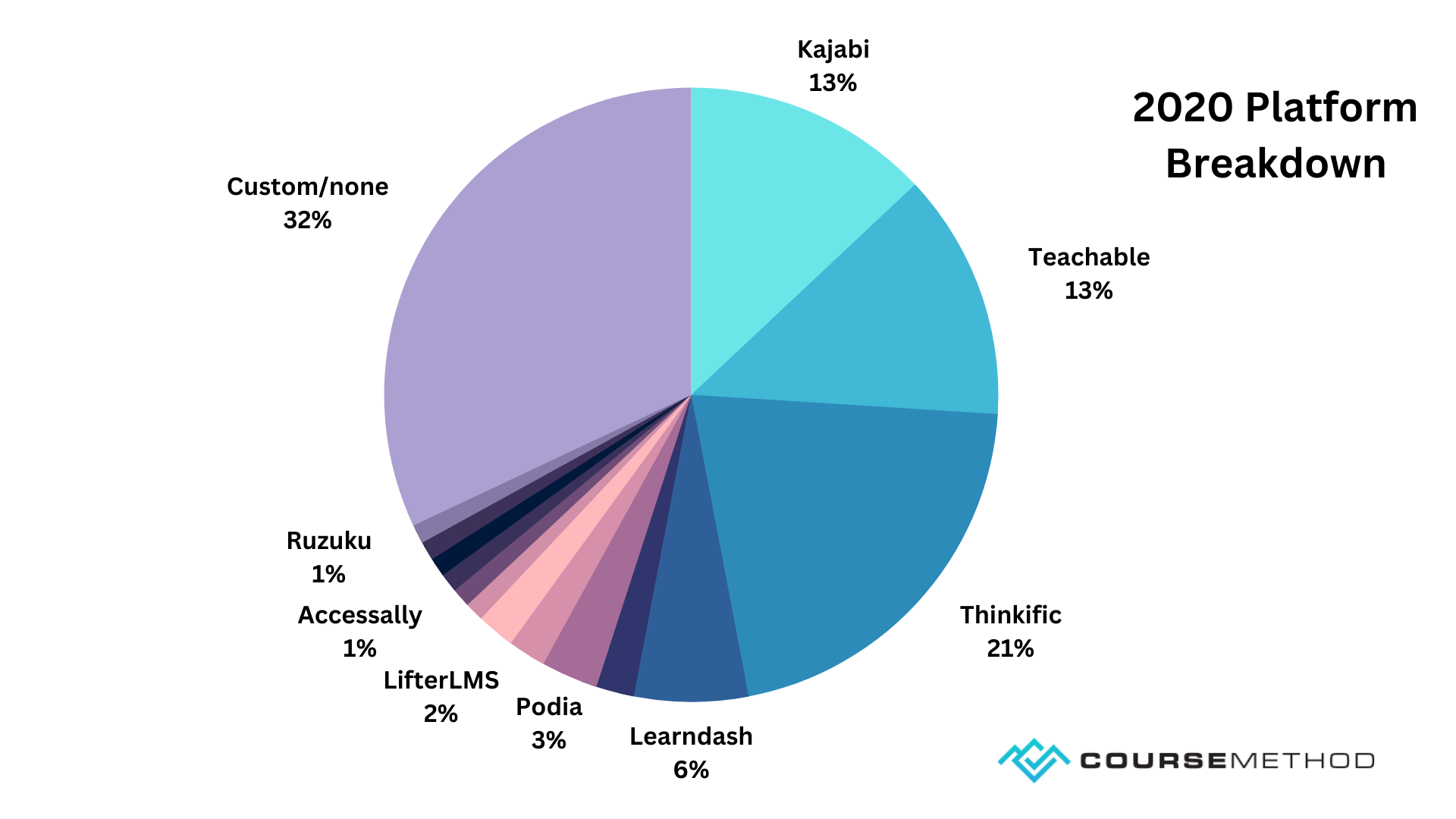 Conclusion
The creator interviews showcased here discussed different aspects of their work, from pricing strategies to how they promote and distribute their offerings, and shared amazing stories of their successes—and failures. You've heard how to create a successful course, but now it's time for practical advice: look at the interviews and apply what you've learned to your story—just like these creators did!
Take a chance, break down barriers, outline goals, and then focus on getting into action mode. Remember, even if things don't always turn out as planned or desired, trust yourself—you'll learn a lot along the way.