How Michael Zipursky Founded ConsultingSuccess.com to Serve Consultants Through His Momentum Course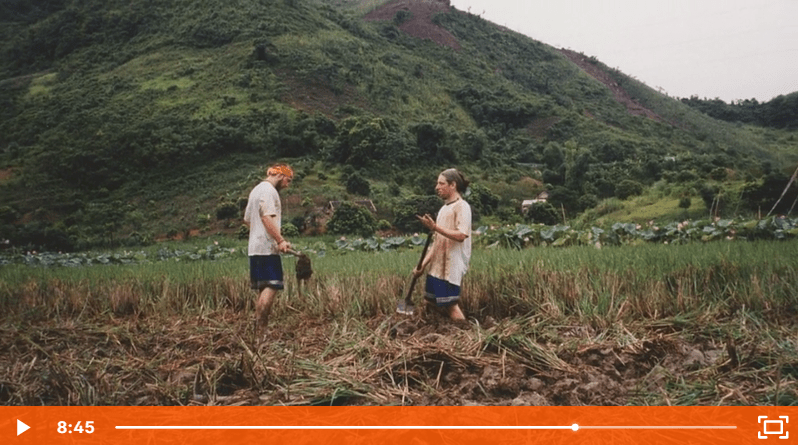 Our content is reader supported, which means when you buy from links you click on, we may earn a commission.
---
Who: Michael Zipursky
Website: consultingsuccess.com
Course Topic: Consulting
Interesting Stats: Added several thousand subscribers during last launch
Who are you and what course have you created?
Over the past 20 years, I've advised organizations like Financial Times, Dow Jones, RBC, Panasonic — but most importantly, I've helped over 400 consultants from around the world in over 75 industries add 6 and 7 figures to their annual revenues.
Over 35,000 consultants read my weekly newsletter, and I'm the author of the Amazon Best Sellers "The Elite Consulting Mind" and "Consulting Success®".
What market does your online course serve?
With Momentum, we serve two groups of people:
People working in their corporate jobs who want to quit and start their own consulting business.
New consultants below the 6-figure mark who want a proven plan to grow.
What's the biggest benefit of taking your course?
If you want to quit your corporate job and start your own business, Momentum will teach you how to take your skills and serve multiple clients instead of a single employer.
If you're a newer consultant, Momentum gives you a step-by-step proven program to grow your consulting business — so you avoid all of the common pitfalls and mistakes that new consultants make:
How to set the right foundations for your consulting business
Why you must get clear on your ideal client — the foundation of your marketing
How to brand your business and stand out among your competitors
Why consultants should never charge by the hour and how to set your fees
The secrets to writing a high-converting consulting proposal
How to sell your consulting services without coming across as "pushy" or "spammy"
Building a pipeline of highly-qualified leads so you can avoid the dreaded "feast-or-famine" cycle
How to rank your consulting website on the first page of Google with SEO
Mastering the art of client relationships and building a world-class network
Growing and scaling your consulting business to 7-figures and beyond
Our program will help you reach the 6-figure mark and build a successful consulting business.
How did you get into the market?
I've been building and running consulting businesses for over 20 years.
My love for consulting comes from my love for freedom, travel, and lifestyle businesses.
Early on, I identified these as my core values.
Instead of taking a traditional 9-5 job, my cousin and business partner Sam and I started building consulting businesses and over 11 years ago we moved the business online.
I brought my first marketing consulting firm over to Japan at the age of 21 and never looked back.
Consulting helps me live the lifestyle that I want. That's why I'm passionate about it, and that's what drives me to help others do the same.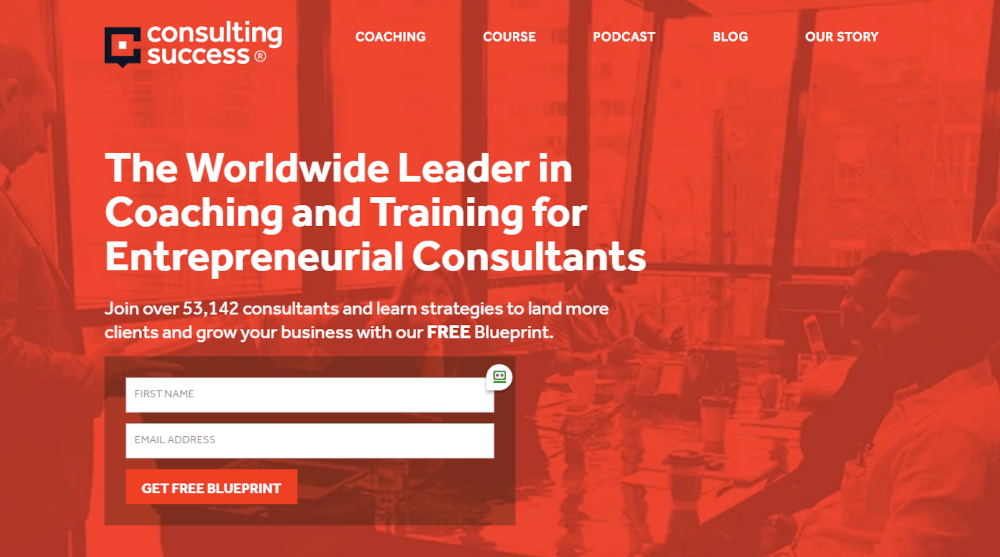 Why did you decide to create an online course in the first place?
11 years ago, Sam and I began writing a blog on consulting. We published articles on the best practices, tips, and strategies for consultants.
Then, after publishing for a while, our audience asked if we had a course on consulting.
So, we built that course.
It was a big "a-ha" moment.
If readers were asking for it, chances are they would pay for it. We just had to build it. - Michael Zipursky
Click To Tweet
Creating a course on consulting was in alignment with our core values of profitability.
We could package what we knew into a course and teach people everything we knew about consulting — without having to be there.
Because our customers were asking for it, it would provide massive value, and it helped us create our dream business, creating the course was a no-brainer.
Did you have any moments of doubt before you created/launched it?
When we first began building the course, there were many doubts floating around in my mind.
"What makes us experts to sell the course? We don't come from fancy schools or have a bunch of initials at the end of our names…" 
"What if people call us sell-outs for charging money?" 
"They said they want it…but when push comes to shove, will they take out their credit card and buy?" 
But a key principle that I always follow is imperfect action. Forget about perfection, and take action. - Michael Zipursky
Click To Tweet
Do it even if it makes you feel uncomfortable.
Do it because it makes you feel uncomfortable.
Doubt and business go hand-in-hand. A little bit of fear is a good thing. It means you're pushing yourself outside of your comfort zone.
What's the worst that could happen? You fail. No one buys your course.
At least you gain the experience of building one — and do a better job with your next attempt.
To me, that sounded a lot better than not trying at all — and wondering what could have been.
I'll take failure over regret any day of the week.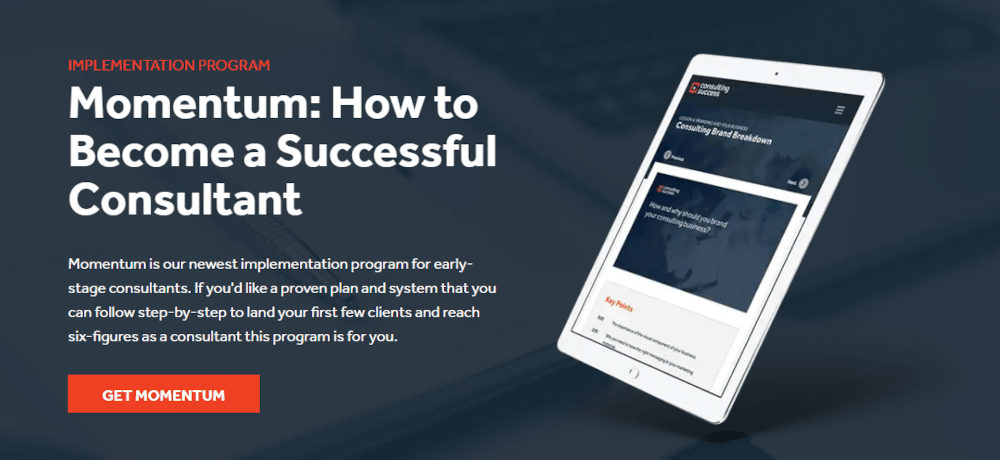 What's your online course like?
Momentum contains 11 lessons, each one with video, text, quizzes — and most importantly, action steps.
Unlike many of the other courses in the market, Momentum isn't just a course. It's an implementation program. It helps you take action on what you learn in daily, bite-sized steps.
As long as you follow the program, you'll get results. And the program makes it easy for you to follow along and put what you learn to the test.
How long did it take you to create your course?
It took me 20+ years of being a consultant — and helping consultants — to accumulate my expertise.
Putting together the course took a few months.
What we did was…
Decide the outcome we want to create for our students: to start their consulting business, have a pipeline full of leads, and be well on their way to replacing their corporate income (or growing their current income)
Create an outline of the lessons to help them achieve this result
Put together all of the written and video material for each lesson, each one getting them closer to this result
Edit and polish up the course, putting it together into our course platform
This was the process we used to create the course.
Tell us a little about the process of launching your course and getting your first sale(s).
We started "launching" the course well before it was ready — by telling our audience we were working on it.
Don't skip this step. You want to generate sales before it's ready. Sales confirm people actually want it.
When we finished the course, we sent it out to our list.
We put together a comprehensive landing page that explains everything about the course — what you'll get, our guarantee, a FAQ, etc.
We wanted to make sure students knew everything before investing in it. A good landing page should function as a salesperson for your course.
Because we took all of these steps, sales rolled in from day 1.
Do you have a lead magnet?
We offer a free, 47-page blueprint PDF that provides an overview of how to build a profitable consulting business.
Content marketing, SEO, and email marketing are core components of our business. All of them introduce readers to our course.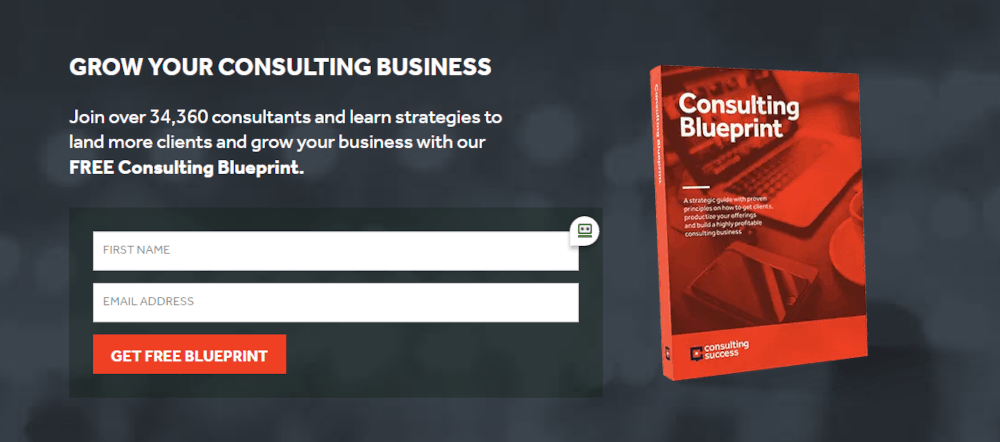 What's the traffic strategy that works best for you?
Consistent, in-depth content on consulting.
We've been writing on our website since 2008.
We stuck at it.
Day after day, week after week, we wrote about…
our experience as consultants
answers to common consulting questions
stories about what worked well and what didn't
…with a relentless focus on providing value.
This month, we've generated well over 100K pageviews. Most of that coming from our content.
The best traffic strategy — the best marketing — is providing content that helps your target audience get results.
What online course platform are you using?
We are using a custom-built solution for our WordPress website to deliver our course.
Do you like it?
Absolutely. We want to build the best course for consultants on the market. Building a custom solution to deliver it is a big part of that.
Are there any features you wish it had?
If there are, we build it!
What made you decide to use your chosen platform over others?
It's important for our business to have our students within one platform — our website.
Not only does it have the features in line with what we need, but we also have a developer who helps us build out additional functionality.
What other tools do you use to run your online course business?
A few of our favorite tools:
Website/Content: WordPress
Email Marketing: MailChimp
Marketing Funnels: ClickFunnels
Virtual Coaching & Meetings: Zoom
Email Outreach & Follow-Up: Boomerang
Software Integration & Automation: Zapier
CRM: Hubspot
Outsourcing: Fiverr, 99designs

What books or training programs have you found useful on your journey to a successful business owner that others might find valuable too?
There are too many to name. But, one mindset or principle we've adopted is to always be investing in coaches, consultants, and mentors for our own business.
It's been our #1 highest return investment.
You can read all of the books or take all of the training programs you want.
But when you have the author of the book or creator of the training program working specifically alongside you, you'll achieve results much faster.
Do you have any big mistakes you've made along the way that you'd be willing to share?
One of the biggest mistakes I've made was spending tens of thousands of dollars on a product before asking if any people actually wanted it.
I loved the idea. The product looked great. But when I finally launched it…crickets.
Nobody bought it.
It's easy to make this same mistake with your course, too. Validate your course before you invest time into making it.
Ask your audience about their problems and what they want. Show them your outline for your course. Offer a pre-sale at a discounted price to see if they are willing to put their money where their mouth is.
If you sell your course before it's ready, that's the sign that people really want it.
Please give us an idea of your revenue.
We recently did a special "Start Consulting Now" discount for Momentum that earned multiple 6-figures.
Consulting Success® is a 7-figure business, and Momentum is a solid part of our revenue.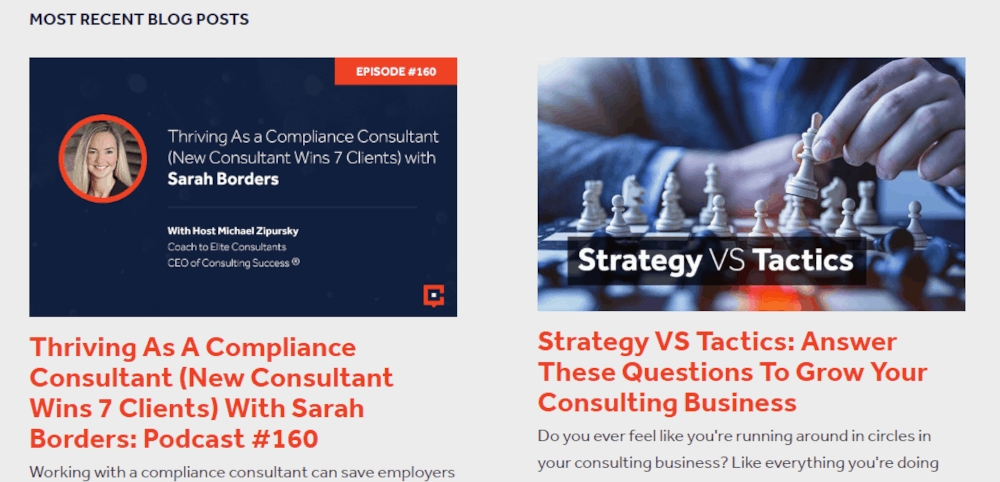 Please tell us a little about what the money you've earned from your course has done for you.
When Sam and I started Consulting Success®, one of our core values was to build a business that allowed us to work from anywhere — one that gave us the freedom to travel the world and spend more time with our families.
Momentum is an offer that aligns perfectly with this core value.
The profits from our course have also allowed us to invest in the business by adding new team members. As the CEO, I'm able to focus on much higher-value tasks like working on new products and strategic planning for the business.
In addition to revenue are there any numbers you would like to share?
We recently added several thousand subscribers to our email list in anticipation of our "Start Consulting Now" launch for Momentum over the course of a few weeks.
We did it by putting together a guide on how to start and grow a successful consulting business in 2020.
It's a curation of our best content — along with updated information on how to apply it — keeping the current pandemic in mind.
For those who signed up to receive the guide, we also offered a 3-day boot camp, where I discussed how to identify a profitable area of specialization, how to choose the right consulting business model, and how to create a magnetic marketing message.
If you create valuable content for your readers in exchange for their name and email address — and promote it to everyone you know — you too will build up your email list.
One of the best ways to promote your content is to simply ask others in your network to share.
What has creating your course done for you personally?
One of my missions is to help people start and grow successful consulting businesses.
Momentum allows me to fulfill this purpose without me having to physically be there or speak with clients.
I've put my knowledge into a course, and it's a great feeling knowing that this program is fulfilling my purpose.
Helping others start and grow consulting businesses is one of my greatest accomplishments.
The more I do that, the more confident I become.
The best feeling is when people are always thanking you for your course — and even better, how it's improving their lives.
Do you have a story of a transformation from any of your clients?
Here's a story from one of our recent Momentum graduates, Norris Turner, who used the program to transition from his corporate job to start his consulting business:
Read more stories like this on our client results and case studies page.
What advice do you have for people just starting out?
Take imperfect action.
That means to start creating your course before you feel ready.
You'll never be 100% ready. You'll course will develop even more after you've launched it and have received feedback from paying customers.
Our course has grown and evolved over many, many years. Momentum is just the latest iteration.
As we continue to improve our skills and get results for clients, we'll continue to improve the course.
Learn more about Michael Zipursky of consultingsuccess.com: