Advice from Zach Evans of BestPianoTips.com on How to Create an Ultra Successful Online Course Business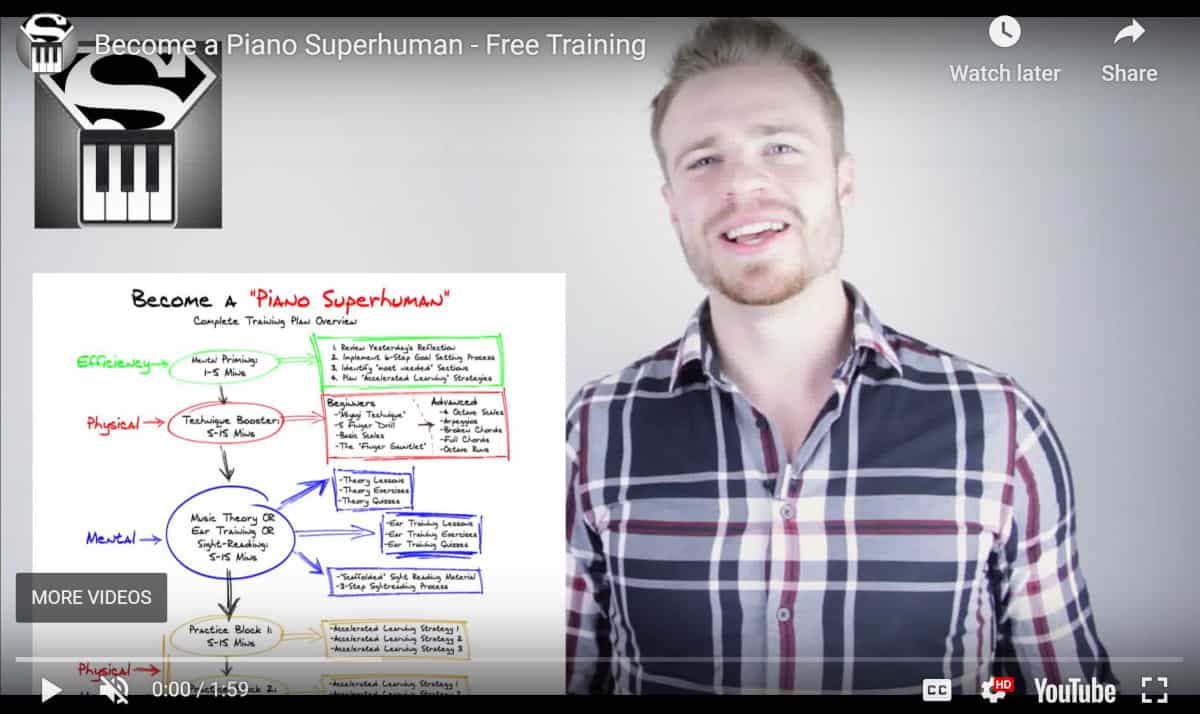 Our content is reader supported, which means when you buy from links you click on, we may earn a commission.
---
Who: Zach Evans
Website: bestpianotips.com
Course Topic: Learn piano
Interesting Stats: $40K to $50K/month in course sales
Who are you and what course have you created?
I'm a piano teacher who focuses on accelerated learning techniques to learn piano faster and easier. I have a few different courses, here are the links to a few:
What market does your online course serve?
So of course, my market is people who want to play piano, focused on Adult Learners. These are people who like the convenience and affordability of learning online but are serious enough to actually buy a course on piano.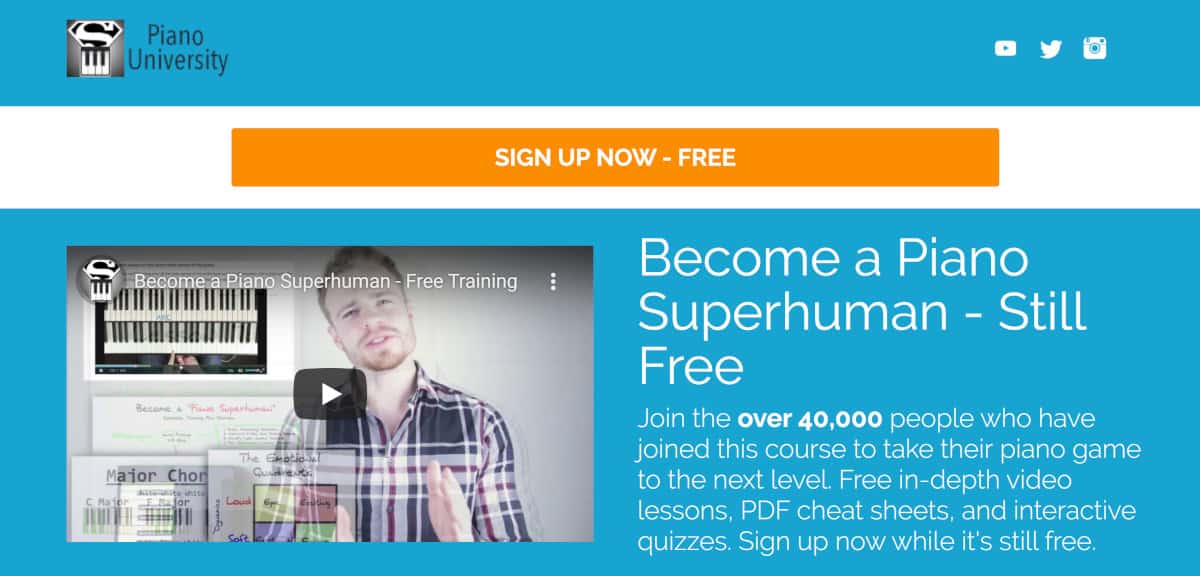 What's the biggest benefit of taking your course?
My course focuses on teaching the fundamentals (technique, music theory, ear training), and uses strategies to help people internalize these as fast and as well as possible. There are a lot of piano courses out there that just teach songs.
The problem with this is students simply memorize a bunch of notes, but they end up with bad technique so their playing sounds sloppy and uncoordinated. And they're also not really understanding the music – they're just memorizing the notes, and that'll hold them back later on if they want to do more advanced things like improvising, composing, or arranging.
My course fills in the gaps of those fundamentals. A lot of my customers are people who take these other courses and are disillusioned by the fact that even though they know all the notes of the song, it still sounds bad. They can't hold up under the pressure of performing (even in front of family and friends), so they come to me.
How did you get into the market?
I was already playing and teaching piano at the time, and I'd developed a reputation around town as someone who could teach adults to learn, and someone who could help you get better, faster.
I went to an entrepreneur meetup, and they were talking about membership sites. It made so much sense to me with the piano niche – people are already used to paying a weekly or monthly fee for in-person lessons, so it'd be natural to have the same type of model online.
Why did you decide to create an online course in the first place?
I wanted to be able to scale my business and realized I could never do that if I was physically teaching. My method of teaching was a lot more in-depth than other teachers, especially when it came to the details of practice structure and how to learn faster, and I wanted to spread that message.
I remember when I was learning piano, and how I felt so "stuck" at times, and the relief and joy I got when I figured out "oh, you just have to practice it like this and it's way easier". I wanted to give that to other people.
Did you have any moments of doubt before you created/launched it?
I always believed in the material of my course, simply because I'd taught it to so many in-person students and I'd seen the results over and over. But I definitely had a lot of doubt if people would see the value of it.
When you ask people what their goal is, they don't say "I want to have great piano technique", they say "I want to learn cool songs".
When I have a student in-person, they're already paying me, and I can just explain to them the importance of learning technique, and they get it. But I wasn't sure if people would understand the value of it off the bat.
If so what made you turn it around and do it anyway?
To be honest, I didn't think about this until I was like 3/4s of the way done creating the course. I was excited at the beginning, but then really started thinking about it and getting doubts. But at that point, I was already so invested I thought "well, might as well finish it now".
What's your online course like?
It's a combination. The core lessons are videos (live-action, often with a top-down view of the piano) but I also have some screen share videos for some online exercises, and a lot of the lessons come with a PDF cheat sheet or training plan when it makes sense. I also have interactive quizzes and tests on subjects where it makes sense (Music Theory, Play by Ear).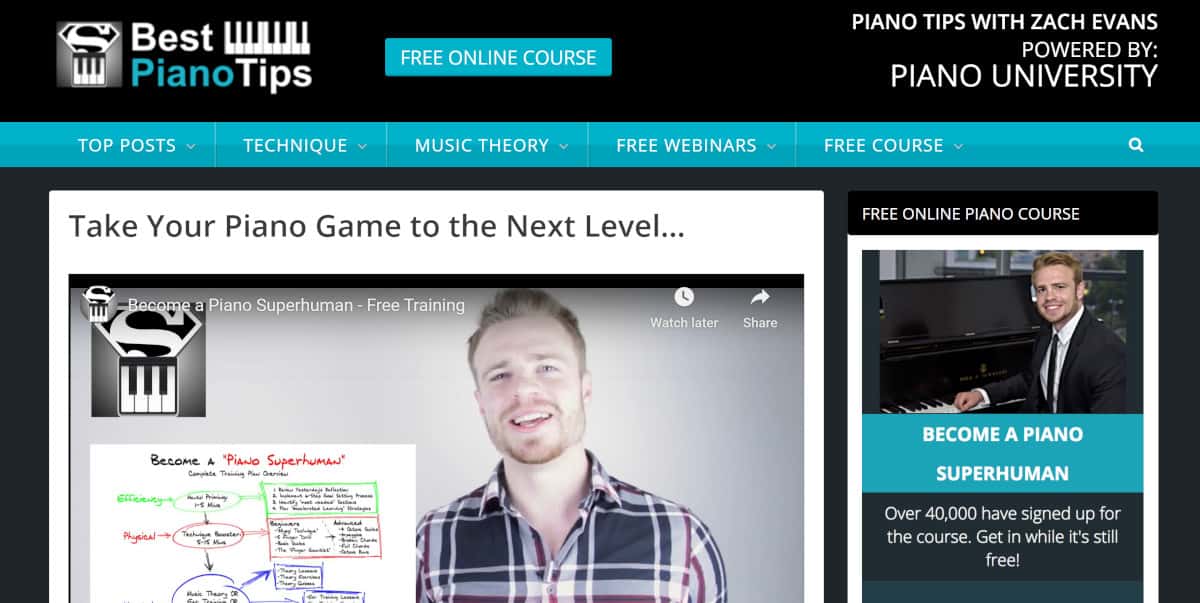 How long did it take you to create your course?
It took about 9 months! It took so long partly because I created multiple courses right off the bat instead of just finishing one and launching it (would not recommend this LOL).
First I'd wireframe out the entire course and organize what lesson was going where. Then for each lesson, I'd write the script (bullet points, not word-for-word). - Zach Evans
Click To Tweet
I'd bulk record typically 3 to 4 lessons in a day, and then edit them all and put them on the site.  Then I'd add any other PDFs, quizzes/tests, or supplementary material. Once I had that for all the lessons, it was just a matter of linking it to a payment processor and integrating the membership levels to WordPress (which was a lot more complicated than I thought).
Tell us a little about the process of launching your course and getting your first sale(s).
At this time I already had traffic coming in from some free YouTube videos I'd been putting up for like 5 years. So I put links on those videos to the free version of the course. People that signed up for the free course would be put on an email chain that gave them more free training, and every so often would link to the paid course. There are also links at the bottom of the free lessons to purchase a premium course.
Do you have a lead magnet?
My main lead magnet is the free Piano Superhuman course. I tried to really over-deliver on this one. Most piano courses out there might only give out 3 or 4 lessons for free (if they give any at all). Mine has 21 free lessons, and these are just as fleshed out as my premium lessons (some are pulled straight from premium courses actually).
This works great because when people take the lessons they really see the value. It actually helps them, so it builds trust that "ok, this guy helped me learn XYZ in these free lessons, and it really worked so if I buy his paid course he's going to help me even more".
Recently I've also been adding in cheat sheets as lead magnets that are specific to the ad or video they see. So for example, if they watch my video on "Names of the Notes", there are a specific "Names of the Notes" cheat sheet they can download by putting in their email.
What's the traffic strategy that works best for you?
Organic YouTube and YouTube ads are king for me. I also run Facebook ads but the ROI isn't quite as good.
I started back in college, where I recorded covers and uploaded them. Eventually, I started putting lessons up, and later I'd use those same lessons as ads. They're working great.
The thing I love about YouTube is you can't cheat the algorithm. The algorithm favors watch time, so if your video is legitimately good and helpful to people, it'll rank high. - Zach Evans
Click To Tweet
The content and the structure of it is important. So it stops new competitors from doing sketchy things to rank high like they can on Google. You have to really know how to teach and how to motivate people.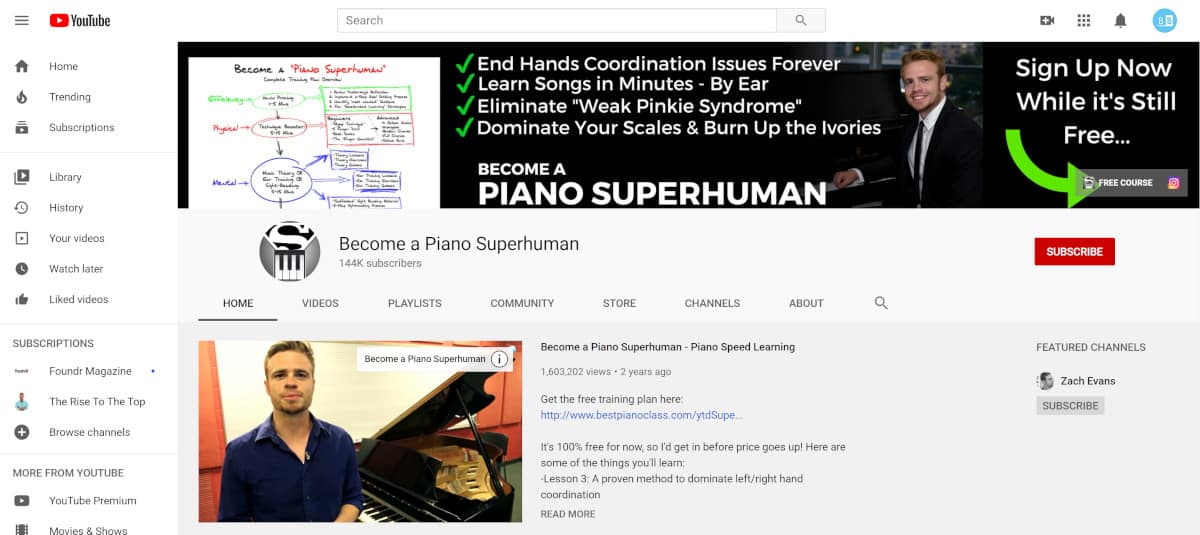 What online course platform are you using?
I use WordPress, integrated with Ontraport (my CRM).
Do you like it?
I like it because you can pretty much do anything you want to customize it. But it's a lot more complicated (and sometimes annoying) than using one of the popular online learning platforms like Teachable or something like that. Also, when you have a bunch of plugins and integrations all working together, you have to be really careful that it doesn't break the site, or cause it to be really slow.
Are there any features you wish it had?
Nope, it has everything I need, I just wish it was a bit simpler to use.
What made you decide to use your chosen platform over others?
Honestly, I didn't really know about the other options. I ended up launching my site around 4 years ago. I don't know if the other options were available and popular back then, but if they were I'd just never heard of them.
What other tools do you use to run your online course business?
Ontraport for my CRM. Everwebinar for webinars. Leadpages for sales pages. Logic Pro for audio editing, Final Cut Pro for video editing.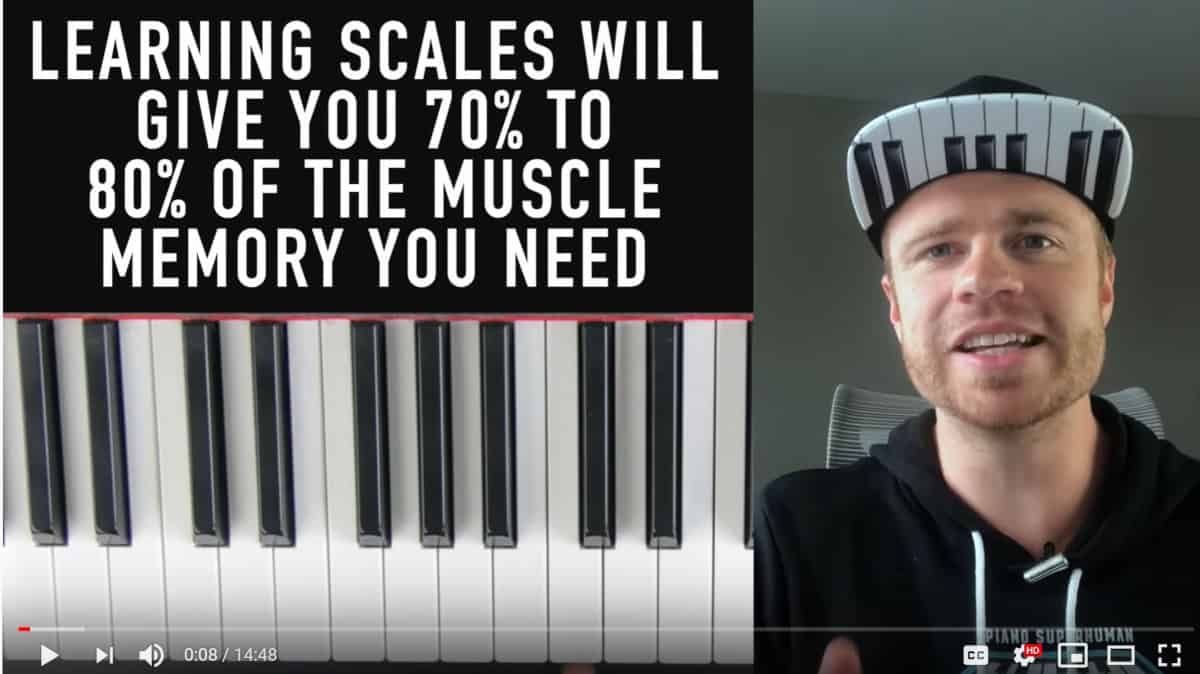 What books or training programs have you found useful on your journey to a successful business owner that others might find valuable too?
I've taken a lot of online courses. Autoresponder Madness was a great one for Email Marketing. I took AWAI Copywriting, which was a pretty good course on copywriting and got my feet wet, but was a bit outdated and focused on the old school sales letters.
But Russell Brunson is the best teacher for sure. I read Dotcom secrets and bought his Perfect Webinar training which I use for my webinars.
Do you have any big mistakes you've made along the way that you'd be willing to share?
I overcomplicated things a lot when I was first starting out. I didn't launch anything until I had 4 separate courses and an ebook, instead of just starting out with one and going from there.
My whole funnel is also pretty convoluted. I have my blog website, then a different website for the actual courses, 2 YouTube channels (one of me teaching, one of me playing), and now 6 courses, 2 ebooks, and an audio series.
On top of that, there are multiple discounts for each product, and when you combine that with different bundle deals, upsells, etc. I have an ungodly amount of pages to manage. On top of that a lot of my colors and fonts don't match up, so from a branding perspective this isn't the best look, but the content is good enough to overshadow it.
This is simply a result of just creating courses and not being able to "see the future" in the sense of how it's all connected. It might have been a good thing because I just got started and started working right away, instead of getting stuck planning and getting paralysis by analysis, so it worked out in the end.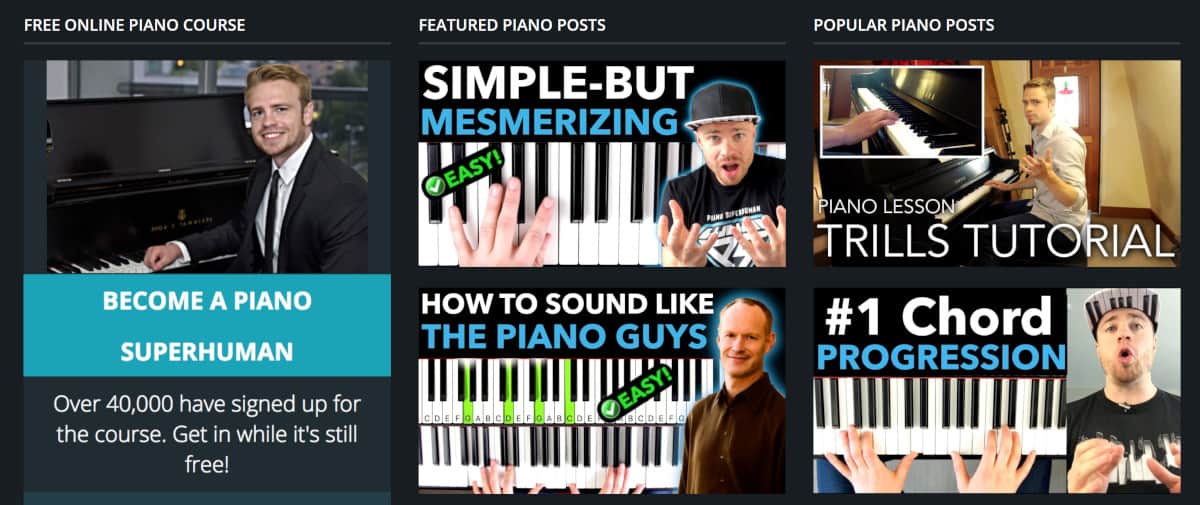 Please share some idea of revenue.
Gross Revenue is between $40,000 and $50,000 a month.
Net Income is between $30,000 and $40,000 a month before taxes.
Most of my expenses come from running ads. And I don't do many launches, my funnel is evergreen. But I'll run a sale for most of the major holidays and black Friday, which usually leads to a small boost, maybe $4,000 or so in sales.
Please tell us a little about what the money you've earned from your course has done for you.
It's allowed me to move to Los Angeles (where rent and everything else is pretty expensive) and live comfortably. Honestly, I'm not much of a big spender, so I don't buy fancy cars or clothes. But I did just purchase my first investment property (a house that I rent out to tenants), and I've already saved enough for retirement. I'm a very risk-averse person, and I just like the comfort of knowing that I'm financially set.
In addition to revenue are there any numbers you would like to share?
Here are the first 12 months of starting the business, maybe this could motivate some people!
Green is Sales, red is Expenses, Blue is profit/loss:

Also, here's a screenshot of my YouTube subscribers. That last"play button" at the bottom is when I uploaded a new video called "Learn 4 Chords Learn 100's of Songs" and it blew up.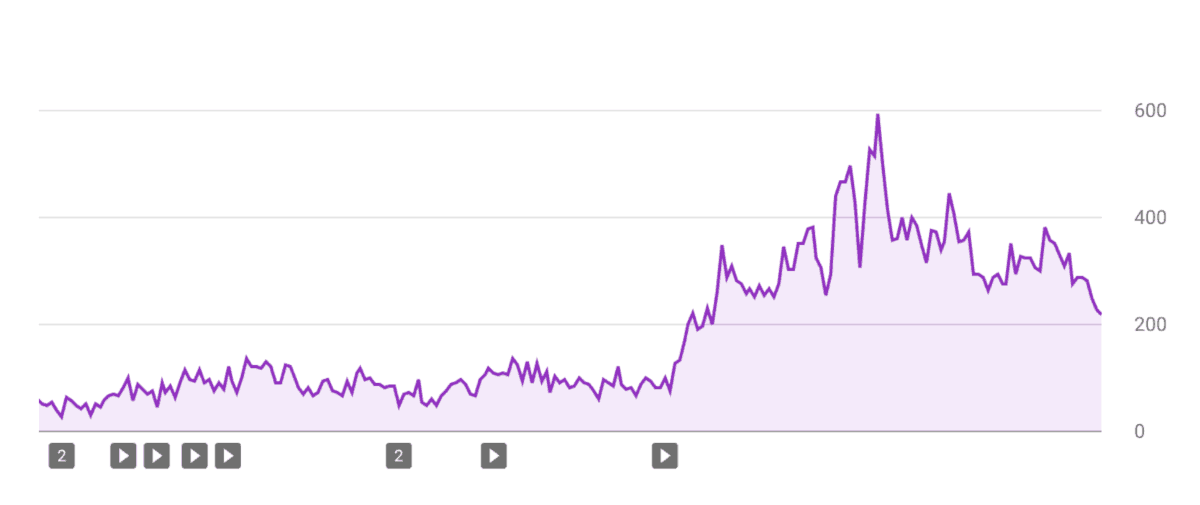 So that ONE video launched my channel from less than 100 subscribers/day to averaging around 300 a day (and the increase in emails I'm getting from that is proportional.)
It just goes to show you, one big video can multiply your business tremendously. But I've uploaded a ton of other videos that didn't hit big. - Zach Evans
Click To Tweet
So don't give up after a few videos! You never know which one's going to hit.
What has creating your course done for you personally?
The biggest thing by far is the freedom it gives me. I've been all over South America, Europe, and Asia since I can work from anywhere and take off whenever. Then yea, the sense of accomplishment is huge, and knowing that you did it gives you the confidence for other things.
Since it was something I learned completely on my own (in other words, I didn't go to school for it), it really ingrains the attitude that you can learn anything, it's just a matter of "figuring it out".
Do you have a story of a transformation from any of your clients?
I had a client who suffered from a traumatic brain injury after a car accident. She said my piano course is what helped her brain recover from it. I found out about it when I interviewed her on my podcast and was blown away. Of course, it's nice to help someone learn piano, but when you find out you're having this kind of impact on some people, it really feels good. Here's the interview for that.
What advice do you have for people just starting out?
Just start! Go!!! Start doing it! Sure, planning is good, but a lot of the planning comes when you start doing something and realize halfway through it's not going to work, so you start over differently. But you'd never have known it wasn't going to work unless you did that first bit of work.
I think people spend way too much time brainstorming things like "what should my course be called" or "what domain name to get" when in reality, it's your content that matters at the end of the day. So get into the meat of things as soon as possible.
Learn more about Zach Evans and BestPianoTips.com: