DaVinci Resolve vs Final Cut Pro: Which Editing Software Should You Use?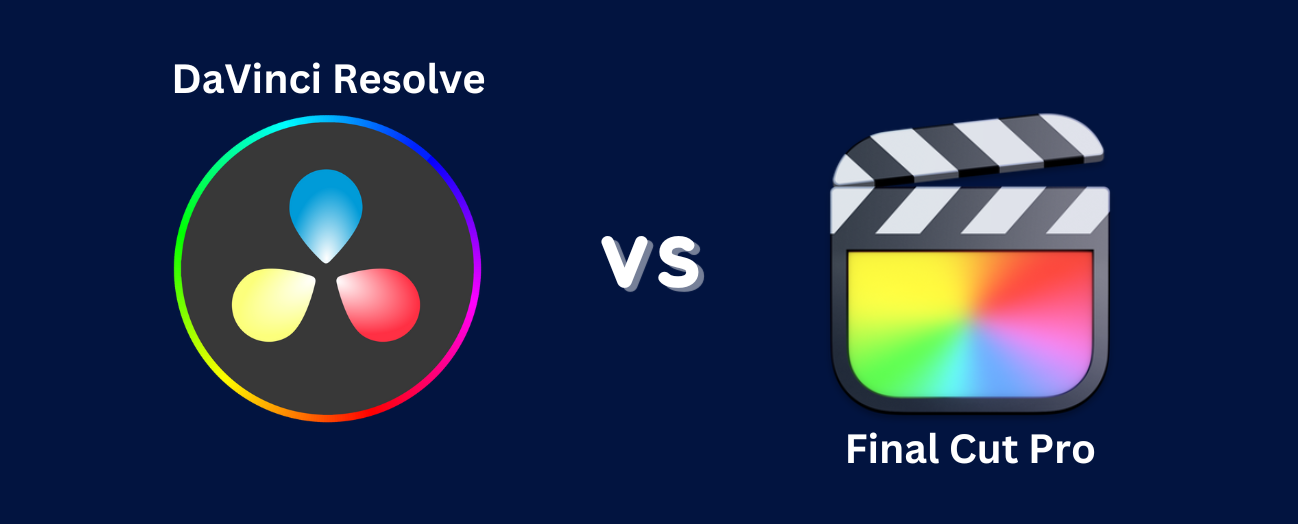 Our content is reader supported, which means when you buy from links you click on, we may earn a commission.
---
If you are a beginner editor or are looking to upgrade your editing software, you might find yourself in the middle of the DaVinci Resolve vs Final Cut Pro debate.
Black Magic's DaVinci Resolve and Apple's Final Cut Pro are two of the most popular video editing platforms. They can help you create professional-quality videos via an array of advanced features.
No matter what type of video project you are working on, beginner users or small companies can't go wrong with these platforms.
Let's take a look at the similarities and differences.
DaVinci Resolve: Overview
DaVinci Resolve is a non-linear video editing and color correction platform that was designed for professional video editors who needed to edit and cut television shows, films, and commercials. The tool supports both online and offline editing.

Stats:
The market share of DaVinci Resolve in the media industry is 16%, followed by 12% in the education industry, 8% in the marketing and advertising industry, 6% in entertainment, and 5% in broadcast media.
The United States has the most users who use Da Vinci Resolve (54%), followed by the United Kingdom (11%).
68% of DaVinci Resolve customers are small companies (less than 50 employees), and 20% are large (over 1000 employees).
Final Cut Pro: Overview
Final Cut Pro is a video editing application used by professionals during post-production. The tool comes with cutting-edge features that enable you to create beautiful and impressive professional-quality videos and offer a fast and smooth experience. It has a wide range of features like special effects, motion graphics, filters, color correcting, and clip cutting.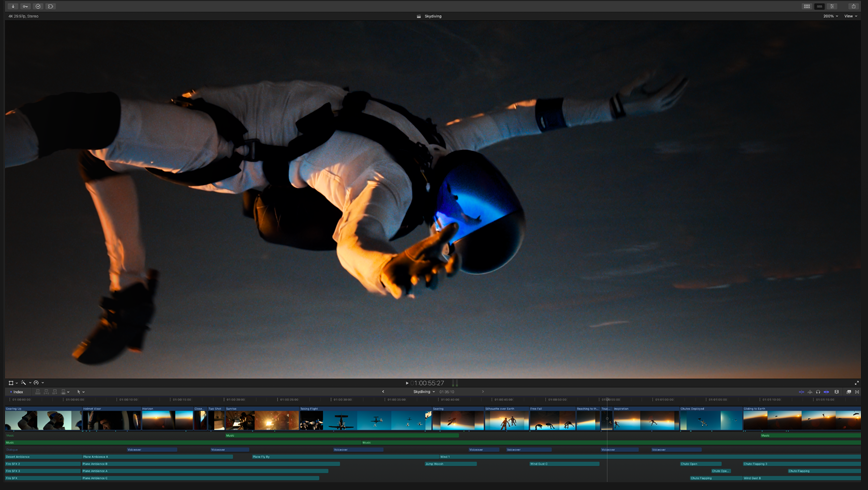 Stats:
Why Should You Use DaVinci Resolve or Final Cut Pro?
If you are a novice video editor or someone who does not need a lot of advanced features, you might think using professional software would be overkill. However, learning to edit your videos with professional-grade software can give you an edge.
Since many software comes with a free trial version, you can start using them without paying anything.
By using DaVinci Resolve and Final Cut Pro's free version, you not just save money but also can create high-quality immersive videos.
Key Features
Choosing a professional-quality video editing platform can be a tricky process for some, but if you know what kind of videos you want to create and edit, what features you prioritize, and what kind of price you can afford, the choice becomes much easier.
Let's take a look at what makes DaVinci Resolve and Final Cut Pro different from each other.
Platform
When choosing between these platforms, you need to know which device you are using. Although DaVinci Resolve works well on both Windows and MAC devices, Final Cut Pro can only be used by Apple users.

Pricing
When choosing a non-linear editing software, budget is a big concern. Fortunately, for professional software, these two editing platforms do not cost that much.
DaVinci Resolve costs $295, while Final Cut Pros costs $299.
DaVinci Resolve also offers an excellent free version that comes with limited functionalities but gives you a great idea of how the program works. Final Cut Pro does not have a free version, but they offer a 30-day trial period, which is plenty of time to figure out whether the program works for you.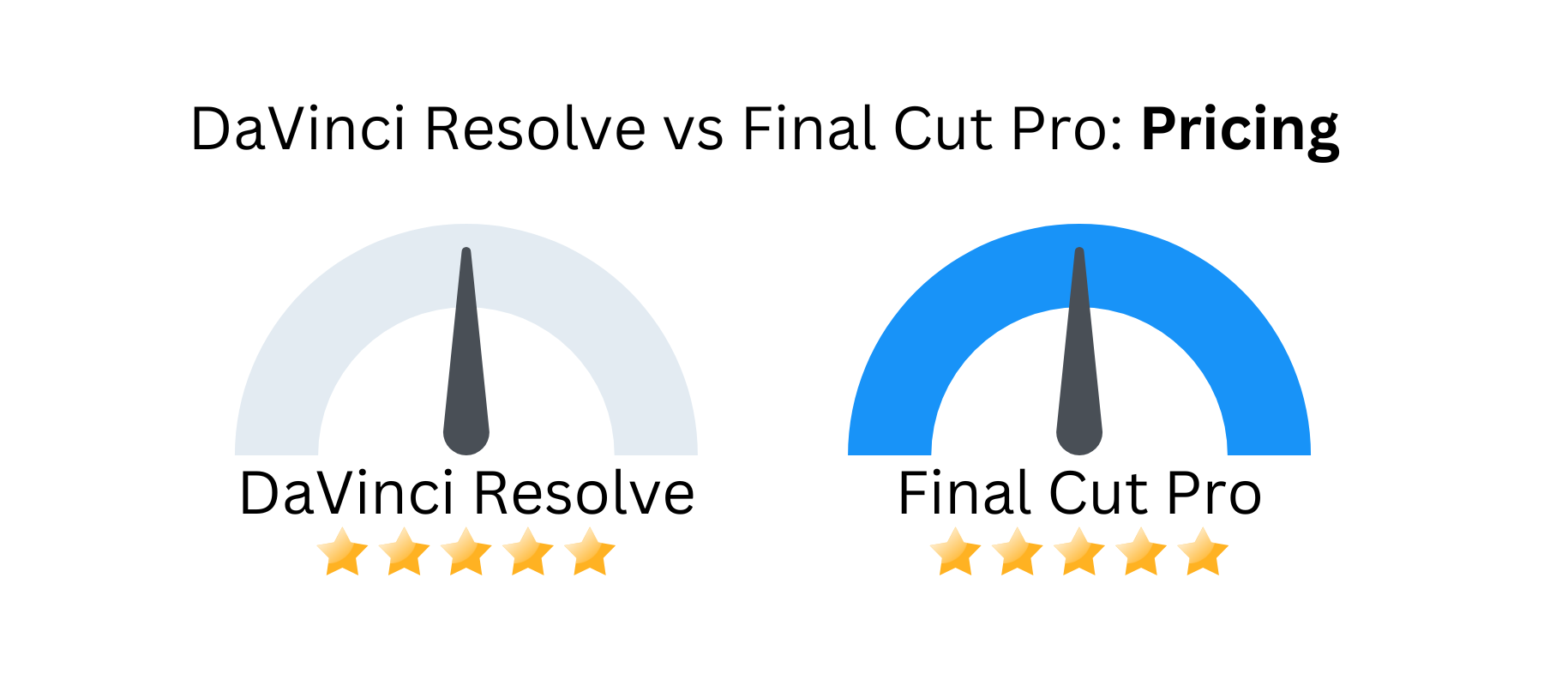 Ease of Use
Both DaVinci Resolve and the Final Cut Pro have similar learning curves. Since Final Cut Pro is styled like an app, it may make your beginning edits easier which is why we gave it the win for ease of use. On the whole, however, both the software come with advanced features, so it can take some time to learn them, depending on your skill level.
If you want to edit your videos quickly, the free versions offer basic features, which can make them easier to use.
Both platforms also offer a wide range of resources, tutorials, and written and visual guides, which makes both of them great tools for beginners.

User Interface
Both DaVinci Resolve and Final Cut Pro have a clean and simple user interface. DaVinci Resolve offers free-form editing, which allows users to move and place clips around the timeline the way they want. Final Cut Pro, on the other hand, has a magnetic timeline, where each clip has to be attached to another clip to create a full video composition.
DaVinci's workflow is divided into various tabs titled Edit, Cut, Color, Fusion, and Fairlight, allowing you to specify the tools you want to use. Final Cut Pro, on the other hand, offers all features and tools on the main editing interface, allowing you more convenience in using every feature. That's why we give Final Cut Pro the win when it comes to user interface.

Color Correction and Grading
DaVinci Resolve was first introduced as a color grading and correction software, so it stands to reason that it offers a more extensive range of color tools than the Final Cut Pro.
Still, Final Cut Pro also offers a wonderful range of color correction and color grading tools, including a color wheel, curves, several presets, and LUT functionality.
However, it can't beat DaVinci Resolve in this category.

Motion Graphics and Titling
Both software platforms offer an array of motion graphics and built-in title templates that users can easily customize. In addition, they both offer keyframing features which allow you to use animated formats as well.
Final Cut Pro gives you an impressive number of downloadable templates for titles, effects, or generator windows, while DaVinci Resolve also offers a decent number of templates and macro options. Both have a lot to offer, but we give the win to DaVinci Resolve.

Audio Mixing
DaVinci Resolve offers various audio functions, including multi-function equalizers, automation tools, and plugins, which makes it a great choice for anyone who wants great audio mixing. The platform offers tools that can clean up poor-quality audio while adding ambient noise. In addition, it has a noise reduction tool that can make important pieces of audio clearer and reduce background noise.
Final Cut Pro, on the other hand, has more basic audio features; however, they work well for novice editors. The tool comes with a feature known as audio roles, which lets you assign different roles to the various kinds of audio in your video, including music, ambient, dialog, background, and other roles. This feature is extremely useful when editing specific audio pieces.
We gave the audio mixing win to DaVinci Resolve, but both programs have a lot of offer in this category.

Video Rendering
With DaVinci Resolve, users can "add to render queue" their videos while they are working. The platform will render your clip even as you continue to edit, making the video postproduction process quicker.
Final Cut Pro has an incredibly powerful rendering feature. It can render up to 18 video streams of 8K or 56 video streams of 4K footage. It also has a real-time rendering feature, which allows seamless video flow during editing.
The software integrates with M1 Max, and M1 Ultra offered in the Mac Studio for next-level performance. Both programs offer a lot when it comes to video rendering so we give them a tie.

Support Tools
DaVinci Resolve comes with two integrated applications known as Fairlight and Fusion. The Fairlight option comes with a range of audio tools, which are considered much better than Final Cut Pro. It also comes with a decent range of plugins, but they are more project-focused, allowing users to add more color viewers or stabilization.
Final Cut Pro's main integration tool is Apple Motion, which can help you create amazing motion graphics that work as customizable templates. The Motion program is quite complex to use and requires a lot of learning curve, though.
Aside from this, Final Cut Pro offers an extensive range of cost-effective plugins, from Motion Titles to LUTs and everything in between. Again, both programs offer a lot when it comes to support tools so we give them a tie.

Pros and Cons of DaVinci Resolve
Let's check out some major pros and cons of DaVinci Resolve:
Pros:
Can use the video editors for free, albeit with restrictions on advanced features.
An excellent tool for editing, cutting, color correcting, and producing videos.
Allows you to color-grade videos very easily.
Allows you to edit and process audio directly from the platform.
Adds and creates special effects without using other software.
Excellent resources and community support.
Updates with new features regularly.
Cons:
Since it is a professional-grade tool with a wide range of features, new users can find it a bit overwhelming.
Pros and Cons of Final Cut Pro
Let's check out some major pros and cons of Final Cut Pro:
Pros:
A very fast and efficient platform.
Intuitive interface with an app-like design for ease of use.
Uses a flexible magnetic timeline.
2D/3D support and application.
Allows you to add several filters and special effects to footage.
A great pricing model that offers good value.
Reduces the rendering time due to its seamless integration with the GPU of the Apple device.
Cons:
Some people might not be familiar with the magnetic timeline.
Does not align with Adobe Suite.
Available for only Mac devices.
DaVinci Resolve vs Final Cut Pro: Which Is the Best Option?
To find out which platform best suits you, you need to determine your needs and goals.  Both platforms are designed for slightly different users.
In the case of DaVinci Resolve, professional video editors or individuals who want to learn professional editing will benefit greatly from this program. It is also the best option for a professional colorist who is learning video editing or someone who wants more skills in color correction.
On the other hand, Final Cut Pro is designed exclusively for Mac users. It is a great tool for filmmakers who want to shoot, edit, and produce a video all on their own. Users should also be familiar with the magnetic timeline or one who is not interested in project sharing, as that can be complex and clunky.
Whether you choose DaVinci Resolve or Final Cut Pro, you will get professional-grade video editing and motion graphics software. You can't go wrong with either software.