How Thomas Anthony is Shifting from Inbound Leads Provider to Inbound Leads Trainer & Coach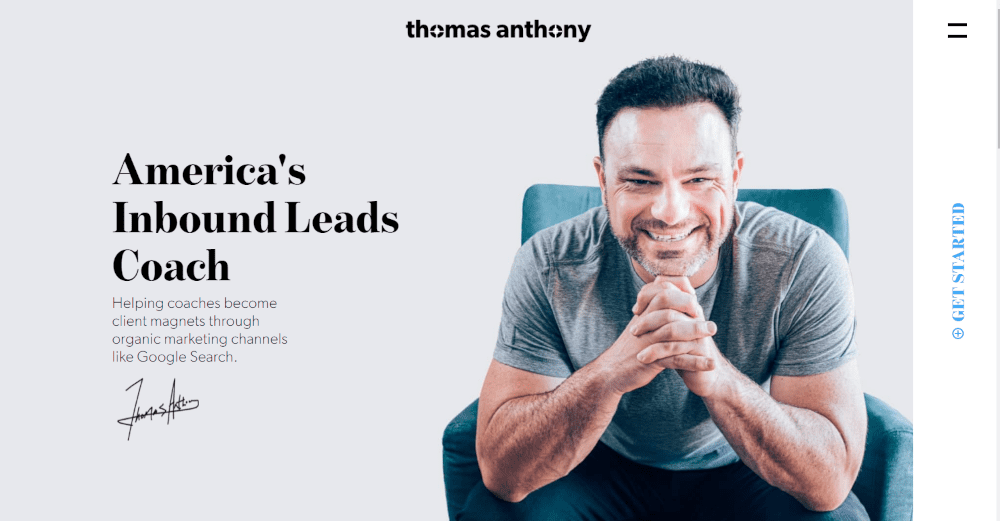 Our content is reader supported, which means when you buy from links you click on, we may earn a commission.
---
Who: Thomas Anthony
Website: thomasanthony.co
Course Topic: Marketing
Interesting Stats: Grew a site to 10K visitors/day
Who are you and what course have you created?
I'm an inbound leads coach dedicated to helping coaches, consultants, and entrepreneurs go from having no control of client acquisition to building a highly trafficked niche website via organic marketing channels so they get a continuous flow of inbound leads ready to convert to clients.
I created The Client Magnet Coaching Program. It includes a transformative 9-hour Kajabi course, lifetime access to my weekly group coaching calls, and lifetime access to my private Facebook group.
What market does your online course serve?
My course is built for smart, hardworking coaches, consultants, and entrepreneurs who want to build a long-term practice that gives back for years and years. My ideal student is a new or existing coach who is frustrated with acquiring clients by paid ads, cold outreach, or any other outbound marketing tactic.
What's the biggest benefit of taking your course?
The biggest benefit of taking my course is understanding how to get clients to come to you by utilizing key inbound marketing strategies. Students of the Client Magnet program learn how to create content (blogs and videos) targeted to their niche audience that will eventually attract 10,000 website visitors each and every day to their website from channels like Google Organic (Search).
How did you get into the market?
Naturally, over time. I founded emlovz.com back in 2012 and grew it to a top 1% website slowly over 9 years (300,000 visitors per month). It was around 2016 when I fell in love with Google Search, content marketing, inbound marketing, etc. Not only was I studying everything to do with SEO and building a niche coaching website on my own, but I was simultaneously testing and tweaking what I was learning right on emlovz.com. 6 years later, in 2022….I'm confidently helping other coaches and consultants replicate my success over at emlovz.com.
Why did you decide to create an online course in the first place?
I decided to create an online course right about the time I started to believe that the 1-on-1 sessions I was running with clients weren't transforming their businesses. A course gave me the ability to put everything I had into it, at my own pace. A course also lets me revise and update it as I learn new concepts.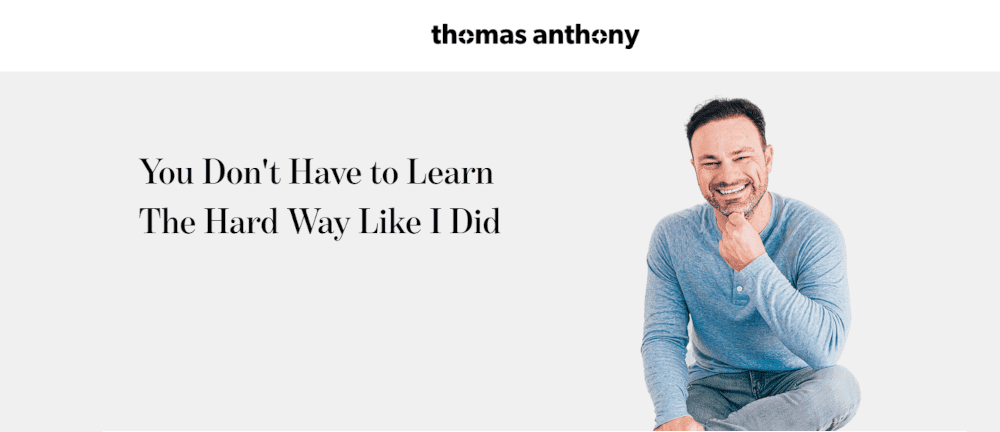 Did you have any moments of doubt before you created/launched it?
I didn't have any doubts about my course because I had spent the previous 9 years building emlovz.com to a top 1% website via organic marketing channels. I knew exactly what needed to be in my course for my clients to get a true transformation. The competition also really motivated me. Over the past couple of years, I've witnessed so many unqualified SEO or content marketing coaches join the market, and I wanted to right the ship, in a way.
What's your online course like?
The online course portion of my coaching program is 9 hours of content presented on PowerPoint, however, there's about 3 hours of live-action screen sharing where I show you the insides of a WordPress site, how to do keyword research on SEMRush, blogging tips, on-page SEO, detailing the workbook, and much more. There are 12 homework assignments laid out on a single Google Sheets workbook. But my coaching program doesn't end there – I offer a weekly group coaching call via Zoom for any questions my clients have while they're learning. I also offer a private Facebook Group where my clients can ask questions in between the coaching calls.
How long did it take you to create your course?
I created my initial course in 4 months. I spent about 10 hours per week on it. I've already revised my program about 10 times now, and I plan on updating it quarterly with new content. My process was a 2-week brainstorm on a Google drive document. From there, I created the PowerPoint slides to actually have a course. From there, I removed unnecessary slides that didn't add to future client transformations. I then filmed and edited my course with Screenflow and uploaded it to Kajabi.  Lastly, I secured 5 coaches to run through as beta testers. They've been helping me find grammatical errors and let me know if any of my content needs more information or explanation. It's been a long process, but well worth it.
Tell us a little about the process of launching your course and getting your first sale(s).
Over the years, we've joined a lot of coaching programs to grow emlovz. So naturally, we meet lots of coaches working in different niches. They've always been impressed with the amount of website traffic and inbound leads emlovz gets, so I've offered 1-on-1 sessions to them to point them in the right direction. So to launch my course, I just emailed or texted previous clients and asked them if they were interested in my new program. I gave my beta testers a great deal, in return for some feedback on how I could improve my course moving forward.
Do you have a lead magnet?
No, I don't have a lead magnet. But I offer a 30-minute webinar-style video where I explain my course in high detail. I don't believe in offering anything free as it can devalue a brand. My blog, YouTube videos, and discovery calls are complimentary, and that's where I draw the line.
What's the traffic strategy that works best for you?
Well, since I'm an inbound marketing coach, my traffic strategy is using the top 2 search engines in the world to bring traffic to my website and course. That's Google Search and YouTube. Blogs and YouTube videos compound over time, unlike paid ads and DM'ing to attract clients. You can find my blog articles here and my YouTube channel here.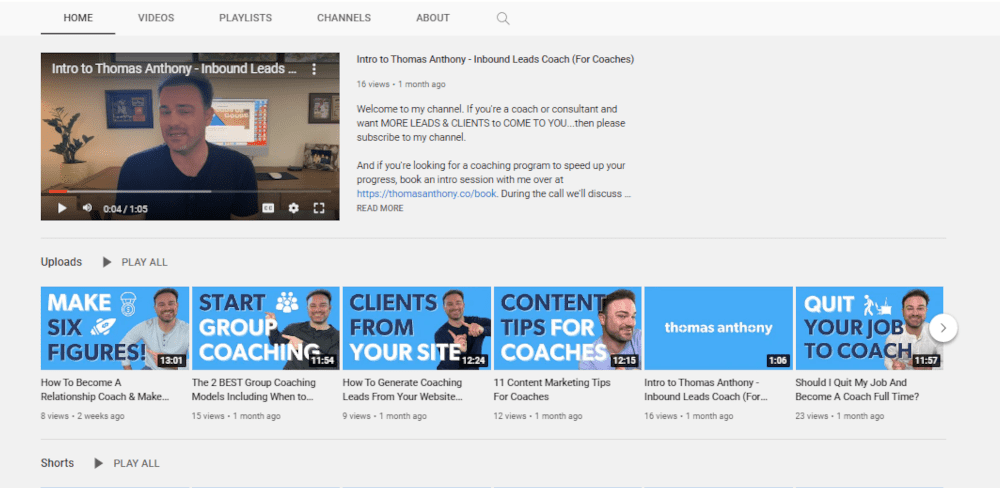 What online course platform are you using?
I use Kajabi as my online course platform.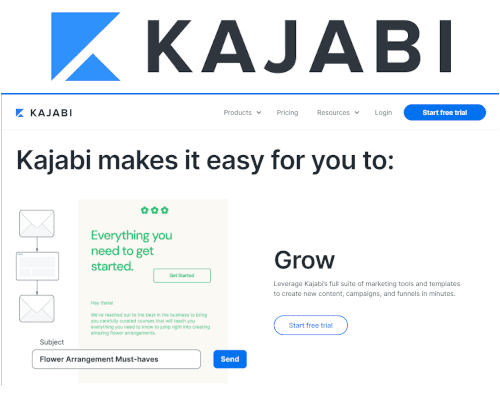 Kajabi is the All-In-One Course Platform
Kajabi is one of the top online course platforms used by successful course creators interviewed on coursemethod.com. Kajabi includes email marketing and other tools that make it easy to run your entire business from their platform.
Price Range: $149 to $399/month
Most Popular Plan: Growth Plan at $199/month
Annual Discount: Yes, take 20% off!
Free Trial: Get a 14-day free trial (credit card required)
*Our content is reader supported, which means when you buy from links you click on, we may earn a commission.
Do you like it?
Yes, for an online course absolutely. With that said, they should leave website building to WordPress. Coaches today who are using Wix, Squarespace, or Kajabi are making a huge mistake. These platforms just aren't ranking very well in Google Search. For that reason, I have a development concierge team who can get my clients set up with one of my replicable coaching website templates with a single click of a button (site restyling can take 1-3 weeks, but the site comes fully loaded with all the right plugins a coach needs to get their blogs and site ranked in no time).
Are there any features you wish it had?
I wish they had chapter timestamps (like YouTube has) that I could add in the description of each lesson so my clients can jump from different moments of the video with a click of a button.
What made you decide to use your chosen platform over others?
I purchased Thinkific and other courses in the past and I didn't like their UI. We were already using Kajabi at emlovz and I loved the UI, plus Emyli was a Kajabi wizard so I knew she could help me if I ran into a snag.
What other tools do you use to run your online course business?
I use a WordPress site with several plugins that are absolutely mandatory for success. Other tools would be iMovie for video editing, Stripe for payment processing, Google Workspace for document sharing, Slack for communicating with my internal team, Hubspot for my CRM, G-Cal for my calendar, Calendly for bookings, YouTube for videos, Google Analytics, Google Search Console, and many more.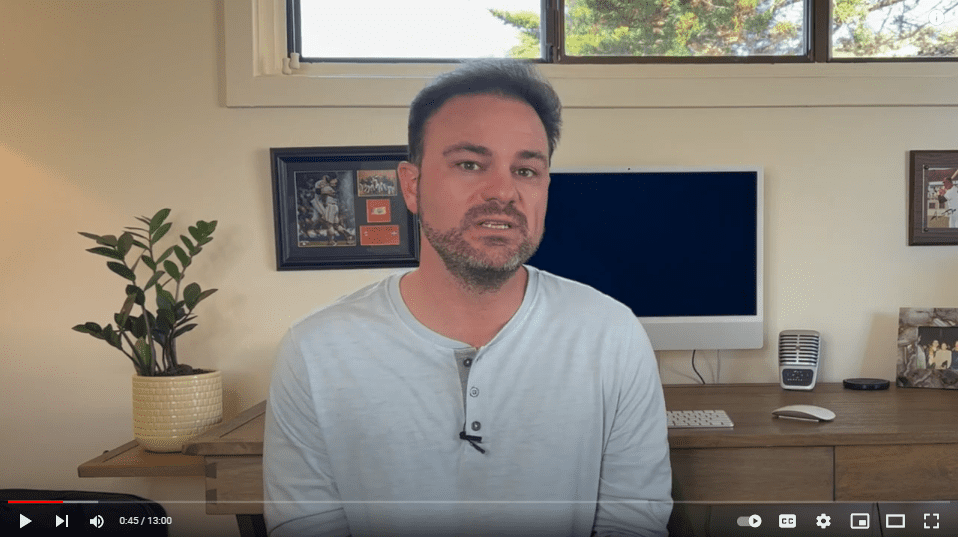 What books or training programs have you found useful on your journey to a successful business owner that others might find valuable too?
I like the book 21 Indispensable Qualities of a Leader by John Maxwell. But the biggest training program was doing the work in real life first over at emlovz.com. I tried, I failed. I tried again, I failed. But I kept getting up, learning something new, implementing a new strategy, and finally several years later everything came together for emlovz – a site that now sees 10,000 users a day. It was all the training I needed, although one could argue I wasted 5 years throwing marketing spaghetti on the wall. So in early 2021…..when it was time to build my own inbound marketing business, I already knew everything I needed to know to become successful – because I had done it already.
Do you have any big mistakes you've made along the way that you'd be willing to share?
The biggest mistake back I ever made was not choosing WordPress as an initial content management system. Coaches need to provide free value via long form blog articles. It builds trust and rapport with future clients. WordPress blogs RANK in Google – and there's not enough proof right now to show that Kajabi or Wix blogs can consistently reach Google's first page results.
Please share some idea of revenue.
I just launched my business in mid-2021 and I expect my 2021 revenue to be ~$15,000. I'm hoping to hit $100k next year, or more.
Please tell us a little about what the money you've earned from your course has done for you.
With the expensive website template I purchased (so my future clients can have a wordpress site with a single click of a button), I should probably break-even this year. Again, I just launched my program about 4 months ago and just finishing up with my beta tester program. Next year my goal is $100-200k in revenue with with a 70% margin.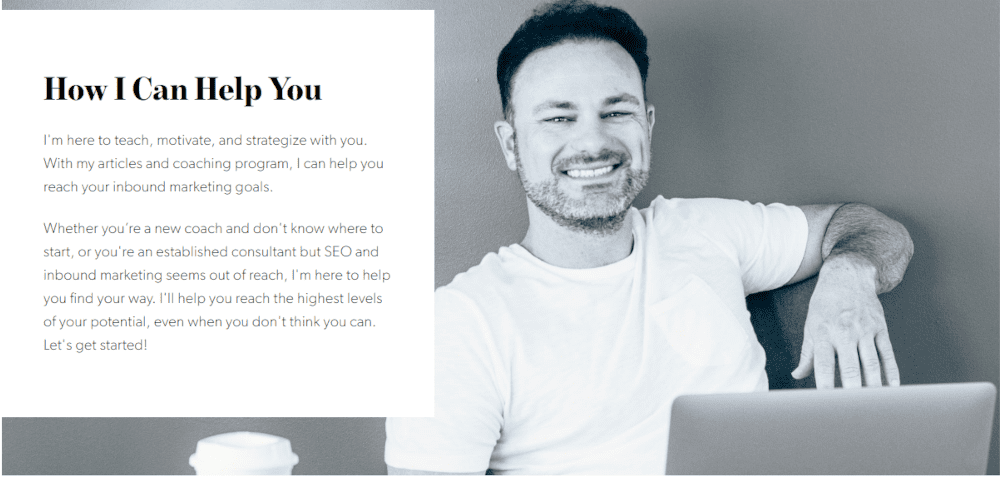 What has creating your course done for you personally?
It feels incredible to create this course. For 9 years I've been in the background of emlovz.com building our traffic, revenue, and managing our writers and editors.
Stepping out and building my own Client Magnet Inbound Marketing Course for my own website (thomasanthony.co) has allowed me to speak my truth and give my greatest gift back to the world. - Thomas Anthony
Click To Tweet
I'd recommend anyone who's even slightly an expert at something to share what they've learned through a coaching program or online course.
Do you have a story of a transformation from any of your clients?
One of my beta testers went through a website rebuild during my program. She had a WIX site and after going through my program she was convinced that she needed to upgrade to WordPress.
During my program I detail out how to take ownership of your niche & how to  brand yourself on your new site. She told me that after this lesson it was biggest awakening she'd ever felt. She went from not really understanding who she was or who she was helping…. to naming herself America's Coach for Deisgn Leaders. She almost cried on our weekly coaching call. This meant SO MUCH to me – that I was able to help someone step into their TRUE power.
What advice do you have for people just starting out?
Don't build a course or coaching program just because everyone else is. I see too many new coaches in these accelerator groups who don't even know who they want to work with or what their niche should be.
Think about what you've overcome in the past. Say your husband died and you were on the brink of suicide, but you managed to claw yourself out of your misery and into a healthy, happy, and loving life again. You can build a coaching program from that experience.
What you can't build a coaching program on is a hunch. I've made that mistake in the past.
Get out in the real world and accomplish something. Then build a course or program from that experience. - Thomas Anthony
Click To Tweet
Learn more about Thomas Anthony of thomasanthony.co: