How Taylor Torres Created Her Course to Supplement Her Service-Based Income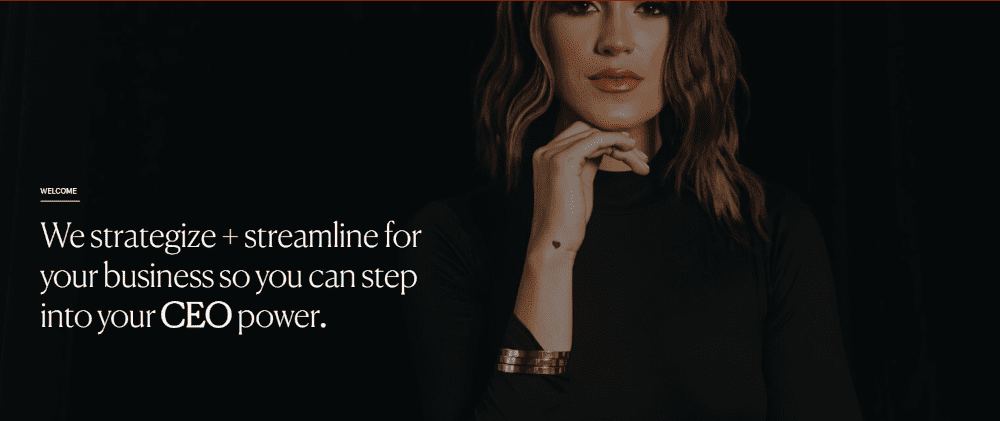 Our content is reader supported, which means when you buy from links you click on, we may earn a commission.
---
Who: Taylor Torres
Website: chanelandlee.com
Course Topic: Marketing
Interesting Stats: 900 Instagram followers in just 3 months
Who are you and what course have you created?
I'm a pro-brand photographer, systems & operations expert, educator, and founder/CEO of Chanel & Lee Studios. Chanel & Lee is a strategy and operations studio that supports and executes ideas for the modern, multi-passionate CEO, providing ease and confidence that your brand is operating at its full potential for maximum profit.
Our signature Dubsado course, The Streamlined CEO, is an expert playbook and tools course for online service providers and creatives to create a powerhouse client system that books for them and scales with them.
Our course is a full-walk through and training covering how to use the Dubsado CRM platform, how to build workflows and automations, and the expert tips and processes to create a streamlined, 5-star client experience.
What market does your online course serve?
Our course is for online-service providers and creatives (coaches, consultants, agencies, brand & web designers, photographers, wedding industry professionals, interior designers, etc) looking to build a functional, efficient, and streamlined system to manage and handle every facet of 1:1 client communication. If your business needs an all-in-one system for booking to onboarding to project rendering, our course walks through exactly how to use the Dubsado CRM platform to its fullest and integrate your own processes into it.
What's the biggest benefit of taking your course?
The biggest benefit of our course is that this isn't just a DIY course. In addition to over 20+ training/teaching videos spanning 5 modules, we include an entire DONE FOR YOU section with all of the templates, emails, workflows, swipes, and graphics you'll need to personalize the system. We don't just teach you the ropes, we hand you the ropes.

How did you get into the market?
In 2019, I left my position as a social media manager at a boutique SEO agency in Houston to start my own business. I had begun taking virtual assistant 'side gigs' while I was pregnant at the SEO agency to complement my income. Two months after having my son, I realized I needed more time and freedom and decided to take my VA 'side hustle' full time. I left the agency in October of 2019, and by September of 2020, I quickly scaled hitting 6-figures in my business and pivoted to focusing solely on systems and operations.
In my first year as a VA, I was a jack-of-all-trades. I did a lot of creative work, admin tasks, and general daily to-dos for my clients. One of my clients had asked me to set up her CRM system, Dubsado. A system I had never heard of. I learned the system for her, taught it to her, and shortly after began using it for my own business. That year, after working with hundreds of online service providers, I realized online entrepreneurs were feeling stuck in the daily backend of their systems. They didn't feel confident in client management, email marketing, or other online tech, and they wanted to spend their time in their zone of genius: not trying to figure out how to set up these systems and teach it to themselves.
I began offering consulting, high-level operations support, and system setup for clients who wanted to step into their CEO power and delegate the parts of their business they didn't love.
Why did you decide to create an online course in the first place?
After working with over 100 clients in 2020 alone and doing hundreds of done-for-you Dubsado setups, I realized there was a need for the business owners who did want to DIY their system. My signature Dubsado VIP setup is a done-for-you, full-service system setup. But I came to realize there was a market for those who either 1) didn't have the budget for a full VIP 2) were already paying for a VA/operations manager who could take over their system or 3) felt confident doing it on their own. So, I decided to create a course that takes everything I offered in my high-level service into an affordable, go at your own pace course.
Did you have any moments of doubt before you created/launched it?
Like many online entrepreneurs, I am a victim of imposter syndrome. Questions like, "Do I have the authority to create a course," "Will anyone actually buy this," and "What if I'm not made for this" crossed my mind many times. At the end of the day, I knew there was a need for this. I knew other course creators found much success in releasing affordable courses as a stepping stone into their higher-level services, so why couldn't I? My biggest struggle didn't come with creating the course, but actually promoting it and releasing it due to that imposter syndrome. I was so scared people would think it was not good and/or no one would buy it. But not doing it all was even scarier than the idea of falling short.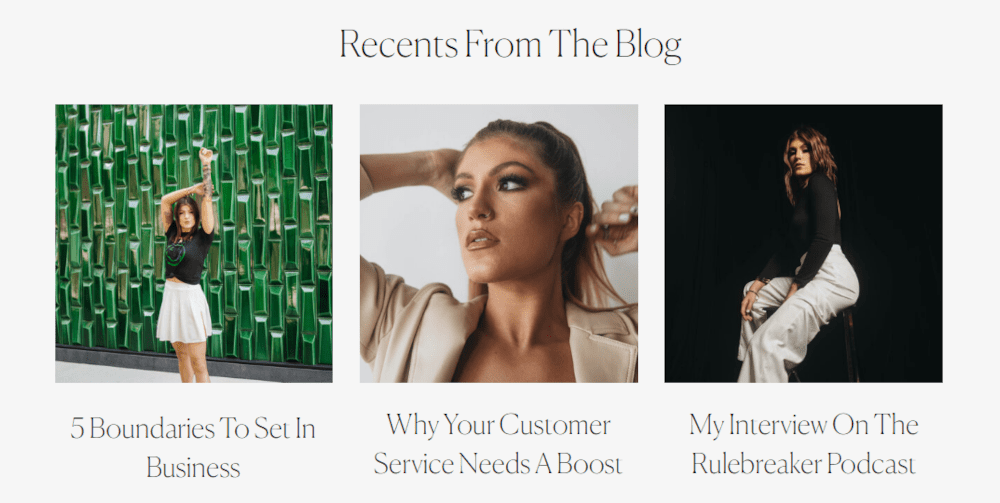 If so what made you turn it around and do it anyway?
I thought to myself, "What's the worst that could happen?" The answers were silly and honestly far from likely because I knew I was an expert in the space – the hundreds of entrepreneurs I had already worked with would vouch for that. I decided to not let imposter syndrome hold me back!
What's your online course like?
The Streamlined CEO is primarily a video-based training course. We have 5-modules of over 20+ videos covering in-depth training within the platforms, as well as strategic training videos of me teaching with slides and examples. The DFY module is complete with every download, template, copy, and doc you would need to plug into the system! Not only that, but the course also includes replays of some of our most popular live masterclasses.
How long did it take you to create your course?
Lots of TIME! Prior to launching my course, I had helped a handful of my own high-level clients with their course creation and launches, so I already had hands-on positive and successful experiences with the process of creation. I created a strategy, a timeline, and a set of goals/tasks for myself and my assistant so the entire creation process would be as streamlined and efficient as possible. I started by knowing who my target audience was, where they were at in their entrepreneurial journey, and how my course would transform them. Knowing where they would start and where I wanted them to be at the end of it was extremely helpful in knowing how to position my content.
From there, I created a course outline. Starting from a birds-eye view of each module and what the main topic was for that module. Then I broke down each module into the specific lessons they would need, so the course would feel organized and segmented in a way that flowed and made the most sense as they progressed.
Once those outlines were created, I broke down the methods ins which I would deliver that content. Would this lesson be slides or on the platform, etc? This gave me a clear step-by-step view of exactly what I needed to create and what would go into each lesson.
Tell us a little about the process of launching your course and getting your first sale(s).
Just as I had a clear strategy and outline of the course creation, I did the same for my launch plan. After being a behind-the-scenes piece to many online launches, I knew from trial and error what worked and didn't work. From an audience-facing perspective, I spent time warming up my audience with content that spoke to their specific pain points long before ever mentioning a course. Once the course was announced, I had an active waitlist up as I continued to nurture and 'sell' the course. Once the cart was open, I had a specific sales email sequence for my email list while I used social media to further push the course and create FOMO and urgency for my audience.
Do you have a lead magnet?
Yes, I have two! My first step in list-building for the course (before I even announced it) was a free onboarding email template to download and plug n' play right away. This template told me that these opt-ins were in need of more help with their onboarding process.
Closer to the course announcement during my ramp-up for the pain-point-specific content, I released a free lesson directly from the course. It's an 8-minute lesson covering a specific proposal tip which is a bonus lesson from one of the modules in the course. This lesson gave them a clear view of what to expect from the course and my specific teaching style.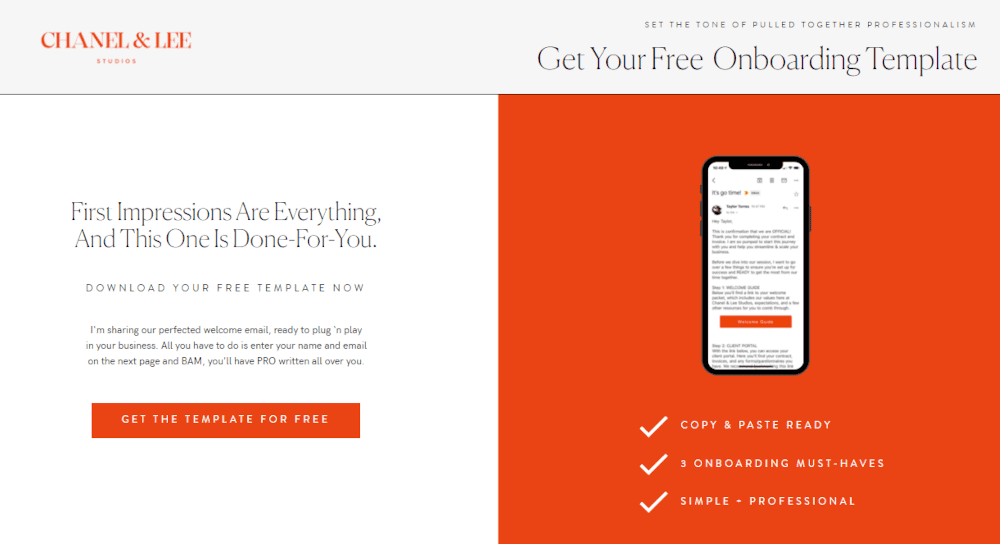 What's the traffic strategy that works best for you?
Instagram is my best traffic strategy! Most of my audience is on Instagram daily, and it's the best way for me to stay connected and front-facing with my audience. I get on Instagram stories daily, send voice messages in the DM, and then further convert those warm leads to my email list through freebies. Once they're on my email list, they're usually the first ones purchasing when my offer(s) are live!
What online course platform are you using?
I am using Thinkific!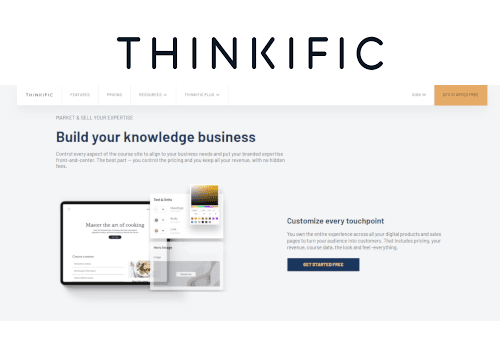 Take a Look at Thinkific!
Thinkific is the most popular online course platform used by successful course creators interviewed on coursemethod.com. It's a complete solution for creating sales pages, uploading all course content, taking payments, and more.
Price Range: Free to $499/month 
Most Popular Plan: Pro Plan at $99/month
Annual Discount: Yes, take 20% off!
Free Trial: Try out Thinkific's core features for free.
*Our content is reader supported, which means when you buy from links you click on, we may earn a commission.
Do you like it?
I LOVE IT! As I mentioned, I've worked on online launches for dozens of online creators/entrepreneurs, and I have experience with platforms like Teachable and Kajabi. Thinkific is by far my favorite LMS for the price and value of what you get on the platform.
Are there any features you wish it had?
I do wish it had more advanced automations like abandoned cart emails or a better system for order bumps, but I know they are constantly releasing updates. I'm willing to forgo those options for now until they come out!
What made you decide to use your chosen platform over others?
Budget vs. value was a big factor for me. I didn't want to spend hundreds of dollars monthly right off the bat. I liked that Thinkific offered a lot of the features I needed on the basic plan, while I could upgrade as I needed more features. After I did a lot of comparing, this platform was the best value in my opinion!
What other tools do you use to run your online course business?
A major tool I use for my courses is Zapier. This ensures all the additional connections and support are automated. For example, as soon as a student purchases my course they receive a personalized email directly from me. This happens in Zapier. Zapier also adds that new student to my email list and segments them, so I don't have to do this manually.
My email marketing platform, Flodesk, is a tool I use for my business and course. If I want to send course updates or communicate with the whole group, I use Flodesk to send mass emails.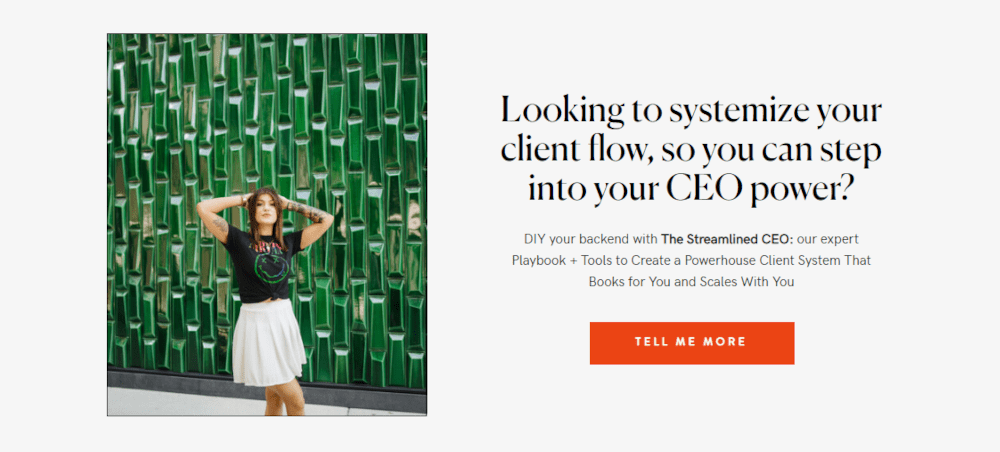 What books or training programs have you found useful on your journey to a successful business owner that others might find valuable too?
I've received a lot of education from Jenna Kutcher and The Social Bungalow. Both women are extremely educated in online marketing strategies and selling successful courses! I highly recommend them when it comes to learning the ropes of online course sales.
Do you have any big mistakes you've made along the way that you'd be willing to share?
I think my biggest mistake was not planning content ahead of time. Strategizing outlines and launch plans came easy for me, but planning content ahead of time has always been difficult. Although I posted content regularly during my launch, I knew I would have been able to put more thought and effort if I had batched and created it ahead of time.
There are lots of last-minute things that can come up or happen while creating/launching a course, and feeling overwhelmed with content on social media and/or email is the last thing you want to dismiss or miss the mark on. - Taylor…
Click To Tweet
Please share some idea of revenue.
At this point, I have had two live launches of my course in 2021. Both cart opens were for 7 days before turning my course evergreen. Between both launches, I saw a revenue of $10.2k
Please tell us a little about what the money you've earned from your course has done for you.
Having passive income from a course is incredible! As a 1:1 service provider, I have worked so hard in my business providing services to clients. So scaling my profit has always meant more time spent on my end.
Creating a course meant I could finally scale my income without having to give more of my time up to do so. I can live life on my own terms and spend my time where it's most important: with my family! – Taylor Torres
In addition to revenue are there any numbers you would like to share?
Right around the time I launched my course for the first time in March of 2020, I hopped on the reels bandwagon. I started creating reels for fun, not focusing too much on the content or time spent – just doing what felt fun for me. I gained over 900 Instagram followers in just 3 months by shifting to reel content. This was crucial for me to see an increase in the engaged audience!
Numbers-wise, I've also helped bring in over $200k in income in 2021 alone for myself and my clients through operations support. I'd say a LARGE chunk of that can be accredited to functional systems and seamless experiences. It's not just what you sell but the experience you're selling!
What has creating your course done for you personally?
Creating my course was definitely one of the biggest ways I've overcome imposter syndrome as an entrepreneur. The online space can feel massively overwhelming – trying to stay relevant, creative, and unique can often feel impossible. For me, releasing a course into an online sea of other courses was intimidating. I felt like no one would notice, let alone purchase or benefit. But that was the imposter in me.
The entrepreneur in me believed in myself and my ideas and executed them. - Taylor Torres
Click To Tweet
Creating a course for myself has stretched me in so many ways and has just made me MORE excited to release/create more online, passive offers!
Do you have a story of a transformation from any of your clients?
This is a testimonial submitted by a long-time client of mine. She is a wedding photographer based out of Lubbock, TX. I have worked with her for over 2 years. First, as a VA then expanded to an operational role, where I assisted in helping her sell out her first workshop in 2020 bringing in over $11k in revenue.
Time is so so valuable people, and having it is crucial to growth so you can dream bigger and have the freedom to think outside your little box. 
Hiring Taylor was the best decision I ever made in my business. The only regret I have is not doing it sooner.
This response from my client and friend had me in tears! The idea that I could make an impact on one life that had ripple effects for her own family meant the world to me. This is truly why I do what I do – I support people's big dreams, so they can live out their own mission. Being another entrepreneur's sidekick and supporting their next big thing is the most fulfilling role I've had yet.
What advice do you have for people just starting out?
My advice to those just starting out: JUST START! Sometimes we can be paralyzed by trying to get everything in order when in reality we learn what to do along the way. Of course, you can have a plan, but once you have the idea just DO IT. The worst that can happen is you make tweaks and learn from your mistakes – which is something every single entrepreneur will experience. Don't let the logistics hold you back.
Learn more about Taylor Torres of chanelandlee.com: